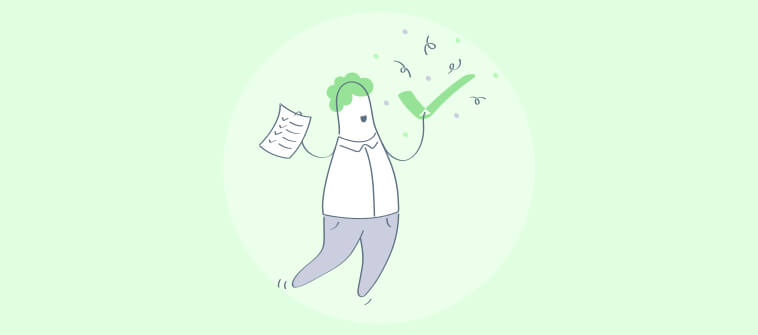 Going by different names in the world of popup marketing like a lead capture popup, email popup, opt-in popup form, and email capture popup, these are pretty efficient to increase leads and sales from existing website traffic.
As websites across the Internet are flooded with such email popups, you need to be smart enough with your popup design and content to get maximum conversions. Otherwise, the email popups will just be contributing to a poor user experience.
So, if you are looking for inspirations to get started with delightful email popups, we are here with high-converting lead capture popup examples. From the basics to best practices and proven tips, we will cover it all.
What is a Lead Capture Popup
A lead capture popup is a traditional overlay that is displayed to site visitors when they are browsing on your web pages. The purpose of these popups is to capture the name, email address, mobile number, etc., of visitors.
Generally, by offering an incentive like a discount coupon, deal, free guide, access to the premium newsletter, participation in a giveaway, etc., you can ask visitors to leave their contact details in exchange for your incentive.
As for the design of the lead capture popup, it can be a normal lightbox popup, full-screen overlay, slide-in, nanobar, etc. Such popups are triggered based on the visitors' activities like when they show exit intent or scroll to a certain point or click on your site or have spent a specific time, etc.
Let's now check the importance of lead capture popups to get a better understanding.
Why Lead Capture Popups Are Important
As the name suggests, the most crucial thing about lead capture popups is they help you collect quality leads from your site traffic. Let's have a look at these.
Capture & view lead data in real-time

: When visitors are interacting with your website, you can capture their details using targeted popups. The leads can be displayed right away in your popup tool to take further action for conversions.

Non-intrusive data collection: Unlike long lead capture forms and surveys, popups are non-intrusive when it comes to the user experience. Visitors are displayed with email popups when they are about to exit or are scrolling through for some time.
Actionable data

: The email addresses that you capture using popups can be transferred in real-time to your CRM, sales, and marketing tools to work on further campaigns. Your marketing team can contact the visitors over email communications to send personalized offers.

Capture feedback

: Using lead capture forms, you can collect valuable feedback from your site visitors. As popups are not long forms, users are likely to participate in your short surveys. As they leave the feedback and email address, you can later connect with them to address their concerns.
Also read

: 

11 High-Converting Popup Survey Design Examples & Questions for Feedback
That is why an email capture popup is important. Let's check out the best practices to design and display lead capture popups.
Lead Capture Popup Best Practices
Here are some of the quick popup tips and best practices to create beautiful and high-converting overlays.
Creatively design the popup

: Being creative is not always about looking for a unique shape of the popup. It is all about getting the right color combination, using the graphics really well, and gamifying your popups to increase engagement.

Offer relevant incentives

: As you want to capture visitors' email addresses, you need to give them something solid in return. Based on their site activity and the page they are on, you can display a relevant offer such as a discount coupon on the product page, free shipping code to first-time shoppers, free guide on blog pages, etc.

Write an engaging copy

: Your copy will push the visitors to take action so make sure that it is an engaging one. If you use the same old words, then visitors are likely to ignore them. But, if you creatively present your offer using visual and text combinations, visitors will surely read what you are offering.

Add crystal clear CTA

: Your call-to-action (CTA) button is where all the action actually happens. Do not use big statements or lines for your CTA. Keep it short and precise (ideally, 2-4 words) and make it easier for visitors to read and click. Also, make sure to use action words such as Get, Buy, Avail, Subscribe, etc.

Use trigger options & targeting settings smartly

: In the end, everything comes down to targeting the right audience using targeting rules at the right time. As for the trigger options, you can display welcome popups to first-time visitors when they have spent a few seconds on your site, and for other visitors, you can use

exit-intent popups

.

A/B test your popups

: Constant testing is necessary to get better results. By making changes in the headline, CTA, content, color combination, design, etc. in your lead capture forms, you can see what works best for you. Keep multiple designs ready for testing and play with incentives to get more leads.
Also read

: 

11 Pop-Up Best Practices to Drive Conversions & Leads
Now that we know all about the importance and best practices of lead capture popups, let's take a look at the best examples to grow the email list.
13 Eye-Catching Lead Capture Popup Examples to Collect Email Addresses
Here are some of the best lead capture popup examples to get inspiration from!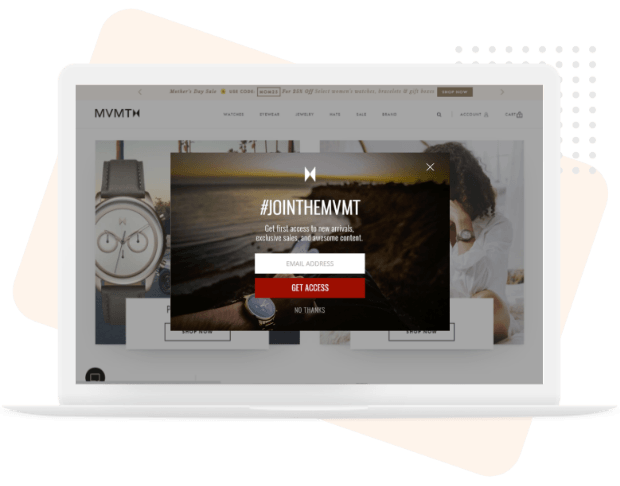 MVMT is a pretty popular brand. By using this welcome popup, MVMT captures 15% more leads. The idea here is to let the visitors know about the benefits of joining MVMT's premium newsletter. Using a background image related to the product and matching it well with the site's aesthetics, the CTA speaks loud and clear, making it an amazing email popup.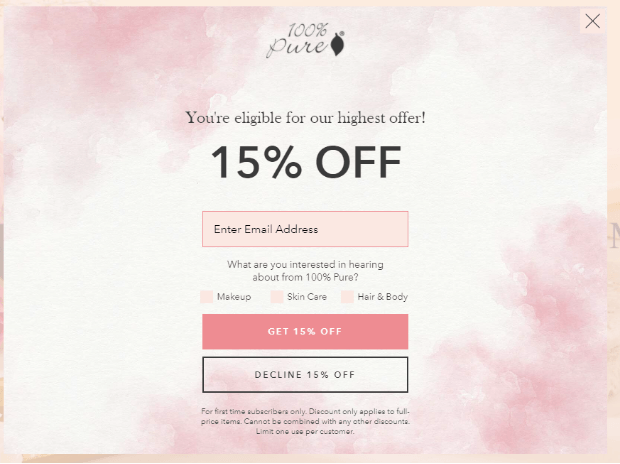 It is a 2-step popup example, and that's nothing more creative than this on the list. By presenting the popup in the form of a mysterious game, visitors are likely to engage with the overlay. As soon as the visitors click on a box, they will see the second popup to claim their reward. As they are halfway through the process, chances are they will leave their email address. Also, the decline button below CTA is impactful to make them think twice about what they are missing.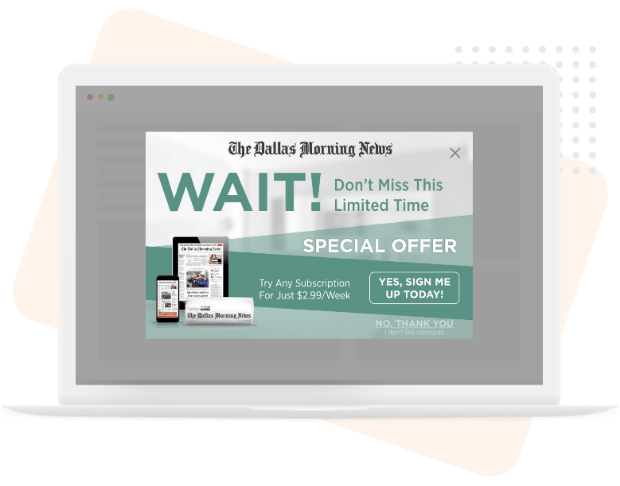 The Dallas Morning News uses this creatively designed newspaper popup to gain a lot of subscribers. The action word "WAIT!" is powerful enough to stop leaving visitors. By adding the term "Limited Time", the value of their offer increases. The use-case of the offer is also mentioned using the image as it shows that the digital access to newspapers is compatible with different devices. Lastly, both CTA and the decline button are actionable.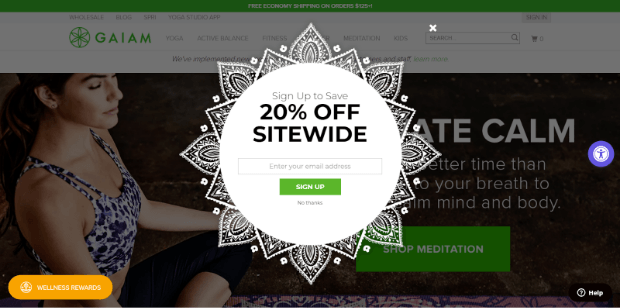 This lead capture popup example is aesthetically appealing and matches the website's theme. With no fluffy talk, GAIAM gets right to the point by displaying the welcome popup and making their offer crystal clear. The 20% discount is available on all products/services only to the visitors that sign up. The green-color CTA button looks good, and this popup is an effective lead magnet.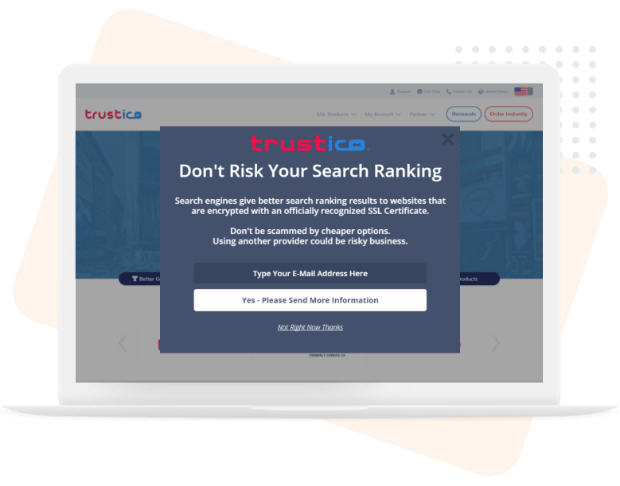 Trustico uses the fear factor to attract visitors' attention with an engaging headline and copy. As search rankings are connected with SSL certificates, Trustico presents this fact in an informative way to collect the email addresses of visitors. Such information is crucial for website owners, and the CTA in contrasting colors addresses that. To get access to more such information, readers are likely to type in their email addresses.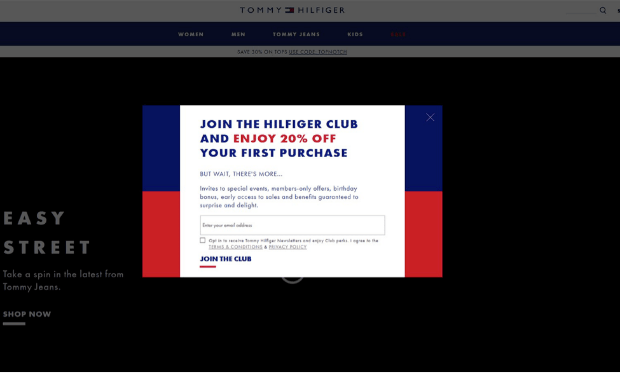 Tommy Hilfiger is another popular brand, and everyone loves to join an elite club, especially when there is a good incentive. By offering a 20% discount up-front and mentioning the exclusive benefits of this private club, visitors are likely to unlock these by entering their email addresses. The color combination of the popup matches the website, and by mentioning the terms & conditions plus privacy policy, the popup looks more credible.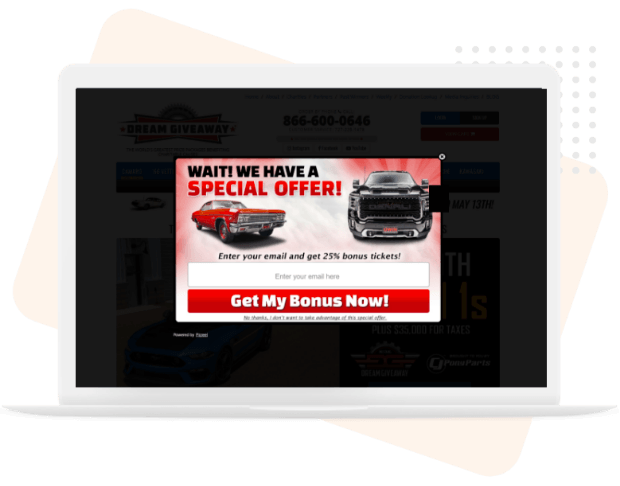 Dream Giveaway uses this exit-intent lead capture popup to target leaving visitors. By matching the visuals and color combination with the website, it is a pretty good popup design. The headline attracts visitors' attention with a powerful statement. The CTA is bold, and the decline button is actionable as well. As for the content, it is straightforward as the visitors need to enter their email address to avail a bonus of 25%.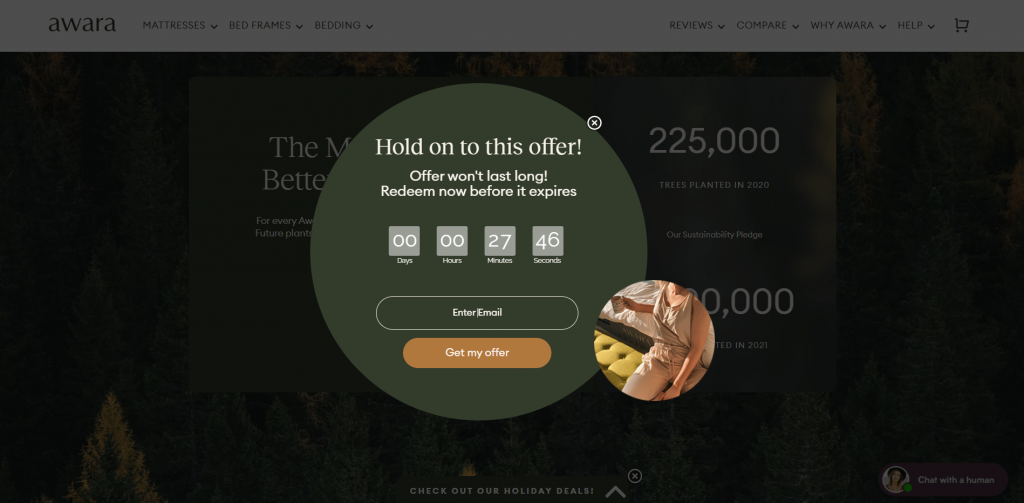 Awara Sleep's engaging popup design comes with two crucial things. First, the offer is kept mysterious, and only when the visitor enters their email address, the offer will be displayed. Second, the offer is time-limited, and that creates a sense of urgency. The headline and content precisely convey the message, and the minimalistic popup design with a contrasting CTA button plus a relevant image gets the job done.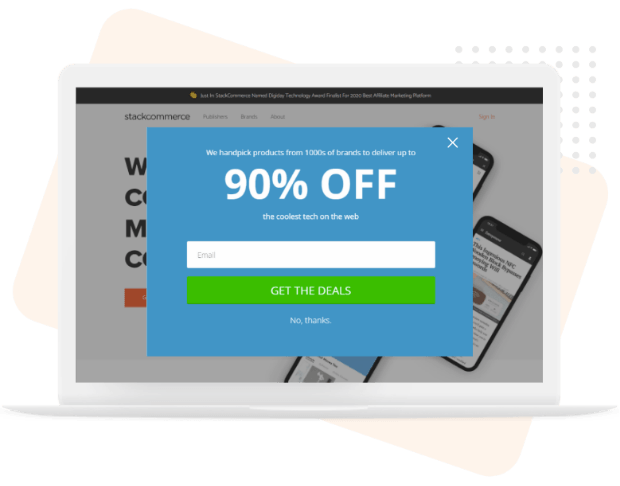 StackCommerce's overlay is another high-converting lead capture popup example that helped them boost leads by 15%. The incentive covers a significant space on the overlay, and "90% OFF" is something that one simply can't ignore. Without overdoing the text and font size, StackCommerce uses this simple design with an actionable CTA "GET THE DEALS" to assure the visitors of the one-step signup process.
How StackCommerce Boosted Leads by 15%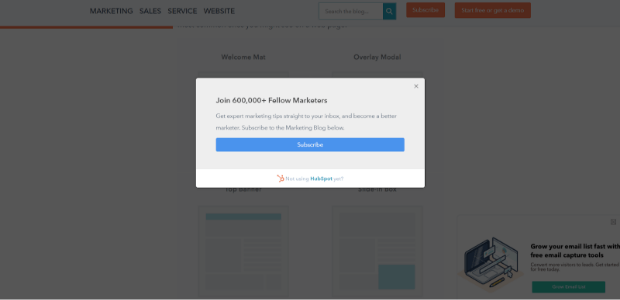 Powerful stats leave a powerful impression, and that's why marketers use social proof on landing pages. As Hubspot's subscribers' list is over 600,000, they use it in the email signup popup to let visitors know what they are missing out on. The popup clearly says that 600,000+ marketers already have access to free guides, expert tips, and more. By keeping the CTA short, Hubspot simply asks visitors to subscribe to get access.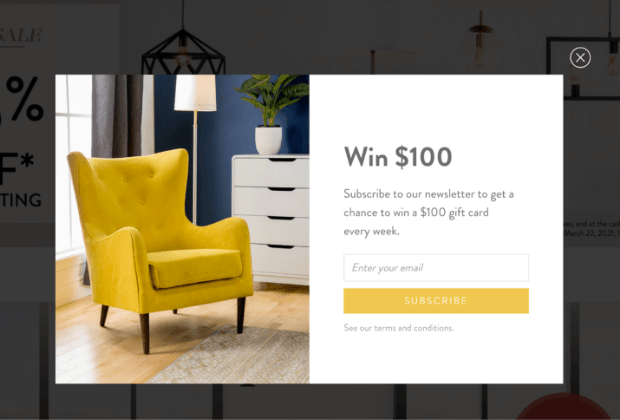 Structube focuses on giveaways rather than giving discount coupons. A $100 gift card is more effective than a 10-20% discount code any day, and that's what makes this lead capture popup amazing. As for the design, it is a clean combination of website colors and a product image to engage visitors. As there is simply a single field i.e., email address, no one would like to miss a chance to win $100 every week by entering an email address.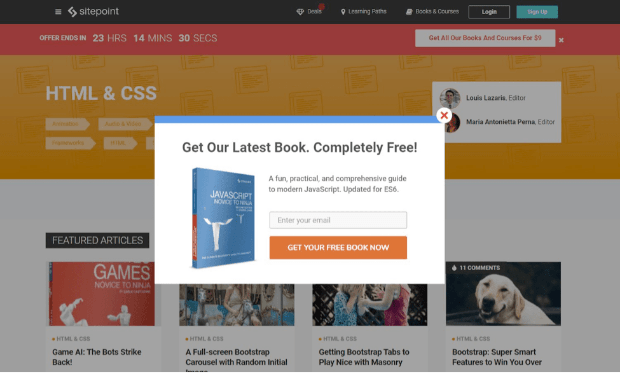 SitePoint's popup is a classic lead magnet that offers subscribers their latest book for free. The image of the hardcopy mentioned attracts visitors' attention and an engaging description of the book makes the offer more solid. The CTA ensures that as soon as the visitor enters their email address, they will get the e-book.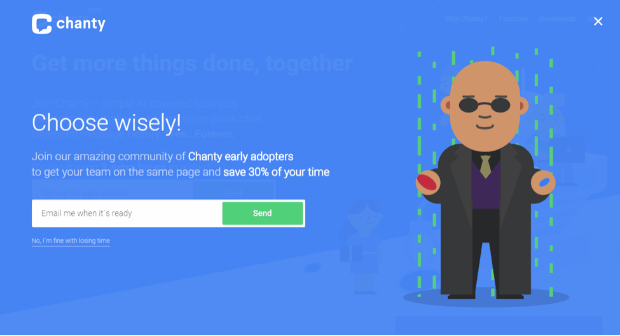 Chanty uses a stunning full-screen overlay that has Matrix-inspired animation to engage visitors instantly. By coupling the animation with a beautifully designed copy and CTA box, it proves to be a successful lead capture form. Even the headline "Choose wisely!" matches with the Matrix animation, and the benefit is in bold to let visitors know about what they will get if they join Chanty's community.
How Picreel Helps in Creating & Managing Lead Capture Popups
Picreel popup builder is an AI-powered conversion rate optimization and lead capture popup tool that lets you create delightful lead capture popups in minutes. With a library of 100+ unique popup templates and a user-friendly popup editor with multiple customizable options, you can easily create unique high-converting popups like the ones mentioned above.
Picreel allows you to time your popups accurately with advanced trigger options like exit-intent, scroll-based, time spent on the page, on-click, etc. When combined with Picreel's precise targeting options such as re-targeting, traffic-based targeting, location-based targeting, cookie targeting, device-based targeting, etc., you can display the right popups to the right audience at the right time to capture maximum leads.
The dashboard is pretty detailed, and you can find all the crucial popup marketing metrics about your lead capture popup campaigns to manage them with ease. With a built-in A/B testing engine, you can test different popups and make improvements to get better results. As the tool integrates seamlessly with popular sales, marketing, CRM, and social tools, you can sync the captured leads in real-time with your favorite apps.
Got the Right Inspiration to Create the Perfect Lead Capture Popup?
Now that you have a better understanding of lead capture popups, you can clearly see that different types of popups work for different brands. From stylish and creative designs to simple, minimalistic ones with the right content, there are certainly a lot of tactics to employ.
In the guide, we covered it all from the importance of a lead capture popup to high-converting examples and a smart popup tool, to get you started. The final tip from our bag is to always keep on experimenting with the designs by combining your content & graphics ideas to get even better results.
Do you want instant 300% growth?
Picreel popups can get YOUR website 300% instant sales growth. See Case Studies.