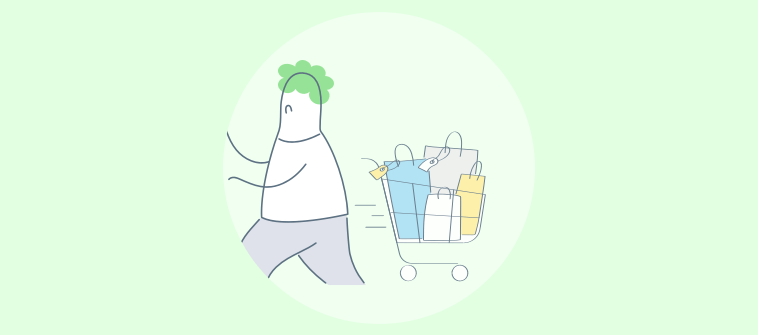 Primarily, marketers use popups to capture leads by collecting their email addresses, mobile numbers, and more.
But, the usage of website overlays is not limited to simply generating leads. When implemented correctly, a shopping deals popup can send your site visitors directly down the sales funnel.
According to Valassis, 52% of online shoppers will purchase only if they have a discount coupon. So, that leaves you with a crucial job of presenting your offer in a generous way to attract visitors' attention.
Rather than simply mentioning a 25% discount on the product page, you can be creative by displaying the coupon using a popup at the perfect moment when the chances of conversion are the highest.
If you are looking for shopping deals ad popup examples to get maximum sales, then we have got you covered with some high-converting overlays. From the basics of shopping deals popups to best practices, examples, and efficient software, you will get insights into all of it!
What is a Shopping Deals Popup?
A shopping deals popup is a normal lightbox, full-screen overlay, nanobar, or slide-in that contains incentives like free shipping, discount coupons, flash deals, or other sales/promotional messages. The primary focus of these popups is to increase sales and conversions, making them pretty popular among eCommerce businesses.
From increasing average order value to converting visitors into customers, a shopping deals popup can help you stay ahead of your competition. Let's check out what more they can help you with!
Why Shopping Deals Popups Are Important
Popups can prove to be the game-changer for your online shopping store. Here's how they can help you boost your online business.
Grab visitors' attention

: Customers love to avail of great shopping deals, and with the right popup at the right time, you can easily capture their attention. You can nudge visitors down the conversion funnel by not sounding over promotional and choosing the perfect incentive.

Reduce cart abandonment

: The average cart abandonment rate is

70%

, and a

discount shopping deals popup

can help you

reduce the cart abandonment rate

for your website. Using exit popups, you can target leaving visitors with free shipping codes and discount coupons to redirect them back to their carts.

Capture quality leads: The main focus of popups is to capture visitors' information, and you can easily do that with a sales lead magnet popup. These popups help you gather visitors' email addresses and boost your subscriber base. You can even use a two-step signup popup by revealing the coupon in the second popup for more conversions.
Generate more revenue in less time

: As shopping deals generally focus on providing discounts and deals occasionally, you can generate more revenue in that period. You can use popups to show flash sales and limited-time incentives that further help in converting more visitors.

Increase average order value

: Using discount popups on your site, you get an opportunity to upsell and cross-sell your products. This encourages the visitors to purchase other relevant products or something of more value, eventually increasing the average order value.
Let's now explore some proven tips and best practices to create & display delightful shopping deal popups.
Shopping Deals Popup Best Practices to Boost Sales
If you are displaying deals and discounts via popups, that doesn't necessarily mean shoppers will purchase. Moreover, popups can annoy your visitors if not implemented correctly. Here are some of the best practices to get positive results from your shopping deal popup campaigns.
Write a concise & engaging copy

: You need to capture visitors' attention, and that can't happen with a boring headline or lengthy content copy. From a crisp, bold headline to precise copy talking about your offer, you need to be creative with your word selection to guide visitors towards the CTA.

Choose relevant incentives

: If the shopper is looking to purchase clothes and you hit them with a discount deal on your watches, that's simply unacceptable. So, pick relevant discounts, deals, and incentives to target different visitors with personalized offers based on their site activity or previous purchases.

Be unique with your popup design

: Try to be creative with your popup design and avoid the classic default lightbox or slide-in. Play well with graphics, color combinations, animations, fonts, and borders. Match the design with the website theme and avoid overstuffing the popup with unnecessary elements.

Smartly set the trigger & targeting options

: If you are not displaying your offer at the right time to the right set of visitors, then it won't get noticed no matter how good your offer is. Use customer segmentation to categorize your visitors. Then, set trigger options and targeting rules to choose when to display deals and who to display them to.

A/B test your popups

: For successful popup campaigns, in the long run, you need to A/B test your shopping deal popups to check their performance. Make small changes in different elements of the popups and test them to see what changes are triggering better results. Also, make sure to change incentives to see the effect on conversions.
Also Read

: 

Improve Conversion Rates by A/B Testing : [Step-By-Step Explanation]
11 Shopping Deals Popup Examples That Increase Sales
Here are some of the best shopping deals popup examples to skyrocket your sales.
Welcome Discount to First-Time Shoppers
First-time shoppers always look to grab a bargain and giving them a discount deal upfront encourages them even more to place their first order. These offers can be presented in the form of lead magnets to capture their email addresses for your marketing campaigns.
In this example, the store uses a unique circular popup design with a warm welcome message that talks about their product as well. As the discount is pretty massive with a good CTA, the campaign significantly helped in generating leads and sales.
Offer Discounts & Coupon Codes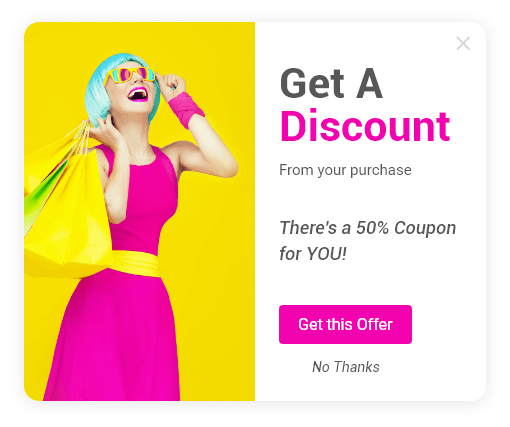 Discounts and coupons are an integral part of eCommerce stores that help in driving sales. When visitors start showing some interest in your landing page or product page, you can trigger a relevant discount popup.
The color combination of the above popup is great, and a minimalistic design plus simple content copy gets the job done. With no input field, visitors can simply get the discount by clicking the CTA that takes them to the shopping cart. Just make sure to not display the same discount popup to the same shopper.
Limited-time Discounts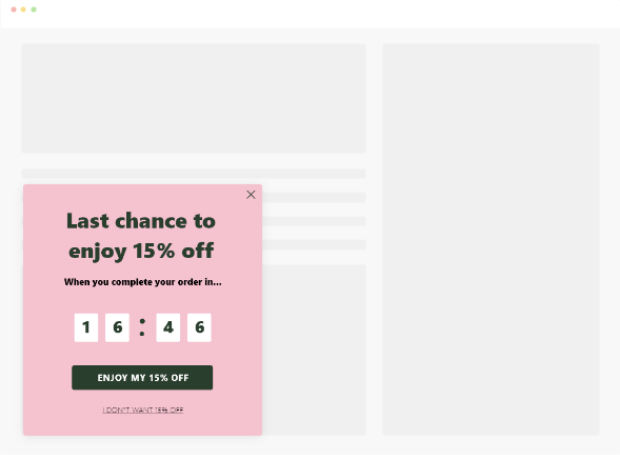 Creating a sense of urgency just like this classic shopping deal campaign can do wonders. No one wants to miss out on an exclusive offer. You can either make the deal time-sensitive or stock-sensitive to drive sales instantly.
In this popup, the live countdown timer is perfect to create FOMO (fear of missing out). The CTA "Enjoy my 15% off" is an actionable one that sends the shoppers directly to the checkout page to complete their purchase.
Flash Sales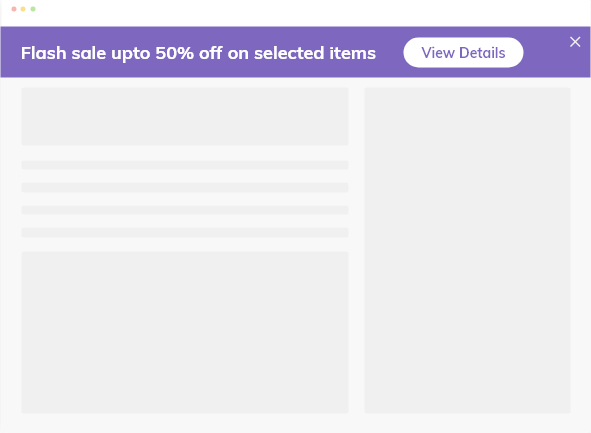 Running a nanobar at the top of your web page is a good technique to get noticed. Many businesses use it to make announcements or give product updates. You can also use this to tell visitors about an ongoing flash sale. As flash sales generally don't last for more than a day, shoppers are likely to purchase more products at a discounted price.
In this example, "selected items" is mentioned in the popup and that makes the shoppers curious about the list of products. The CTA redirects them to a page with all the products that are applicable for the 50% discount.
Recommend Relevant Products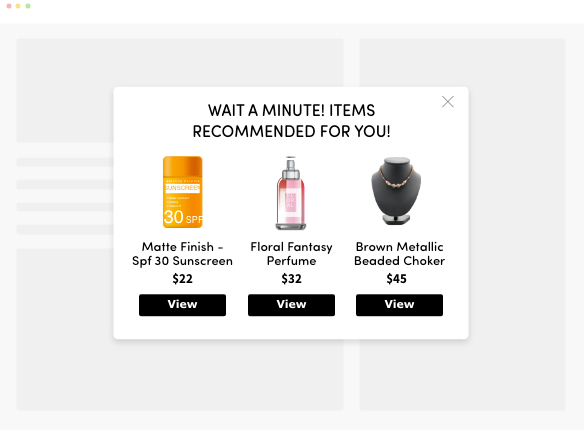 When visitors spend significant time on your website looking for certain products, you can present them with a personalized popup to recommend products. Along with the products, you can put up a discount coupon to encourage shoppers.
In this popup, the space is utilized in a fantastic way to display product names, images, and prices along with the CTA that takes shoppers to the product page. With a creative change in design, you can guide visitors and push them to make the purchase.
Up-sell & Cross-sell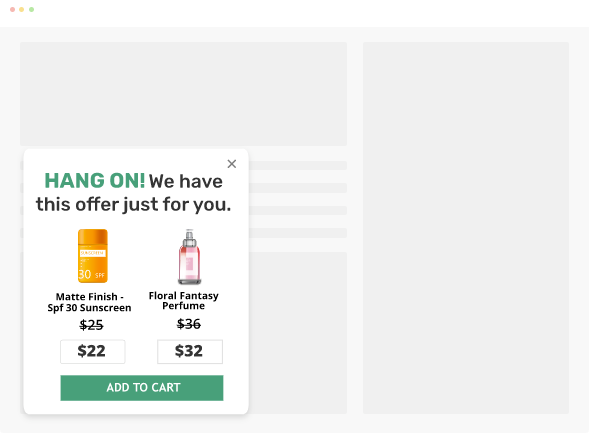 Your average order value increases when a shopper ends up buying more products than expected. Popups provide you with a great upsell and cross-sell opportunity. All you got to do is convince visitors to purchase more products or an expensive product with better features.
As shown in this example, you can club relevant products and give a deal that's hard to resist. With the CTA "Add to cart," the process gets easier, and visitors get redirected directly to the checkout page with the offer applied on the total cart value.
Cart Recovery Popup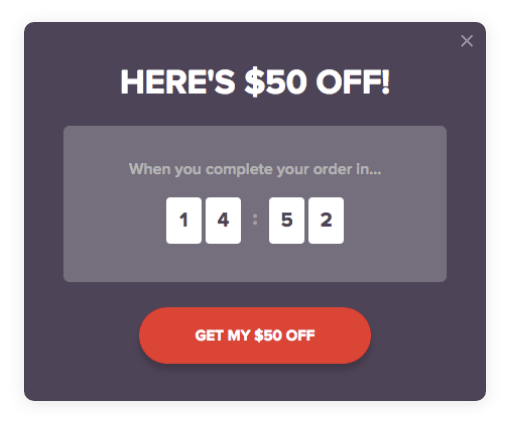 If some visitors have products in their shopping carts, they are engaged visitors who are interested in buying from you. When these visitors decide to abandon their carts by showing exit intent, you can hit them up with a discount.
In this example, along with a great deal, a sense of urgency is also attached. Using the countdown timer, the shopper gets $50 off only if they place their order in less than 15 minutes. The CTA takes visitors to their cart, where the coupon is automatically applied.
Boost Subscriber Base With Gift Deals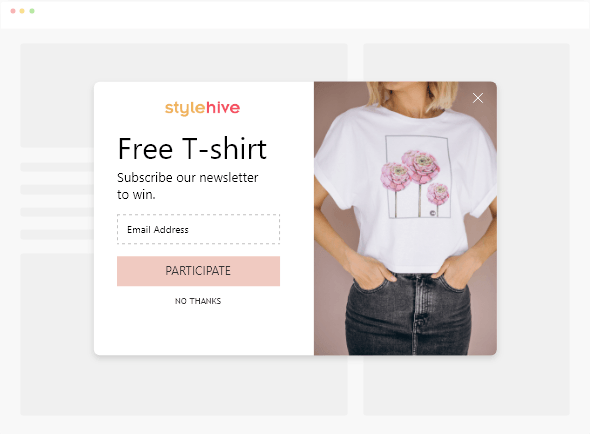 Who said shopping deals are only meant to drive sales? With an incentive such as a gift or giveaway, you can get a lot of email subscribers as well. Choose a unique offer and come up with a great copy to attract visitors so that they participate in giveaways.
In this popup, the headline instantly captures visitors' attention, and the deal is simple – enter the giveaway by dropping the email address. With a contrasting CTA button, visitors are sure to notice the offer.
Free Shipping Deal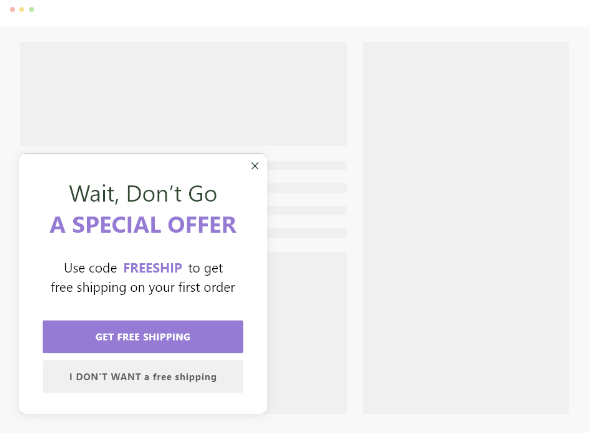 The leading reason behind shopping cart abandonment is high shipping costs.
If visitors are interested in your products, you can nudge them with a free shipping code and push them down the sales funnel.
This popup is targeted at visitors who are about to leave due to extra shipping charges. Terms like Special Offer and Free Shipping Code are highlighted to instantly catch visitors' attention. Also, both the CTA and decline buttons are actionable, helping visitors choose quickly.
Seasonal Shopping Deals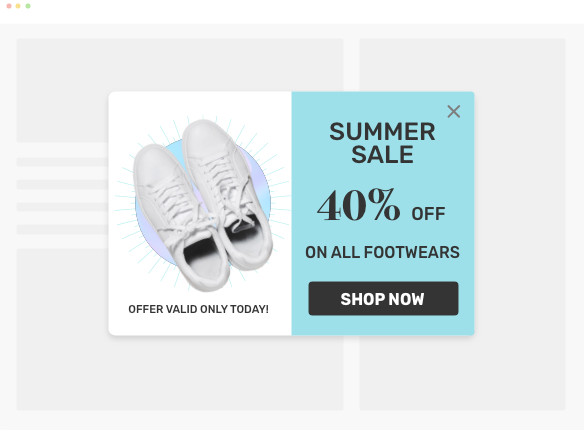 The holiday season provides you with a golden opportunity to promote your brand. This is also the shopping season when traffic is mostly high. Using the right popup shopping deals in a creative way, you can generate maximum sales during this period.
In this popup, the headline is crystal clear, and visitors understand at a single glance that this is a summer special offer. The inclusion of "valid only today" right below the product image also creates an angle of urgency.
Gamify the Shopping Deals Popup
Shoppers love challenges. What they love even more is winning the challenge.
Gamifying your popups allows you to increase visitor engagement. It makes browsing and shopping a fun-filled affair that significantly increases your chances of sales. Once visitors have earned something from the popup, they will be encouraged to make the purchase with their reward.
In this popup, a spin-to-win game is included in the popup that acts as a lead magnet. Visitors get entry to the game after giving their email addresses. As soon as they get the discount, a second popup window takes them directly to the cart to apply the coupon.
How Picreel Helps in Creating & Managing Shopping Deals Popups
Picreel is a conversion optimization popup platform that lets you create delightful shopping deals popups to boost sales and conversions. Customizable popups similar to the above-mentioned examples are all easily available in Picreel's huge template library. With an easy-to-use popup builder, you can get started with engaging popups in minutes.
Picreel also offers a wide range of template options to personalize popups for targeted marketing. Using the basic and advanced set of trigger plus targeting options, you can display deals and discounts to the right audience at the right time.
The best part about Picreel is the comprehensive dashboard that lets you track and monitor the performance of your popup campaigns in real-time. With a built-in A/B testing engine, you can even test your shopping deals popups to see what works best for your business.
As Picreel integrates seamlessly with 700+ sales, marketing, CRM, and social media tools, you can transfer captured data in real-time for your marketing campaigns.
Skyrocket Your Sales With Shopping Deals Popups
Now that you are well aware of the importance of discount popups and understand the pop up deal best practices, you can skyrocket your sales with some eye-catching deals. As your bag is now full of inspiration from the examples mentioned above, you can now twist them to create your own unique designs.
With the help of Picreel, you can easily get started with creating your unique popups. Make sure to constantly test your popups using A/B testing to get maximum sales from onsite traffic.
Do you want instant 300% growth?
Picreel popups can get YOUR website 300% instant sales growth. See Case Studies.