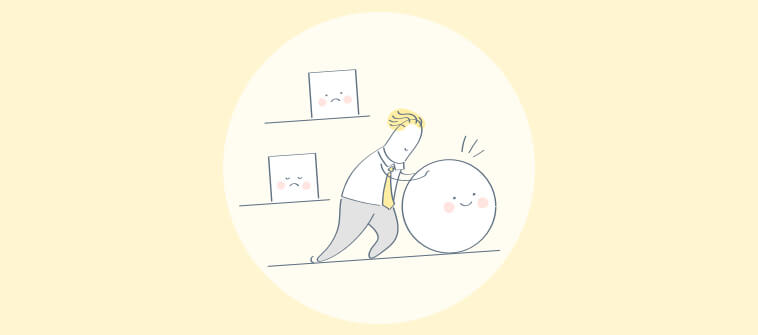 OptiMonk is a popular retargeting tool that uses exit-intent technology to help convert website visitors into customers.
Just as a visitor is about to leave the site, OptiMonk displays a special offer based on the visitor"s browsing activity. These popup offers have proven to be successful at converting visitors into sales and leads.
However, the complexity of OptiMonk and some missing features make it less effective for many businesses. If you're a beginner or own a small business, you might find OptiMonk pricing a bit over the budget. Also, the tool can be tricky to work on, and that's why marketers search for the best OptiMonk alternatives.
As you are here looking to decide the perfect OptiMonk alternative for your online business, we are prepared with some of the very best and user-friendly lead generation popup tools. So, let's get right into the real deal!
What is OptiMonk?
OptiMonk is a free lead generation and conversion optimization tool that lets you turn your website traffic into sales. It allows you to create popups, sidebars, fullscreen overlays, notification bars, etc., without any coding. Businesses use this tool to engage visitors, recover abandoned carts, display recommendations, guide visitors, and offer them help.
How to Choose the Best OptiMonk Alternatives?
The best exit-intent popup software should make complex life easier for marketers. As simple as that!
You should be able to create interactive popups easily, surveys, forms, etc., track the results, test campaign variations, and synchronize the campaign data with your sales/email marketing/CRM tools. That all should be present in a popup application. Let's put these more easily.
Here are the must-have features of OptiMonk alternatives:
Simple Campaign Builder:
You should be able to create popup campaigns easily by designing beautiful and high-converting popups without any coding or designing knowledge.
Popup Templates Library:
There should be enough templates for different use-cases to achieve different marketing goals like promotions, support, giveaways/gifts, lead generation, etc.
Campaign Analytics:
You should be able to track your campaign results and metrics in real-time, like the number of clicks, impressions, CTR, captured emails, etc., without any complexity.
A/B Testing:
The most useful feature that helps you compare different popups to make improvements in the design, copy, color combination, CTA, etc. There should be all the performance indicators to make comparison easy.
Advanced Triggers & Targeting Options:
There should be customized trigger settings to display popups to your visitors based on their location, redirect source, time on page, scroll intent, and so on. This helps in targeting the visitors with the right popups.
Easy Integrations:
You should be able to sync and send the data captured such as name, mobile number, email address, etc., automatically to your sales/marketing/CRM tools.
Fast & Responsive Customer Support:
Issues and problems are inevitable, but a quick response from the software's support team can get you going in no time. Make sure that the software vendor has a dedicated support system in place.
So, these are the different features and functionalities that businesses should consider before investing in a lead generation popup tool. Let's now move on to the selection criteria for OptiMonk alternatives.
Our Selection Criteria for OptiMonk Alternatives
To help you find the perfect alternative to OptiMonk, we have tried and tested different lead generation and popup tools and have developed some excellent software solutions. The selection criteria that we followed to create this list are as follows.
Core OptiMonk Features:
The tool offers core features like premade editable templates, advanced reporting & analytics, trigger options, etc.
Comparable Pricing:
We have included products that are priced similar to or less than OptiMonk.
Minimum 10 user reviews published on Getapp and Capterra in the last two years:
Recent reviews tell us a lot about the pros and cons of OptiMonk alternatives.
High "Features and functionality" rating:
The tool should have a minimum rating of 3.5 out of 5 stars on Getapp and Capterra.
High Recommendation Rating:
The tool should have an average recommendation rating between 7 and 10 on a scale of 10 on Getapp and Capterra.
Top 10 OptiMonk Alternatives for Lead Generation
1- Picreel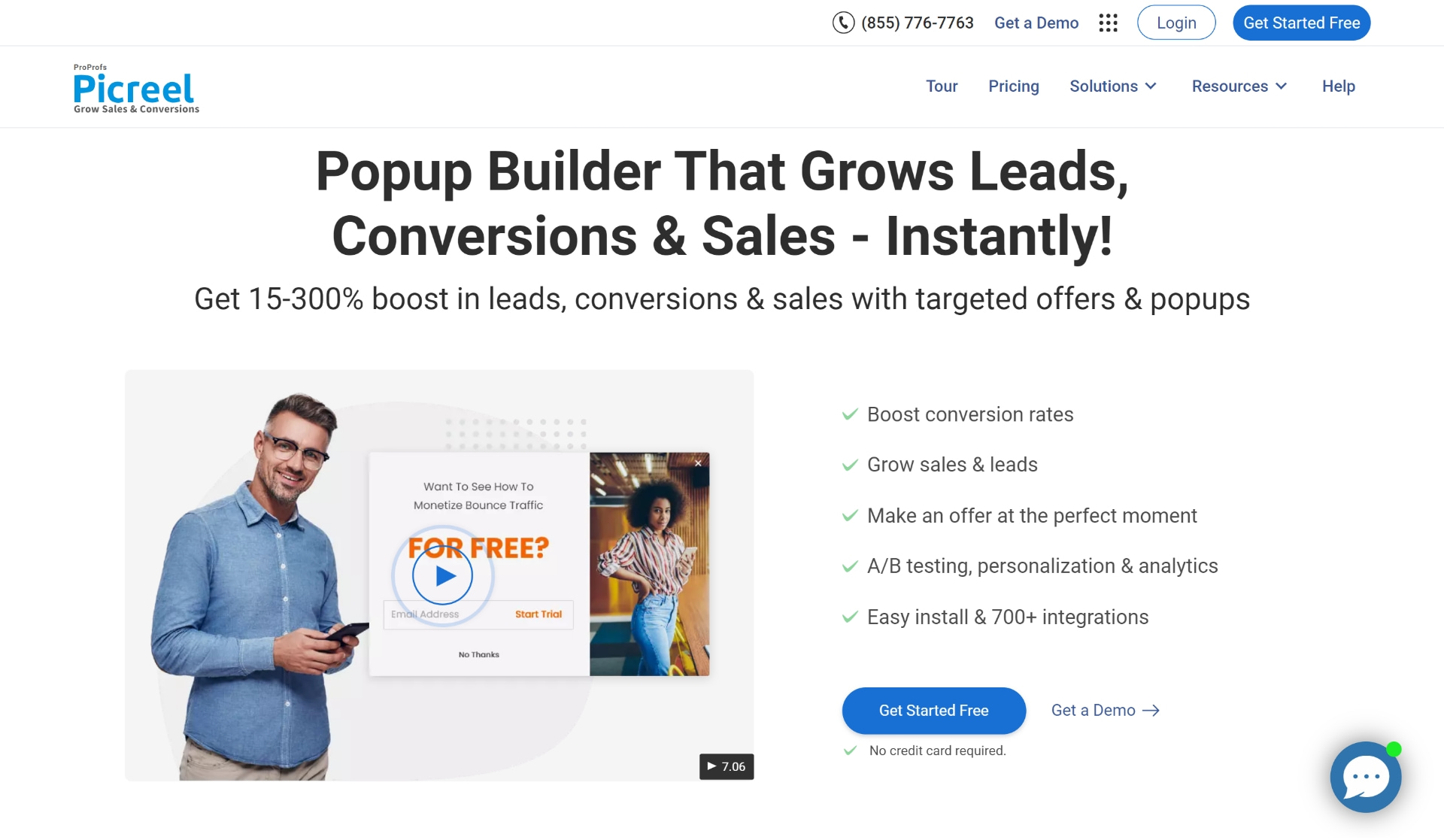 Picreel popup builder is the leading contender in this list of OptiMonk alternatives. This exit intent plugin uses timed popups to prevent visitors from leaving the site without taking action. With the help of delightful popups and forms, you can easily increase conversions, sales, and leads using Picreel. The online tool is easy to use and navigate, and comes with many advanced features to take your campaigns to the next level.
Key Features
Identify profitable segments
Target highly specific traffic
Onsite retargeting
A/B testing
CRM integration
Mobile and mail marketing integration
Pricing
Starts at $9.99/month with forever-free plan
2 – OptinMonster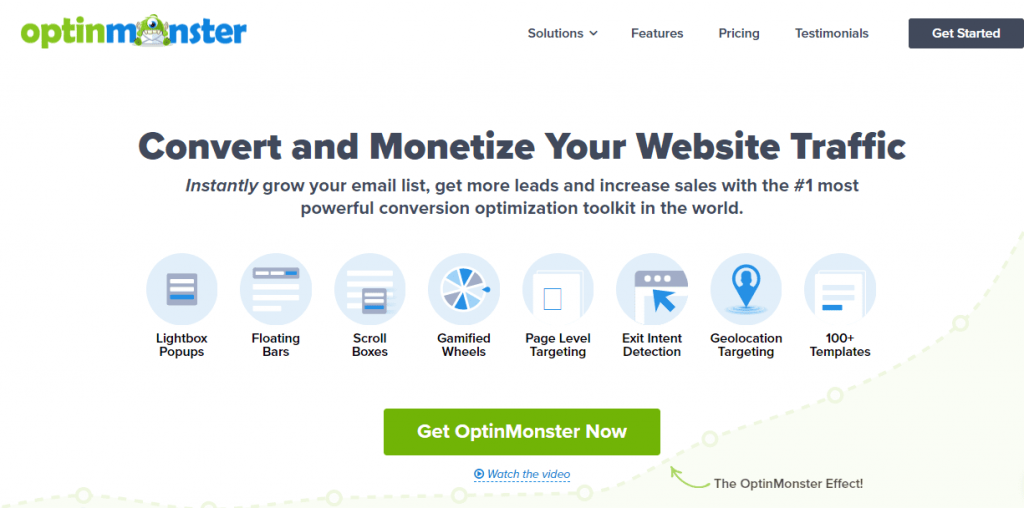 OptinMonster is one of the oldest lead generation popup tools in the market. The robust platform lets you design creative popups for your online stores. With a great range of lead generation features and advanced campaign management/tracking options, this tool is perfect for businesses of all sizes to grow their customer base and increase sales.
Key Features
A/B testing options
Analytics tracking
Tracks exit intent
Pop-up forms, opt-in forms, after posts, footers, etc.
Target specific users, categories, or pages
Pricing
Basic – $9/month
Plus – $19/month
Pro – $29/month
Growth – $49/month
3- Bloom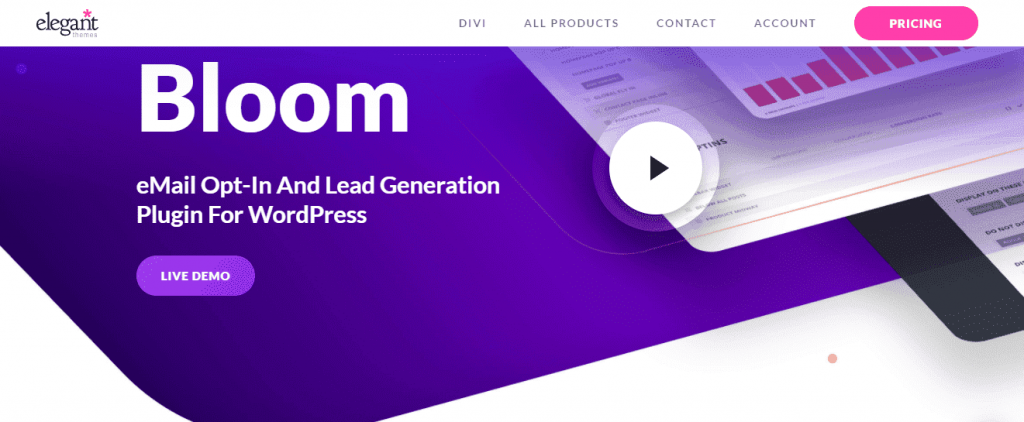 Bloom is an email opt-in plug-in for WordPress. They pride themselves on their elegant designs and are perhaps the most artistic of the options listed here. Bloom's team spent a lot of time designing templates to meet many different targeting needs. The forms seamlessly blend into websites, looking like they belong there. With access to many more themes and designs for your website, there's a lot that comes with Bloom subscription.
Key Features
6 different display types
Target highly specific traffic
16 email marketing integrations
More than 500 pre-made templates
Conversion and email list statistics
A/B testing of opt-in forms
Pricing
Yearly Access – $89/year
Lifetime Access – $249 (one-time fee)
4 – LeadPages

LeadPages is a comprehensive marketing solution. Primarily a landing page generator, the plugin does have a brilliant lead capture popup feature. With multiple levels of advanced targeting, tracking, and testing, your marketing team can make necessary changes based on perfect analytics/data to boost conversions. Overall, the tool is easy to use, customize, and implement on your website for better results.
Key Features
Easy digital asset delivery
Traffic redirection in few clicks
Groups and labels organization
Timed and exit popups
A/B testing and analytics
Email integration
Pricing
Standard – $27/month
Pro – $59/month
Advanced – $239/month
5 – PopupAlly

PopupAlly is a drag and drop popup plugin that helps you build your email list fast. The exit-intent feature of this tool is valued for its subtle, polite, and reader-centric popups. Without any design and coding skills, users can easily create and display popups on websites using PopupAlly. The smart technology of this tool makes the popup timing and placement great without annoying or disrupting the visitors' shopping experience.
Key Features
A/B testing
Scrollactivation
Click-based activation
Time-delay feature offering
Embedded sign-up form
Email integration
Pricing
6 – Wisepops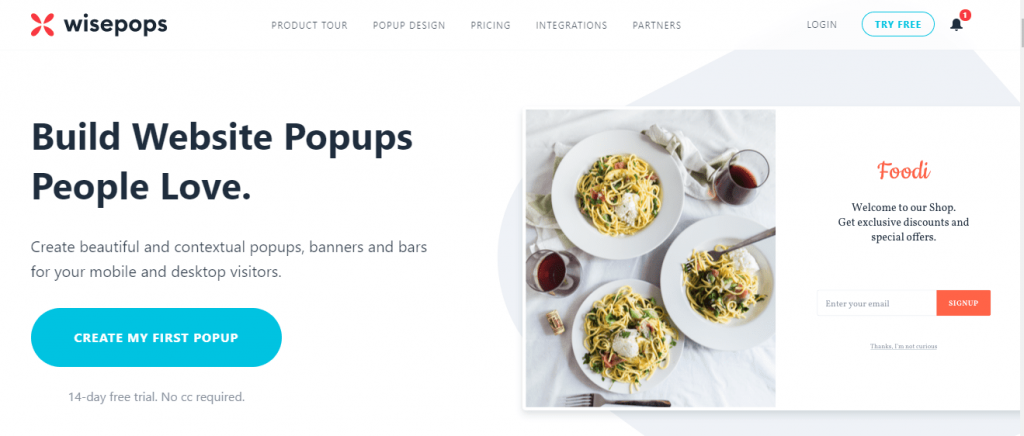 Wisepops is the perfect marketing platform for B2B businesses and online stores to reach the right audience at the right time. From collecting feedback and email addresses of visitors to promoting giveaways, discounts, and much more, Wisepops is a good exit-intent popup tool to convert visitors into customers. Also, there are pricing plans for businesses of all sizes, and even marketing agencies can use Wisepops for their clients.
Key Features
Drag and drop popup editor
50+ popup templates
30+ email marketing/CRM/CMS integrations
A/B testing
Powerful targeting options
Pricing
Small Businesses – $29/month
100,000 pageviews – $49/month
250,000 pageviews – $99/month
500,000 pageviews – $149/month
1,000,000 pageviews – $249/month
Enterprise – Starting from $250/month (Custom quotes available)
7 – Privy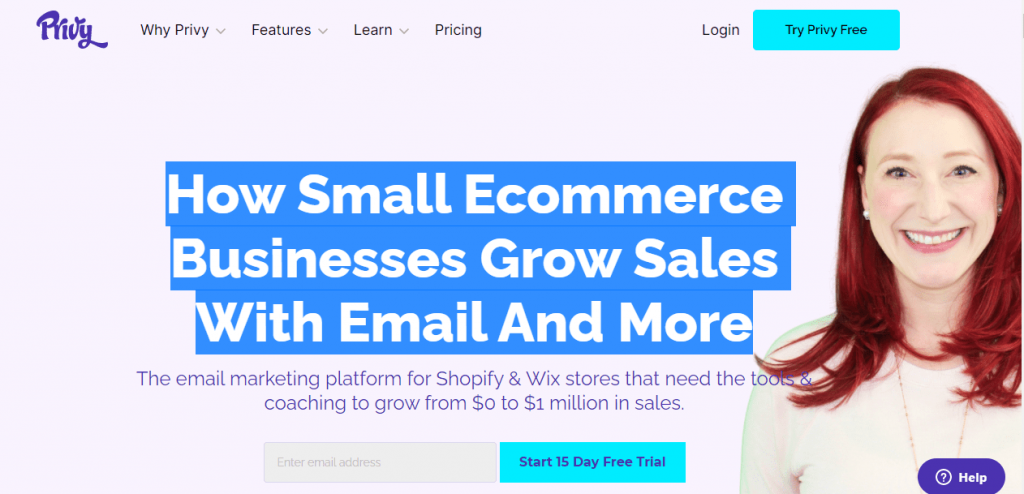 Privy is primarily a platform for SMS and email marketing. Thanks to the developers, it also includes some really awesome popup features. With a decent range of popups and bars, banners, etc., Privy is a nice OptiMonk alternative that gets the job done with ease for different businesses. The best thing about Privy is the simple and wide range of targeting options that are available to personalize the popup campaigns.
Key Features
Drag and drop popup designer
A/B testing
Multiple targeting options
Pre-loaded template library
Easy to install and integrate
Pricing
Free plan
Custom plans starting from $15/month
8 – Sleeknote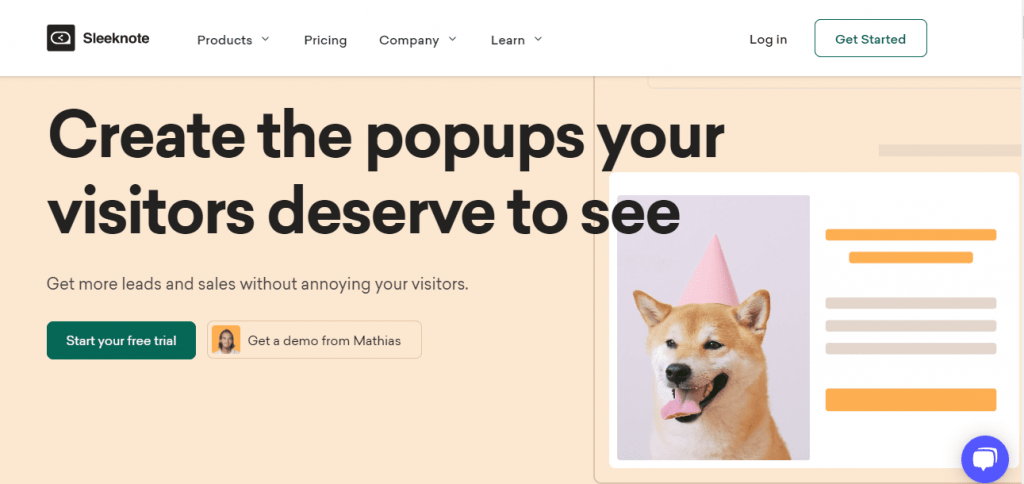 Sleeknote is a popular lead generation platform that is also equipped with sales features. The tool has a wide range of popup templates to create and run different marketing campaigns over the website. With a feature-rich library, the price of the software, as expected, is among the most expensive ones. For small businesses, this might not be the perfect popup solution. But, enterprise and marketing agencies can surely give Sleeknote a try.
Key Features
Simple popup creator
Drag and drop features
Huge popup templates library
Mobile editor & advanced trigger options
Easy integrations with email marketing apps
Pricing
Lite – $49/month
Basic – $59/month
Plus – $114/month
Pro – $225/month
Premium – $369/month
9 – Popupsmart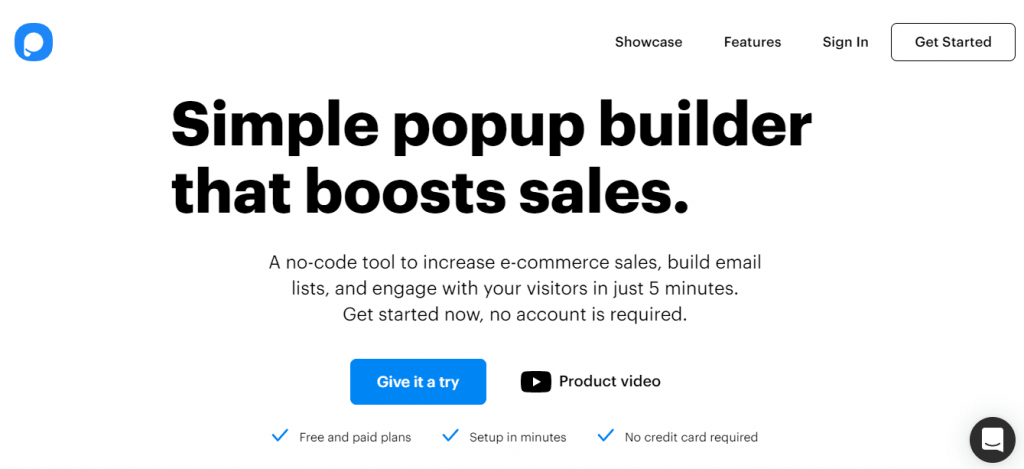 Popupsmart is a no-code app that lets you build simple popups to engage visitors, increase sales, and build email lists. With set up in minutes, businesses can easily kick off their popup marketing journey without disturbing the buying experience of visitors. If you haven't worked much on popup tools before and OptiMonk feels a bit complex, this is the best beginner-friendly alternative to work on.
Key Features
55+ high-converting popup templates
Smart editor to design beautiful popups
Effective targeting options
Mobile-friendly with 4 layouts
100+ flawless integrations
Pricing
Free
Basic – $29/month
Pro – $79/month
Expert – $129/month
10 – Poptin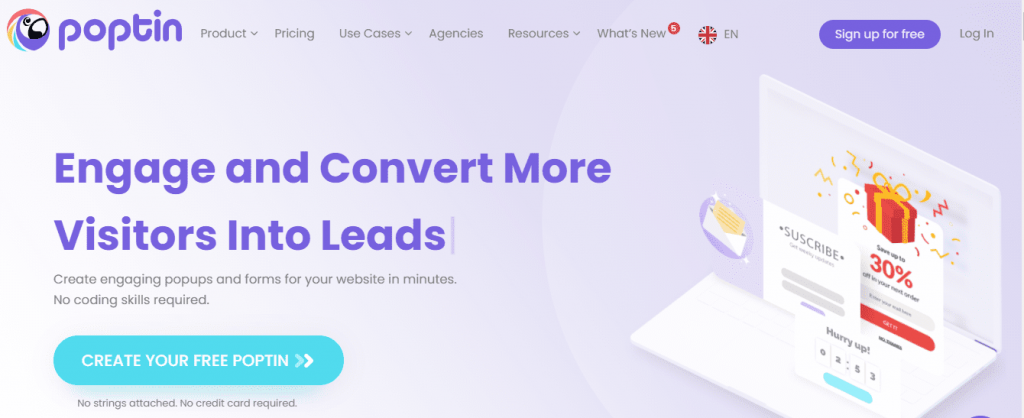 Poptin is an automated lead generation platform with interactive popups and forms to engage more visitors into customers, subscribers, leads, and sales. From increasing brand awareness to reducing shopping cart abandonment and bounce rates, businesses can benefit from Poptin to grow sales easily. With multiple pricing plans, the tool is an excellent choice for all businesses and marketing agencies.
Key Features
Simple editor with customization
Drag and drop features
3 types of website popups
Basic targeting options
A/B testing
Pricing
Free
Basic – $15/month
Pro – $39/month
Agency – $79/month
Comparison of OptiMonk Alternatives
| Tool | Free Plan | Exit-Intent | Custom Templates | A/B Testing | Platform |
| --- | --- | --- | --- | --- | --- |
| OptiMonk | No (14 days free trial) | Yes | Yes | Yes | Any site |
| Picreel | Yes (forever-free plan) | Yes | Yes | Yes | Any site |
| OptinMonster | No | Yes | Yes | Yes | Any site |
| Bloom | No | Yes | Yes | Yes | Wordpress |
| LeadPages | No | Yes | Yes | Yes | Wordpress |
| PopupAlly | No (30 days free trial) | Yes | Yes | Yes | Wordpress |
| Wisepops | No (14 days free trial) | Yes | Yes | Yes | Any site |
| Privy | Yes | Yes | Yes | Yes | Wordpress, Shopify, and more |
| Sleeknote | No (7 days free trial) | Yes | Yes | Yes | Any site |
| Popupsmart | Yes | Yes | Yes | Yes | Any site |
| Poptin | Yes | Yes | Yes | Yes | Any site |
Time to Grab Some Hot Leads!
OptiMonk is a good lead generation tool, but nothing's perfect, and a lot of businesses find this tool complex. With the list of top 10 alternatives, you surely have some great options on your plate to choose from.
Have all these Optimonk alternatives left you confused? Can't decide which one will work best for your business needs? Try Picreel. Picreel is the perfect exit-intent solution that includes a forever-free plan, works on multiple platforms, offers three different types of retargeting popups, lets you create custom templates, integrates with 100's of different apps and programs, and does it all affordably.
You'll be able to get your retargeting program up and running with minimal investment and expert support when you need it. Once you decide on the software, just make sure that you display the right popups to your visitors. Here are the best exit-intent popup examples.
Do you want instant 300% growth?
Picreel popups can get YOUR website 300% instant sales growth. See Case Studies.