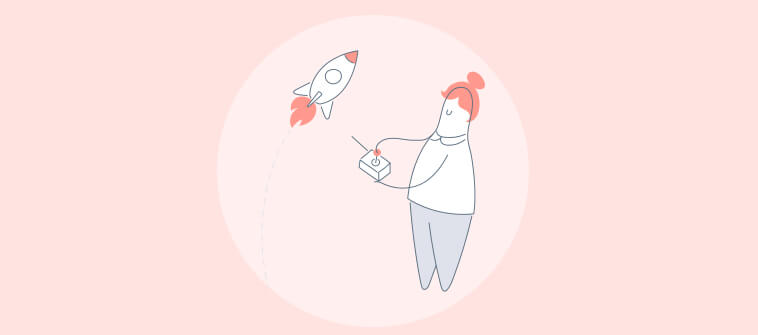 If you are wondering what a lead magnet exactly is and are looking for some ideas to create high-converting magnets, then we have got you covered.
In general marketing terms, a lead magnet is an efficient technique for capturing the contact details of prospects. You must have noticed lead magnets at the top or bottom of the landing page or in a popup window. In return for a free guide, whitepaper, etc., visitors are asked to provide their contact information.
But, the catch here is that you need to offer something unique, relevant, and of high value that is simply hard to resist for your website visitors.
When done right, it can leave you with a lot of email subscribers and quality leads for further communication and marketing campaigns. We will be looking at it all in this article.
What is a Lead Magnet?
A lead magnet is a marketing element that helps businesses generate leads by providing some resources in exchange for prospects' contact details. These magnets can be eBooks, marketing guides, templates, whitepapers, tutorials, infographics, and so on.
The motive is clear. By offering something that holds great value for free, you can tempt the visitors to sign up for your mailing list. From promoting your business to increasing sales and conversions in the long run, a lead magnet can help you achieve a lot.
Let us now learn why you should have a lead magnet on your website.
Why Do You Need a Lead Magnet?
Let's start with some statistics.
There are nearly 4 billion daily email users.
Next, for every $1 businesses spend on email marketing, they can expect a return of $42. So, where there is 4200% ROI, who would want to miss out on such an opportunity?
Now, getting back to the point. Why do you need a lead magnet? Because they can help you get the email addresses of site visitors. These captured leads can be used in marketing campaigns to promote your brand, make announcements, send offers, and eventually redirect visitors to your site for future purchases.
As lead magnets provide incentives to potential shoppers and blog readers, visitors are more likely to leave their contact information. This fact makes lead magnets a pretty successful technique in this digital era.
Now that you know that visitors aren't going to simply leave their details on your site without a good incentive, it is time to get the right inspiration.
In this next section, we will be looking at some of the best lead magnets ideas.
25 High-Converting Lead Magnet Ideas
To help you rise in the right direction, here are 25 proven lead magnet ideas to maximize your conversions quickly.
Webinars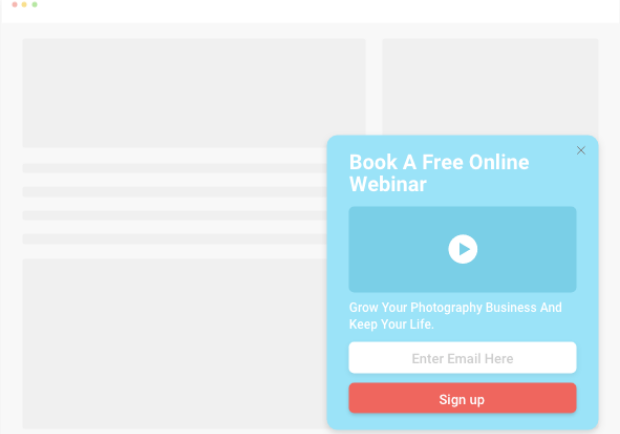 Webinars are not just great for capturing leads but are perfect for connecting with prospects and customers. They offer you a chance to promote your brand and interact with the audience to resolve their queries.
These events can be either informative (instructional) or can be about products or services that usually conclude with incentives like discount codes or gift vouchers. You can use this lead magnet to ask visitors to join your webinar by simply leaving their name & email.
eBook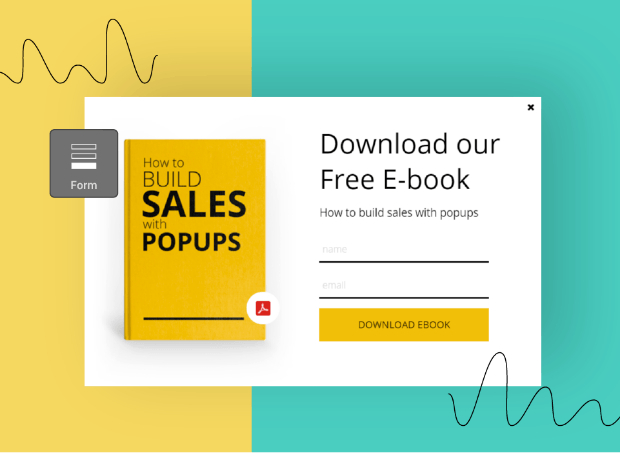 An eBook is one of the most popular lead magnets. People love to read these as they can access eBooks on their phone, tablet, or laptop to get relevant content. The good part is that there is no specific word or page limit for books, and you can design them easily.
By simply compiling your top-performing blog posts and infographics or by scanning one of your physical books to make a digital copy, you can get a powerful eBook ready. But with eBook, it is all about targeting the right audience. According to the visitors' interest, you need to display them the most relevant eBook.
Cheatsheet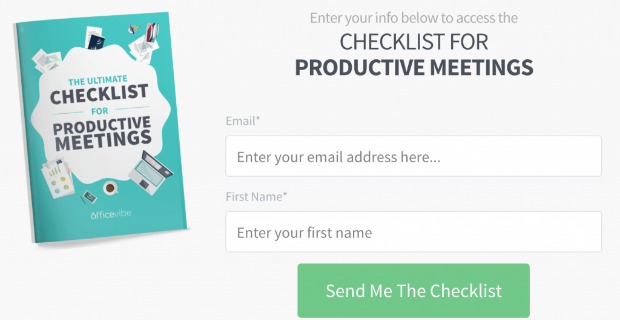 Cheatsheet is like a short guide that readers can access anytime to achieve something. It can be the key takeaway points from a long blog or a glossary of terms that readers can refer to for refreshing their memory instantly.
As this resource is a productive one for site visitors, a cheatsheet proves to be one of the most compelling lead magnets. You can put your offer in a compiled format that clearly conveys the benefits of your cheatsheet.
Checklist
A checklist is one of the best lead magnet examples for SaaS websites. Readers like to have an actionable list at their fingertips when they try a process, which is precisely why instructional blog posts with checklists work great.
To create a checklist, you can first categorize the blog into a series of bullet points. Make the points actionable and achievable. Give a glimpse of the checklist in your popup and your lead magnet is ready to roll.
Case Studies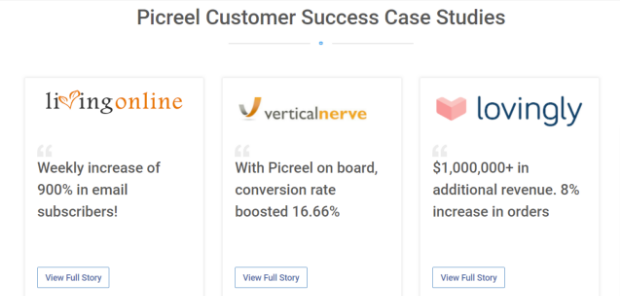 Case studies often reveal the success of something. With an enticing headline stating the results such as "How Living Online witnessed a weekly increase of 900% in email subscribers!", you can capture visitors' attention instantly.
Use visuals and infographics to put together the case study in a creative way. Make a simple lead capture popup form to gate your case study. That not just leaves you with leads, but also sales. It is also an efficient way to promote your brand.
Whitepaper
Recently carried out a survey? Have some research paper or documentation at your disposal that your audience might find interesting? That right there is an opportunity to prepare a detailed report in the form of a whitepaper.
Visitors often like the latest reports that talk about useful findings in relevant areas. Moreover, you can mention that you will send such insightful whitepapers every week. This will nudge the visitors to subscribe to your newsletter. The in-depth and reliable information you provide in your Whitepaper gives credibility to your brand. Check out these white paper examples for some inspiration.
Resource Libraries
A resource library is simply a list of resources such as blogs, tools, articles, and more that help users achieve results. The list can be as simple as the best-selling books in the Crime genre or top 10 apps to manage your daily workload.
Based on your target audience, you can come up with different resource libraries like "Lead Generation Tools: The Complete List" or "SEO Best Practices: A Comprehensive Resource Pack". Make sure to give a glimpse of your library in the lead magnet popup.
Toolkit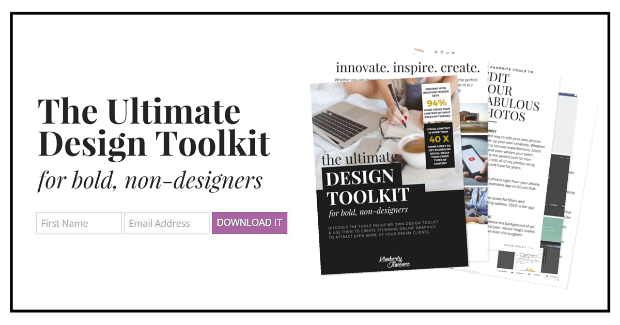 A toolkit is another popular lead magnet idea because everyone wants to know what tools the majority of people are using to achieve success. The toolkit can be related to anything that visitors are showing their interest in.
The good thing about toolkits is that you can easily become an affiliate for the tools/software/services you mention in the list. So, as visitors get their list, you can capture quality leads and even get extra revenue for your business.
Templates
Templates prove to be a good starting point for users. They can be easily edited and customized to quickly launch campaigns. The template can be for social media, emails, overlays, spreadsheets, graphic designs, and more.
It works because visitors don't always like to start things from scratch, and templates provide them a platform to build their own unique designs. Also, templates are low-maintenance lead magnets, and you won't have to keep on updating them from time to time.
Access to Private Newsletter/Group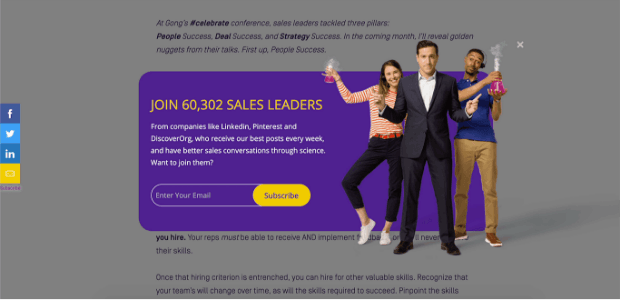 People love to be a part of a private community to get access to premium content and an opportunity to discuss topics with like-minded people. Creating such a space in the form of a newsletter or group is an effective way to generate leads.
This practice not only helps you capture leads but also provides you with an opportunity to understand your audience better. Mention the benefits of your community and use numbers in your headline, such as "Join 50,000+ fellow marketers" for more conversions.
Guides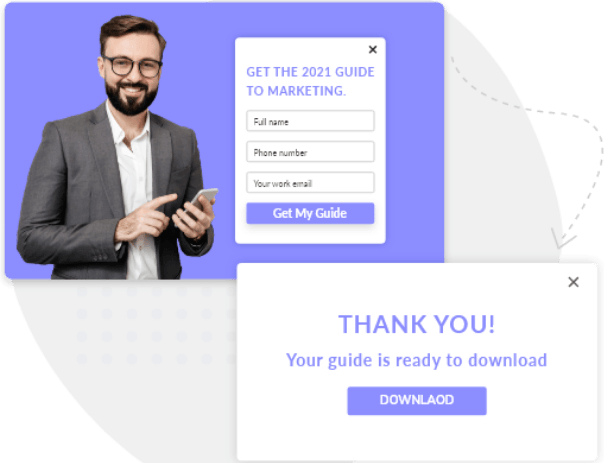 If you are thinking that we have already covered the eBooks above, then why guides? What's the difference?
Well, it is another lead generation magnet that contains an ultimate collection of articles about a topic.
So, you won't be simply compiling your blog posts in guides. Rather, you will be compiling the top articles and posts from the Internet by giving the credits to the original source. The guide acts as a valuable resource that users can refer to anywhere, anytime, making it a perfect lead magnet for your website.
Mini-Courses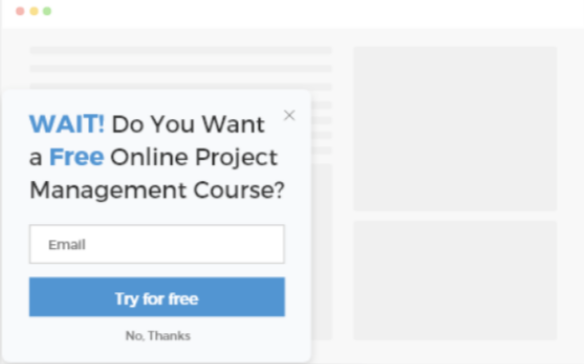 Online education, also known as knowledge commerce, is a rapidly growing industry and users are always interested in exploring and learning new topics. That provides you with an opportunity to host mini-courses as a lead magnet.
The mini-course can consist of different elements such as videos, tutorials, guides, articles, audio recordings, homework, and quizzes. You can send weekly emails to subscribers related to the course. By mentioning the benefits of the mini-course in your lead magnet overlay, you can definitely capture the attention of your audience.
Spreadsheet
People use spreadsheets to manage projects, financial tasks, and more. They help businesses and customers to keep things organized and accountable. But, not everyone likes to build spreadsheets from scratch.
That's where your lead magnet comes in to help your prospective customers. You can design relevant spreadsheets to help your target audience manage their tasks feasibly. Make sure that they are easily customizable and give visitors a glimpse of spreadsheets in your lead magnet popup.
Calculator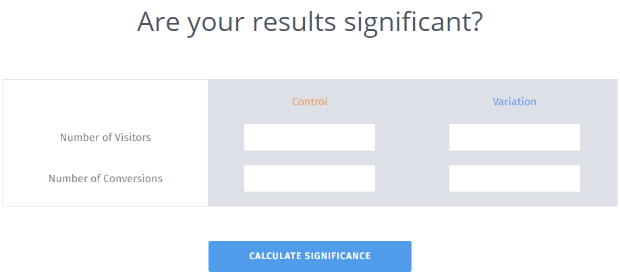 A calculator is not a complicated lead magnet idea. However, it requires coding skills and some math knowledge. The calculator comes in handy for marketers and users that deal with numbers. For best results, make the calculator solution-oriented for different audiences.
For example, the image above is a calculator to check the significance of A/B tests. Users can easily download the calculator by providing their email addresses. Keep in mind that visitors might not know the benefits of your calculator, so design the content copy in an informative manner to convey the value of your offer.
Planner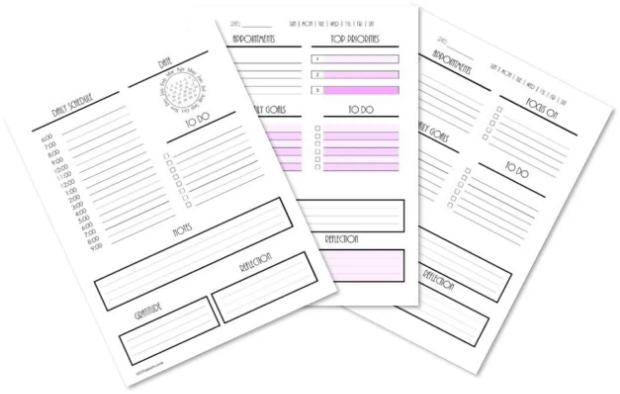 A planner is helpful for people who like to keep their day or week organized and easily manageable. Your lead magnet can be a blank planner with a good design and proper columns for users to fill in. A blank planner is a generic option to go with but is not effective for all websites.
However, if you know your audience well, then you can design industry-specific planners for maximum impact. You can provide a printable copy or digital PDF copy so that users can easily fill in these either on their computer or physically.
Videos
Almost 33% of Internet activity consists of watching videos. And surely, YouTube and Twitch are not the only sources to watch videos. The point is, a lot of users prefer watching videos rather than reading a long blog or e-book.
So, it is a great lead magnet opportunity for you to create informative and engaging videos. You can use your blog articles as a base to create relevant video scripts. Make sure to choose intuitive topics and stay up to date with industry trends to get better content for your videos.
Infographics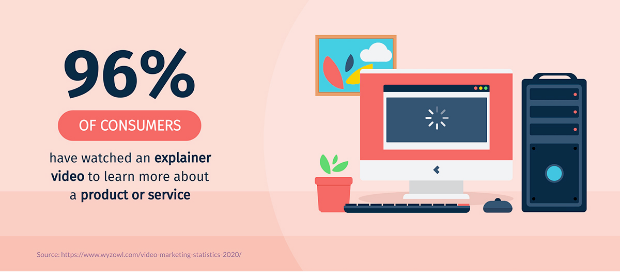 From blog posts to landing pages, marketers use pieces of infographics everywhere to quickly capture visitors' attention. In general, infographics are long visual representations and you can't share it all on a landing page. So, the full original infographic is a great free lead magnet idea to consider.
Firstly, you should try to come up with original infographics as new content plus statistics always entice visitors to know more. Take a small screenshot from your long infographic and use it as a teaser in the lead magnet popup to let visitors judge the value of the complete infographic.
Podcasts
Podcasts are one of the innovative types of lead magnets that can help you engage with high-quality leads. The audio recordings are even better than videos as users can listen to them while doing other stuff. So, if videos are not really working for you, you can provide access to your podcast series in exchange for visitors' email addresses.
A detailed analysis of trending topics or informative guides put together in the recordings can instantly grab the attention of your site visitors. It is also helpful to get an amazing audience for your future podcasts. Make sure to mention the name of speakers and topics you will be covering, in the lead magnet popup for credibility.
Free Shipping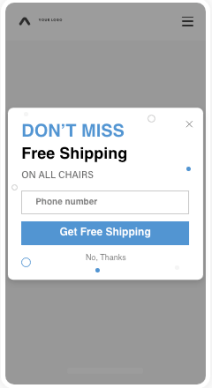 If you run an eCommerce business, then a free shipping lead magnet can help you convert visitors into not just leads but customers. To push visitors down the sales funnel on your site, you simply need to nudge them with a free shipping coupon on the checkout page.
Shoppers that are already engaged with your products and services are likely to respond to such a lead magnet. After all, who wouldn't like to get their products delivered for free? Make sure to use a unique design and a crystal clear CTA that takes visitors directly to the checkout page once they enter their email addresses.
Limited-time Discounts/Deals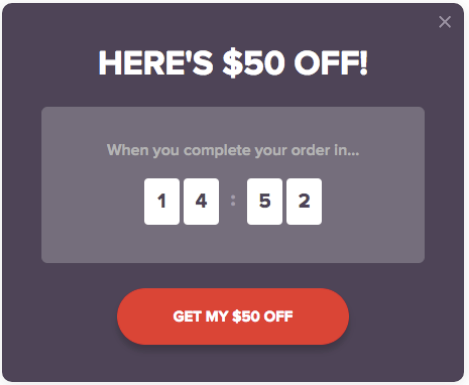 If shoppers are showing interest in your products, then you can display a discount or deal popup to nudge them towards the purchase. From a discount code to gift cards and other incentives, all of these are great ways to capture visitors' email addresses.
To make your offer more compelling and to get more leads, make it time-limited by adding a countdown timer. This creates a sense of urgency and is perfect for generating more leads plus sales in less time.
Spin to Win Game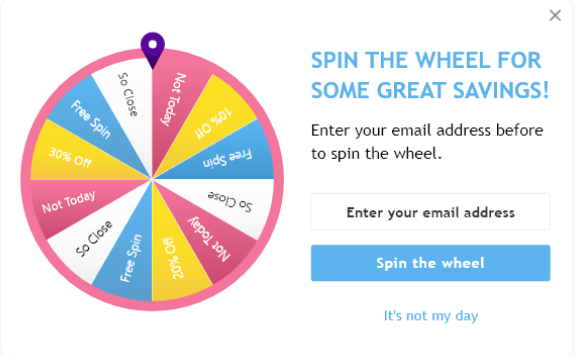 Spin to win is one of the most popular lead magnets to use on eCommerce sites. As you gamify the experience for site visitors, they are likely to participate in a game where they can win discount coupons and other stuff for free.
Similar to this example, you can come up with unique designs and game ideas to interact with visitors. Additionally, you can give extra spins to visitors if they refer it to their friends and family.
Free Demo/Free Trial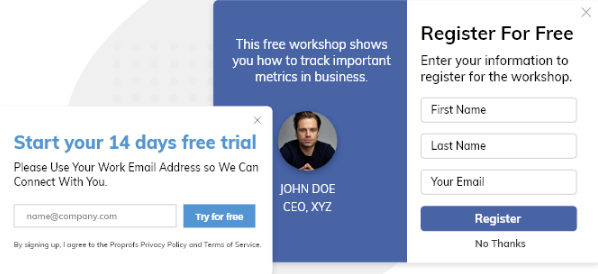 For SaaS businesses, offering a free trial to users is a proven lead magnet idea. Surely, the visitors must have explored the features and benefits of your software mentioned on the landing page. But, nothing beats the delight of checking out the software for a few days for free.
So, you can offer a free trial or can even schedule a free demo to answer the queries of clients in real-time. Design a simple free trial form and mention the benefits of your software, along with a quote from an existing client.
Event Tickets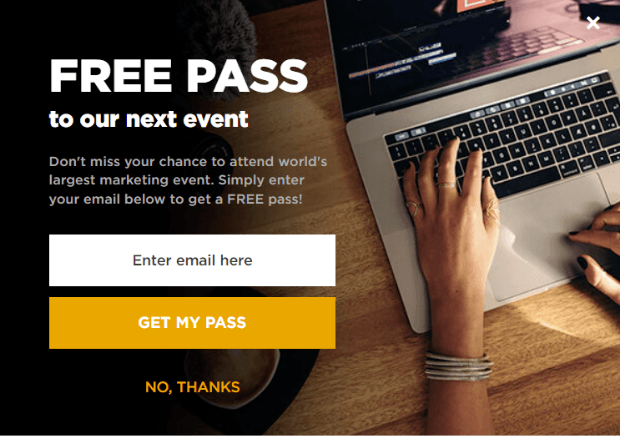 Just like webinars, you can offer free passes or tickets to a live event in exchange for visitors' email addresses. To do this, you need to display the lead magnet popup to the audience using geo-targeting so that persons living in the vicinity of your event location get to see this.
To get maximum exposure, you can use social media ads to target the right audience and to get maximum attendees. Such events are great to increase brand awareness and build quality leads for marketing campaigns.
Email Course
There are a lot of online courses on dedicated portals and spaces on social sites. However, these are not the only places to launch a course. People spend a lot of time checking their emails and going through useful stuff in their inboxes. So, this is a great way for you to start an email course. It is like a newsletter but dedicated to specific topics/series of emails.
The course is quick to launch, and visitors are obviously well familiar with emails, so they won't have any trouble accessing or understanding your course. You can also use this as an opportunity to guide visitors down the sales funnel.
Surveys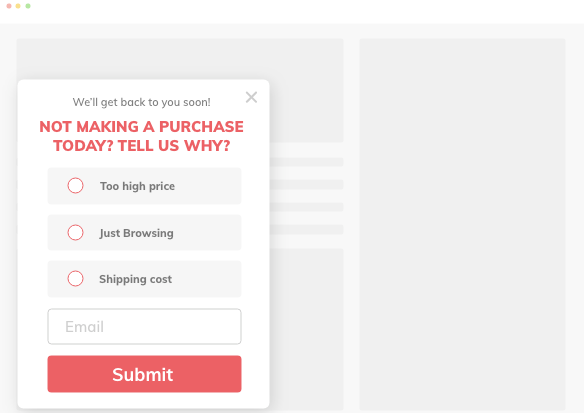 The last lead magnet idea on our list is a survey. A survey is beneficial for your market research and helps you understand your customers better. With a compelling call to action, you can use the survey as a lead magnet.
The best way to do so is through a two-step popup. Ask visitors to fill out a survey about their site experience and offer them an incentive to do so. Based on their response, you can send personalized emails to redirect potential customers back to your site.
How Picreel Helps You Create & Display Lead Magnets Smartly
Once you have got the ideas for lead magnets, how are you going to display those to your site visitors? Simply embedding them on your landing pages isn't going to generate the best results. So, what is a better solution?
Picreel is a lead generation popup tool that helps you create and display AI-powered delightful popups on your website. The template library offered by Picreel has 100+ popup templates and lots of customizable lead magnets. You can get started with Picreel's smart popups in less than five minutes to capture quality leads from your existing traffic.
The best part about Picreel is the wide range of trigger and targeting options that lets you display the right lead magnet popup to the right visitors at the right time. Using Picreel's built-in A/B testing module, you can make changes to your popup campaigns to see what's working out for you. With detailed real-time analytics, you can check the statistics from the dashboard.
What's more? Picreel provides seamless integrations with 700+ email marketing, CRM, sales, and social tools. You can easily transfer the captured leads data to your preferred software in real-time for further analysis and to launch marketing campaigns.
Also read: Improve Conversion Rates by A/B Testing : [Step-By-Step Explanation]
Time to Grab Some Hot Leads!
So, there you have it, 25 lead magnet ideas!
Right from what is a lead magnet to how you can distribute the lead magnet to your site visitors, there's a lot in here to fuel your creativity.
The catch here is simple. Identify the best lead magnets that can help you generate more leads and conversions from your target audience. A/B testing and constant improvement is the key to unlocking this mantra.
Finally, use a popup builder like Picreel for the effective distribution of lead magnets. You can surely embed the links on your landing page or pricing page, but targeting the audience with the right popups can do wonders for your business. Time for your move!
Do you want instant 300% growth?
Picreel popups can get YOUR website 300% instant sales growth. See Case Studies.