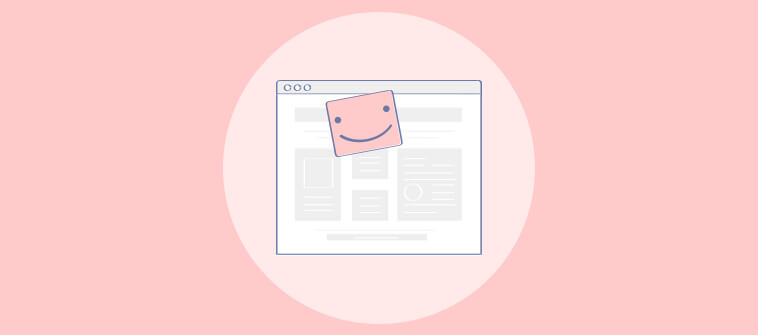 Why are businesses determined to capture customers' feedback? Well, because nobody knows more about the shoppers or visitors than the visitors themselves. That's why it is important to use a popup survey to interact with site visitors directly.
At the end of the day, customer satisfaction is what matters the most, and 89% of the businesses that focus on delivering a delightful customer experience perform better in terms of conversions and revenue.
Moreover, 91% of shoppers who are unhappy with a brand will simply exit without leaving any feedback or complaint. This is why we see many popups with questions on different websites to receive feedback.
Although if you are having trouble regarding the popup design and can't decide how to frame the questions, then nothing to worry about. We are here to guide you on how to create an engaging design and ask the right questions.
What is a Popup Survey
Popup survey is an overlay that contains survey inside. This overlay can be a classic popup, full-screen popup, slide-in box, nano-bar, etc. No matter how it appears to the website visitors, the main focus is to display some relevant questions to capture valuable feedback.
Pop up surveys are totally different from the traditional website popups that display discount coupons, deals, newsletter signup, and so on and are generally displayed to visitors when they have spent some time browsing your site.
Such surveys are crucial to understanding your potential and existing customers. This way, you can improve your website's UI, UX, and address the concerns of other departments to provide what customers want.
Why Website Popup Surveys Are Important
The Internet is full of analytics tools that let you analyze customer behavior, but nothing works as efficiently as pop up surveys on websites. There are some really noticeable advantages of implementing surveys right away. Let's have a look at these.
Capture feedback in real-time

: You can collect the feedback from your website visitors in real-time using popups. While the visitors are browsing on your website, you can trigger the

survey popup

at the right time to grab their attention. As these are not long-form surveys, the visitors can respond to these in less than a minute.

Collect quality leads: Surveys also provide you with an opportunity to collect visitors' information like names, mobile numbers, and email addresses. Once you work and improvise on shoppers' issues, you can contact them via email to redirect potential customers back to your website.
Non-intrusive data collection

: As for the normal surveys, you will have to either send it over the email or redirect the customer to a dedicated web page. That is not the case with popup surveys. Without taking more than 30 seconds of your visitors' time, you can ask a couple of questions to them while they are just casually scrolling through.

More reliable responses

: Rather than using forecasting, analytics, and prediction tools to understand customer behavior, you directly interact with them through popup surveys. So, if customers feel something is overpriced, there are hidden charges, your website has some glitches, content is not properly accessible, etc., you will know the exact pain points.
Now that you have a clear understanding of how a pop up survey on website can be useful, let's check out the best practices that you should follow.
Website Popup Survey Best Practices
It is important to create and display the popup surveys in the right manner. Here are some of the pop-up survey best practices for a successful campaign to get more responses and results.
Have a Clear Goal

: Don't use popup surveys on random pages just to engage with the visitors. Be clear about what you are asking visitors and design the popup with relevant questions. Different web pages have different purposes, and specify your objectives before creating the survey popup for these pages.

Target the Right Audience

: You surely don't want to display a survey meant for New York shoppers to California shoppers. For that, you need to set up targeting options like location-based targeting, re-targeting, traffic-based targeting, device-based targeting, cookie targeting, etc., accurately.

Time the Survey Properly: Timing is everything when it comes to asking questions. If the visitor has just landed on your website, it is not the right time to display a popup as that annoys them. Set trigger options like exit-intent, on-click, time-based, scroll-based, etc., and display the survey popups at the right time.
Include Limited Fields

: Popup surveys are meant to be light and up to the point. So, avoid writing long paragraphs/questions and include no more than three fields. Asking for too much information is one of the most common reasons behind visitors closing the survey or exiting your website.

Use Visuals & Strong CTA

: Adding images or videos creatively to your

popup survey

can help you grab the attention of visitors. Get to the point quickly and keep your CTA crystal clear. Highlight the CTA so that visitors understand what you want them to do. To give visitors a little bit of motivation to fill the survey, you can offer an incentive as well like discount code, free guide, premium newsletter access, etc.
These are the best practices that you should always keep in mind when you create popup surveys. Let's now check out the best and high-converting survey design examples to get maximum responses.
Also Read

: 

11 Pop-Up Best Practices to Drive Conversions
11 Best Popup Survey Design Examples to Capture Customer Feedback
Here are some of the pop up survey examples from different brands and websites to get inspiration.
1 – Ask About Visitor's Experience on Exit Intent

When the visitor has spent some time on your site and is showing exit intent, then you can display a popup similar to the one above. If the visitor chooses to express a bad user experience, you can display another popup in the second step, asking them to please specify their problem. The design is pretty compact and straightforward, and visitors are likely to fill in response to such short surveys.
2 – Ask Visitors How They Reached Your Site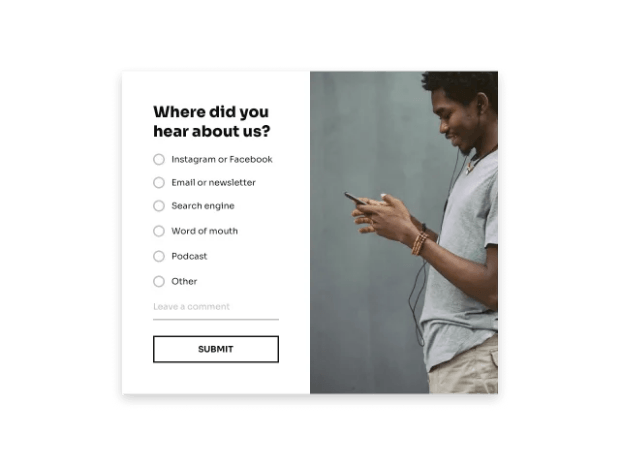 It is another minimalistic design that goes well with different websites. This popup can serve as a welcome survey as well. With just a simple single question, you can get insights into your top-performing referral sources. Although, do not display as soon as the visitor lands on your site. Trigger it after some X seconds so that visitors don't close it immediately.
3 – Ask Shoppers Why They Didn't Purchase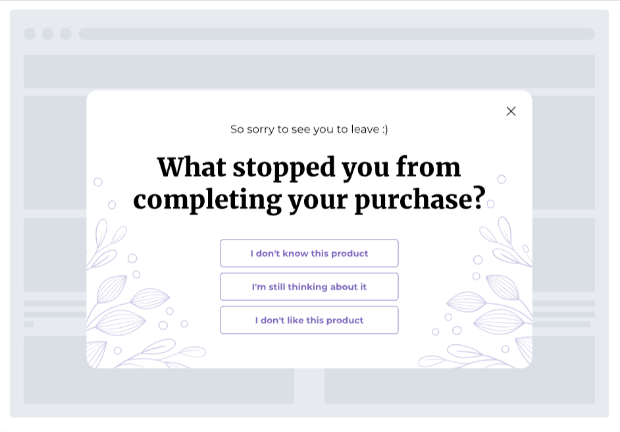 If shoppers leave your site without completing the purchase, there must be something from your end to work upon. This popup can be displayed on exit intent, and your team can work on the common reasons that shoppers might be facing. In addition to the options, you can also leave an input field so that visitors can leave comments.
4 – Measure NPS (Net Promoter Score)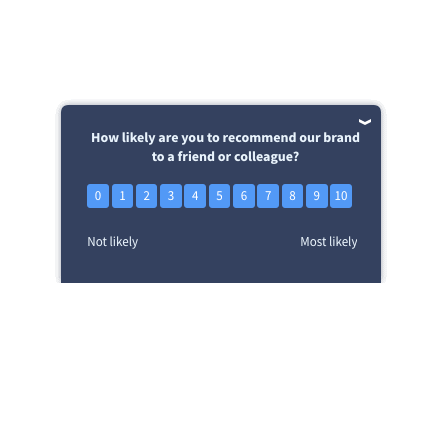 Net Promoter Score (NPS) is a friendly check to see how many of your customers are likely to recommend your products or services to their friends, colleagues, and other people in the network. Using such a one-click NPS survey, you can determine the overall brand perception. At the end of the survey, it is a good tactic to provide the customer with some incentive for more responses. As the design takes very little space on the screen, it is a non-intrusive survey.
5 – Ask Visitors to Help You Improve Your Site's Experience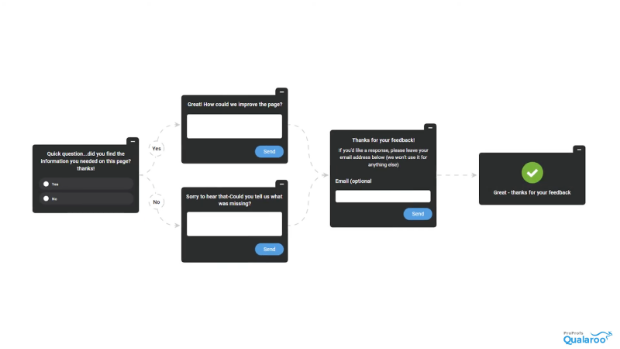 This survey design doesn't interrupt visitors' browsing experience and politely asks them about their visit on the page. You can make this a 2-step or 3-step popup survey based on the questions you want to ask. For first-time visitors, you can also attach a lead magnet at the end by asking them to fill in their email address in return for a discount code or free guide, etc.
6 – Get Visitors' Feedback on Blog Pages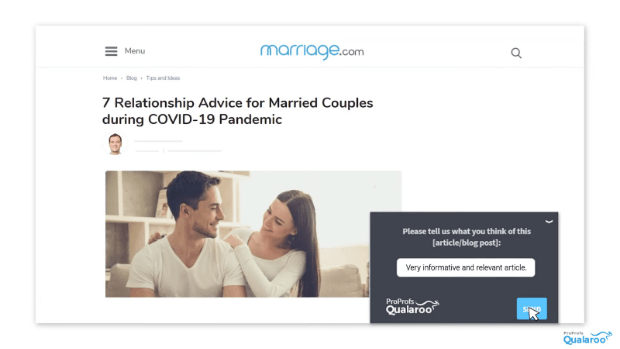 After the reader has spent some time on the blog page, you can hit them up with a popup survey to ask about the particular blog. It is a good way to let your content developers capture quality feedback about their work. As the responses are not displayed in a public comment section, you are likely to receive more answers.
7 – Offer Help to Visitors Using Popup Survey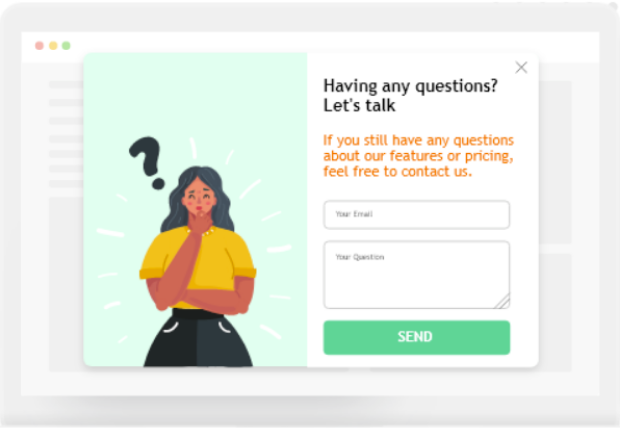 Offering help proactively to website visitors leaves an impression. With the help of a pop-up survey, you can collect their feedback, questions, and email address at the same time. You can reach out to the visitors via email communications to address their concerns in the best possible way. The image in the design looks good enough to attract attention, and the CTA is clear.
8 – Ask For Permission Before Asking Questions About Site Visit
It is definitely is a good survey design that focuses on shoppers. Using a multi-step popup survey, you can first ask for their permission to start the survey. Then you can pitch in your questions about their visit. Mentioning the time that it won't take more than 30 seconds is a plus point that encourages the visitors to participate in the survey.
9 – Learn More About Your Visitors
With a full-screen overlay, you can ask visitors some questions about their company, preferences, etc., to collect valuable marketing information. As the CTA is simple "YES" or "NO", you are likely to get more responses, and based on the questions you ask, you can redirect visitors to a relevant landing page or help article for a better browsing experience.
10 – Use One-Click Customer Satisfaction Popup Survey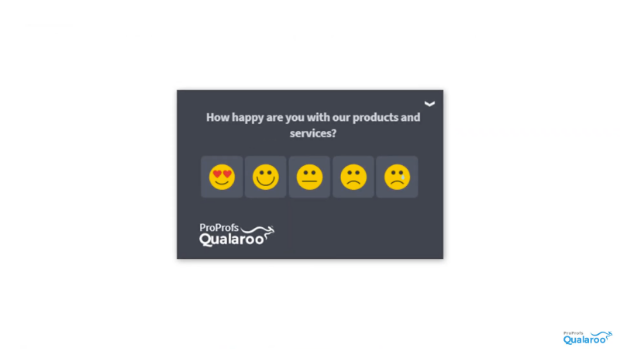 Such surveys are helpful in understanding how content your customers are with your products and services. The short survey uses emojis to engage the audience, and customers can exactly express with emoji reactions how they feel about their shopping experience with you. You can include a couple of more questions if you like.
11 – Give Reasons to Participate in Survey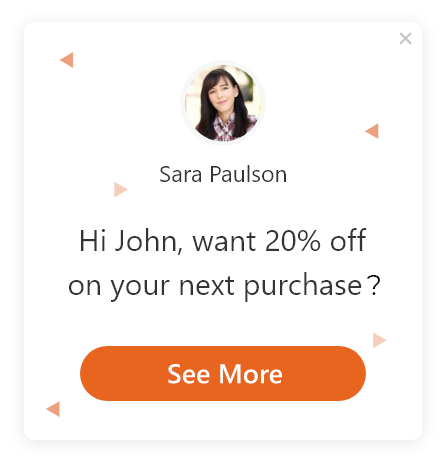 It is a really engaging popup design that is personalized with the shopper's name. Before asking the customers about their experience, you can give them a preview of your offer. Seeing the incentive, they are likely to click on your CTA button. Put up a couple of questions in the next popup window and display the discount code once they provide feedback.
3 Proven Tips to Write Engaging Popup Questions
Now that you have a fair idea of a brilliant popup survey design, let's look at some useful tips to curate engaging popup questions for better conversions.
1 – Avoid Focusing on the Good While Seeking Feedback
At the end of the day, marketers want to see happy customers and listen to praises. But that should not get in the way of pop up questions. As you want to optimize and improve for better results in the future, you should go with something like "How was your overall experience with ABC?" rather than "How amazing was ABC in delivering you a delightful experience?"
This way, you can capture both the good and bad about your products and services. As for the good feedback, you can maintain those positive things. As for the bad feedback, you can gather more insights into it for further improvement.
2 – Keep a Balance Between Open-Ended & Closed-Ended Questions
Open-ended questions offer an opportunity to visitors to share their feedback or experience in detail. For example, "What did you really enjoy about your shopping experience with ABC?" This provides the visitor with multiple options, and they can even write something in an input text box to tell what exactly they liked.
On the other hand, closed-ended questions take a couple of seconds to respond to. For example, "Did you like this product?" The answer to this can be a simple YES or NO. You can also use emojis as we mentioned in the examples above. So, these questions just require a single click to answer. To get quality feedback and more responses, use a mix of these questions in multi-step pop-up surveys.
3 – A/B Test Your Survey Questions on Different Pages
At first, you can do a trial run of surveys on your colleagues to get internal feedback. Next, creatively write questions that are easy to grasp and answer. Do not write a business-like copy that feels boring as it won't capture visitors' attention. Once you are done with a set of questions, start testing them on similar pages to see the number of responses.
Make minor changes to the questions, as even changes in some action words can help you get more responses. Based on your target audience, see what works the best for you, and A/B test the questions to identify high-converting survey questions.
How Picreel Helps in Creating Popup Survey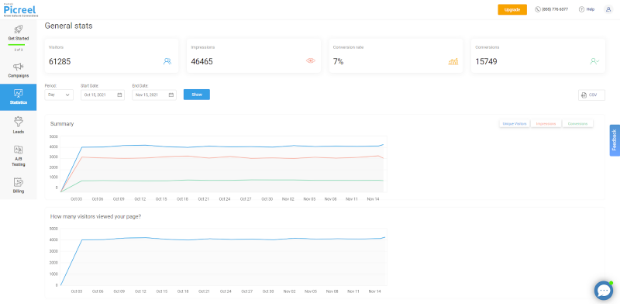 Picreel is an exit-intent popup builder that comes with a huge library of templates. You can easily create a survey campaign in minutes using one of the customizable design templates. As per your website, edit the questions and choose the popup background. You can also play with the font, font size, and other parameters to give your surveys an amazing look.
Picreel offers a wide range of targeting options like re-targeting, location-based targeting, traffic-based targeting, device-based targeting, cookie targeting, etc., to target the right audience. With the help of trigger options like exit-intent, on-click, scroll percentage, time on page, and so on, you can trigger the website popup survey at the right time.
What's more? Picreel provides you with detailed insights and analytics on your survey campaigns, and you can see the responses of your website visitors in real-time. With the built-in A/B testing engine, you can test your popup survey designs and questions to find the best-converting survey popups.
Read more

: 

Simple Steps to Create a Website Survey
Time to Face the Truth!
A popup survey is an amazing way to capture visitors' feedback and thoughts related to your website's user experience, products, and services. The insightful data that you can gather from these website surveys is crucial for business growth.
By following the best practices and learning from the examples we mentioned above, you are sure to design some of the best popup surveys to get maximum responses.
Do you want instant 300% growth?
Picreel popups can get YOUR website 300% instant sales growth. See Case Studies.