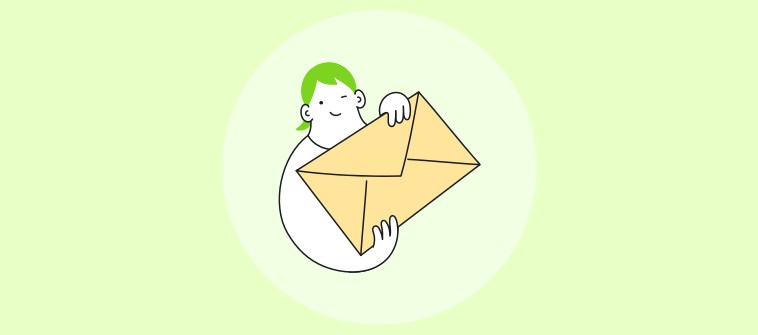 In a world full of Facebook, Instagram, Twitter, LinkedIn, and so on, 4 out 5 marketers said they'd rather focus on email marketing than social media. That pretty much sums up the importance of emails.
But for running these email marketing campaigns, you first need to build your mailing list. To capture these valuable emails, you got to create the best email popup designs with the right lead generation popup tool. It is an incredible way to increase engagement and convert your website traffic effectively.
Your popup design can prove to be the difference between visitors taking a quick exit or quick action by filling in their email addresses. To get it right, you need to consider different elements of the design for efficiently adding subscribers to your list.
Whether you are just starting your popup marketing journey or are looking to gather some cool new email popup ideas, we have got you covered.
What is an Email Popup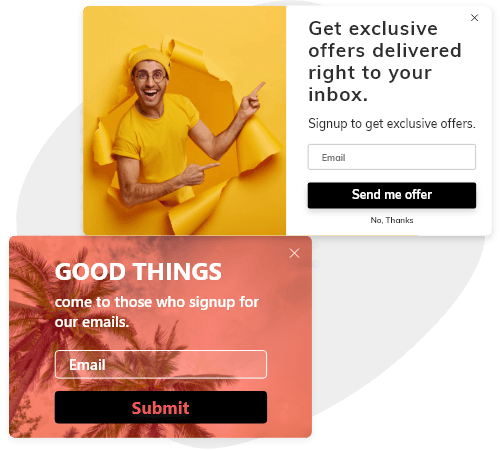 A popup is a window that pops up when visitors are scrolling through a website. The overlay usually displays an offer, discount coupon, alert, etc. to grab visitors' attention, so they take an action you want them to take.
When this action is about capturing emails, marketers call these email opt-in campaigns "email popups". In simple words, you offer some discount to your visitors, and to reveal them the code or send it over via email, you ask for their email address. That way, you get your quality email leads, and the visitors get a discount. A win-win situation for everyone!
Just like a normal popup, the design here includes elements like offer (value proposition), marketing copy, visuals, call to action (CTA), branding, and animation. Let's define this elements checklist before moving ahead.
Offer
: 
The offer is your value proposition that can be an incentive, discount/promotion, or information about how your newsletter subscription can be valuable to visitors.
Marketing Copy
: 
It is the content that goes in your popup which can create a sense of urgency or can impress the visitors to take action.
Visuals
: 
It is your image, video, or background that will grab the attention of visitors. Usually, images of products or services related to your offer are used in the popup.
CTA
: 
The button where the action takes place. If the visitors are interested in your offer, they will click your CTA button to submit an email address, get to another page, etc.
Branding
:
 It is the theme or feel of your popup, like the fonts, borders, color combinations, logo, and so on. Generally, marketers match the popup to company branding & website design.
Animation
: 
The animation decides how your popup will pop on the screen. There are multiple animations like floating, slide-in, top/bottom bars, etc.
Now that you know about an email popup, let's check out the different types of popups!
Types of Email Popup
All the different types of email popups deliver the same message to visitors and are good for increasing email subscribers in their own way. Let's check the four types.
#1 – Standard Email Popup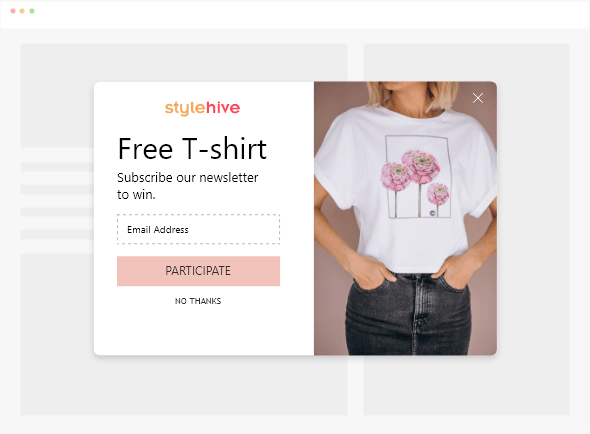 The standard email popup is the one that you generally come across on different websites. It is a small window that appears on the top of the web page content. It is used to collect email addresses by displaying relevant offers such as free shipping, gift, discount, etc. These are often displayed by tracking visitors' digital footprint to present them with a more personalized offer.
#2 – Side Messages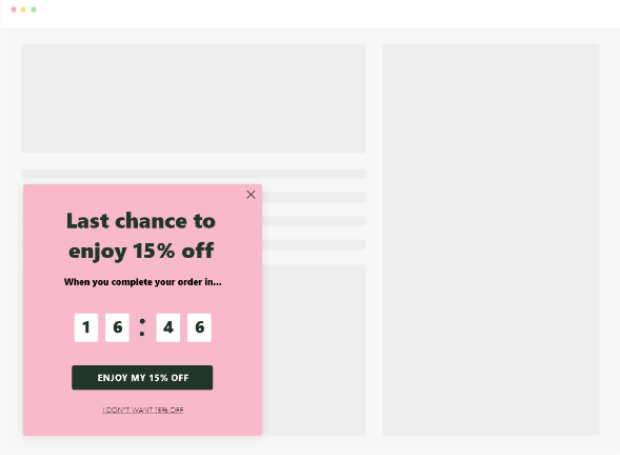 Side messages often appear on either the left or right side of the screen in a way that doesn't cover the web page content. These are great for delivering on-site messages without interrupting the user experience. So, if you want to capture email addresses without disturbing your visitors, side messages are ideal for that purpose.
#3 – Fullscreen Email Popup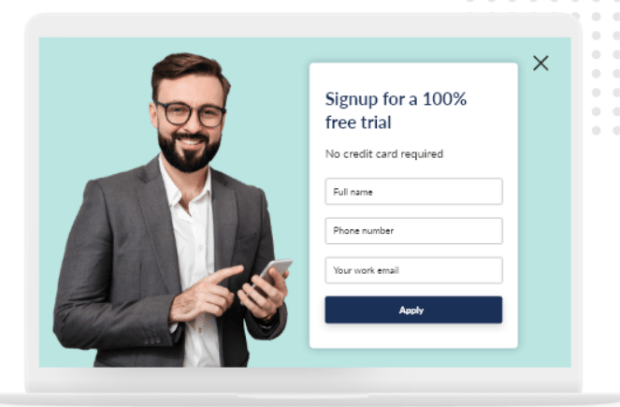 Fullscreen popups cover the entire screen and are often not preferred by marketers. If you really want to get the visitors' attention, you might want to take the entire screen. Basically, these popups look like landing pages. By eliminating all the distractions, you can target your audience using fullscreen email popups.
#4 – Nanobars (Sticky Bars)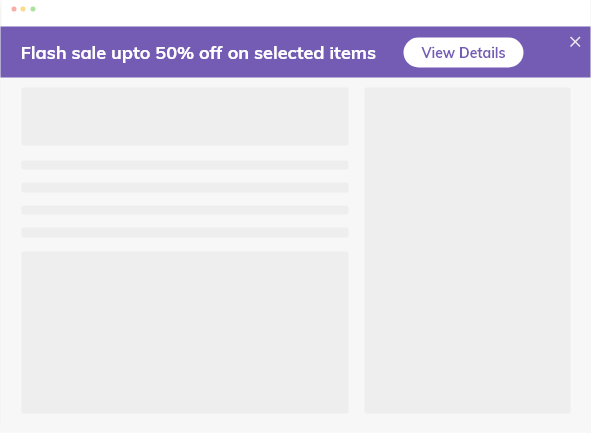 These popup bars stick to the top or bottom of your screen and are often used to make announcements. Similar to the side messages, these are designed in a way so that the visitors can browse the website without any interruptions. If you want to send site-wide messages without disturbing the visitors or forcing them to interact with your overlay, these are perfect.
15 Amazing Email Popup Designs (Examples)
Below, we have listed 15 high-converting email popup designs and explained why they proved to be successful. Let's pop right in.
#1 – StackCommerce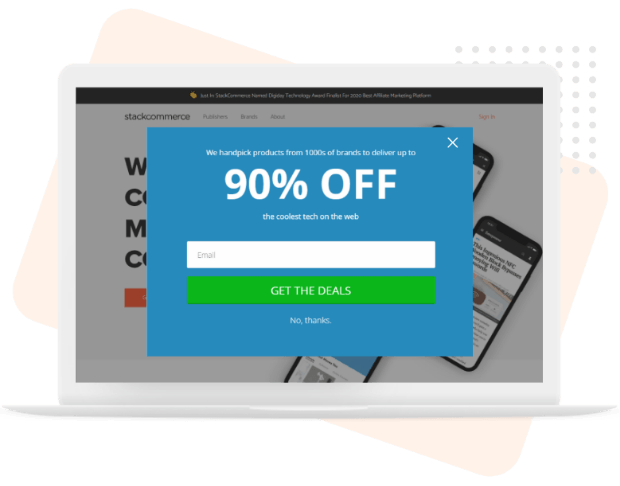 StackCommerce witnessed a 15% increase in quality leads using this email popup design. How so? Well, the incentive can't be more loud and clear than this. By using a simple, minimalistic design, StackCommerce focuses on "90% OFF" and makes the text large and bold without overdoing it. Something like this instantly grabs the attention of visitors. Next, the green-colored CTA looks attractive and assures the visitors of getting the deals with simple one-step signup. Surely, a great tactic to engage busy visitors.
#2 – Foundr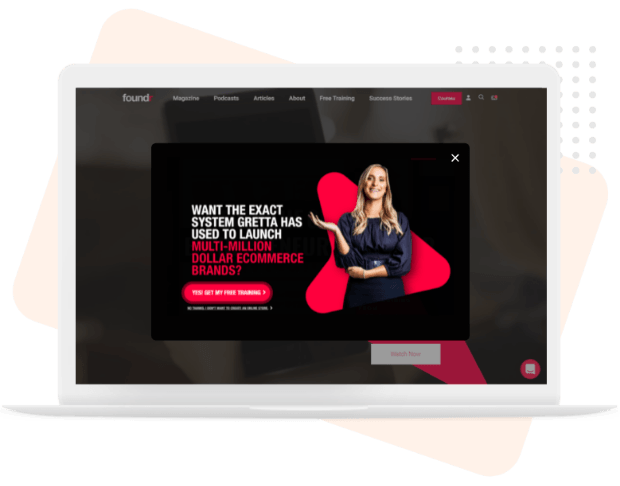 Foundr is a digital magazine that focuses on early-stage startup founders. The beautiful popup you see above has helped in capturing 20000+ leads. Visually, the popup makes an impression immediately. The color combination of background, content, and CTA button gets the job done. The content copy makes it clear to the visitors what the business is promising. After all, who doesn't want rapid eCommerce growth & exclusive strategies? Also, an actionable CTA makes the value proposition enticing.
#3 – Mala The Brand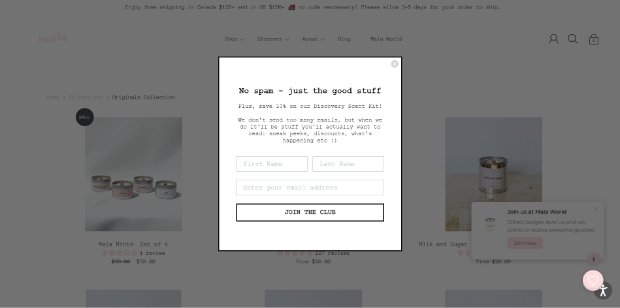 Let your visitors know that you won't spam their mailing app. The unique content copy makes this email signup pop up pretty interesting. As soon the headline captures visitors' attention, the next line provides an incentive to further motivate the visitors. The color and font combination perfectly matches the website design, and CTA "Join the club" creates a sense of exclusivity.
#4 – 100% Pure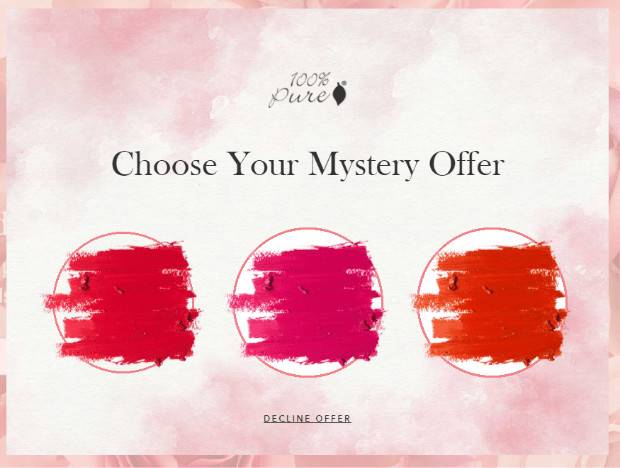 Probably the best 2-step email popup example! People love interactive stuff, and the brand delivers them a simple game. As soon as the visitor clicks on their mystery offer, the best discount offer popups up in the next window. The CTA "Get 15% OFF" is compelling, with the decline button also making an impact. What's more? Visitors can choose what type of offers and content they want to receive over email!
#5 – MVMT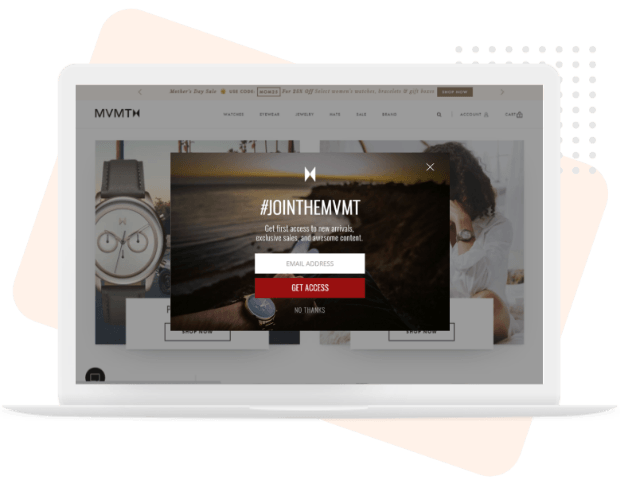 MVMT grabs an extra 15% new leads per month using this email subscribe popup. The idea is simply to let the visitors know about the benefits of an MVMT newsletter subscription, such as deals, new arrivals, and great content. It makes the subscriber feel that they'll be part of an exclusive club. The CTA "Get Access" is crystal clear, and the button color highlights it well.
#6 – The Dallas Morning News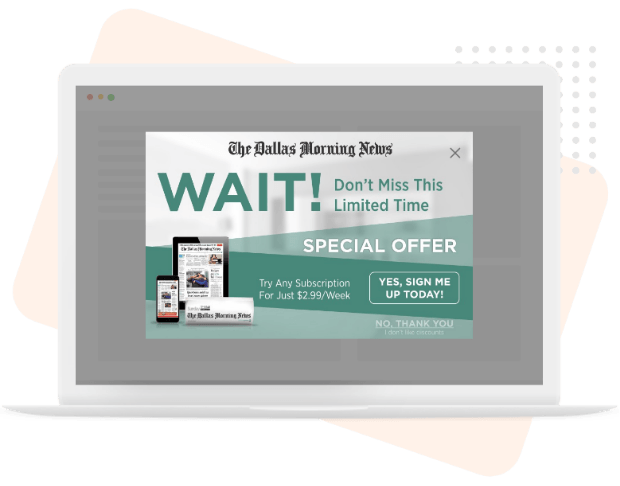 The Dallas Morning News witnessed a significant increase in email subscribers using this well-designed email signup popup. The incentive is clear & straightforward as readers can try any weekly subscription with the limited-time special offer. The images are thoughtfully placed, which shows the readers how compatible the newspaper is with different devices. Again, the CTA button and decline button are actionable.
#7 – Hello Fresh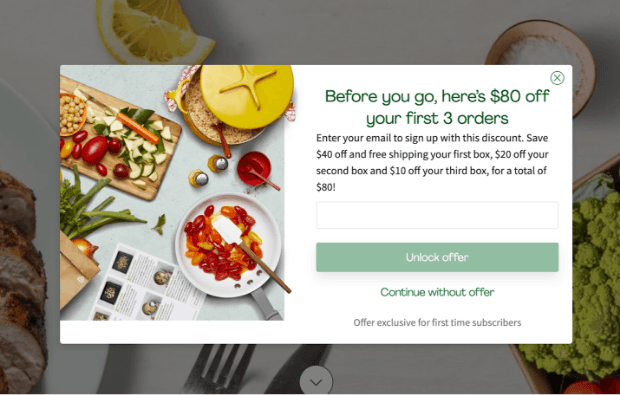 Hello Fresh uses a great combination of visuals plus incentives in this eye-catching, exit-intent popup design. The color scheme matches with the website, and surely the image looks attractive. In the marketing copy, they have come up with discounts on the first three orders, and who would say no to $80 off? By entering the email address, visitors can unlock the offer easily. It not just captures leads but also prevents abandonment.
#8 – GAIAM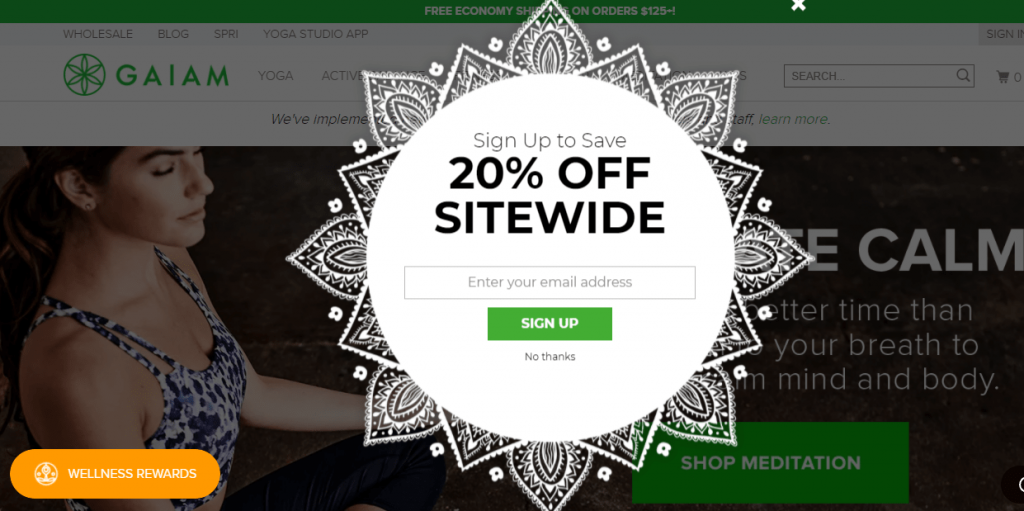 GAIAM's pop up signup form is one of the most creative popups out there. The unusually attractive shape of this popup catches visitors' attention quickly. With not a lot of information (words) to digest, the popup delivers the 20% discount boldly. The green-colored CTA button matches the brand's visual aesthetic, and the simple yet elegant design proves to be an effective lead magnet.
#9 – Danish Skin Care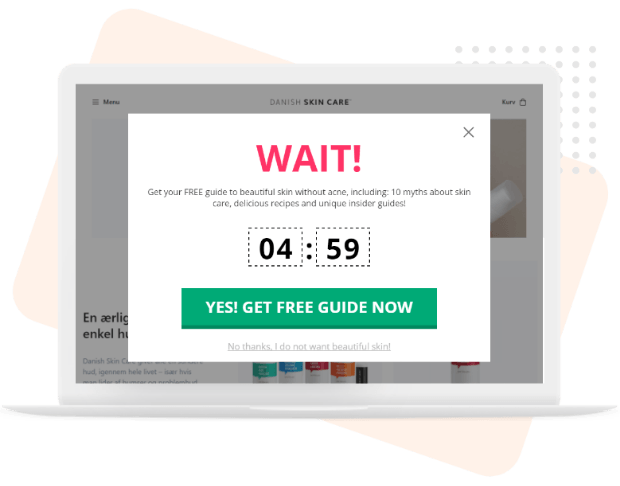 Danish Skin Care achieves visibly higher conversion rates and quality leads using beautiful exit popups. The 2-step form creates a sense of urgency by incorporating a 5-minute timer in the exit popup. The highlighted action word "WAIT!" in the headline compels the visitor to read the unique offer and CTA in bold further guides them to get their free guide. Also, the decline button reads "I do not want beautiful skin!" which might stop the visitor from closing the popup.
#10 – Trustico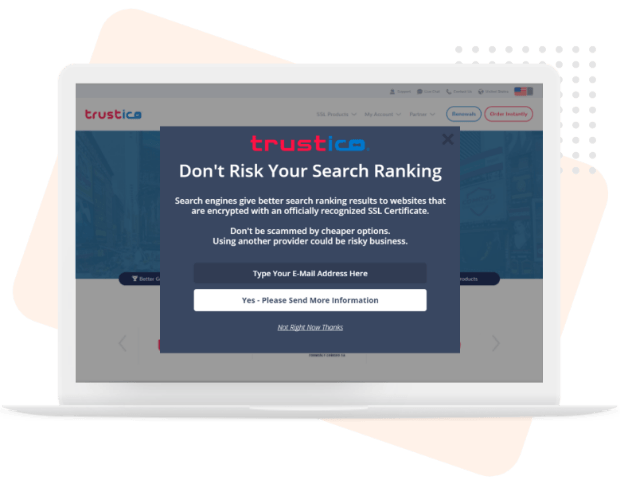 Trustico uses a totally different type of strategy for collecting the email addresses of visitors. By offering valuable insights and using the fear factor, Trustico uses facts to keep the content copy crystal clear. With an engaging headline and by maintaining the conversational tone, the visitors are likely to stick to the end. To read more information about the concerning matter, visitors will fill in their email addresses, and the CTA reads it out loud.
#11 – Structube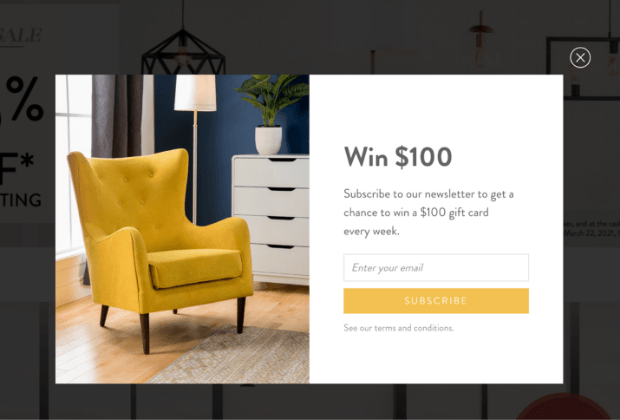 Huge giveaways are more effective than other incentives. The headline is bold and clear "Win $100," and no one wants to miss out on such an opportunity. The attractive yellow CTA color matches well with the image and website theme. The image is also quite appealing and lets the visitor know what they can purchase with the $100 gift card.
#12 – ColourPop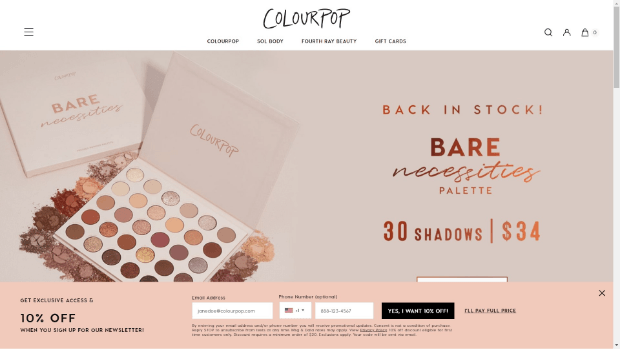 ColourPop uses a nanobar that sticks to the bottom of the page. Visitors can easily browse the products and check other CTA's on the site. The popup highlights "10% OFF" and to gain exclusive access to the newsletter and other deals, visitors can easily get the offer by entering their email address. It is a great design for eCommerce brands.
#13 – Gwen Beloti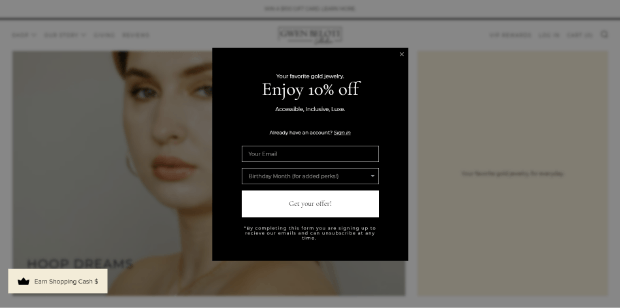 Gwen Beloti uses a visually appealing popup design that goes perfectly with the luxurious brand. The focus is on "10% off" by signing up for the newsletter. But there's more to it. They have added a field with a unique offer down below to get added perks or additional discounts in the visitors' birthday month. People love to get birthday surprises, and this added field plus CTA in contrasting colors is great to grab more leads.
#14 – Dream Giveaway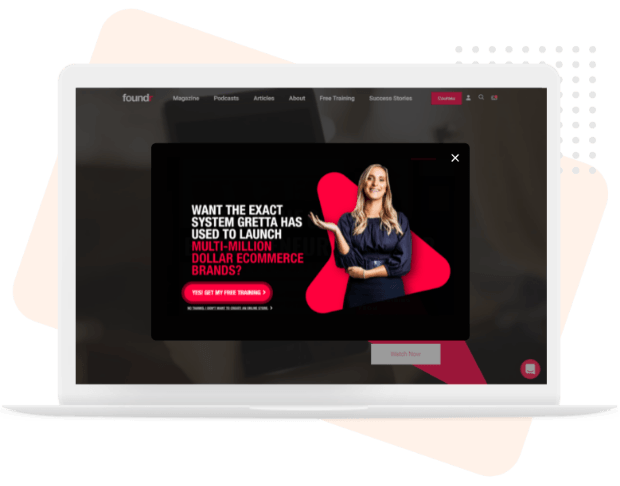 Dream Giveaway creates a powerful and bold popup design to target leaving visitors. The special offer headline and the images of cars remind the visitor of what they are missing out on. Then, the offer is clear: enter your email address and get a 25% bonus. Further, the CTA in bold font and contrasting color and the decline button text adds more creativity to this email subscription popup.
#15 – Gong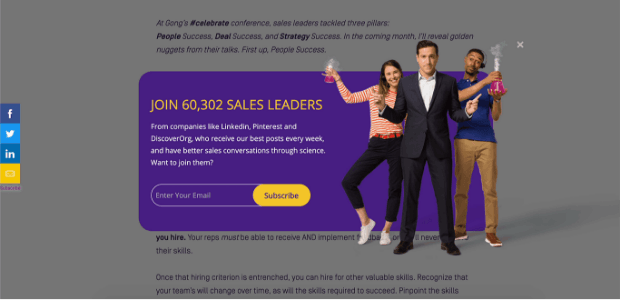 Gong uses an eye-catching and innovative email capture popup design. The content copy is also powerful as it uses a new marketing technique of including social proof. It simply suggests that over 60,000 marketers and sales professionals have subscribed to their email newsletter. So, there must be something beneficial about it. Also, the marketing copy looks more credible by mentioning companies like LinkedIn, Pinterest, etc.
Tips for Designing Email Popup
From the above email pop up examples, you must have captured a good picture of lead capture overlays. So, are you ready to design one for your website? Here are some of the popup best practices to grow your subscriber base.
#1 – Use a Powerful Headline
You might have around 3-4 seconds to grab visitors' attention, and apart from the visuals, the headline is the first thing that visitors see in your popup. To impress them, you need to come up with a strong headline that delivers the most important information about your offer. If you are offering a discount or gift card or something for free, then highlight it like "25% OFF", "$15 gift", and so on. It will offer value right away to make the visitors stick for long.
#2 – Keep Your Content Copy Relevant & Clear
Your popup should not look complex or hard to read. Come up with a simple copy that contains only relevant and necessary content. If it takes far too long to learn about your offer, then visitors are likely to close the popup window in between. Also, do not write long stories and get straight to the point quickly. If you want to add more content, then design multi-step popups.
#3 – Use an Engaging Call to Action (CTA)
Your call to action should be direct and crystal clear. As the CTA will guide visitors to take action, it should not create confusion. If you are offering a discount, then you should avoid a CTA that reads "Sign Up Now" and might go with something like "I want 25% off!" or "Get me $50 off!" Keep in mind to use only one CTA in one popup.
#4 – Get the Visuals & Colors Right
Your popup should fit well with the website theme. For that, use the right color combination and use striking colors for your headline and CTA. As for the fonts, do not go for anything fancy and keep it simple to make it easily readable. Next, the visuals (image/video) should be relevant to your offer. Make sure to use optimized images/videos so that the popup loads quickly.
Keep these popup design tips in mind, and you can easily create delightful popups.
Let's Get to Growing Your Mailing List!
Growing your mailing list is crucial for the growth of your business. With the help of the email popup designs mentioned above, you can gather great ideas to create your own campaigns.
If you are looking for an efficient popup solution for your business, then you can give Picreel a try. Picreel offers a wide range of popup templates with different designs and animations. You can go for a 30-day trial, and moreover, Picreel guarantees an increase in leads and conversions. So, ready to boost your business?
Do you want instant business growth?
Picreel customers get a 15-300% instant increase in inbound leads & conversions.