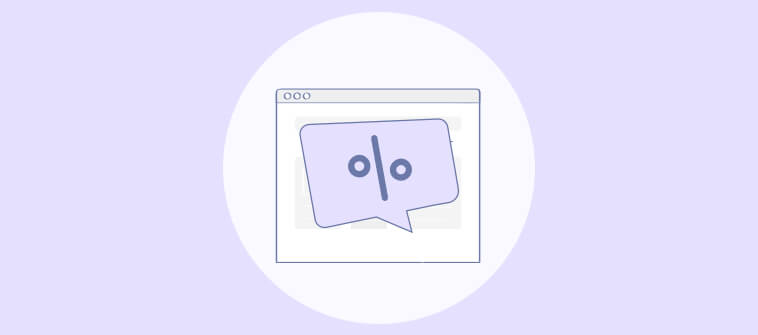 The Internet is full of SEO optimization techniques and paid advertising tips including Google ads & website popups to drive traffic. But, does that really drive conversions?
Site visitors bring huge sales potential to the table, and it is a golden opportunity to seal the deal. But how can one close deals when a lot of visitors leave the website without going down the sales funnel? You need to pop your offer to the audience. How so? The answer lies in website popups.
The word "exit" is used a lot when it comes to using website popups as a conversion rate optimization tool. The innovative exit intent technology identifies the precise moment a visitor is about to leave a site, and that's why many marketers feel that popups are best served upon exit.
Although using popups as a CRO tool has gained in popularity, the targeting technology around them has become significantly more refined. You're no longer limited to only showing popups on exit, nor are you limited to showing every visitor the same overlay.
Now, visitor engagement tracking technology makes it possible to show visitors a highly targeted popup offer based on their behavior on your site.
Let's take a closer look at what this means and which technology can be the game-changer for your business!
What is Exit Intent Technology
Exit-intent technology tracks the mouse movements of site visitors and detects when the visitors are about to exit the site without making a purchase or filling any form. Marketers across the globe use this technology to reduce cart abandonment & bounce rates and increase sales, leads & conversions.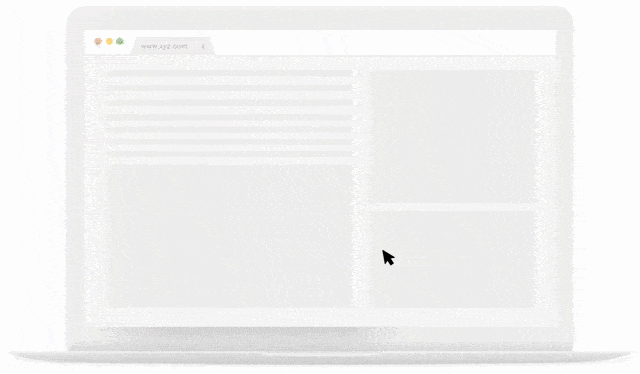 Different exit-intent popup tools use different technologies to detect exit intent. Here are some of the actions that are usually considered:
Visitors' mouse movements

Idle time on a page without any activity

Cursor moving towards the back button or close button

Previous site activity & purchase history
Whenever such signs are identified, exit-intent technology automatically displays a popup message at the right time with a delightful offer. It can be a discount coupon, cart abandonment alert, product recommendation, or any other incentive to make the visitors stay.
As the visitor is about to leave the website, presenting your best offer at the exit gate might get the job done to boost conversions. Let's now see how this smart technology differs from visitor engagement tracking technology.
How Does Exit-Intent Differ From Visitor Engagement Tracking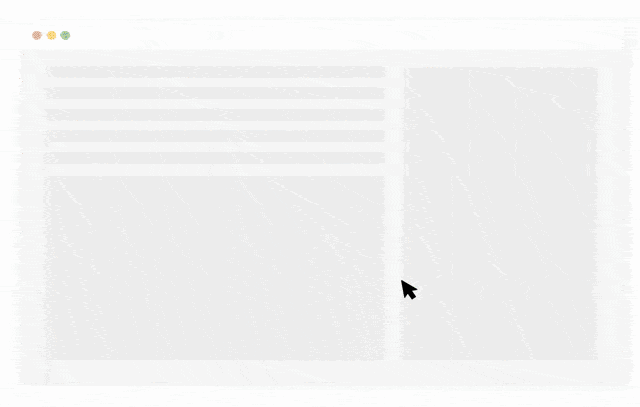 We learned about exit-intent tracking technology above. But what is visitor engagement tracking? It is an advanced tracking algorithm that lets you display targeted popups to engaged visitors. By tracking the visitors' behavior and activities on the website, you can display a relevant and more personalized offer to them.
While the exit-intent technology solely focuses on a visitor showing intent to exit the website, visitor engagement tracking takes the complete tracking data into consideration. It is more about understanding what visitors really like on your website. There are certain factors that are taken into account:
Visitors' time on page

Number of links clicked

Number of pages visited

How far does a visitor scrolls through the web page

The activity level of a visitor

Products viewed/shortlisted or added to the cart
Based on this information, marketers can present the most relevant popup to engaged visitors to convert them into leads and customers.
There are ups and downs of both technologies. Let's discuss the pros and cons of these.
Pros & Cons of Exit-Intent Popups
When the visitors are about to leave the site, their intentions are crystal clear. They are planning to leave your site without doing anything. An exit popup is your last hurrah, your Hail Mary, your final chance to "reel" them back in with your absolute best elevator pitch and offer. But, have a look at what are the benefits and downsides of these popups.
Pros
Catches visitors about to leave your site

Less intrusive and annoying than other targeted popups – since visitors are already on their way out, a popup isn't as bothersome as one that displays while you're actively trying to read something

Increases leads, conversions, and sales

Helps you build your mailing list

Saves abandoned carts

Survey popups provide insightful feedback on why the visitor left the site
Read More: 34 Best Email List Building Tools to Grow Your Business
Cons
Exit-intent technology only displays popups when a visitor intends to leave your site.

Sales pitch may come "too late" to catch visitors set on leaving.

While popups can be page-specific, an exit pop will be the same for every user, whether they stayed on the page for 5 seconds or 5 minutes.

In general, people don't like ads. According to Adobe, nearly half (45%) of AdBlock users want to remove as many ads as possible from websites.
Pros & Cons of Visitor Engagement Popups
Popups based on visitor engagement tracking technology share many of the same pros as exit popups. They increase conversions by changing the mind of someone on your site. The difference is that with visitor engagement overlays, your targeting is very granular. You can show a visitor a popup after a set amount of time, after scrolling a certain percentage, after viewing a specific number of pages, and even after clicking on specific products and links. Here are the pros and cons of the same.
Pros
Granular targeting serves popups based on a visitor's activity on your site.

Popups have more relevant offers because they are triggered by the user's behavior

If-then statements give you very tight control over the targeting.

Popups are displayed when visitors are browsing your site, not when they've already made a decision to leave.
Cons
Increased bounce rates from users annoyed by the intrusion (even if they would have otherwise converted given the time)

With multiple opportunities to display a popup, you need to have multiple offers ready that visitors will find truly valuable.
Which One You Should Prefer
So, exit-intent vs visitor engagement popup strategies? In their own ways, both are winning strategies. Exit-intent popups are often used by eCommerce businesses to fight cart abandonment and stop leaving visitors. On the other hand, visitor engagement popups are used by marketers when bounce rate is not an issue for them. After spending time, if the visitors are leaving, then visitor engagement popups are definitely great to give them an extra nudge or to push them in the right direction.
The bottom line is that both strategies have advantages that will help you increase conversions when used correctly. Many businesses find a smart mix of both that makes the most sense and are able to test their theories using A/B split testing.
To get the maximum benefit from both technologies, you need to use them smartly by following visitor engagement and exit intent popups best practices. Let's check these out!
Best Practices to Use Popups Effectively
Here are some of the best visitor engagement and exit intent popup strategies that can significantly drive conversions.
Read more: 

12 Growth Tips & Tricks to Boost Conversions Using Website Overlays
1 – Choose an Appealing Incentive
No matter when and where you are displaying the popups, if the offer value isn't appealing to the visitors, they will just ignore it. You need to put up an incentive that instantly grabs visitors' attention. The incentives can be different for different segments of the visitors.
Let's say, you can offer a welcome discount to first-time shoppers. For existing customers, you can go with a loyalty program or discount. Make sure to keep your offer in bold with an appealing call to action (CTA). If you plan to use a lead magnet, then only include a single input field i.e., email address/mobile number, as visitors feel annoyed when asked for irrelevant info.
2 – Personalize Your Popups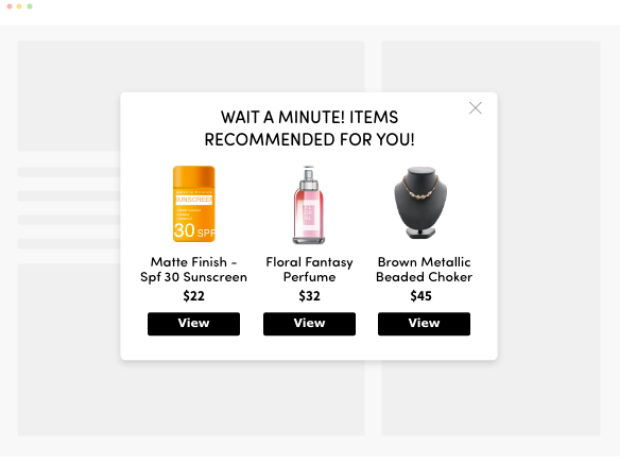 72% of shoppers say that they only engage with personalized messaging. It surely tells how much they love a personalized experience, and it also helps you connect emotionally with your potential customers. Make use of your CRM analytics to display personalized popups to your existing customers. You can ask about their last purchase, address them with their name, and so on to give them an exclusive experience.
As for the new shoppers, you can use visitor engagement tracking to display relevant product recommendations, best-selling products, and up-sell/cross-sell deals. You can also customize their browsing experience by guiding them or showing them help links/suggestions based on their site activity.
3 – Add Scarcity or Urgency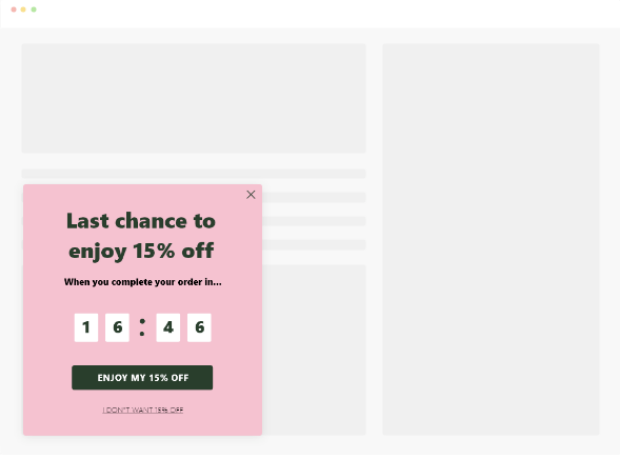 One thing that goes well with exit intent and visitor engagement popups is a sense of urgency. By making your discount offer time-limited or by letting the visitors know about the limited product stock, you can create the fear of missing out.
It is a popular marketing technique that blends well with popups. You can put up a countdown timer in your popup or can add the product image with a message like "Only 5 left in stock!", "Stock clearing out soon!" The timer and scarcity will prompt the visitor to act fast. You can link the CTA directly to your checkout page in case of these popups. Also, make sure that you don't run these campaigns too often, or they simply lose credibility.
4 – Offer Help & Customer Support
Sometimes the shoppers don't have enough information they need to make the purchase. You can use popups as an opportunity to start a conversation. You can provide access to your knowledge base, help center, live chat, or can simply ask for their email address/phone number to connect with them.
This way, you can answer all their questions to resolve any doubts. As for the leaving visitors, you can also ask for their feedback via exit surveys. It is helpful in understanding shoppers to make changes in the future.
5 – A/B Test & Improve
It is always good to carry out A/B testing to check what is working for you. The process is simple, and with the right popup tool, you can easily analyze the results of the two popups you want to test. By making changes to your incentives, messages, CTAs, popup designs, colors, fonts, visuals, and so on, you can identify the elements that are getting you high conversion rates.
Always make sure to change and test one element at a time, so you know what's actually making the impact. Once you identify your high-converting popup elements, you can use them in future campaigns for improved results.
Read more: 

Improve Conversion Rates by A/B Testing : [Step-By-Step Explanation]
Time to Convert Site Visitors!
Choosing the right popup strategy is crucial for business growth, and as per your target audience, you can analyze the pros and cons of both strategies to make a smart decision. It is usually a blend of both exit intent technology and visitor engagement tracking technology that gets the job done.
With the help of Picreel – a smart lead generation and conversion rate optimization popup tool, you can try out both of these strategies. Picreel offers a built-in A/B testing module and powerful analytics & reporting to give you insights on your popup campaigns. Get started with smart popups as it is time to convert those leaving site visitors!
Do you want instant 300% growth?
Picreel popups can get YOUR website 300% instant sales growth. See Case Studies.