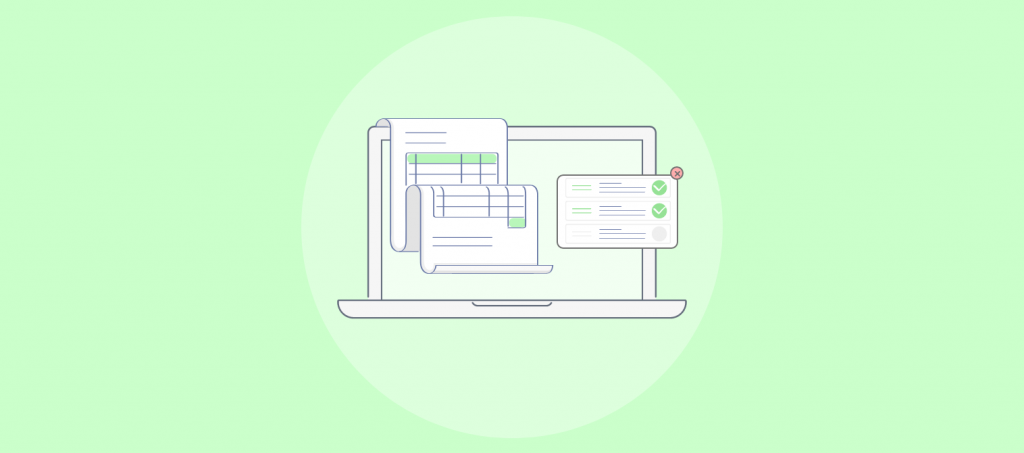 Nowadays, the competition among digital marketers to capture their audiences' attention better is increasing consistently. Owing to this, most businesses have moved beyond the tried and tested old tactics to embark on slightly different paths. Using popup forms is one of the tactics that has shown exemplary results. 
Although around for as long as we can remember, the approach to popup usage has considerably changed, and thankfully, for the better. Now recognized as one of the top engaging elements of a website, people are gaining a keen interest in making attractive popups in the most efficient ways possible; if you are one of them, you have landed at exactly the right place!
Before we start with the tutorial on how to create popup forms, let's see why using a popup is good for your website in the first place.
Why Use Popup Forms on Your Website?
Popup forms are one of the easiest ways to connect with your website visitors. As a versatile and quick-acting medium of communication capable of catching even the most passive scroller's eyes, here are all the ways you can leverage popup forms for your website –
Attracting more visitors to your website
While the word "popup" may not inspire much confidence in many people due to its past annoying, intrusive nature, the fact is, it has veritably taken a turn for the better these days. 
With way improved designs and successful targeting options, popup forms now are responsible for about 3.09% of conversions on average, which is to say, using them, you can turn visitors into customers, gain new email leads, and increase engagement — all leading up to the single outcome that you attract more traffic overall.
Building your email list
 Popups are extremely efficient in collecting email addresses from your visitors. Even if they do not make a conversion outright, you can utilize the popups to display relevant offers, such as free shipping, discounts, gifts, etc., in lieu of their email addresses that'd act as viable leads to pursue later.
Aside from the usual email forms, you can also use popups to create opt-in email forms and gather your users' contact information more ethically. Optin forms let you grow your mailing list with the express consent of those subscribing to you — making for a cleaner, loyal user base with more chances of converting along the way.
Read more: 

Email Popups: 40+ Examples & Strategies to explode your list
Targeting Specific URLs
Sometimes, instead of using your popup forms everywhere or on the whole website, it may be more beneficial to display them only on specific pages. If you want to target a particular audience with your offers, once again, popup forms set up with URL targeting would be much more effective.
For example, if you wish to display a popup sign-up form that offers a free e-book in return, you'd rather do it on the cart page or when the user navigates to a particular, relevant page. Popups let you effortlessly hone in on the pages of your choice with URL targeting, allowing you to customize where your email form shows up.
Making your forms more visually appealing
How does seeing traditional forms with a gazillion fields make you feel? Probably really weary with a healthy dash of boredom thrown in the mix. Well, it's the same for everyone! In fact, according to SaleCycle, 77% of shoppers abandon lengthy checkout forms without providing any information the sellers seek. Popup forms let you create some really visually appealing designs with minimal fields that get the job done much more effectively.
With popup tools, the task gets even easier as it allows you to extract your prospects' contact info without seeming too intimidating.
Why Use Picreel to Create Popup Forms for Your Website?
Picreel is an incredibly versatile, user-friendly, and no-code popup building software that helps you build eye-catching popups and target the right visitors in minutes.
With a straightforward editor and advanced targeting options, the tool creates campaigns that convert and drive more sales by letting you design personalized popups for all sorts of audiences. Moreover, you can gauge how well each popup performs by running the campaigns through an advanced A/B testing module.
Read More: 

9 Simple A/B Tests You Should Perform On Your Website
Note: Popup campaigns are messages that are displayed to your visitors when they browse through your website. With Picreel, you can choose any format from the whole bunch that consists of floating bars, sidebars, lightbox, nano bars, full screen, overlays, and many more.
Picreel offers a free trial version to all users — go ahead and try making a popup to test it out!
How to Create Popup Forms and Add It to Your Website?
With a drag-&-drop popup builder and a rich library of 100+ templates, Picreel allows you to create numerous popups in multiple formats tailored to your aesthetic and utilitarian requirements. However, for simplicity's sake, we will show you a basic tutorial covering all the major steps involved in making the perfect popup form.
Let's go!
Step 1: Create a Picreel Account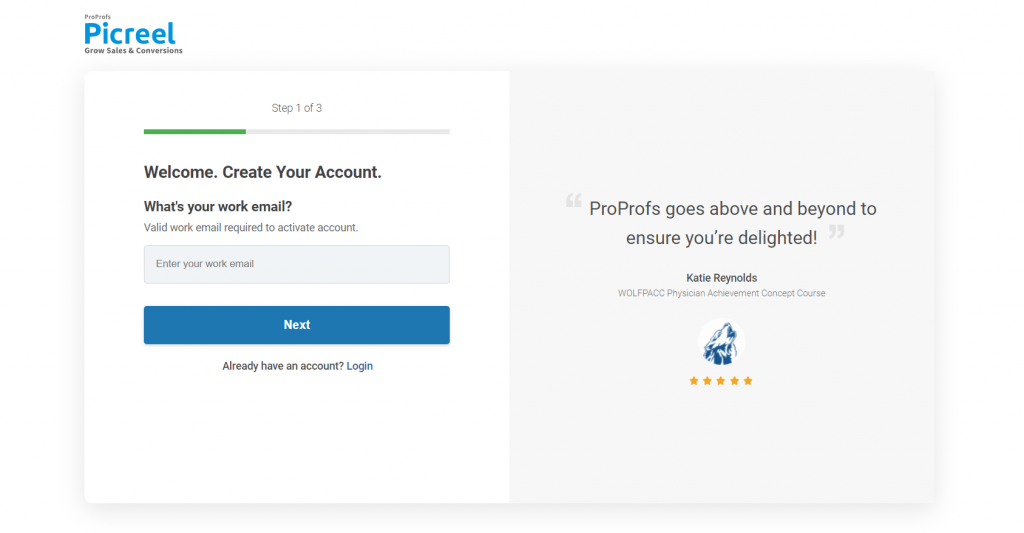 If you don't have an account with Picreel yet, go to the Picreel sign-up page and create an account with your email for free. The process takes less than a minute to complete, and you are already on your way to making a beautiful popup form for your website!
Step 2: Navigate to the "Get Started" Section of Picreel's Dashboard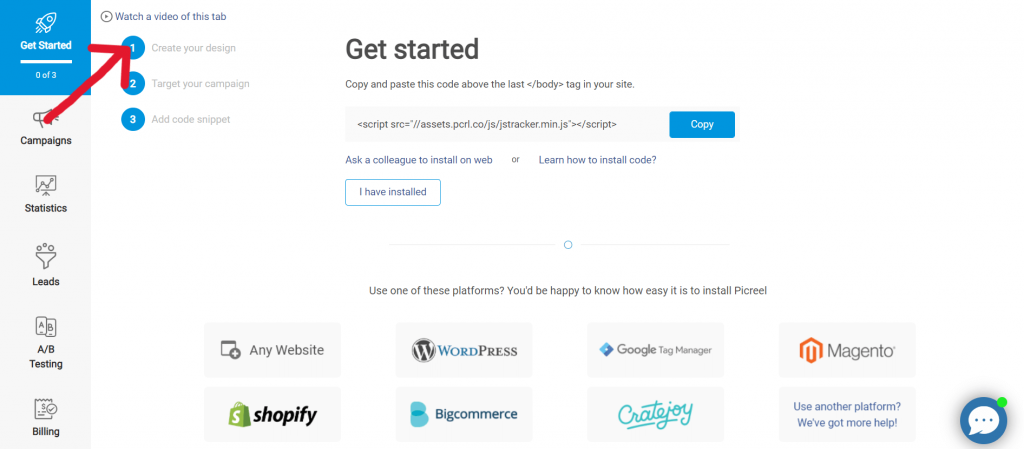 Once you are done signing up, proceed to the "Get Started" section from the panel at the left, and choose "Create Your Design".
Step 3: Select Your Overlay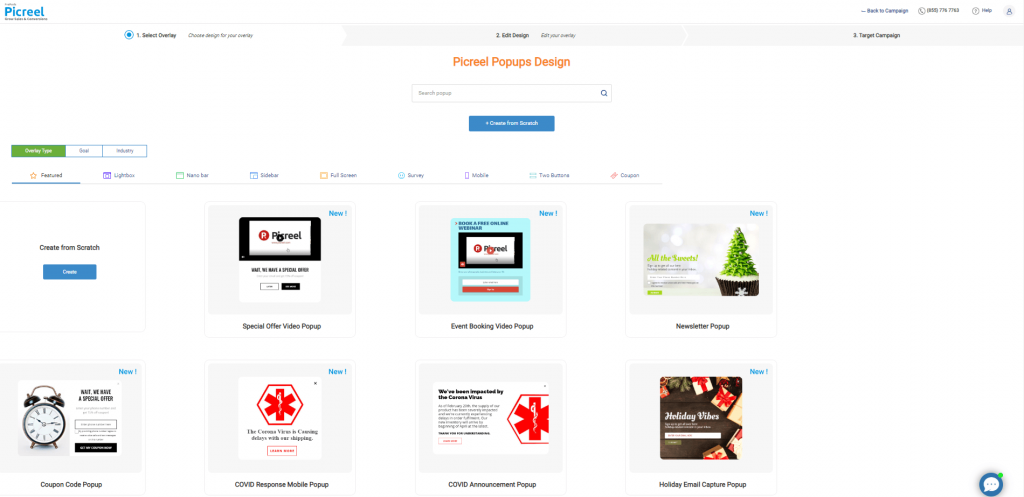 On this page, you will see the option for designing your popup from scratch as well as a popup template library with various popup designs. Choose an overlay that suits your requirements, or create one with the "Create" button at the beginning of the panel.
Step 4: Choose Your Goal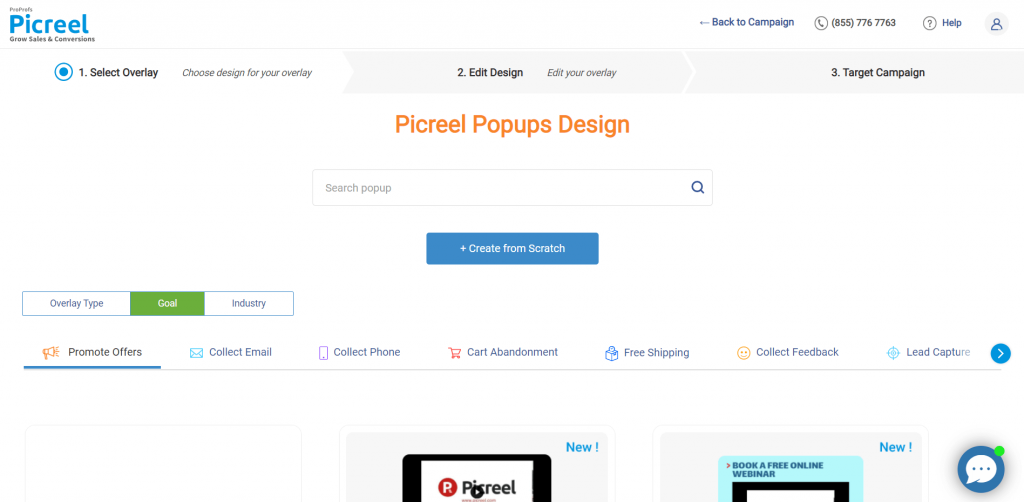 Here, you will be presented with multiple options displaying the objective of your popup. Choose the one that aligns the most with what you intend to do with the popup.
Step 5: Select Your Desired Industry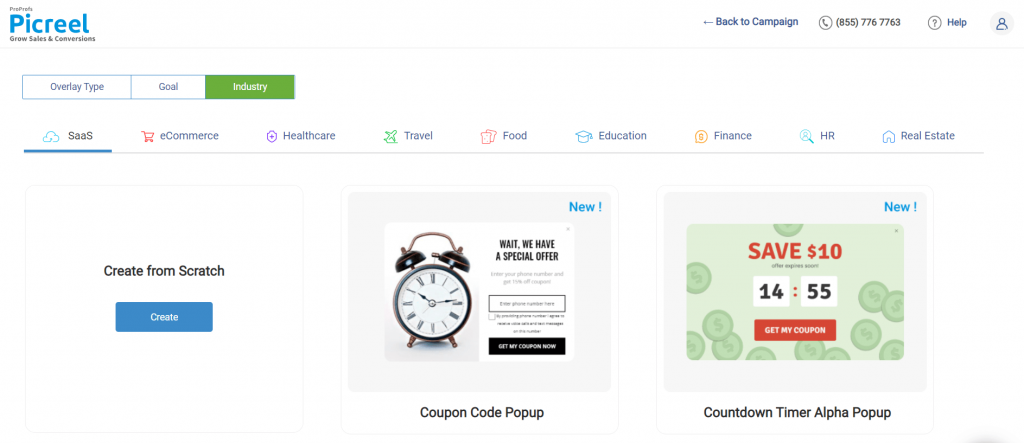 In the next step, select the industry that forms the majority of your targeted audience base. Once again, you can choose from the pre-built designs and customize or create your own with the CSS/HTML editor.
Step 6: Edit the Popup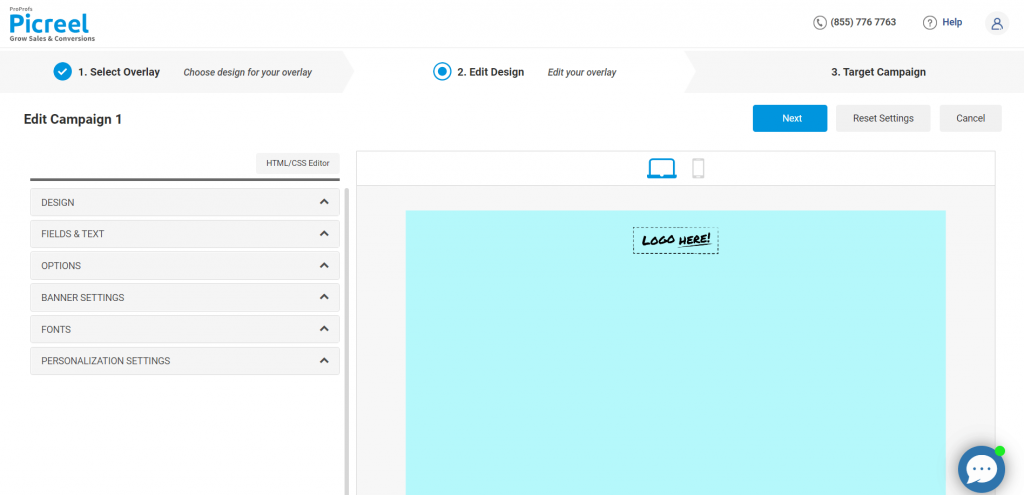 Now that you have selected the template, customize and personalize it any way you want. Six options on the left side panel allow you to make all the required changes to your design, as we will describe below.
Design – This is the first option of the six in the Edit section and lets you form the base overlay of your popup. Select the background (image/solid color/GIF), background color, text color, and other colors, plus the size of the pop-up here. You can also choose an image from the available images or upload one from your collection.
Fields & Text – This section helps you edit the text that shows up on your popup. You can write your own copy and CTA in the fields after inserting the redirect links or add space for gathering visitor information such as name, number, email address, etc., as well as customize the logo position
Options – Select the popup animation and its display position from the available options. You can also select how you want your popup closed and the corner radius of your image here.
Banner Settings – In this section, you can add a tiny banner ( or image ) that will sit in any chosen corner of your screen. Once your visitors click on it, your popup design will appear. You can choose a style, select its positioning on the screen based on the type, and modify its color and display text to suit your needs.
Fonts – Here, you can select the element, font style, size, and alignment for the overlay text. If you want to apply a custom font that isn't available in the given list, you can easily upload it and use it too.
Personalization Settings – This setting lets you personalize the popup with individual customer's data, such as name, location, etc., from your CRM software. You can also add dynamic texts from your website with intel, like "added-to-cart" and browsed-through items, to render your popups with a hyper-personal touch.
Once you are done, click on "Save" to save the changes you made to the design.
Step 7: Set Your Trigger & Targeting Rules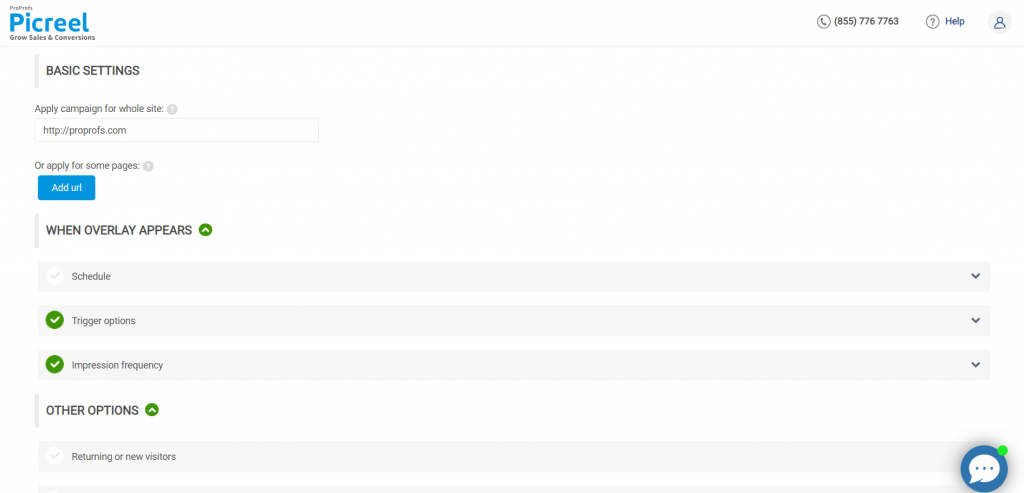 With your popup form design almost ready, the only thing remaining is configuring the timing and your target audience. This section offers all the options that will help you fine-tune your campaign to yield the best possible results.
Let's take a look at what it has to offer:
Right at the top of the page is the "Basic Settings," where you can choose whether to display the popup on the whole website or specific webpages. Enter the page URLs accordingly in their respective fields.

The next section, "When Overlay Appears," lets you select the specific timeframe when you want your popup to appear. Click on Schedule and enter the date and time on which you want to run the popup campaign.

Next are the tabs for "Trigger Options" and "Impression Frequency." Here, you can set the time (in seconds) before activating the popup trigger. There are multiple trigger options here:

On Exit (exit-intent, when the visitor tries to leave the site)

Time spent on page (popup is displayed after visitors spend X seconds on site)

Scroll percentage (popup is displayed after visitors scroll X percentage up/down the webpage)

On Click (popup is displayed after the visitors click on certain website elements)
Impression Frequency lets you determine the criterion for the number of times your popup appears on the screen during a single browsing session. Once again, it allows for multiple options like –
Once for the same visitor

Every day for the same visitor

Every Week for the same visitor

Every Month for the same visitor
Step 8: Fine Tune Your Audience Options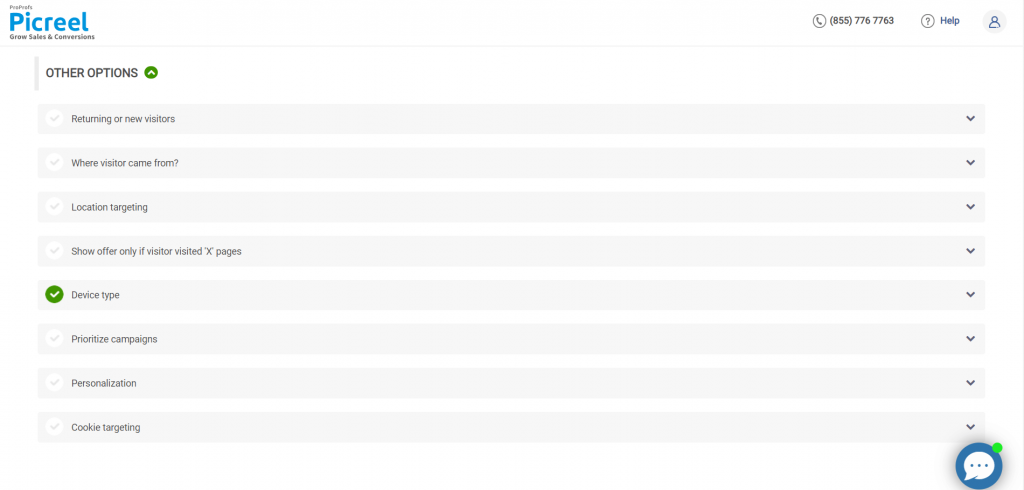 After the initial personalization is over, tweak your popup to display it to the exact audience segment you desire in the "Other Options" section.
Here, you can target your audience with options like —
Returning or new visitors – Choose whether to display the popup to new visitors, existing ones, or all visitors.
Visitors' source – Display the popup based on the source from where visitors came on your website, like a search engine, redirect URL, other domains, etc.
Geo-targeting- Display your popup to visitors browsing from particular a particular location or country.
Number of pages visited – Display the popup form after a visitor has explored X number of pages on your website.
Device-based targeting – Run the popup campaign for visitors based on the device they use.
Prioritization – Choose the priority of the popup campaign if you are running multiple popup campaigns
Cookie targeting – Select when to show the popup coupon depending on particular cookies.
Step 9: Save & Publish Your Popup Form

After all the steps are completed, click on "Save" to save your design and make it live. Also, make sure to connect your website to Picreel using a simple code that's in the "Get Started" option.
You can track your popup's performance in the analytics section as well as test different versions of the same popup to see which one brings in the most conversions.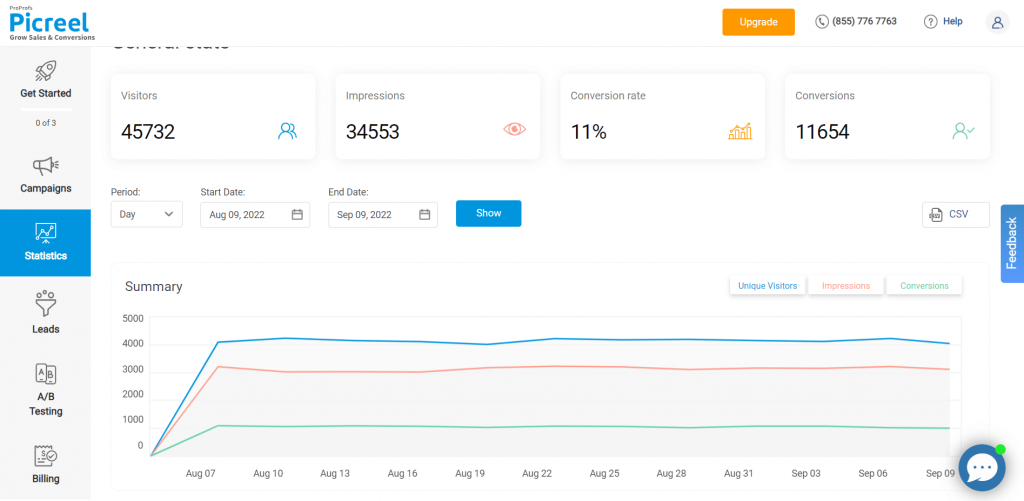 FAQs
1. What is a popup form?
Popup forms are forms designed to "pop up" on a website at various points with the intent of collecting valuable user data such as emails, contact information, and feedback intel at times.
2. How do popups work?
A popup tool tracks the users' activities and shows them consolidated information or tries to gather them from the visitors at different trigger points. They are usually bright, prominent, and sudden, with a succinct CTA that forces the users to pay attention to the message they could have missed otherwise.
3. What is the purpose of popups?
Popups serve multiple purposes, including grabbing users' attention, personalizing the customer experience, obtaining user data to run future marketing campaigns, etc.
4. What is the difference between a form and a popup form?
While both embedded forms and popup forms have their own set of benefits and uses, they differ on multiple fronts. For one, embedded forms are typically seen on a designated page, while pop-up forms can be placed anywhere. Other than that, popup forms are outbound, are usually minimal, and include a CTA, all in one go.
Let's Get Those Leads In!
By now, we are sure that you are well versed in the steps to making some killer popup forms; all you need now is to get started and test your designs live! The smarter you get with the rules, the more leads you bring in, but in all that, let's not forget creativity either, because uniqueness never fails to pay.
In this entire journey, Picreel is always ready to help you out. As an AI-powered popup tool, even if you leave the settings to default, it's going to display beautiful, well-timed popups at the perfect moment on its own. Want to check for yourself how it works? Get started with Picreel right away to get your campaigns up and running!
Do you want instant 300% growth?
Picreel popups can get YOUR website 300% instant sales growth. See Case Studies.