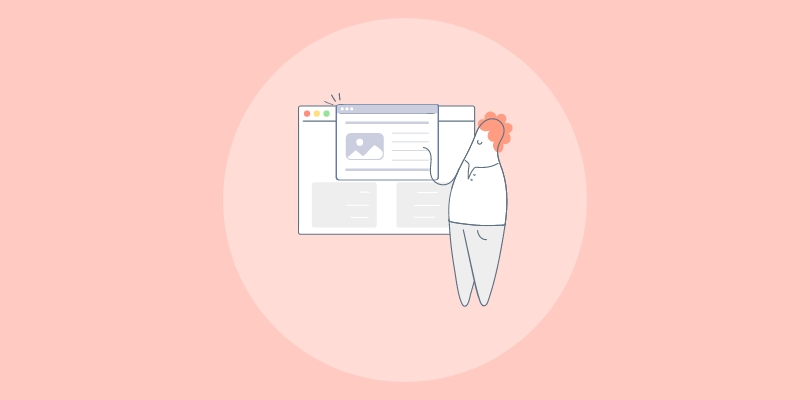 What comes into your mind when you read or hear 'popup ads'?
No matter how good your popups are, we can all agree that online visitors find popups annoying and frustrating.
However, when popups are created thoughtfully and with relevance, they have the potential to enhance the user experience and drive positive interactions. They can engage online audiences, effectively convey important messages, and boost conversion rates.
Now that the technologies have evolved, the recent popup ads take the user experience into account. Public opinion about popups is slowly changing, and that's good news for everyone.
But for the good news to stay good, you need to follow the best practices to create exceptional and high-converting popup ads.
Use this blog as a guide for the same.
What Is a Popup?
Popup or popups are small windows that appear on your screen while you are browsing the web.
You can harness the potential of popups as a valuable marketing strategy. These tools are designed to capture your audience's attention and deliver compelling content or offers, making them an effective means to engage and convert visitors on your website.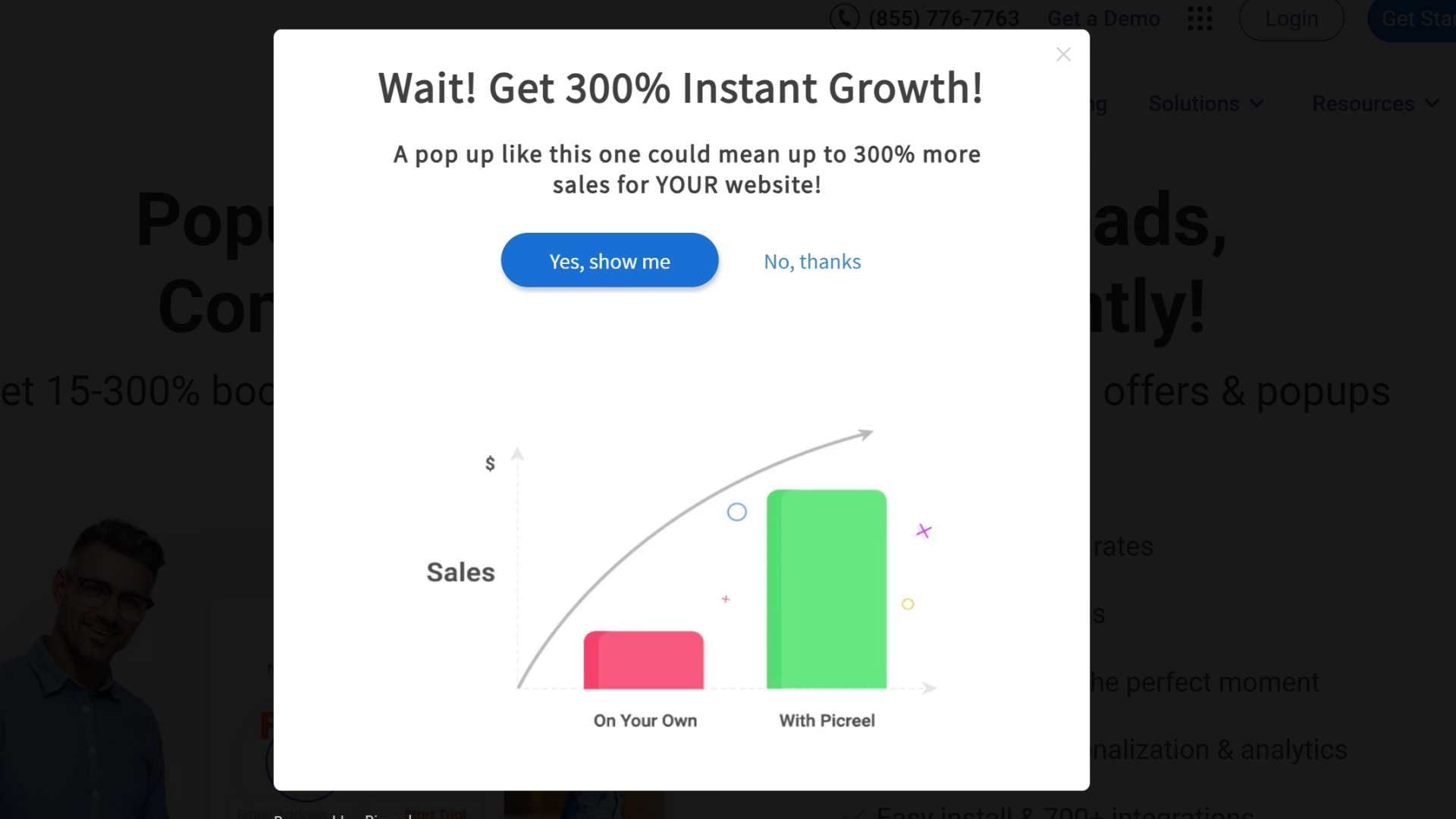 With a popup tool, you can create and display your popup ads to your website visitors, customize your popup ads' design, content, timing, and trigger to suit your needs and goals and can deploy different popup ads, such as exit-intent, scroll-based, timed, or click-based.
You can use popups to share information, promote offers, and build contact lists. For example, you can use popup ads to
Inform your visitors about new products, features, or updates.
Offer discounts, coupons, or free trials to entice visitors to buy or sign up.
Collect your visitors' email addresses or phone numbers to grow your contact list and send them newsletters or promotions.
Ask for feedback or reviews from your visitors to improve your website or service.
Redirect your visitors to another page or website you want them to see.
Popups can help you achieve your marketing goals by attracting attention and generating leads. However, you should also be careful not to annoy or frustrate your visitors with too many irrelevant popup ads.
You should always test and optimize your popup ads to ensure they provide value and benefit to your visitors.
How to Create Popup Ads?
If you want to create a popup for your website, you can use Picreel, a popup messaging app that's easy to use and loaded with features. Here are the steps:
Step 1: Sign up for Picreel and Start a Campaign
You need a Picreel account to create a popup. You can sign up for free on their website.
After logging in, you can start a new campaign by clicking on "Campaigns" in the left menu and then on "New Campaign" or "Create Your Campaign" on the right or center of the screen.

Step 2: Choose a Template
Picreel has an array of templates you can use for your popup. You can pick one that matches your style and edit it as you wish. You can change the text, images, colors, and more.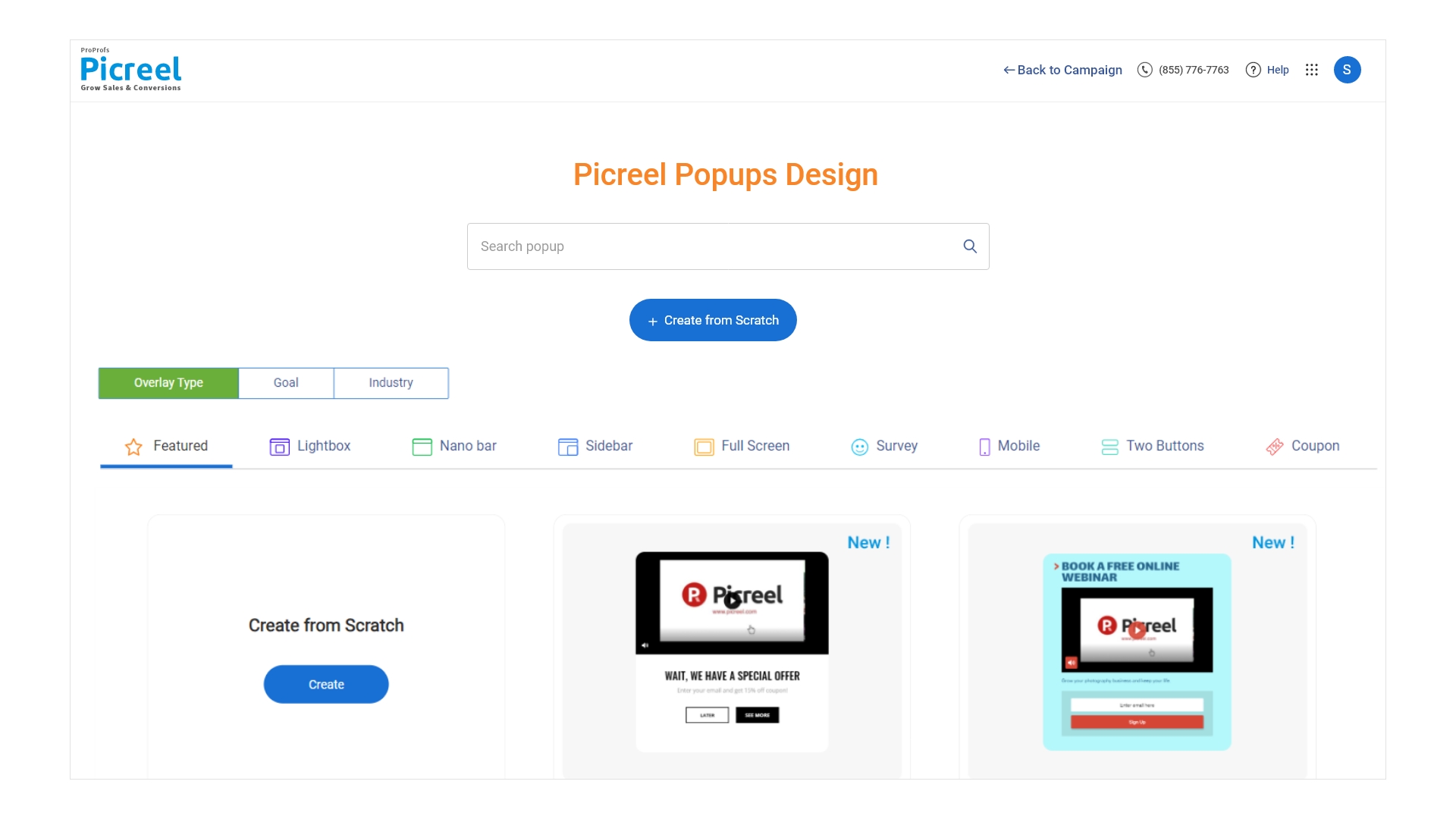 Step 3: Edit Your Popup
After picking a template, you can edit it to suit your needs. You can add your text, images, and branding elements to make the popup unique. You can also adjust the size and position of your popup on your website.

Step 4: Set Triggers and Targeting
The popup design is ready. Now you need to decide who will see it and when. Under the campaign settings, there are some basic and advanced options.
First, enter the URL where you want to show the popup ads. You can include/exclude multiple pages to run your campaign. Next, under "When overlay appears," you can select the timeframe under the Schedule option. Then, there are trigger options, where you can choose when to show the popup.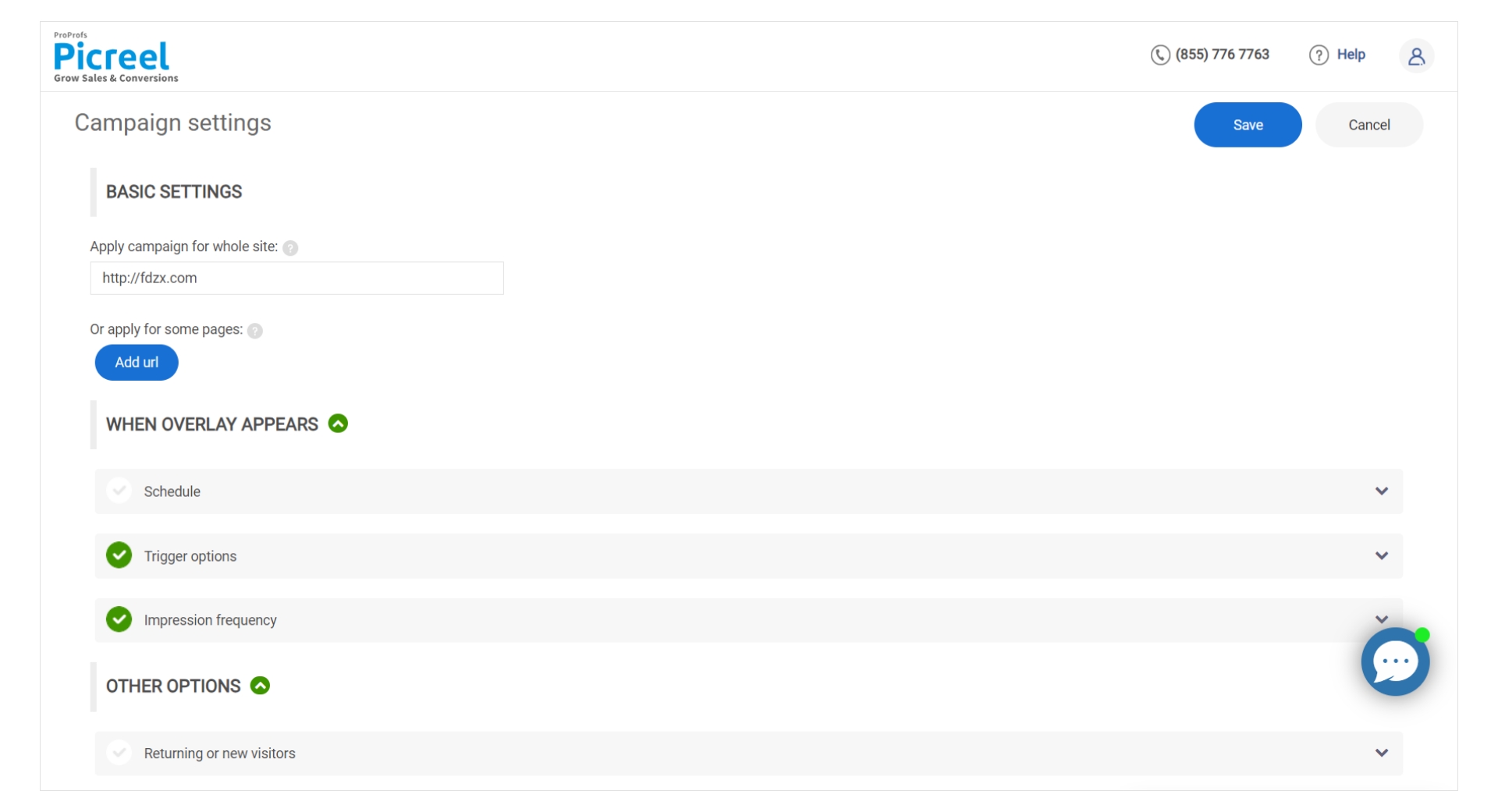 You can set the trigger rules here, such as time spent, exit intent, scroll up/down percentage, and click on a particular element. Choose how often you want to show the popup to the same visitors. It can be one time per visitor, every day, every week, or every month.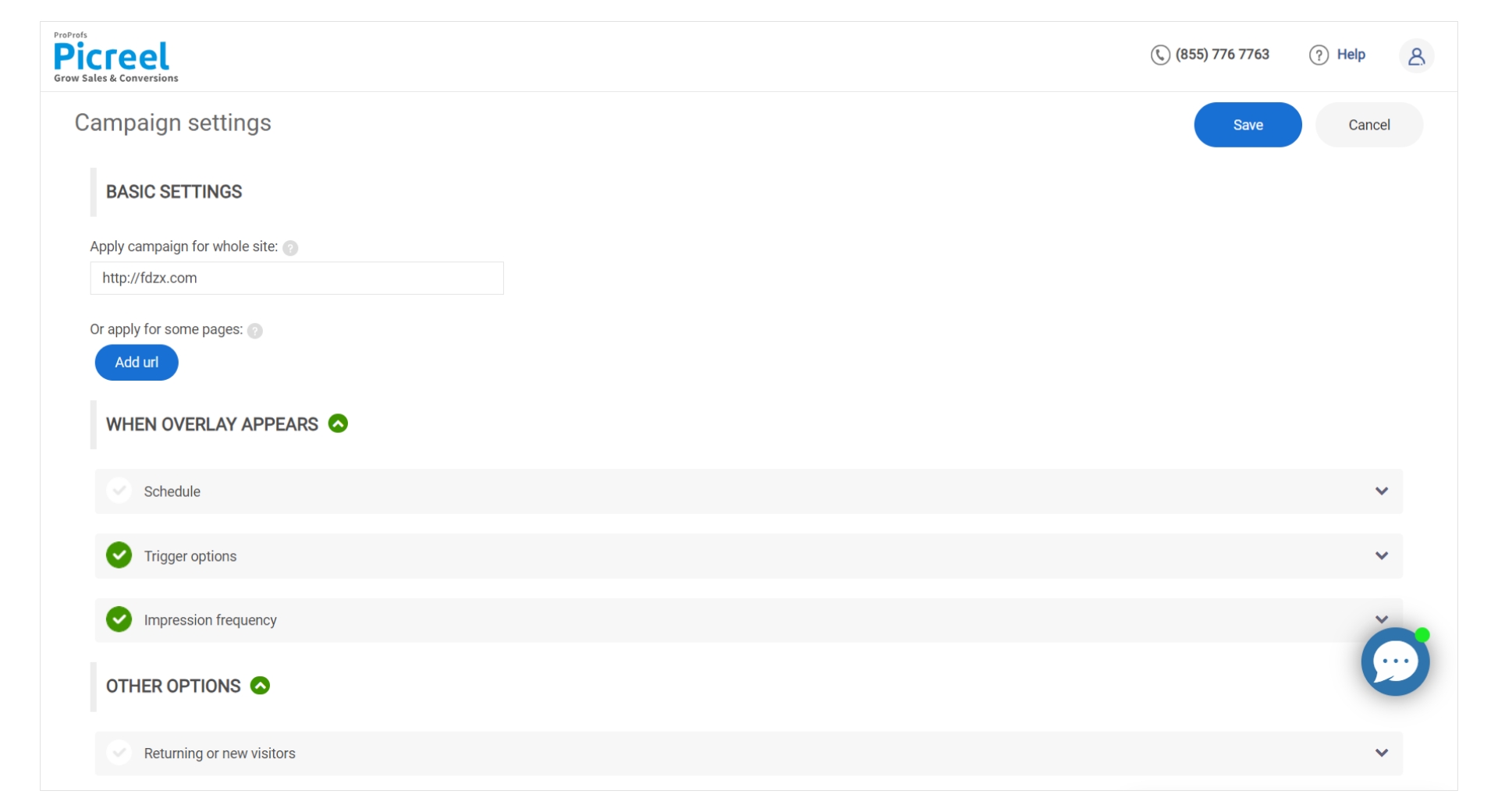 Finally, under the "Other options" settings, you can configure different options for targeting the visitors to show your popups based on:
Returning visitors, new visitors, or old visitors (to display the ad)
Location-based campaign
Visitors came from (anywhere, URL, another website, or search engine)
Device type (to display desktop pop-ups only to desktop users, mobile pop-ups to mobile users)
Step 5: Integrate with Your Website
Once you have created and customized your popup, you can integrate it with your website. Picreel provides a simple code snippet that you can add to your website to show your popup.

Also, if you prefer watching a video tutorial with step-by-step instructions, here is one right below:
Why Is Creating Popups Important?
No matter how many new forms and opportunities online marketing presents us daily, popups remain one of the best means to advertise products and services and attract web traffic.
Once you leverage the advantages of pop-up ads, you will surely know how effective this marketing strategy is! Let's check out why popup ads are important for your business:
Increases Brand Awareness
Popup or pop up ads are cleverly designed to grab visitors' attention and ensure they can't miss the message. It's like shining a bright spotlight on your brand, ensuring your targeted audience becomes well aware of your offer.
These captivating popups are a powerful tool to reach a wide range of potential customers, boosting brand awareness like never before.
Instant Customer Feedback
Popups help you quickly gather customers' feedback. Visitors can easily share their thoughts on user experience, customer service, product quality, etc. This valuable feedback gives you important insights into your customers' preferences, pain points, and areas for improvement.
Increases Conversions
The average conversion rate for popup ads is 3.09%, which is higher than most other forms of online advertising. The main goal of any advertisement is to turn interested people into satisfied customers.
Popup ads can do just that when they appear at the right time during a customer's journey. With compelling copy and a clear Call-to-Action (CTA), popups can significantly increase conversions.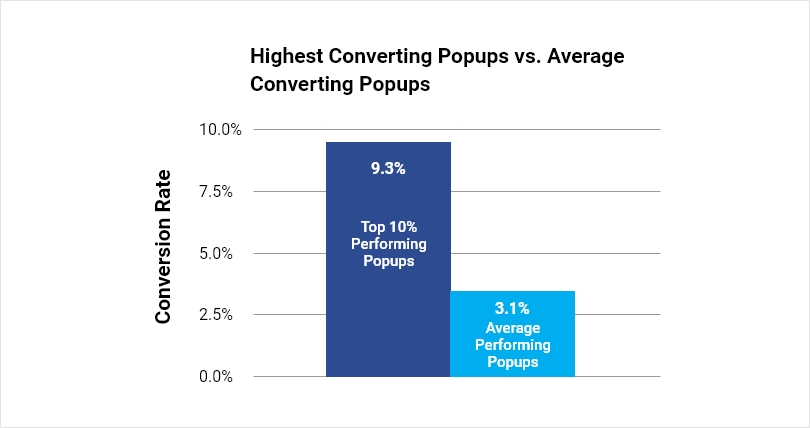 Versatility
Popup ads are highly flexible and can be used for various purposes. They can make announcements, guide visitors through a website, promote best-selling products, or advertise seasonal sales.
You can customize popups with multimedia elements to make your content more engaging and appealing to your audience. They are the perfect tool to deliver your message in a way that aligns precisely with your marketing goals.
With so many amazing benefits, it is no surprise that popup ads have become a huge hit, and more businesses are utilizing these to their great advantage.
Mistakes to Avoid When Creating Popup Ads
Creating popup ads is super easy, as we saw above.
However, if you're out there to generate quality leads, market your products, and boost conversions significantly, that's only possible with a carefully crafted popup strategy.
So, let's have a look at the best practices you should follow while setting up your popup ad campaigns.
Timing Is the Key
Imagine you visit a website to buy a cake online, and just as you scroll for barely a second, there it is. The popup is hitting your screen, asking you to sign up!
Well, you will be annoyed, which happens when your visitors encounter popup ads at the wrong time.
You should ensure you give your visitors time to engage before displaying popups. The best time to re-engage your visitors with a popup is when they show exit intent, like trying to switch to another tab or quitting.
You can additionally set triggers to display popup ads when the visitor has been there for around 30 seconds without clicking anywhere or when they are showing interest in some products; you can recommend similar or your best-selling products.
CTA Should Be Prominent
The call-to-action button is one of the key elements determining whether or not your visitors engage and convert. These words literally guide the visitor to do the next thing.
Some common CTAs that are popular among e-commerce stores are "Sign Up Now," "Order Today," "Get your free shipping," and so on.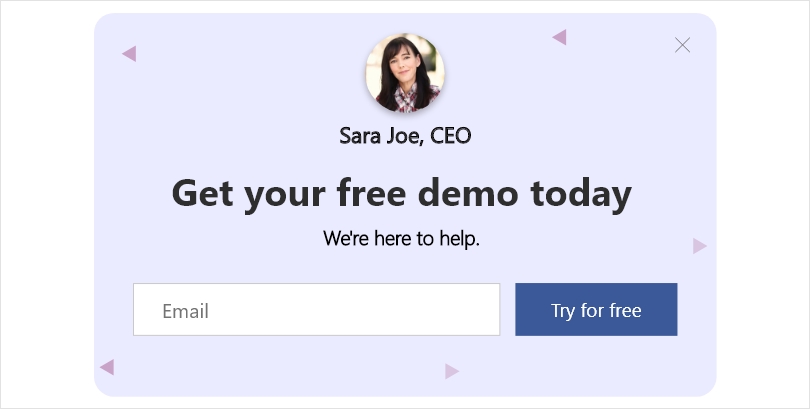 Without the visibility of your CTA button, your visitors might not complete the desired action.
That's why CTAs are generally highlighted with different striking colors as per your design. Try to increase the size of your button and give it a contrasting color to catch immediate attention and compel them to take your offer.
Easy to Close Popup Ads
Popup ads are great for growing your business, but you need to respect your visitors' choices. If they wish to ignore the popup, you have to make it easy for them to close the ad.
Otherwise, the visitors get annoyed and frustrated with your website and are likely never to visit again.
Try to keep the "X" (close) button in a visible region. If possible, include a button or line beside/below your CTA, such as "No, I don't want to take your offer," "I am not interested," or "I want to continue browsing," etc.
Including a second type of button offers two paths for the visitor to close the ad and shows that they're missing your offer.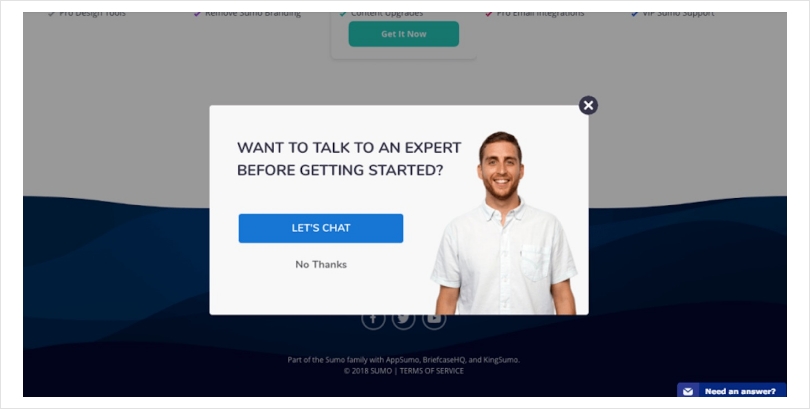 Image Source: Sumo
Frequency of Popup Ads
Just like timing, frequency is also important for your popup ads. Imagine how annoying it would be to see the same popup every time you visit or go to a different webpage of the site.
So, instead of leaving the default frequency settings, adjust the frequency for different popup ad campaigns.
For weekend sales or flash sales, it makes sense to increase the frequency by one or two, but for normal popup ads offering free shipping or a discount code, or access to free content, you need to change the frequency to once a week or maybe a month.
Don't Ask for Too Much
Your visitors aren't taking a quiz or test, so you need to keep your popup ads fast and straightforward. Keep your forms short and sweet, and ask for information that is important to you. If your teams can get the job done with just a name and email address/phone number, stick to it.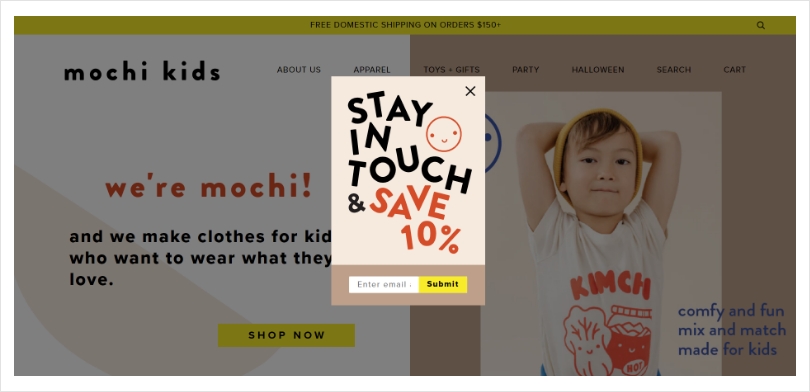 Image Source: Mochikids
Most of the top converting popup ads have just one or two fields because visitors don't find it lengthy or time-taking to fill out the form. Always try to remove any unnecessary fields asking for information, such as age, gender, etc., that might not be relevant from a conversion point of view.
A/B Test Your Popups
Not all popups are designed in the same way, and if you have more than one popup, you need to experiment with them all to find the best-performing ones. First, you should keep at least one unique difference in each popup, like a different headline, design, CTA, copy, or offer.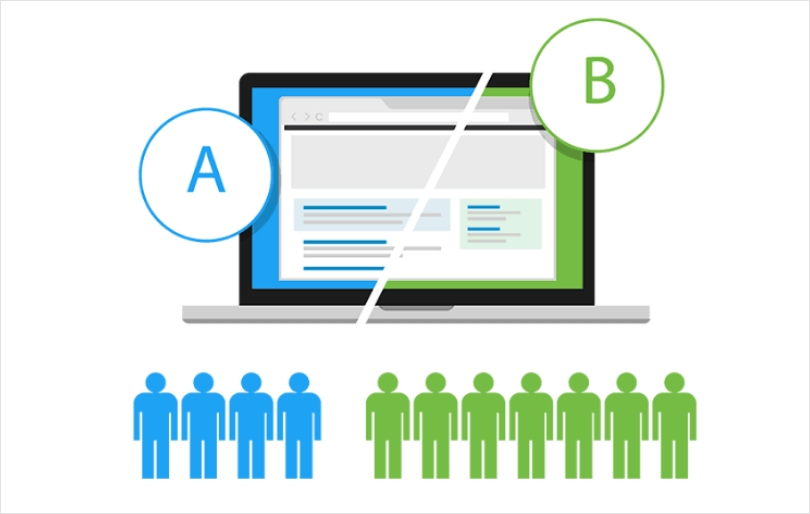 To A/B test your popup ads, you can display two different popups to the same visitor at different times. This helps identify the change in your last popup that made the current one perform better and improves the results of your ad campaigns.
Delightful Ready-to-Use Templates
Ready to create popup ads? Here are some examples of the most effective and engaging popups you can choose from:
Countdown Timer Discount Popup
Create a sense of urgency by offering limited-time discounts or coupons to your visitors. Display these popups with countdown timers for increased effectiveness.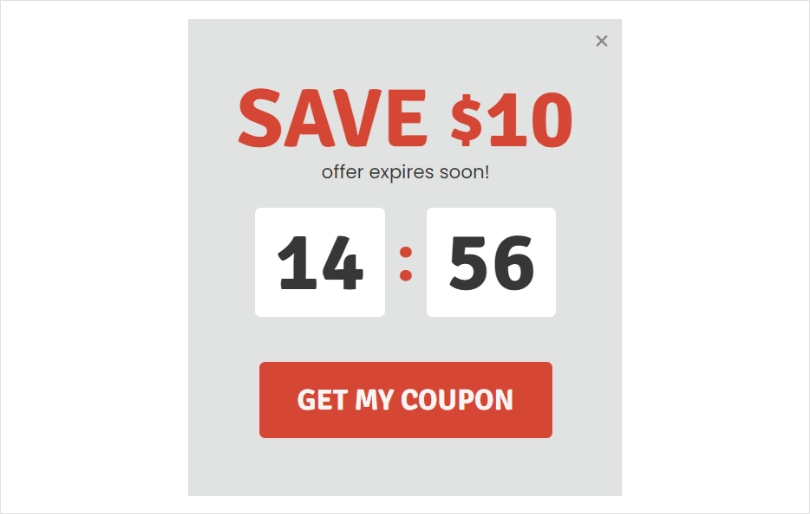 Product Recommendations Popup
Recommend your top-selling products or services using popups. Simplify the experience for your visitors with relevant and useful recommendations.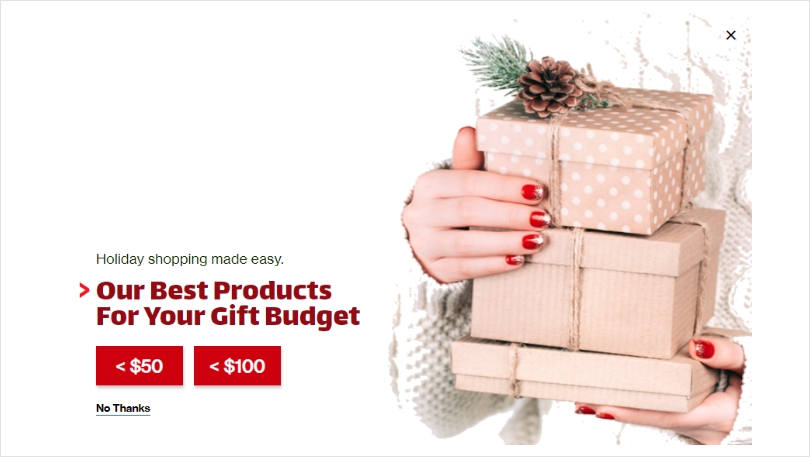 Personalized Messages
Personalized messages can be highly impactful in driving customer action. Make your customers feel valued by including personalized content in your popups.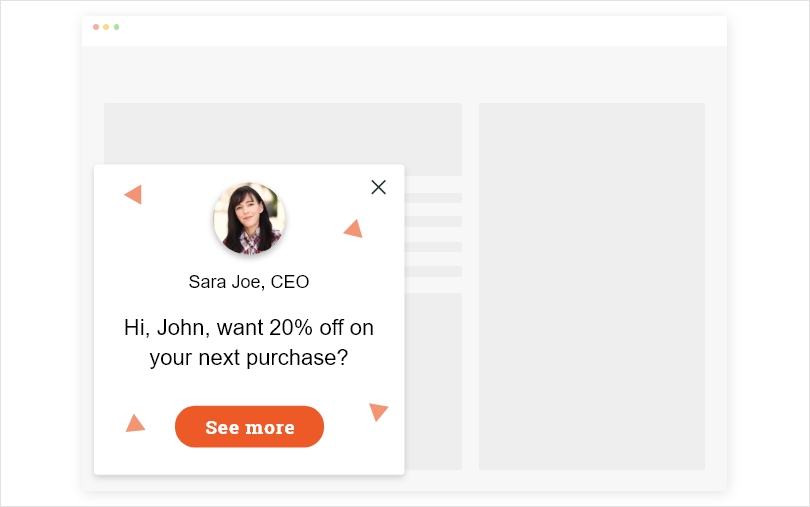 Flash Sales
Run flash sales to make more sales in less time. Include pop-ups for these campaigns to skyrocket your sales.

Video Popups
Make your popups more engaging by including videos. For instance, you can add an introductory video to your products and services for booking an online webinar.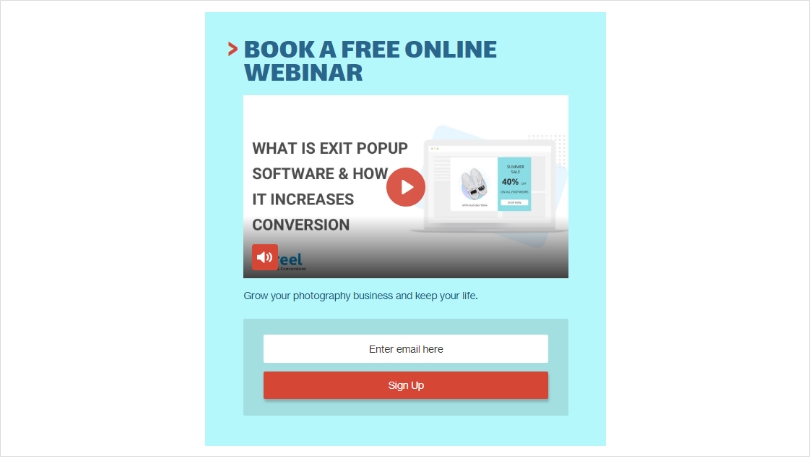 Read More - 13 Best Ecommerce Popup Designs Examples to Boost Your Sales
Craft Compelling Popups for Instant Engagement!
Popup ads are a powerful way to capture your visitors' attention and convert them into leads, customers, or subscribers. But not all popups are created equal.
You need to design your popups with your audience, your offer, and your goal in mind. You also need to use the right tools to create and display your popups on your website.
One of the best tools you can use is Picreel, a popup messaging app with many features and is easy to use. With Picreel, you can create stunning popups in minutes using their templates and customization options.
Sign up for a forever-free plan and create your popups today. Take advantage of this opportunity to boost conversions and grow your business with popup ads.
Frequently Asked Questions
How can I make popups less annoying for users?
To make popups less annoying for users, ensure they are relevant, timed appropriately, and provide clear value. Limit their frequency and use non-intrusive designs. Offer easy-to-find options for dismissal and prioritize a seamless browsing experience to enhance user satisfaction.
Do popups ads actually work?
The effectiveness of popups varies based on implementation. Well-designed, relevant popups can effectively capture user attention and drive desired actions, such as sign-ups or promotions. However, overuse or intrusive popups can lead to user frustration and negatively impact the user experience.
Are popups suitable for mobile devices?
Popups can be suitable for mobile devices if designed thoughtfully. They should be responsive, unobtrusive, and considerate of the limited screen space. Opt for smaller, strategically timed popups that offer value without disrupting the user experience.
How can I measure the effectiveness of my popups ads?
Measuring the effectiveness of popups involves tracking relevant metrics such as conversion rates, click-through rates, bounce rates, and user engagement. Utilize analytics tools to assess the impact of popups on your desired goals, such as lead generation or sales. A/B testing different popup designs, triggers, and timings can provide valuable insights into what resonates best with your audience.
Are there alternatives to traditional popups?
There are plenty of alternatives to traditional popups that can enhance user experience. Consider using banners, inline forms, slide-ins, or sticky bars that are less intrusive yet still attention-grabbing. Implement interactive content like quizzes or polls to engage users.
Do you want instant 300% growth?
Picreel popups can get YOUR website 300% instant sales growth. See Case Studies.