What pops into your mind when you read or hear 'popup ads'? We all can agree that online visitors find the term annoying, not to mention the frustration level when they come across pop-ups. Marketers create Popup ads as part of strategies just like email ads, social media ads, etc. Then why much hate towards popups? Let's roll it all 15-20 years back!
E-commerce businesses were starting off, and the use of the Internet was rapidly increasing. People relied heavily on the use of popups to gain visitors' attention and market their products.
From displaying the same popups frequently to targeting the visitors with irrelevant ads and misleading clickbait, the e-commerce businesses disrupted the user experience for online shoppers.
All in all, this journey changed the perception of pop-ups in the visitors' minds. Now that the technologies have evolved, the recent pop-up ads take the user experience into account. Public opinion about popups is slowly changing, and that's good news for online businesses.
For the good news to stay good and better, you need to follow the best practices to create exceptional and high-converting pop-up ads. Use this blog as a guide for the same.
Sign up To Create Your First Popup Ad For Free!
What Are Popup Ads?
The small window displays some offers/discounts/sales that suddenly pops up while you're browsing. Yes, that's precisely a pop-up ad! Everyone has their own experiences with pop-up ads, but it is a simple marketing technique used by businesses to grab visitors' attention.
You can put up your message in front of visitors with the help of a popup tool to achieve your marketing goals. The pop-up ads help share information, promote offers, and build contact lists.
Why is Creating Popups Important?
No matter how many new forms and opportunities online marketing presents us daily, popups remain one of the best means to advertise products and services as well as attract web traffic.
Once you leverage the advantages of pop-up ads, you will surely know how effective this marketing strategy is! Let's check out why popup ads are important for your business.
1. Increases Brand Awareness: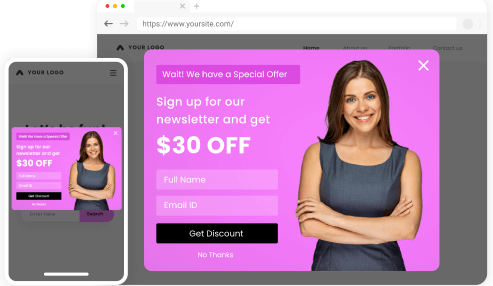 The most important thing is to gain maximum visibility and boost brand awareness. The popup ads are set in a way that it appears at the center. It grabs the attention of visitors, and they can't visually ignore it. So, popups are perfect for reaching out to a maximum number of targeted audiences.
2. Instant Customer Feedback: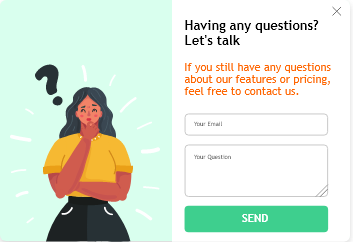 Popup ads are great to catch the immediate reaction from your customers. Visitors can leave their feedback about the user experience or customer service or product quality, etc. This helps in knowing your customers and improving your products/services to deliver a delightful experience.
3. Increases Conversions: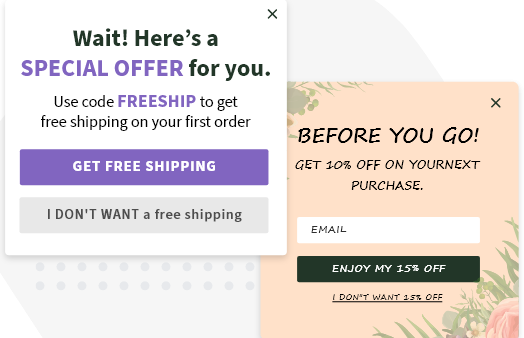 The ultimate goal of businesses by using any advertisement is to increase sales. The pop-up ads can help you achieve your marketing and sales goals if you display perfectly placed popups at the right time. With an impressive popup copy and clear CTA, businesses can easily boost conversions.
4. Versatility: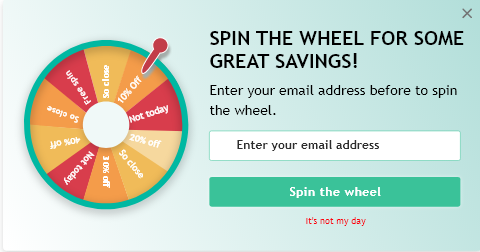 Businesses can use popups for various purposes. Depending on what your goal is, you can present your message to visitors. You can embed videos, creative graphics, and much more according to your content. From making announcements and guiding visitors to promoting best-selling products and sales, you can use popups to do a lot!
With so many amazing benefits, it is no surprise that pop-up ads have become a huge hit, and more businesses are utilizing these to their great advantage. So, how can you create popups? Let's find out!
How to Create Popup Ads?

Picreel is a leading exit-intent popup software that can help you create popup ads in no time. Once you sign-up and set up your account, the steps ahead are quite simple.
Step 1: Create a Popup Campaign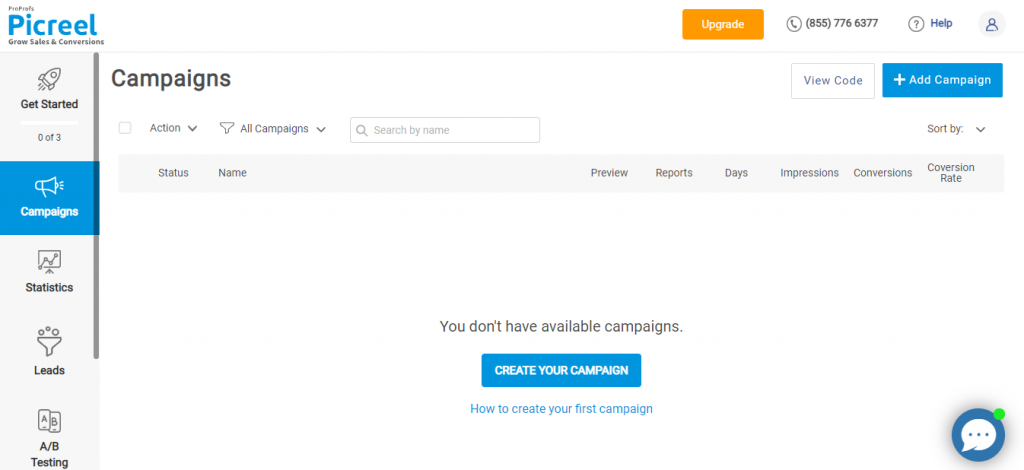 Once you log in to your account, click on "Campaigns" on the left side of your screen and create a new campaign by clicking on "Add campaign."
Step 2: Choose Design for Your Pop-up Ad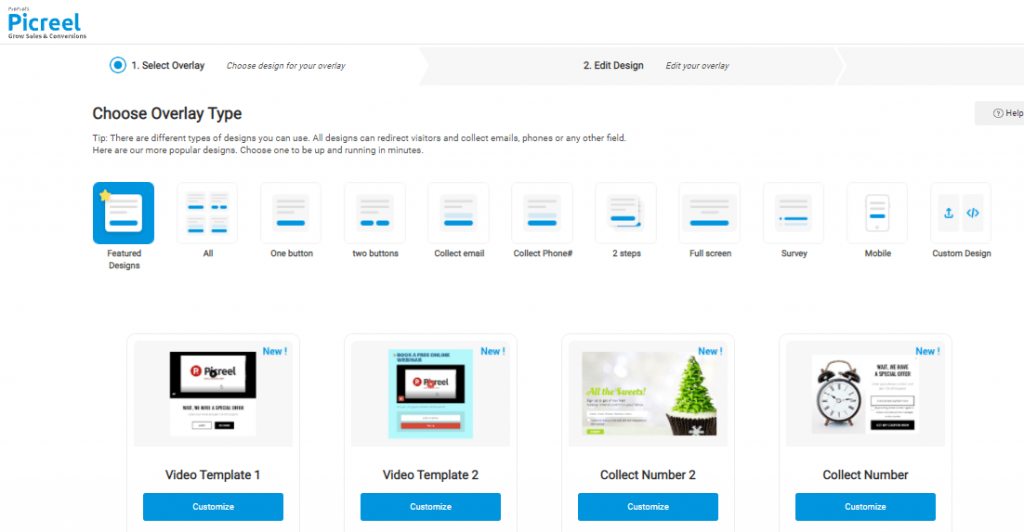 You will be redirected to this page shown in the image. Here, you will find a wide range of overlay types. There are more than 50 templates available, and you can upload or create your own as well. Once you find a suitable pop-up for your advertisement, click on the "Customize" button to start editing your overlay.
Step 3: Edit Your Pop-up Design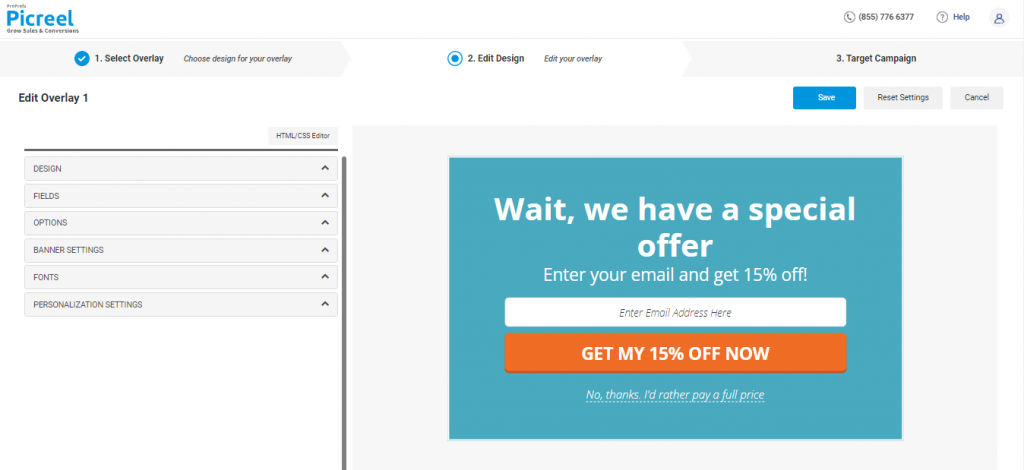 Now that you have selected your pop-up template, you can customize and make changes as per your preferences. There are six options available on the left side.
Design

– Select the background (image/solid color/GIF) and size of the pop-up. You can either choose from the available images or can upload an image of your choice.

Fields

– Edit the overlay text that displays on your ad. You can write your own unique copy and CTA in the Fields option. Also, insert the redirect links for your CTAs.

Options

– Select the popup animation from the available options and choose the position on the screen you want to display your ad. There are a couple of more options as well to set when to hide the popup and how much curve you want on the corners.

Banner Settings

– If you want to trigger the popup when the visitor clicks on the banner, you can choose the banner style, position, background color, text color, and text.

Custom Fonts

– Choose the font style, font size, font type, and font-weight for the overlay text. You can also upload your custom CSS files to apply the font on the popup text.

Personalization Settings

– By enabling this setting, you can make the popup more engaging by adding dynamic text like the customer's name, products in the cart, or anything else that's coded.
Once you are done with all the settings, click on the "Save" button at the top right to apply the changes you made to your pop-up ad.
Step 4: Configure Campaign Settings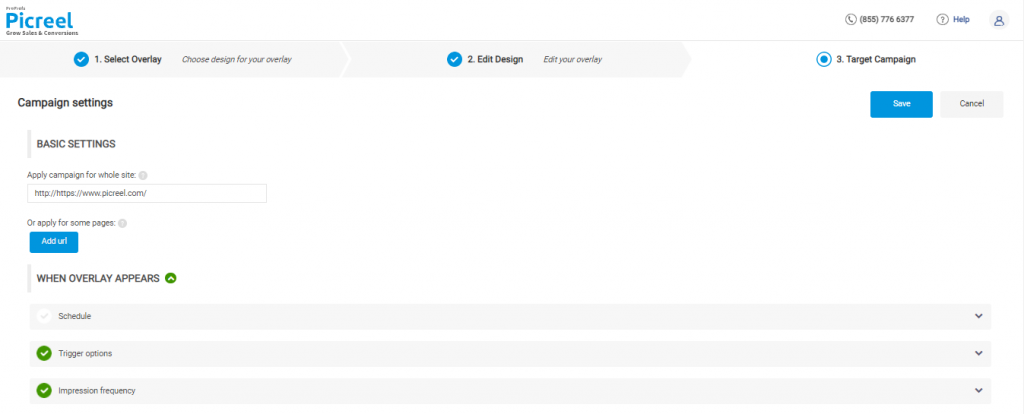 The pop-up ad design is ready. It's time to target the audience. Under the campaign settings, there are some basic and advanced options. Here's a quick walkthrough:
Firstly, enter the URL where you want to display the pop-up ads. You can include/exclude multiple pages to run your campaign.

In the next setting, "When overlay appears," you can select the timeframe under the Schedule option.

Then, there are trigger options, as shown in the image below, where you can choose when to display the popup. You can set the trigger rules here, such as time spent, exit intent, scroll up/down percentage, and click on a particular element.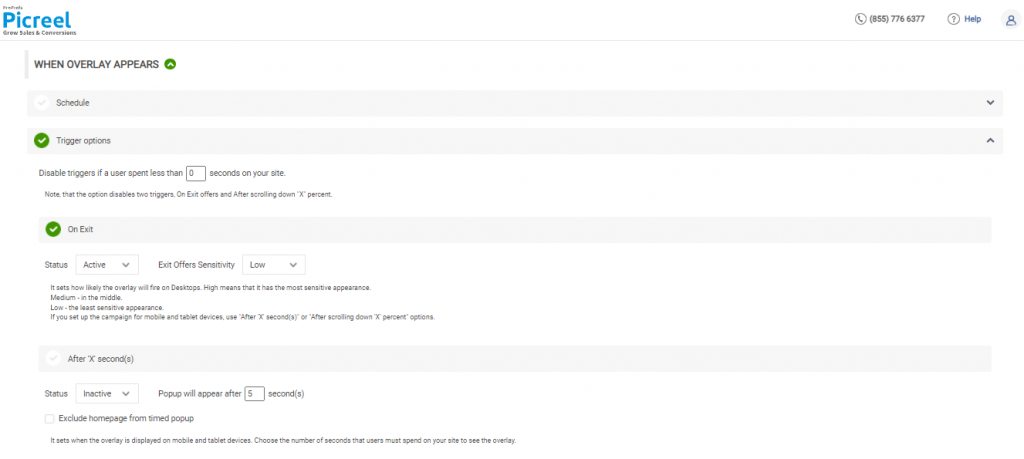 Choose the impression frequency for the same visitors. It simply means how many times you want to display the pop-up to the same visitor. It can be one time per visitor, every day, every week, or every month.

Finally, under the "Other options" settings, you can configure different options for targeting the visitors to display your pop-ups like: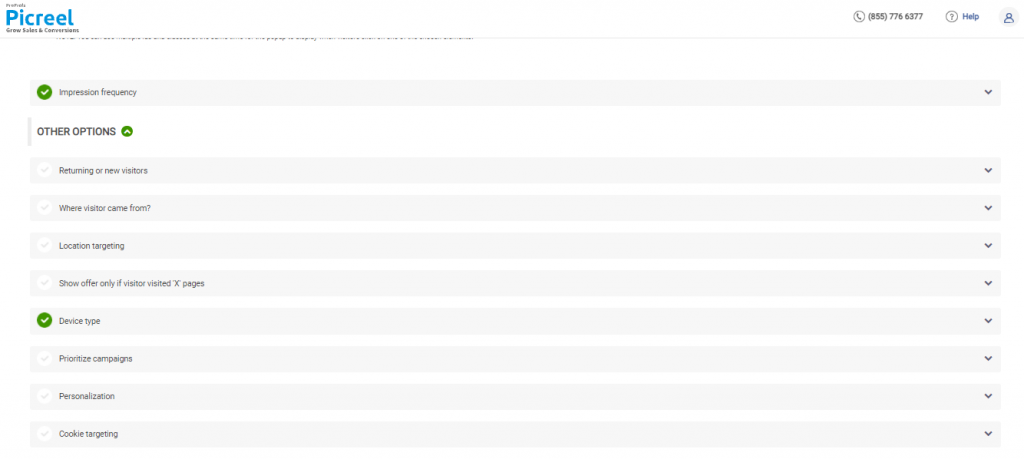 Returning visitors, new visitors, or old visitors (to display the ad)

Location-based campaign

Visitors came from (anywhere, URL, another website, or search engine)

Device type (to display desktop pop-ups only to desktop users, mobile pop-ups to mobile users)

Set the priority of the pop-up campaign

Personalize the pop-up data

Target visitors based on cookies

Reminder bar (similar to a banner)
After configuring all the targeting and trigger options, click on Save, and your campaign will be active. You can see your campaign details and statistics under the "Campaigns" tab we navigated in Step 1.
As simple as you like, no coding is required!
Best Practices for Creating Pop-up Ads That Convert (Mistakes You Should Avoid)
Creating pop-up ads is super easy, as we saw above. However, if you're out there to generate quality leads, market your products, and boost conversions significantly, that's only possible with a perfect popup strategy that converts. So, let's have a look at the best practices you should follow while setting up your pop-up ad campaigns.
1.Timing Is the Key
Imagine you visit a website to buy a cake online, and just as you scrolled for barely a second, there it is. The popup hitting your screen asking you to sign up! Well, you will be annoyed, and that's what happens when your visitors encounter popup ads at the wrong time.
You should ensure that you give your visitors some time to engage before displaying popups. The best time to re-engage your visitors with a popup is when they show exit intent, like trying to switch to another tab or quitting.
You can additionally set triggers to display pop-up ads when the visitor has been for around 30 seconds without clicking anywhere or when they are showing interest in some products; you can recommend similar or your best-selling products.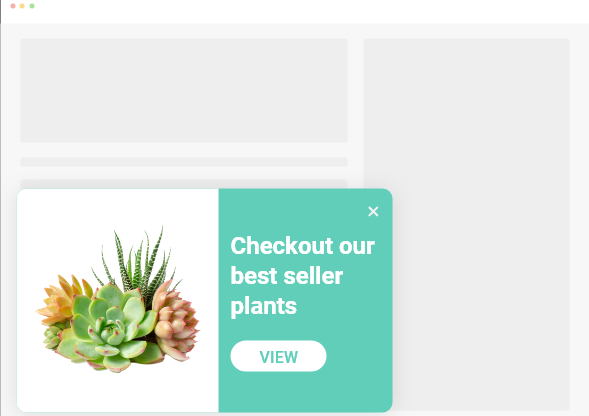 2.CTA Should Be Prominent
The call-to-action button is one of the key elements determining whether or not your visitors engage and convert. These words literally guide the visitor to do the next thing. Some common CTAs that are famous in e-commerce stores are "Sign Up Now," "Order Today," "Get your free shipping," and so on.
Without the visibility of your CTA button, your visitors might not complete the desired action. That's why CTA's are generally highlighted with different striking colors as per your design. Try to increase the size of your button and give it a contrasting color to catch immediate attention and compel them to take your offer.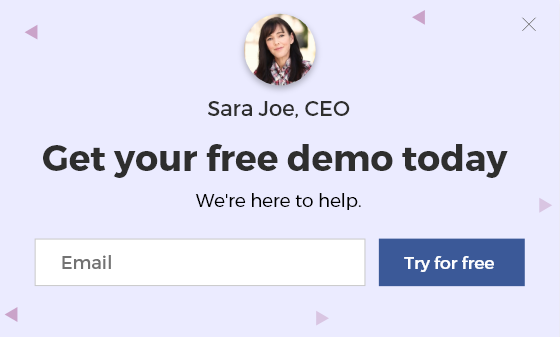 3.Easy to Close Pop-up Ads
Pop-up ads are great to grow your business, but you need to respect your visitors' choice. If they wish to ignore the popup, you have to make it easy for them to close the ad. Otherwise, the visitors get annoyed and frustrated with your website and are likely never to visit again.
Try to keep the "X" (close) button in a visible region. If possible, include a button or line beside/below your CTA such as "No, I don't want to take your offer," or "I am not interested," or "I want to continue browsing," etc. Including a second type of button offers two paths to the visitor to close the ad and shows that they're missing your offer.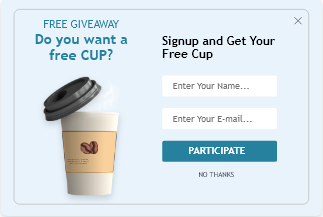 4.Frequency of Pop-up Ads
Just like timing, frequency is also important for your pop-up ads. Imagine how annoying it would be to see the same popup every time you visit or go to a different webpage of the site. 
So, instead of leaving the default frequency settings, adjust the frequency for different pop-up ad campaigns. For weekend sales or flash sales, it makes sense to increase the frequency by one or two, but for normal pop-up ads offering free shipping or a discount code or access to free content, you need to change the frequency to once a week or maybe a month.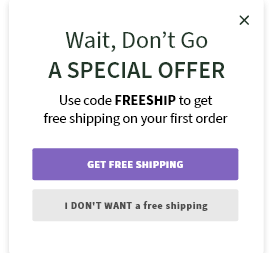 5.Don't Ask for Too Much
Your visitors aren't taking a quiz or test, so you need to keep your pop-up ads fast and straightforward. Keep your forms short and sweet, and ask for information that is important to you. If your teams can get the job done with just a name and email address/phone number, stick to it.
Most of the top converting pop-up ads have just one or two fields because visitors don't find it lengthy or time-taking to fill out the form. Always try to remove any unnecessary fields asking for information such as age, gender, etc., that might not be relevant from a conversion point of view.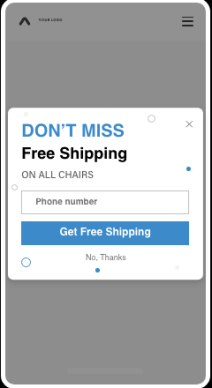 6.A/B Test Your Popups
Not all pop-ups are designed in the same way, and if you have more than one popup, you need to experiment with them all to find your best-performing popups. First, you should keep at least one unique difference in each popup, like a different headline, design, CTA, copy, or offer.
To A/B test your pop-up ads, you can display two different pop-ups at different times to the same visitor. This definitely helps in identifying the change in your last popup that made the current one perform better and improves the results of your ad campaigns.
Delightful Ready-to-Use Templates
Ready to create popup ad? 
Here are some examples of the most effective and engaging popups that you can choose from. 
1. Countdown Timer Discount Popup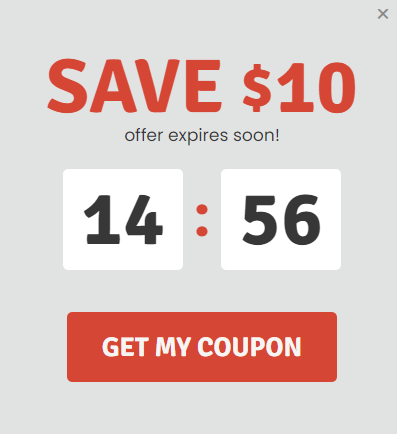 Create a sense of urgency by offering limited-time discounts or coupons to your visitors. Display these popups with countdown timers for increased effectiveness. 
2. Product Recommendations Popup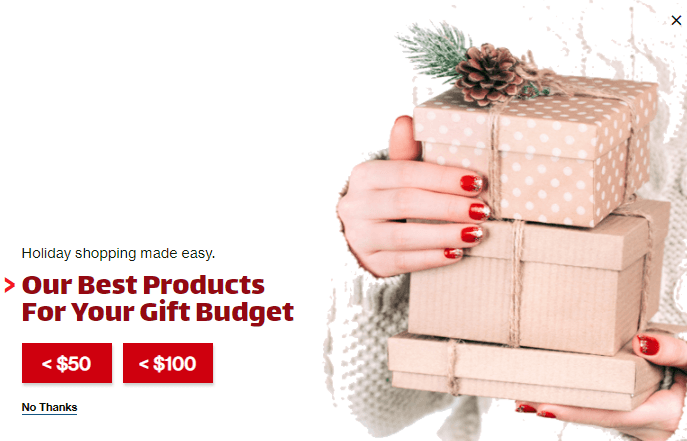 Recommend your top-selling products or services using popups. Simplify the experience for your visitors with relevant and useful recommendations.
3.  Personalized Messages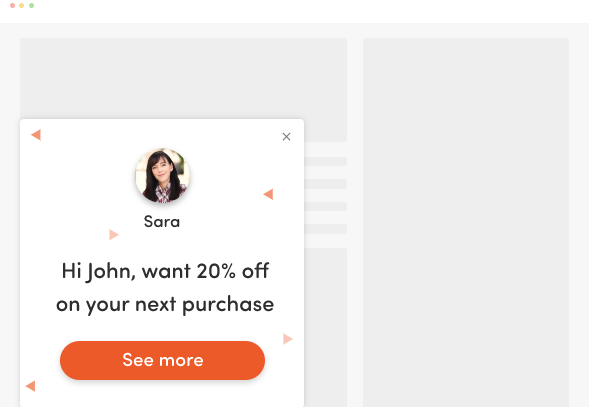 Personalized messages can be highly impactful in driving customer action. Make your customers feel valued by including personalized content in your popups.
4. Flash Sales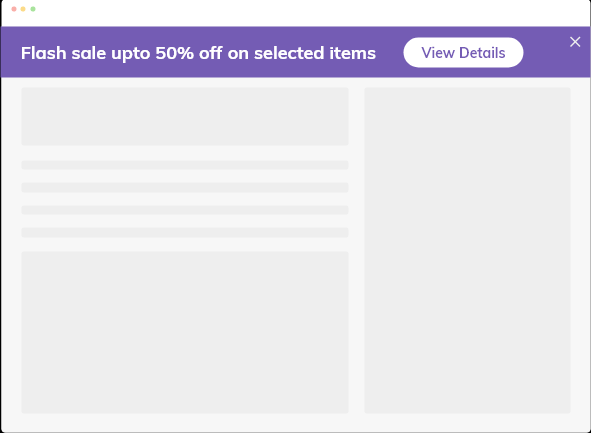 Run flash sales to make more sales in less time. Include popups for these campaigns to skyrocket your sales. 
5.  Video Popups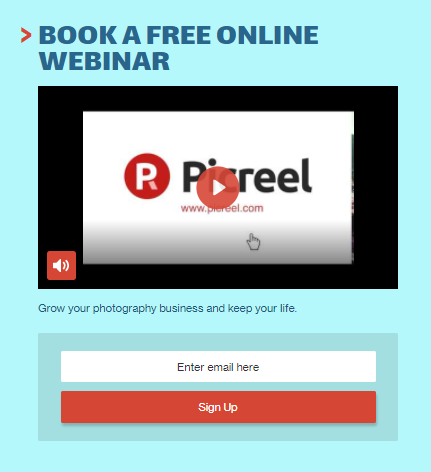 Make your popups more engaging by including videos. For instance, you can add an introductory video to your products and services for booking an online webinar.
Like what you see? Find more of these delightful templates on Picreel. 
Time to Create Popup Ads That 'POP'!
So, how to create popup ads? Checked! What are the best practices? Checked! It is now time to create engaging, creative, and high-converting pop-up ads that deliver a positive experience to your visitors.
Always keep your visitors first and prioritize them while designing and displaying pop-up ads to them. Head on to Picreel popup builder to create pop-up ads in no time. There are a lot of delightful templates for both desktop and mobile users to get started right away!
Do you want instant 300% growth?
Picreel popups can get YOUR website 300% instant sales growth. See Case Studies.