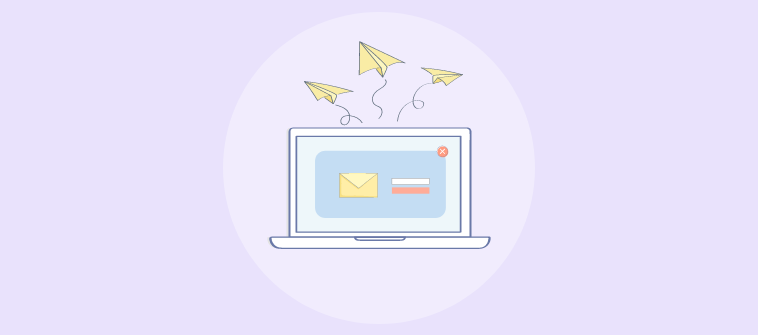 Keeping your visitors engaged while they browse through the website can be challenging. If your website isn't engaging enough, the visitors will move to some other website. However, you can use various types of website popups to overcome this issue. Implementing popups in the right way can make the visitors stay for a longer time.
When a customer visits your website, you want to know them well. However, their browsing pattern can only tell you so much. Instead, you need to deploy several tools to engage them and ask them to provide their information to you willingly.
The potential customers leaving without making a purchase is bad. But, it is worse if a potential customer lands on your website and leaves without giving you any information about them.
Learning about the types of website popups can help you understand the various uses of overlays. Moreover, it will help you unlock the full potential of your popup application tool.
In this post, learn about the 36 different types of popups based on three categories to expand your marketing capabilities.
What Are Website Popups?
Website popups refer to the different overlays that appear on the user's screen when they browse through the website. The popups are advertisements, generally coupled with offers to engage customers on your website. They ensure that the users know your products and offer and sometimes help guide the customers in the right direction.
To put it simply, popups are small windows that pop out on your screen to grab attention. They appear in the foreground and generally require an action from the users before they can go back to browsing the website.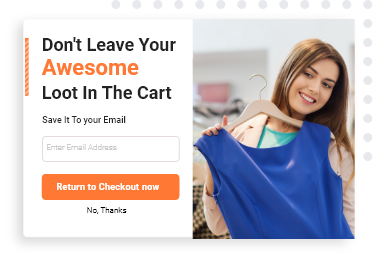 How Do Website Popups Work?
The popup application tracks the users' activities and shows them popups at different trigger points. Many times, there has been a debate about the effectiveness of popups.
The idea of too many popups can be jarring to several users and hinder their browsing experience. But, a company that does due diligence and uses its website with popups effectively can see a significant rise in its conversion rate.
The popups force users to pay attention to specific information. Therefore, it's better to keep the copy short and mention the benefits of following through with the call to action. Generally, users are willing to follow through with the action if there is something in it for them.
Types of Popups to Use on Your Website
Here, the types of popups are divided into three categories that you can use to create over 1300 different popups for your website.
Types of popups based on
Goals

Overlay Type

Trigger
Goals:
Under the goals category, the classification of popups will depend on the intended purpose. Every popup aims to do something for the brand and the user, whether to get the user to stay or recommend other products.
1. Reduce Cart Abandonment
People come to your website, browse through the products, add a few of them to the cart and then leave. Does this give you déjà vu?
Then, exit-intent popups are your friends. They come up when the user is leaving and remind them of the products in the cart. It is a light nudge for them to reconsider and make the purchase.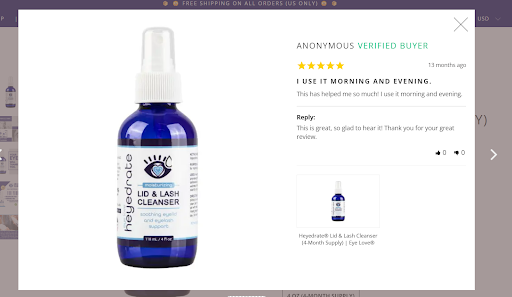 (Source)
On average, only 4.31% of the users convert. To increase your sales, you can use cart abandonment reduction popups.
2. Email Popups
Companies fish for users' email addresses to stay in touch with them even after they leave the website. To get the email addresses, most companies use email popups.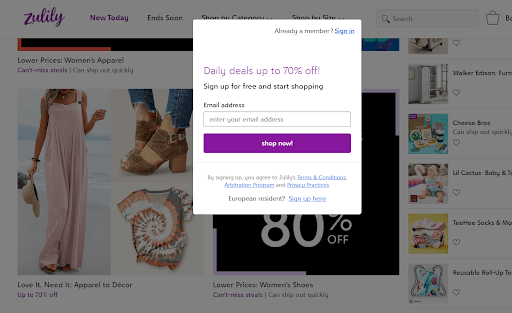 (Source)
Users hesitate to share their details with a company. So, long forms that ask for the address, age, occupation, and other personal information do not work.
On the other hand, the email popup only asks for minimal details but still can provide valuable information.
3. Informational Popup
Companies have several announcements to make for the customers. These announcements can be anything, like a change in store timings, the opening of a new store, or, more specifically, an event they are organizing for the users. The more specific informational alerts have a call to action.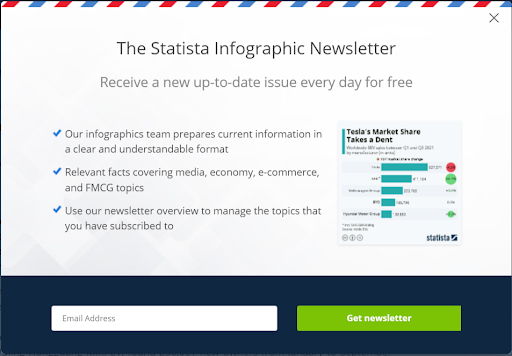 (Source)
These popups aim to provide relevant information about the company, products, or services.
4. User Login Popup
Login popups are excellent as they save your customers' time. Generally, the user has to visit the user login page. Once they log in, the page will load again to return them to the shopping area.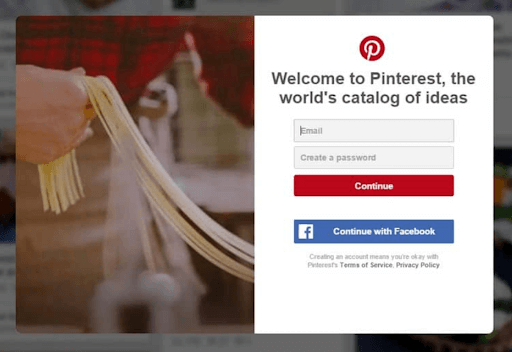 (Source)
The login popup can avoid these redirects completely. The popup will allow users to complete the login without leaving the shopping page.
5. Product Recommendation Popups
Heatmaps of users' interaction with the website can help you make more suggestions to the users. It includes finding out what they are browsing and showing more related products to get more sales.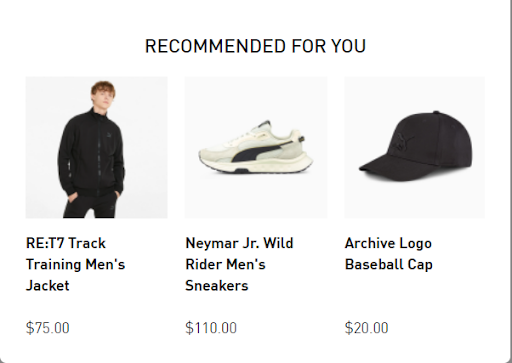 (Source)
The use of recommendations popups helps get bigger carts from your users.
6. Lead Magnet Popups
One of the best ways to grow your mailing list is using lead magnet popups. These types of popups offer intellectual property for your email address. Many companies will provide eBooks, special blog posts, infographics, and more to get customers.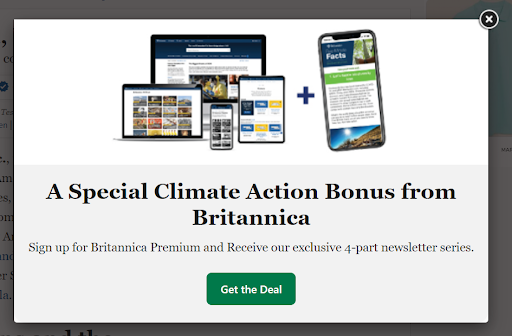 (Source)
The condition for downloading or viewing the information is following through with the CTA.
7. Phone Details for SMS Campaigns
Attaining customers' phone numbers can be another way of staying connected with customers. It works similar to email popups and helps improve SMS marketing. Once you have their contact details, you can use SMS to contact them for sales and other exciting offers.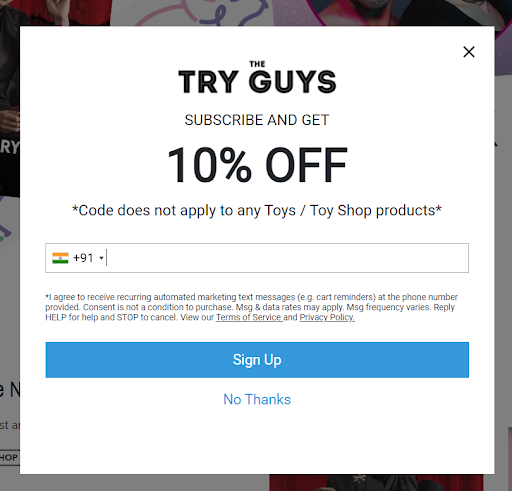 (Source)
Use a special offer to get the personal details and phone numbers of users.
8. Coupons & Codes
Giving first-time users or repeating customers extra off on their purchases can motivate them to browse your website more thoroughly. Use the coupon and code popups right after the visit, and set up a condition to avail the offer for more conversions.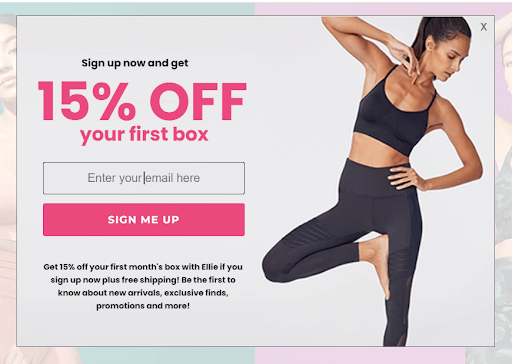 (Source)
Many companies use coupons and codes as leverage to get the contact details of users. However, if you are providing a promo code, ensure that it is up-to-date at all times. If a customer follows the instructions and receives an expired coupon, they are unlikely to return to the popup website.
9. Upsell Popups
Product upsell refers to promoting similar products, but the ones with a higher price. While product recommendation popups would not consider the pricing of products, upsell popups do.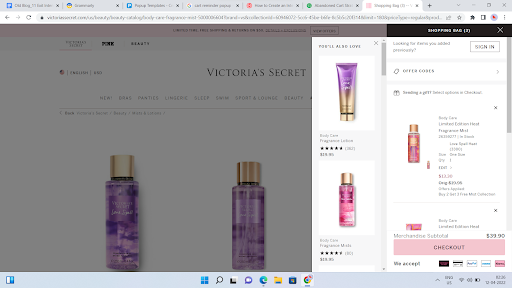 (Source)
These webpage popups offer a more expensive option or an additional product when the user has added a less costly choice to the cart.
10. Downsell Popups
The opposite to upsell is down-sell popups. These are relevant when users come to your website and look at specific products but leave without making a purchase. One of the reasons for hesitation might be the high cost. In such a case, offering a similar product at a lower price might help you get conversions.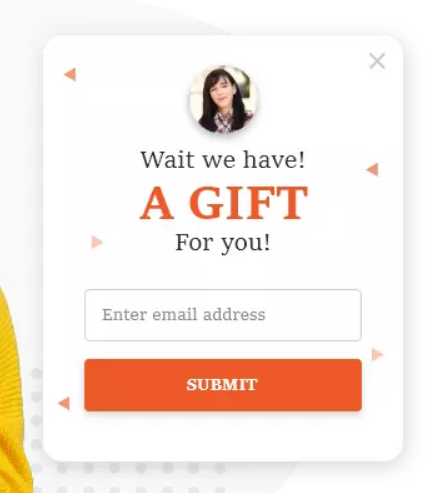 Downsell helps customers make a purchase decision. Moreover, you can use tactics and product quality to leverage higher-priced purchases over time.
11. Cross-sell Popups
Cross-sell popups are useful in selling more products in the same purchase. Have you ever liked a top and scrolled down to see recommendations of what people bought along with the item? Generally, stores use the same tactics on mannequins to show a complete outfit that users can buy together. Cross-sell popups do the same job.

(Source)
Cross-sell increases the overall cost of the cart, reduces the inventory and increases profits.
You can also use the cross-sell popups with special offers on buying products together.
12. Tripwire Trigger
Tripwire popups are the gateway to the tripwire funnel. Here is the basic concept:
Firstly, present an offer the users cannot ignore or refuse. Once they make the first purchase, you offer more expensive products, which is an upsell. But, if they do not buy that product, you show another product that costs less, which is a down-sell.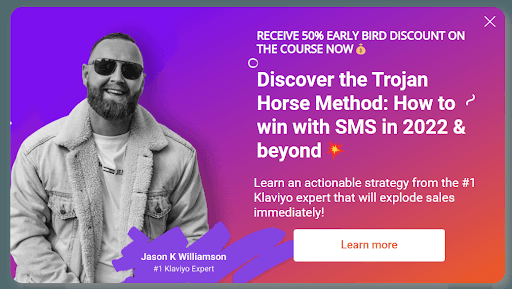 (Source)
The tripwire popup can help cover some of the advertisement costs while obtaining new customers.
13. Giveaway Popups
Online contests that offer something free of cost are ideal for gathering data like email addresses, social following, warm leads, and paying customers.
(Source)
Now, you can create and promote a giveaway on your website with popups. You can set the conditions for entering a giveaway that they can finish on the popup. This method of promoting giveaways ensures that users who visit your website know what is happening instantly.
14. Countdown Timer Popups
Countdown timers are a two-purpose tool. You can use the timer popups to create a sense of urgency in the users. A limited-time offer reduces decision-making time and gets customers to convert quickly.

(Source)
On the other hand, you can use the countdown timer as a reminder for users to visit your website at a specific date and time. For example, create a popup mentioning the sale will start at midnight on this date with a countdown timer. A countdown popup with the sale date will encourage customers to browse your website and find things of their choice. The sale is the perfect time for the users to purchase who find your products expensive.
They are likely to browse the website more in anticipation of the sale and find something they like. Moreover, they are likely to get the products during the sale.
15. Recent Activities
Recent sales popups work as social proof and urgency tools. They tell users about other people's activities on the website.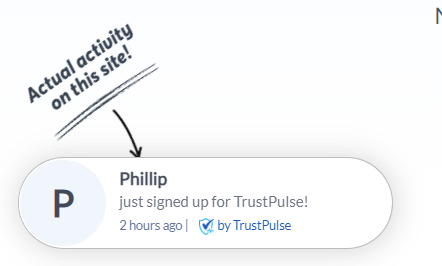 (Source)
Use the recent activity popups to build trust in your audience. The activities include adding products to the cart, the number of viewers on a page, registrations for a webinar, etc.
16. Pre-Order Popups
The anticipation of a new product can become an excellent motivator for users to pre-order. There is a sense of achievement in being among the first to get something new.
Use pre-order popups for sales before launch. These sales can also help you fund a part of the product cost.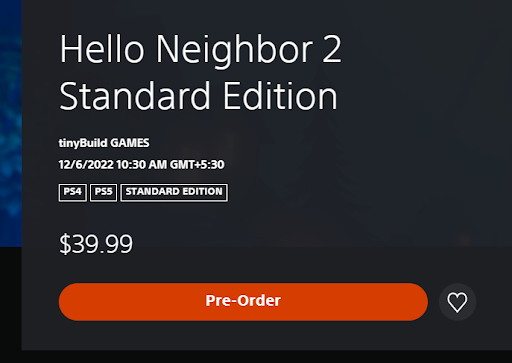 (Source)
The pre-order popups can either take the user to a landing page, where they can make a purchase. Or, you can use the popup to get email details where you can send a form for pre-ordering the product.
17. Event Registration Popup
Organizing online events can help create a community for your brand. Moreover, it is an excellent way of engaging your existing and potential customers. Use the event to upsell and create new customers.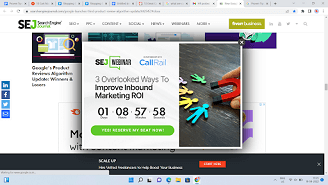 (Source)
With everything moving online, you also have no reason to spend excessive money organizing the events at a specific location.
Event registration popups can include sending the users to another page or just taking their email addresses to send more event details.
18. Survey Popups
The survey popups are short copies that include questions you want to ask your users. It can consist of a net promoter score or other relevant information like delivery PIN code and other such details.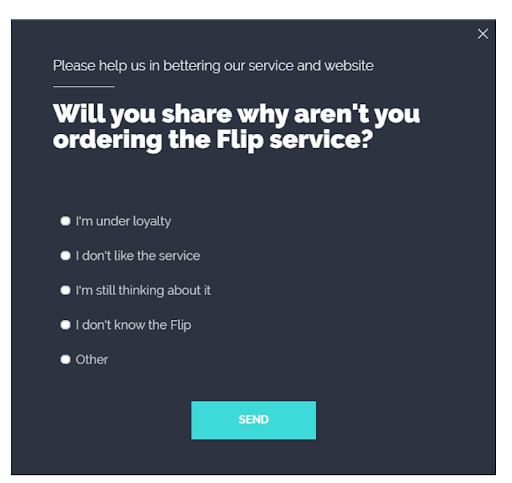 (Source)
The Survey Popups get users to give relevant information for some offer or more personalization in return
19. Recent Sales Notifications
Recent sales notifications are effective in getting customers to make a purchase quickly. It includes using popups to show what other people are buying on the website. Information like how many people added what product to the cart and made a purchase comes up as a non-intrusive popup on the side.

(Source)
Use the recent sales notification to create trust in your new website and get more clients to convert.
20. Page Redirect
Page redirect popups take the users to another page depending on what they select on the overlay. It is an easy method to increase page views on specific products and promote specific products or services.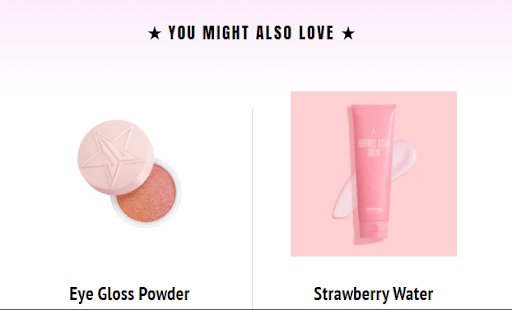 (Source)
It works to increase the overall sales and provide more services to the users.
Overlays:
Overlays mean the type of popup that appears on the screen. Some popups are more intrusive than others. So, it is up to the campaign manager to decide the overlay that best suits the campaign's needs.
21. LightBox Popups
Lightbox popups are the most commonly used popups on a website. They are a smaller window that comes at the front of the page you are browsing. The lightbox does make other elements on the page unresponsive and dark till you either complete the CTA or opt out of it. This feature makes lightboxes effective in getting users' attention.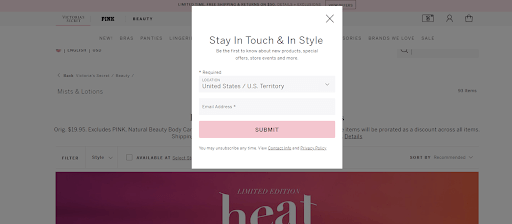 (Source)
You can use the lightbox popups for several reasons, but most companies use them to get potential customers' email addresses.
22. Full Screen
Full-screen popups are more demanding as they engulf the entire screen, and you can see nothing but the popup. These popups give the marketer more space to make their point.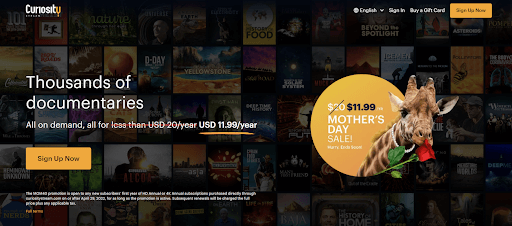 (Source)
Full-screen popups ensure that the users pay attention to your message.
23. Nanobar
Nanobar is a thin bar at the top of your screen that provides offers to the customers. You can use the nano bar to scroll and show different offers like banners.

(Source)
These popups do blend into the website more effortlessly. You must highlight the bar to grab the user's attention as these can be easy to miss.
Use the nanobar to create urgency, announce offers, free shipping, and other news.
24. On Click Popups
On-Click popups only appear once the user performs a specific task. It ensures that the users who are truly interested in what you have to offer are the only ones to see the popup. These are warm leads for your website and result in more conversions.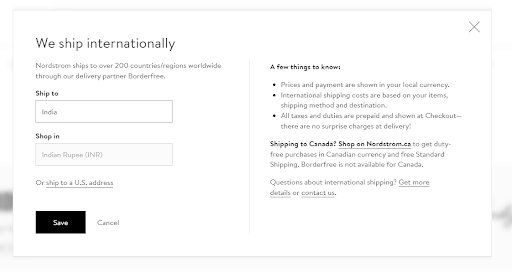 (Source)
The website page has anchor text leading to a popup campaign. Hence, it works on the click and not before.
25. Gamification
Creating a game-like experience with your popups can help improve engagement. It gives users a sense of having fun with a reward at the end. One of the most commonly seen gamification popups is the spin the wheel popup.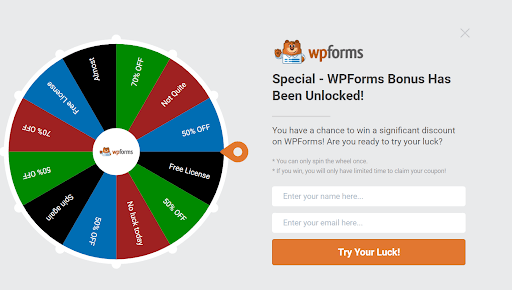 (Source)
These popups get more attention from the users as they offer an extra incentive for following through with CTA. However, while creating gamification popups, ensure that the incentives are worth the price.
26. Yes/No Popups
Yes/No Popups only ask a question to the user. Generally, such popups may seem redundant as users do not spend too much time on popups. But, many businesses have seen a better conversion rate with such popups.
It works because once someone starts a process, they want to finish it. The Yes/No popups ask a question, where they expect your answer to be yes. If the user answers with yes, you can take them down a sales funnel that gets them to convert.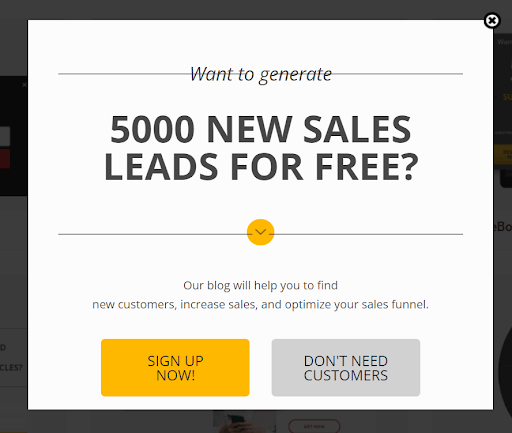 27. Yes/Yes Popups
The Yes/Yes popup has two answers that lead to two different sales funnels. Here, the user has a choice, and depending on what they choose, a separate sales funnel will open.
The two options can also lead the user to the same page, but for a different reason.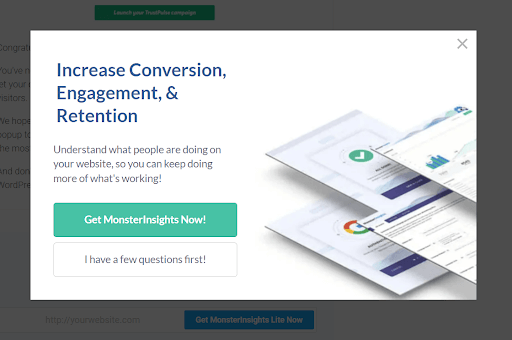 (Source)
Yes/Yes campaigns ensure that the user gets the illusion of choice but still lands where they are more likely to convert into paying customers.
28. Scroll-in Popups
Scroll-in popups are the ones that do not take up the whole window. They are way less intrusive while still being prominent. They appear at the side of the window and do not hinder the browsing experience.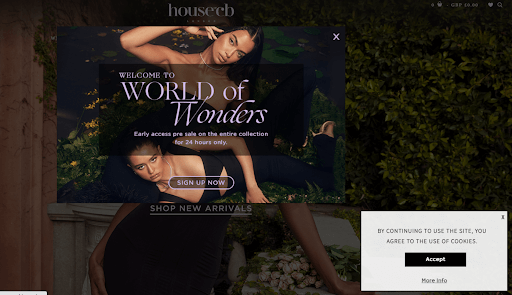 (Source)
You can use scroll-in popups to show product recommendations, show recent activities, provide information, etc.
Triggers:
Triggers are another layer of distinction between popups. Trigger the popups at the right time to get users to convert, stay, or provide additional information.
29. Scroll Trigger
Bombarding users with popups right as they enter a website is effective, but it can also be annoying. Scroll trigger popups are the ultimate middle ground between no popups and popups at the very beginning of the visit.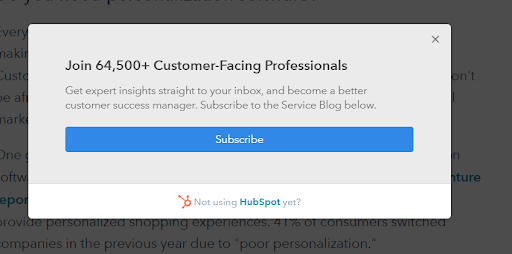 (Source)
With the scroll trigger, you can set a scroll limit before a popup appears in front of the user. These popups do not enjoy the same visibility as welcome popups, but they have a higher conversion rate.
You can create specific popups to promote the most relevant products and get more conversions depending on the page.
30. Exit Trigger
Exit-intent popups come when the users exhibit exiting behavior. You can use the trigger to get customers to either stay or make a purchase. If users have items in the cart, a reminder of products in the cart can help improve the chances of conversions.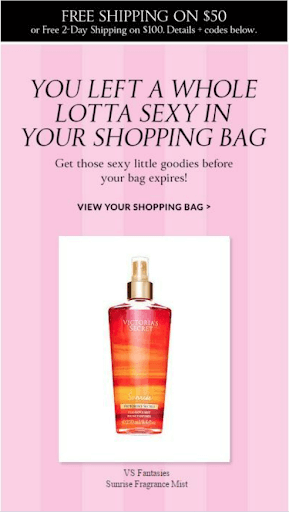 (Source)
However, if the users do not have anything in the cart, you can use the popup to gather email addresses or make recommendations of other products they can find on the website.
31. Page-Based Popups
Page-based popups are unique to every page. It is easier to create one popup that fits everywhere. However, that can become repetitive and not have the same impact as a page-based popup. These popups are more personalized to the page, and hence users who are actively using the website find it to be more relevant.

(Source)
The use of page-based popups ensures that the overlays positively impact the user.
32. Time Spent On Website
Time spent on a webpage also shows the user's interest in what you have to offer. Many online businesses use popups that only appear once the user has spent enough time on the website to reward such behavior.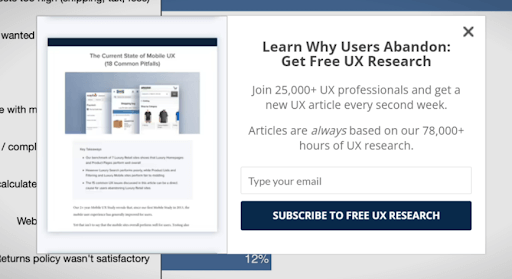 (Source)
It also ensures that only the relevant users see the popups. Hence, they also have a higher conversion rate than other popups.
33. Location-Based Popups
Location-based popups work by tracking the user's IP address and showing relevant popups to them. Many businesses only run in specified locations. Hence they must have special campaigns for people in the area. For example, a repair shop only needs to show its offers to people in the area.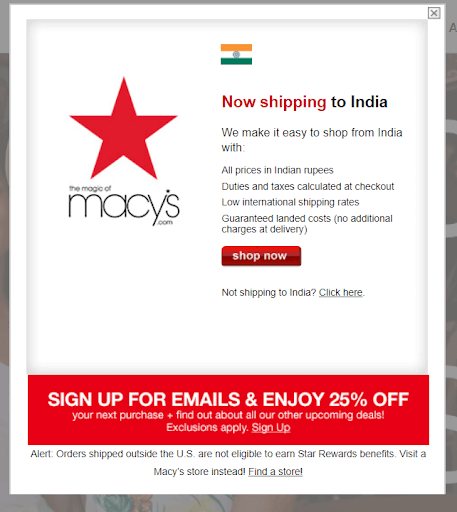 (Source)
On the other hand, if a company has business worldwide, it can get unique popups for every location.
34. Cookies Based
Cookies are an excellent tool to get relevant information about your users. If your website uses cookies, you can rely on them to know your customer's interests. Then, you can leverage the data to show relevant products and get more conversions. Although, you have to obtain permission to use cookies, and many companies request access via popups.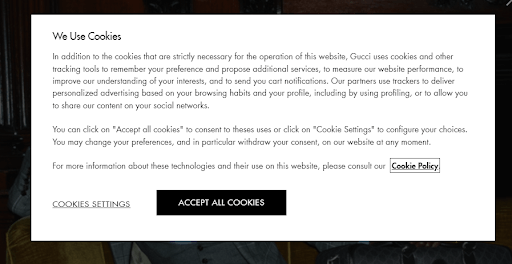 (Source)
Cookies-based popups are more relevant to the users and hence get better conversions. They also help personalize the user experience.
35. Inactivity-Induced Popups
Popup sites also deploy inactivity-induced overlays to get users back. Sometimes, users stop interacting with the website, but the window is still open. In such cases, you can use the inactivity popup to give a special offer.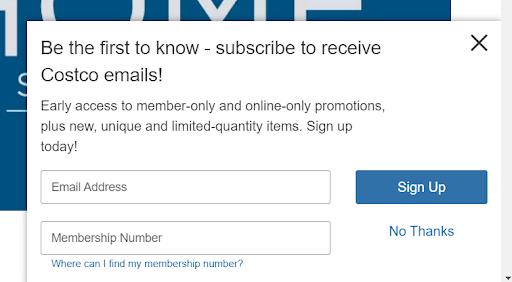 (Source)
These special offers obtain users' attention and get them to stay longer. Moreover, if the offer is good, they might even convert.
36. Campaign-scheduled
Scheduled campaigns for special days are excellent for creating hype. Use the timer popup to let the users know exactly when they can get the best prices on your products. It will help get more people interested in your products. Moreover, these campaigns encourage users to browse the website to find things they like and use the sale to get them at a lower price.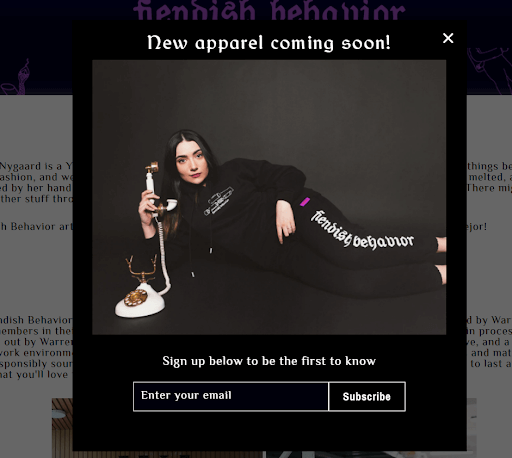 (Source)
The new product launch also comes under the category. Not adding a timer will encourage users to visit the website several times to check for updates. Or, get them to subscribe to the newsletter to get an update once the new product launches.
37. Follow-Up Popups
Follow-up popups consider the users' behavior on the website and use the information to get them to convert. Users' interaction with the website can give you valuable insight into their needs and wants. Then, you can target them with more relevant popups, including product recommendations, sales, discounted products, etc.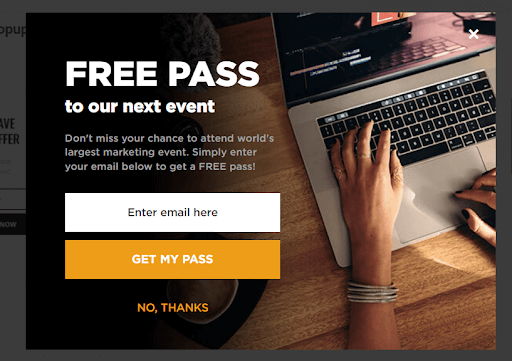 The targeted campaigns can help improve your overall signups and sales.
Benefits of Popups
Using popup on your sites can help improve your users' overall experience. Here are the several advantages of incorporating popups in your marketing campaign.
Grabs Users' Attention:
Website popups are effective due to their unique ability to grab users' attention. The overlays demand attention from the users. Hence, if you have specific information or offers that every user must know, popups are your ultimate choice.
Personalize the Customer Experience:
Popups combined with cookies can help you personalize the customers' experience. Personalization helps companies get more conversions. As per a Forbes article, 47% of the users will go to Amazon if an eCommerce website does not provide personalized suggestions. Hence, using popups to personalize the users' experience is essential for staying relevant today.
Get More Conversions:
The websites popping up overlays are doing so to get more conversions. While cart abandonment popups are among the most conversion-friendly popups with direct impact, other popups work towards the same goal. Every popup intends to move users down the sales funnel to finally get a conversion.
Affordable:
Running advertising campaigns on other websites can cost significant money. On the other hand, popup tools are affordable and target the most relevant audience. These are people already on your website and willing to make a purchase.
Hence, it is relatively cheaper to use popups for increasing conversions. You can get your audience from search engine optimization, paid campaigns, word-of-mouth, etc., but the conversions only happen when they find something relevant on your website.
On-Site Adverts:
Popups are your on-site advertisements. They work as banners that show users everything you have to offer in small doses. The adverts also ensure that the products and services recommendations meet the needs of every unique user.
Start Getting Higher Conversions With Your Popup Campaigns
The popups are essential to improve conversions, get more leads, and improve your overall marketing efforts. Once equipped with the different types of popups options, you are ready to explore and expand your brand's full potential.
Picreel popup builder can help you create several types of popups for different goals. It has 100+ templates to create engaging popups that you can deploy using various trigger options.
Now, commence your journey to higher conversions with popup campaigns relevant to your users.
Do you want instant 300% growth?
Picreel popups can get YOUR website 300% instant sales growth. See Case Studies.