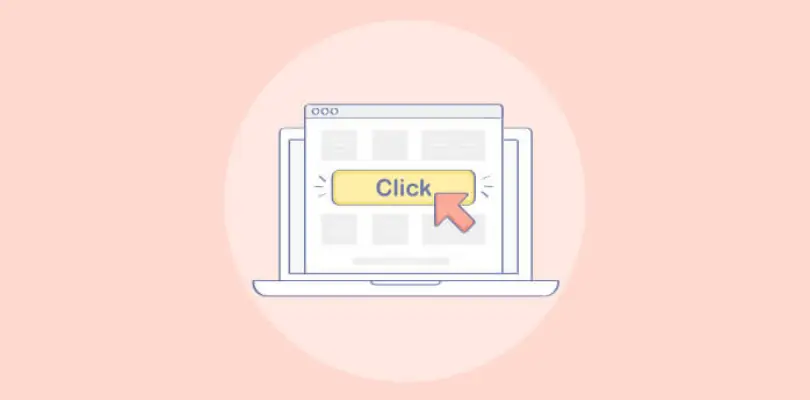 Popups can efficiently help you grow your email list and entice site visitors to complete their purchases. But just because you place a popup on your homepage asking people to subscribe to your newsletter doesn't mean they will.
From an engaging design to a perfect pop up call to action, there has to be a thoughtful strategy behind your campaigns if you want them to succeed. Where you place popups, when they appear, the design and copy, and what action you're asking visitors to take, all of these must align for a high-converting popup campaign.
While following popup best practices, you should not overlook the call to action (CTA) button. Marketers often focus on a great design and content copy that they forget about one of the most important aspects of popup marketing, i.e., CTA. If you want to create delightful CTAs, we have got you covered with efficient and proven best practices.
What is a Popup Call to Action?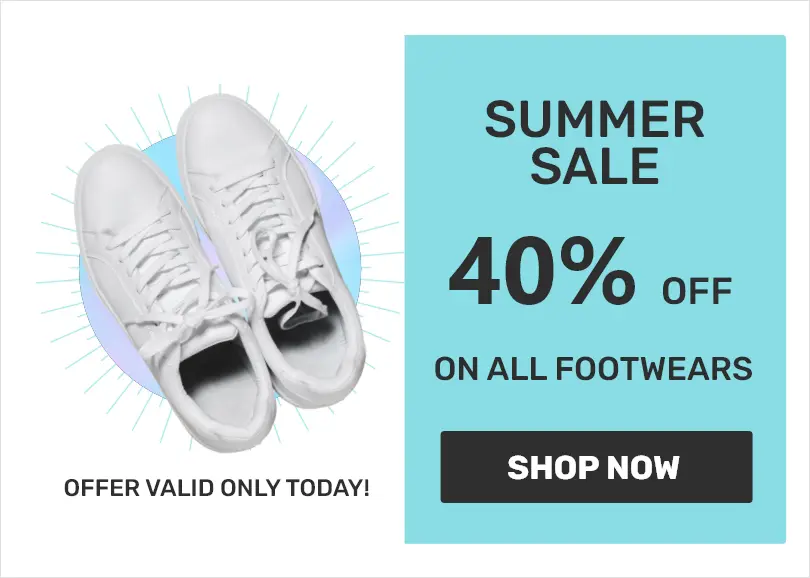 A popup call to action (CTA) is an element that tells visitors what you want them to do. It is the button where all the action happens. The headline grabs the attention of visitors, and to get them down the conversion funnel, the call to action button plays an important role.
You can persuade the visitors to buy a product or service, sign up for your newsletter, visit another article, check recommendations, share something over social media, and much more. Now that we know what exactly a CTA is let's learn about the benefits of including a powerful CTA in your popups.
Benefits of Popup Call to Action
The most important thing about a popup CTA is that it lets the visitor know what to do next and acts as a signpost of your popup window. Here are some more benefits of an effective CTA.
Avoid Confusion

: By making it clear in the CTA statement like Shop Now, Subscribe, Get a Callback, Avail Discounts, etc., you avoid any distractions or confusion. It allows you to direct visitors towards a specific action, making their journey crystal clear.

Capture Quality Leads

: By designing creative and actionable CTAs, you can leave a good impression on visitors. In lead capture forms and popups, if you focus on the incentive in your CTA text, you are likely to

get more leads

and subscribers.

Increase Sales & Conversions

: Sometimes, visitors need a little nudge to complete their purchases. Using a compelling call to action, you can give visitors that little push in the form of discounts, free shipping, etc., to go on and place their orders.

Guide Visitors

: Visitors are often stuck when it comes to making choices. Using precise call to action buttons, you can

guide visitors

to relevant help pages, product pages, blog articles, and so on to provide them with a delightful on-site browsing experience.
Clearly, there are a lot of benefits to growing your business with something as short and impactful as a call to action button! Now let's explore the best practices for popup call to action buttons.
11 Efficient Call to Action Button Best Practices for Popups
Here are 11 call to action pop up best practices to get better conversions.
Make Your CTA Clearly Visible
If you are displaying the CTA in a crowded window with visuals and content surrounding it, then visitors might not notice the value of it. Adding some whitespace around your CTA in the popup window can lead to a positive experience as it makes your CTA easily readable.
Keeping a larger font size and moving the button away from other popup elements improves your call to actions visibility. Moreover, if your CTA is crystal clear, you can improve the user experience by making your offer understandable at first glance.
Focus on Simplicity
Sure, you would prefer a name, email, phone number, and a comprehensive buyer profile completed for every lead you capture with a popup. But let's be real. Shoppers are in a hurry, and they likely don't know you well enough to even give their names.
Your call to action needs to be extremely simple and straightforward if you want to maximize conversions. Don't make visitors read a lengthy message, fill out multiple fields, go to their email to retrieve a code, and then come back to your site to redeem their offer. Keep it a single-step/single-click process, and you will see the difference.
Keep It Actionable
It is the "what's in it for me?" mentality that site visitors have and marketers have to anticipate. Your call to action needs to be actionable by clearly stating the value of your offer to the reader. It is possible by using action words like Join, Show, Get, Save, Try, and so on.
Consider the two popups shown above. They're both offering a whitepaper to help you grow your email list. The second popup is far more enticing. It tells visitors what results they can achieve and has a personal and actionable submit button. Even the decline link makes readers stop and reconsider because who doesn't want to grow their email list, right?
Add Graphics/Special Design to the CTA Button
Your CTA button is something that can leave you with a lot of leads and sales. Therefore, you need to design it in a way that visitors notice it. That means you shouldn't stick with the simple classic rectangular CTA box.
You can experiment by adding special effects, animations, or by designing the box in a unique way to attract visitors' attention instantly. You can also creatively place graphics near your CTA button as that entices the visitors to click.
Focus on Value
If you are unable to deliver the value of your offer with the CTA, then visitors are less likely to click it. After the headline, visitors jump directly to the CTA. That's why what you promise in your headline should reflect well in your CTA copy.
The best pop up call to action is an engaging and tempting one such as "Get My Free E-book," "Take me to offer-land," "Yes, I want $25 off", "Start my 15-day free trial!" etc. A combination of action words and your incentive can get the job done.
Make It Instantaneous
Visitors are more likely to do what you want when you provide them instant value. For instance, as soon as visitors enter their email, you instantly reveal a discount code in the box under the popup or you instantly redirect them to the PDF of the whitepaper.
The trick here is to let visitors know they're getting instant gratification. You can say it plainly, or you can be creative with your copy. In the first popup, the CTA focuses on "NOW." As soon as they click the submit button, a second popup appears with the coupon code and a link that redirects them back to your shopping cart with the code already applied.
Create a Sense of Urgency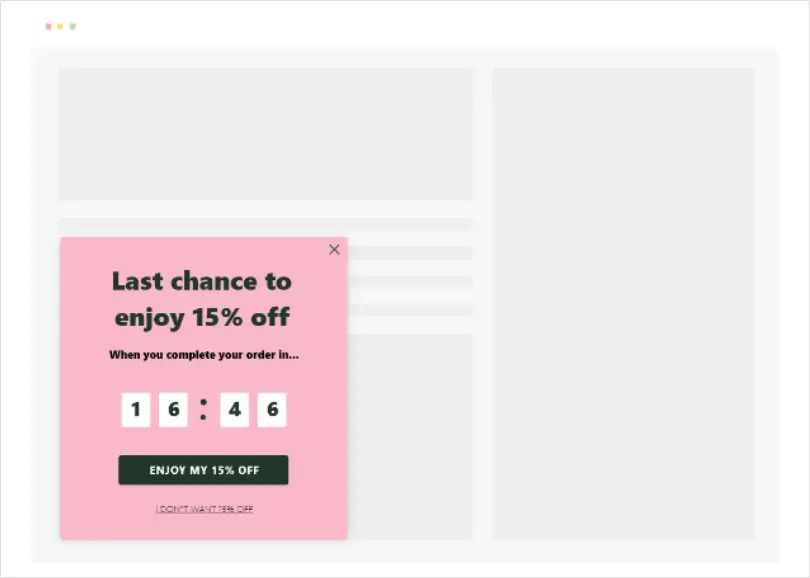 Creating a sense of urgency is one of the oldest and proven marketing techniques to get more sales and conversions in a short period of time. Along with the visuals and a timer on your popup window, your call to action also matters.
Just like in this popup example, the CTA "ENJOY MY 15% OFF" with the limited-time offer timer below perfectly creates fear of missing out on a great deal and pushes shoppers down the sales funnel to boost conversions.
Personalize Your CTA
80% of customers are more likely to purchase from a brand that offers personalized experiences. You can either personalize your headline or the CTA with shoppers' names in your popup if they have logged in.
Moreover, you can show personalized offers and recommendations based on their site activity, geo-location, or other factors. Even a simple copy like "Joe, click here!" can make the shoppers feel special and prompt them to reconsider your offer.
Make It Relevant & Timely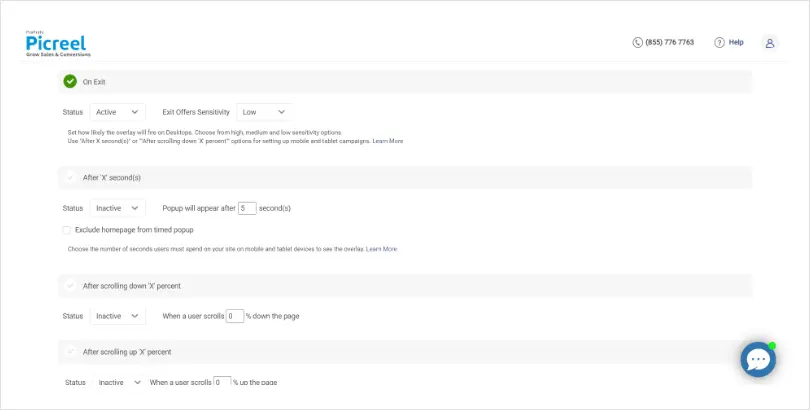 This sounds obvious, but it really is something you need to think through. Offering a free product demo doesn't make sense the moment a visitor lands on your homepage. They haven't even seen your products yet!
Place that demo offer on your product page instead, and give visitors a moment to actually read those pages before hitting them with a popup.
You can adjust the targeting of the campaigns so that the popup appears after the visitor has spent X seconds on the page or scrolled down X%. This ensures your visitor has had a chance to see your offerings, and you can still capture visitors who are about to leave by activating the popup "on exit" option.
Go With 1st Person in the CTA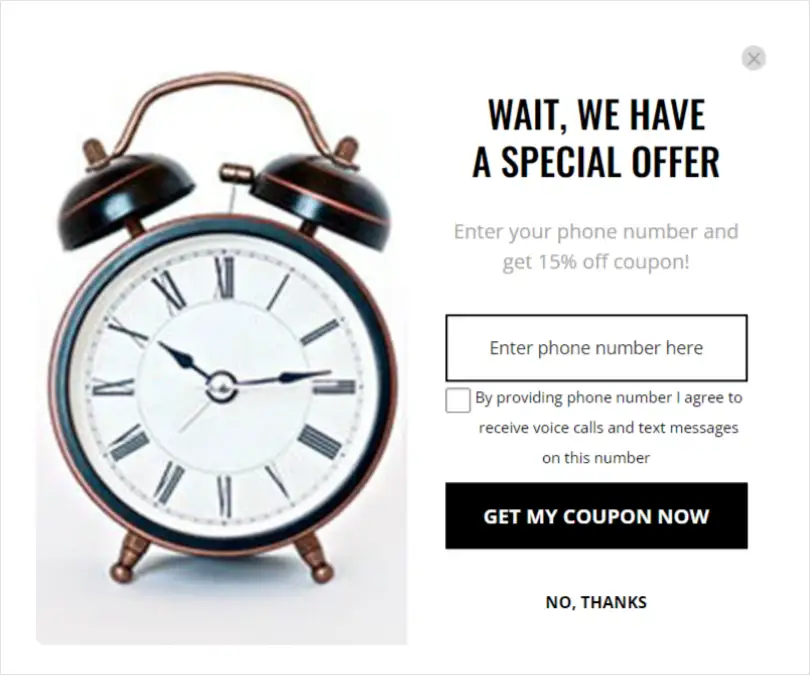 Changing the CTA from "Avail your free guide" to "Avail my free guide" can significantly increase your clickthrough rate by 90%. Visitors like to get a personalized feeling, and CTAs written in the first person help you achieve that.
Try to avoid the traditional ones like "Get your whitepaper," "Start your 30-day free trial", "Find out how you can grow leads," etc. Instead, go for high-converting ones like "Start my trial now", "How can I boost leads?", "Get my $25 coupon", and so on.
A/B Testing is the Key
A/B testing is important to measure and compare the performance of your popups. By making changes to the CTA design, copy, button size, font, visuals, color combination, and more, you can see how your visitors are responding to the new CTA.
By analyzing the results, you can see the elements making a positive difference for your conversions. Implement those improvements in different popups and constantly carry out A/B tests to get maximum results.
Also read

: 

Improve Conversion Rates by A/B Testing : [Step-By-Step Explanation]
How Picreel Helps You Create High-Converting Call to Action Buttons
Picreel is a conversion rate optimization popup builder that helps you create delightful popups with ease. With an easy-to-navigate interface and a simple popup editor, you can easily design your popups in no time.
If you want to check out a call to action popup example, there are plenty of those in Picreel's template library. As all the templates are customizable, you can use and tweak the existing use-cases to get maximum conversions.
As for the other best practices, you get a comprehensive set of options such as trigger rules and targeting settings to display the right pop up call to action to the right audience at the right time.
What's more? Picreel also offers an A/B testing module to test changes in popup elements and provides you with detailed analytics to get insights on popup performance.
From Picreel's dashboard, you can monitor the results in real-time such as how many visitors clicked on your CTA or filled in their information. By tracking the results, you can make changes to your popup campaigns for better results.
Time to Make an Impact With Powerful CTA Buttons!
Now that you know how your pop up call to action can grab visitors' attention to push them down the conversion funnel, it is time to consider all the key elements and best practices. As these are not must-follow rules, you can see these above-mentioned points as a general guide to assess what needs to be implemented in your campaigns.
Many marketing experts and bloggers follow these practices along with constant A/B testing to boat their mailing lists and sales. As for the software, Picreel is a great marketing companion to design unique CTAs and display exit popups at the perfect moment.
It is now your turn to make a lasting impact on your customers with the right combination of popup elements!
Do you want instant 300% growth?
Picreel popups can get YOUR website 300% instant sales growth. See Case Studies.