You know that popups can do some pretty cool things like help you grow your email list and entice site visitors to complete their purchase. But just because you place a popup on your homepage asking people to subscribe doesn't mean they will.
There has to be a thoughtful strategy behind your campaigns if you want them to succeed. Where you place popups, when they appear, the design and copy, and what action you're asking visitors to take all have to come together for a successful popup campaign.
Here are some best practices for CTAs that actually work.
Make It Relevant & Timely
This sounds obvious, but it really is something you need to think through. Offering a free product demo doesn't make sense the moment a visitor lands on your homepage; they haven't even seen your products yet!
Place that demo offer on your product pages instead, and give visitors a second to actually read those pages before hitting them with a popup. Picreel customers can adjust the targeting of their campaigns so that the popup appears after the visitor has spent X seconds on the page, or scrolled down X%. This ensures your visitor has had a chance to see your offerings, and you can still capture visitors about to leave by activating the popup "on exit" in addition to other targeting options.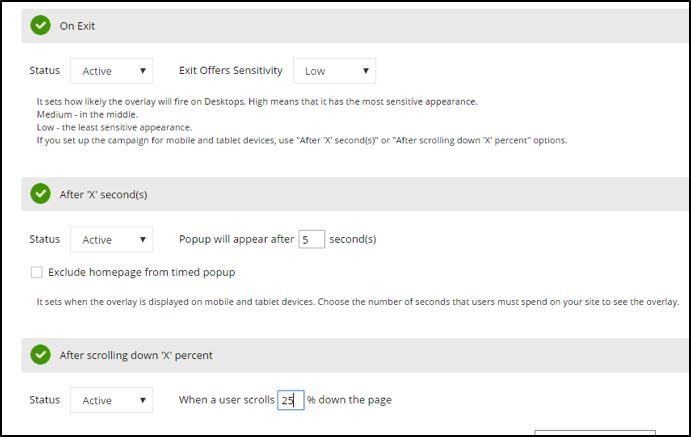 Make It Enticing
This is the "what's in it for me?" mentality that site visitors have and marketers have to anticipate. Just because you spent two months researching a whitepaper to offer on your website, doesn't mean it's an automatic download success. Your call to action needs to be enticing by clearly stating the value of your offer to the reader.
Consider these two popups. They're both offering a whitepaper download to learn how to grow your email list.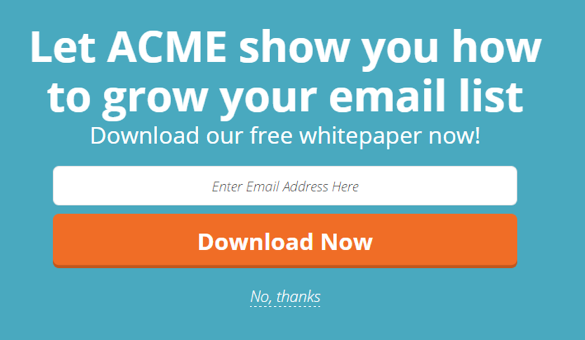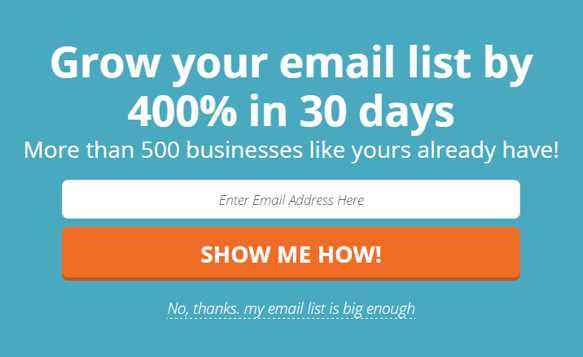 The second popup is far more enticing. It tells visitors what results they can achieve, adds a sense of urgency with the "everyone else is doing it" type statement, and has a personal and actionable submit button. Even the decline link makes readers stop and reconsider, because who doesn't want to grow their email list, right?
Make It Easy
Sure, you would prefer a name, email, phone number, and a comprehensive buyer profile completed for every lead you capture with an exit popup… but let's be real. People are in a hurry and they likely don't know you well enough to even give up their first name at the time of your popup.
Your call to action needs to be ridiculously simple and straightforward if you want to maximize conversions. Don't make visitors read a lengthy message, fill out multiple fields, go to their email to retrieve a code, then come back to your site to redeem their offer.
Make It Instantaneous
This ties in with making your CTA easy. Visitors are more likely to do what you want when you provide them instant value. Enter your email, instantly reveal a discount code in the box under the popup. Enter your email, instantly be redirected to the PDF of the whitepaper you downloaded.
The trick here is wording your CTA so that visitors know they're getting instant gratification. You can say it plainly, or you can use one of Picreel's 2-step coupon offers like the example below.
In the first popup, visitors are told that they will get the coupon "now." As soon as they click the submit button, a second popup appears with the coupon code and a link that redirects them back to your shopping cart with the code already applied.
It doesn't get any easier or instant than that!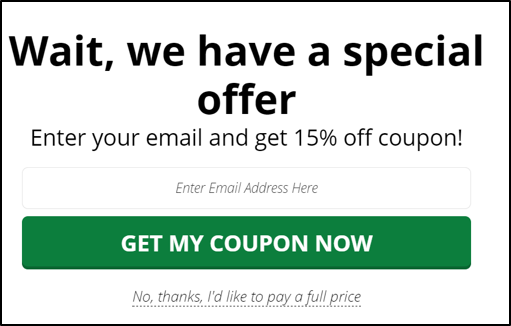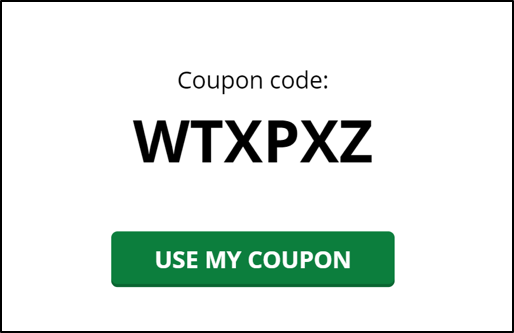 Try Picreel now 30 days for free! With A/B split testing and advanced targeting options, you can experiment with multiple calls to action and start converting your visitors into buyers and subscribers today.