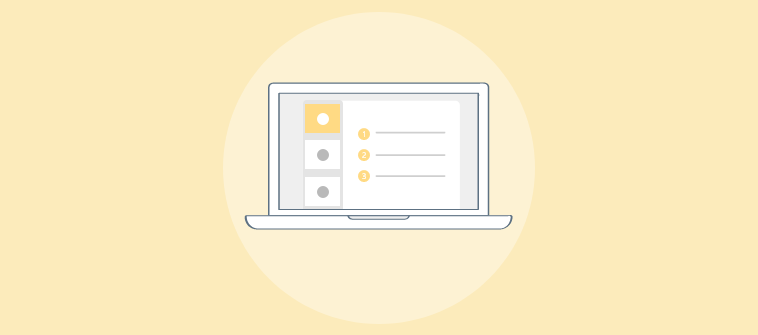 Most visitors won't buy from you when it's the first time they come across your ecommerce store, and the best thing you can do is encourage them through popup timing.
By encouraging your visitors in the right way, you can try to add them to your email list and also build long-term relationships with them for higher conversions.
The most impactful way of doing so is by displaying compelling popups to your visitors when they are the most susceptible to your message.
However, you would also need to make sure that your popups are displayed at the right time because too early or too late, they would fail to make the desired impact, and your opt-in rates will suffer.
So what is the perfect time to deploy the popups?
We've got you covered on that front.
In this article, we will go through some of the different types of popups and the right timing to display them, and we'll also take a look at how to find the perfect time to display the popups.
Stick around.
What Is Popup and Popup Timing?
Popups are a piece of content in the form of overlays that appear on the website at a specific time of a visitor's browsing experience. These popup overlays appear without any intentional action from the visitor's end, as the website owners program them to serve a specific purpose.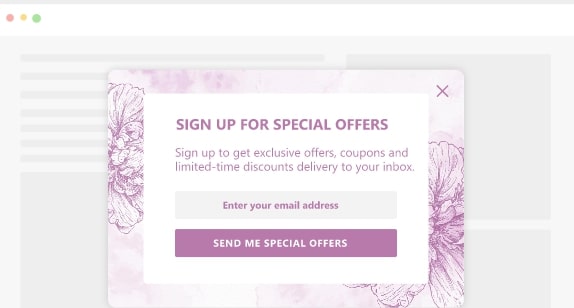 Popups are intrusive to some extent, but if designed carefully, the visitors can look past that and convert from the attractive value that they have to offer.
Popup timing, on the other hand, refers to the specific time of a visitor's browsing experience when the popup is displayed. The website owner customizes this timing, and it decides how much of the visitor's attention the popup will grab.
Types of Popups and When They Should Be Displayed
There are plenty of different types of popups that you can deploy, but when it comes to an ecommerce business, you should pay attention to only two major types of popups.
These are:
1. Exit-Intent Popups
Exit-intent popups are the ones that appear on the screen when a user shows a clear intent to leave the website. The exit-intent popup then appears as an overlay to give something valuable to the abandoning user as an incentive to stay.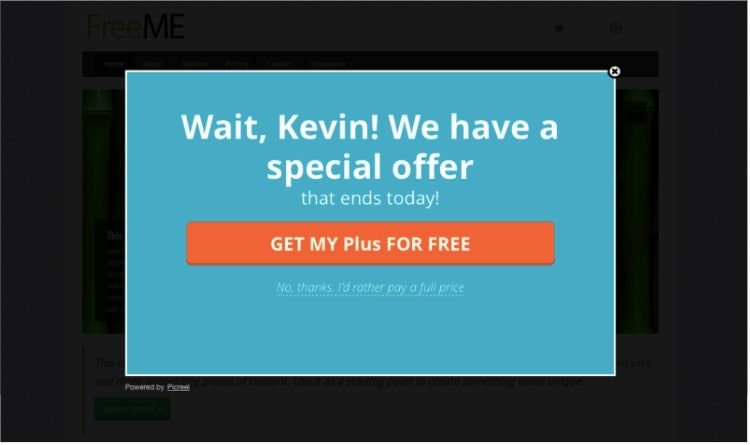 For instance, when a visitor moves the cursor to the corner of the screen, the exit-intent popup will detect that movement automatically, considering it as an exit intent, and then show the popup to keep the visitors at bay.
With exit popups, you can instantly get the attention of your visitors, and when you have it, you should make the most of this opportunity.
Here, you can provide attractive deals and offers to your abandoning visitors, making it extremely hard for them to resist your offers. For instance, you can offer your visitors a flat 20% discount on their next offer or give free shipping on no minimum order value to make them stay.
So, you should only display the exit-intent popups once the visitor is about to leave because your motive here would be to entice them and make them stay longer.
Watch: Website & Exit Popups: What It Is & How to Get Started Quickly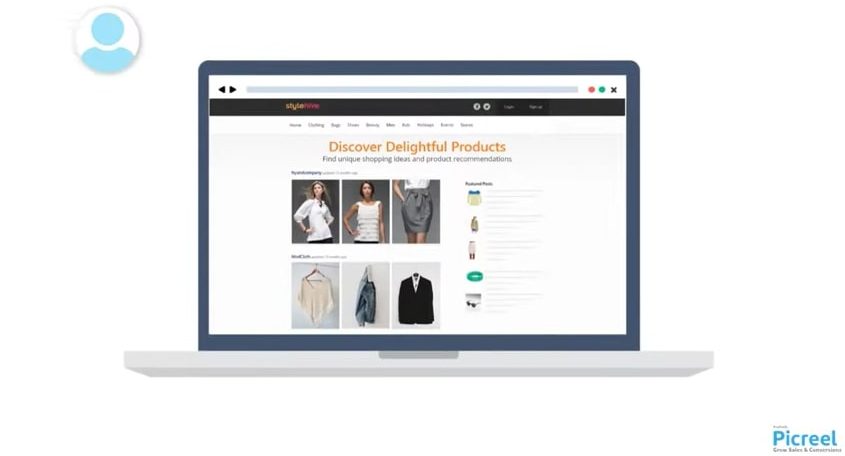 2. Signup Popups
Signup popups are a great way of collecting information about your audience. These forms allow you to gather personal information from your visitors, build email/SMS lists and also develop long-term relationships with them for better conversions in the long run.
But one thing to note is that simply asking for your visitor's contact information is not exactly a great pitch because customers want something in return.
This is where you would need to make your popups extremely beautiful and alluring so that your visitors who see those popups are inclined to engage with them. Here, offering incentives like discounts and coupon codes can be extremely beneficial.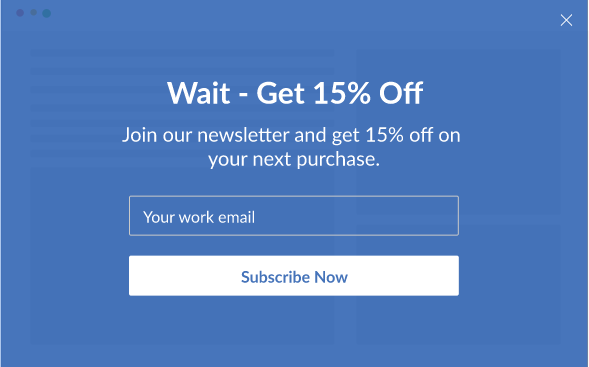 Also, another great way of ensuring that your popups generate great engagement is by targeting those popups to reach the right audience.
For instance, you can target your popups to only reach returning customers or those who have engaged to a certain extent, like specific page views or a certain amount of time.
Now that we know the different types of popups that exist let's look at why displaying those popups at the right time is important.
Read More – 36 Types of Website Popups to Use in 2023 (the Ultimate Guide)
Why Is It Important to Display Popups at the Right Time?
Popups are difficult to get right; there's no doubting that.
This is because they have a disruptive nature, and unlike other unobtrusive sidebar forms and popups, you would have to ensure that you get the timing right so that you don't annoy your visitors away.
A part from making popups attractive with valuable deals and offers, getting the timing right is also paramount.
Show your popups too soon, and your visitors won't be interested as much because they are still trying to figure out what they want from our brand. Show your popups too late, and you will miss out on a significant number of your visitors due to them bouncing off.
In addition, you should also remember that popups are naturally obtrusive so making them too frequent is also a big no-no because you wouldn't want your visitors to get annoyed and spread negative word about you.
In conclusion, too soon would be very uncertain, too late would be a miss, and too frequent would be damaging. So getting the timing right is absolutely necessary.
With that, we now know the importance of displaying popups at the right time. Let's now move on to how to find the best time to display popups.
How to Find the Best Time to Display Popups?
When it comes to popup timing, there is not one right answer that works for everybody. Instead, you would have to find the perfect time as per your business requirements and characteristics.
Let's look at how you can find the best timing for your popups:
1. Start With Your Goal in Mind
When it comes to you popup timing, the two most important questions that you should answer are:
What is your goal?
Who is your audience?
Let's say you want to create an email popup for your new visitors to extend your audience base for marketing efforts. In that case, your goal would be to get more email signups, and your target audience would primarily consist of all first-time visitors.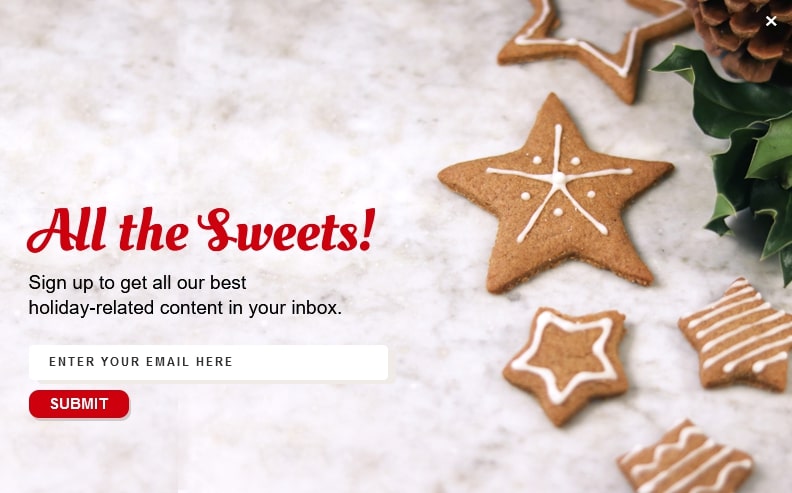 Ultimately, you would only get signups from people who are interested in your brand and who can relate to your product offering. For this, you should always wait and let your visitors look around so that they can get accustomed to your brand and then make an informed decision.
Ultimately, you would have to identify who your audience is and where they stand in their customer journey, and it will help you understand the relationship that different segments of your audience have with your brand.
Knowing that you can easily connect your audience segment with your business goals and identify the most valuable segments for effective marketing.
Watch: How to Create Popup Ads with Picreel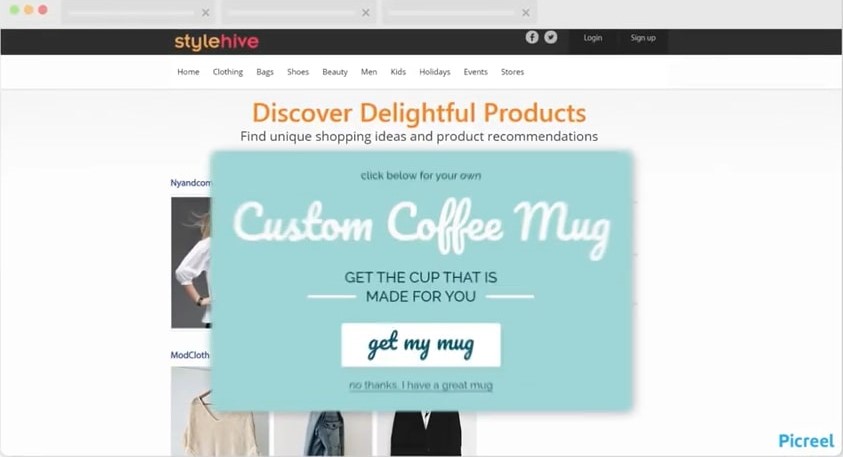 2. Target Visitor Behavior
There's no doubt that popup timing is important, but there are other important factors to consider as well.
One of those factors is targeting visitors based on scroll behavior.
This is because scrolling deeper clearly indicates a visitor's interest in the page's content.
It's a very common misconception that the top of the pages generates the highest engagement, but this might not necessarily be the case. The reason is that visitors are most likely to bounce off from the top of the page, and that is where all visitors land, so it can be a little tricky to identify the highest engagement areas realistically.
So how do you target based on scroll behavior?
The data analyzed from Chartbeat of 25 million users across the web suggests that web engagement peaks right after the visitor scrolls below the fold.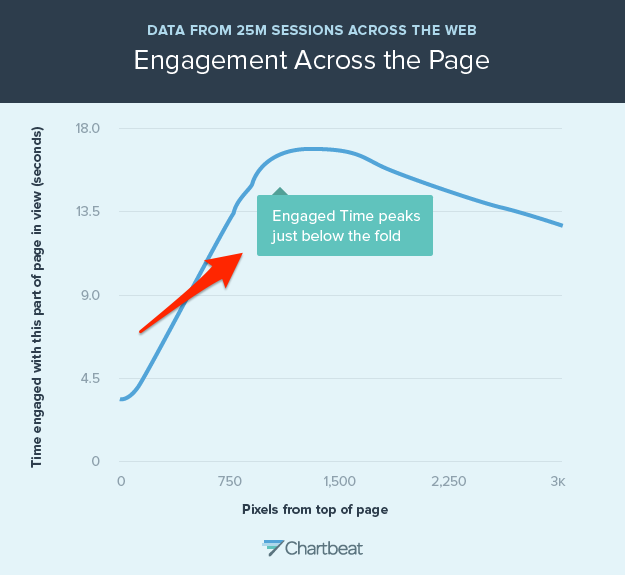 The pixels at the top of the screen are viewed for the shortest time and the number rises as we go down the page.
This is why it is best to display the popups right after the peak engagement so that your visitors have gotten enough time to get accustomed to your content and get enough value out of it.
You can use tools like Google Analytics or Crazy Egg to see where the peak engagement lies on your website and then target your popups immediately after those areas.
Setting this up is also extremely simple. You can use online popup builders like Picreel that have advanced targeting features built-in, which allows you to customize your popup timing based on scroll behavior.
3. Match Your Sales Funnel
We talked about how making your popups attractive with discounts and coupon codes can entice your audience to purchase.
This is an opportunity to double down on that.
Once your visitors go through different product pages of your website, the chances of them making a purchase increase significantly.
This is where you can focus specifically on your audience that moves further down your sales funnel.
Realistically, you cannot target steps of the sales funnel but targeting specific pages that are a part of the sales funnel will do the trick.
This is where your popup timers or triggers will come in handy.
You can start by selecting specific pages of your sales funnel for the popups and then use trigger-based deployment for perfect popup times for maximum impact.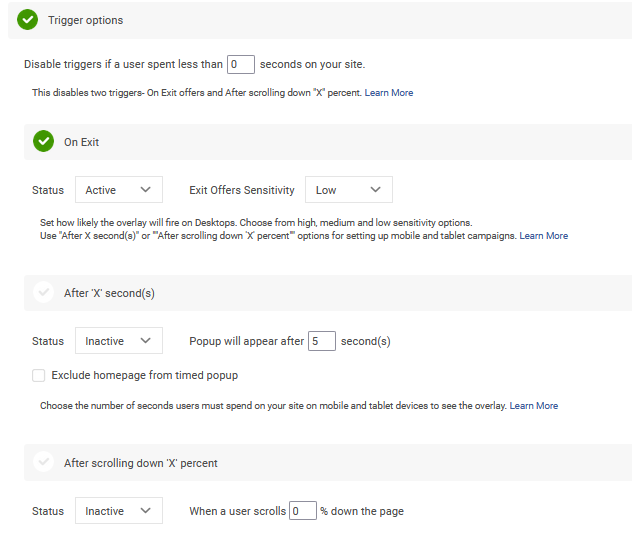 Your triggers can be based on timing, scrolls, exit intent, or even by clicking on website elements like images and text.
Also, sometimes these popup timers may not completely correspond to your sales funnel, but the fact that your users have traveled deeper to your product pages would mean that you have their attention.
At this stage, giving them exciting discounts and coupon codes can prove to be helpful as they are at the last stage before conversions, and even the slightest push may help them convert.
Now that we have covered how to find the best timing for popups, let's finally take a look at some quick tips for displaying popups.
Read More – 12+ Best Exit Popup Software
Quick Tips for Using and Displaying Popups
Timing your popups is critical; no one is questioning that. Although, there are certain things that you can do more to make your popups even more effective.
Let's take a look at some quick tips:
Keep your messaging clear and consistent– Your popups are obtrusive in nature, and if you are interrupting your visitors' browsing experience, you need to make sure that your message is clear, consistent, and provides a ton of value.
Focus on precise targeting- Your targeting should be extremely accurate because if you show your popups to the wrong people or at the wrong time, they will do more harm than good.
Give irresistible offers- build your popups in such a way that when your audience comes across them, they are compelled to stay and think about your offer. Offering attractive deals is the way to go here.
Create urgency- The only way to ensure that your visitors don't leave your popups for later is by letting them know that it's for a limited time only. Creating urgency will help your visitors convert immediately.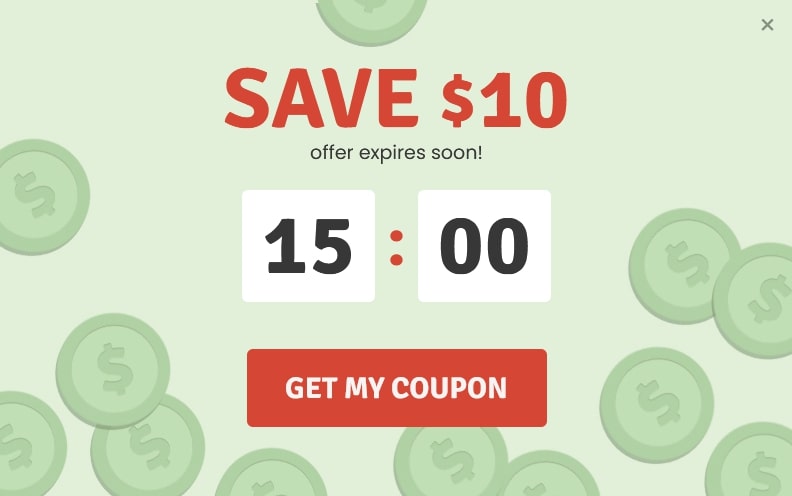 Read More – 11 Pop-Up Best Practices to Drive Conversions
Time Your Popups Right for Higher Conversions
Right timing of your popups will not only help you get more conversions but also improve your opt-in rates by preventing potential leads from dropping off.
The key is to better understand your visitors so that you can maximize your marketing efforts and improve the overall ROI.
But these things don't happen in isolation because, ultimately, your designs and popup times will make all the difference.
You would also need a sophisticated online popup builder like Picreel that allows you to build attractive popups and deploy them on your website with precise targeting.
Do you want instant 300% growth?
Picreel popups can get YOUR website 300% instant sales growth. See Case Studies.