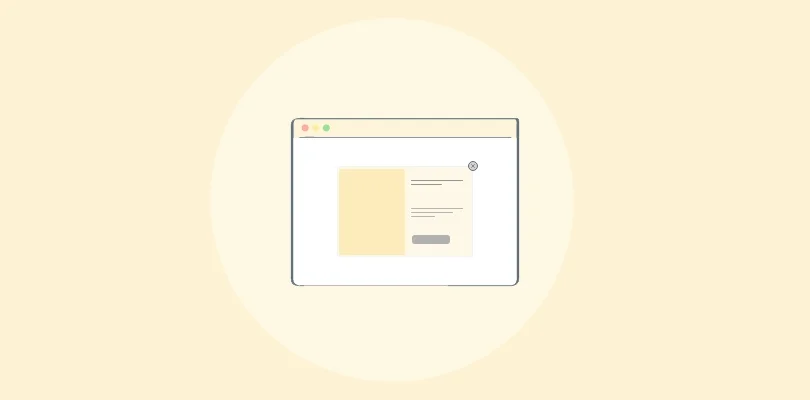 When it comes to creating WordPress popup without plugin, it can be a tricky affair.
WordPress plugins can be a problem for your website because they are quite unreliable and can make your site less secure.
Not to forget, they have a pretty significant impact on your website speed as well.
Not in a good way, obviously!
So why even deal with this hassle in the first place?
You shouldn't because you can create WordPress popups without plugins, with just a simple line of code.
When done properly, your popup for WordPress will compliment your website and boost your marketing efforts, leading to higher engagement.
In this article, we'll let you in on this simple trick as to how you can embed a WordPress popup without a plugin.
Stick around!
How to Add a Popup in WordPress Without Plugin?
Adding a popup code to your WordPress website is very convenient with Picreel. All you have to do is paste a line of code, and you're all set.
Let's take a look at how to add a popup in WordPress without plugin in a bit more detail:
Step 1- Create your free account with Picreel and log in.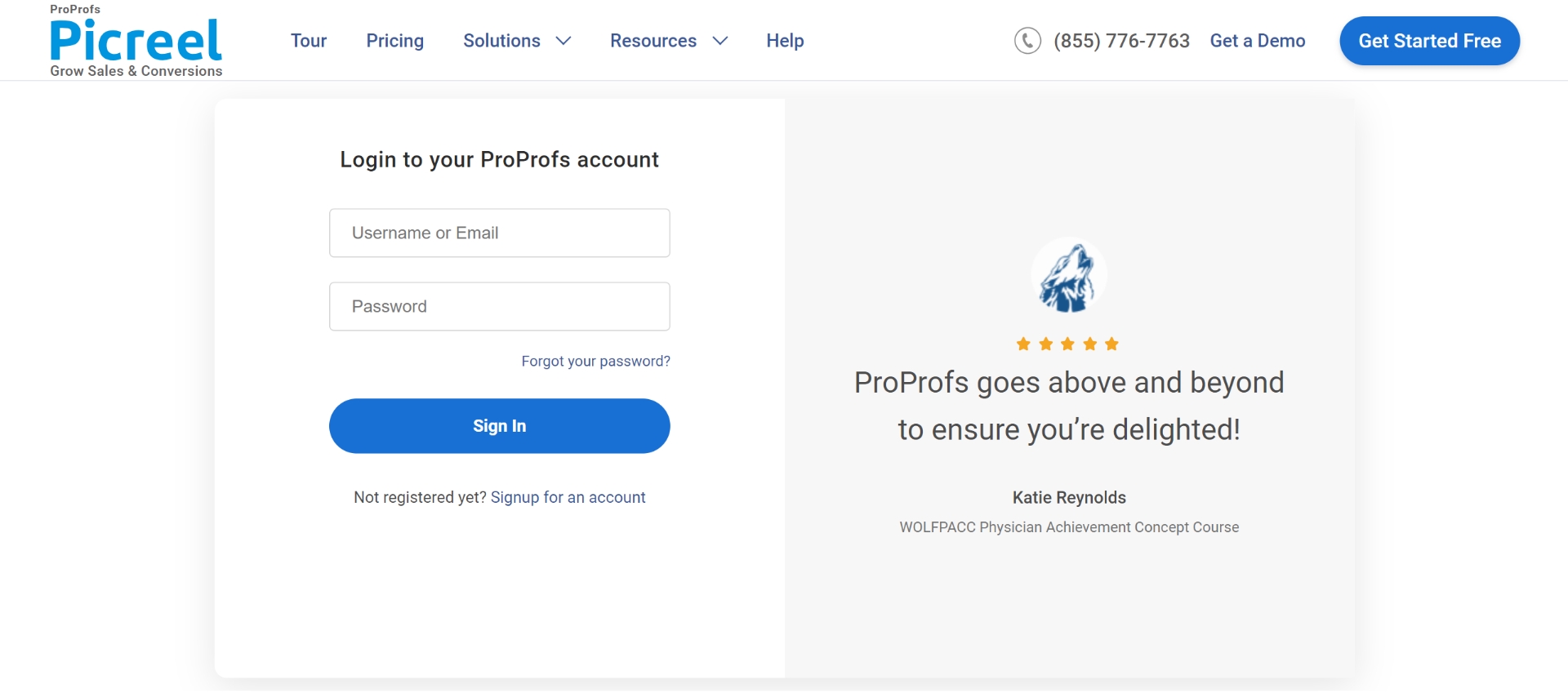 Step 2- Go to "Install Campaign" where you will see the embed code.

Step 3- Click "Copy." The code will be copied to your clipboard automatically.

Step 4- Log in to your WordPress account.

Step 5- In the left tab, click on "Appearance" and select "Editor."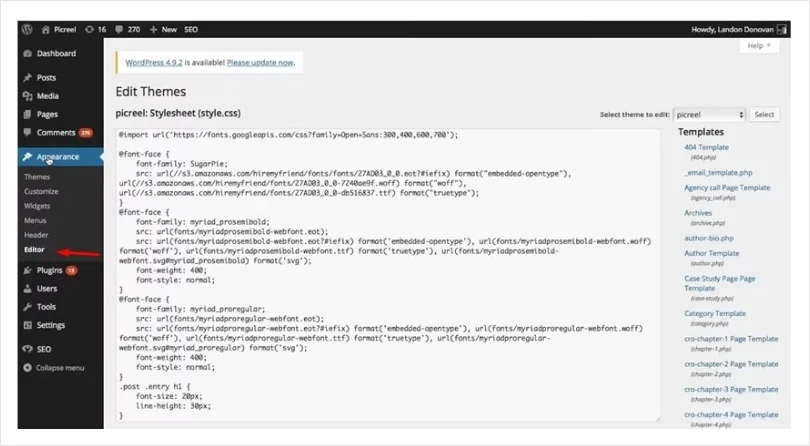 Step 6- In the right tab under the "Templates" section, locate and select "Footer."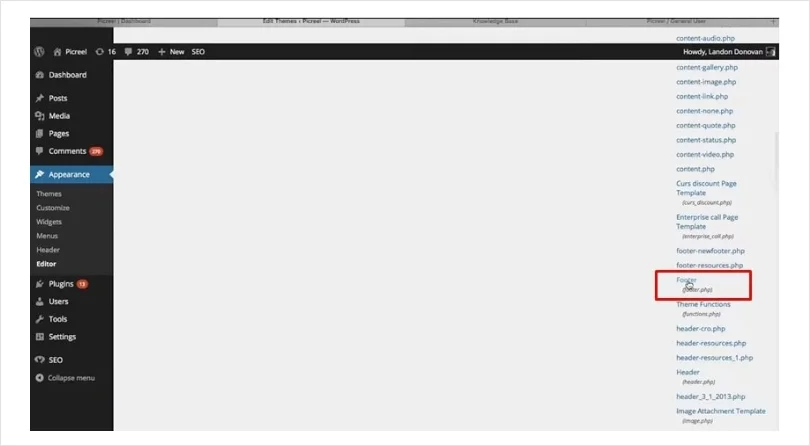 Step 7- Paste the Picreel code before the last "" tab.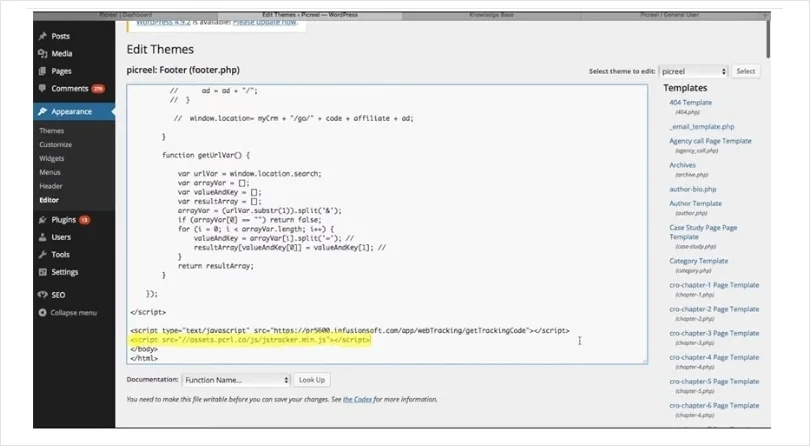 With that, we have covered how to add popup in WordPress without plugin. Now let's take a look at some of the benefits of doing so.
Benefits of Adding Popups to Your WordPress Website
Embedding popup for WordPress websites have a ton of upsides and can help you take your business to the next level. Let's take a look at some of the biggest benefits you get from doing so:
Easy to Set Up
One of the biggest benefits of embedding popup for WordPress websites is that you do not have to be a technical mastermind to do it.
As we learned above, adding popups is as simple as copying a line of code from your online popup builder tool and pasting it on your WordPress account.
Another great thing about adding popup for WordPress through code is that it does not affect the performance of your website, which ensures a great user experience for your visitors.
Also, there is no time lag between inserting the code and taking the popups online.
Build an Email List Seamlessly
One of the biggest advantages of adding popups on your WordPress website is that you can easily build your email list and supercharge your marketing efforts.
For starters, you can get hold of an online popup builder tool that offers built-in templates to create lead forms instantly.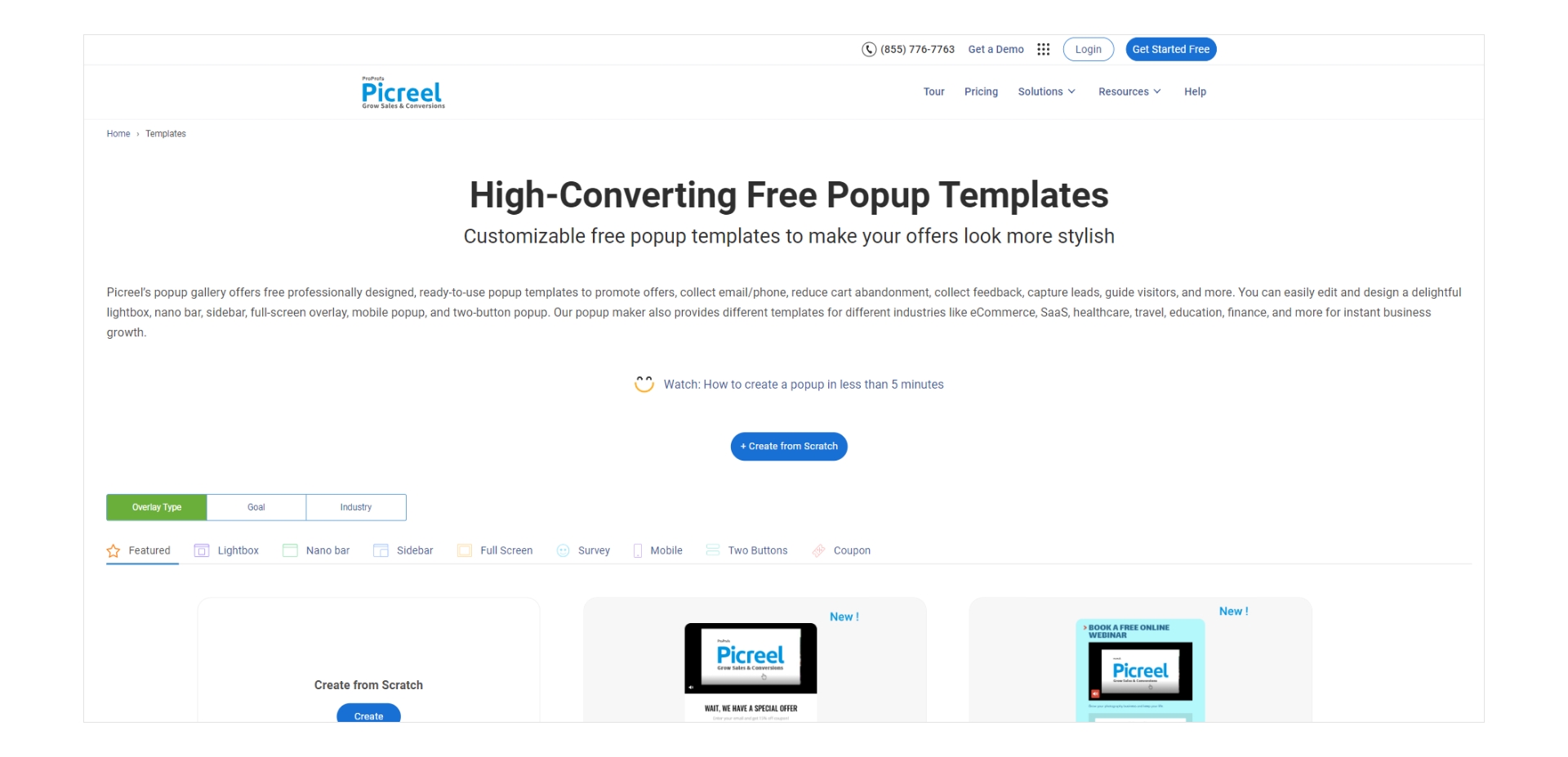 You can then deploy these lead forms by adding the popups to your WordPress with the embed code and start collecting lead data instantly. The templates are entirely customizable, and you can choose to collect any type of information you want, including email, phone number, address, and more.
Not to forget, the ROI of email marketing can get as good as 4200%, i.e., $42 for every $1 spent, so this is something you should not ignore.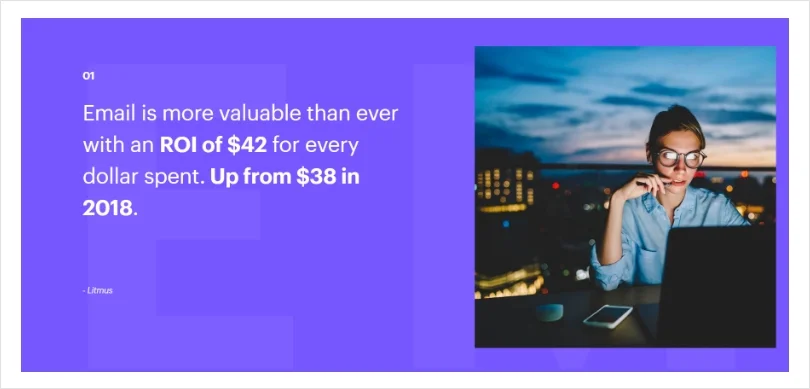 Read More - Top 34 Email List Building Tools for Sales Growth in 2023
Reduce Cart Abandonment
If product sales are your primary revenue stream, then cart abandonment has to be one of your worst enemies.
This is where creating WordPress popup without plugins can be very beneficial.
Here, you will get the liberty to deploy exit popups which are specifically designed to stop visitors from leaving your website.
You can design popup on WordPress with attractive offers and add a countdown timer to induce FOMO, which will make visitors think twice before leaving.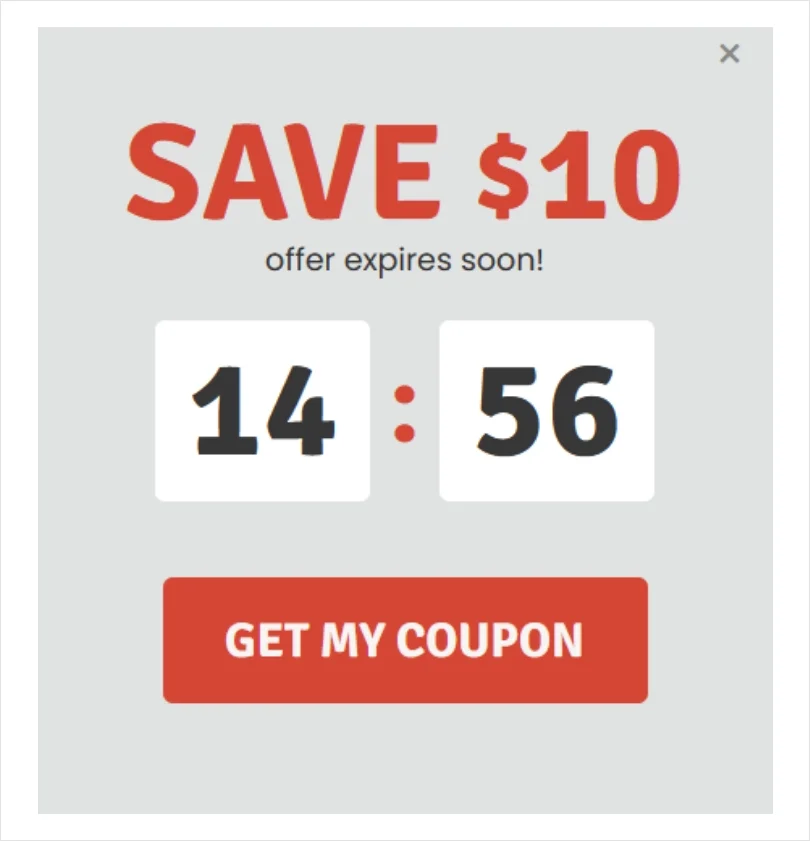 Gather Customer Feedback
One of the most underrated features of a popup on WordPress is that it can be used to collect contextual feedback from your visitors.
In fact, online popup builder tools can help you easily create survey popups and gather feedback from your visitors.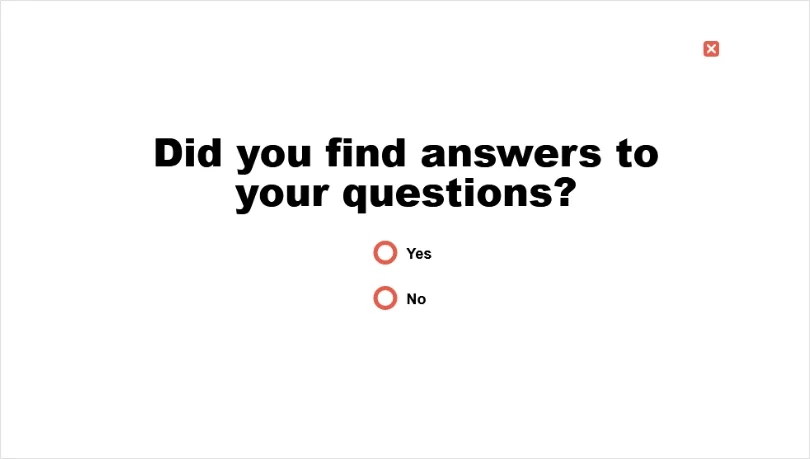 A great thing about this is that it gives you much deeper insight into the existing problems with your business from the perspective of your customers.
This will help you bring positive changes to your website that are important to your sales funnel.
On top of that, you can also use popup surveys to ask customers what changes they would like to see in the future. You can work on the feedback to retain customers for much longer and improve loyalty.
Read More - Popups for Feedback: Get To Know Your Customers

Grab Attention
Unlike other marketing methods, a popup on WordPress is incredibly hard to ignore due to its unique ability to be both eye-catching and engaging.
With the right design and messaging, WordPress popups can be used to promote your best content, encourage your audience to sign up for your newsletter, or even offer them a discount code to incentivize making a purchase.
By creating visually stunning popups that display at the perfect time, you can grab the attention of your website visitors in a way that feels both thoughtful and personalized.
As a result, your brand will stick in their minds, and they'll be more likely to remember and engage with it in the future.
Increase Conversions
Popups for WordPress websites are not only attention-grabbing but also incredibly effective at increasing conversions.
By strategically placing popups at key moments during a user's journey on your website, you can significantly boost your conversion rates.
Whether you want users to sign up for your newsletter, make a purchase, or complete a form, popups can provide that gentle nudge to take action.
With compelling and persuasive messaging, popups can create a sense of urgency or exclusivity, making visitors more likely to convert.
On top of that, you can implement smart targeting techniques to display relevant popups to specific segments of your audience, maximizing the chance of conversion.
Improve User Engagement
Popups for WordPress are an excellent way to boost user engagement on your website.
By using smart targeting techniques, you can display relevant popups to specific users, increasing the chances of capturing their attention and engaging with them at a deeper level. Popups can encourage users to take action or browse content on your website, effectively increasing their dwell time and reducing bounce rates.
You can also use popups to reward users for taking a particular action, such as signing up for your newsletter or making a purchase. This method provides a personalized and gratifying experience that will make users feel appreciated and valued by your brand.
Create WordPress Popup Without Plugins and Boost Business Revenue
Creating a WordPress popup without plugins is as simple as it gets, and now you know how to do it.
In this article, we've only scratched the surface of what's possible with adding a popup in WordPress. You can generate leads, boost sales, gather customer feedback and do so much more. With the right tools, you can easily make your average-looking popup campaigns stand out to make a big impact on your audience.
With that, the floor is yours. Go out there, create some amazing popups and embed them on your WordPress website.
Popup builder tools like Picreel can help you build extremely intuitive popups that seamlessly integrate with WordPress using just a single line of code. You can get started for completely free to see how it works.
Do you want instant 300% growth?
Picreel popups can get YOUR website 300% instant sales growth. See Case Studies.