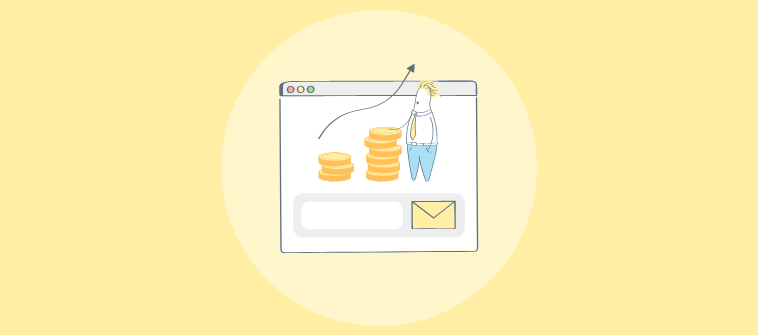 E-commerce Popups can make or break your business.
Popups are mini windows that open on website pages as mini advertisements to educate users about the latest offers, discounts, promote products, events, or services. Businesses of all sizes use popup tools to get conversions and improve their email capture efforts.
Popups have proven their worth by directly affecting the number of conversions for many users. Picreel has shown a 15% to 300% rise in conversion rate for some companies. It is clear that popups have the potential to take any business to new heights.
Popups help create a connection with your clients through engaging photos and short text. The purpose of the popups is to get the customers to give valuable information to you in exchange for a benefit.
While it is essential to use popups for conversions, creating engaging popups requires skills and understanding of the human psyche. Read the post to learn about different popups and why eCommerce businesses use them.
What is an eCommerce Popup?
Ecommerce Popups refer to the informational or promotional messaging that appears on the website to grab visitors' attention. E-commerce websites aim to sell products to their customers directly. Their popups are reflective of their website needs.
These are different from the other popups as they generally give the opportunity to save money in exchange for contact details. The popups aim to bring new leads to the official website.
Moreover, they can offer deals to motivate users to explore the website thoroughly and aim to make purchases.
The Best Practices for Using Popups on Your eCommerce Website
Getting more users to convert using popups requires tact. Here are some of the best practices to follow while using popups for eCommerce websites:
Be less intrusive
Too much of anything is bad, and popups are no different. While it is good to provide all relevant offers upfront, limit the number of popups on the screen. If the user needs to close more than one popup before reading anything, a rise in bounce rate is bound to happen. Also, popups should have an easy way out to ensure that users do the activity willingly. Otherwise, they may leave the website.
For customers who click through from an email, avoid a lead-gen popup
It is essential to track where your users are coming from while giving them discounts. Set up the campaign so that the welcome discounts or lead-gen popups do not show when users come from their email addresses. It will just add to their annoyance while giving you nothing in return.
Target your popups
With the correct popup application, companies can also target the various segments of the audience appropriately. You can segregate the audience as per device, pages visited on the website, location, age, and other factors.
Honesty is the best policy
It is tempting to give an undeniable offer to get more visitors to convert. However, you must ensure that you are delivering on these promises. If the customers feel like they have been baited, you will lose their trust, and they will leave never to return. Hence, always be honest with them.
14 Best eCommerce Popup Examples to Help Activate Your Creative Juices
To create the best eCommerce popups, you need some inspiration. Hence, we have curated some of the best website popup examples for you.
Here are five different types of eCommerce popups, their uses, and several real-life popup examples:
Discount or Freebies
One of the effective methods of attracting customers is through discounts and freebies. If the customers believe that they are getting products or services for cheaper, they are more likely to purchase them. Moreover, instead of offering a discount, some companies give away more merchandise with offers like Buy One Get One free to elicit the same response.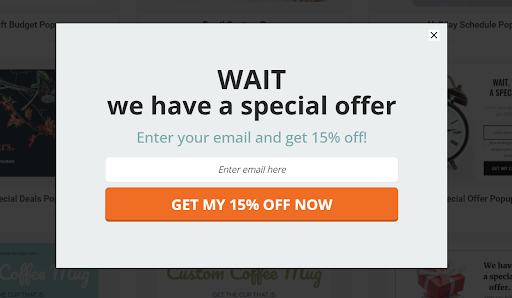 Companies can use this Picreel template to grab the customers' attention with the uppercase 'WAIT' and bold 'We have a special offer.' The short copy generates enough interest to pay attention to the remaining text. The discount offer in return for the email address works two-fold. It is a lead magnet and a discount coupon popup combined into one.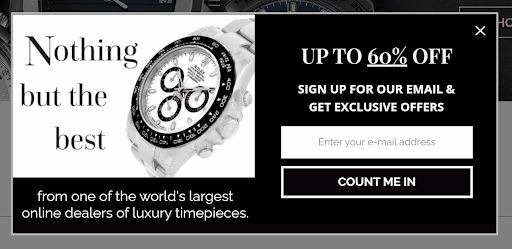 The Swiss Watch Expo popup offers a discount for the email address. It is easy to close the popup with a single cross on the top right corner. They also add their tagline and a statement about themselves to generate trust. Moreover, their 60% discount offer is lucrative enough to get more people to perform the desired action.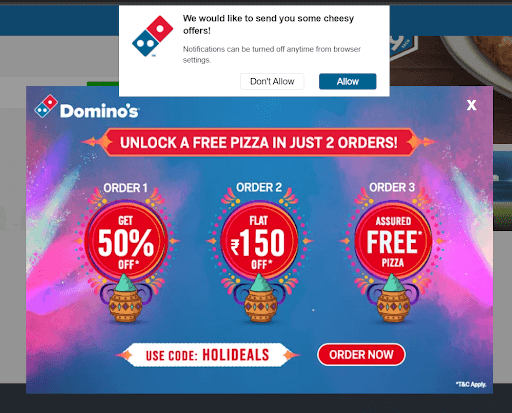 Dominos has one of the best website popups. They not only target the customers to make the first purchase but also encourage them to come back for two more purchases. Moreover, they are using holidays for the timer to create some urgency.
Cart Abandonment Popups
As per a recent study from Baymard Institute, the cart abandonment rate stands at 69.57%, a nightmare for every marketer and business owner. Businesses use exit-intent popups to reduce cart abandonment. They help create a sense of urgency and work as lead magnets while providing discounts to users.
Picreel Template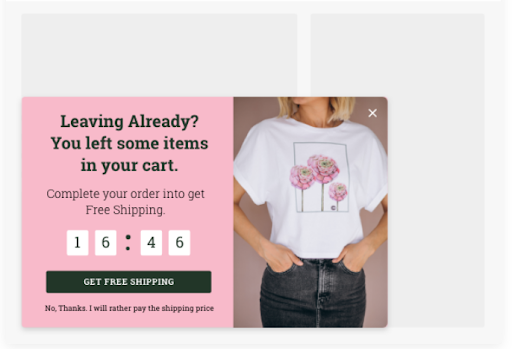 The Pre-made template of Picreel offers a timer to create a sense of urgency to customers leaving the cart. Moreover, the message provides a reminder of items in the cart. Even the option to deny the offer comes with a negative statement to help customers take the desired action.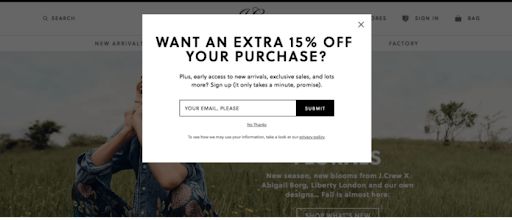 Some companies offer additional discounts in case of cart abandonment to get customers to convert. The above popup provides an additional 15% off, with early access to other sales in return for the user's email address. They even provide a link to the privacy policy to garner trust in the users who might be on the fence about giving personal information.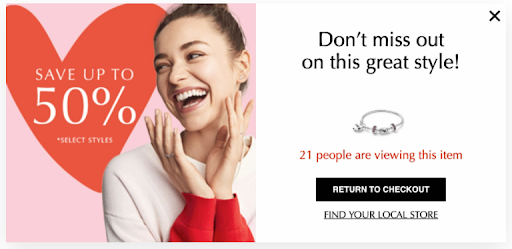 Pandora is always running campaigns to get more sales. In this exit-intent popup, they are offering greater value for money. The happy picture that carries the product in the cart induces positive emotions. Moreover, their sentence 'Don't miss out on this great Style!' in a bigger format is here to grab the user's attention. Their offer of saving up to 50%, along with how many other people are viewing the product, makes it more challenging to resist. They have added the option of finding local stores to reduce the hesitation that comes with online purchasing.
Lead Magnet Popups
Lead magnet popups refer to free resources that companies use to get more customers. These popups generally offer free content or some other benefit in return for emails. Companies use lead magnets to promote their business while providing something for free. However, the information you offer must be valuable and not easily accessible to customers.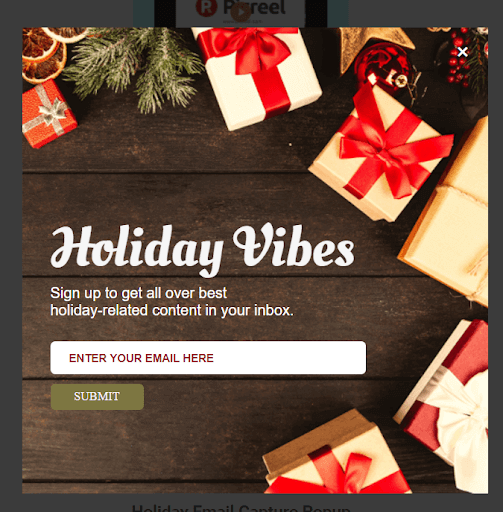 In this popup, the eCommerce website is aiming to gain emails for holiday-related content. It is valuable information that the company is trading for the lead magnet. The bold text reminds users of happy times. Also, the festive vibe of the posture with gifts adds to the intrigue of the user. Overall, it is an excellent popup to use when you want to exchange valuable information for contact details.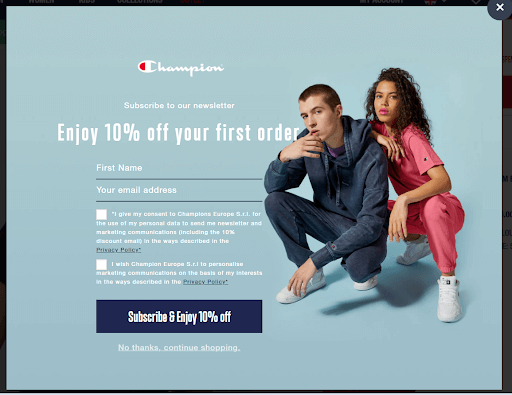 Here is a Champion popup ad that asks for your first name and email address in exchange for 10% off. It is a more thorough popup as it offers subscriptions to the newsletter, and the user can choose the level of engagement on the popup.

American Eagle gives a range of discounts that users can get by providing their email addresses. The popup can generate interest in users and the will to try their luck. Moreover, the discount is applicable for a limited time, creating a sense of urgency to purchase.
Urgency Popups
The Internet allows its users leisure. Hence, businesses need to go above and beyond to create urgency. Here, popups that offer limited-time offers or a counter can help get potential customers to convert quickly. Urgency popups get potential customers to hurry as the delay may mean no offer at all.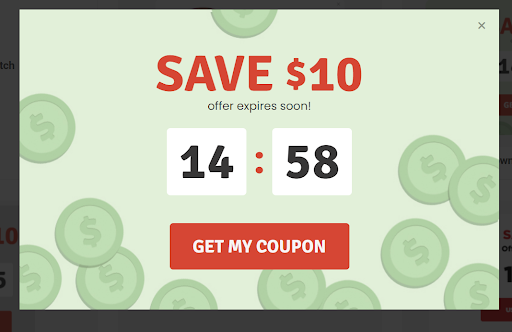 Creating urgency is easy with a counter on board. In this eCommerce popup example, the timer shows the exact time the user has to make a choice. They can click on 'Get My Coupon' to save $10 before the offer expires. An eCommerce website will set a condition to either get the coupon or use it.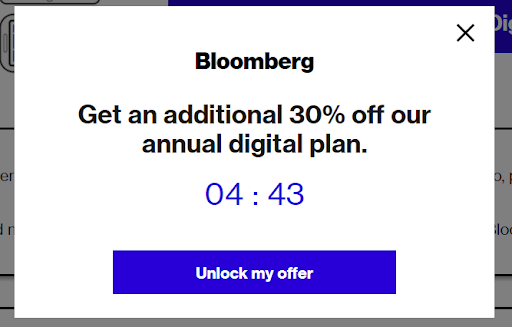 Bloomberg also offers a discount at the time of greeting with an additional 30% off on the annual digital plan. The popup works in two ways. It creates a sense of urgency to purchase. Moreover, it gives users a limited time to browse the website before purchasing.
Flash Deals
Flash deals are short-span promotions on e-commerce websites. Companies use the flash deal to get rid of the remaining stock. Here, the discounts are generally on the higher side to attract customers. Promoting the limited quantity and time limit on the sale gets more conversions in less time.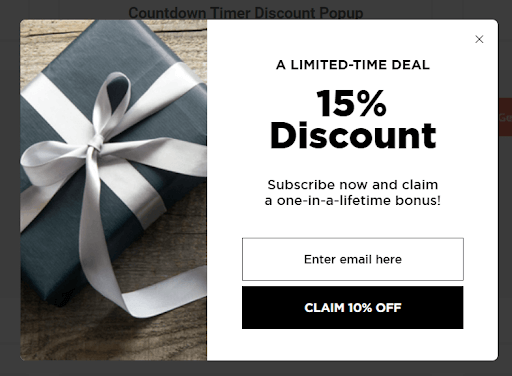 Flash deals are the popups that offer limited-time deals like those mentioned above. The image is calming to the eyes, with mute colors, and mentions the discount users can claim by entering the email address. Also, the cross on the upper right corner gives the freedom of choice to users.

Flash Sales on Fashion Nova are available on the nano bar. The eCommerce popup example comes with a timer, coupon code, and 80% off. Overall, it is a lucrative offer that will provide some of the best prices if the user purchases.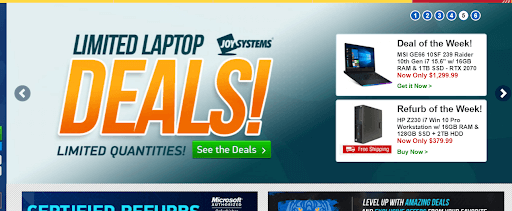 TigerDirect has flash deals with limited quantities to engage more customers. They publicize the information right at the top and some deals of the week to get customer engagement and pique their interest.
How can Picreel Help you in Creating eCommerce Popups?
Picreel offers a diverse range of templates for all types of businesses. Some designs are specifically designed for eCommerce websites.
Use Picreel to create Popups that entice customers to purchase from your website. The application offers a range of features, including customizable templates, A/B testing, and other campaign setup features.
Use the features to create beautiful eCommerce popups to get more conversions. See the change in your conversion rates from day one. Use the statistics board to check the effectiveness of the various popups. Then, use the information to make appropriate changes to the popups for better conversions.
Make Every Popup Count
Users of the internet have abundant choices. Any annoyance to the users can lead them to other websites. Hence, companies must avoid excessive use of eCommerce popups. But, you cannot opt to forgo the tool. The utility of popup in increasing conversions is incentive enough to incorporate them into your website.
Well-timed popups can help get more leads, relevant contact details, and conversions. To achieve that, ensure that you have a compelling message and CTA. Use the examples above as inspiration to create an eCommerce popup that matches your website's aesthetics while being engaging.
Picreel is a delightful application that helps create beautiful popups that grab users' attention without being intrusive.
Do you want instant 300% growth?
Picreel popups can get YOUR website 300% instant sales growth. See Case Studies.