Driving more traffic to a website can be an expensive and time-consuming project. What's more, there's no guarantee that the new traffic will convert once on a website. That's why savvy agencies are offering conversion rate optimization (CRO) services to their clients as a ways to leverage current content to get more conversions from existing traffic.
It's all about working smarter, not harder. But it's still a lot of work. If a client's conversion rate was already high, they wouldn't have hired you in the first place, right? You are tasked with analyzing existing content and traffic and finding ways to boost conversions using what's already there.
It's a big job, and while you have many CRO strategies to consider, Picreel's CRO platform is a fast, simple and affordable way to boost conversions – virtually overnight. You can implement it right now while you continue working on more in-depth strategies in the background, and with our money-back guarantee you've got nothing to lose but more conversions.
And more conversions equal more revenue for your clients, and ultimately more business for your agency. We call that a Win-Win.
Here's what your agency needs to know about conversion rate optimization, how to successfully use Picreel popup campaigns as a CRO strategy on your clients' websites, and how to extend success beyond the conversion.
What conversion rate optimization (CRO) Strategies Are You Considering?
A "conversion" is when a visitor on a website takes some desired action, and it can be any number of things depending on your client's business. Downloading an e-book, subscribing to a mailing list, scheduling a demo, or making an online purchase can all be considered conversions when it comes to measuring the effectiveness of your client's marketing strategies.
What CRO strategies you employ will depend on your client's goals for wanting to increase those conversions in the first place. For example, a new business's priority may be on growing their mailing list through content enhancements and stronger calls to action, where an established e-commerce site may want to reduce shopping cart abandonment by analyzing the checkout process and offering a promotion to complete the transaction. Others may want to increase multiple conversion points throughout their site, and you'll have to use a variety of CRO strategies to get there.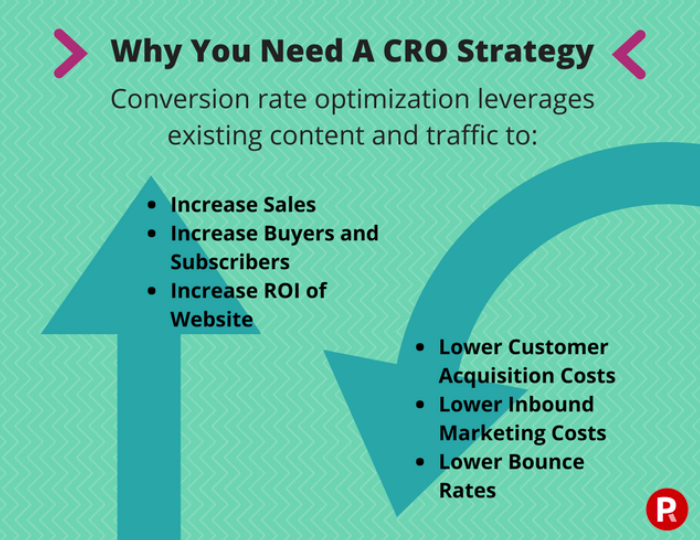 Your job is to help your clients identify all of the opportunities for a conversion on their website, prioritize them in terms of how well they meet business objectives (more sales, more demos, more subscribers, etc.), and decide which CRO strategies you'll use to get results.
Just a few of the CRO strategies to consider include:
Analyzing existing content – When you read your client's website content, it should not read as an ad for their product or service. It should address their target audience's needs and describe how their solution meets those needs. It should answer the "what's in it for me?" question ever-present in a reader's mind as they evaluate different solutions and vendors and decide which will best suit their needs. Taking a hard look at existing content is one of the first steps in a holistic CRO strategy, and we'll discuss it more in-depth shortly.
Optimizing landing pages through AB testing – Whether your landing pages are being found through PPC (Pay Per Click) advertising in the SERPs (Search Engine Results Pages), or you're directing prospects to them via email marketing campaigns, landing pages exist to perform one specific action: convert. Landing pages can be long and informative, or short and powerful. And there's the challenge. What's the best format and presentation for a landing page? Because they're not easy to access again from a site's navigation, it's important to secure that conversion on the first shot. You can do this by using your client's A/B split testing functionality on their website platform, and change the design, wording, call to action, offer, and form fields to see what combination gets the most conversions.
Tweaking calls to action – If your client's CTA always appears at the end of the blog or in a subscribe box anchored to the side bar, some simple adjustments to the way it appears may be all it takes to see an increase in conversion rates. Consider adding in-text CTAs in different fonts that are more noticeable as the reader scrolls, slide-in subscribe boxes with movement that catches the eye, and most importantly make it a no-brainer. Make the forms easy, and make the offers irresistible. Speak to the reader's pain points and needs, and make the offer relevant and timely.
Making forms frictionless – Sure, you want to collect all the information, but people are busy and get annoyed with extensive forms. A first name and email address are usually enough to get started; if you're collecting information for a sales person to reach out and schedule a call or demo, maybe some checkboxes to indicate product/service interest. Otherwise, use Google Analytics or a built-in form tracker to gather information about the person's activity that lead to the conversion.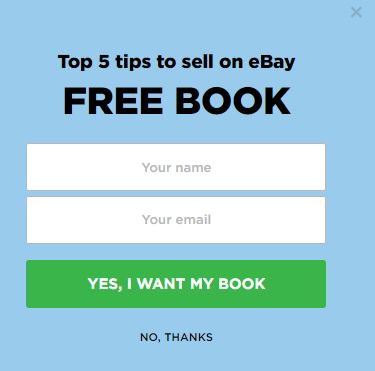 Offering real-time scheduling – Asking a website visitor to provide their contact information so a "sales representative can contact you to discuss your needs" is a dated CTA. People want information on their own time and don't want to be interrupted. Likewise, sales people benefit greatly when they're not going into a call blindly, so making it easy for prospects to schedule calls and demos on their own terms is a win-win. For example, Picreel allows site visitors to schedule a free 15-minute call with a CRO expert from this page, and they get to this scheduler by clicking a CTA button on our Money-Back Guarantee page. So we know going into one of these calls that the prospect wants to know specifically how Picreel can increase conversions by a guaranteed 25% or more, and how they get their money back if it doesn't happen.

Reviewing checkout process for ease and speed – For e-commerce sites, improving the checkout process can significantly boost conversion. In fact, checkout usability studies of e-commerce sites from Baymard revealed that the average site can increase its conversion rate by 35.26% solely through better checkout design. The complete report including the usability issues and resulting checkout user experience guidelines can be found here.
Implementing popups, banners, or slide-ins – Modern popups are nothing like the annoying third party popup ads that were prevalent in the 2000's. Today, website owners use popup boxes, banners and slide-ins for their own onsite advertising. Tasteful and successful popup offers incorporate color, design, graphics, and the call to action that complement the existing website to provide a seamless – not jarring – user experience. In addition to the actual design of the popup, Picreel's conversion platform allows you to control the targeting of the popups (how, when and where they're displayed) on a very granular level based on visitor behavior and advanced mouse tracking technology.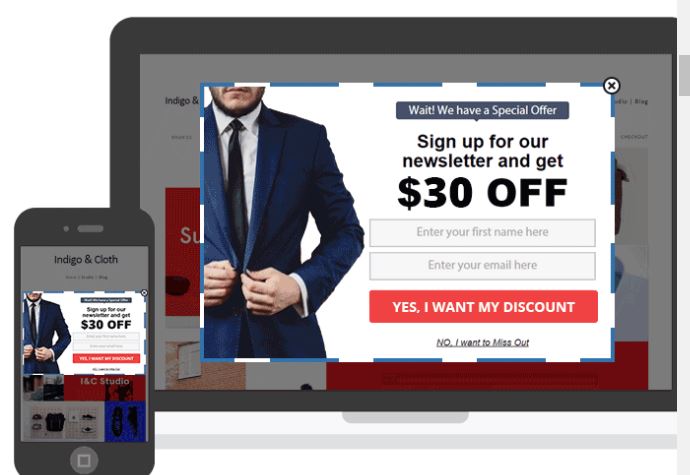 Ensuring offers are valuable and relevant – This goes hand-in-hand with the item above. For calls to action, subscribe boxes, popups, and any other on-page offer, make sure what your client is offering actually makes sense based on where visitors are and what they're doing on the site. YES, this often means creating individual campaigns for each page, but taking the time to develop valuable offers results in more conversions. For example, if someone makes to exit the site and leave items abandoned in their cart, don't show a popup asking them to subscribe to a newsletter. An offer for free shipping or a discount would be far more effective in securing the conversion.
Adding chat functionality – As a convenience to both consumers and customer service representatives, many businesses have added chat functionality to their website to instantly answer visitors' questions. Unlike with a phone call, representatives can insert links for next steps, product recommendations, etc. right in the chat window to help steer the prospect toward the action they need to take to convert.
Using automation and retargeting for lost traffic – Despite your best efforts, people are still going to leave your clients' websites without taking any action. If they were a returning customer or made it far enough into the checkout process to provide their email address, automation features in your client's email marketing system can trigger an email to the visitor reminding them of the items they left in their shopping cart. Without an email address, you can still use retargeting, or remarketing, to follow visitors around the web and serve up visual ads of what they viewed on the site. In both cases, the message or ad can include an offer to entice them to return and complete the transaction.
Start By Evaluating Your Content
With so many options, it can feel overwhelming when it comes to deciding where to start. As the foundation of your client's website, one of the best places to start is with the content. If it was previously converting and stopped, what changed? If it's never really gotten the traction they expected, how can you fix it? Guest post author for Picreel, Helen Cartwright offers some of the following suggestions for analyzing website content:

Reevaluate your audience – is your solution still targeting the same audience? Does your content effectively speak to that audience?
Consider your tone – speak to your audience with compassion and authority. Acknowledge their pain points and show how your solution effectively fixes it. Use an active tone and avoid overtly promotional language.
Use a reader-friendly design – Readers scan content in an "F" pattern, so place larger/bolder introductory and important sentences at the top left of the page. Get more insights about how people view websites here.
Make sure your content answers the million dollar question: "What's in it for me?"
Write compelling headlines – 80% of people will read your headlines, but only 20% will finish reading your content. Get tips for writing a great headline here.
Include a clear call to action – specify what action you want readers to take and what benefit they will receive in return. Experiment with different wording and placement of the CTA for best results.
Ask for feedback – Include a short survey form at the end of the content asking how it can be improved. Or, a ReelSurvey popup from Picreel can be triggered after a visitor has been on the site for a set amount of time or scrolled a certain percentage, asking if the information was helpful.
Once you've finished polishing your client's content, you're ready to move onto implementing more CRO strategies.
Using Popups As A CRO Strategy
Popup offers are something you can start right now while continuing to work on other CRO strategies in the background. Picreel's CRO platform can be used in conjunction with your other conversion rate optimization strategies to instantly turn more of your clients' site visitors into buyers and subscribers.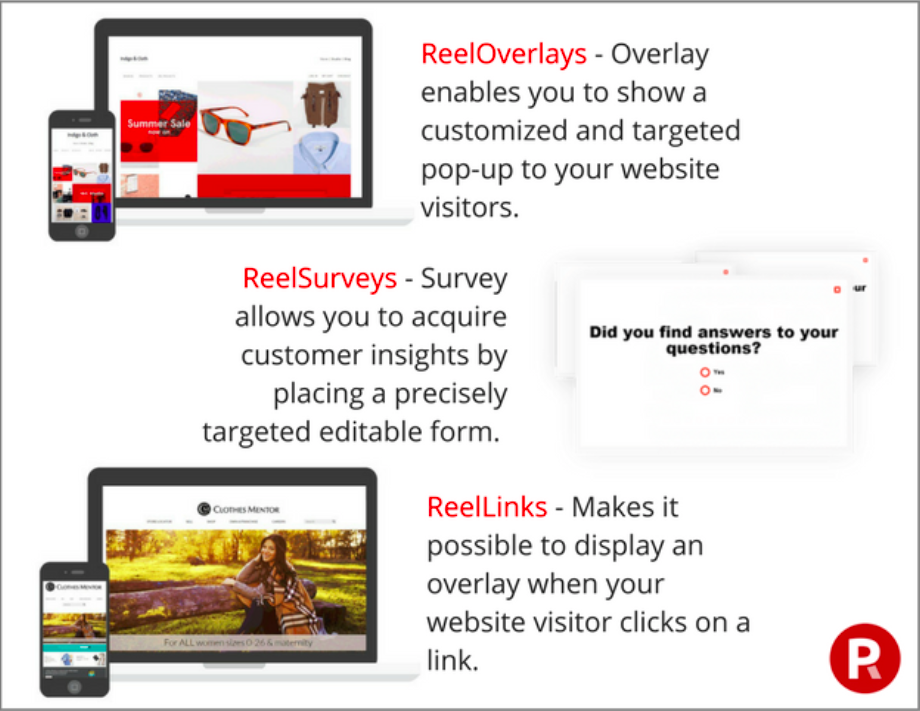 Picreel Popup Products:
ReelOverlays – Customized popup offers that can be targeted to appear at any time, based on visitor behavior, scrolling, length of time on site, or mouse movement as they make to exit the site. Overlays are ideal for capturing leads, growing an email list, increasing sales, offering special promotions, and collecting event registrations.
ReelSurveys – Customized popups that collect feedback from site visitors from the current page they're viewing. Answers types can be check boxes, radio buttons, text boxes, or a single line of text. The targeting can be set to only show the survey to certain groups of people, such as new visitors or visitors coming from a specified source, giving you laser-focused insights about content and customers.
ReelLinks – Customized popups that appear when site visitors click specific links. This allows you to create highly-targeted offers on multiple parts of a site, or even a page. Like all overlays, the targeting can be set to control the frequency and number of popups a person sees in a visit.
While some people find popups annoying, there is no denying their effectiveness at boosting conversions. Picreel's own agency clients have seen extraordinary success boosting their clients' conversions with popups. One agency, Living Online, ran a popup campaign to increase their newsletter database. In just one month, newsletter signups increased by 900%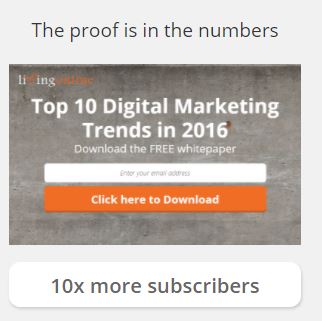 The problem is, many websites misuse popups, serving up irrelevant ads at the wrong time to the wrong people. These are the popups that annoy people, and they have resulted in a very real phenomenon called "banner blindness" that causes people to block out anything that remotely looks like an ad, including boxes, side bars, sliders, popups, etc.
Quick Tip: Overcome "banner blindness" by ensuring your offers are relevant, targeted, and valuable to website readers.
Popup ads work, but you have to do them right. Before you start creating campaigns for your clients, let's take a quick look at some best practices to help you get the most out of your pops.
Design
While you want popups to attract attention, you don't want it to be the wrong kind of attention. The popups should have the same look and feel your client's site, while not being overly intrusive and at the same time not blending so well that they're easily ignored. We also recommend further branding popups so that it's clear they are your client's promotions and not from a third-party site. Picreel allows you to upload custom fonts, logos, images and even GIFs to help you easily create custom-looking, branded popups.
This laser hair and tattoo removal clinic uses Picreel to increase consultation signups by offering a discount on services. Their custom popup uses the same font as their website, matching gray and pink colors, and a custom background featuring an attractive model.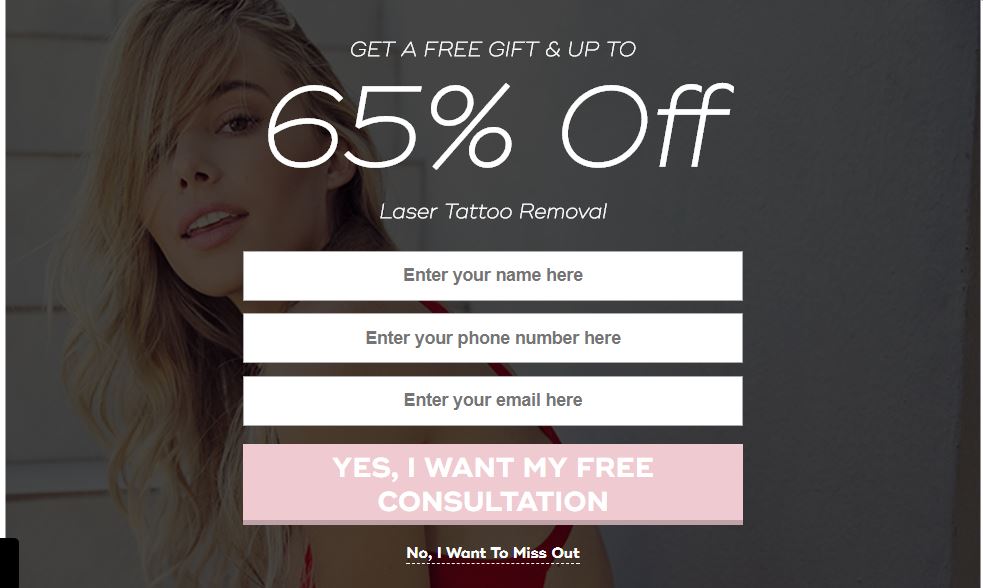 Wording
How an offer is worded and how you frame the call to action is absolutely critical to the success of your client's popup. Make the benefit crystal clear, use actionable language, and keep copy to a minimum so that readers can decide in just a few seconds whether or not the offer is valuable enough to provide their information to you.
This company that specializes in filet mignon beef jerky uses Picreel to build their email list, and everyone that subscribes is also entered to win free jerky. The offer uses first person voice and a casual tone, is "signed" by their co-founders, and as an added bonus features an image of the co-founders being "awesome jerks" themselves.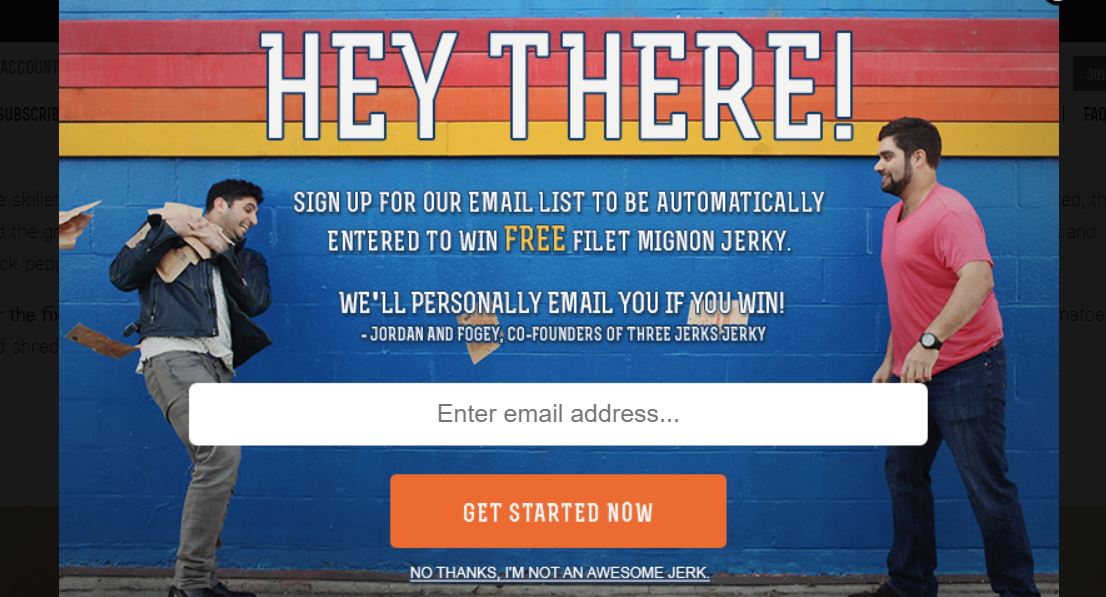 Quick Tip: Visit the Picreel blog for help with writing popup offers and developing calls to action.
Targeting
Targeting is the how, where, when and frequency with which popups are displayed. You have total control over this when you are creating clients' overlay campaigns from your agency's dedicated dashboard (more on this in a minute). Choose to serve pops on exit, after visitors spend a certain amount of time on the site, scroll a set percentage, or click a specific link. This is also where you can set the frequency of overlays (daily, weekly, monthly, etc.), and the audience (new visitors, returning visitors, etc).

Quick Tip: Smart targeting goes a long way in ensuring popups don't annoy visitors.
Personalization
Picreel connects to your client's CRM to personalize popups for returning customers. Even without this, pops can be personalized based on the page or item a visitor is viewing (i.e. browsing a product page for a pair of boots can trigger a popup for an offer on a coordinating purse).
Quick Tip: Picreel features built-in A/B split testing that allows you to change design, wording, offer, targeting, etc. and test two different versions of a popup to see which converts better.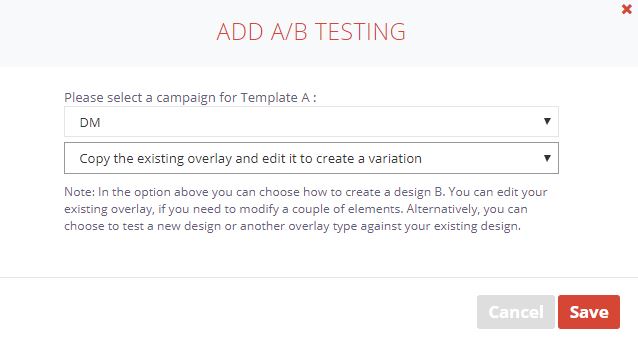 After The Conversion
The important thing to remember about increasing conversions is that what constitutes a conversion will be different for every client, and even from page to page. For example:
Blogs – increase subscribers
Product Pages – add products to cart; request demos
Pricing Pages – request for quote; start free trials
Service Providers – requests for quotes; schedule service
E-commerce Sites – complete transactions
Quick Tip: Learn how to use Picreel popup campaigns to reduce abandoned shopping carts for your e-commerce clients.

For clients that don't have simple one-off requirements to fulfill a conversion goal, gathering data from popups gives them a unique opportunity to continue nurturing leads through the sales cycle using highly personalized strategies.
For example, if their cycle is something like: Subscribe-Demo-Quote-Purchase-Support, their sales and marketing strategies will extend beyond the initial conversion on the website. If your agency's role also extends beyond CRO, you may be tasked with developing and implementing strategies that support each touch throughout the sales cycle.
When leads come through a website's forms – such as with Picreel popups – you can track exactly where the lead was and what they were doing when they converted. This data allows you to develop personalized marketing strategies for your client's future communication.
For example, if the site visitor was…
Reading blogs and subscribed to the mailing list – They're interested in the brand or solution and need more nurturing through introductory messaging.
On the pricing page and requested a quote – They're possibly already a marketing qualified lead; skip the introductory message and have a sales person reach out.
Shopping and abandoned an item in their shopping cart – They're a potential customer; use email automation to send a follow-up message or employ retargeting to remind them of their browsing history and offer a deal to return and complete the purchase.
But personalization is more than just the type of email you send following a conversion. For agencies that have effectively integrated personalization throughout the entire customer journey, their clients enjoy increased traffic and conversions, increased sales and profit, and greater customer loyalty.
Personalized Marketing Goes Beyond A Name
Anyone can link up their email and CRM to add a person's name to a subject line, but truly personalized marketing goes beyond a name to deliver an individualized customer experience.
In fact, research has revealed that 53% of marketers say ongoing, personalized communication with existing customers results in moderate to significant revenue impact, and 74% of marketers agree that targeted personalization increases customer engagement. Studies by Campaign Monitor have noted a 760% increase in revenue from segmented campaigns, which is the first step in effective personalization; and beyond campaigns, marketers see an average increase of 20% in sales when using personalized experiences.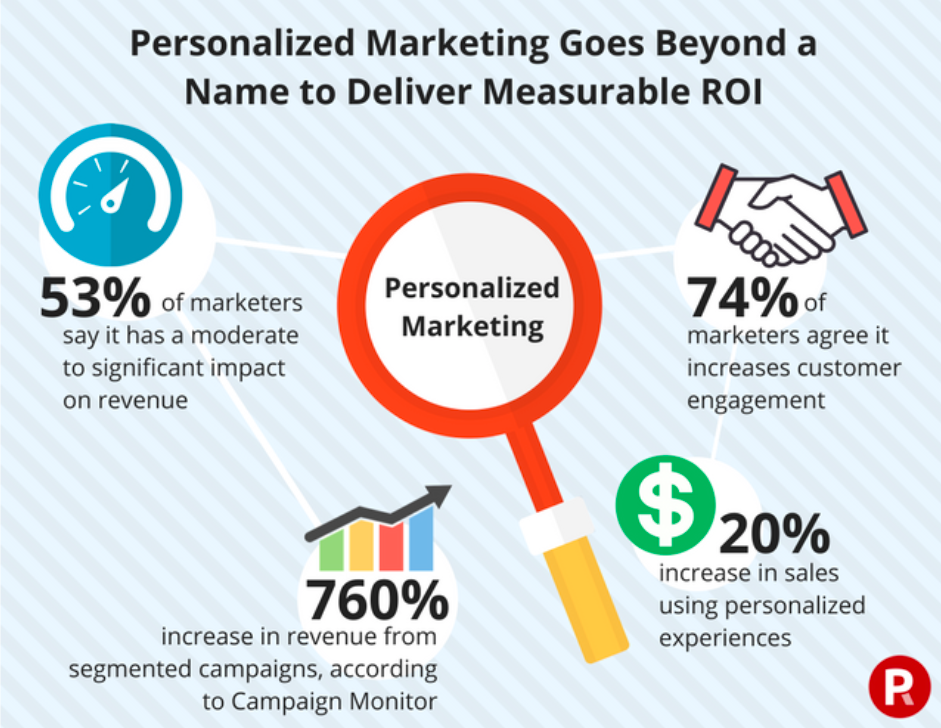 So how can you personalize marketing for your clients to leverage these benefits?
Picreel guest author Mary Ade offers these suggestions for e-commerce sites to use personalized marketing to boost conversions, and we share some additional thoughts about personalization below.
Content
It's not realistic to personalize content on your client's entire website, but as Mary suggests, you can use dynamic content to customize the email and landing page experience for individual customers. While this technology is based on simple coding that pulls data from fiends in your CRM, the results can have a big impact, especially when you go beyond a name and personalize the content to speak to customer pain points.
Additionally, as mentioned earlier, you should ensure the content throughout your client's site is relevant and meets the needs of readers. When it solves a problem and answers "what's in it for me?" the content is naturally viewed as helpful and personal. Beyond the website, you can personalize content by sending recommended articles based on customers' past browsing history and subscription preferences. Finally, delivering content via a customer's preferred channel shows them you're paying attention and respect their time. For example, if a customer has never opened a single email from your client, but they click all the blog posts shared on social, then social is their preferred channel of communication.
Email
Email marketing is one of the easiest ways to personalize your marketing. Marketing Automation Platforms (MAPs) make it a snap to segment lists based on any identifiers you'd like, and then use those lists to send personalized content. For e-commerce sites, it's common to see segmentation based on location, engagement with past and current email campaigns, and order history, frequency and value. While relevant and personalized content within the email is the most important part, emails with personalized subject lines are 26% times more likely to be opened. So don't underestimate the power off using your customer's name and a personal message in the subject to get their attention.
Product Recommendations
For e-commerce site, making relevant and timely product recommendations is one of easiest ways to influence shoppers and win repeat customers (recognize the image below from ecommerce giant, Amazon? They suggest related products for every product on their site). Many e-commerce platforms use technology to track browsing and buying habits in order to recommend related products that customers are more likely to purchase on a future shopping trip. Marrying this data with email automation allows you to send personalized messages with product recommendations to any prospect or customer you have an email address for. For site visitors that you don't have an email address for, you can still utilize retargeting to serve up personalized product recommendations as they continue to browse around the web.

Ads & Popups
Ads are a fantastic way to personalize your client's marketing campaigns. As mentioned before, Picreel integrates with popular CRMs to identify when a returning customer visits a website. Not only can a popup then be personalized with the person's name, but for e-commerce sites the overlay can also feature a product recommendation and even a special offer based on existing data. For example, if Julie spent more than $500 on her last shopping trip at your client's online store and is marked as a VIP in their database, you can personalize a popup campaign to present an "exclusive" offer to returning customers with that status. As with all ads, popups, and retargeting, the name of the game is relevance. Highly targeted and personalized content will win out over generic ads every day.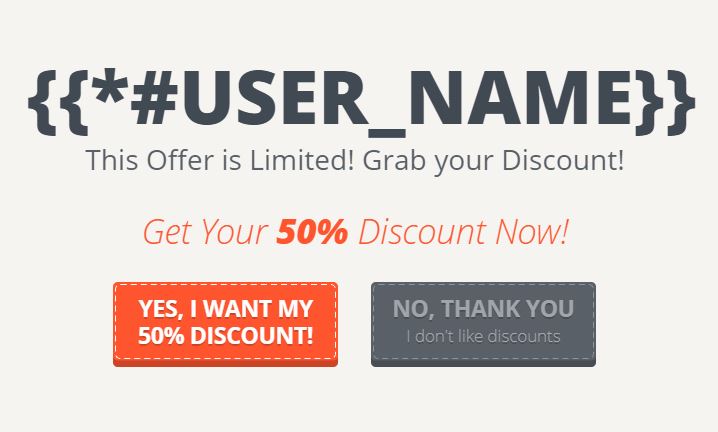 Mobile
Consumers spend as much as 5 hours per day on their smartphones, and only this week they broke the mobile shopping record in the US by spending $1.59 billion using their phones on Cyber Monday – up 39% from last year's Cyber Monday mobile spending. This proves consumers are getting mighty comfortable shopping and making purchases on-the-go, making mobile the next hot spot for personalized marketing. Because smartphones are so integral to everyday life, there are countless ways for brands to personalize engagement through text, apps, and ads.
However, in Mary's article she offers some great tips for being conscious of consumer privacy and control, frequency, and relevance of content. Where CAN-SPAM exists to protect consumers against unsolicited email spam, the TCPA that limits the use of automated telephone equipment only extends so far into text messaging, and doesn't apply to apps at all. In many ways, we're in uncharted waters when it comes to mobile marketing, but common sense dictates that we can take some basic principles from email marketing and easily apply it to mobile: get permission, make it relevant, and don't be spammy.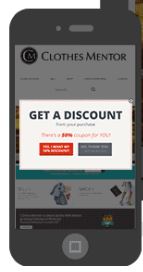 Social
Social media is a somewhat tricky place for personalization. It doesn't have the advantage of being a one-to-one channel like email, and because of algorithms governed by the social platforms, brands can't control what organic posts their followers see. What they do have though, is data about their followers that can be used to show select groups of people highly-targeted sponsored posts based on interest. Yes, it's paid advertising, but it's an incredibly effective means of personalizing the content of existing followers and netting new followers with similar interests.
Quick Tip: Picreel popup campaigns can be targeted based on where visitors come from, so combining a paid social post with a targeted popup packs a real one-two punch!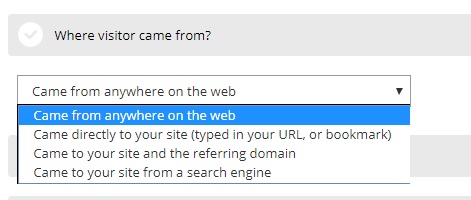 In-store (if applicable)
For e-commerce sites that also have a brick-and-mortar store, personalizing the customer experience in-person helps build brand loyalty and generate repeat customers. For small stores, it may be possible to learn customer names and preferences, but larger stores may need to rely on loyalty and rewards programs to track customers. When this is the case, be sure to personalize the checkout experience by thanking the customer by name and even recommending products and inquiring about past purchases ("Oh, how did that cocktail dress work that you bought last time you were in, Mrs. Smith?"). Yes, with technology it's possible to create this personalized experience in-store, even for huge companies where customers never see the same clerk twice.
Optimizing Your Client's Conversion Rate Is Easy With Picreel
Picreel is a conversion rate optimization platform that turns your clients' current website visitors into more subscribers and buyers – guaranteed. Our ReelOverlay, ReelSurvey, and ReelLink popups can be created and deployed within a matter of minutes, even if no one at your agency has experience using popups. We've built Picreel to be incredibly user-friendly, requiring no IT involvement or coding to create branded, unique, and highly effective popup campaigns.
Picreel Features:
One-Click Integration – Picreel works straight out of the box with more than 300 popular CRM, email, and marketing automation platforms, including all website and e-commerce platforms.


Templates and Easy Editor– Choose from more than 40 existing templates and follow the prompts to easily customize popups with your client's colors, fonts, logo, images/GIFs, and offers. No coding or IT knowledge needed!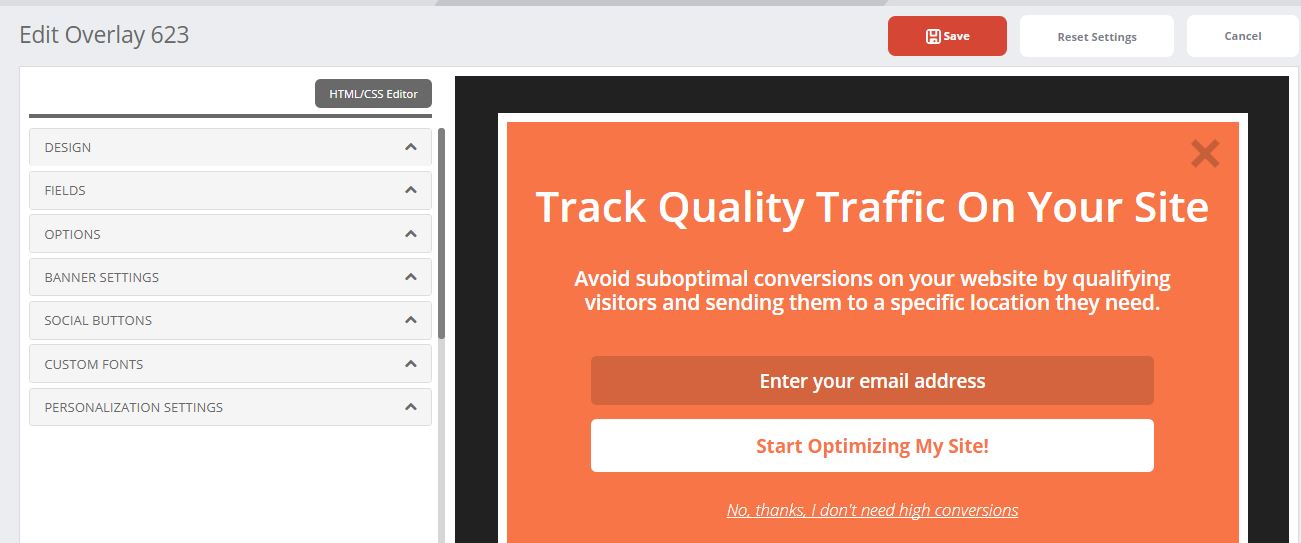 Customization – Create a truly unique popup campaign by uploading your own overlay design or using the HTML editor for advanced customization.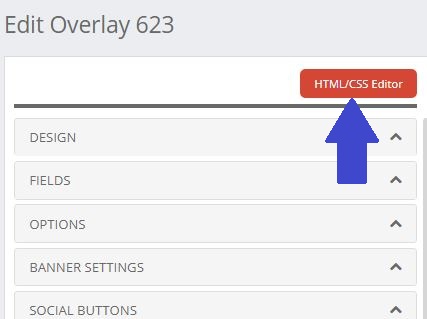 Analytics – Your agency's dedicated CRO specialist will help identify the most profitable areas of your clients' sites for personalization. Once a popup campaign is live, use your agency dashboard to track its progress and performance using real-time data.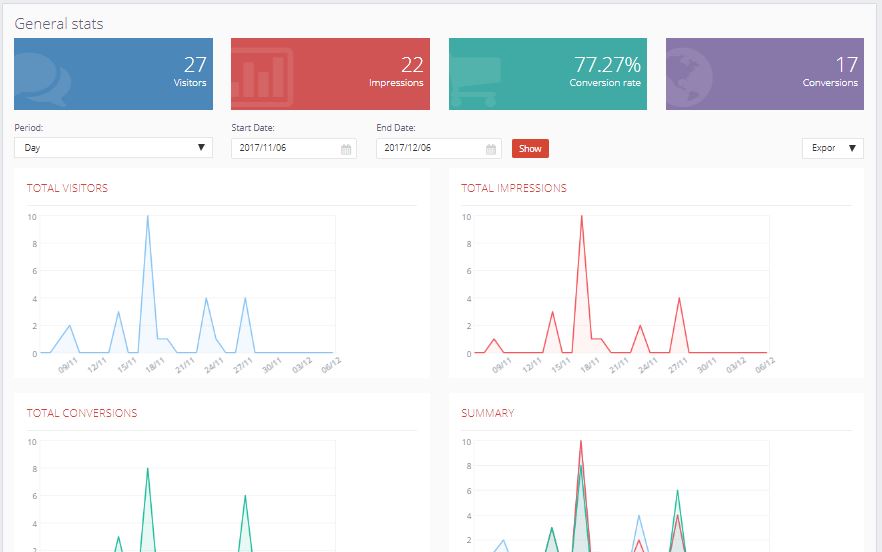 A/B Testing – Tweak design, wording, offers, etc. and test two variations of a popup campaign to see which is more effective.
Targeting Options – Targeting allows you to control where, when, how and the audience for each individual popup campaign. Target site visitors by behavior, mouse movement, timing, scrolling, referral source, and more.
Interactive Elements – Add click-to-call buttons, timers, share buttons and other interactive elements to engage site visitors.

Mobile Integration – Picreel's mobile popups work on Apple, Android, and Windows devices, and are fully compliant with Google's intrusive interstitials guidelines.
Dedicated Agency Plans Help You Succeed
If your agency is on the hook for CRO results, you need Picreel. We make it incredibly simple for agencies to implement popup campaigns for their clients, and we've designed our agency plans to help you succeed!
When you join Picreel as an agency, you get access to exclusive features including:
Dedicated CRO expert – Will perform a CRO audit of your clients' sites to identify opportunities for popup campaigns.
Advanced support – Receive priority support via phone, chat and email, and get access to advanced ad personalization services.
Unlimited access – No cap on the amount of websites and subaccounts you add.
Money-back guarantee – Increase your clients' conversion rates by 25% in 90 days or your money back.
Master agency account – Manage all your client accounts from one, convenient dashboard. Quickly see real-time stats, make campaign changes, and export data, without managing multiple logins.
PLUS – Everything our less advanced packages include.
Give us a call at 888-891-5782 or schedule a call online for a no-obligation agency quote, and to learn more partnering with Picreel to grow your clients' conversion rates, starting today!
Do you want instant business growth?
Picreel customers get a 15-300% instant increase in inbound leads & conversions.