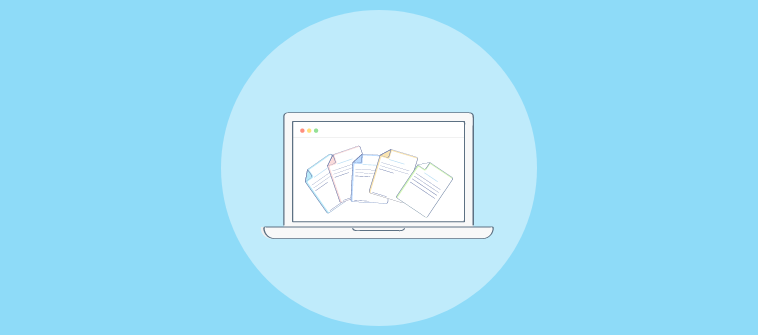 Email marketing is admittedly one of the most popular channels for eCommerce owners to increase their customer engagement. But here's the problem – pretty much everyone in the field is doing it. So, what can you do differently to stand out from the crowd? The answers are many, but generating fresh newsletter ideas for different occasions around the year to connect with your customers can help your marketing endeavors go places!
Before we start with the hows and whys, let's take a good look at what makes newsletters so incredibly effective in the first place.
A newsletter is a tool that businesses and organizations use to share relevant and valuable information with their network of customers, prospects, and subscribers. They allow you to access your audience's inbox directly with personalized content, promotional messages, sales, offers, and much more that all ultimately drive more traffic to your website.
Additionally, email campaigns are also easy to measure, which means you can track your progress and make meaningful adjustments to the content of your emails. You can also incorporate various links in the text body — the clickthrough rates will be another indicator of whether your audience reads your newsletter through to the end.
In this blog, we will provide you with a detailed rundown on
How to keep your email calendar filled with amazing monthly newsletter campaign ideas
Real-world examples of well-performing newsletters & how you can employ them to your benefit
Ways to utilize significant seasonal events to promote your products or services
Let's go!
Evergreen Monthly Newsletter Topics and Content Ideas
Coming up with email newsletter ideas every month can be daunting, but here's the good news — this medium provides you with ample freedom in choosing what to dole out to your subscribers. Therefore, you're unlikely to run out of content for your campaigns anytime soon. However, your efforts must also be directed toward getting the best possible results, and for that, you simply need to include the most effective ideas possible in your campaigns.
A study shows, the optimal frequency of sending newsletters to your customers ranges from twice per week to once a month. Although people commonly engage with their contacts mostly on the major retail holidays (think: Christmas, Black Friday, and Memorial Day), these events shouldn't be the only time when you establish communication.
Similarly, not every email newsletter needs to be about an offer or a deal. Some of the most effective newsletter ideas focus on strengthening customer relationships rather than generating revenue.
To get you started, here are some generic but efficient newsletter content ideas that you can use throughout the year.
Weekly news roundups: Keep your subscribers in the loop with fresh happenings relevant to your business. This will attract potential buyers to the right product without you having to push them directly.
How-to-articles & blogs: ECommerce stores ideally use these types of newsletters to double-dip their content and show off the products in use. For example, an apparel brand may promote its seasonal stock with articles like "How to bring together your best spring ensemble." Not only does it engage the recipients, but opens up a good chance of advertising the products as well.
Use of infographics: Let's be honest — in this era, fast is the fad. From food to media, nobody likes things that take a painstakingly long time to process. When it comes to reading through a wall of text, it's even more tedious and off-putting. Infographics convey consolidated information in eye-catching aesthetics that engage your readers much better. Use them liberally!
Social proof: Your customers are much more likely to trust products reviewed by fellow buyers than any glowing description you might attach along. Don't be afraid to garner customer reviews and share them in your newsletters. The accolades will possibly win over even the most skeptical of buyers.
Pro tip: A great, non-intrusive way of asking for reviews is to use a popup after your customer has made a purchase. If you offer incentives and collect more mailing addresses in lieu, all the better!
Polls & Surveys: Question-based newsletters act as a direct peek into your customers' minds in terms of their satisfaction level, expectations, and requirements. Serving as a natural call-and-response between you and your subscribers, they let you figure out exactly what people want from you in terms of offers and email content.
Coupons & discounts: Sometimes, spoiling your customers with a surprise discount or deal every now and then doesn't hurt. In fact, offering your recurrent as well as newer audiences something of value can potentially get you extra brownie points in terms of loyalty and repeat purchases!
Product FAQs: An FAQ newsletter can effectively promote your product while resolving your customers' doubts and queries all in one go.
Product of the week/month: Pushing your bestselling products to your customer's field of vision helps them avoid the "analysis paralysis" and nudges them just enough to make a concrete, positive decision.
Upcoming events: Anticipation builds conversions. Use a newsletter to push whatever new thing you have up your sleeve. Be it a future sale or a new product launch, your newsletter is the perfect spot to hype it up.
We have covered some general newsletter topics to give your business a solid starting ground. The rest of the blog will cover monthly newsletter themes that are more timely and calendar-specific.
Winter Newsletter Topics
Winter is a time of remembrance, quiet repose, rejuvenation, and, most importantly, celebrations galore! People wait for a new beginning while washing away the weariness of a year, and the time is peppered with as many festivals as it is with openheartedness, forgiveness, and hope. But what does this festive spirit mean for your business?
Explained by a phenomenon called Cold Weather Effect, it has been shown that sales rack up considerably during the colder months. This is because people usually have more time to spend indoors, have more occasions where gifting is a tradition, and even have a surprising psychological link with chasing away the wintery gloom with new purchases – especially online.
We can categorize our newsletter themes into broad swathes of
Holiday Season newsletter ideas (applicable for all three months mentioned below)
Special celebrations newsletter ideas
Gift Guides
Best Newsletter Ideas for December
December officially announces the onset of winter, and with people looking forward to a fresh beginning soon, the prospect of sales skyrockets exponentially in the chill. Below are some winter newsletter ideas you can capitalize on to maximize your profits.
1. New Year's Eve Newsletter
This is a time to welcome the fresh year with rambunctious parties, dazzling fireworks, and hopeful New Year goals. If you are planning to publish a newsletter, you can include a nostalgic, personalized recap of the key points of your journey with individual subscribers.
Additionally, this is also the perfect time and place to announce your business goals for the new year, dole out special offers to people interested, or ask your subscribers to provide an overall review of their experience with you. These all will serve as viable channels for increasing not only your revenue but also your customer relationships.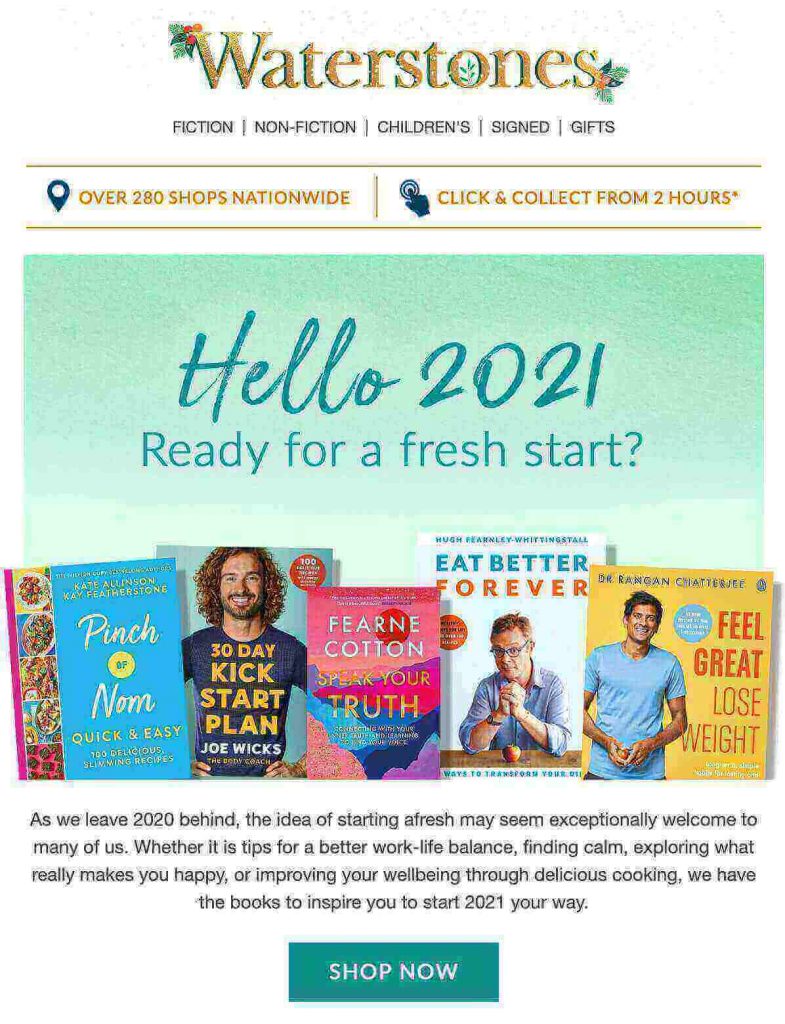 2. Christmas Newsletter
A religious and cultural festival celebrated by people worldwide, Christmas is one of the biggest revelries of winter and, daresay, even the year. It is when people gather as a family and observe special traditions — most of which revolve around gifts.
Because of this festival's nature, sales are at an all-time high, and people are more prone to buying things for their loved ones — big or small. As a business owner, you sure do not want to miss out on all the money you can make during this time. To make the most out of it, set up Christmas newsletters with time-sensitive coupons and gift guides with bright visuals to better catch your customers' eyes.
Here is a newsletter snippet from Paravel. They tactfully promote their selection of ideal gift ideas with the tagline "Sustainable and Santa approved."

3. Hype Up an End-of-the-Year Sale
Maintain the momentum that builds from Christmas with a steep sale to wrap up the year. Rather than focusing on a single day, consider the week from Christmas leading up to New Year as a shopping spree. This is the perfect time to dole out newsletters with product recommendations, personalized gift guides, specialized discounts, and bulk sales.
You can also reward your loyal customers with discounted bundles, coupons, promo codes, and other lucrative options just because or in lieu of a nifty subscription, recommending the brand to a fixed number of people, and more.
Bridget's holiday gift guide showcases the perfect example of personalized product suggestions for a holiday with conditional free shipping thrown in the mix.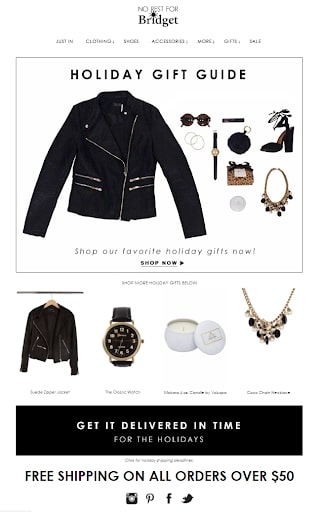 4. Hanukkah Newsletter
This Jewish festival of lights which lasts eight days and usually falls in late November or December, forms a huge part of almost all winter newsletter ideas. This year, the festival draws to a close on the 26th of December, and it's easy to envision families lighting candles, sharing dinners, and exchanging gifts to celebrate the spirit of joy, harmony, and hope.
To make the perfect newsletter for this occasion, you can wish all your subscribers a happy Hanukkah and suggest 10 ways they can spread the love this holiday season. Alternatively, you can also try including personalized gift recommendations, swag boxes, upcoming launches, free gifts on each purchase, etc., to bring in more customers.
Given below is a newsletter published on Hanukkah that perfectly captures the spirit of this festival with a simple, gorgeous wish.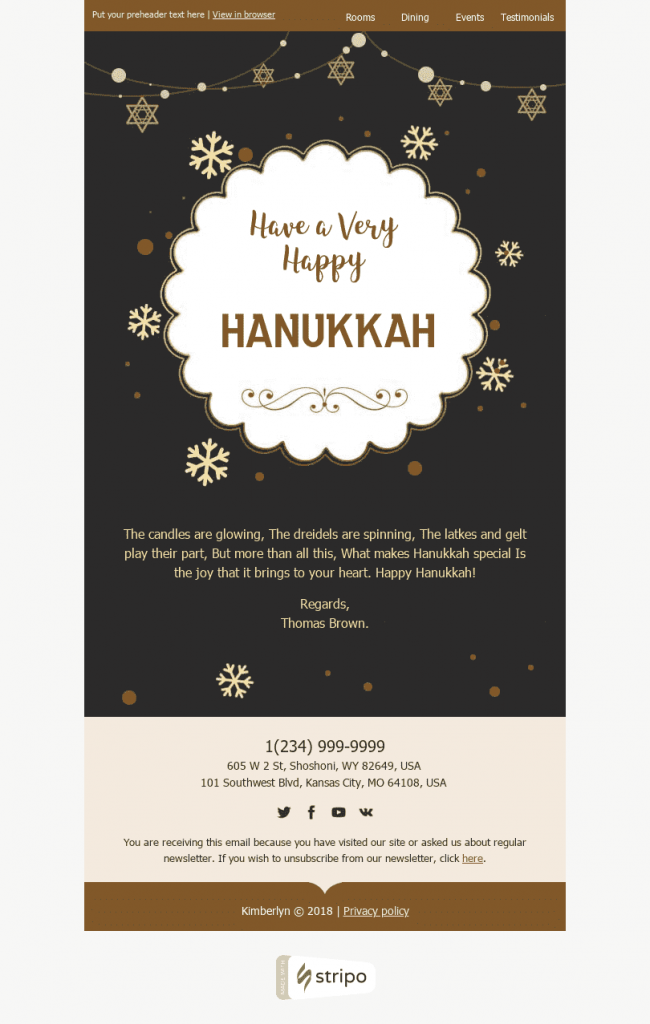 5. Boxing Day Newsletter
Celebrated the day after Christmas, Boxing Day is officially known as a shopping holiday now — although it originated as a day to offer gifts to the poor. Often considered a second Christmas by many countries, including Germany, Poland, Romania, Scandinavia, and the Netherlands, this day is a valuable opportunity to sneak in one last round of holiday sales before the year wraps up.
In keeping with the spirit of this festival, your newsletters can encourage your subscribers to give back this Boxing Day, mentioning some relevant nonprofits.
J. Crew's newsletter below humorously mentions, "Get yourself the things they forgot – we won't tell" as a way to announce their Boxing Day discounts.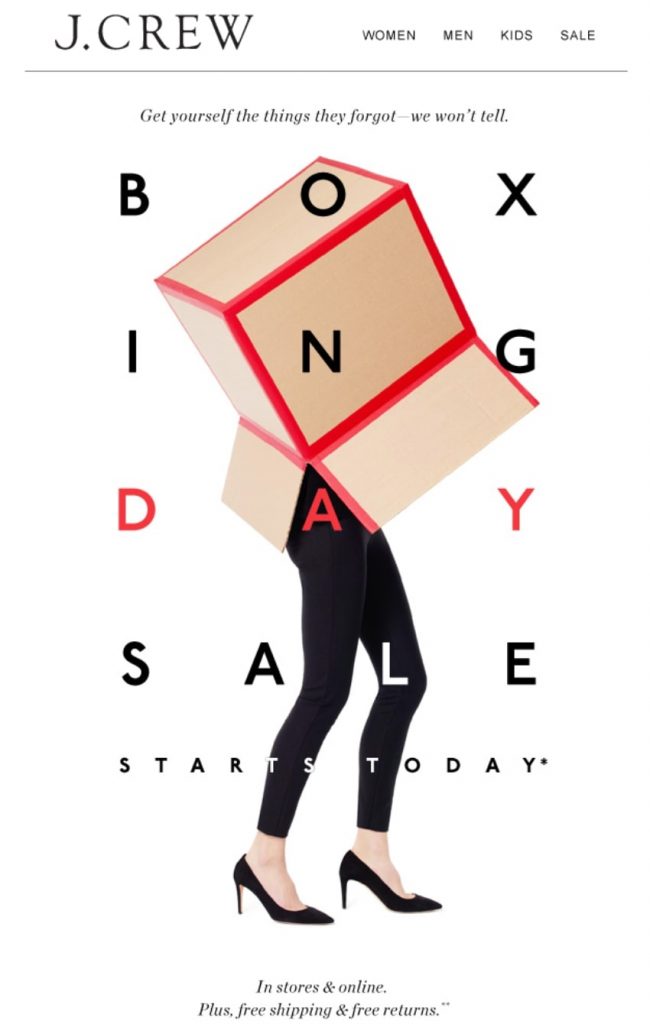 Best Newsletter Ideas for January
With the memories of the past year still fresh and people's spirits at an all-time high due to the near-constant string of festivities, January is the month to leave a lasting impression on your users. Here are some newsletter ideas you can employ to establish a solid email campaign.
6. Compliment Your Customers "Just Because" on National Compliment Day
Celebrated on the 24th of January every year, National Compliment Day offers a wonderful way to brighten someone's day or to give credit for a job well done. Seize the day as the perfect opportunity to shout out to your customers because it's the right thing to do!
Design your newsletter with a quick, thoughtful compliment to show your customers you care and stand out from the crowd. This is also the sort of campaign when a completely personalized subject line and product recommendations really shine!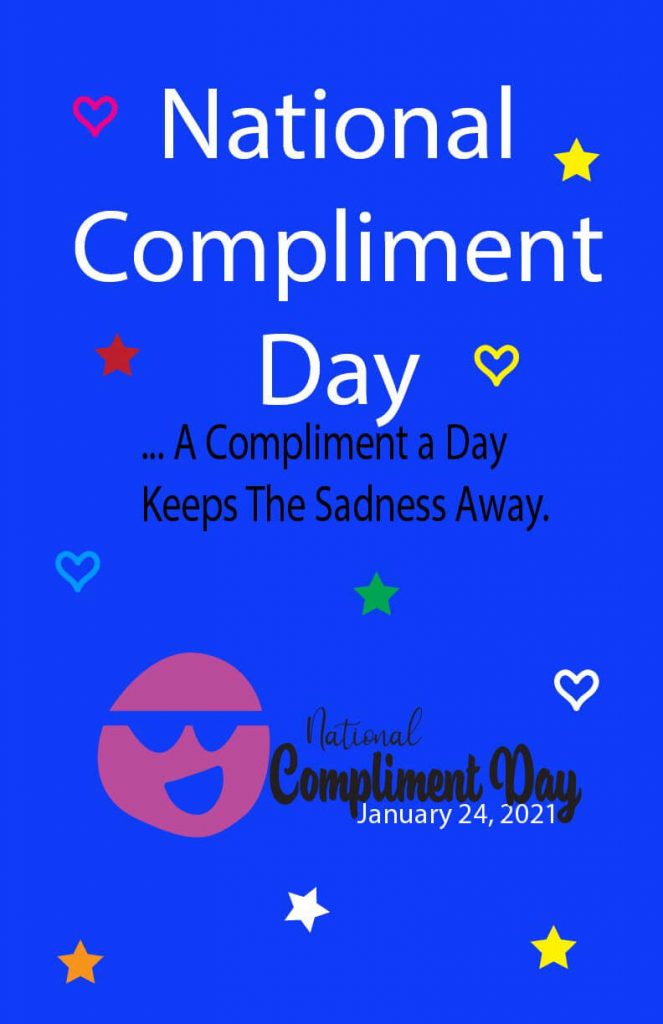 7. Inspire Subscribers with New Year's Resolutions
The new year stands for new goals and brand new beginnings for many people. Every year, people swear by teeth that they will change and improve their quality of life. Whether they actually end up following through is a different story, but the resolutions sure make this the perfect time to let your customers know about everything new you have up your sleeves. It is even better if the products can help your users reach said goals!
For example, most fitness and fashion brands use this time of the year to motivate their shoppers to invest in themselves. The promotions are positively reinforcing and make all the difference by making the brand seem more humane and personal.
Given below is a newsletter snippet from Zumba. It starts with a bold "New Year, New You" tagline that aligns well with one of the most common new year resolutions of the populace, promotes a new launch, and offers an attractive discount – all in one place.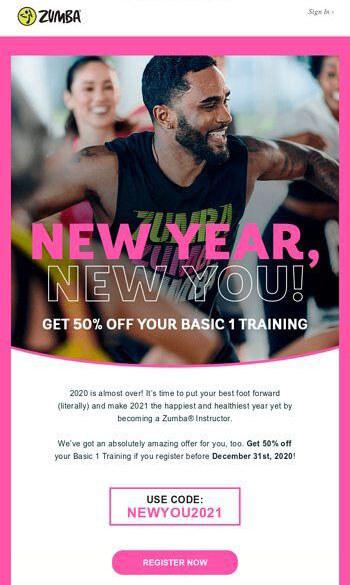 8. Hold an After-Holiday Sale to Clear Inventory and Fight the Post-Holiday Blues
With the weather turning increasingly bleak and the festivities coming to an end in January, shoppers often feel a dip in their moods. You can retain the holiday euphoria in some parts and brighten up your subscribers' day with a flash sale announcement through your newsletter.
You can frame this message as an inventory clearance sale or a way to beat the holiday blues. Bulk discounts and bundle gifts also work well in events like these.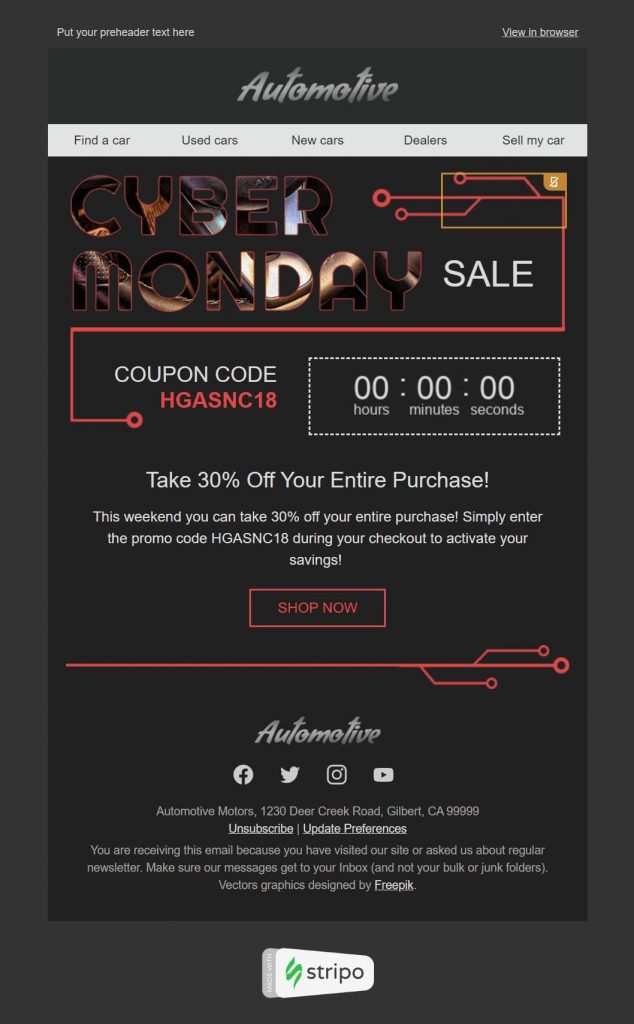 Best Newsletter Ideas for February
As we progress into the third month of the year and the last leg of winter, cold slowly seeps out to replace the air with love — or at least, that's what people say! Also considered to be the month of love, this is the time when romance blooms, friendships are forged, and sales skyrocket too.
Below are some "lovely" newsletter ideas you can use in February to woo your subscribers to boot!
9. Share Cold Weather Tricks and Tips That Feature Your Products in Action
Choosing between utility and style is a tough call for most shoppers. This is the ideal moment to show them where your products can come in handy. Show off all the new, fashionable ways your audience can warm themselves up, ideally using your products. For example, if you are a specialty coffee shop owner, you may share a few novel recipes to ward off the chill. Or, if we consider a home goods business, they could share ideas for a cozier home office.
Instead of implementing all of the strategies in your email newsletters, focus on the themes that represent and complement your brand, products, and existing promotions.
Here is a prime example of an advert cleverly disguised as a winter to-do list.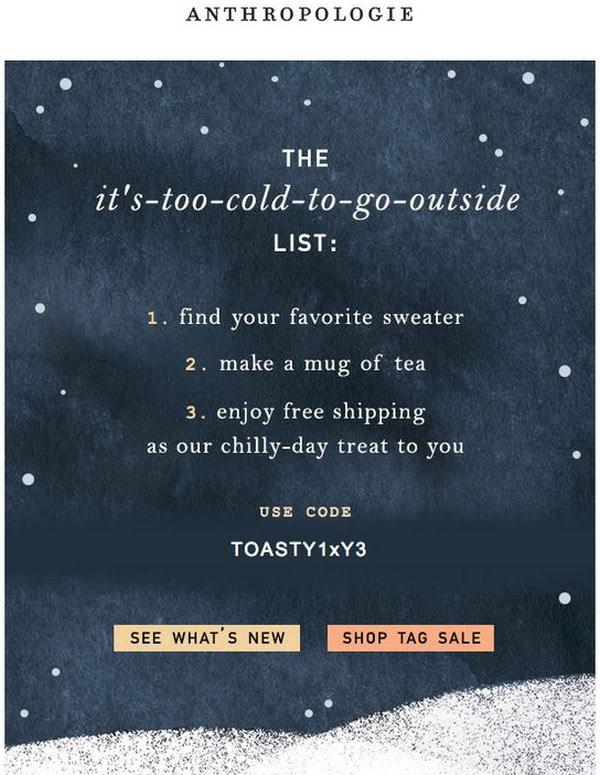 10. Send Valentine's Day Reminder
Cited as one of the biggest events to celebrate love, Valentine's Day remains a staple holiday for eCommerce stores all over the world to this day. After the economic stagnation most stores face post Christmas and New Year, this is the first valid opportunity that reopens the proverbial book to surging sales once again. Owing to the widespread popularity of the date, you can target a broad range of audiences in your campaigns.
You can suggest gift ideas through a newsletter to customers and offer them discounts on the products they buy during this period.
Here is an example of what a Valentine's Day newsletter might look like –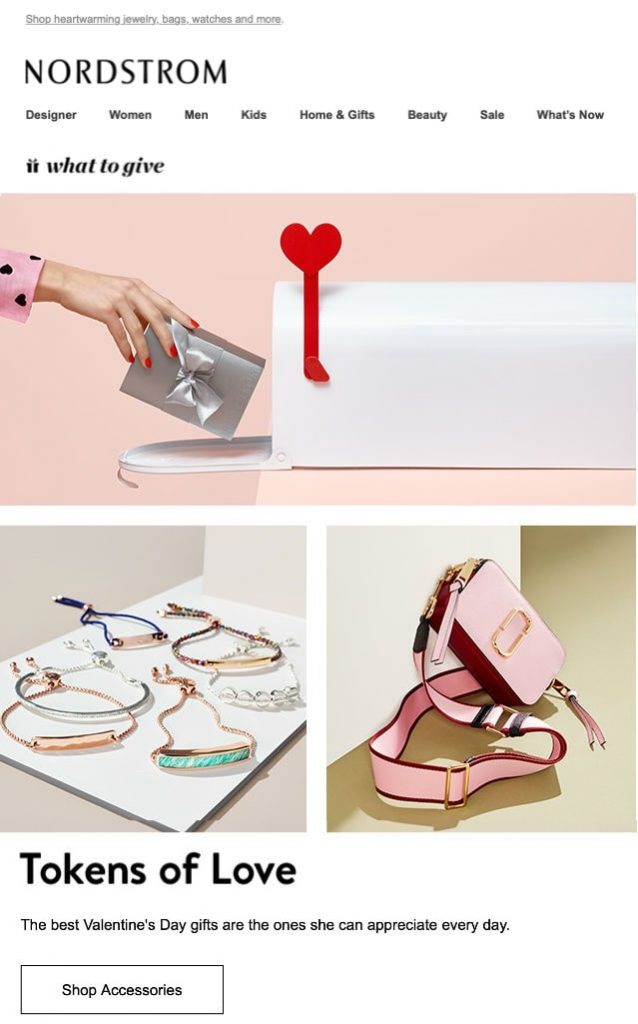 Spring Newsletter Topics
Spring is when the cold winter officially retracts its claws, and it is here when you can finally spread your wings! It's the season of new beginnings and hope, and as such, Spring email newsletters should come like a breath of fresh air too. They must be invigorating, energizing, and inspiring. Subscribers long for warm and sunny designs that herald changes in the weather, their moods, and overall – life. Everyone expects something good, so why not give your contacts what they want using cleverly crafted newsletter campaigns?
Here we go!
Best Newsletter Ideas for March
March is the first month of Spring and is peppered with significant events, some of them being popular worldwide and others – really unusual. You can always remind your customers about more things to celebrate in between the ones they already do! Listed below are some awesome newsletter ideas to make March memorable.
11. Wish Your Subscribers a Happy St. Patrick's Day
St. Patrick's Day commemorates St. Patrick – the patron saint of Ireland and the Irish-American heritage in general. The day is known for shamrocks, plenty of green, and lots of food! So, here's your chance to get festive and deviate from your usual company colors by featuring some green in your promotions. You can suggest gift ideas, fun play-and-win games, or offer discounts through email campaigns to bring in more leads and conversions on this day.
Wondering how a newsletter on this theme may look? Here's a perfect example of one that's both humorous and reflective of this day's spirits!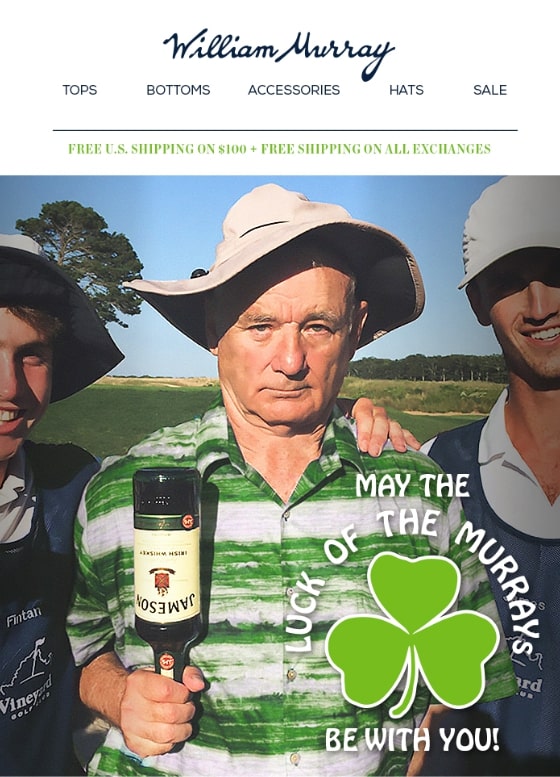 12. Surprise Your Subscribers for Pi Day
Pi Day is a fun mathematical day celebrated on the 14th of March every year to signify the number Pi (3.14). Founded in 1988 by physicist Larry Shaw, March 14 was selected because the numerical date (3/14) represents the first three digits of pi, and it also happens to be Albert Einstein's birthday. You can make the most of this through newsletters offering discounts, including printable mathematical puzzles for kids, promoting educational toys, etc.
Here is an example you can see for inspiration.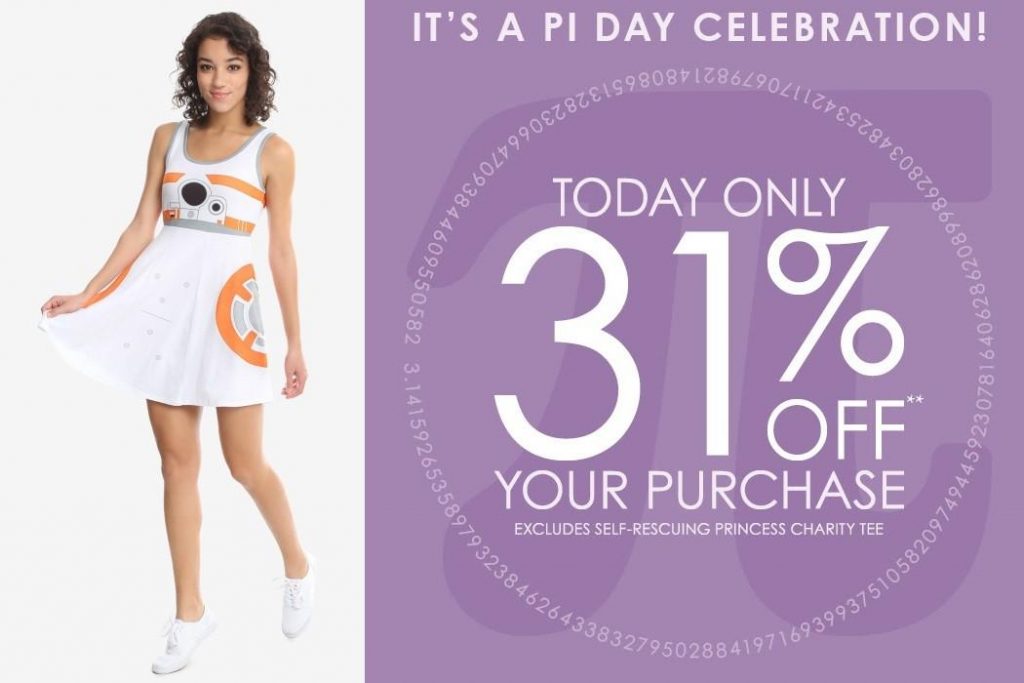 13. Celebrate National Puppy Day
March 23rd brings an overwhelming rush of cuteness every year with its celebration of National Puppy Day. Established in 2006, this day is a paw-some day for all dog enthusiasts to acknowledge the unconditional love for their furry friends. However, the day is also designed to raise awareness about puppy mills and help prospective pet owners consider adoption.
This can act as the perfect opportunity to engage with your audience through email newsletters, where you can include links to donation centers, volunteering-based projects, interesting facts revolving around the canine species, or hold photo contests with prizes. If you are a pet products store owner, you can use this occasion to notify your subscribers of new launches, free shipping offers, and the like.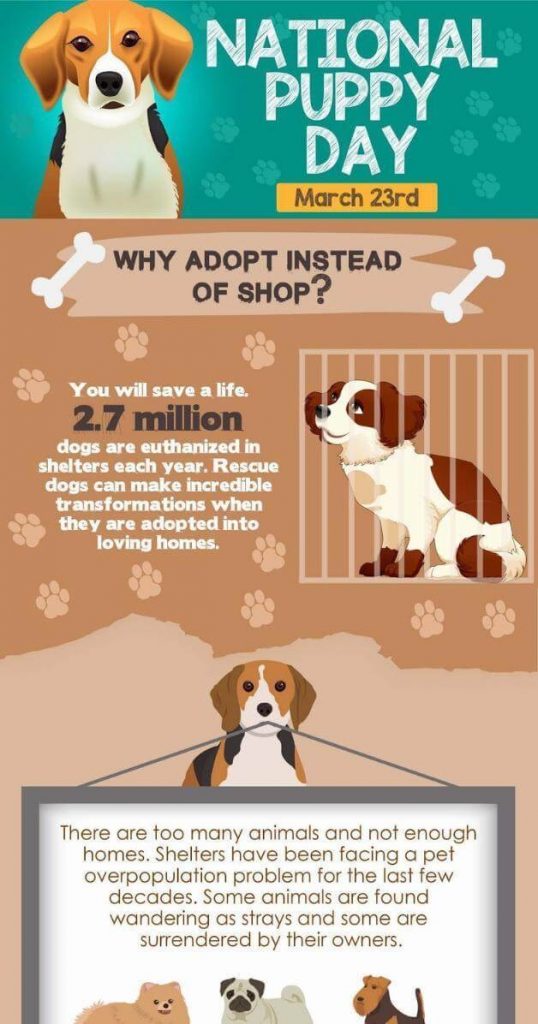 Best Newsletter Topics for April
April has a lot of days dedicated to a particular cause or idea. It is also when Spring is in full bloom, and your audience feels naturally more upbeat with the improved weather. This should also reflect in your newsletters as you craft them for the various events that take place this month!
14. Celebrate the Mother's Day
Mother's Day is one of the most popular events celebrated in April. As an appreciation for motherhood, maternal bonds, and greetings honoring mothers pour in, it also provides a great opportunity for brands to connect with their audience. You can directly send an email greeting card, sort out gift guides, or offer discounts on product bundles to make the day even more special for your customers.
With a large number of people scrambling to find the perfect gift for their moms at this time, a newsletter can up your sales fast if you provide exactly what they are looking for in your recommendations, and that too, at a reduced price or with lucrative deals!
An example of the same can be seen below.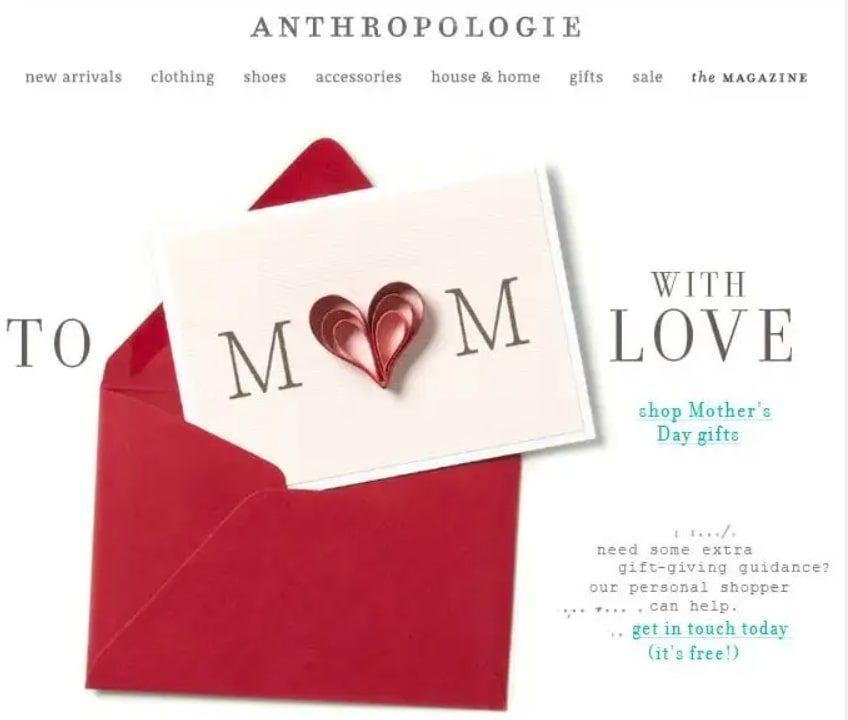 15. Get Playful with an April Fool's Day Promotion
It's April Fool's, and you absolutely cannot pass on the chance to humanize your brand to your audience with a little humor! The event is one for hilarious jokes and harmless pranks, and you can incorporate either in your newsletters through GIFs, bright colors, and punny copies while also making it functional.
If you've been itching to flex your creative muscles a bit in your emails, now is the time!
Here is an example of a newsletter campaign that shows how a product promotion can be placed in a fun, imaginative format.

Best Newsletter Ideas for May
May has a plethora of occasions to celebrate with your customers – from public holidays to sporting events – this month offers you with ample opportunities to engage with your customers in a fun, creative way. Here are some of the events you can send your subscribers a newsletter to and boost your sales.
16. Memorial Day Newsletter
Although chiefly observed as a federal holiday in the United States for mourning the deceased military personnels in the US Army, Memorial Day means different things to different people. The unofficial start of summer, American patriotism, family gatherings, or long weekends off of work – one of these is bound to resonate with your subscribers, and you can create your newsletter focusing on it.
Given that attracting footfalls/driving sales is one of the main objectives of Memorial Day, you can dress up your offers creatively so as to stand out from the crowd and market your brand effectively.
Below is an example that shows exactly what we are talking about.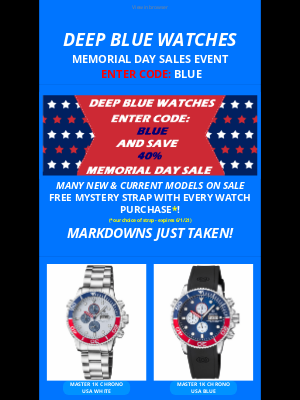 17. National Bike Month
The entirety of May is celebrated as the National Bike Month, as promoted by the League of American Bicyclists. Established in 1956, the event is a chance to showcase the many benefits of cycling, and encourage more people to participate in the practice.
If you are a sportswear brand, this is the perfect time to promote your wares, especially ones related to biking. If not, you can still grab the opportunity to connect with your customers through newsletters promoting the benefits of biking, organizing a small biking competition, or even offering discounts on select items.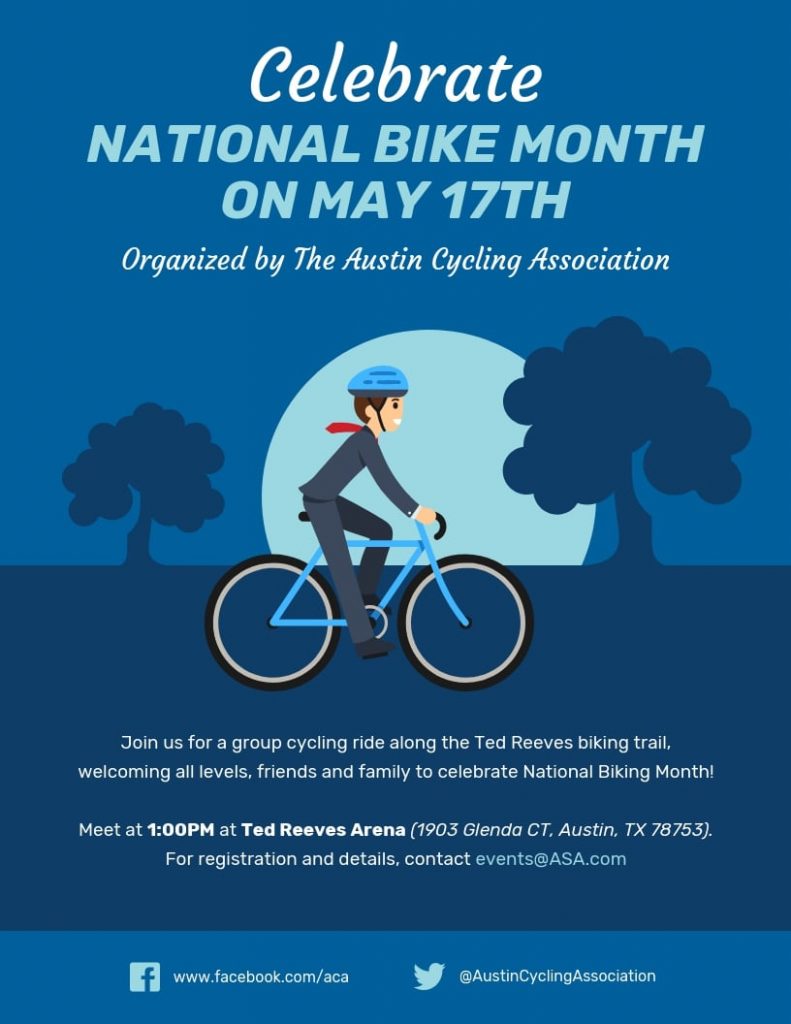 18. Hype up a Cinco de Mayo Celebration
Cinco de Mayo, literally translated to "the 5th of May", is a popular Mexican holiday that started off to celebrate the Mexican army's win over France during the Franco-Mexican War. However, it has evolved today to be much more and is now observed as a celebration of the Mexican culture and heritage as a whole.
If you are planning on sending a newsletter to your subscribers on this day, make sure to make it as bright and visually erratic as possible, for Cinco de Mayo is a synonym for fun, colors, breaking free, and enjoying life!
Check out this colorful newsletter example below to get a better idea.

Summer Newsletter Topics
There are as many summer newsletter ideas as there are ice cream flavors, especially when you count all the holidays and special events that roll out this time of the year. That's great news for most brands and sellers, as it offers just the right opportunity to form engaging newsletter campaigns centered around these themes.
Let's take a look at all the events you can make and dispatch a newsletter for.
Best Newsletter Idea for June
June is when summer officially starts, and the hot, arid season has many scrambling to find simpler, cooler things to incorporate into their lifestyles. June is also the month of festivities, including celebrations for weddings, Father's Day, summer travels, and fresh-out-of-school graduates. If you are planning on sending newsletters to your subscribers, June is the perfect time to be "cool" about it!
Let's see how.
19. Celebrate Father's Day
This is a relatively smaller holiday than others, but a significant one nonetheless. Father's Day is when people show their love and appreciation for dads, and much like its other counterpart (Mother's Day), it's also an opportunity for you to connect with your customers. And what better way to accomplish it other than email and newsletter campaigns filled with warm wishes, gifts, gift suggestions, coupons, and discounted bundles?
Check out this example of a cool Father's Day newsletter card below.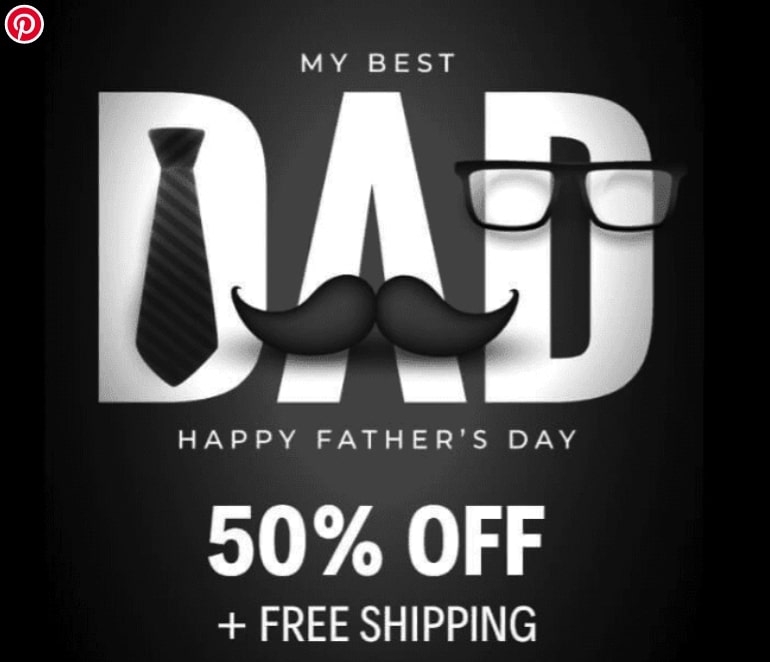 20. Come Up with a Creative Travel Contest
With the weather warm and spirits light, a short, refreshing trip is on pretty much everybody's minds this month. You can hype up the idea through newsletters announcing a travel contest in creative ways. Embed a spin-the-wheel game, quizzes, or random entries with a lucky winner to make it interesting!
21. Launch a Special Promotion for Recent Graduates
June is also when students graduate from their existing curriculum and look towards expanding their education further. A newsletter can come as a much-needed resource to help young scholars look for colleges; you can include information about some of the institutions, offer discounts on common stationary supplies, or just offer your best wishes on their journey forward – to name a few ideas.
Best Newsletter Ideas for July
With most people headed deep into the summer retreat mode, you might think there's not much else going on to inspire your July newsletter ideas. Well, you're in for a surprise! Besides one of the biggest American holidays (Independence Day), the turn in the weather towards monsoon provides enough opportunities to be creative about your content.
22. Create a Weather-Centric Campaign
For this month, you can keep a tab on the weather and create newsletters appropriate for it. For a sunny spell, a newsletter organizing outdoor sports events or beach cleaning is the perfect opportunity to engage your customers. For rainy days, offer gift cards or discounts on beverages, rain gear, or other suitable services to further your campaign.
23. Show Off Your Independence Day Pride
Independence Day (also known simply as the Fourth of July) is a federal holiday in the United States commemorating the Declaration of Independence of the United States. It is a hugely popular holiday that Americans celebrate with fireworks, barbeques, community gatherings, and other fun summer activities.
For a successful newsletter campaign on this day, you can provide your subscribers with the ingredients for a fool-proof, fun-filled Fourth of July weekend – be it a call for local activities, essential supplies, or delicious recipes centered around this theme.
Check out this newsletter by Brit+Co that nails all of the above in a fun, innovative way.

Best Newsletter Ideas for August
August heralds the end of summer – at least, officially. It may not have as many events as the rest of the months, but you won't feel any dearth of ideas for your newsletter campaigns, that's for sure. With the season coming to an end, most sellers are busy clearing the racks to welcome new arrivals in their place. Now is the perfect time to push mass discounts and promote the sales through emails. This amps up your conversions drastically and helps you build a loyal following – all at the same time.
Aside from that, August is also when most schools and educational institutions reopen, so a campaign with that as the central theme is also a good idea.
24. Run a Back to School Marketing Special
Strap on your backpack, because the Back to School season is back! With customers searching for brand-new products to get ready for the upcoming school year, it's the second most important retail period right after the winter holidays.
For your newsletter, include budget-friendly product bundles, coupons, and flash promotions to attract sales. Consider offering special discounts, such as students-only deals, to win over your target audience. Other ideas to attract footfalls and engage your subscribers are blog posts, shopping guides, product reviews, downloadable checklists, etc.
Here is an example of a perfect back to school marketing that you can take note of.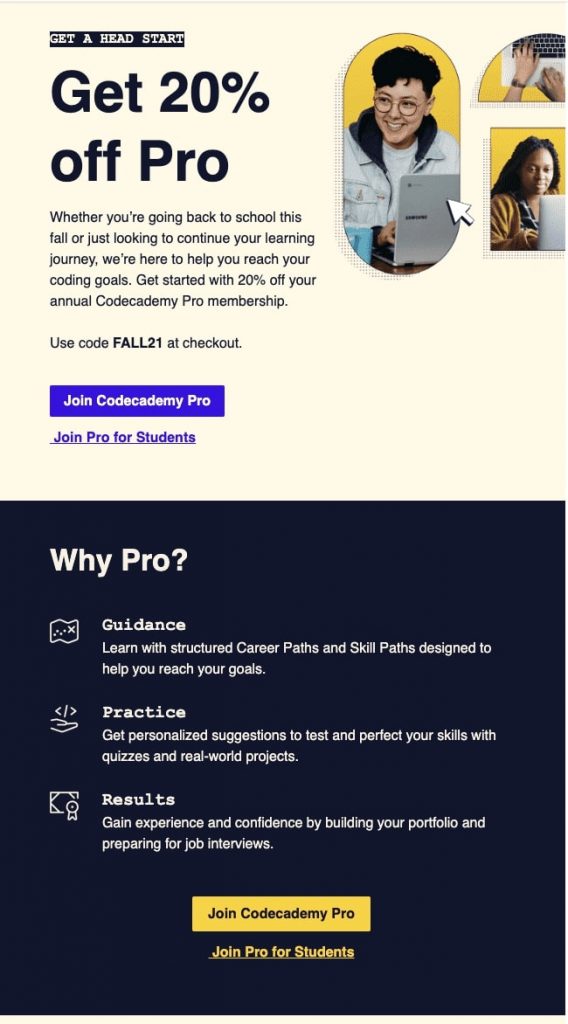 25. Hold an End-of-Summers Sale
With summer ending, it's time to clear the racks for fall. A summer clearance sale is a great way to thank your customers and make a fresh start. Now that you have the idea in place, here are some tips to make your newsletter appear appealing to your readers.
Create a FOMO on your deals by letting customers know they won't be around for long.
Add humor and positivity to your message if it feels right for your brand.
Include a compelling Call to Action to tell your readers what you want them to do next.
Here's an example you can take note of before crafting yours!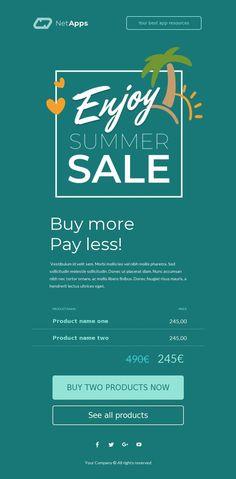 Autumn Newsletter Topics
Autumn straddles the line between summer and winter perfectly and is a huge opportunity for sellers to see a boost in their conversions. Autumn is peppered with a litany of fun festivities of its own while also seeing a surge in shoppers making purchases for the upcoming winter holidays. With both well-known celebrations like Halloween and Thanksgiving, and a plethora of smaller, lesser-known ones, you will likely have more than your fair share of newsletter ideas this season.
Let's explore!
Best Newsletter Ideas for September
This month marks the arrival of fall, and for brands, mostly heralds the beginning of building momentum for the year's fourth quarter. As always, email campaigns form an important part of the marketing plans carried out by most. However, September doesn't have a lot of popular events to pitch for, and you must rely on the ones bound to strike a chord universally to keep your engagement afloat.
Here are a couple of such days you can reach out to your subscribers –
26. Provide Book Recommendations in the Spirit of National Reading Day
September 6th is officially recognized as National Read a Book Day. The event encourages more people to pick up a book, read it and spread the joy of words around by retelling the stories. You can contribute to the culture by sending out newsletters with a personalized list of recommended books, complete with blurbs and reviews.
Alternatively, offer coupons, free shipping, or discounts on book bundles, organize book exchange programs, or arrange thrift/used book sales in your newsletters to up the engagement game!
27. Put Together a Labor Day Campaign
Labor Day falls on the first Monday of September. It's when we pay tribute to the workers keeping the American economy strong and stable. For consumers, it's also a final chance to get together with family and friends before summer fades to fall.
The long weekend is known for massive sales as it marks the bridge between summer and fall when many retailers need to clear their stock for new seasonal products. For newsletters, entice your customers with the promise of Labor Day discounts, promotions, and time-limited offers. To stand out from the crowd, invite subscribers to take advantage of the long weekend with special Labor Day vacation deals and organize BBQs, trips, etc., to name a few.
An example of a brilliantly crafted Labor Day newsletter is given below for you to peruse.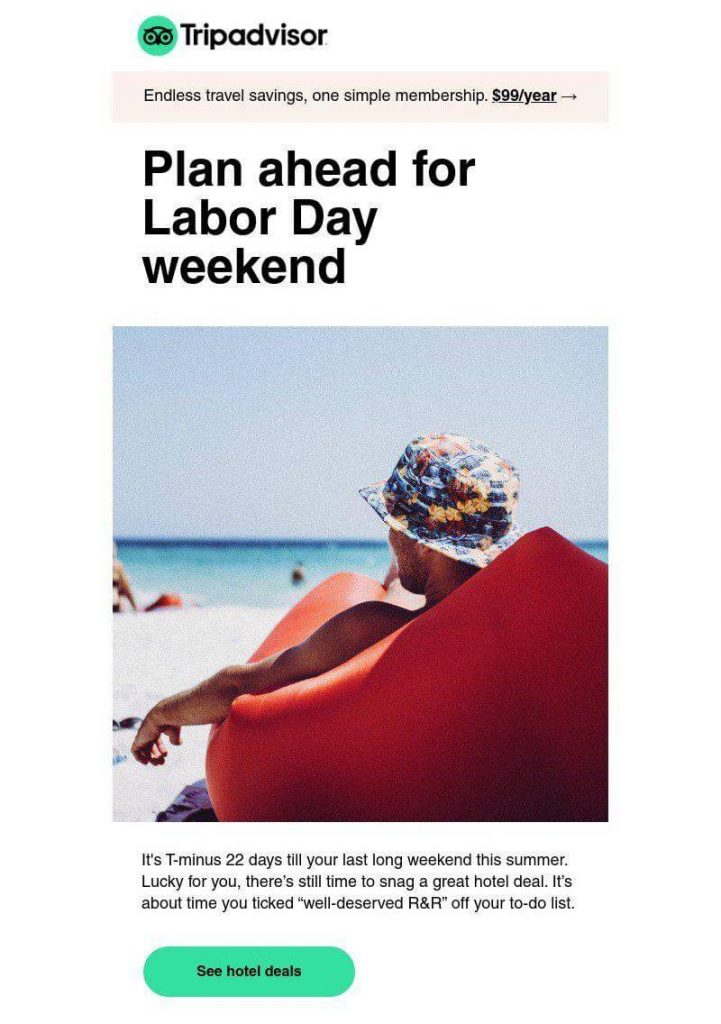 Best Newsletter Ideas for October
October is a big name for people worldwide, but you'd be wrong to think it's just for Halloween! Okay, we are admittedly more than a little hyped for the spooky season, but there's more to this month that provides you with opportunities to connect with your customers.
Here are all the events you can draft and dispatch a newsletter to your customers for.
28. Hold a Pumpkin Carving Contest
October is incomplete without pumpkins! From delicious pies to creative Jack O' Lanterns, this fruit finds itself in almost all the fun activities held this month. Invite your subscribers to a creative pumpkin carving contest to spice up the month even more! It's also a great chance to engage and draw more people to your brand if the contest is a group event involving family and friends. You can incentivize the entire affair by offering rewards for the best carved pumpkin, either as free products,discounts, free shipping, or a feature on your webpage.
Check out this newsletter example below to see how you can craft yours!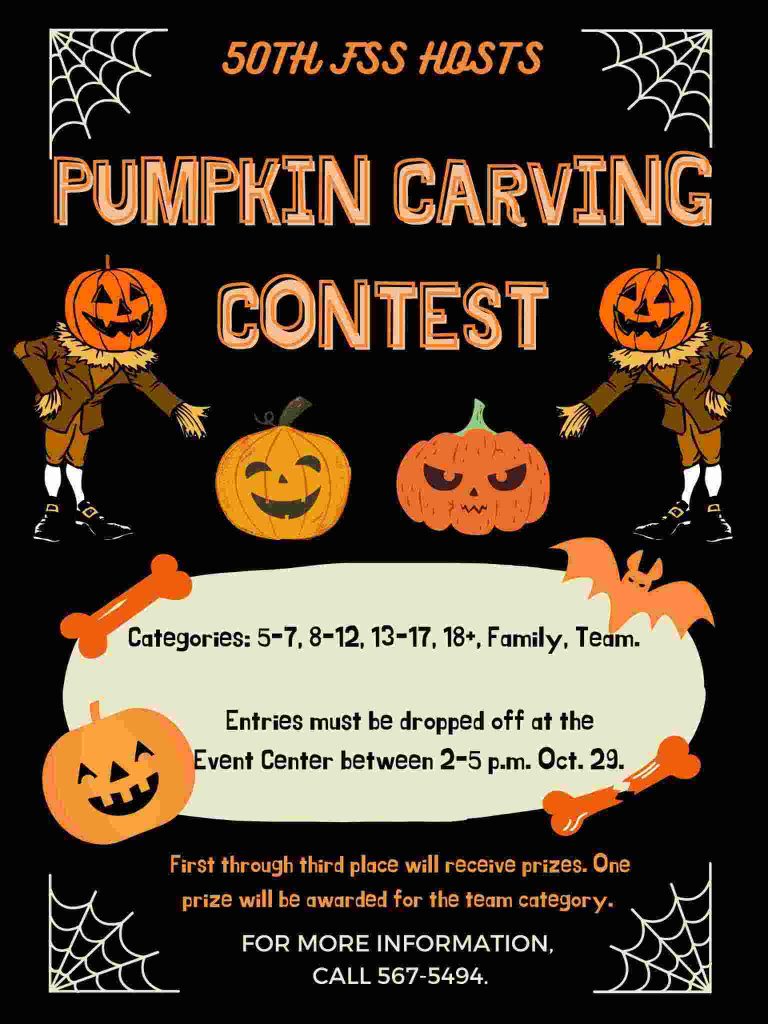 29. Halloween Campaign Newsletter
Trick or treat? It's that time of the year again when you open your doors to spooky costumes, buckets of candies, and awesome email marketing ideas. Not only is Halloween the perfect holiday to run fun campaigns that your customers will love,it can also lead to a monster sales boost.
For your Halloween-themed newsletter, offer trick or treating fests, host a Halloween party, or show off your limited, special edition launches in a fun, eye-catching email rife with emojis, fearsome puns, and sassy openers fit for the event.
Check out how this newsletter below uses snappy one-liners to pique the readers' curiosity!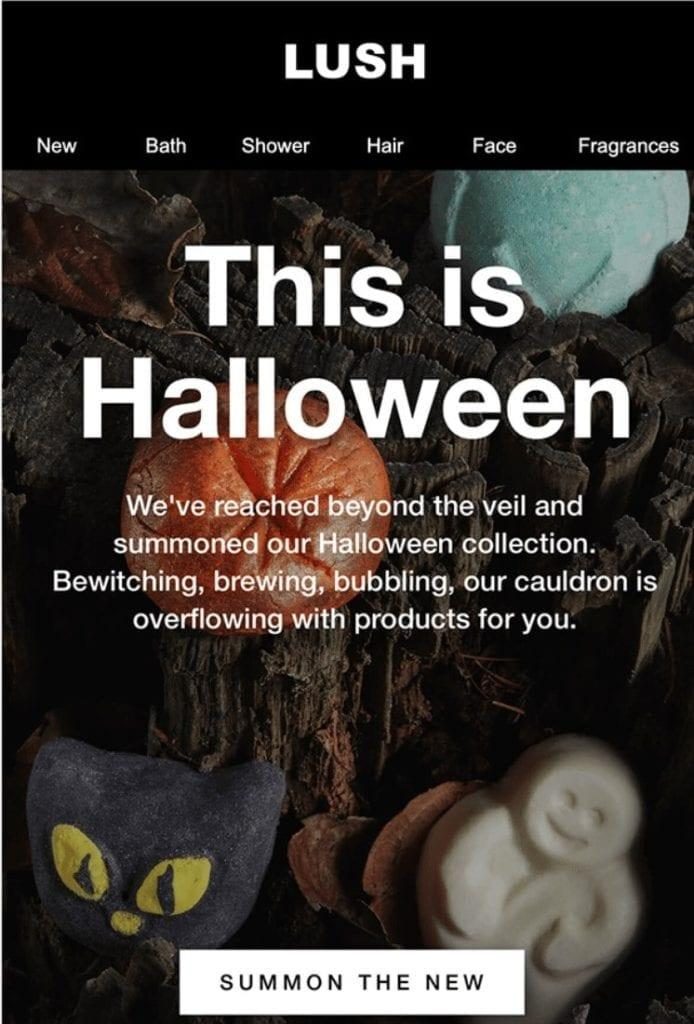 30. Shout-Out to Fellow Business Owners for National Boss' Day
Running a business is tough, and while we are rife with appreciation for our customers, there's somebody who often gets overlooked as the "behind-the-scene" guy. Yess, bosses, we are talking about you! On October 16th, National Boss's Day, also known as National Boss Day or Bosses Day, recognizes the hardworking boss overseeing the workplace and keeping the system running smoothly with outstanding balance.
A little praise goes a long way, so use this day as an opportunity to send an "I see you" email to your fellow business owners. This not only strengthens your relationship with your competitors, but opens the way for a cross brand promotion as well!
For inspiration, check out this newsletter example below!
Best Newsletter Ideas for November
The year is almost ending; the air is heavy with festive spirits, and most of us are in eager anticipation of the holidays knocking at the door! This is also the time for you as a brand owner to buckle up your marketing game and strengthen your engagement with the customers, because "Behold! Winter is here", and so are your new stocks!
Two of the most important celebrations held in November are Thanksgiving and Black Friday. With how sales go up exponentially around these dates, if you miss out on sending a newsletter to your subscribers now, trust us, you are missing out on a lot!
31. Build a Compelling Black Friday Sales Campaign
.Black Friday is the colloquial term for the Friday after Thanksgiving and traditionally marks the beginning of the shopping season for Christmas across the U.S. For both ecommerce and small businesses, this day is a huge sales driver and with everybody offering deals and discounts, the competition to garner footfalls gets fiercer than ever. You must stick out from the rest to get yourself some good sales, and a newsletter campaign is just the perfect thing to propel you forward.
The ways are many, but one solid advice to remember when crafting your newsletter is to create a sense of urgency around it. Include timed deals, live countdowns of how many people are eyeing a product, offer limited-time discounts, free shipping, etc., to get your subscribers to consider you. But most importantly, try to stand out with your products and offer something unique at a price that only you can provide.
Here is an example you can check out to visualize it better.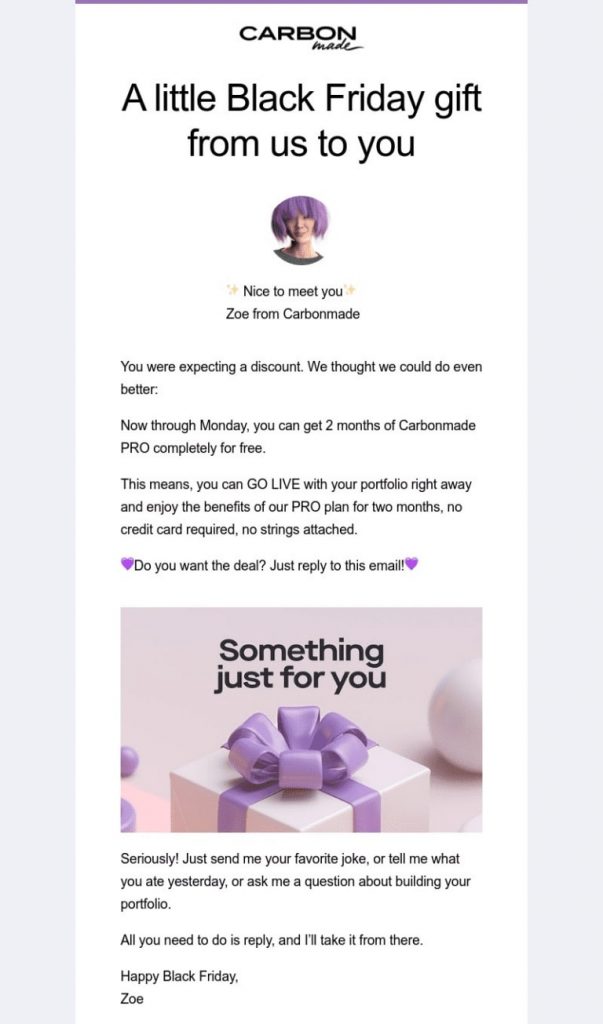 32. Run a Thanksgiving Campaign
Celebrated on the 24th of November every year, Thanksgiving is a U.S. National holiday marked for expressing gratitude for the blessings of the past year and is typically concluded with a feast. From a marketing perspective, it's also one of those events where sales skyrocket with all the holiday shopping and Thanksgiving gifts that commence.
Craft a newsletter to make full use of the day. Wish your subscribers a happy thanksgiving and have a special discount in your email marketing campaigns to celebrate the occasion and express your gratitude for their loyalty.
You can also promote your Christmas collection or announce new launches within the same space. Include gift bundles and offers for your customers to make them feel even more special this holiday season!
Example – this newsletter cleverly promotes itself by reminding subscribers that they're going to want a comfy place to curl up after the Thanksgiving food coma!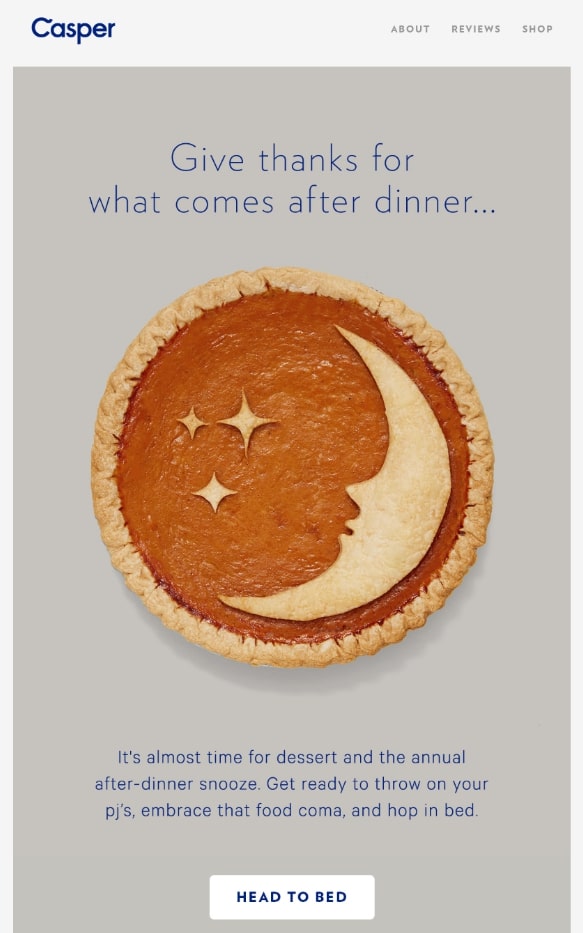 Wrapping Up
With these 30+ newsletter ideas to keep your readers engaged, we can assure you that your emails will be met with eager enthusiasm every time you send them. Aside from increasing your brand's engagement, the strategies are also bound to bring forth a surge in your sales, no matter what time of the year.
If you need more subscribers to send your beautifully crafted emails to, Picreel is hands down the best tool you can use to create lead capture forms and grow your mailing list.
For any further assistance, talk to us. We promise we are always listening!
Do you want instant 300% growth?
Picreel popups can get YOUR website 300% instant sales growth. See Case Studies.