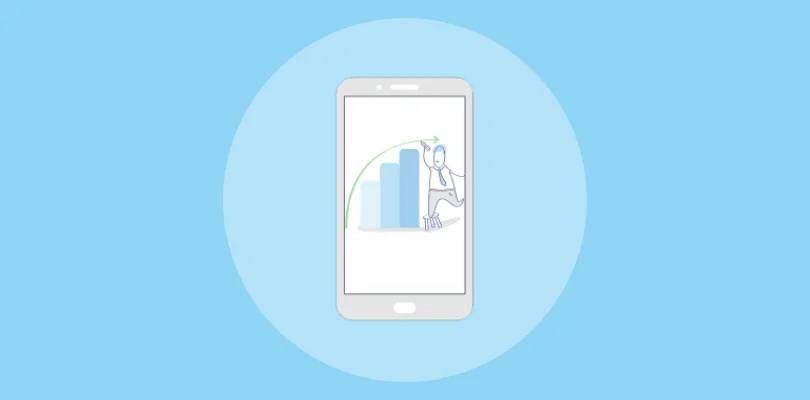 First-time visitors to your website are unsure of your products and services. They have difficulty placing that first order. Here, social proof apps come into play. Letting your customers know that others are also buying from you can motivate them to do the same.
Marketers want people to trust your brand. Trust generally comes when they see positive reviews, have a story to follow, or if the brand carries a positive reputation. However, first buyers are few. As most people buy from the companies they trust, marketers use popups to encourage customers to make the purchase.
Companies need social proof apps to create that foundation of trust from the get-go.
Not all social proof apps are made equal.
So, companies need to choose the right app. This post will cover the key features and list the best applications for social proof in descending order.
What is a Social Proof App?
Social Proof App is a tool that offers potential customers information about their peers' activity on the website. It can include information like '500 copies already', ' 1500 satisfied customers, and other such prompts that can generate trust. Moreover, it can include information on how many people have already signed up for the event.
Social proof apps are a crucial tool for sales management. The sales management team works on the sales cycle and facilitates coordination between every sales funnel process to boost sales. This team's efficiency at work has a direct and positive correlation with the company's net sales. Hence, companies need to invest in social proof apps.
To achieve the desired results, sales managers use various sales management and productivity tools to make the sales process more effective and efficient.
Customers look at each other's behavior in unknown situations. Especially when it comes to new websites, convincing people to trust the website is among the biggest challenges for website owners. Here, social proof marketing can be a gamechanger.
Social proof includes any content by the shopper's social peers that the business can use as social proof. Examples of social proof include user reviews, social media engagement, testimonials, and product ratings. Some companies also use real-time notifications. These notifications pop up every time a person makes a purchase or adds an item to the cart.
Online shopping does not have normal social interactions and cues that help others make confident decisions. Social proof fills in the role of social signals for the customers and boosts sales.
What Are The Benefits of Social Proof Apps?
Social Proof Apps are useful for generating trust and credibility for site visitors. It is a tool that displays reviews, testimonials, and actions of other current users on the website.
Benefits of Social Proof Apps –
On-Page Advertising
Social proof apps are excellent for advertising your products. The popups can help make the product more enticing. Moreover, companies can promote other products they want to sell on the page through the application.
Lead Nurturing
Social proof popups are also an ideal tool for lead nurturing. A successful lead nurturing includes marketing and communication efforts to:
Listen to the customer's needs: Understand the types of products and services they like, and provide relevant other similar suggestions.

Provide relevant information and answers: Use the social proof popups to answer the most frequently asked questions upfront.

Build trust: Provide reviews, views, and other relevant figures to generate credibility for the brand and the product.

Increase brand awareness: Use the social proof tool to tell the customers more about your brand. It can include fun facts about your company along with an offer to get more conversions.

Creating connection: The copy of the social proof popup aims at maintaining a connection till the prospective customer is ready to make a purchase.
Social Proof apps will nurture the lead, which will help result in more sales, larger purchases and motivate leads to make purchases.
Reduce Dormant Leads
The use of social proof apps can significantly reduce problems like too many dormant leads, sales cycles being too long, less engagement, and practical analysis of nurture programs.
The use of social proof apps can help generate 50% more sales-ready leads at one-third the cost. In contrast, the lack of proper lead nurturing can result in poor performance.
Hence, using the application can result in significantly higher ROI for the business.
Upsell
Another benefit of social proof software is that companies can use it to get better income from the same customer. Use the popup to advertise a product that is more expensive. Or, use the tool to offer clubbing of several products together for a better discount.
Reduce Shopping Cart Abandonment
Social Proof apps also help lower cart abandonment. The uninterrupted website overlays give information about people who are interested in the product. The information makes the customer eager to purchase, leading to better conversions.
Table of 12 Best Social Proof Apps & their key features
S.No.
Top 12 Best Social Proof Apps
Top Three Features
Starting Price
1.
Picreel
1. Easy integration with other tools
2. A/B Testing Available
3. Detailed Reporting & Analytics
Starts from $39.97/month
2.
Fomo | Social Proof Marketing Platform
1. Highly Customizable
2. Translations
3. Refined Settings
$19/month (Free Demo Available)
3.
Urgencer ‑ sell with urgency
1. Create incremental Deals
2. Number of guests on the page
3. Highly adaptable
Plans starting as low as $2.99/month
4.
Social Proof ‑ The Urgency App
1. Use of emojis
2. Customizable Widget
3. Mobile-friendly
$7.16/month
5.
Visitor Counter | POWR
1. Shows number of guests
2. Individual Page Configuration
3. Customizable
Free
6.
WOMI.io
1. Effective Instagram engagement
2. Increase in sales
3. One-click setup
Free
7.
Crowd Proof
1. Easy Setup
2. Lightweight
3. Simple On/Off
7-day free trial and $5.99/month flat fee
8.
Next Sale - Social Proof, Urgency & Growth
1. Increase conversions
2. Apply email and discount popups
3. Create urgency
Pricing starts at $29 per month
9.
Nudgify Social Proof + Sales Pop
1. Popularity Nudge
2. Review Nudge
3. Low Stock Nudge
Lowest pricing starts from $0.99/ month
Free trial also present
10.
VITALS: All-in-One Marketing
1. Builds Trust
2. Increase average order value
3. Get visitor sessions replays
Pricing starts from $29.99/month
11.
ProveSource Social Proof
1. Increases revenue
2. Creates a bustling atmosphere
3. Upsell and cross-sell automation
Free
12.
Sales & Social Proof
1. Add Real-Time Statistics
2. Exaggerate Data
3. Counter of People Watching the Product
Starting at $70 per annum
Factors That Determine The Ranking of the Best Social Proof Apps
Choosing the best application for providing social proof to potential customers is challenging. It requires understanding people's expectations and behavior thoroughly. Then, find a tool that is capable of achieving the right website overlays to get the results.
Here are the various criteria that were considered when creating the list:
Rating of the application

Search Engine rank

Prices

Features

App provider's reputation

Availability of customization

Mobile-friendly

Level of customization
As per the criteria, Picreel is the best social proof app for businesses. It is an affordable and highly-customizable application that yields results.
Best Social Proof Apps That Drive More Sales in 2023
Here are the 12 Best Social proof apps in 2023, per the rank criteria set above.
Picreel price starts from $39.97 a month.
Overview
Picreel is the ultimate social proof application. The tool comes with a diverse range of features, low price point, and a library of countless delightful popup templates that allow complete customization, putting it at the top of the list. Companies can use the application to create popups showing recent page views and activities like sales on the page.
These social cues can encourage customers to make purchases. Moreover, the timer or low stock popup campaigns help create urgency for faster purchases. But, the best popups that companies can create using Picreel are exit-intent overlays. They are ideal for grabbing the customer's attention while they are leaving and getting them to convert using social proof and other offers.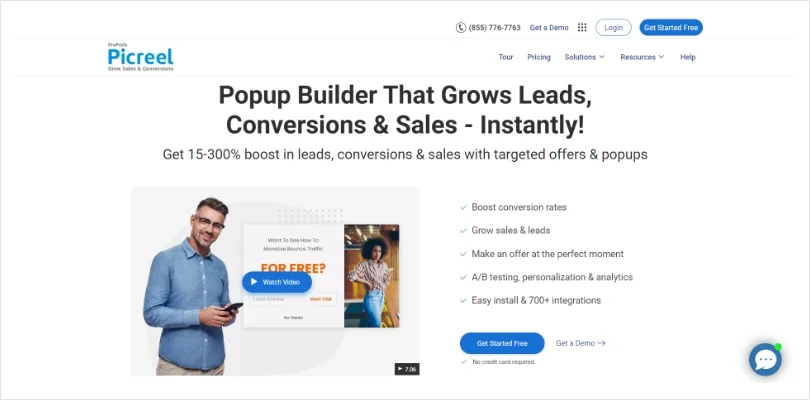 Best For
Picreel is ideal for small to medium-sized businesses that want to connect with their customers using popups. The application offers social cues to the users to help improve conversions rate and speed.
With over 4.5 ratings from the clients, Picreel is an easy-to-use popup creator that gets results.
Key Features
Integrates with your existing tools: Picreel offers integration with a range of other applications like MailChimp, Zapier. Hence, it is ideal for companies that want to create an integrated sales system.
Detailed Reporting and Analytics:

Dashboard will provide valuable data about the number of leads, including views, impressions, conversion rates, and conversions. Use the data to create meaningful reports and check the progress regularly.

100+ templates:

With hundred plus templates on the application with customization options, create a unique popup every time. The customization option helps make popups that match the website's aesthetics and provide consistent messaging.

A/B Testing:

Use A/B testing while running several campaigns to see which ones are working better, need improvement, or need to be discarded.
Pros
Easy to set up and intuitive interface

Customizable templates

Does not need any website development knowledge

Advanced targeting

Smart configuration

24/7 chat, email, and phone support
Cons
Needs improvement in automation

Advanced reporting can become confusing for a user

A learning curve is present
Fomo Social Proof Apps pricing starts at $19 per month to $199 per month.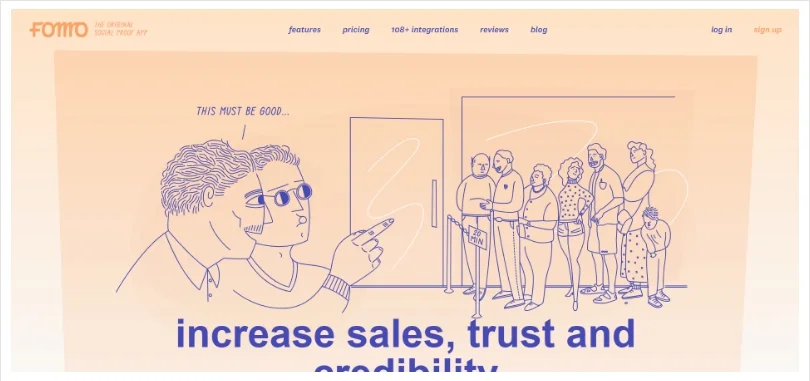 Overview
FOMO Social Proof helps display recent orders, product reviews, and more on Shopify stores. It is a tool that helps create credibility and trust in the consumers to help increase the overall sales of the website.
Best For
FOMO apps have plans that meet various businesses' needs. So, all companies, small, medium, and large, can use the application, but the plan will differ depending on the traffic size on the website.
Key Features
Highly Customizable:

The templates are highly customizable, meaning that the user can create unique social cues as per the needs every time.

Translations:

The app can translate into 29 different languages. So, businesses can get their message across as clearly as possible.

Refined Settings:

The sheer number of settings available on FOMO Social Proof allows the user to create campaigns with different settings to get the appropriate results.
Pros
Customizable Templates

AI learning for appropriate targeting

Geo-location targeting available
Cons
Too much hassle in integration

Complicated setup procedure
Urgencer – sell with urgency plans start as low as $2.99/month.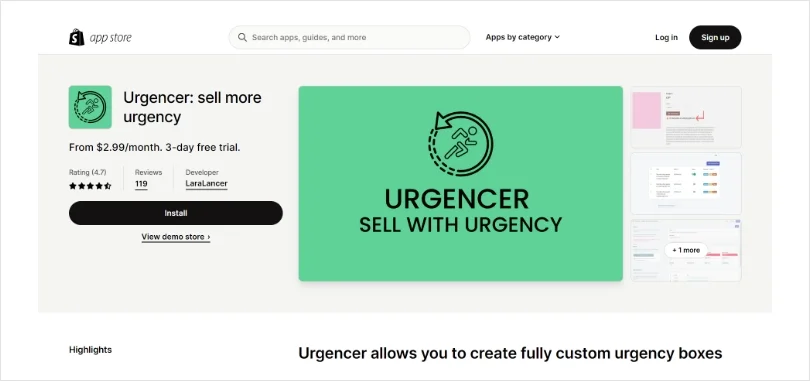 Overview
Urgencer is among the social proof apps that provide social cues to the customers. The application creates a sense of urgency in buyers to purchase the product quickly. It is a highly adaptable product that allows businesses of all sizes to create conditions that require quick action from the users.
Best For
Companies that work on a Shopify store will benefit the most from the application. However, it is limited as it is only available on the Shopify platform.
Key Features
Create Incremental Deals:

Use Urgencer to create increasingly better deals to get more clients to purchase.

A number of guests on the page:

Let the users know how many people are currently on the item page.

Highly adaptable:

Urgencer does have a high modifications option as per the store's needs.
Pros
Extremely affordable

Highly customizable
Cons
Limited to one platform – Shopify

Users might have issues while updating the application.
The plan starts from $8.95/ month if you decide to pay per month. But for the yearly subscription, it can cost 7.16/month. There are only two plans.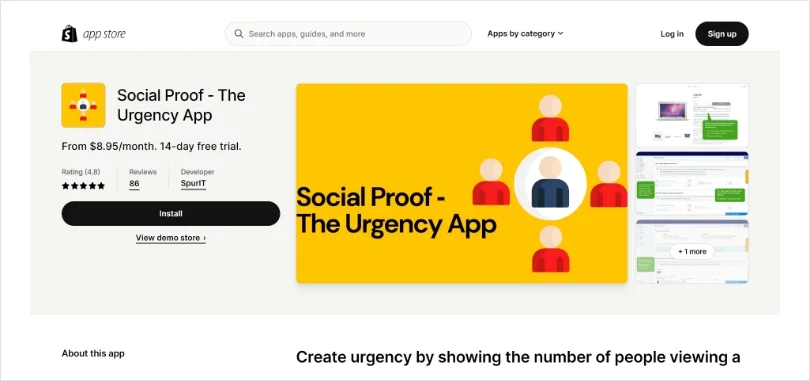 Overview
Social Proof – The Urgency App helps create and deploy website overlays. Use this application to show other people interested in the product or items left in stock.
Best For
Social Proof – The Urgency application is best for businesses only working on Shopify stores.
Key Features
Use of emojis:

With

Social proof popups

, businesses can employ emojis to have a more fun-looking widget that attracts customers.

Customizable Widget:

The widgets are highly customizable with an insightful editor that is easy to use.

Mobile-Friendly:

Moreover, customers using the website on the phone will also not have any issues with the device.
Pros
24/7 Support

Easy to Use

High-Quality Widgets
Cons
Lags in the number of features compared to other

A limited number of plans
A free plan is available. However, there are other three paid options, ranging from $5.49/month to $89.99/month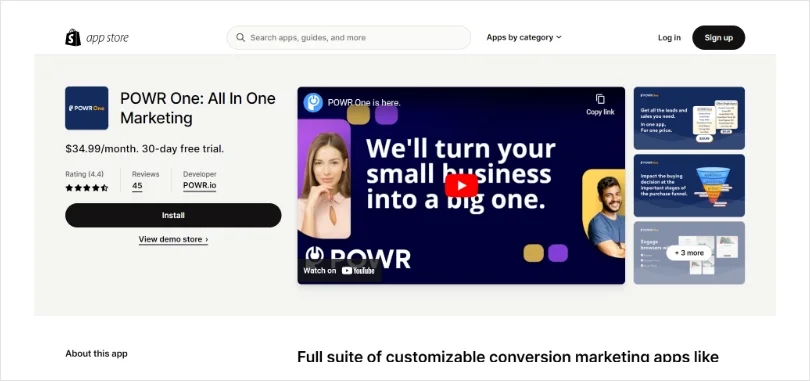 Overview
The Visitor Counter offers Shopify websites the option of showing live visitors on the website. It is a tool that helps quantify the popularity of the product and encourages visitors to make the purchase.
Best For
As the application is only viable for Shopify stores, businesses who use the platform can utilize the product.
Key Features
Shows number of guests:

It shows the total number of visitors on the website in the past and present. It works as a social confirmation of the visitors.

Individual page configuration:

You can show the total number of visitors on the website or just on the item page.

Customizable:

Option to customize the activities, foundations, and much more is available on the tool.
Pros
Works as a viable social proof

Needs no developmental skills to setup
Cons
It is a no-expense application.

Overview
It is a tool to get more Instagram presence. WOMI encourages customers to share product photos and mention your brand on the social media platform. Moreover, it helps create a more personal relationship with customers as they interact with your Instagram profile. If you're looking for some tools to add to your Instagram automation toolbox, this may be the right pick.
Best For
Businesses that rely on social media to make more sales.
Key Features
Effective Instagram engagement:

Businesses can allow the customers to post photos of the products by using Instagram.

Word of Mouth:

The application employs successful word of mouth to encourage more sales.

Increase in Sales:

The tool helps create engagement through buyers to increase sales.

One-Click Setup:

The product does not require much effort to set up.
Pros
Easy setup

Automatic emails

Free
Cons
It cannot promote the products on the website

Technical errors
It comes with a 7-day free trial, and the subscription is only $5.99/month that is billed on a monthly basis.

Overview
Crowd proof creates popups that show recent orders on the website to other users. It essentially mimics the experience of a long digital line, where people would like to get into it and buy what others are buying.
Best For
Another Social Proof Shopify app, works only for that singular platform.
Key Features
Easy Setup:

The application setup is effortless, with installation and configuration in just a few clicks.

Lightweight:

The app does not affect the website's speed at all.

Simple on/off:

With a simple switch, you can turn the function on and off to see the effect this application makes on the customers.
Pros
Allows specific messaging

It makes your store look busy

Mobile-friendly
Cons
It isn't a comprehensive solution for social proof.
Nextsale Social Proof, Urgency & Growth is a free tool for use. The paid plans are also available, starting from $29 per month to $249 per month for every website. Payment on a monthly and yearly basis is available.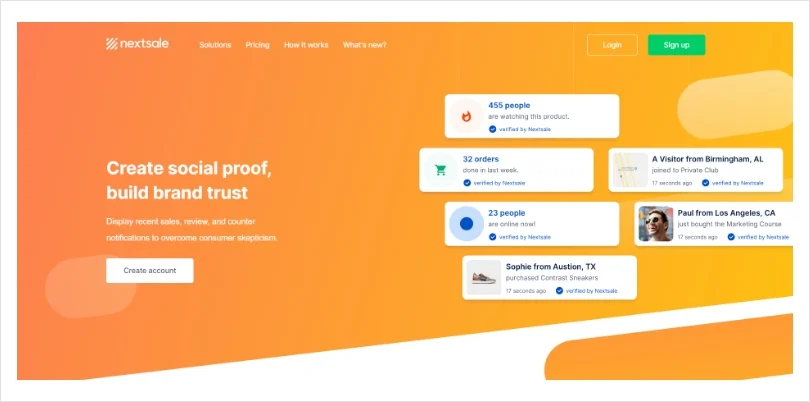 Overview
The tool allows business marketers to display product reviews and recent sales as a form of social proof. Moreover, the popups can help grow email and SMS lists.
Best For
The tool works for enterprises of small to medium size.
Key Features
Increase conversions:

The

social proof popups

and streak notification allow more conversions on the online store.

Apply email and discount popups:

Create beautiful popups and top bars to offer discounts and get email information.

Create urgency:

The tool can help create a sense of urgency and scarcity to get more sales.
Pros
Helps promote promotional offers

Grow sales

Target people to get more numbers on email and SMS lists

Easy integration with other tools
Cons
Priority support only to the highest payers

Not ideal for big businesses
The Nudgify Social Proof Shopify app is available free of cost. But, the business owners can opt for the plus, pro, and business subscription at $9 per month, $29 per month, and $89 per month, respectively.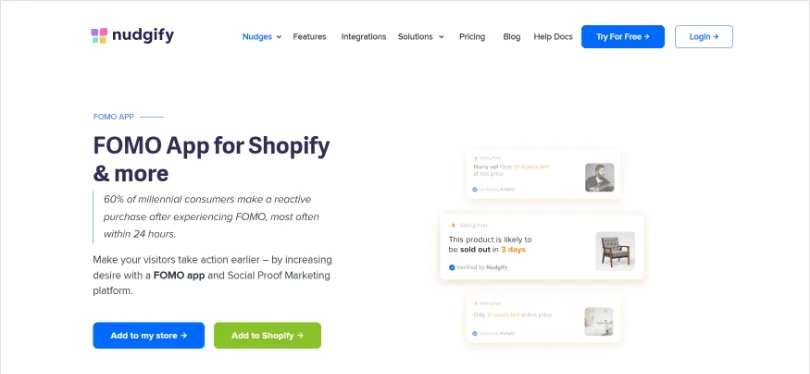 Overview
Nudgify uses the notifications of recent activities to push other customers to purchase. It uses real-world context on the key pages to give users information like how many people have viewed the page and the popular products. These notifications help build trust and create a sense of urgency in the users to make the purchase.
Best For
It is a tool that mainly works for small and medium-sized businesses.
Key Features
Popularity Nudge:

Use the popularity nudge to show the product as a desirable item of many, leading more people to make the purchase.

Reviews Nudge:

The review nudge includes the most positive reviews on the item page, derived from Google and TrustPilot to provide viable social proof.

Low Stock Nudge:

Companies can also create low stock nudge. It creates an urgency to buy the product as the stock might deplete quickly.
Pros
Compatible with various devices, including Android, Mac, Windows, etc.

Cloud-hosted

Supports multiple languages
Cons
Cannot spread out the nudges as per needs

Geosocial proofs need improvement
The application does have a 30-day free trial, and the paid version costs $29.99/month.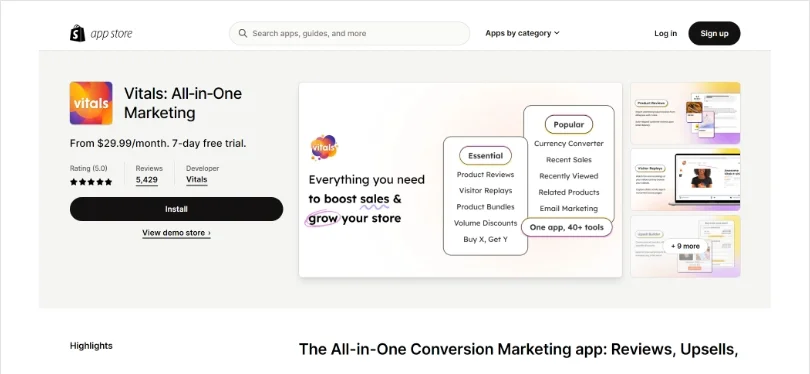 Overview
Vital works as an all-in-one marketing and sales app. Businesses can use the tool to import and collect data, upsell and cross-sell campaigns, and more. The various uses of the tool make it one of the ideal tools to generate customers' interest.
Best For
Businesses looking for a one-stop solution for all marketing needs.
Key Features
BuildsTrust:

Use the tool to create widgets that offer viable social cues to build trust in website newcomers.

Increase average order value:

When used appropriately, VITALS is one of the best

social proof apps

that help increase average order value.

Get Visitor Session Replays:

The tool helps screen record individual sessions to see where the customer bounces and make rectifications to avoid it.
Pros
Multi-use

Increases sales

One-stop marketing and sales solutions
Cons
It can become complicated with too many features

Single pricing plan
Three plans are available – Free, Starter plan at $21/month, and Growth Plan at $54/month.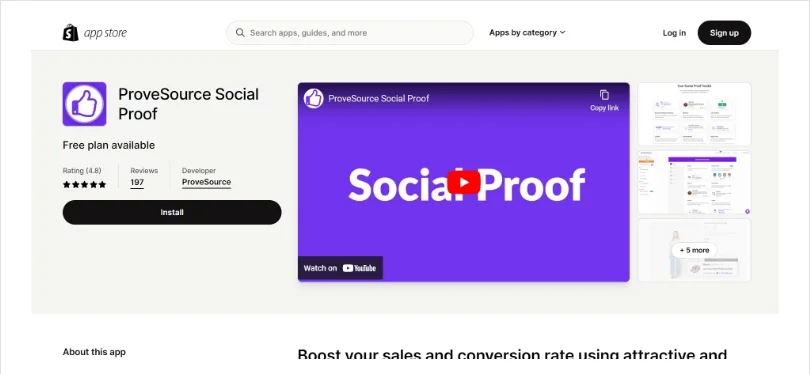 Overview
This app can help provide information about recent orders, live visitors, and show your 5-star reviews. This Social Proof free application can help create a busy-looking store for businesses.
Best For
This is best for small and medium-sized businesses running on Shopify platforms.
Key Features
Increase revenue:

Use the tool to create popups that encourage more customers to purchase the products leading to an increase in revenue.

Creates a bustling atmosphere:

The app creates a bustling environment like a market through the faces and notifications of activities of others on the website.

Upsell and Cross-sell Automation:

Use the sales and add-to-cart notifications to increase urgency and orders.
Pros
Increases conversions

Builds trust

Easy to use
Cons
The Sales and Social Proof software only offers yearly subscriptions ranging from $71 for one year to $120.70 for three years. The buyers also need to pay $20 extra if they opt for installation services.
Overview
Sales & Social Proof is among the psychological tools that encourage users to make purchases. It uses scarcity, urgency, and popularity quotients of the products to get more customers conversions. The application is ideal for making your store look busy to take away the hesitation of customers and make them buy more.
Best For
The tool is marketed for all businesses.
Key Features
Add Real-Time Statistics:

Show important statistics about product sales and more using popups on the page. It helps nudge the customers towards getting the product.

Exaggerate Data:

With Sales & Social Proof, you can exaggerate data to make the product look busier and generate more sales.

Counter of People Watching the Product:

You can add a widget showing the current viewers on a page to create a sense of urgency.
Pros
Helps create urgency

Boost Sales

Easy to use
Cons
Separate Installation Charges

Expensive
Conclusion
Social proof apps can serve a range of purposes for a website. As different applications have different features, companies need to research well before opting for one.
The 12 social proof apps mentioned above are currently among the best in the market. Most of them have been in operations for years.
The optimum use of the application will help increase sales team productivity, organize the operation, and lead to more closing of sales.
As free trials for most tools are available, the sales team can employ the tool for some time to see the results and then use it to determine if the product works for you or not.
Do you have a favorite social proof app? What features do you need in the social proof app to get better results? Let us know in the comments section below.
Do you want instant 300% growth?
Picreel popups can get YOUR website 300% instant sales growth. See Case Studies.