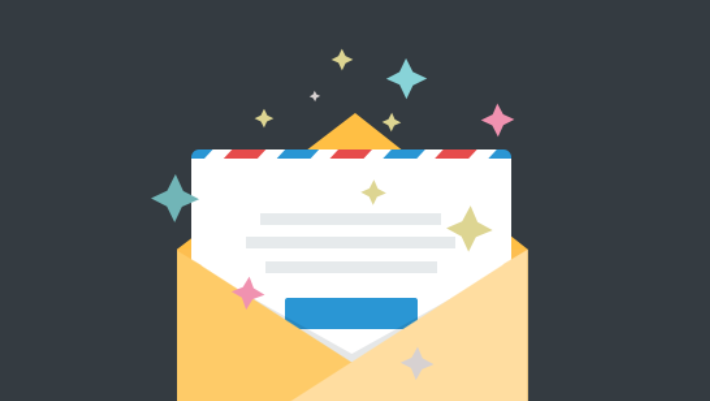 E-mails are not supposed to be flashy but they ought to be fundamentally sound. That means you have to get the basic things right like compartmentalizing lists and updating transactional e-mails. However, it does not need to stop there. To be successful, you will have to work on the bigger puzzle like product value, your voice, positioning, and optimizing conversions.
We have a list here of 17 tips that may sound rather basic but are utterly important for every successful e-mail marketing campaign. Apply as you wish, and if you can cram all these suggestions in a single e-mail, please do.
TIP 1

Be Up-to-Date With the Trends or News
The early bird always catches the worm.
That common saying alludes to the power of being timely. In marketing, that is also the case. Gazelle always stays up-to-the-minute especially about Apple launching a new product. Then they come up with the pitch.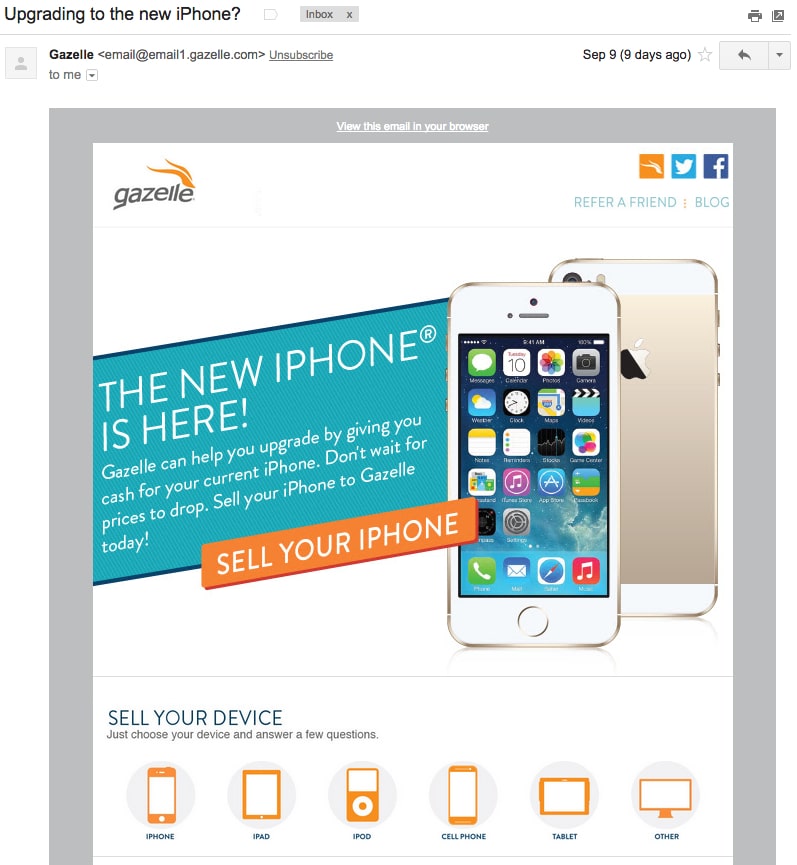 Another wonderful example is by Greatist, a health and fitness webiste, getting back on Starbucks' fall feature Pumpkin Spice Latte. Of course, this strategy is only seasonal but that doesn't mean it's not effective. Moreover, you can still use other occasions and holidays as springboard for your next e-mail marketing campaign.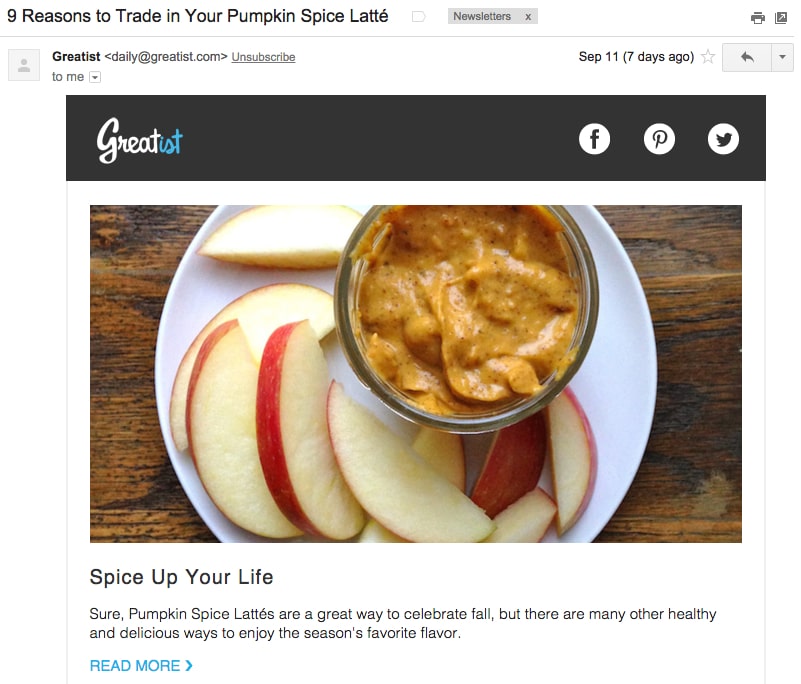 TIP 2

Humanize your Brand
As Hayes Drumwright, CEO of TRACE3 says, "Only strong people are comfortable talking about their failures." That's so true.
In e-mail marketing, talking about your failures in not that bad of an idea at all. In fact, you can turn this into a selling point. Let the subsribers know that the guy on the other screen (which means you) is human that harbor the same feelings as them.
Noah Kagan masterfully did this strategy: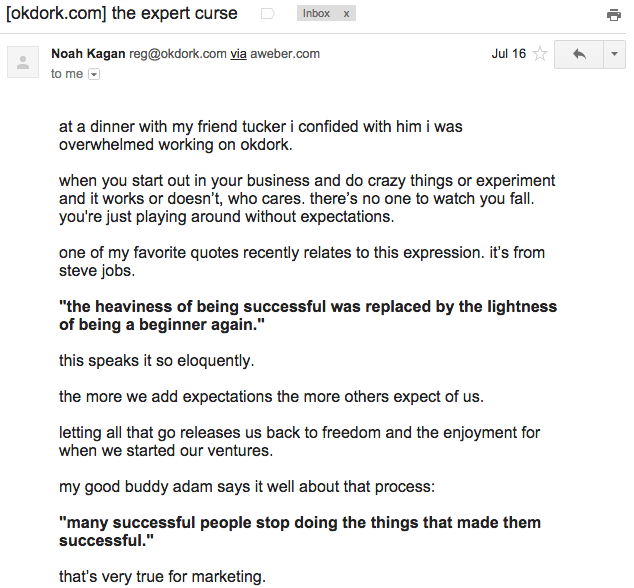 In the same way, Clarity tries to relate to their subscribers by telling their company's story. The specifics are different but the concept is the same. You humanize yourself in front of the subscribers but tell them HOW you got out of the rut. It's a simple case of stating a problem and offering a solution. Works like a charm.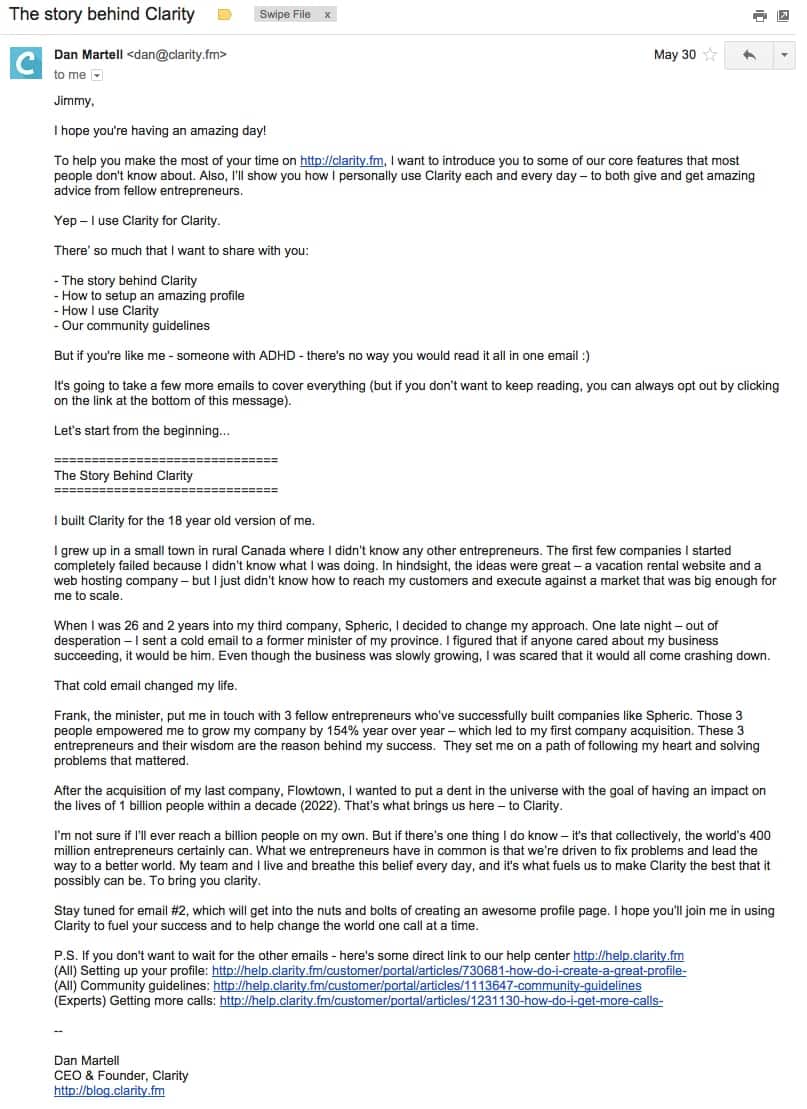 TIP 3

Be Clear About What You Want The Reader To Do Next
In marketing, being cryptic is a mortal sin, especially when it comes to the Call To Action. To think, no can do something if they are not sure what the next step is, right?
The message should be CLEAR and DIRECT at all times. Communicate to your subscribers about what exactly you would like them to do.
Case on point, Brian Dean of Backlinko sends this e-mail to those who have signed up to their webinar AND exactly told the subscriber what to do.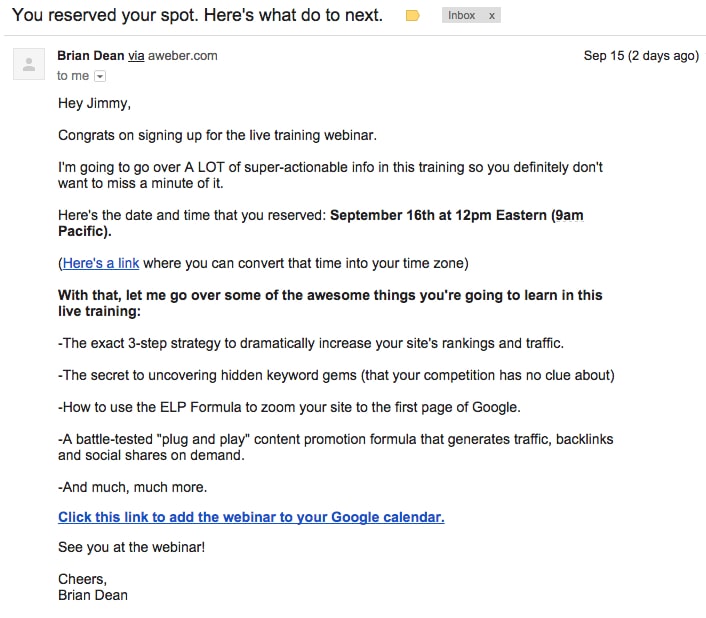 Give the reader a nudge to the right direction, similar to this e-mail be Wedgies.

KISSmetrics made it a must to take the next step so the user can benefit from the installed tool. Again, KISSmetrics tells the subscribers what to do by presenting the possible question the reader might have in mind. They presented it with bold letters, quotation marks, and very understandable language. The CTA button contrasts with everything (the bright green button), encouraging the user to move forward in an obvious way.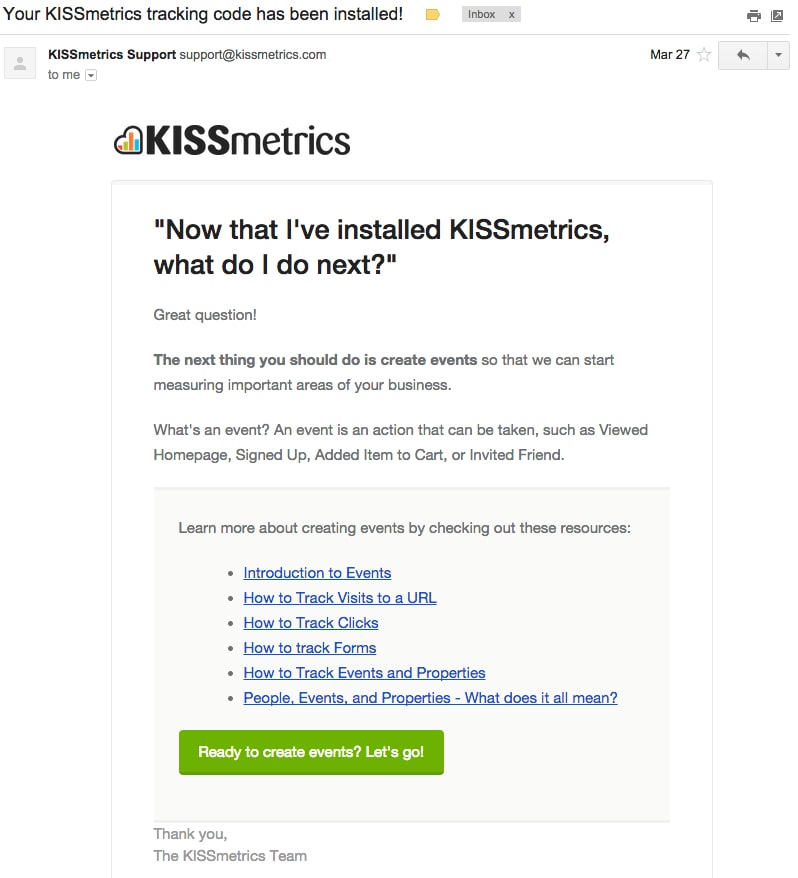 TIP 4

Make your Subscribers Feel They are Part of an Exlusive Club
Who of us wants to be mediocre? If I know that what you're offering me is the same offer you give to millions of other people, how would that make me feel?
One of the best ways to create excitement is to field an exclusive offer for your products. It's a very compelling community building tool.
For example, whenever Apple commenced a new product, they would cash in on customer's excitement by offering pre-orders. Their pre-order e-mails hit two birds with one stone: 1.) It lessens the burden on retail stores and 2.) drive huge sales before these items were even released! Pre-orders make people feel in control and special and Apple knows how to handle that feeling very well.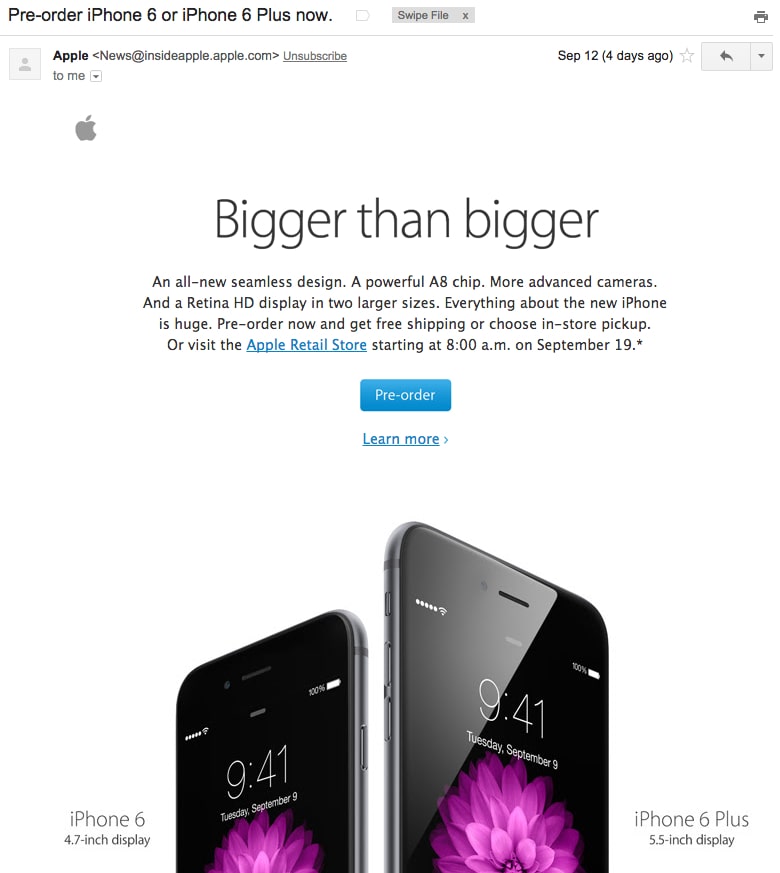 Another good example is Groove. The Help Desk Software provider e-mails blog subscribers before the posts are even available in the website or the RSS feed. Groove's CEO Alex Turnbull explicitly announces this by putting "Early Access" on every e-mail.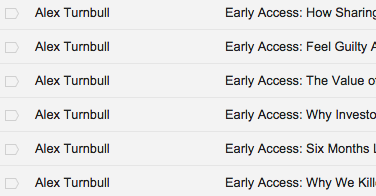 This is so effective because being the 'first to know' make the subscribers special, like they are part of King Arthur's knights of the round table. Well, basically they are and it's such a powerful conversion tool!
Alex has raved about the results of this strategy and encourages every blogger out there to take e-mail marketing very seriously. On top of that, the "exclusive club" strategy was very well-appreciated and old subsrivers even recruit new ones just for the privilege of seeing a blog post berfore everybody else.
Here is an example of Groove e-mail, which is sent every Thursday to their subsribers.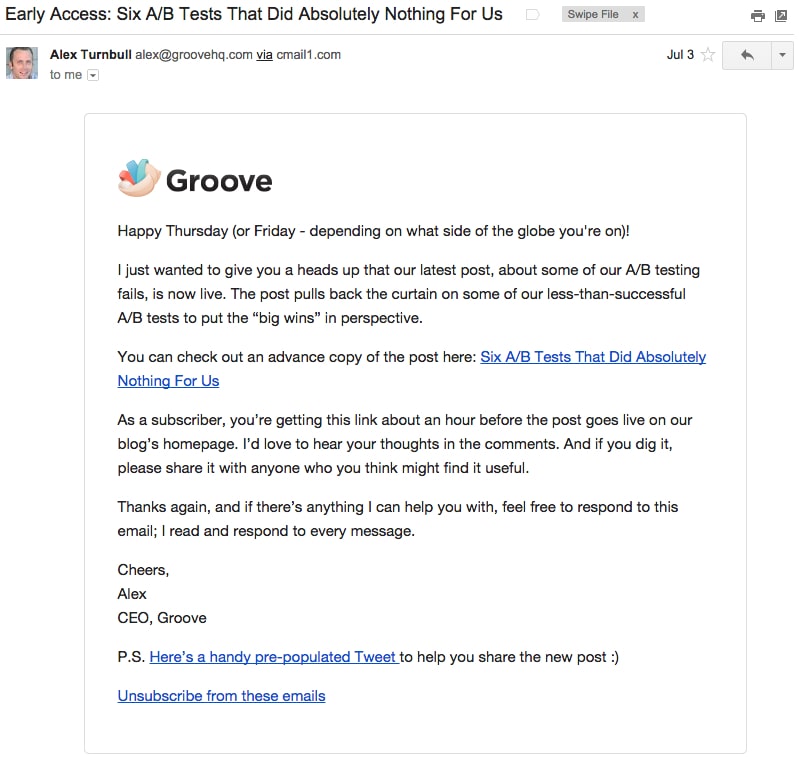 TIP 5

Caring is Marketing
Or you can flip it and say "marketing is caring", it doesn't matter. The point is, earn your subscribers' trust by showing them that you care. Certainly, our idea of "caring" isn't about false urgencies. Saying "LAST DAY TO SAVE!!!" or "Turn PRO now!" screams desperation.
As marketers, how will you deal with it? That's right. Let them know you care; let them know you want to make them happy.
Squarespace, for instance, recognized how busy people can get that's why in e-mails for ended trials, they offer a seven-day extension besides the UPGRADE option.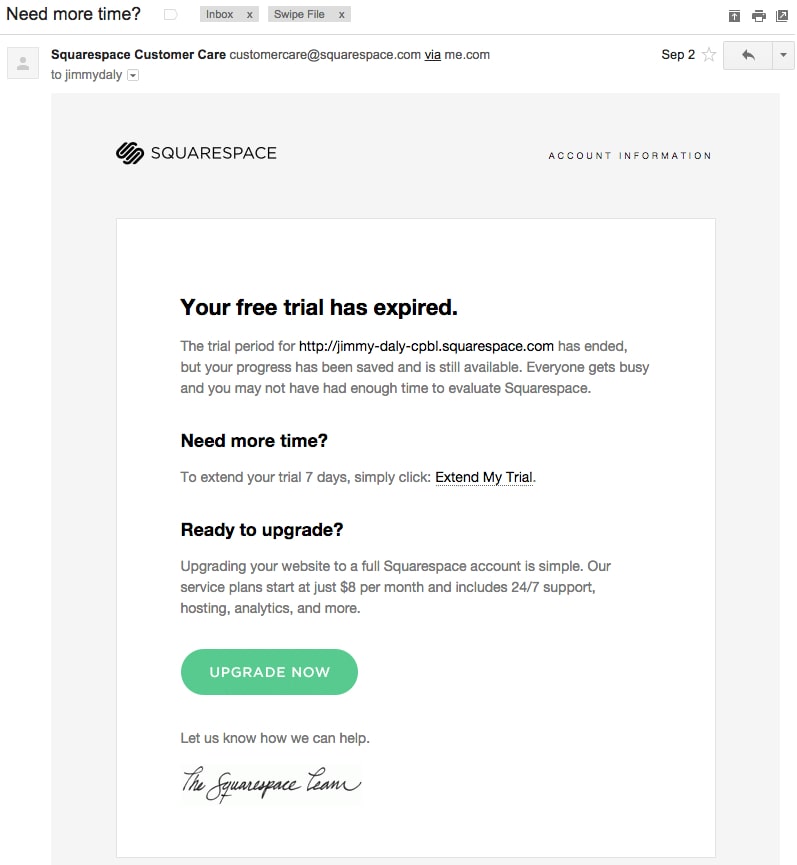 Kevan Lee of Buffer gave his best e-mail marketing advice: Make your subscribers happy. I don't know if there's any other advice (apparently there's 14) but that recommendation could very well stand on its own. Dropbox took that by heart and in this particular e-mail (below), they are giving 10 times the storage space for the same price if you turn PRO!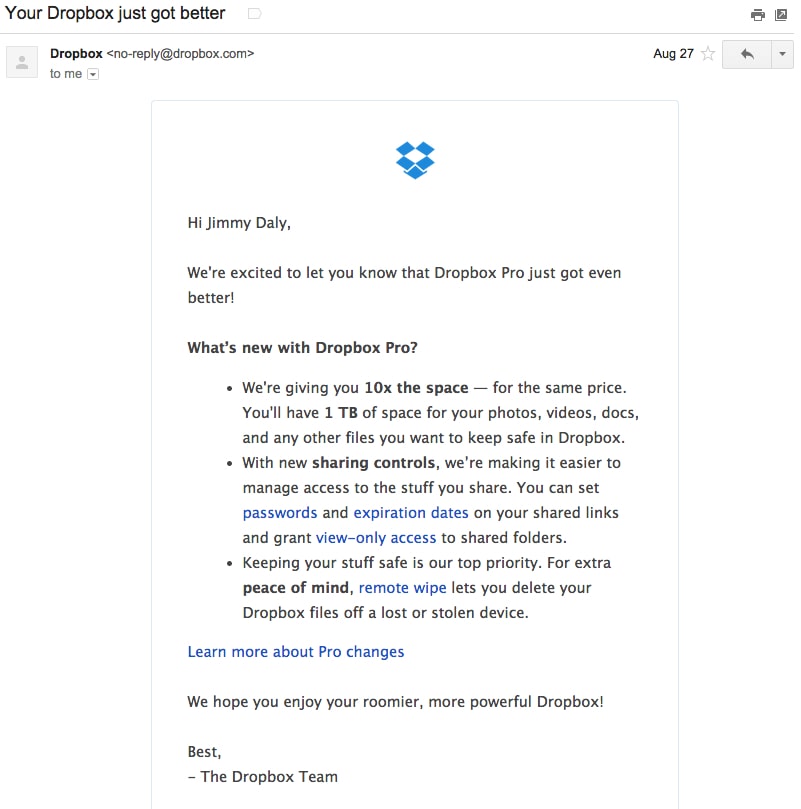 This may have more to do with business perspective than e-mail marketing but the mantra remains the same: Make your subscribers happy. Does anyone now have the guts to NOT open Dropbox's next e-mail?
TIP 6

Develop Your Subscriber's Conversion Habits
This tip is shared by Death to the Stock Photo co-founder David Sherry. Simple, right? No matter how easy that may sound to be, that advice is profound.
The idea is to shape the subscriber's mind so that conversion– whether it's using your app of a follow request on Twitter—comes naturally for them.
For Sherry, they make it a point to include small conversions in their e-mail. They give out free stock photos which can be downloaded so when people read their e-mails, their minds are conditioned into converting. They discern the value they get.
Buffer is using this strategy, too. In the e-mail below, they do not necessarily rake money, but the pre-conditioning of the mind is there, namely, get subscribers to use their app and clicking their e-mails.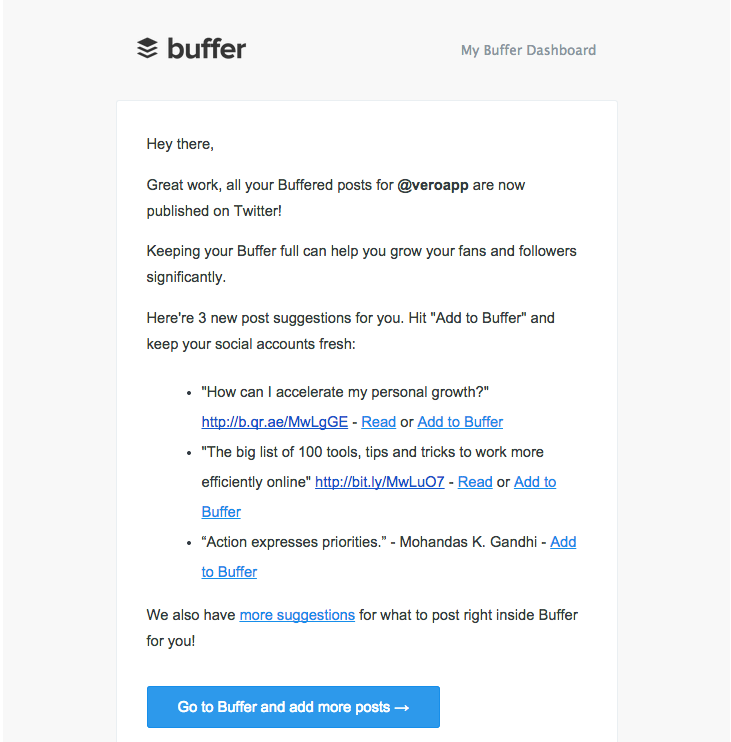 Again, one company called Email Insights uses this strategy, with two Calls to action in one single e-mail.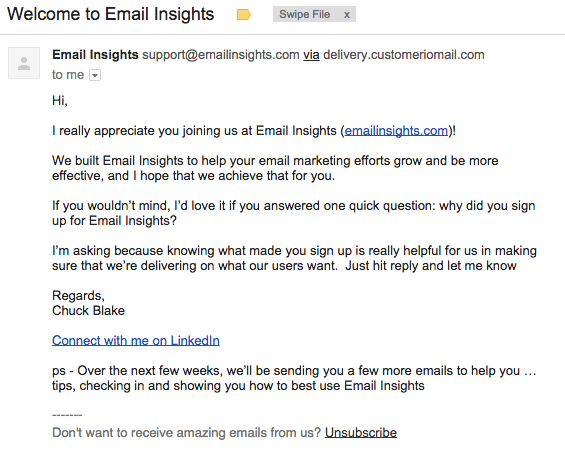 There is no immediate revenue in these CTA's (asking for feedback and connecting through LinkedIn) but it exposes and creates the habits of engagement and conversion.
TIP 7

Include Downloadable Attachments
According to a study by Radicati, from 2009 to 2013, the sent and received emails that have attachments increased by 43%. This is no surprise because e-mails are the right platform for file exchanges.
It seems that the first use of e-mail is solely for messaging but when using e-mail as a marketing tool, why not use attachments to achieve your conversion goals?
As we have touched above, Death of Stock Photo's one e-mail per month to their subsribers contains beautiful downloadable pictures that you can use. You can use these images for your blogs or for whatever purpose you may have and if you're a subscriber, that's value!
This strategy is habit-forming and enables the user to take action. What do you think would happen if DSP offers an upgrade to a premium level? More often than not, you will get some positive results.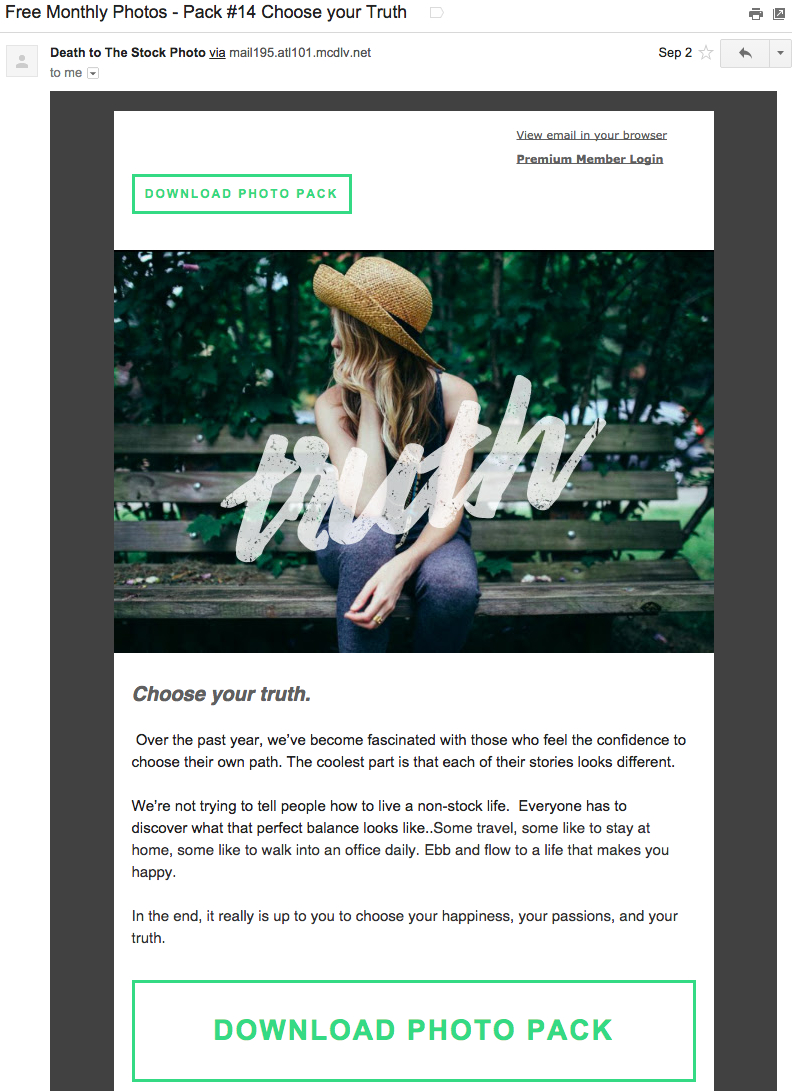 WordPress Genesis Framework developer Brian Gardner often sends free downloadables that you can use for your own WordPress site. Any time someone sends you an e-mail and gives you real value like Brian, it has to be entertained.
TIP 8

Request For Feedback
Ask and it shall be given. Or so they say.
As long as you're not overdoing it, it's fine to ask for a little help. Runkeeper's VP of User Experience Tom Boates e-mailed the company's subscribers for feedback in a very genuine way.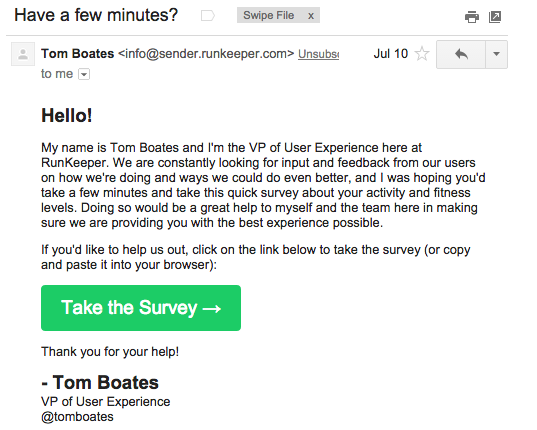 Notice the last sentence of the first paragraph? "Doing so would be a great help to myself and the team here in making sure we are providing you with the best experience possible." How can you not help such an honest request? Besides, if you're using their product, it's also to your advantage.
One company, Feedly, is using the genuine manner of asking for feedback. After the cancellation of the product, Feedly is simply asking about things leading to the cancellation and then makes it easy for you to reply on said e-mail. ("You can also just reply to this email…")
Not being pushy and ease of response, now that's a making of a great "asking for feedback" e-mail.
TIP 9

Employ Referral Codes
Referrals are a win-win-win situation that's why it works. The referrer, the referree, and the business can rake positives.
While only a small number of satisfied customers actually does a referral, encouraging them to do that makes your job a lot easier. If you can make at least 50% of your satisfied customers to refer to family and friends, imagine how big the revenue could be! Over 90% of people trust their friends' referrals over ads.
Your mindset should be, like UBER, every successful conversion brings another business opportunity. Their receipt's footer looks like this: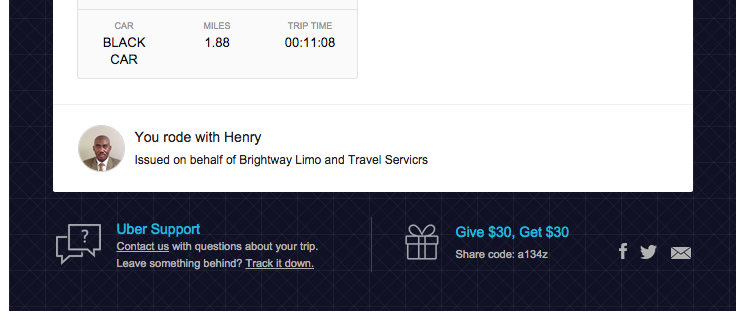 This is a very shrewd strategy, a move that will keep your customers come back for more and one of the reasons why Uber is growing by leaps and bounds. As much as 95% of their customers are from referrals.
Dollar Shave Club highlights referral codes more in their emails: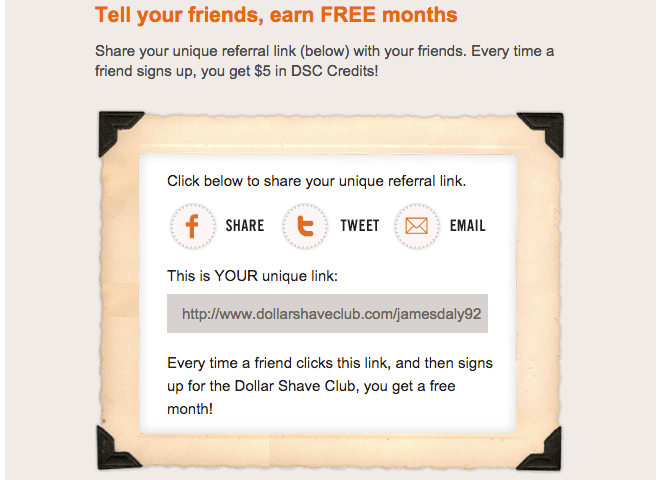 I don't know of any reason why subscribers won't avail of this! Of course, you have to be utterly confident that your product is of high quality. Otherwise, nothing would work.
TIP 10

"Buttons" Up
This may be the elementary e-mail marketing advice you will ever receive: USE BUTTONS.
After all, BUTTONS are for CLICKS.
If you want people to click, use buttons. One case study pointing to the effectiveness of using buttons in e-mails is experienced by Campaign Monitor, who increased their click-through rates by 28% by simply using buttons.
What should your button say? Let Joanna Wiebe, author of Copy Hackers, take care of that. (Check out her piece on friction and non-friction words.)
As for the look, here are some ideas:
-A 3D effect;
-A contrasting, non-grey color;
-Feedback on hover (e.g., different color);
-Whitespace around it;
-An arrow pointing to it with instructional copy.
Here are two examples of e-mails that have great designs. Direct, simple language coupled with a bold, contrasting button.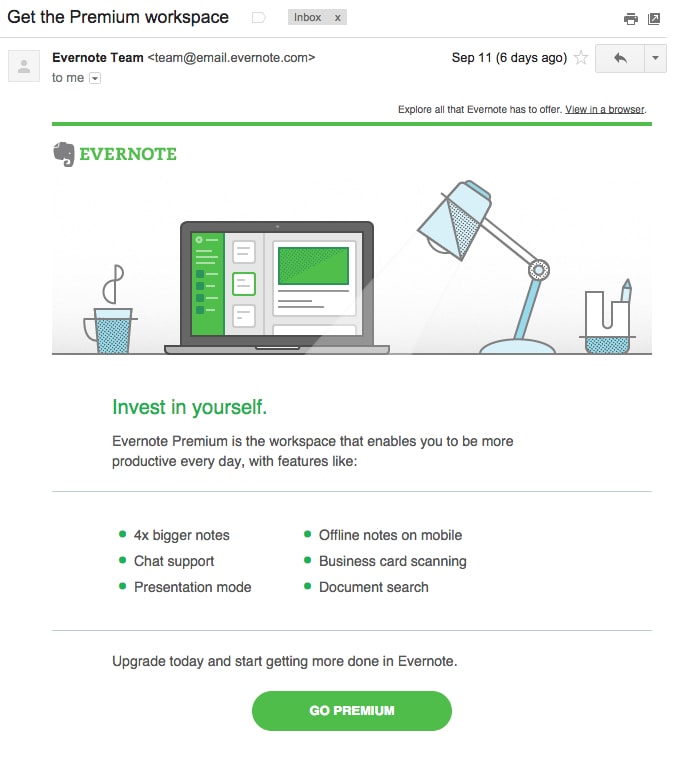 Here's from CREATE LIVE: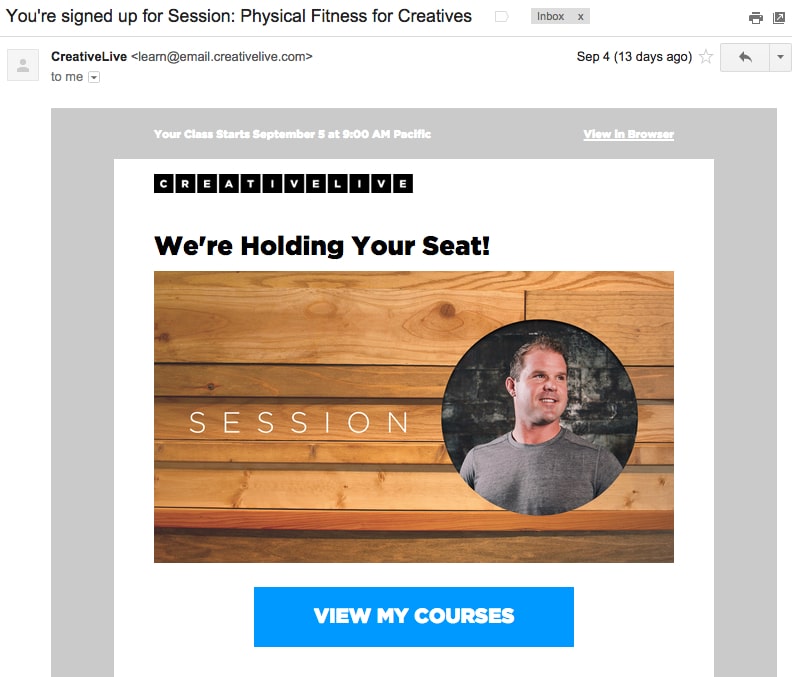 TIP 11

Remind Readers Of Who You Are and What You Do
People are bombarded with hundreds of e-mails everyday so do not expect them to automatically recognize you. It's your job to make them remember.
Exist's Belle Cooper does this everytime in her e-mails.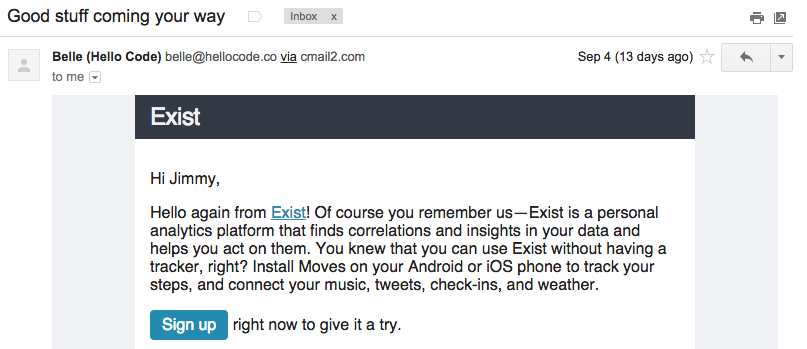 There won't be any drawbacks if you follow this simple advice. Sometimes the most basic things turn out to be the most important.
TIP 12

Capitalize on the Brand Power of Your Partners
If your product is assimilated with other more powerful names, don't hesitate to use that as an authority-builder of your own.
Social Media Management giant Buffer does this by means of case studies involving their biggest customers. In this instance, they posten an article on how Business Insider grew to about 1 million plus fans (with Buffer's help of course). Buffer cashes in on Business Insider's popularity while building its own name and offers tips for the readers on how to use their product well.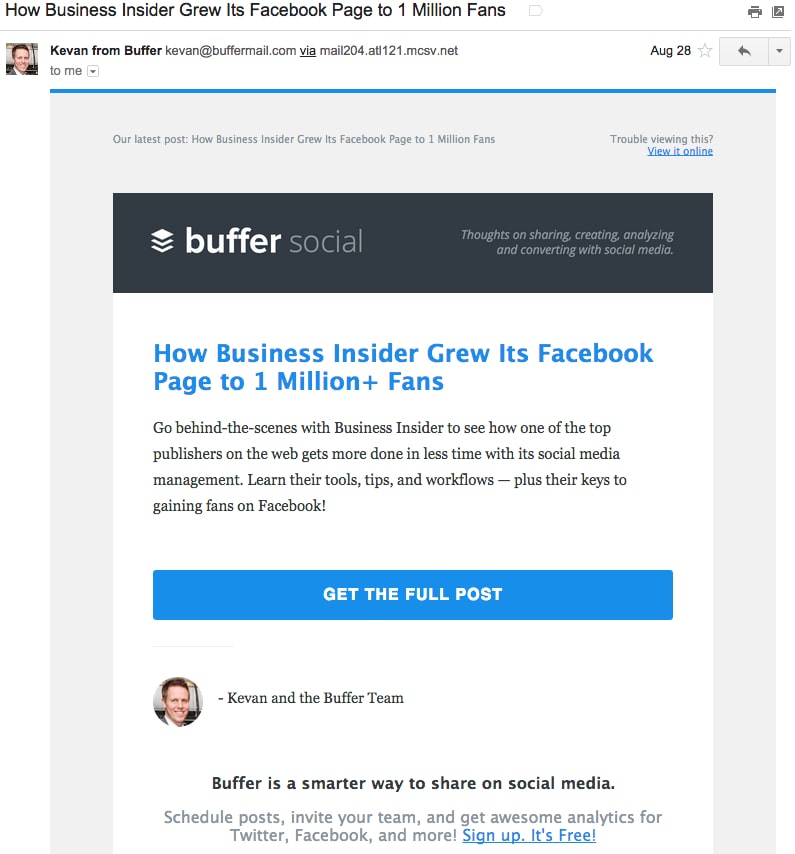 Two other companies, Zapier and IFTTT, always does this tactic in their e-mails. Theirs is an app integration business, so it would only make sense leveraging their partners' more powerful brand names to somehow make it their own.
For example, in the e-mail below, the assimilation of Zapier and Highrise was highlighted, and it could influence subscribers who also like Highrise to use their service.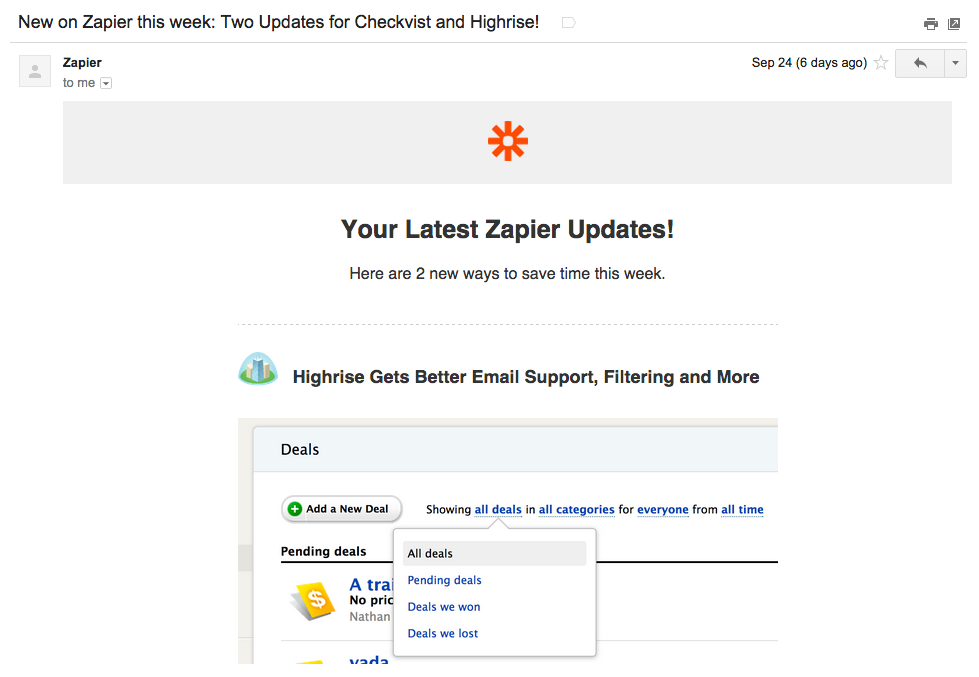 IFTTT is doing even better! In the newsletter below, look how they capitalize on NIKE to boost their own brand, while also doing so with a short copy and visually-engaging images.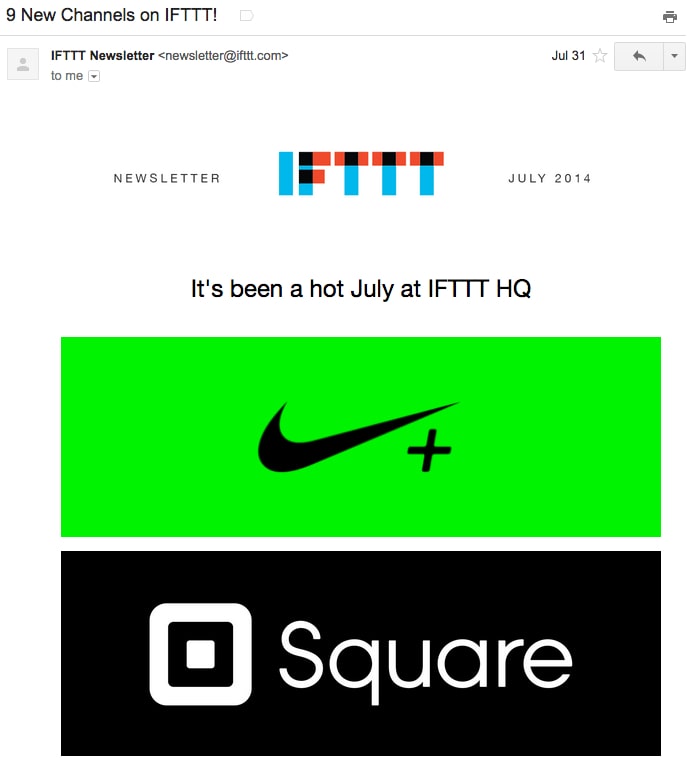 Feedly used the same tactic while asking for beta testers on their integration with Dropbox. Two birds with one stone.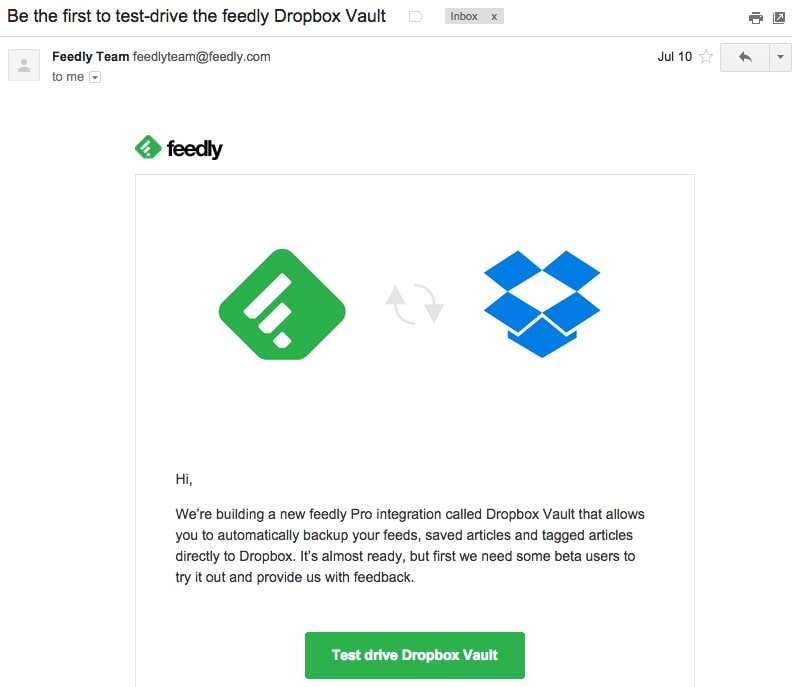 TIP 13

Make 'em Happy
How hard can it be to brighten other people's days? Not so much. If you can't give something of real value, simply inquire how they are or say something that will make them smile.
Of course, it's always best if you can give something. Gazelle took the time to build excitement in their transactional e-mail while also giving a referral code and a simple, one-question survey. "The Happy Email."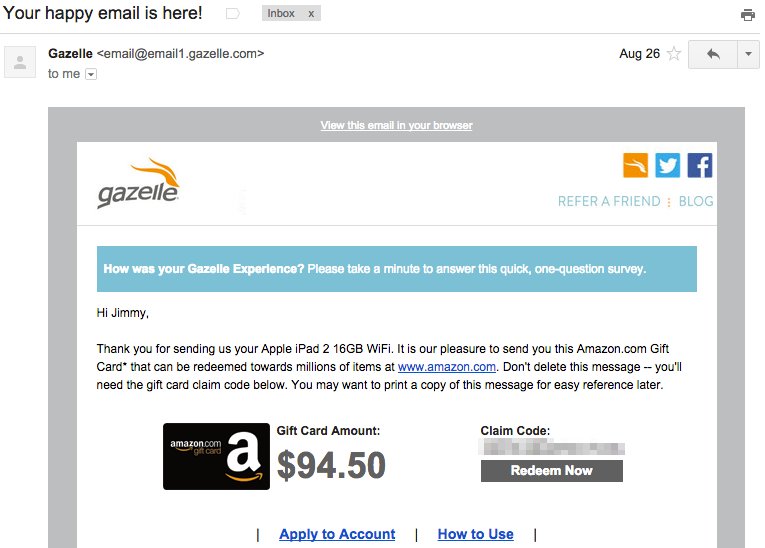 One such company that does a phenomenal job of making customers happy is STARBUCKS. No wonder why they're so popular! If you have qualified for Lucky Dozen promo, free drinks for every 12 purchased, this email is the one they send and this is how the pros do it.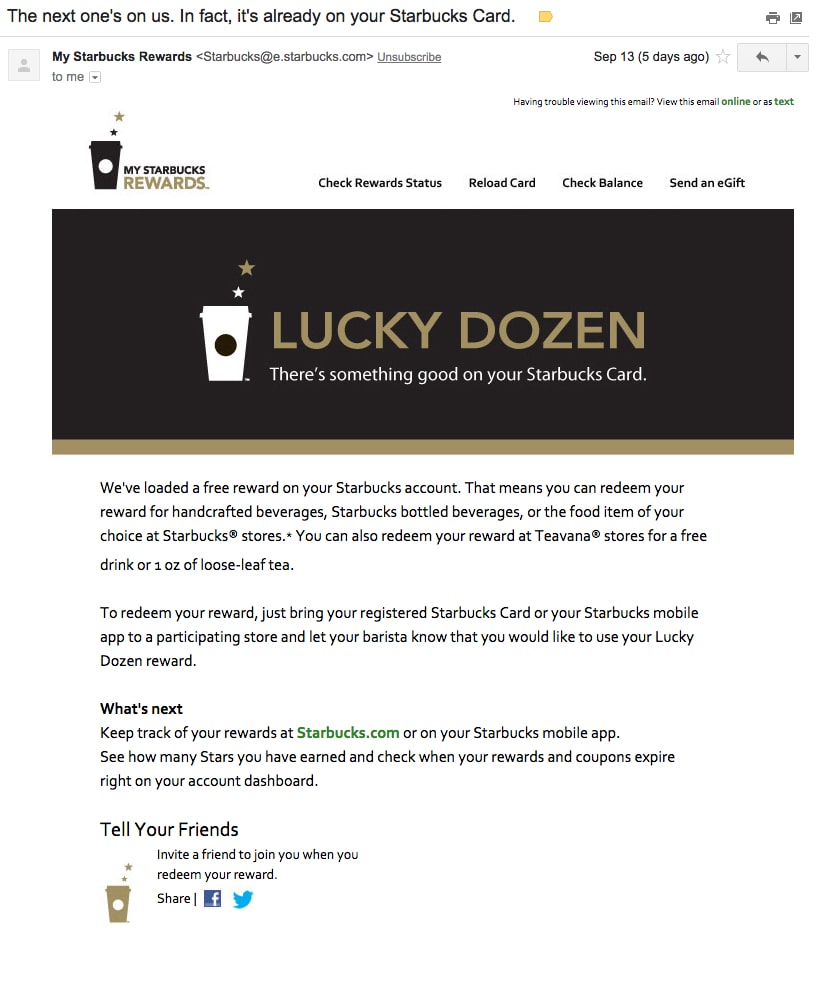 How many e-mail marketing best practices can you count in this transactional e-mail? Referral links? Check. Reminder about being in an exclusive club? Check. What should be done next? Check. And so on and so forth.
TIP 14

Social Proof
If you won't bother putting up some social proof on your e-mails, that's all on you. In a survey by KISSmetrics, 7 out of 10 Americans say product reviews matter to them before buying. Also, over 3 of 5 persons say they are more likely to buy something from a website that has reviews and ratings for their products.
The reason for this is simple: Consumers trust other consumers. There's no other way around it. That's why it would be of your best interest to include product reviews in your e-mails but be careful not to overdo it.
Flightfox has one very significant number to boast and they make sure their subscribers know about it. Subtly, of course.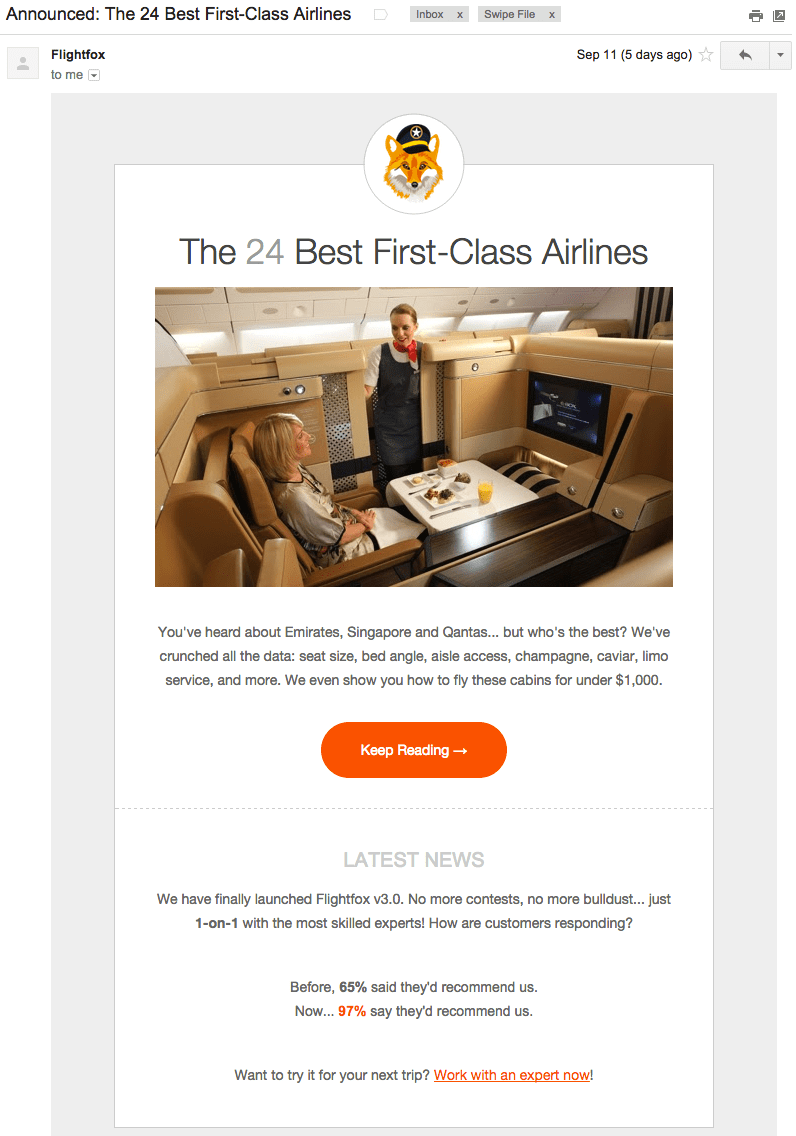 If you have a number like that, it is always worth mentioning, even in your e-mails.
Forum communities like Quora Digest are masters of using social proof. Active users voice their approval by votes and the number shows on the bottom of the article. These will lead to more engagements because naturally, readers would want to know what their contemporaries are interested in.
Showing share numbers, upvotes, and comments do have the same effect.
TIP 15

Be Appreciative
Being grateful is one of the many virtues gone in this hectic world. But you don't need to follow the crowd. Saying "Thank you" makes everybody feel good, from the one offering and giving thanks , according to Harvard Business Review.
There is always something to be grateful and don't hesitate to let your subscribers know. The e-mail below was from Simple and you would understand how big of an impression they gave to their subscribers by sincerely saying thanks.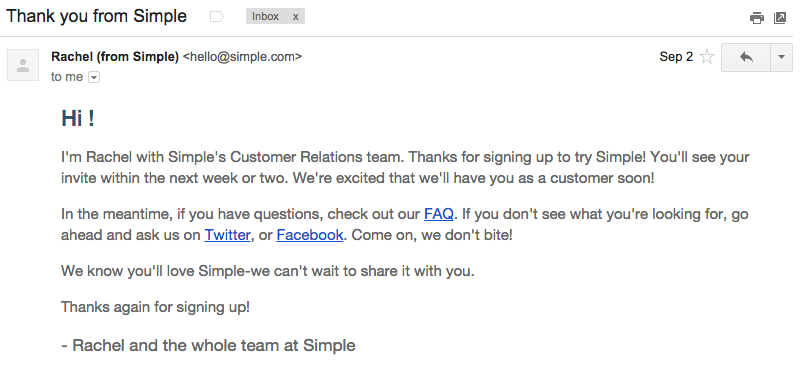 Outbrain, in recognition of their 500 million unique users milestone, reahced out and thanked every single one of their half billion subscribers with this Thank You e-mail.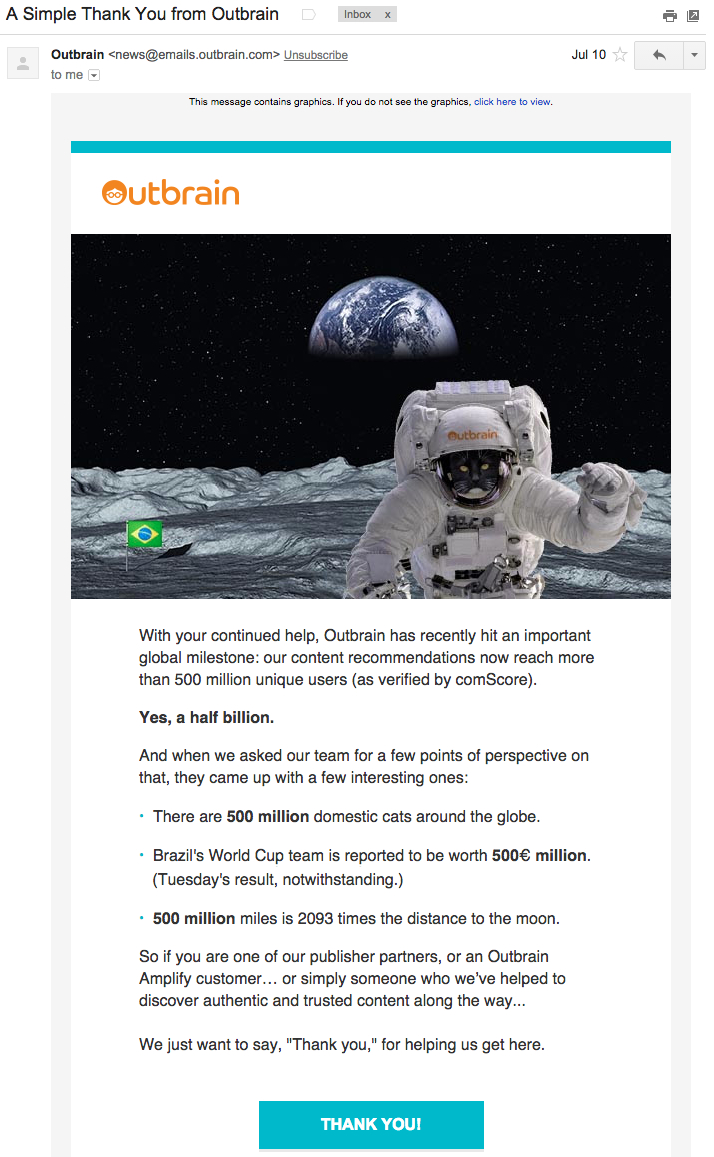 And as such, Trello said thank you to their 5 million users by giving free one month subscription of premium level Trello Gold. Other than that, they also used a referral program to spread the word. They sure know how to party!
TIP 16

Make Announcements
Most announcement e-mails are just plain boring or salesy, which turns off most readers. How do you make a compelling announcement?
Again, you have to incorporate some of the best practices in your lingo to make it understandable. Look at how Wunderlist nailed this announcement e-mail.
One, they are reminding the reader that he is in an exclusive club, they used very simple language in the introduction and built excitement by explaining the value of the Wunderlist 3. Have you also noticed the strong Call To Action button?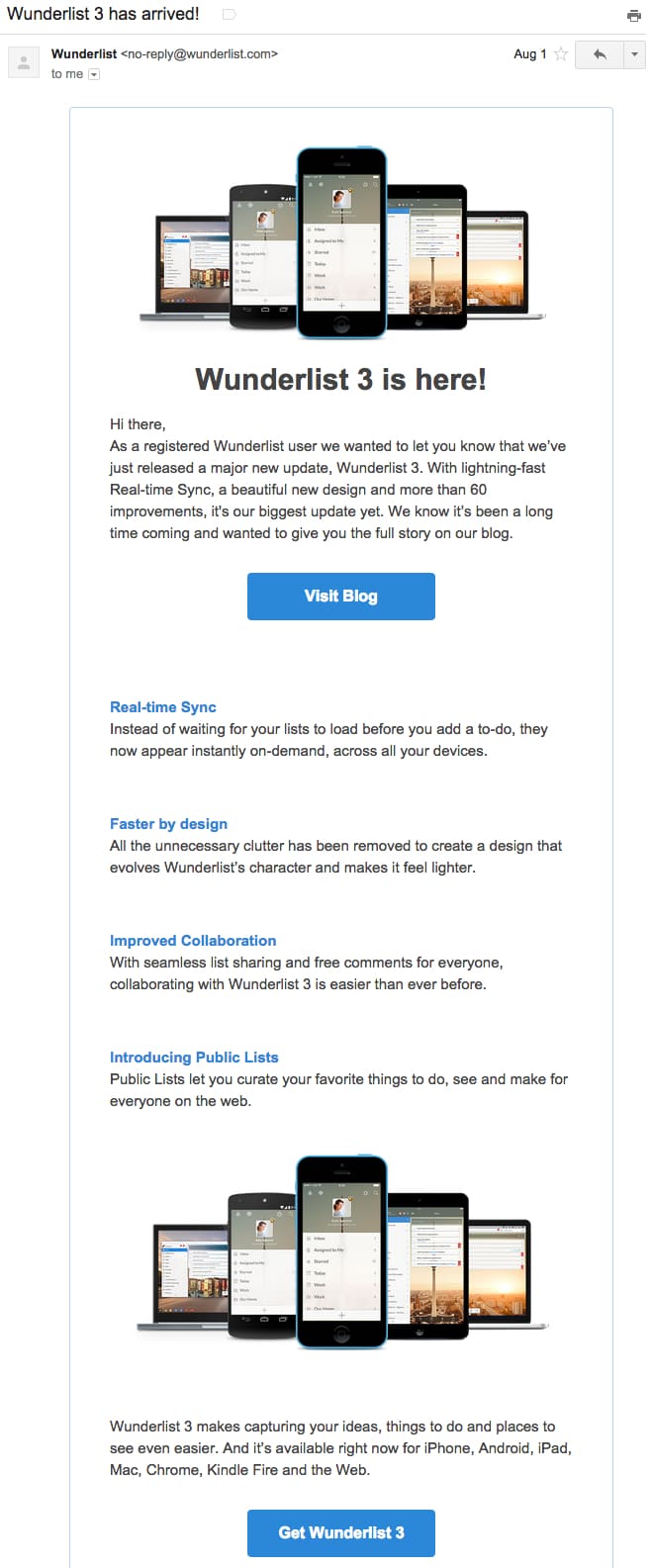 How about this Premium announcement by Postach.io: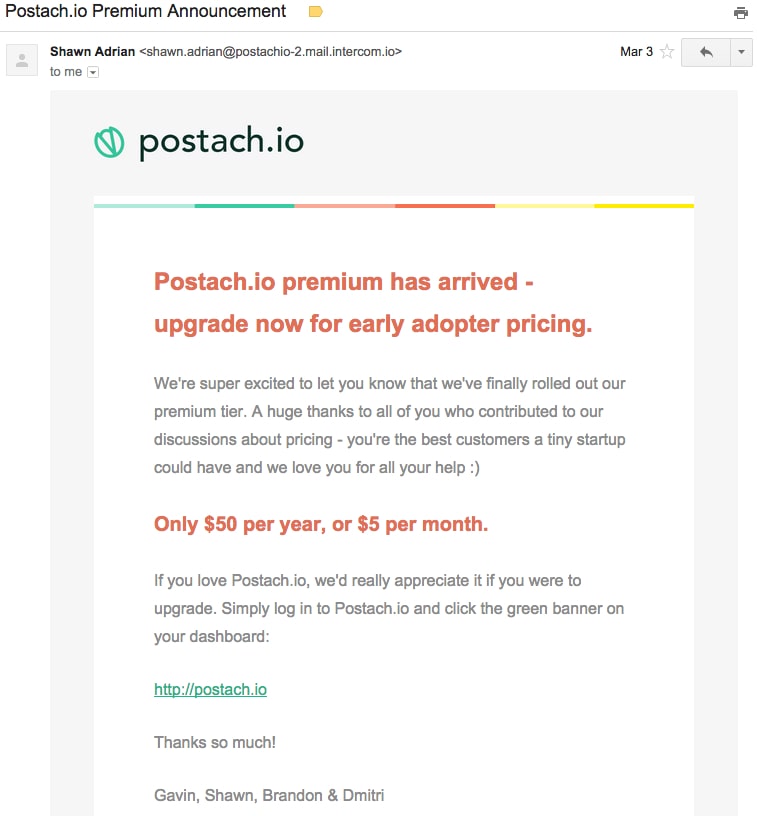 Along with the announcement, they also made the e-mail an opportunity to convert for early adopters while thanking the customers. And the email signed by all four of their team members couldn't get more personal!
Google Apps wouldn't get left behind if we're talking about sending awesome announcement e-mails. Everything is focused on the value, which, on the subscriber's part, is definitely hard to turn down.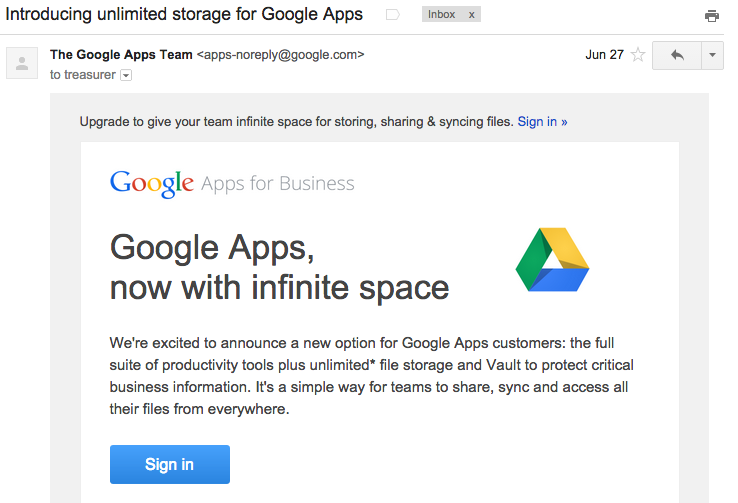 TIP 18

Gamification
Have you ever wondered why video games are so addictive? Because the games, and their rewards/level ups, establish behavior that gamers want to repeat. The never-ending cycle of rewards and quests turn behavior into a habit, and if it has become a habit, that's when addiction creeps in. The psychological thing that settles can be used a powerful marketing technique.
One such example is Starbucks' use of stars as rewards on practically everything—from trying new products, buying a sandwich, or purchasing a bag of Starbucks coffee from the grocery store.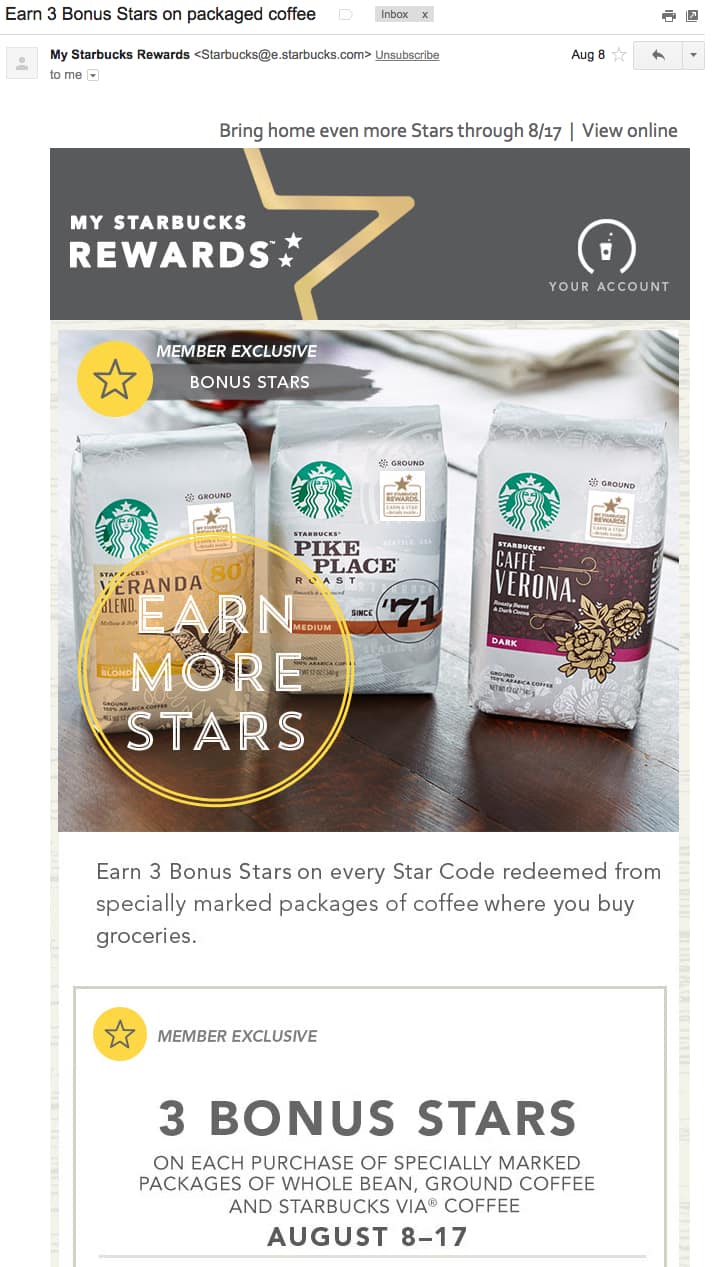 TripAdvisor uses the same concept when encouraging people to write reviews of places they've been. I mean, who wouldn't wanna be a gold-star top contributor?

Those badges don't really mean a thing because TripAdvisor doesn't pay people to do reviews. According to Forbes, this type of marketing ploy– while not being profitable per se—is very effective. Why? Because recognition creates a desire to come back and do more reviews.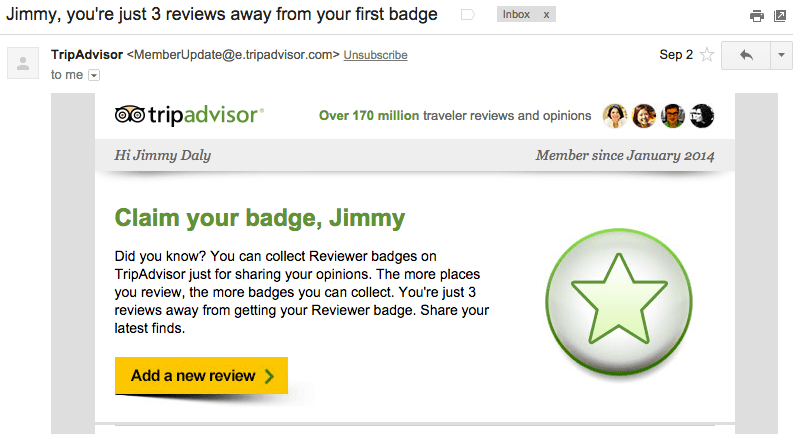 Do you want instant 300% growth?
Picreel popups can get YOUR website 300% instant sales growth. See Case Studies.