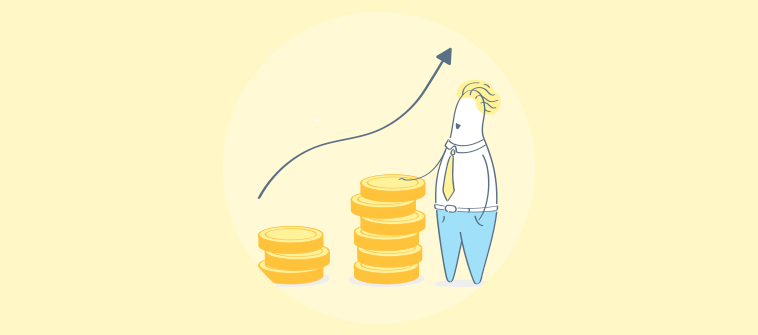 Getting income by selling products & services is what eCommerce is all about. Without sales, it is absolutely nothing, eCommerce doesn't exist! Whether you are just setting up your new store online from scratch or are running one for a long time, you surely know the importance of boosting your sales.
With over an e-commerce sales of 4.2 trillion USD worldwide and two billion customers in 2020, the numbers are rising each and every second. And so are the number of eCommerce stores!
Believe it or not, the number of eCommerce companies stands in millions, and on average, nearly 2 percent of visitors convert. That means only one in 50 website visitors actually buys something. A lot of missed opportunities, isn't it?
Needless to say, competition is fierce as online brands struggle to stand out, attract and convert web traffic. And unless you're Amazon, finding new and effective ways to increase eCommerce sales is a high priority.
So, how to increase eCommerce sales? That's obviously not some rocket science stuff and you won't have to burn yourself out in the process. With some smart combinations of strategies and trending techniques, you can reach your revenue goals. Let's get right into it!
What is eCommerce Sales?
A simple sales model where individuals or businesses sell products or services over the internet. It can be termed as the online version of the traditional sales model as all the transactions take place on the internet using an online marketplace. Well, obviously the goods are not delivered online through your mobile/laptop screens. Although some services are!
As for eCommerce, both individuals and B2B businesses can make sales by listing their products/services, marketing them, and doing a lot more online. The best part about it is they don't even have to own a physical location to operate and sell their products. By utilizing third-party services for product storage and shipping, business owners can easily generate sales.
Now, before answering your question of how to increase online sales, you need to answer these three questions to get it all right.
3 Questions to Answer Before Jumping to Sales!
Answers to these questions will help you identify the potential reasons behind your low or declining sales.
What are your goals?
Surely, you are looking for how to improve online sales and your primary goal is sales! But it is important to have sub-goals to determine more purposes. For different successful businesses, the goals are different. Some want to increase the number of loyal customers and boost brand awareness, while others want to create engaging and meaningful content to drive sales. There are definitely many that want both and much more.
Now, these are some goals that will help you to see things more clearly. You won't be just running after sales if you have different aspects in your mind. It also helps in customizing the sales funnel to optimize your process. So, divide your goals and accomplish to reach your primary goal: boosting sales.
Who is your target audience & what do they expect?
Determining your visitors and buyers is crucial to create content. People often fail to generate good sales if they target the wrong audience. While marketing your products, you need to create content as per your visitors' buying habits and browsing patterns. Once you understand your audience, you can guide them to the right content to eventually increase sales.
With better marketing and content quality, customers will find exactly what they are looking for. Brands can even design their products and services as per their customers' preferences to increase loyalty and awareness.
What is your competition doing?
At the end of the day, you have to beat your competitors in order to attract your visitors and convert them into paying customers. So, you need to check what they're doing. Is it different from your strategy? Where are they outperforming you? What are their mistakes? Answers to these questions will help you learn a lot from your competitors.
Don't see them as enemies, but rather as an inspiration and information hub to strategize your products and services. If something works for your competition, make it better and present it to customers in your own way.
Top 10 Tactics to Boost Ecommerce Sales
Let's get to the real deal. Here are the best ways to increase your eCommerce sales.
1 . Use Exit Popup Offers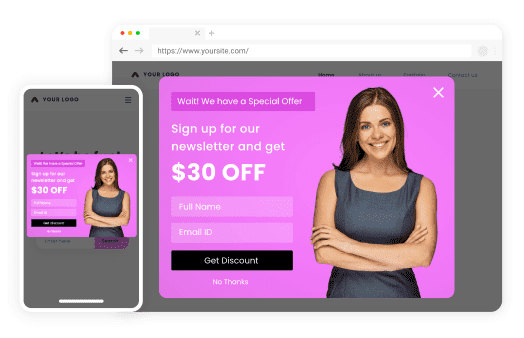 A conversion tool using exit-intent popups can be an incredibly effective way to keep visitors on your site longer and encourage them to take a specific action. Picreel is one such tool that uses advanced cursor-tracking technology to follow site visitors' activity to serve up targeted offers at precisely the right time.
Using conditional statements, you have very granular control over who sees what offers and when. This is ideal for capturing visitors that have spent time comparing products and even for countering shopping cart abandonment and turning visitors into buyers. Let's have a look at how you can boost sales with exit popups on your eCommerce site!
Example: After viewing a product, if a site visitor moves their cursor to leave your site, a Picreel overlay can pop up asking if they're still interested in the said product and offering something valuable in exchange for an email address. While a discount code is an obvious and popular choice for eCommerce sites, for consumers who aren't ready to make a purchase yet, a case study or related blog post might fit the bill (i.e. after viewing multiple pairs of hiking books and planning to leave the site, an exit popup offering a free download, "A Guide to Buying Hiking Boots Online").
Read More: Create Popup Ads in Under 10 Minutes
2 . Offer Competitive Pricing
Whether you're an exclusive brand that manufactures your own goods, or you're a reseller of known brand names, finding your pricings' sweet spot is critical to success. According to the Pew Research Center, 86% of Americans say that being able to compare pricing from multiple online sellers is important, with the winner being the best seller with the best price.
You can start by checking the prices your competitors are offering. Try to display similar prices and if you have a superior quality or more features in your products/services, highlight those to make it noticeable.
3 . Offer Unbiased Reviews
Allowing customers to post honest reviews about your products helps instill confidence in future purchasers. In fact, 82% of consumers consult online reviews and ratings when buying something for the first time. Roughly half under the age of 50 nearly always check reviews before they buy. 
Unfortunately, some unscrupulous sites take advantage of the power of reviews by publishing fake reviews or incentivizing customers to write shining reviews. Savvy consumers are distrustful of sites that boast nothing by 5-star reviews, so embracing unbiased reviews – the good, the bad, and the ugly – shows consumers that you believe in providing helpful, unbiased reviews.
4 . Incorporate Paid Advertising
The bottom line is that unless you're a well-known brand that consumers search for by name, you need a marketing strategy to increase brand awareness and drive traffic to your site. When done right, paid advertising – such as Google Adwords pay-per-click campaigns and social media ads – can be a highly effective strategy to get your eCommerce site in front of consumers that are already searching for products like yours.
You can run small and multiple campaigns on different platforms to analyze the results using A/B testing. Get a clear understanding of what potential customers want and then take advertising campaigns to the next level.
5 .  Setup Retargeting On Your Site
Retargeting, or remarketing, works by showing ads to visitors that have poked around on your website but have taken no action. Retargeting campaigns show user ads in social media or web browsers; they can be general ads for your brand, or they can be very granular, showing products that a visitor has viewed or abandoned in their shopping cart.
Ads can even be used to offer discounts to return to your site and complete a transaction. With the help of a popup campaign, you can easily gather data of returning visitors and existing customers to re-target them using relevant offers.
6 . Use Video Demonstrations

Product photos are definitely great and should be present throughout the website. However, inserting product videos creatively can prove to be game-changing for you. People love to watch video reviews of online products and you can create interest to increase user engagement. The strategy might not be perfect for all products, but you can definitely give it a try.
It is also an ideal way to launch new/unique products and promote your best-selling products to visitors. With the help of popups, you can even offer the visitors a virtual video tour of your product/service to help them understand better.
7 . Website Optimization for Mobile Users
Almost half of the world's internet users browse from their mobile devices. Hosting a responsive website is a pretty good start and the next step is to optimize your website to deliver a delightful shopping experience to your mobile visitors.
When we talk about mobile optimization, you need to take care of simple mobile payment options/integrations, single-step checkouts, dynamic web page design to fit different phone models, and a lot more to make browsing easier for visitors. Once you see the success of mobile website optimization, you can move on to the next step of building an eCommerce mobile app. Keep in mind that growth comes hand-in-hand with scalability. As you want to offer an optimized experience for your users, read up on facilities like a colocation data center which will allow you to increase serviceability for internal and vendor support or improve the user experience per se.
8 . Offer Discounts & Build Email List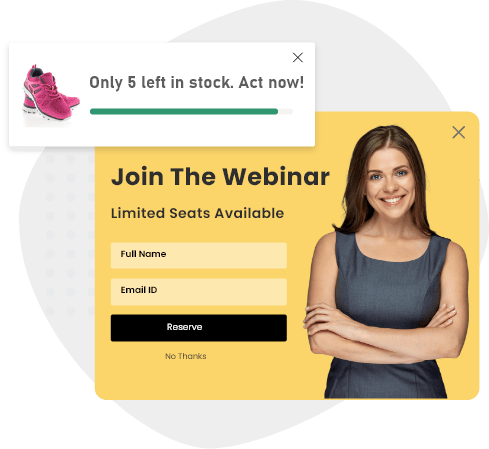 A two-in-one package that can be activated easily using a website popup or nano-bar. If the visitors are showing interest in your products, you can display the popup at the right time to provide them with discount coupons and special offers. Choose a striking copy and powerful CTA like "Here's 20% off on your next purchase!" or "Enter your email address to get surprising deals!"
You are engaging customers with a discount coupon and that increases the chances of conversions. Not only do these tactics boost conversion and increase eCommerce sales, but by requiring an email address in exchange, you're growing your contacts list for future email marketing campaigns.
9 . Provide Free & Fast Shipping
9 out of 10 shoppers would shop more often online if provided with the option of free delivery. Surely, it is difficult to believe the impact of free shipping on a buyer's decision, but this is an interesting fact and we as shoppers know how much we love free shipping!
You can make this one of the key selling points as well by running a banner or nanobar that says "Free Shipping on orders above XYZ$" or "Free shipping on all orders" on your website. Moreover, if you take too long to process and ship the orders, it leaves the customer unhappy and increases the chances of existing customers switching to competitors. So, try and make arrangements with your production and courier teams to get the order delivered on time.
10 . Upsell & Cross-sell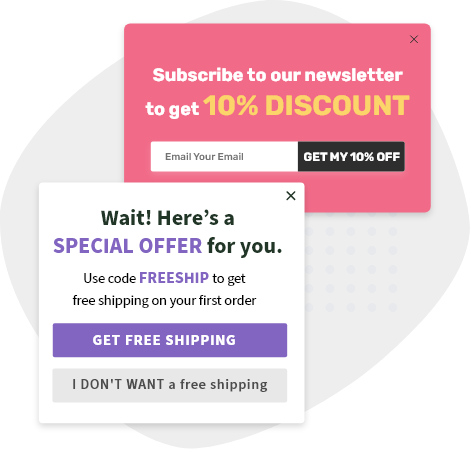 Probably one of the best ways to increase eCommerce sales is by generating more revenue from your customers. When the customer decides to purchase some stuff from your site, it is a win for you and you can extend that win by promoting some similar products or by upgrading the current product in their cart.
It is an effortless tactic that can do wonders for your business. You can use a popup/overlay at the checkout page by displaying the best recommendations that go well with the products in the cart. To make your offer more compelling, you can even put up a certain discount like "10% additional discount on this product!" and the customer might purchase more products.
Your Turn: Ready to Boost Sales?
There you have it – 10 tactics to try and boost your eCommerce sales without spending much time and resources. Every single strategy is quite effective when implemented with proper planning and collaboration. You don't have to go all guns blazing from day 1 by going for all the tactics. Start slowly with perfection and take your e-commerce business to great heights.
A helpful companion on your journey is Picreel – one of the best exit-intent popup tools to boost sales that give you guaranteed results. Try Picreel free for 30 days. Set up takes just seconds, and with our easy form builder, you can begin converting site traffic into buyers and subscribers within a matter of minutes!
Do you want instant business growth?
Picreel customers get a 15-300% instant increase in inbound leads & conversions.