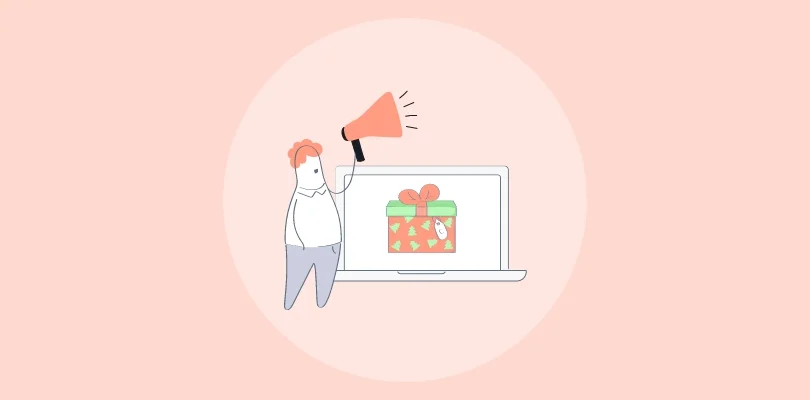 Christmas is the most wonderful time of the year, but also the most competitive for e-commerce stores.
With so many shoppers looking for the best deals and gifts, how can you stand out from the crowd and capture their attention? One way is to deploy amazing Christmas popup ideas.
But, what are these popups that we're talking about?
These are small windows that appear on your site, offering discounts, free shipping, gift guides, or other incentives to entice visitors to buy from you. These Christmas popup ideas can help you increase conversions, boost sales, and create a festive atmosphere for your customers.
According to ROI Revolution, holiday e-commerce is expected to grow 15.5% to $236 billion in 2022, making it a crucial opportunity for online retailers to boost their sales.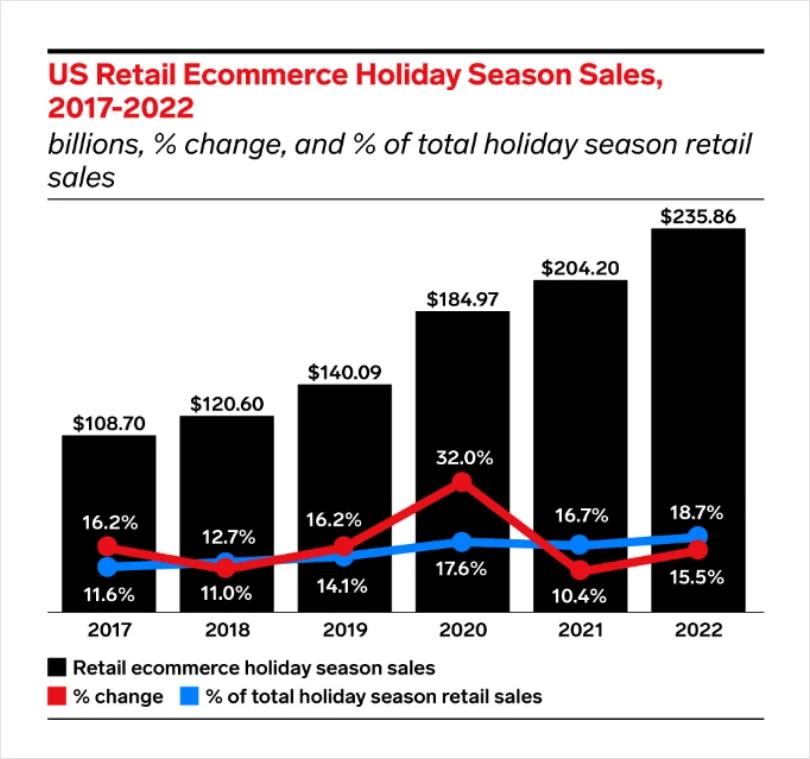 In this blog post, we'll show you some of the best Christmas popup ideas that you can use to deliver captivating holiday experiences to your audience. Whether you want to offer a countdown timer, a spin-to-win game, or a personalized recommendation, we have a popup idea for you.
Read on and get inspired by these creative and effective Christmas popups.
8 Captivating Ideas to Elevate Your Website on Christmas Day
Let's unwrap these captivating Christmas popup ideas and look at possible ways to deploy them on your website:
1. Transform Your Website Into a Festive Wonderland
One of the most effective Christmas sale ideas is to transform it into a festive wonderland.
This means adding some seasonal elements to your website design, such as snowflakes, lights, ornaments, or a Christmas tree. You can also change the color scheme, fonts, or icons to match the holiday theme.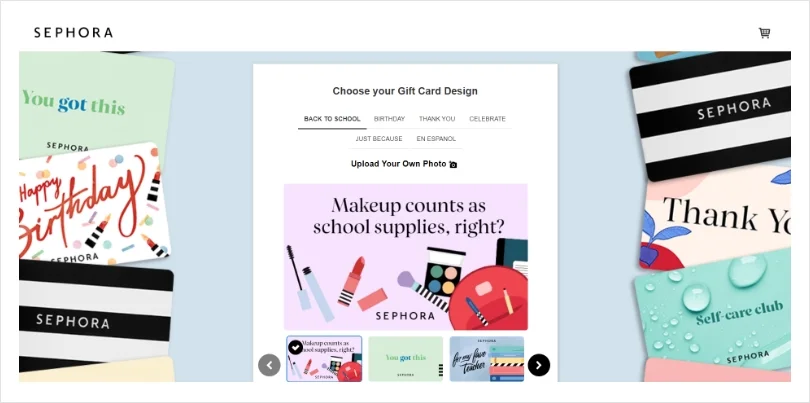 By transforming your website into a festive wonderland, you can create a positive and memorable impression on your visitors, who will appreciate the effort and creativity you put into your website.
You can also increase the chances of visitors staying longer on your site, exploring your products or services, and making a purchase. Plus, you can have some fun and show off your brand personality with your festive website design.
2. Welcome Visitors With a Festive Homepage
Another way to elevate your website on Christmas Day is to welcome visitors with a festive homepage.
Your homepage is the first thing that visitors see when they land on your website, so you want to make sure it radiates the joy of the season. You can design a homepage that features a festive banner, a catchy headline, a clear call to action, and some enticing images or videos of your products or services.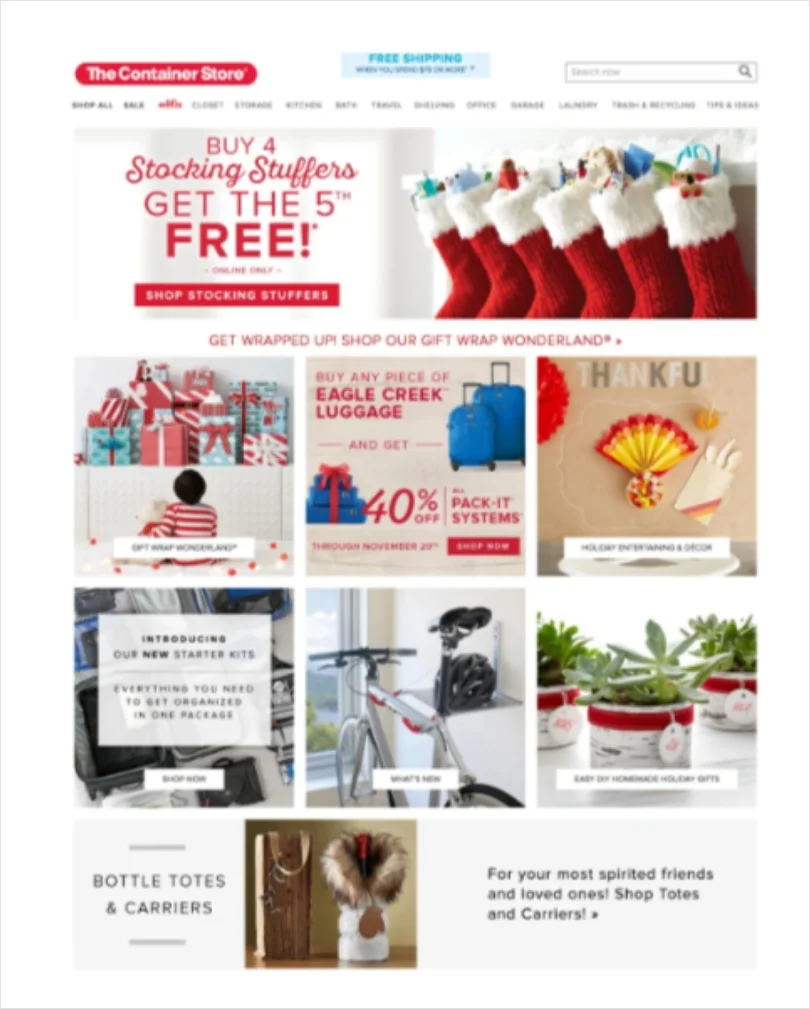 You can also add some festive elements like a countdown timer, a gift guide, or a Christmas popup to your homepage to create a sense of urgency and excitement for your visitors.
By welcoming visitors with a festive homepage, you can capture their attention, convey your value proposition, and encourage them to explore your website further.
3. Foster Creativity With Festive Advent Calendars and Countdown
If you want to create anticipation, engagement, and loyalty among your visitors, you can add festive advent calendars or countdowns to your website.
These are interactive features that let visitors open a door or a box every day until Christmas and get a surprise, such as a discount, a freebie, a tip, or a fun fact.
To add these features to your website, you can use tools like Advent Calendar App, Countdown Timer App, or Popup Maker. You can customize the design, content, and timing of your advent calendars or countdowns to suit your brand and goals.
You can also use these features to showcase your products or services, drive traffic to your website, and increase conversions.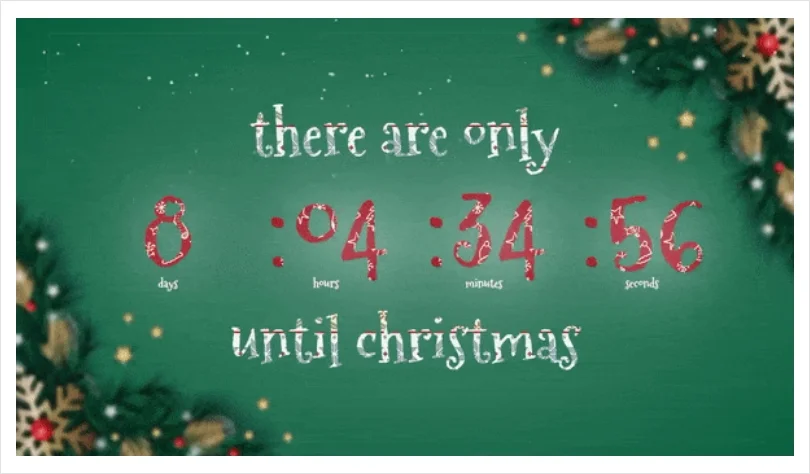 4. Create Urgency With Limited-Time Promotions and Flash Sales
If you want to make the most of the holiday season, then you need to create a sense of urgency and scarcity with limited-time promotions and flash sales. These are special offers that give your visitors a chance to save money or get a bonus on their purchases.
But they have to act fast, because these deals won't last long!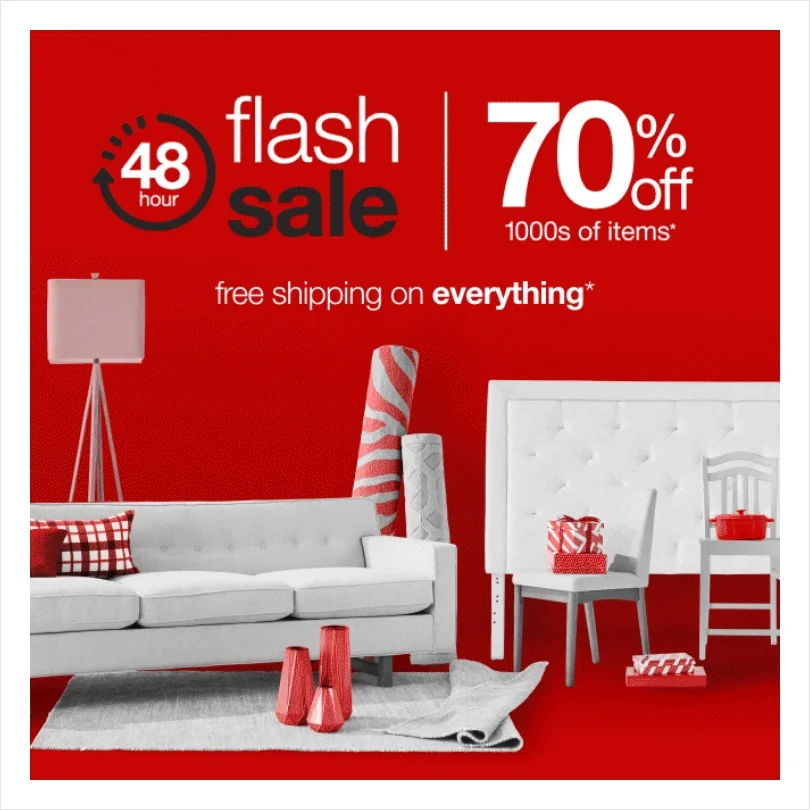 You can show your visitors these offers by using discount popups on your website. These popups will display the details of each promotion, the countdown timer, and the action button. This way, your visitors will know exactly what they need to do to claim their offer before it expires.
You can also spread the word about your promotions and flash sales through email marketing, social media, or push notifications. These channels will help you reach your existing subscribers and followers, as well as attract new ones
5. Add Excitement With Holiday-Themed Quizzes and Trivia Challenges
You can also elevate your website on Christmas Day by engaging visitors with holiday-themed quizzes and trivia challenges. These are fun and interactive features that test visitors' knowledge or preferences about the holiday season.
You can create quizzes and challenges that relate to your products or services, such as "What's your Christmas style?", "How well do you know Christmas movies?" or "Can you guess the price of these gifts?".
You can display them on your website, email them to your subscribers, or share them on social media. You can also reward visitors who complete the quizzes or challenges with discounts, freebies, or entries to a giveaway.
When you engage your visitors with holiday-themed quizzes and trivia challenges, you can increase their interest, trust, and loyalty to your brand. You can also collect valuable data, generate leads, and drive conversions.
6. Optimize Your Website for Mobile Devices
Don't forget about mobile devices when you improve your website on Christmas Day. More and more people are using their smartphones and tablets to browse and shop online, especially during the holiday season.
You want to make sure your website looks amazing and works flawlessly on mobile devices. How can you do that? Here are some tips:
Use a responsive design that adapts to different screen sizes and orientations.
Reduce loading time by compressing images, minifying code, and using a content delivery network (CDN).
Simplify navigation by using clear menus, buttons, and links.
Test for errors by using tools like Google's Mobile-Friendly Test, PageSpeed Insights, or Lighthouse.
Optimizing your website for mobile devices will help you enhance your visitors' experience, satisfaction, and retention. It will also help you reach more potential customers, increase your ranking on search engines, and boosting your conversions.
7. Be Transparent Through Holiday Operating Hours for Christmas
Don't leave your visitors in the dark when you enhance your website on Christmas Day. Make sure they know when you are open or closed for business and how they can reach you if they need anything.
How can you do that? Here are some ways:
Update your website footer, header, or banner with your holiday operating hours.
Send email newsletters, social media posts, or chatbot messages to inform your visitors about your holiday operating hours.
Add an FAQ page, a contact form, or a phone number to your website for visitors who have any questions or issues.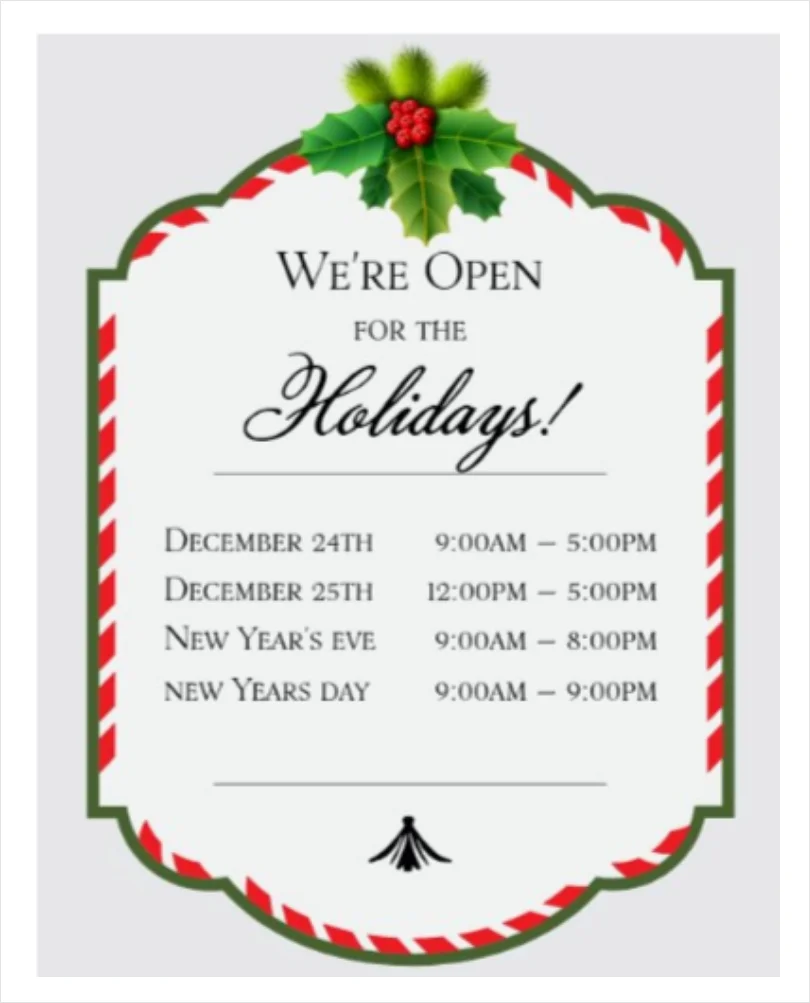 Informing your visitors about your holiday operating hours will help you set their expectations right, avoid confusion, and build trust. It will also help you provide better customer service, support, and satisfaction.
8. Entice Visitors With Exciting Christmas Sales and Discounts!
When it comes to Christmas sales and discounts, you can offer your visitors some irresistible deals and incentives to buy from you during the festive season.
Let's look at some ideas to see how you can do that:
Offer a percentage or a dollar amount off on selected products or categories.
Offer free shipping, free returns, or free gift wrapping on all orders.
Offer a buy one get one free, a bundle deal, or a gift card with purchases on certain products or orders.
Offer a loyalty program, a referral program, or a rewards program to your visitors.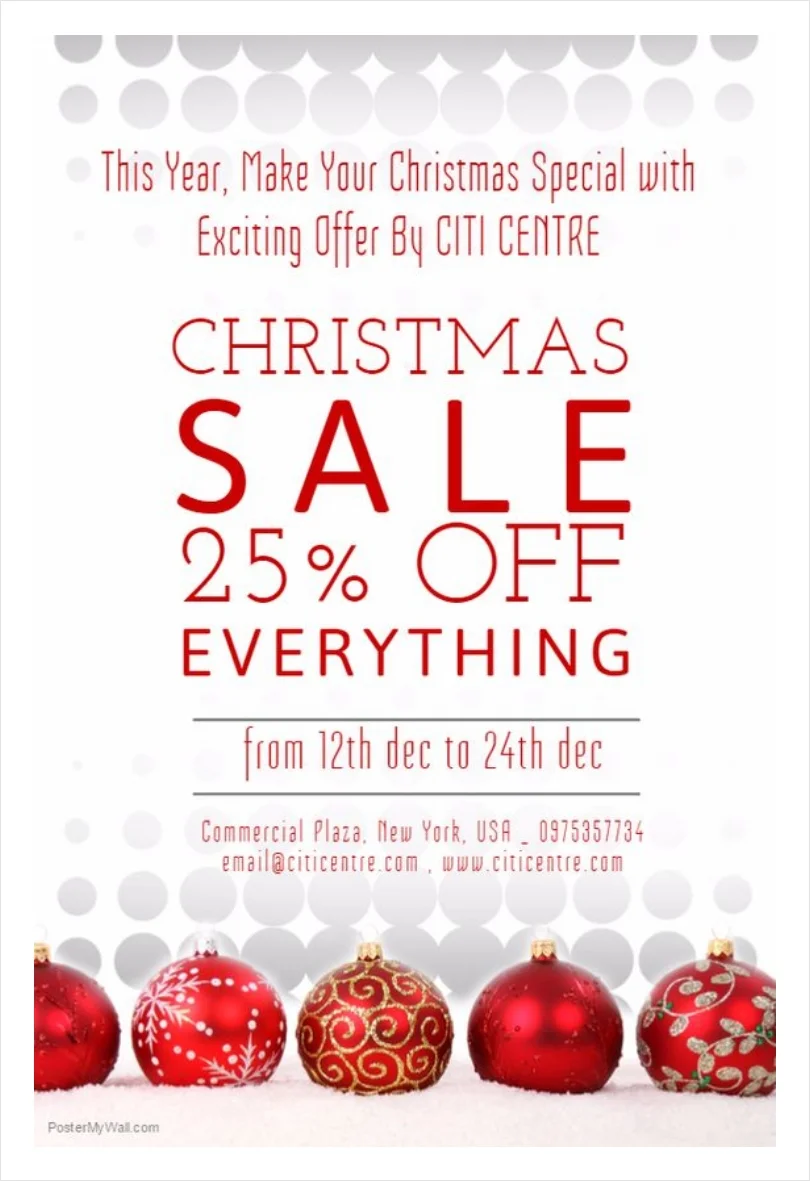 Offering exciting Christmas sales and discounts will help you attract more visitors, increase your sales, and grow your revenue. It will also help you delight your customers, improve your reputation, and beat the competition.
Read More – 36 Types of Website Popups to Use in 2023 (the Ultimate Guide)
Enhance Your Festive Success With Picreel
To deploy popups on your website, you'll need to take help from some of the best Christmas Day popup examples. Let's look at some of the most effective Christmas day popup ideas from Picreel:
Shipping Bar Popup
In the bustling holiday season, nobody wants to be left guessing about their package's arrival. Shipping Bar Popup takes the guesswork out of shipping! With its captivating design and live updates, it keeps customers engaged and excited as they eagerly anticipate the arrival of their festive surprises.

Spin To Win Popup
A spin-to-win popup is one of the most popular Christmas day popup ideas that displays a Wheel of Fortune game on your website. You can use a spin-to-win popup to offer your visitors a chance to win a discount, a freebie, or a coupon code.
You can make your spin-to-win popup festive by using holiday-themed images, sounds, or messages. Or you can use a countdown timer or a limited number of spins to create a sense of urgency and excitement for your visitors.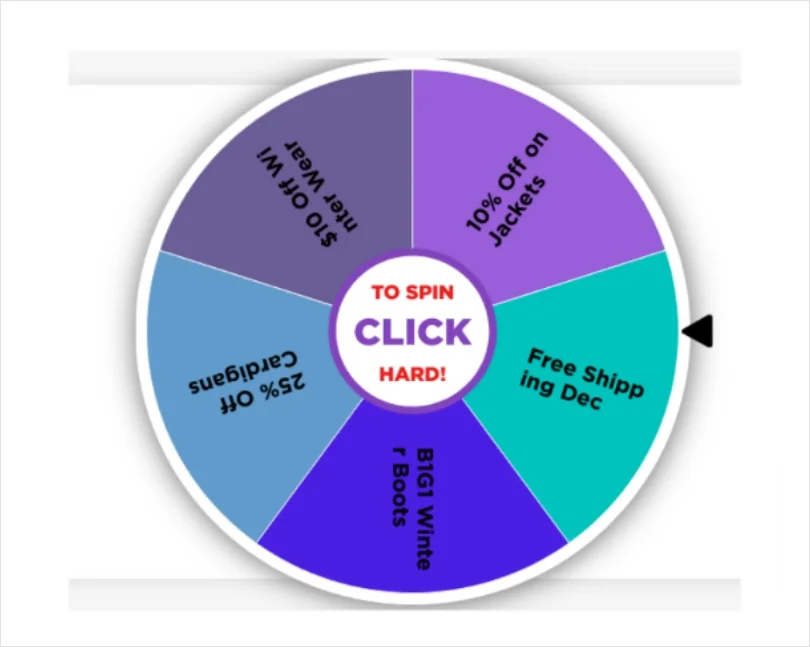 Limited Time Offer
It's called the Limited Time Popup, and this Christmas day popup idea is all about offering amazing deals and goodies that you won't want to miss. It creates a buzz of excitement and urgency, making sure you don't miss out on the chance to save big and enjoy the holiday spirit.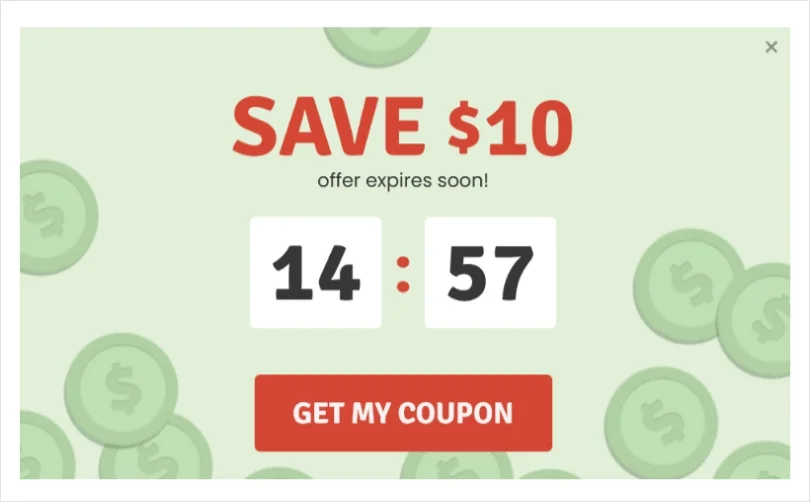 Discount Popup
With its attention-grabbing appearance, this popup emerges to announce a host of irresistible discounts and money-saving opportunities. From significant price cuts to exclusive promotions, it's a treasure trove of savings waiting to be explored.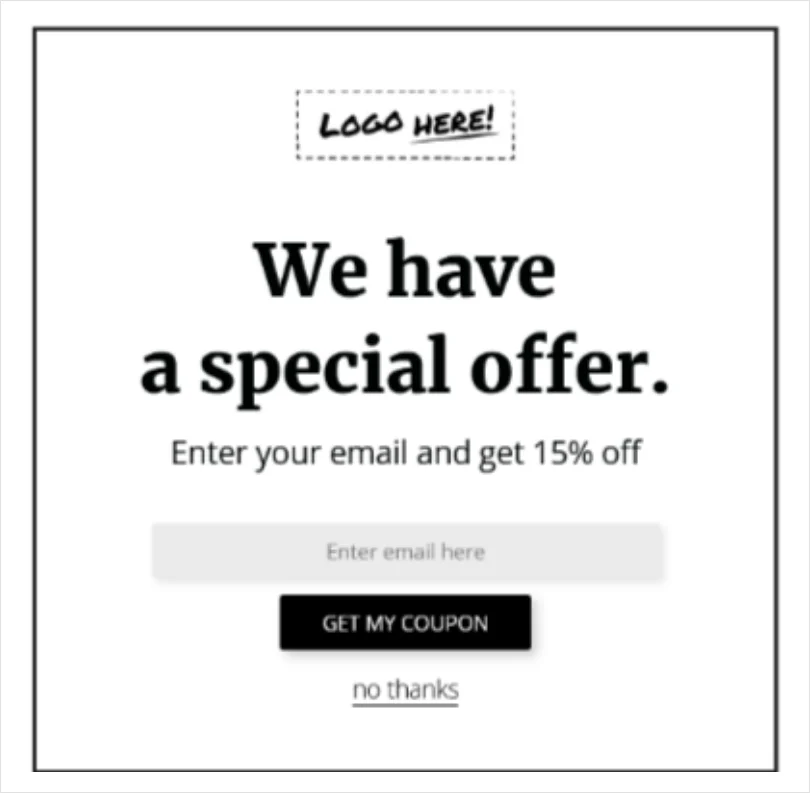 Subscription Popup
A "Subscription Popup" is a small, temporary window on a website that encourages visitors to subscribe to newsletters, updates, or services. It's a valuable tool for building a loyal customer base.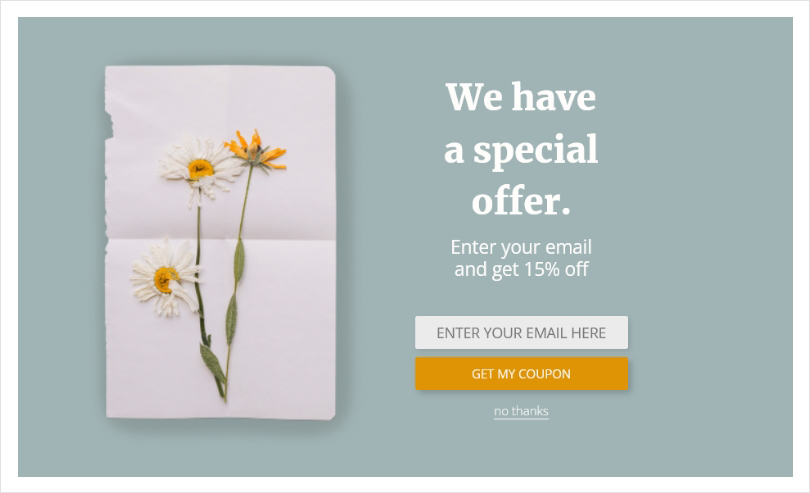 Watch: How to Create Popup Ads with Picreel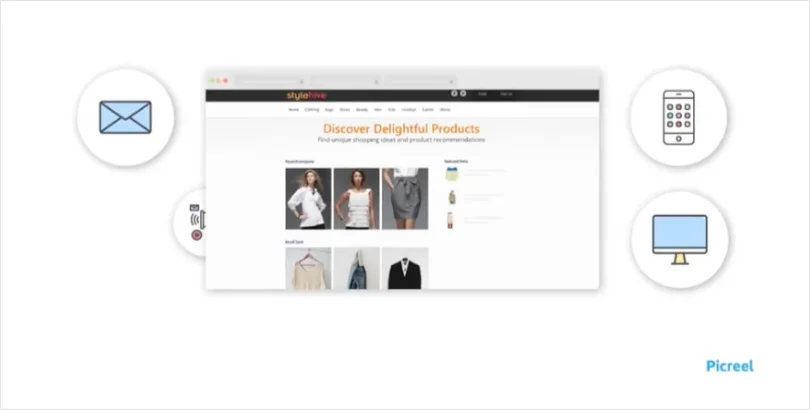 Elevating Festive Success With Engaging Popups
Incorporating popups during the holiday season enhances festive success.
These Christmas day popup examples captivate customers, elevating the shopping experience and boosting business. By leveraging their power, you can create an enchanting atmosphere and leave customers satisfied.
Embrace the magic of popups, unleash shipping updates, limited-time offers, and enticing discounts, and transform the shopping journey into an unforgettable experience.
Take your e-commerce game to new heights by harnessing the power of Picreel, one of the best popup builder tool for the Christmas season. With Picreel, you can effortlessly create captivating popups that seize visitors' attention, amplify conversions, and skyrocket your sales.
Experience the magic of Picreel firsthand with a 15-day free trial.
Do you want instant 300% growth?
Picreel popups can get YOUR website 300% instant sales growth. See Case Studies.