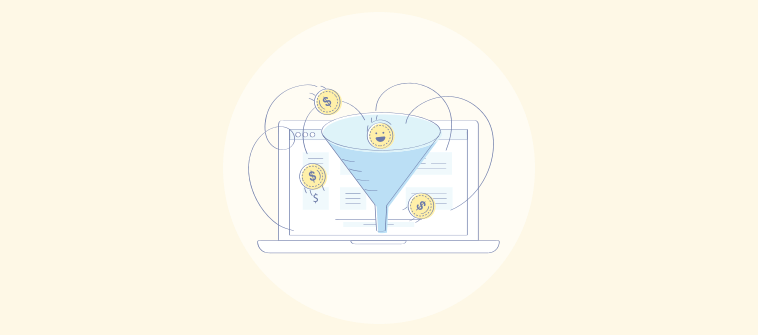 Running an eCommerce business requires a constant flow of customers, making eCommerce lead generation a must for marketers and owners. With the competition rising every minute, you and your company need a smart & effective strategy to stand out.
First things first. Have you tried the normal business lead generation tactics? Are those working out for your store? Probably not! Because lead generation for eCommerce is different. It is because the customers' motivation, buying habits, browsing patterns, and objections are different when they arrive at eCommerce stores.
That is the reason why you should design your lead generation tactics according to your specific eCommerce audience. We are here to walk you through it all. There is no doubt that if you implement the strategies right, you will surely see a jump in your lead conversion numbers.
What is a Lead in eCommerce?
In eCommerce, a lead is any person who shows interest in your brand, products, or services by taking certain actions. These actions include clicking on your advertisements, landing on your website, following your page on social media, responding to your marketing campaigns, exploring & wish-listing your products, subscribing to your email newsletter, and so on. To keep up with all this information and make data-backed business decisions you should align with your eCommerce reporting.
Each lead that you collect is a potential customer and their actions can provide you valuable insights. Your sales team can use this information to convert leads into customers.
Who is Your Ideal Lead?
No two leads are the same. Your ideal or target lead is a person that is likely to make the purchase from your online store. On the other hand, a marketing lead is someone who just left their contact details and you can communicate with them over email or phone to push them towards a purchase in the future.
Let's understand this with a quick example.
An online bakery store has a well-organized website with multiple product pages, blogs, guides, and so on. The store gets 100 signups in one day.
70 people signed up after clicking on the bakery's social media ads or getting to their landing page from the search engine to browse and purchase cakes.

20 people were looking for some cake recipes and found their blog, and left their email addresses for more such recipes.

10 people got from other sources with other motives such as to look at the different cake designs or check/compare the prices, etc.
The 70 signups are the ideal leads that have shown interest in online bakery' products. The 20 that came through blogs and guides might never make a purchase. The remaining 10 are leads who could purchase in the future but not right now.
Got an idea? The priority is to chase the target leads first and go after marketing leads in your future email marketing campaigns. So, initially, you need to define your buyer personas to identify potential leads. As per your eCommerce business model and the products/services you offer, consider different factors such as age, gender, location, interests, pain points, and so on. Pen down these in a systematic order and it will be helpful for your teams to filter leads.
Now that you have a good idea of your ideal leads, time to get down to proven eCommerce lead generation strategies.
Top 15 Lead Generations Tips & Strategies for eCommerce
Curious about effective eCommerce lead generation strategies? Try these top 10 tactics!
1. Prioritize Email Collection
When you visit established eCommerce sites, you will quickly realize that they take email collection very seriously. These companies understand that getting the email addresses of new visitors is the best eCommerce lead generation strategy for establishing new and long-lasting contacts.
Getting these addresses is not as easy as it sounds, though. Sometimes it takes more effort than just providing an email form through your website lead generation tools. People do not freely give out their email addresses, especially when they have nothing to gain from doing so. Some eCommerce sites get around this stumbling block, by offering special deals to entice newcomers to share their email addresses.
Roaman's, for instance, offers a free shipping coupon to every first-time registrant. Another brand that uses the same strategy is Woman Within. This strategy seems to have worked for these brands as they remain extremely popular with shoppers.
2. Use Exit-Intent Popups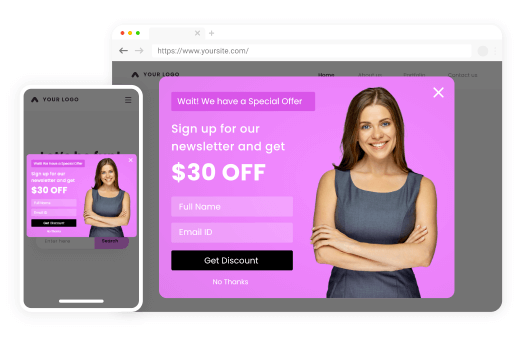 You can easily create a lead generation machine using an exit-intent popup tool. Businesses often miss out on potential leads and customers by failing to get their attention when they are about to leave the website.
Using smart exit-intent technology, you can target visitors leaving your site. This helps in fighting cart abandonment and also reduces your bounce rate. As the visitor is leaving, a popup will not disrupt their browsing experience. You can offer them discounts and display personalized recommendations to guide them to the right product.
Simple exit pop-up forms are useful for collecting specific information, which can then be used to segment visitors for better customer service. These are also handy for introducing customers to the brands' social media platforms and helps in increasing customer engagement.
Leading companies from across the globe have witnessed an increase in quality leads and conversions using exit-intent popups. The results are right here!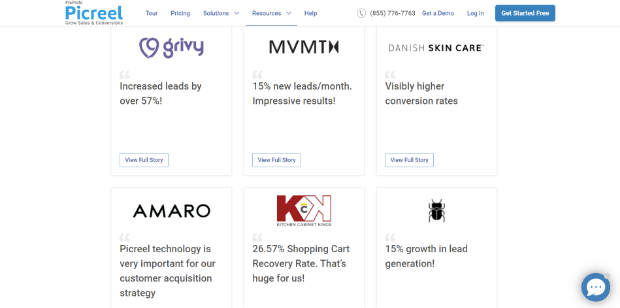 3. Encourage Your Customers To "Tell a Friend"
Word of mouth remains one of the most effective methods of lead generation. This old marketing tactic works perfectly well online and some eCommerce sites have adopted it as a primary eCommerce lead generation strategy.
You can easily acquire the email addresses of potential customers by asking your existing customers and website visitors to refer their friends. Reward both parties with discount coupons, free guides, reward points, etc. and it will be a great move to generate leads.
Schwan's is a great example of this. They offer a $10 discount off of a $60 purchase to customers who introduce a friend to the site. The introduced friend also benefits – he or she receives a 20% discount for use towards their first purchase.
4. Use Behavioral Targeting (Personalization)
Every customer wants to feel special, which is why brands that are able to personalize lead generation are often so successful. The more personalized your eCommerce lead generation is, the more successful the outcome.
That is why you need to use a tool that will not only help you understand your customers in the quickest way possible but also allow you to customize your eCommerce lead generation process. This is called behavioral targeting and it is highly effective. Using the right tool, you can obtain leads at the right time using the most appropriate message.
What's more? You can use personalization to recommend additional products to your visitors based on their browsing patterns and purchase history.
5. Run Pay-per-click Advertisement Campaigns (PPC)
Based on the customer personas you created, target the most relevant audience across various platforms like search engines and social media. With the help of paid advertising, target high-value, competitive keywords to attract shoppers.
Visitors coming through PPC are 50% more likely to complete a purchase than organic traffic. As the ads are charged by the number of clicks, you will only be paying for visitors that are likely to convert. Prioritize this traffic and target them with your best products and offers to increase the chances of capturing leads and converting them.
Also, you can use a tool or extension to design your ads in a way that you can show your best-selling products/categories with links to specific landing pages. This lets the shoppers know about what types of products you offer. Try to include keywords/links related to sales and discounts you are offering as that drives a lot of traffic.
6. Offer Discounts & Benefits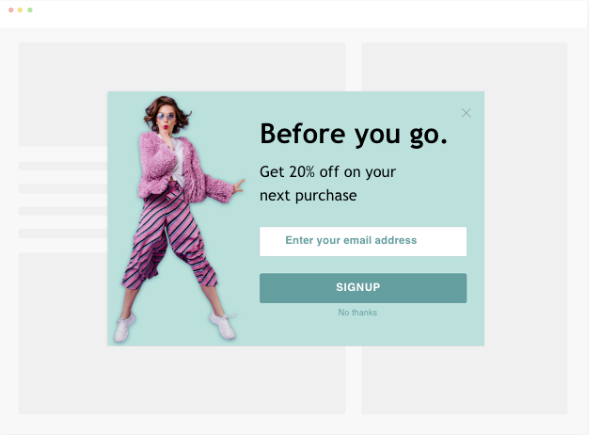 You don't want to lose your visitors that have landed on your website. The best way to make them stay is through incentives in the form of gifts, giveaways, discounts, deals, free shipping, and loyalty points from purchase.
Lead generation for eCommerce business becomes super easy when they start targeting first-time visitors/shoppers with discount coupons/offers at the right time. You can implement popups to promote special offers. Collect the email addresses of shoppers and then offer them discount codes using 2-step popups to gather valuable visitor information.
Also, the discounts need not be enormous. They can be as simple as a free shipping code or 20% off on the next purchase. Be creative in offering discounts so the visitors know the value of your offer and products.
7. Run Limited Time Deals (Time-Sensitive Offers)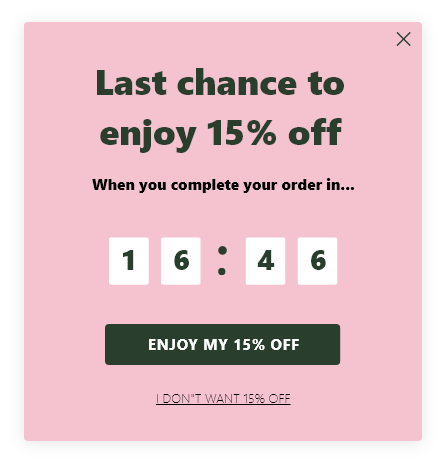 Fear of missing out (FOMO) and urgency still work for lead generation. When the offer is about to run out, it gets more appealing. It can be a coupon code or a product discount or an alert about your best-selling products running out of stock.
You can create popups or nanobars with countdown timers. Go for a 2-step popup to collect the email address and then reveal the coupon code. Try to match the countdown popup design well with your site and write a compelling copy to grab the attention of shoppers instantly.
Also, keep in mind that you don't display these limited-time deals or flash sales too often to the same shoppers as it decreases the credibility of your offer.
8. Refresh & Create Valuable Content
Ecommerce is all about refreshing content from time to time. The competition just keeps on increasing and the flashy discounts tactic isn't going to work forever. You need to curate your content for products/services pages in a way that delivers information and gives the inspiration to purchase from you.
Mention all the relevant information from shipping and return policy to size charts and high-quality images to attract visitors' attention. At the end of your product pages, insert some genuine customer testimonials/reviews to build trust and provide credibility.
Also, regularly write and update blog posts as it helps in getting rankings on search engines and a group of shoppers might get redirected to your products. If the visitor is showing interest, make sure to display opt-in or nano bar to collect their email address.
9. Host Giveaways & Offer Freebies
Shoppers love to grab free stuff. From physical products to digital services and guides, you can offer it all in exchange for visitors' email addresses. The key here is to target the right audience and mainly new visitors with such content.
Also, when you host a giveaway of your best-selling products, the winners will be able to check the quality of your products to recommend others as well. For the ones missing out on the giveaway winners list, you can offer a participation discount on their next purchase. This helps in quickly collecting leads.
To make it a success, you can ask the users to share the giveaway with their friends in return for an additional entry. Even you can promote the giveaways on your social media handles, Such incentives work well and help you in capturing leads.
10. Optimize Your Call To Action (CTAs)
Your call to action (CTA) is crucial in marketing campaigns. It determines what action will the visitors take. For that, you need to identify your primary goal i.e. whether you want to redirect the visitor to another page or shopping cart or you want to collect their email address, etc.
Then, create the CTA copy using limited and clear words. Try to incorporate action words in the start like Try, Get, Buy, Add, etc. You can use scarcity or urgency as well. Match the CTA button with the theme and layout of your website.
Finally, make sure to keep your CTA consistent on landing pages and popups/nanobars. If you use too many CTAs, it will confuse the visitors and might lead them to exit your website.
11. Make Checkout Process Easier
Around 18% of online shoppers are likely to abandon their cart if the checkout process is slow/complex. Additionally, if the site asks to create an account first, there goes another 24% of shoppers. What does that tell you? People like simple things.
So, it is time for your to optimize your checkout process. Include simple and clear buttons with a smooth and short process. Many businesses offer one-click checkouts with a short form that just asks for relevant information. After the purchase is complete, you can ask over email to create the account, not before!
To push shoppers into making purchases, you can use nano bars offering free shipping codes at the checkout page. This is a proven tactic to increase sales and a lot of shoppers look for free and fast shipping.
Read more: Top 10 Tactics to Boost Ecommerce Sales
12. Integrate Live Chat
Live chat is a great way to interact with visitors before they decide to leave. The powerful tool lets your sales team convince potential customers as 63% of shoppers are likely to return to a website that offers live chat.
It can act as a 2-in-1 tool to help/guide the visitors and to introduce your best-selling products. Your team will be able to figure out what exactly the customer wants and this helps in updating the content copy to convert visitors into leads.
Also, make sure that your live chat window doesn't annoy the visitors' browsing experience on mobile devices. Almost half of the online shoppers use mobile devices to browse, research, and purchase products. So, make sure that your website is mobile-friendly.
13. Optimize for Mobile Shoppers
Providing a stellar mobile experience to shoppers is a great way to increase eCommerce leads and sales. As a lot of visitors browse for products using their mobile devices, it is important for you to optimize the website to make it mobile-friendly.
Ensure that your website is fully responsive and works well in different browsers and on devices of all sizes. Check that the navigation bars, CTA buttons, search bars, and popups are functional, and the content is optimized for viewing without scrolling a lot to the right or left.
You can check Google's Mobile-Friendly Test to know how your site performs on mobile devices and what are areas of improvement.
14. Send Push Notifications Using Cookies
Cookies are great to keep in touch with your website visitors. When you keep cookies on your visitors' browsers, you can send them ads using push notifications. You must have seen this on many sites asking for permission to send notifications and alerts.
When your shoppers allow push notifications, they will be receiving alerts, news, discount coupons, or anything you want to display. It is a great way for bringing back visitors to your website to increase leads and conversions.
Just like email marketing campaigns and popups, make sure that you send limited notifications or there's always an option for visitors to block these push notifications.
15. Conversion Rate Optimization (CRO) Audit
A conversion rate optimization audit is a complete analysis of your conversion status across the websites. The 360-degree assessment is backed by research and data-driven reports which helps in identifying the areas that are stopping you to get leads and conversions.
In optimization, you will have to basically identify different elements of your website to analyze them individually. From segmenting your traffic to evaluating the content & assets plus testing the forms/popups, you need to think about the overall user experience to get the best results.
Audit your website from time to time and make changes in different elements to see how your leads and conversions change the direction.
Start Using Picreel to Improve Your Lead Generation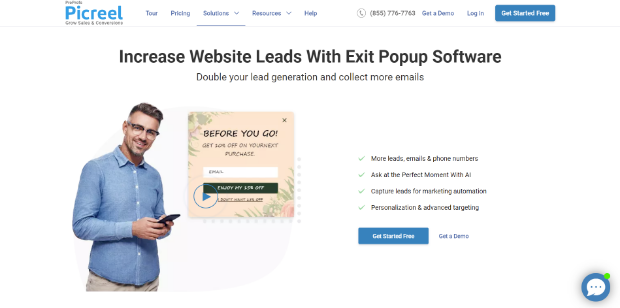 For eCommerce businesses, an exit-intent popup tool is the need of the hour. It is definitely the best way to increase leads, conversions, and sales. With a tool like Picreel on board, you can easily double your lead generation to collect more emails.
With advanced targeting options and behavioral tracking, you can leverage the power of Picreel Popup Builder to create delightful, personalized popups. Run different popup campaigns on landing pages, checkout pages, pricing pages, product pages, homepage, and so on.
Easily A/B test the popup campaigns with advanced analytics right on Picreel's dashboard to get your high-converting popup design and copy. With over 100+ ready-to-use templates, get started with Picreel to take your lead generation journey to new heights.
Read More: Create Popup Ads in Under 10 Minutes
Time to Attract More eCommerce Leads
From the looks of what you read till now, eCommerce lead generation is not easy at all. So, for your initial question about how to generate leads for eCommerce website, the answer lies right in the 10 strategies we mentioned.
You surely can't grab information from every visitor who lands on your website. Target all the visitors with the right tactic at the right time, and you will be on your way to growth.
At last, always keep on testing different elements on your website as A/B testing is one of the very best conversion rate optimization techniques that helps in increasing leads and conversions in no time.
Do you want instant 300% growth?
Picreel popups can get YOUR website 300% instant sales growth. See Case Studies.