Exit Intent Popups revolve around a technology that tracks a user's mouse movement and detects when the user is about to leave the page. If the user's mouse cursor moves towards the top of the page, the exit popup will trigger a popup message asking the user if they are sure they want to leave the page. This is a powerful tool for website owners because it allows them to capture leads and convert them into customers.
These popups typically contain a special offer or message designed to keep the visitor on the page. Exit intent popups can be effective in reducing website abandonment and increasing conversions.
This blog uncovers exit-intent popup examples and also explains how they work.
Why Would You Use an Exit intent Popup?
Exit intent popups are a great way to keep visitors on your website. By providing immediate and easy-to-understand value, exit intent popups can help you keep visitors engaged with your content.
These popups can be used in a number of ways to improve your website. Here are two of the most popular:
Provide an incentive for visitors to stay on your website: Exit popups can be used to offer visitors a discount or voucher if they sign up for your newsletter or make a purchase. This is a great way to encourage people to stay on your site and take advantage of your deals.
Give visitors immediate access to valuable information: Exit popups can also be used to give people quick access to important information like your contact details or customer support number. This is especially useful if you have a high-traffic website where people might not have time to search for what they need.
Exit intent popups have been shown to increase conversions by up to 60%. That means if you're not using it on your site, you're missing out on a huge opportunity to boost your sales.
There are many different ways to design an exit popup, but the most important thing is to make sure it's relevant and persuasive. Your goal should be to convince the visitor that staying on your site is worth their time.
If you're not sure how to get started, then the most convenient way for you is to start using Picreel's Drag and Drop Builder.
Sign up To Create And Design Your First Popup Ad For Free!
Exit Popups – How Do They Work?
A lot of effort goes into bringing visitors to your website – optimizing a website, SEO and creating content to perfection, aggressively marketing your brand on social media and other channels. When people finally visit your website and leave without taking any action – the entire hard work goes in vain.
That's where exit popups help. These are a kind of website overlays that show up in the nick of time just when visitors are about to exit a particular page or website, with the aim to stop them from leaving. It intends to win back visitors' interest before you lose them forever.
Do it right, and you have conversions. 
Go wrong with it, and you can annoy visitors even more. 
These popups should be handled with care if you want to pull customers in. They target the right customers at the right time, showing them offers, discounts, and promotions, to boost sales.
For example, if a customer adds some products to his shopping cart but doesn't complete the checkout process due to any reason, the exit popup can offer a discount or incentive to convince him to complete the purchase.
Another example can be of a customer who browses your website, checks out your products, and just decides to leave. In such cases, the popups can display a survey asking customers what stopped them from purchasing.
More than the time, it's the context that is critical in the case of exit-intent popups. They should be informational and in alignment with visitors' requirements to leave the right impact.
What About Exit Popup on Mobile Websites?
A new study has found that over half of all website traffic comes from mobile devices, but there is still no reliable way to track exit intention on these devices. Many businesses are still losing out on potential customers who may leave their site without completing a purchase.
Exit intent popup technology has been shown to effectively reduce abandonment rates and increase conversion rates on desktop computers. However, this technology is not yet available for mobile devices. Businesses must find other ways to keep track of their mobile visitors and provide a good user experience.
One way to do this is by using heat mapping technology to track where users click on your site. This can help you to identify areas where users are having difficulty navigating or where they are becoming frustrated with your site.
Additionally, a popup could trigger when a user tries to click back to the previous page on their mobile device.
Ultimately, these are just a few examples of how exit intent popups can be triggered on mobile devices – so be sure to test out different scenarios to see what works best for your site visitors!
Why & Where to Use Exit Trigger Popups
While random pop ups or excessive pop ups on the website can be unhealthy for your business, exit popups are totally the opposite of that. Why so? Because these are displayed when the visitor has already decided to leave your website. It is an appeal or last attempt from you to convince them. So, exit popups are your best bet to capture leads, recover abandoned carts, reduce bounce rates, and boost conversions plus sales.
But what are the key areas and pages where you can use exit popups? Check it out below:
Home-page:
If the visitor leaves your home page without exploring your products or services, you can display an exit survey to ask what went wrong. You can also use a lead magnet here to collect their details by offering them a free guide or access to your premium newsletter.
Product Pages:
If the visitor is interested in your products and decides to leave after spending some time on your site, then they are a potential customer. Incentivize their purchase or guide them to more relevant products or display your best-selling products. The same goes for pricing pages if you have a SaaS company.
Landing Pages:
Landing pages are designed for specific marketing campaigns. As these pages are mainly created to generate leads, you can ask for their contact details by offering a free demo, guide, or entry to a seminar. Also, you can use popups to guide the visitor to other relevant pages based on their mouse movement.
Checkout Page:
On average, 7 out of 10 shoppers abandon their cart. So, it is a must to display exit popups on the checkout page. The shopper is one step away from completing their purchase. Displaying a popup with social proof like "500 customers purchased this recently" or mentioning the ratings, or simply offering them a discount code can stop them from abandoning their cart.
Blog Pages:
Readers on blog pages are perfect for turning into leads by asking them to subscribe to the blog newsletter. Based on the blog they are reading, you can display them exit popups offering a relevant free guide or entry to your ongoing giveaway in return for their email addresses.
Checklist to Create The Best Exit-Intent Popups Copy That Convert
Converting random visitors into loyal customers continues to be a daunting challenge for marketers across the globe. You need to know what makes customers tick, show them offerings that pique their interest, and give them strong incentives to stick to your brand.
Exit intent popups serve the purpose well. They are carefully designed to win back visitors' interest before they bounce off, only to never return to your website.
You need to be very cautious while building an exit popup.
Done wrong, they can repel customers.
So, what is the secret sauce to building an awesome exit intent popup that compels customers to stay instead of pulling them away?
1. Attention-Grabbing Headlines
A headline is the first thing visitors tend to notice in a popup. Create short, eye-catching headlines that quickly grab customers' attention and compel them to take action. Ensure that the headline has a power word that is the cynosure of the entire popup.
For example, words like Win, Grab, Unlock, Guaranteed, Shocking, Lifetime, and the like are packed with emotion and persuasion. Using such words in the headline leaves a strong impact on visitors.
2. An Impactful Call-to-Action
There is a strong reason CTAs like – Read More, Buy Now, Explore Now, Get Started, etc., are all over the web. Over time, marketers have realized that such action-oriented, simple and succinct CTAs urge customers to click and take action.
Your exit intent trigger should follow a similar approach. Create a strong CTA that is relevant, action, or benefit-oriented and stands out from the rest of the popup content.
3. An Enticing Copy
The exit intent popups must have a killer headline and beautiful visuals. But if the message is not compelling enough, the popup will fail to make the cut. Give visitors a valid reason to take that offer and give you their email address.
Communicate your value proposition clearly and ensure that the popup is in context with their requirements. Nothing can beat an informational and engaging copy that adds value to the visitors' experience.
4. Appealing Visuals
Research reveals that humans process visuals 60,000 times faster than text. We are hard-wired for visuals. We instantly get attracted to content that is interactive and engaging.
A winning exit-intent popup capitalizes on this aspect of humans and gives them every reason to take action.
Feature relevant images to make the popup more trustworthy. Display products or the inside content of an offer to help visitors connect better with your brand. Use visual cues and images of people taking the required action that you want visitors to take, and make your popup stand out.
5. Be Context-Specific
Out-of-context popups are a surefire way to frustrate customers. It makes no sense to display a 'First-buy discount' to a regular customer browsing through your product page. Similarly, it is highly irrelevant to show a cart abandonment popup when visitors haven't added anything to their cart.
Popups are meant to arouse the interest of visitors and keep them hooked. But popups can do the opposite if not created or used in the right way and in the right places.
6. Get the Timing Right
Understand that timing is critical when it comes to exit intent notification. A popup that shows too early has a high chance of irritating customers. How do you expect visitors to take your offer when they have hardly looked at your website?
Bring the popup too late, and you might miss out on a golden opportunity to convert visitors.
The trick to building winning overlays is in striking the right balance. Create well-timed popups using software like Picreel, understand user behavior, and do not miss a single opportunity to delight your visitors.
These are some proven strategies to drive popup conversions. Done right, your exit-intent ad has the immense potential to turn random visitors into devoted customers.
49 Best Exit Popup Examples to Get You in the Right Direction
An exit-intent popup is your last shot at preventing a customer from leaving. So, it better be the best one. One brilliant popup can instantly change customers' minds and bring them back on track.
Here are the top examples to make that last effort count.
Exit Email Popup
These are designed to capture qualified visitors' email addresses and grow your list of subscribers. Ask visitors to sign up for your emails and increase your chances of conversion in the future.
The emails you gather help you reach out to your customers and keep them informed about your new offerings, discounts, and promotions.
Some customers might be hesitant to share their emails for fear of being bombarded with continuous marketing messages. Make an irresistible offer and assure customers that only relevant content will be shared with them.
1. Picreel
Picreel popup creator has a range of templates for its users to collect exit-intent customers' emails. The popup provides 15% off for providing an email address.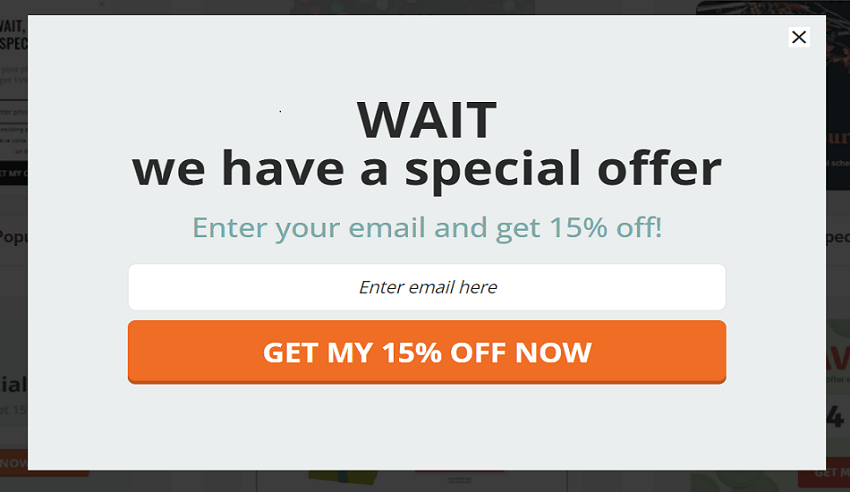 2. Lessa.com
Leesa.com follows a similar approach. No direct CTA to get the customer's email. The email popup comes in the form of a friendly message – Wait, don't go. Smart move!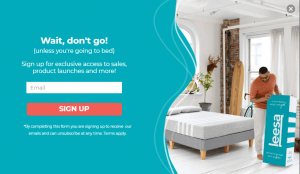 3. Mobile Fun
Mobile Fun nudges users to stay by leading them to high converting pages. Moreover, it urges potential customers to sign up.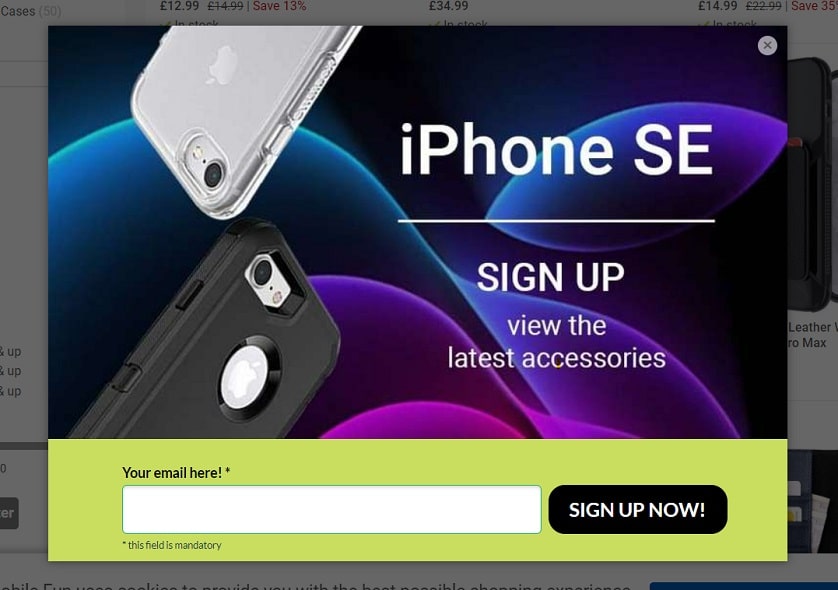 4. J Crew
J Crew exit-intent popup offers the rewards and a 15% discount in exchange for signup. It also encourages users to keep shopping.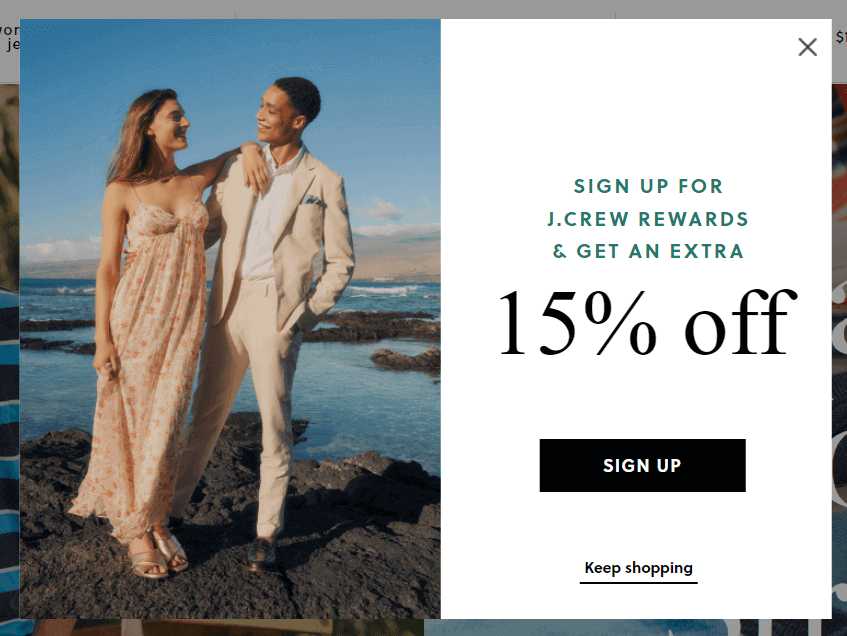 Cart Abandonment Exit Popup
Cart abandonment popups are great for those customers who have a bag full of your products but show exit intent without making the last purchase move. This can be frustrating as they decide to ditch you at the last minute.
Such pop-ups aim to combat cart abandonment by making an attractive offer that pulls them back to you and encourages them to complete the purchase. Personalized offers tend to woo customers, compelling them to shop from your brand.
5. Picreel
Picreel popup for cart abandonment comes as a message that offers caution with the topmost line starting with 'Wait.' The special offers include a discount for the phone number and permission to contact the user on their device.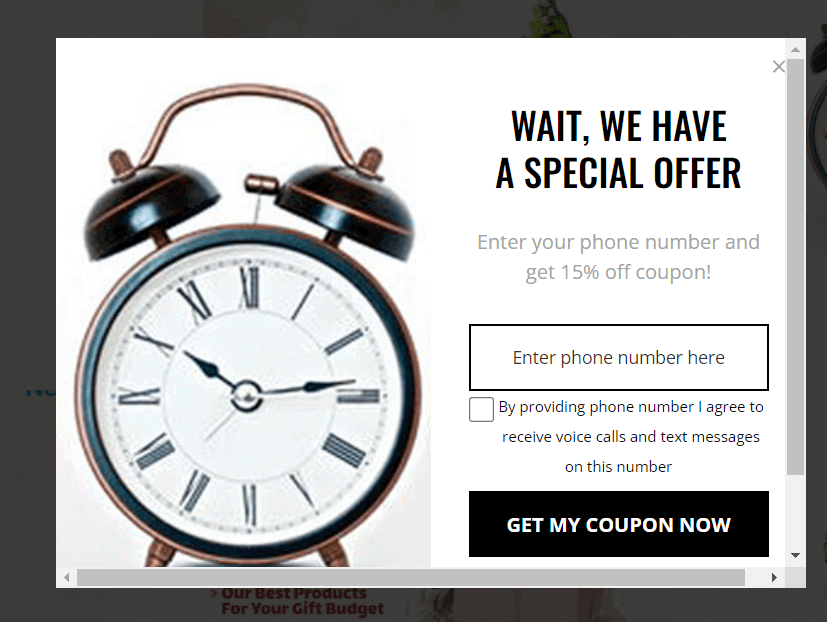 6. Brooks Brothers
Brooks Brothers nail it like a pro. Just when customers are about to leave the cart, this brilliant offer shows up, and they can't help but buy from the brand. The exit popups example for lead gen by Brooks Brothers clearly wins our hearts.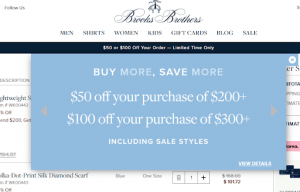 7. Nike
Nike has good examples of exit popups. The store asks for details about the user, including email address, date of birth, and shopping preferences.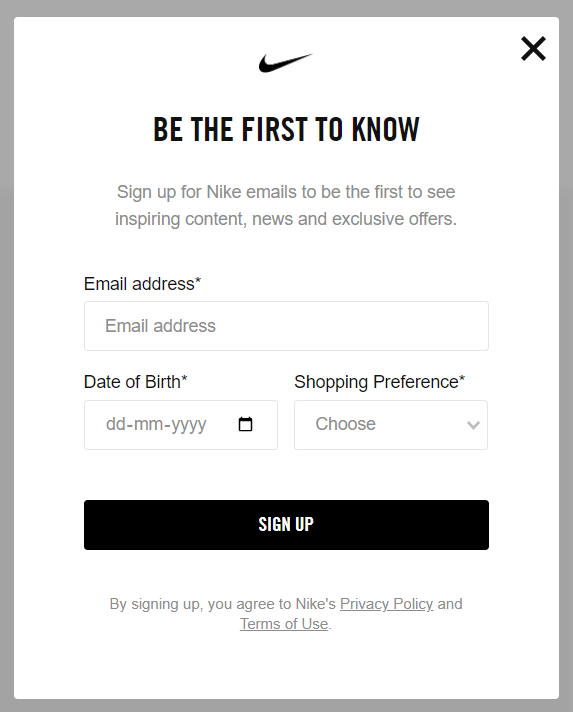 8. Zutano
Zutano cart abandonment exit popup extend a hand of friendship to the users. It asks for the email address to stay in touch while offering a 15% discount on the first order and exclusive access to sales.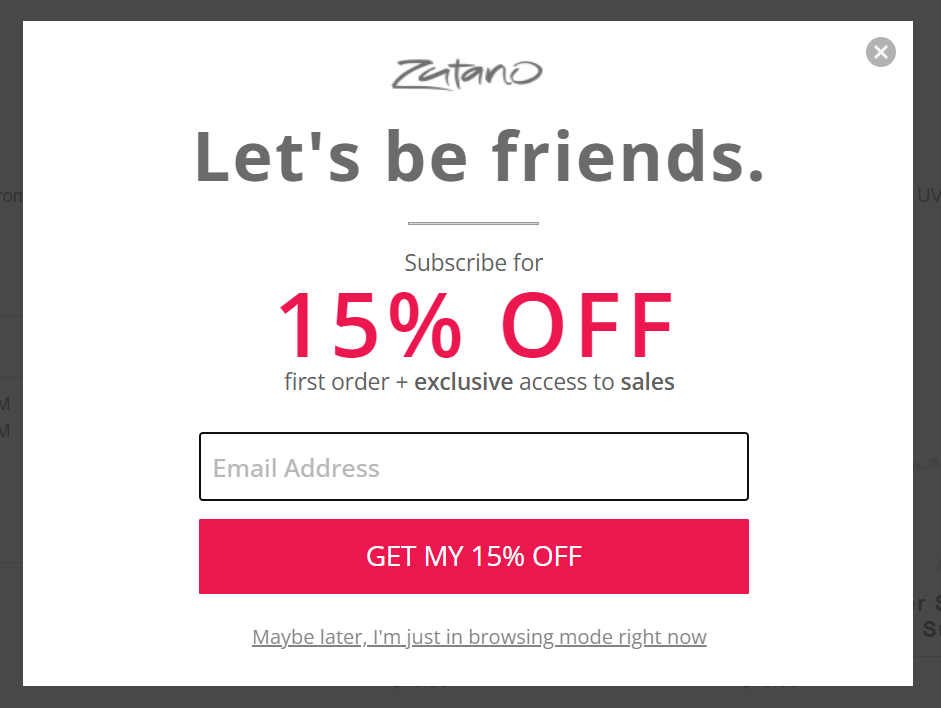 Show Scarcity
A customer is really interested in your offerings, which is quite evident in the number of times they have scrolled through your product page. The products are added but then a sudden sign of abandonment.
Why? The reason can be anything. But, you can still bring that customer back by implying scarcity in the exit popup.
Develop a sense of scarcity by showing that the product will soon be out of stock. They will definitely not want their favorite product to be unavailable. So, they might end up purchasing it then and there. This is a powerful trick to convince customers to buy from you at that very moment.
9. Picreel
Picreel templates that utilize the scarcity tactics include the timers popups. Provide a valuable offer with a time limit to get customers moving on making the purchase.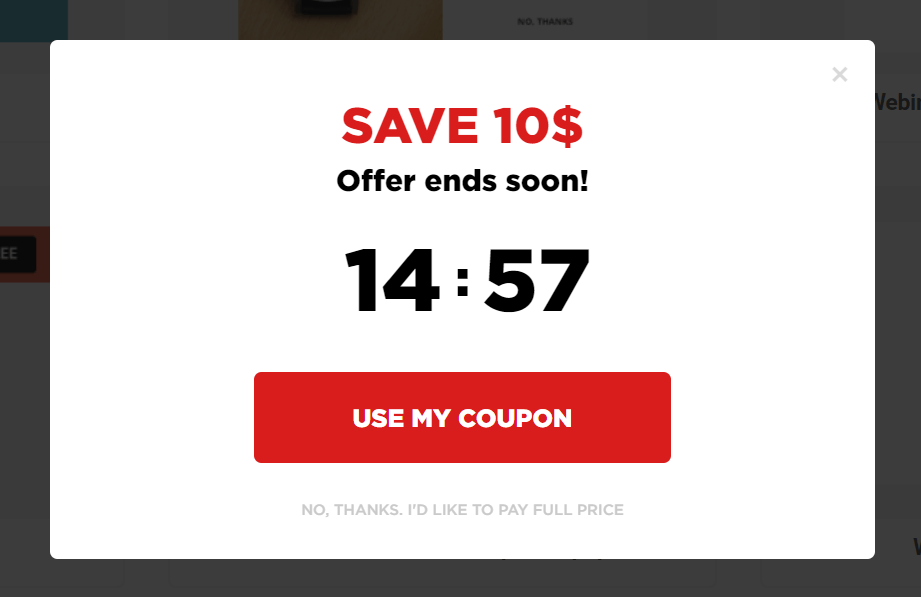 10. Everlane
Everlane does a great job at creating a sense of scarcity with its popups. Look at the demo below to learn how you can show scarcity.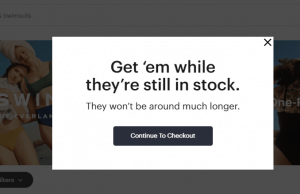 11. Bloomberg
Bloomberg popup uses a countdown to create a sense of urgency and scarcity in users. The 30% discount on the annual plan encourages people to commit long-term.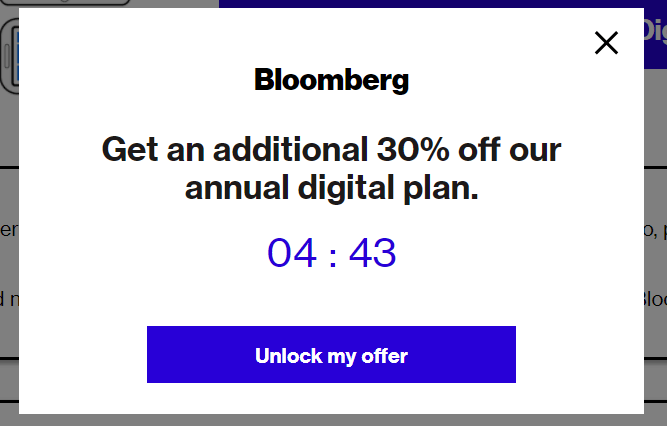 12. Kiss My Keto
Kiss My Keto exit-intent popups example uses scarcity. Moreover, the popup comes with the motivating message of starting a keto diet. Furthermore, it gives a 15 minutes timer to finish the order if the user wants to get an extra 15% off.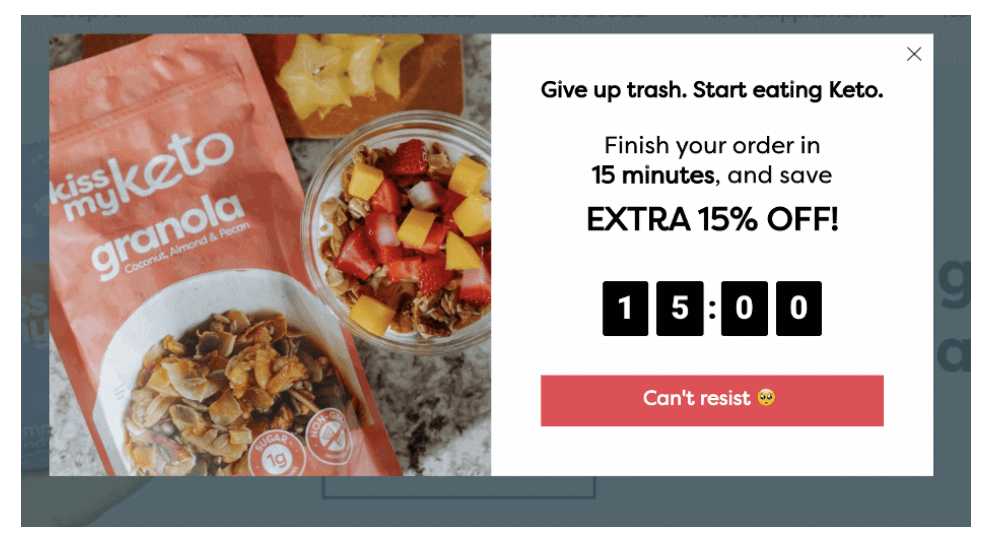 Free Shipping Pop-Up
Trust you can never go wrong with this one. It is still the primary motivator for online customers who are looking for free deliveries.
You'd be surprised to know that high shipping cost is still the #1 reason for abandoned shopping carts.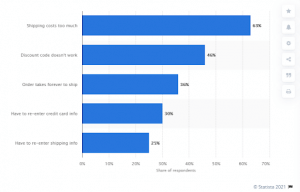 A popup that provides a strong solution to this problem is bound to succeed, especially when your customers are bouncing off.
13. Picreel
Picreel example of free shipping popup asks the customers to avail of free shipping in exchange for the email address.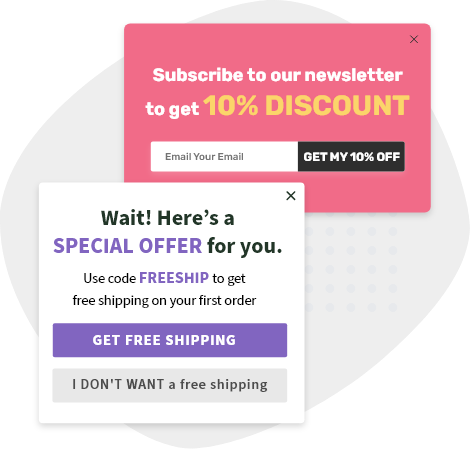 14. Aarose Clothing
Ararose Clothing is an excellent example of an exit popup. The company uses a similar approach to keep its visitors from leaving. Free shipping can turn the situation around, motivating visitors to go for your products.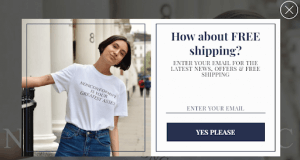 15. Champion
Champion exit popup asks the leaving visitors to reconsider. They encourage customers to purchase by reminding them of free shipping.
16. Oka
Oka exit intent is straight to the point. The popup mentions the amount you need to spend for free delivery and asks for your email address.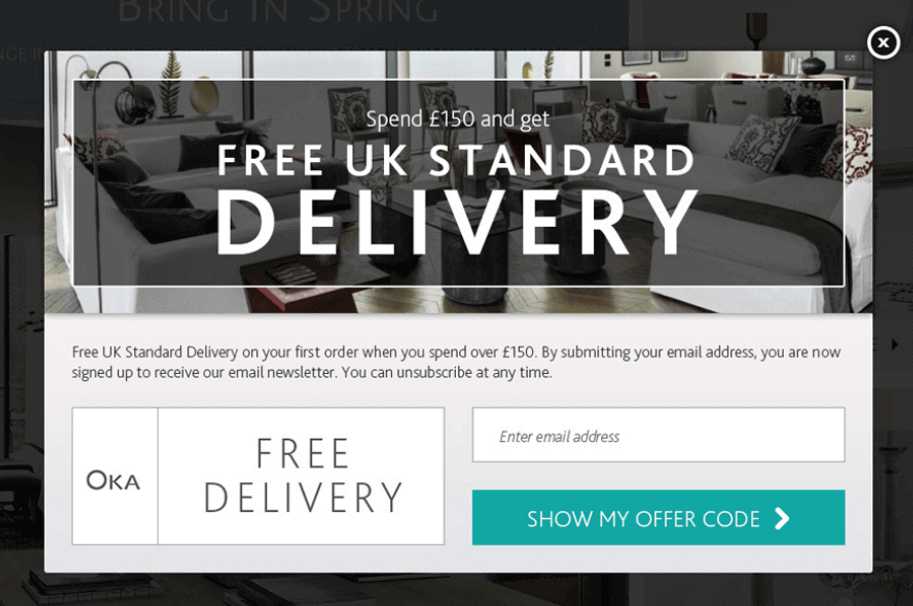 17. Charles & Keith
Charles & Keith exit-intent popup, once you have items in the bag, includes a reminder of free shipping.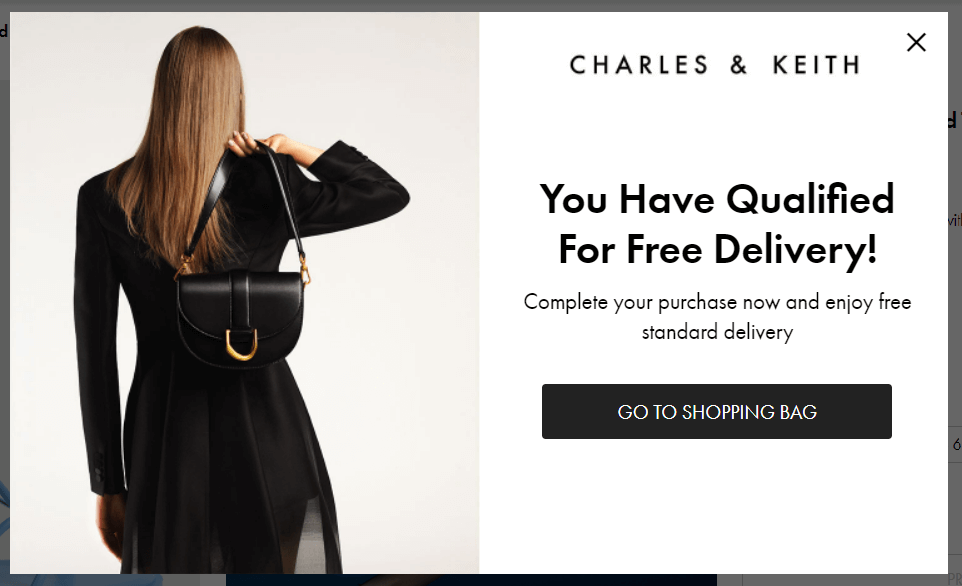 First Order Discount Exit Intent
When visitors land on your website, they have high hopes about the new products and the new experiences that await them. You can either crush their hopes or make them extremely happy in the first interaction – it's all up to you.
A little discount on their first order goes a long way in building a strong bond that stays for ages. The first order from new customers is as special for you as it is for them. Make the most of this opportunity to set the right tone for a long-term relationship.
18. Picreel
Picreel exit-intent popup code offers space to add the logo and provides a discount. You can set the condition, like phone number, email address, or others, to avail of the offer.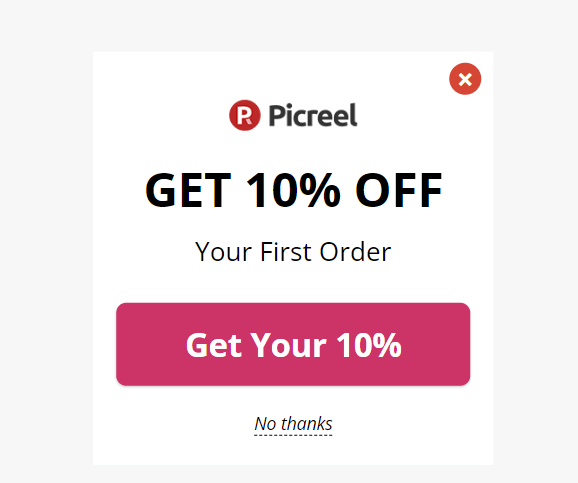 19. Cosmetic Capital
Cosmetic Capital does an amazing job at it. Its exit-intent popup shows the first-order discount, grabbing visitors' attention right away.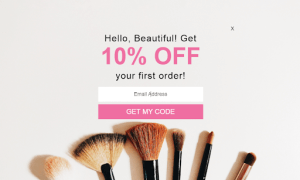 20. Baublebar
Baublebar uses first purchase discount offers of 15% to retain customers. It works two-fold. For one, it helps the users save money. And it also encourages them to provide their email address for future targeting.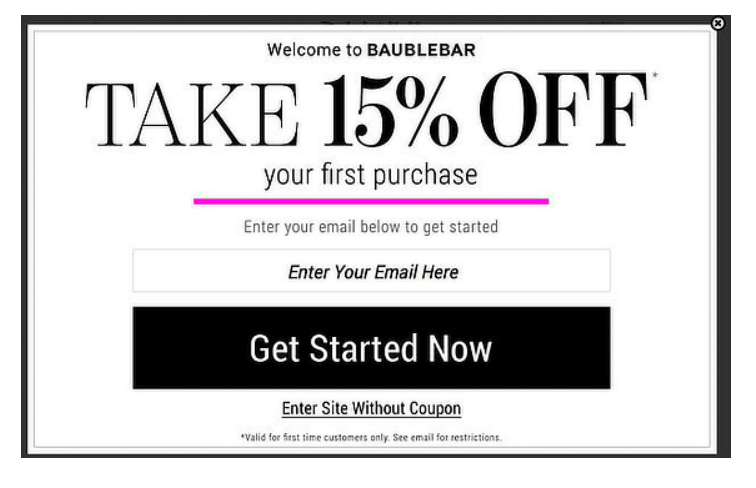 21. ThredUp
ThredUp exit popups mention their huge discount of 50% for the first purchases. Moreover, there is a keep shopping button to keep the user on the website.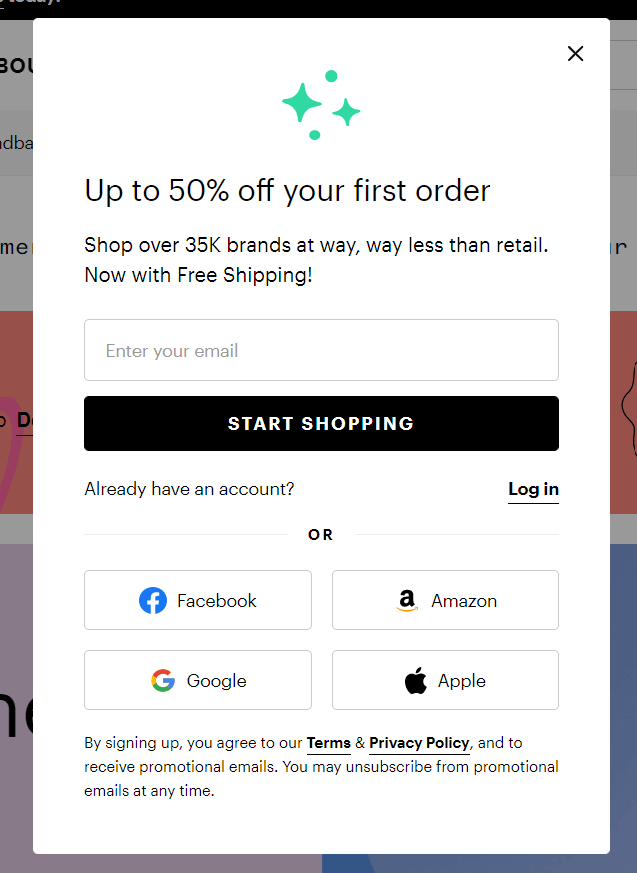 Free Giveaways
Anything free of cost is a sure-shot way to delight customers. Humans are naturally inclined towards things that can help them save money and give a good return at the same time.
Providing free giveaways in your exit popup is a powerful way to instantly attract visitors' attention and make them want to try your products. Who will want to miss a chance to get something valuable for free? Well, no one will, including you and me.
It is an interesting exit strategy that brings visitors closer to your brand and gives you access to their basic details like names and email addresses.
22. Picreel
Picreel's example includes the announcement of an event while offering a free pass. All the user needs to do is provide their email address.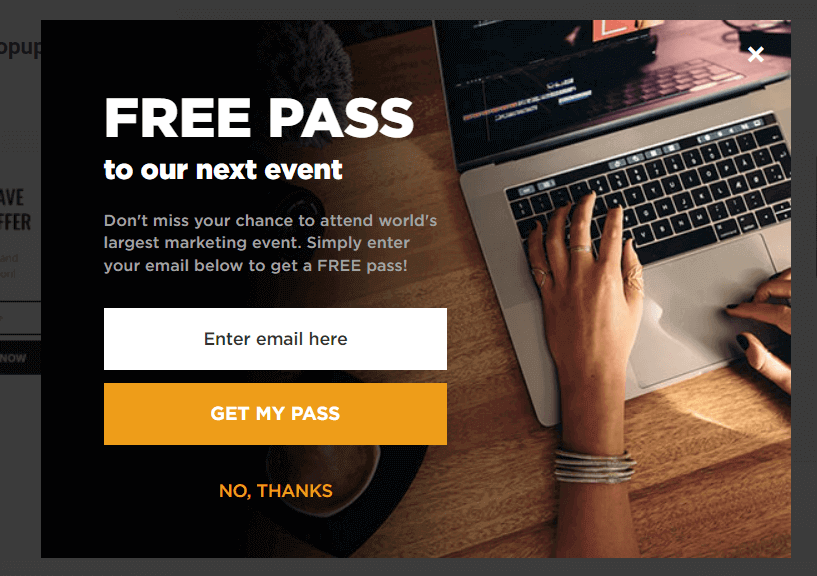 23. Misen
Misen aces this technique by showing a popup displaying the free giveaway to visitors landing on its website.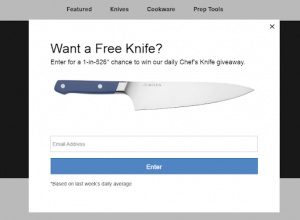 24. EllenTube
EllenTube includes a range of giveaways. For example, the giveaway here offers a discount on a trip to Costa Rica. EllenTube carries several giveaways every day to keep the customers engaged.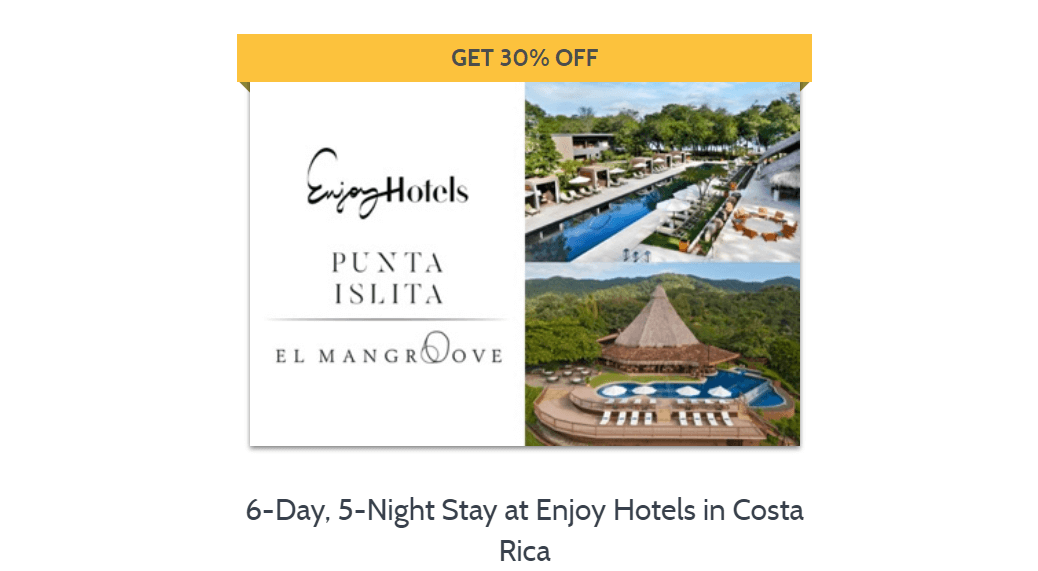 25. Corkcicle
Corkcicle offers a chance to win entry for two to a festival. The only condition is providing your first name, last name, and email address. As an ad popup, it encourages visitors to still subscribe to the brand and look for updates.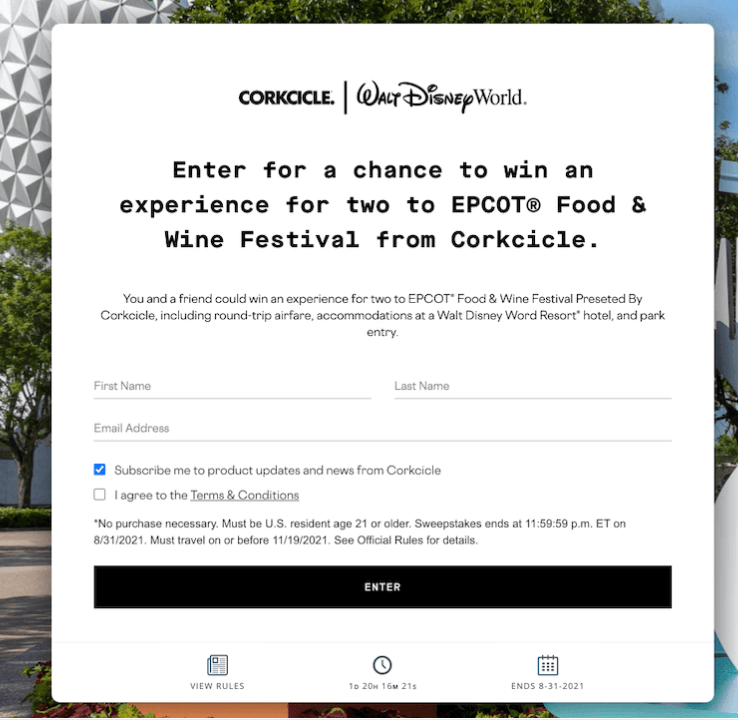 26. Stellar
Stellar is offering a giveaway that offers direct benefits on the bills paid. Add a giveaway like this one to keep the customers engaged.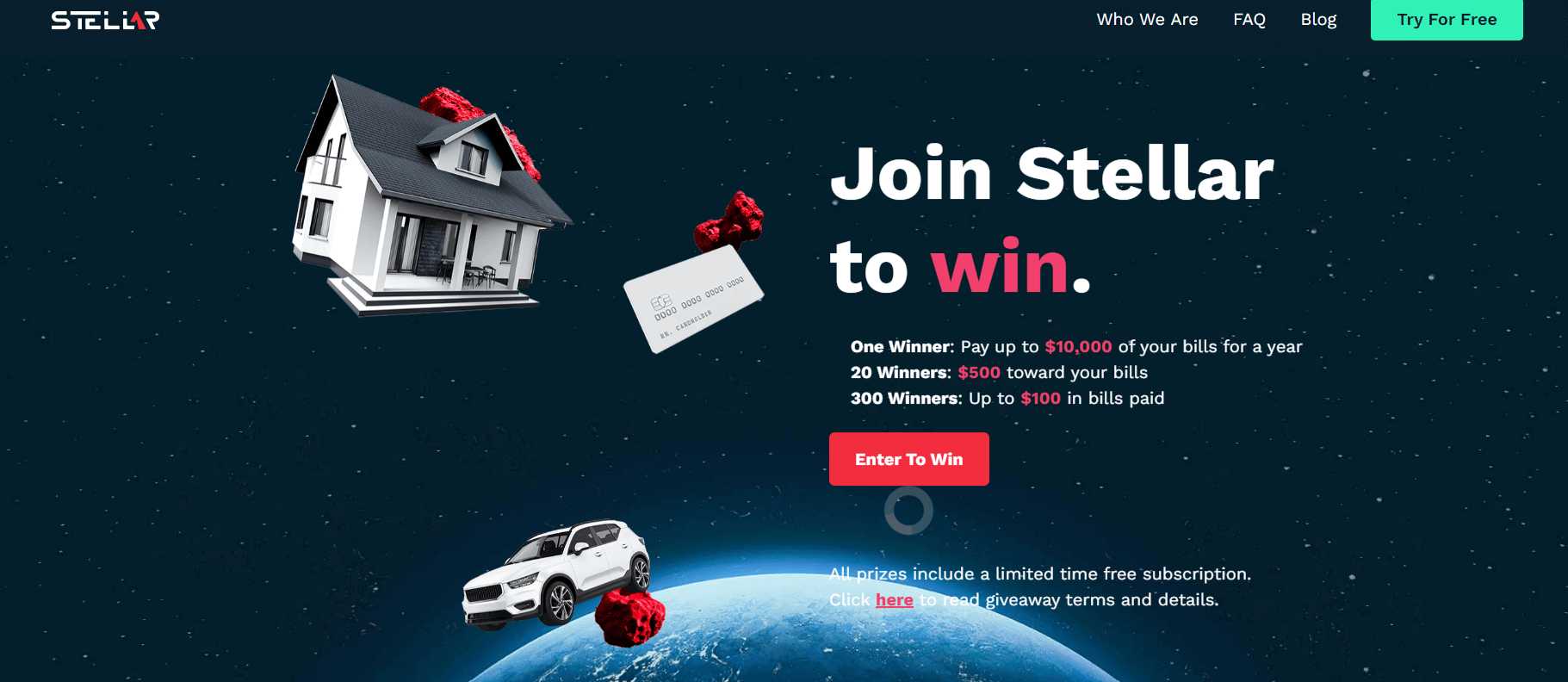 Lead Generation Exit-intent Popups
Lead generation forms are one of the best exit-intent popup examples. This is for two major reasons. First, it gives you access to a wide pool of emails and phone numbers, which can help your sales team follow up later. Second, it paves the way for building a direct connection with customers. You ask for data, and it's up to customers whether they want to share it or not.
This might not go down well with all visitors, but you can expect the ones who are really interested in your brand to fill the lead gen form.
27. Picreel
Picreel Lead generation templates are engaging and effective. In this template, there is a mention of free consultation.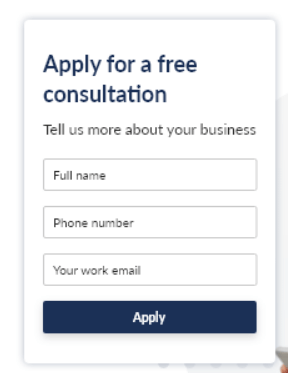 28. Digital Marketing Institute
Digital Marketing Institute follows a similar path. As you visit its website, it shows a lead generation form asking for your preference, name, email address, and phone number.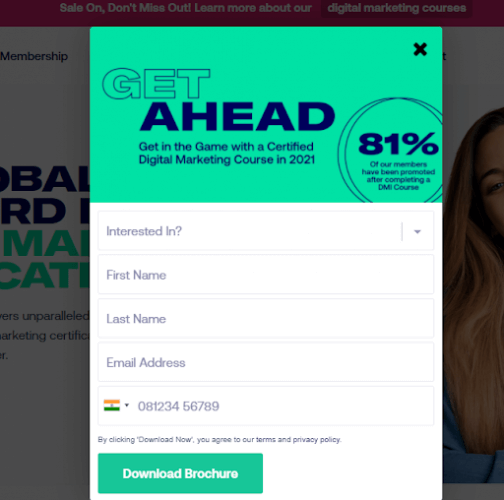 29. Zendesk
Zendesk exit popup examples for lead gen encourage the users to take the test drive of the tool.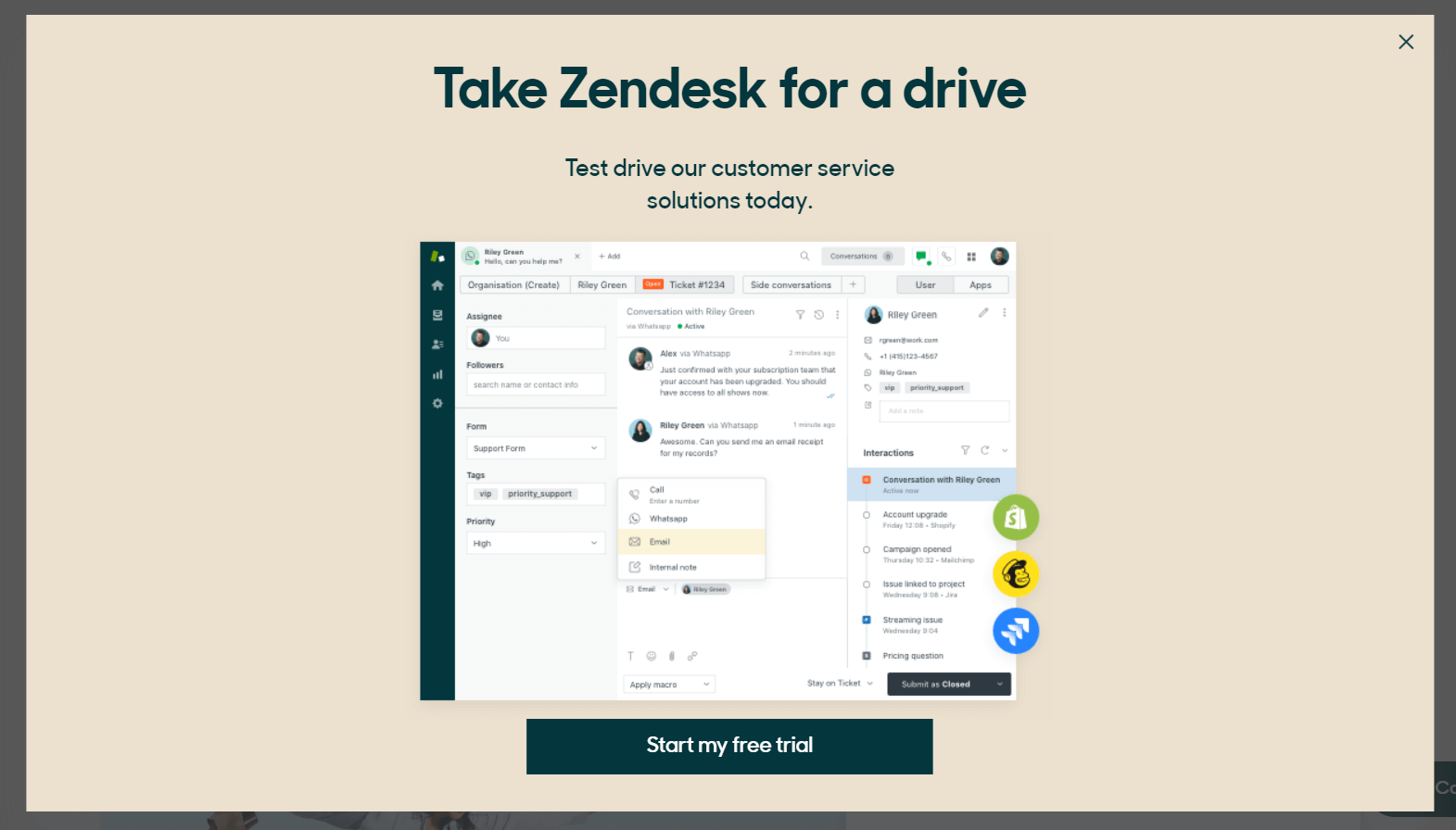 30. WordStream
WordStream lead generation popup for exit-intent offers a Guide to Google Ads. It helps build a rapport with customers.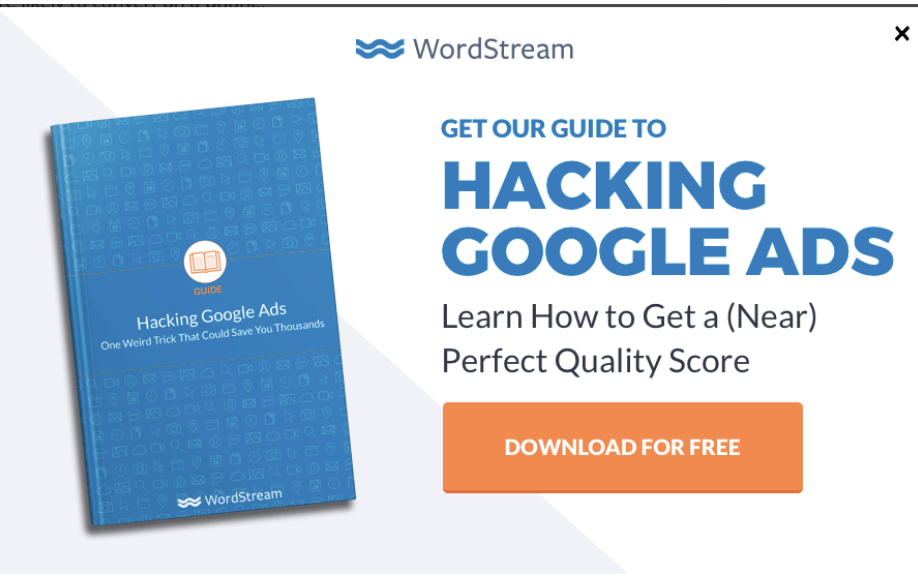 31. Sitepoint
SitePoint provides a free book for modern JavaScript for the email address.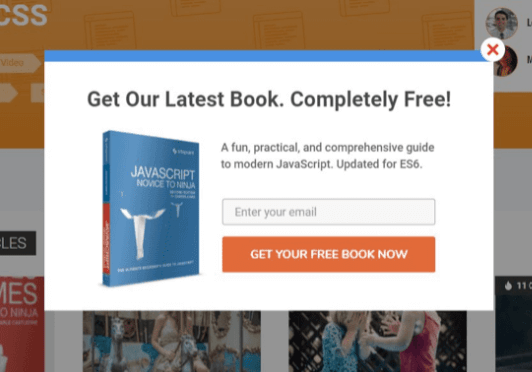 Ask Questions
The primary objective of an exit popup is to prevent customers from leaving. To draw visitors back to your website, ask them relevant questions so that you can display the right information that they expect.
When you ask suitable questions, visitors instantly get the hope that their needs will be met, and this reassurance keeps them from leaving your website.
32. Picreel
Picreel popup template offers 5000 new leads. The question in bold letters will get the attention of the users. Then, they can sign up or agree to a statement that no company representative will ever want to accept.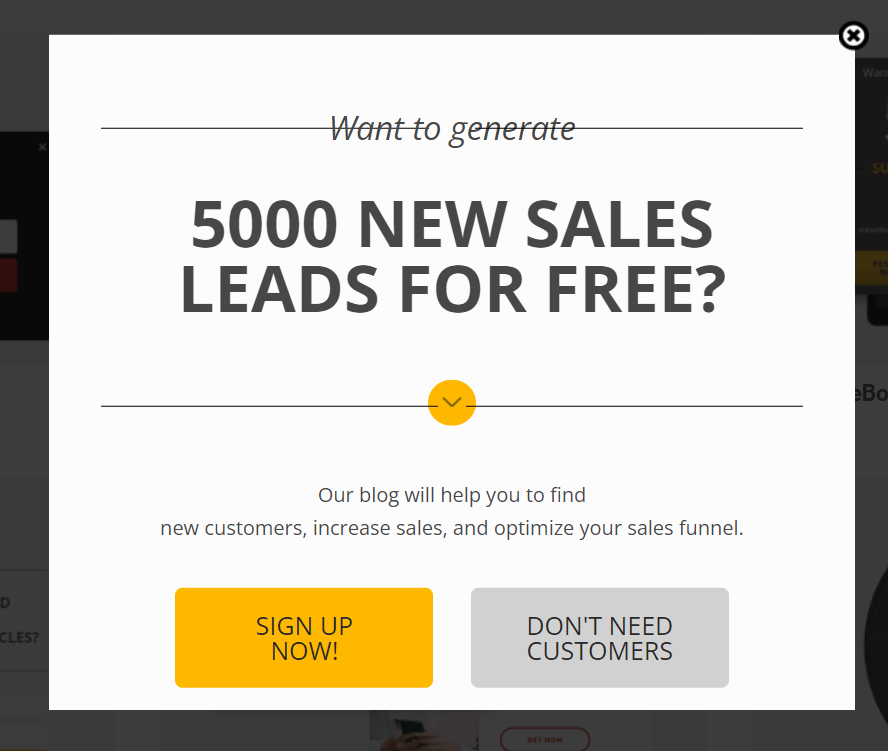 33. Fundera
In Fundera's exit popup example, you will find a simple question – What's your financial goal? This direct question leads customers to a set of options, after which the website shows just the information they are looking for. Not bad!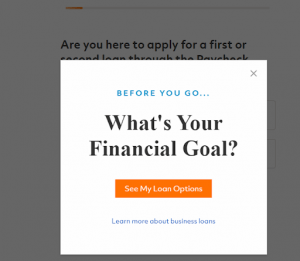 34. Smart Blogger
Smart Blogger leverages the opportunity of a better-paying job. Then, it provides a range of earnings you can earn and asks for your email address for the information.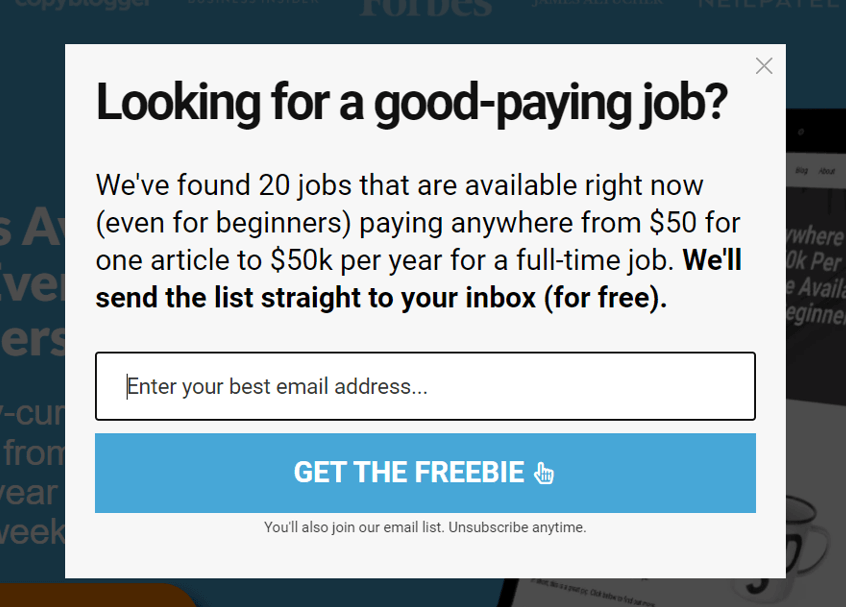 35. Social Triggers
Social Triggers piques the interest of existing users by asking them if they want 5,000 subscribers for free. With only two buttons, one accepting the offer and the other rejecting it, the popup encourages users to make a choice.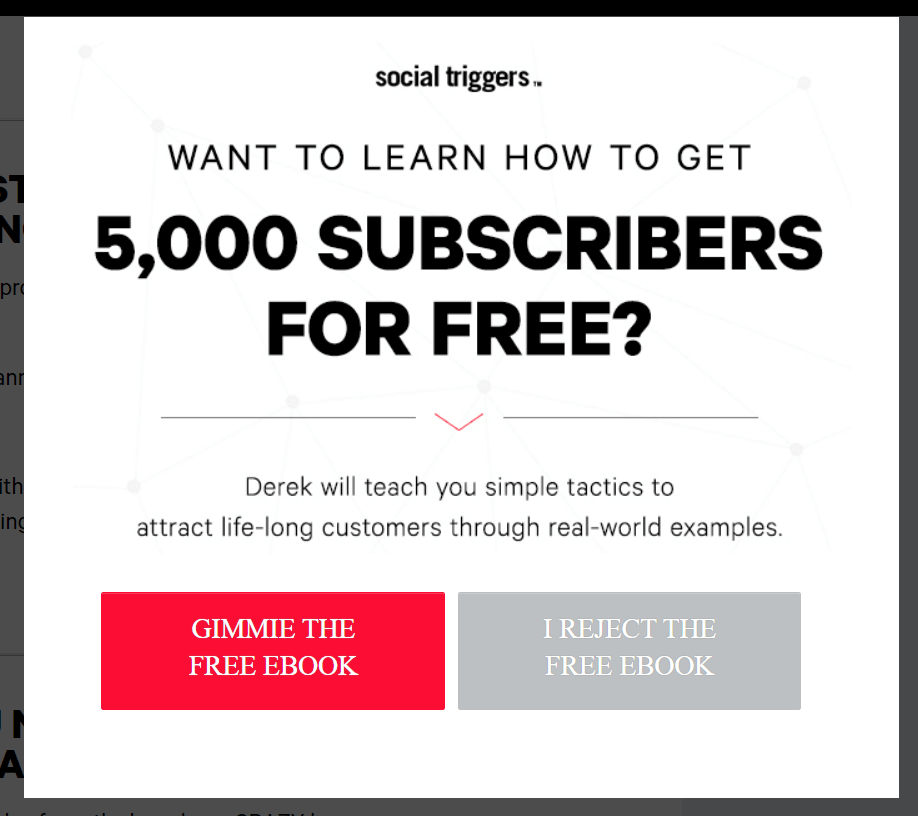 Reminder popups
Sometimes customers simply forget to carry out the final steps of the purchase process. This can be due to any reason, but it does affect the connection between you and your customers.
If you don't nudge them, how will they continue shopping?
Take that step and share a friendly reminder as visitors show exit signs. Politely remind them that they forgot to complete the purchase, and you will find a reasonable boost in conversions.
36. Picreel
In the example below, the customer gets a popup displaying the clothes selected for purchase. The person is asked to save cart items to the email for later. A wise way to remind the customer about the purchase and capture the email address.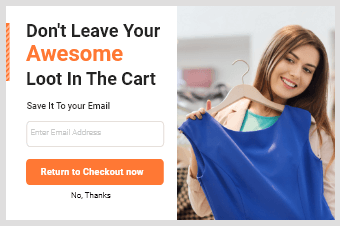 37. Pandora
Pandora's exit popup compliments your taste. It is a popup that gives the same validation that the buyer's friends give while making a necessary purchase. Then, the popup creates urgency by showing how many people view the item. Lastly, they ask you to return to checkout or find the local store.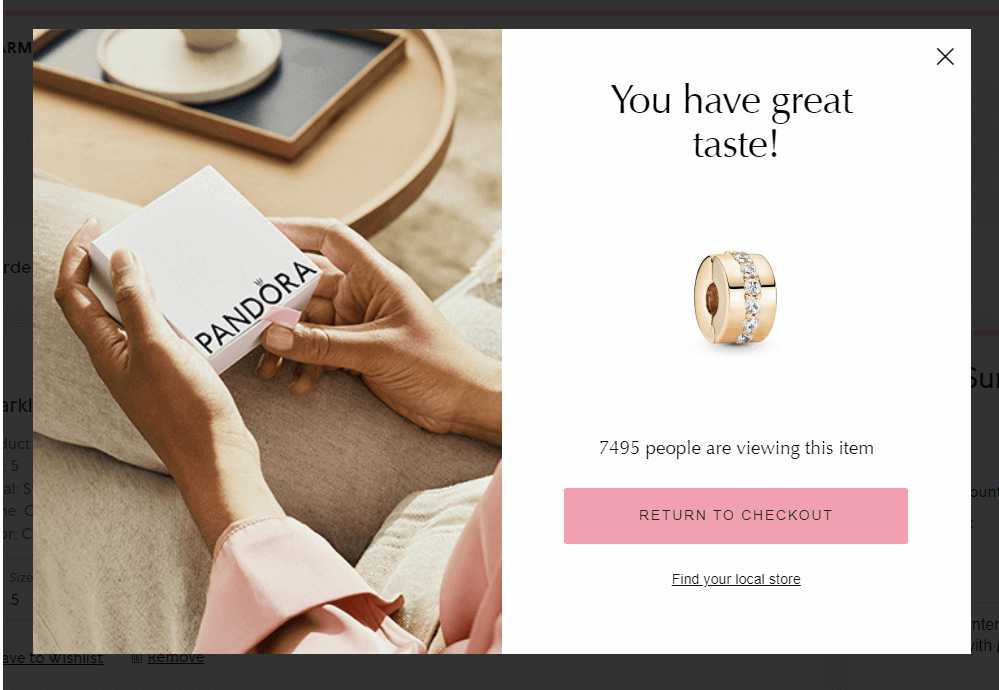 38. Victoria Secrets
Victoria Secrets exit intent trigger remind the users of items in the shopping bag. It also offers a button to the checkout area for the final purchase.
Gamified Exit Popups
Contests are bound to instantly attract visitors to your website and convince them to stay. People love to participate in contests and check their luck. It acts as the motivating factor that keeps them hooked to your brand, and they keep looking for such contests and offers even in the future.
Besides retaining visitors and converting them into customers, contests also play a key role in marketing your new products.
39.Picreel
Picreel spin the lucky wheel template gives the option of entering the contest. Moreover, these exit popup examples generate interest in possible offers available on the website, so users like to stay.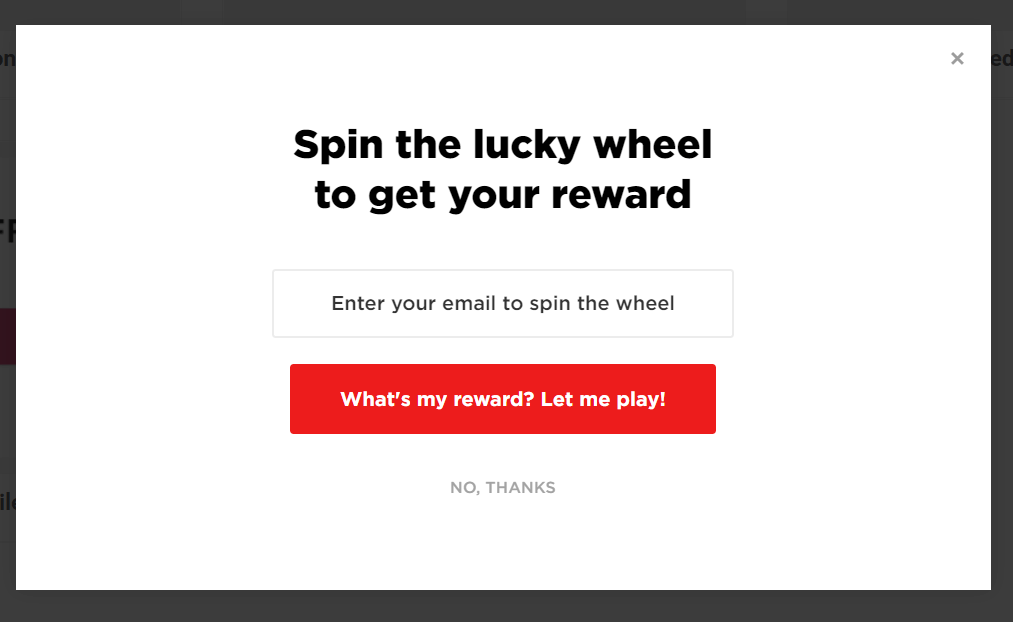 40. Wpform
The wpform spinning wheel popup is ideal for getting customers to stay. With all the offers being super impressive, it becomes easier to get customers to convert.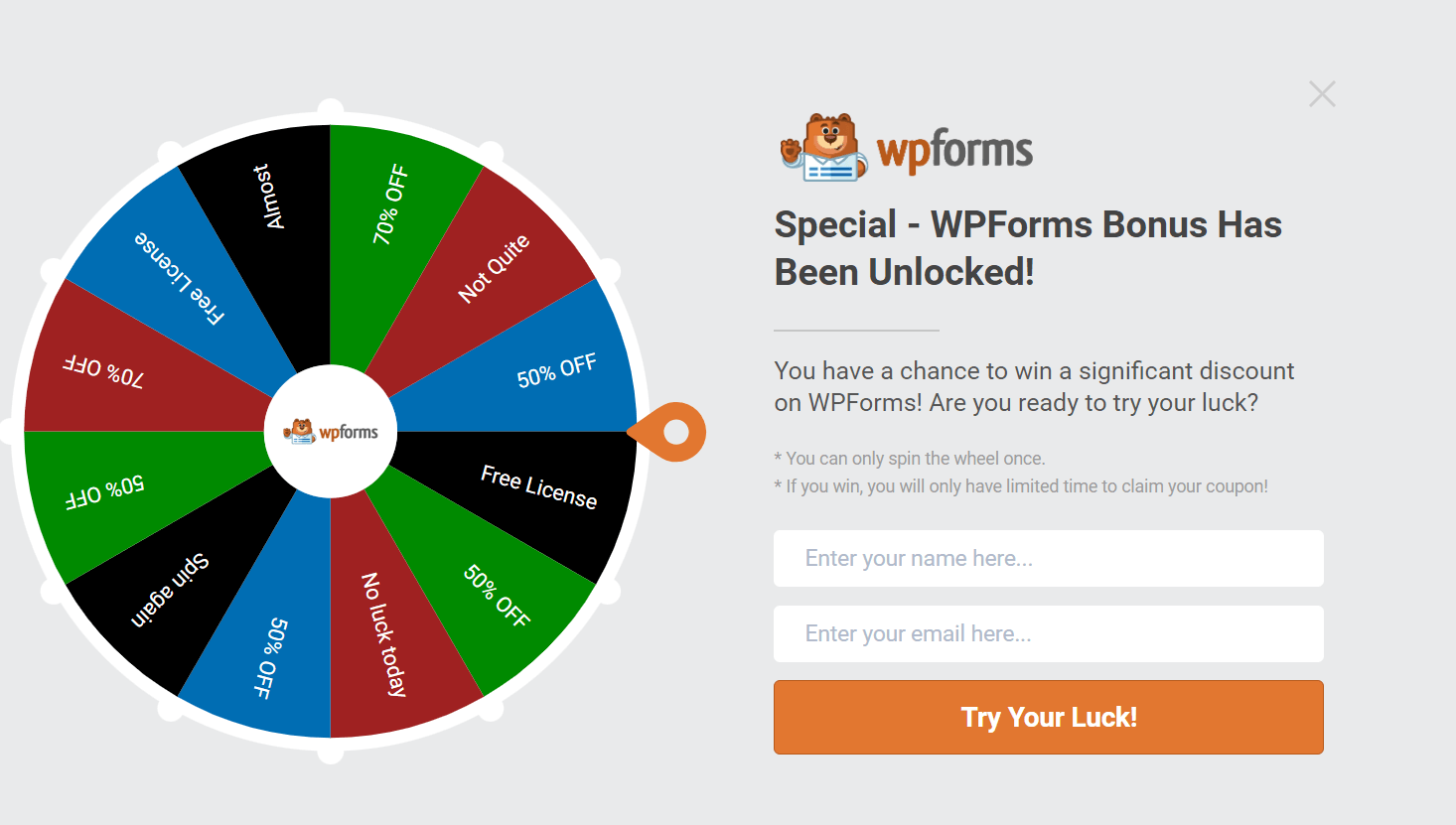 41. Alastin
Alastin has beautifully implemented this concept. As you can see below, its exit popup shows contest details, markets its new product, and captures the email addresses of visitors – all at the same time. Quite clever!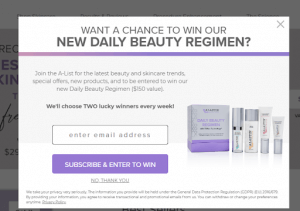 Newsletter Subscriptions
Encouraging visitors to subscribe to your newsletter puts you in a favorable position. You can keep your subscribers informed about the latest offerings, and you never know if someone might just convert into a full-time, revenue-generating customer.
This happens a lot of times. When visitors step into your website, they don't necessarily want to buy. Sometimes they are just there to browse and check out your offerings.
An exit-intent popup asking visitors to subscribe to your newsletter keeps them in the loop of all your brand activities and increases the chances of conversion in the future.
Picreel newsletter subscription popup is another direct message that offers a discount for the email address. It includes permission to communicate through email with the subscribers.
42. GQ
GQ shows the best exit popup example. This leading fashion magazine does a superb job of encouraging readers to subscribe to its newsletter through its exit popup. The popup is beautifully designed and instantly catches visitors' eyes.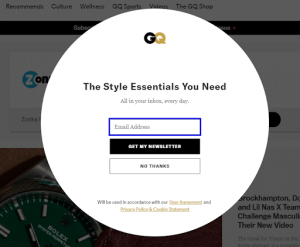 43. Varley
Varley exit popup asks for the email address in exchange for a 10% discount on the first order and a weekly newsletter subscription.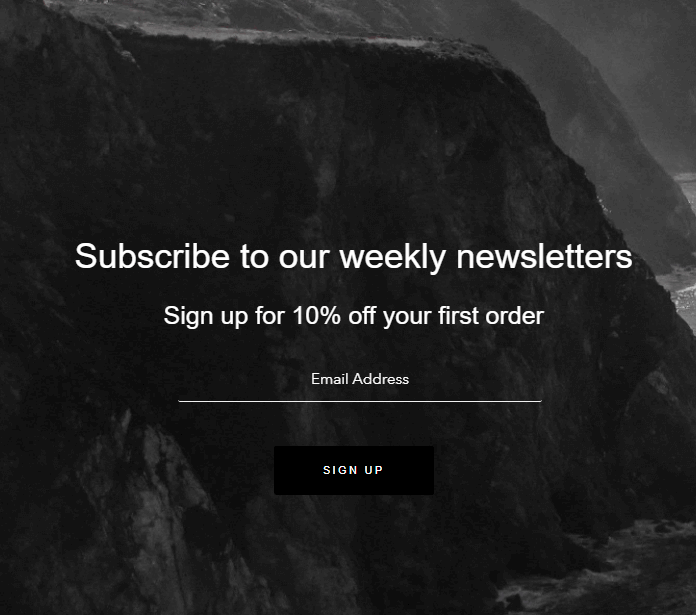 44. Dolce & Gabbana
Dolce & Gabbana is among the more inclusive brands when it comes to popups. They have the language option to ensure better communication. Moreover, they ask for the email address and gender.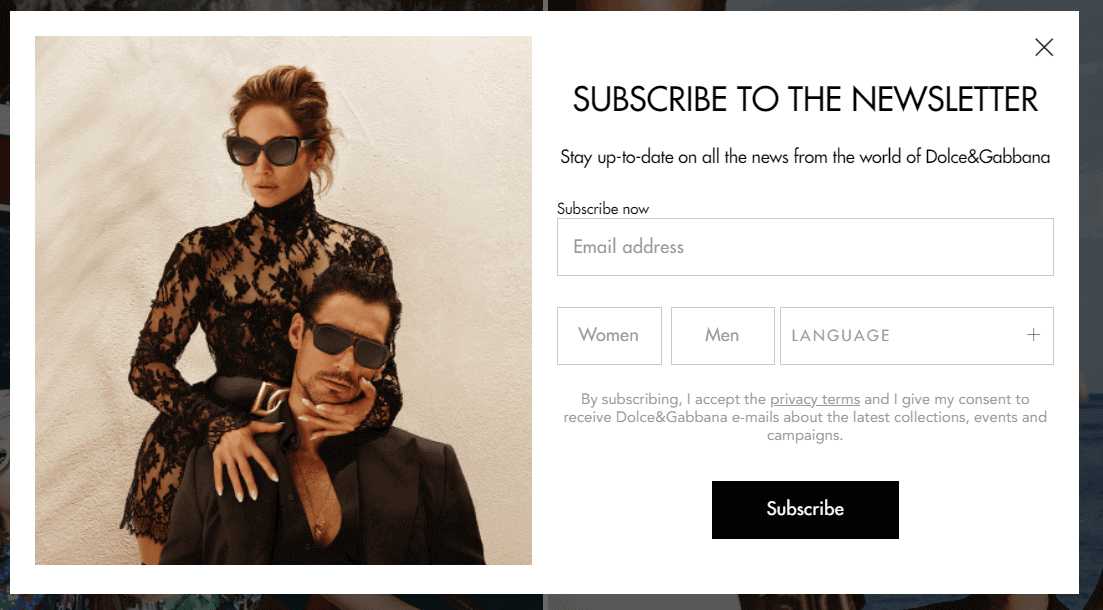 Product Recommendations
Now, there are times when users do not add anything to the cart. They might be hesitant to shop or might not have found the right product. Here, you can guide the customers in the right direction.
First-time visitors are generally there to explore the space and figure out if they trust it. They also judge the website based on the products. So, taking them to high converting pages if they show signs of leaving, can help keep their attention for longer.
Moreover, the exit popup can make recommendations for maximum retention based on user interaction with the website.
45. Picreel
Picreel recommendation template guides the customers to high converting website landing pages. It makes shopping easier, and the users can choose their budget to get the best options.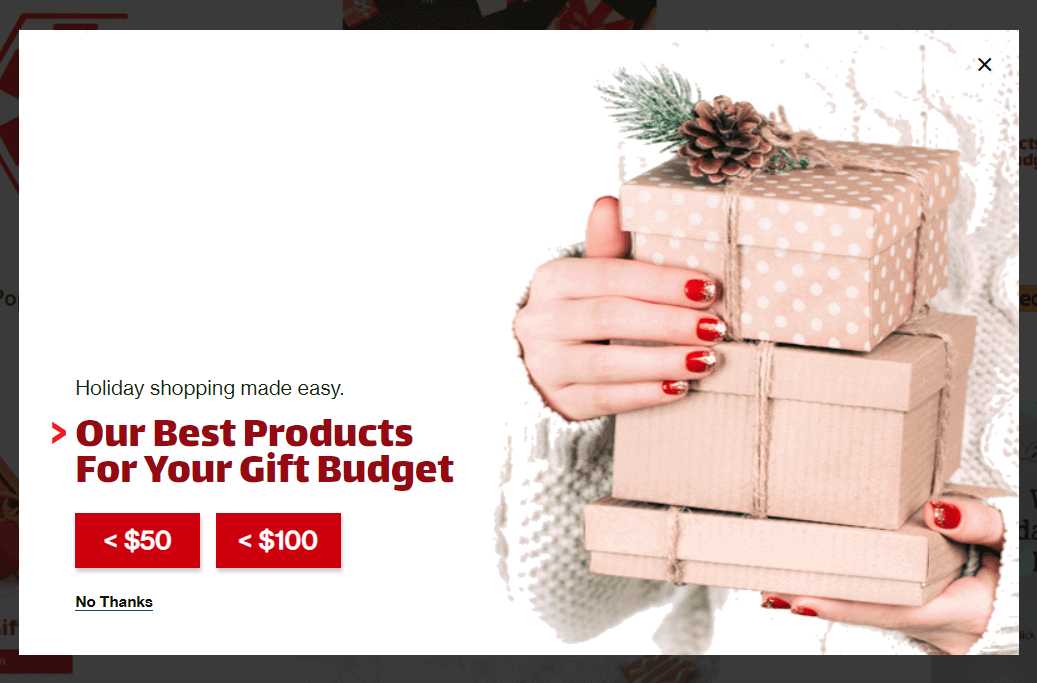 46. Mobile Fun
MobileFun considers the cart items while making more recommendations. Cross-selling helps users get the complete package in one place while helping the website sell more.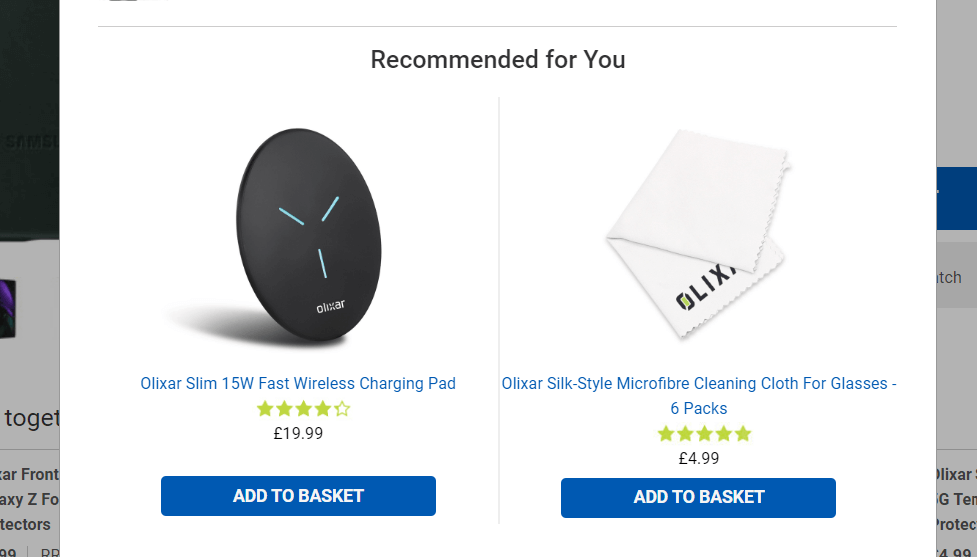 47. Puma
Puma recommendations include providing the complete look as per the items in the cart. It works well by reminding users of other products they can find on the website.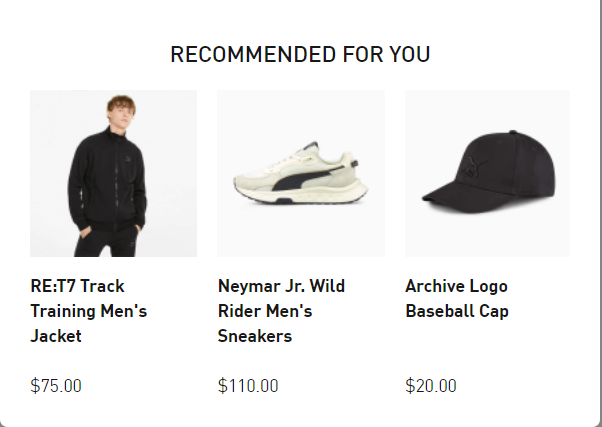 48. Sephora
Sephora carries a range of cosmetic brands including Mac, Huda Beauty, and several others. But, they also have an in-house cosmetic brand, named, you guessed it, Sephora. So, the users can look at products from several brands on the website. However, when they show signs of leaving, the store likes to sell its in-house products to the users. This exit popup offers 30% off on the Sephora collection. It is perfect for keeping visitors browsing the website and promoting your products.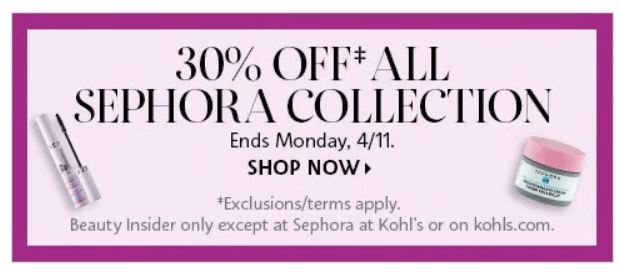 Quick Tips to Increase Popup Conversion Rate
Here are some actionable tips to boost your popup strategy and sweep customers off their feet with appealing and relevant popups.
Create compelling CTAs that are clearly visible
Don't display them too often or too sporadically. Set the right frequency.
Add a maximum of two fields in the popup form.
Be creative with popups. Use attractive designs, themes, and colors that instantly attract attention.
Keep the popups simple and free of distractions.
Use catchy action-oriented words like Wait, Stop, Sign Up, Grab Now, etc., to grab visitors' attention.
Use social proof as a means to build trust among potential customers.
Psychological tricks like creating a sense of urgency can result in impulsive purchases.
Follow these simple tips in combination with popup best practices to skyrocket your popup conversion rate.
Make Your Last Shot the Best One
Like it or not but customers, today are spoilt for choice. Why should they choose your brand over others? Exit-intent popups help you provide valid reasons for visitors to stay and convert.
It's like trying to get someone to choose your brand over others. There are so many brands out there, and it can be hard to stand out.
If a visitor plans to leave, it simply means they didn't like your brand, offerings, or the overall experience. This is your golden chance to make an offer that customers can just not resist.
With well-timed, context-specific, and informational exit-intent popups, you can up your chances of conversion. While creating popups, ensure that you have a strong CTA and compelling message. Leaving timing to chance is a big NO.
You can also steal some ideas from the exit-popup examples of leading brands shared above. Get a cue from these examples to inspire your own.
Create attention-grabbing popups with Picreel & don't let visitors slip through the cracks.
Do you want instant 300% growth?
Picreel popups can get YOUR website 300% instant sales growth. See Case Studies.