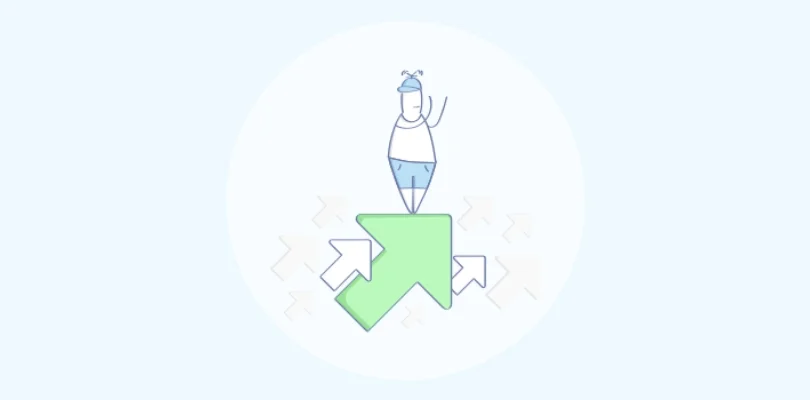 Getting the right sort of traffic onto your website is difficult enough, but getting qualified leads who can turn into viable, converting prospects is a job that's well-nigh impossible without help. That gives us a fair idea about the impact that choosing the right lead generation tools has on your business. Surely, most of you must have tried the latest tips and tricks, optimization hacks, traffic filtering, segmentation tactics, and so on, to bring in relevant traffic and leads.
However, these days, the market is flooded with hundreds of lead generation solutions, and to create an extremely rewarding system, you need to fill your backpack with something that packs the much needed punch.
To help you with that, we will be covering the important aspects of a lead generation platform. Also, we have put together our top picks so you can choose the right tools for your business.
Types of Lead Generation Tools
Lead generation tools are applications that automate the lead generation process to provide you with fresh leads. These tools can generate leads from different sources like social media, landing pages, websites, and so on. Based on the sources and channels, different lead-generating software work differently and are categorized accordingly.
Each category has unique features and functionalities that you can use to capture quality leads for your business. You can then nurture these leads to boost conversions and sales via different sales/marketing campaigns.
Let's check out the various types of lead generation tools for small businesses in 2023.
CRO & On-page Lead Generation Tools
Conversion Rate Optimization (CRO) and On-page lead generation tools gather data about your website and its visitors through popups, forms, nano bars, slide-ins, etc. The observed metrics then help you understand how people interact with your site as well as test potential variations to increase conversion rates.
Customer Relationship Management Tools
While not exactly lead generation softwares, CRM tools manage your leads and streamline the sales process by wholly automating your marketing strategies. By letting you store customers' contact information, mark potential sales, record service issues, and administer ad/email campaigns – all within a centralized front – CRM tools are an invaluable addition to your arsenal in generating leads and getting them to convert.
Inbound Lead Generation Tools
Inbound lead generation tools attract traffic to your website using engaging content & campaigns, making your site more discoverable on search engines, and facilitating ongoing interactions between your customers and your brand. These tools work exceptionally well in capturing new leads with enticements instead of blatant advertising, as users rely far more on their discretion in making purchase decisions now than ever before.
Communication Tools
Customer communication tools are software's that are used to initiate, respond to, and manage all interactions between a customer and a business. The quote "communication is key" may sound cliched, but it does have some truth to it, especially in the business world, where simply talking to website visitors may help you win them as customers.
Email Marketing Tools to Generate Leads
Email marketing tools are unbeatable when it comes to creating and nurturing your leads. These are software's that send out automated and dedicated emails offering announcements, resolutions, marketing campaigns, and much more. The steady communication flow enhances brand awareness and helps get more traffic to your website.
Read more: 

34 Best Email List Building Tools to Grow Your Business in 2022
Sales Tools
Sales tools are applications that expedite the sales process for businesses by streamlining data reams, gathering essential customer information, scheduling email campaigns, and much more. The result is an automated, smoothly-operated system that generates and converts new leads from the website fast.
Prospecting & Outreach Tools
These automated lead generation tools help you prospect new leads through their database, social media platforms, or other sources and let you easily turn more contacts into leads and sales efficiently.
Advertising Tools
A large part of online marketing consists of advertising your products, services, and brand to both prospective and existing customers. Advertising tools drive traffic from social media or through paid advertisements and help businesses reach more people by pushing the best of what a brand has to offer to the forefront.
Best Lead Generation Software & Tools
As earlier mentioned, there are different types of lead generation software. Here is a list of the categories we will be discussing.
CRO & On-Page Lead Generation Tools
Customer Relationship Management Tools
In-Bound Lead Generation Tools
Communication Tools
Email Marketing Tools to Generate Leads
Sales Tools
Prospecting and Outreach Tools
Advertising Tools
Read more

: 

How to Generate Leads for Your Business in 2023
CRO & On-Page Lead Generation Tools
We have covered what CRO & on-page lead generation tools are, and what they do. Below is an extensive list of eleven such tools to get you started.
1. Picreel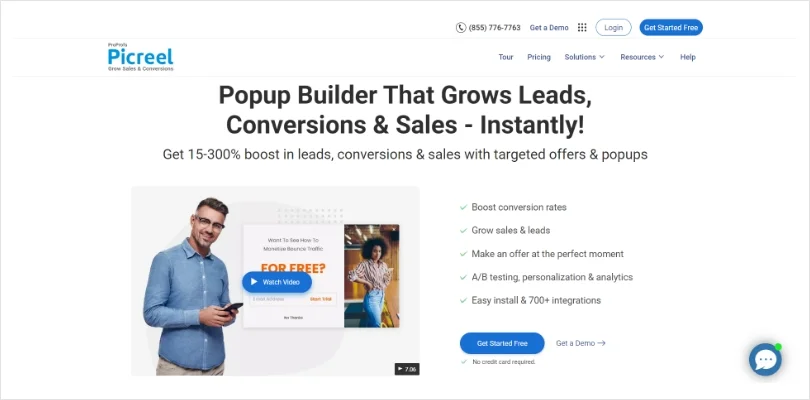 Picreel popup builder is a website popup lead generation tool that helps you increase website engagement with delightful popups and forms. The software comes with an exit intuitive popup editor and a huge template library to get started with popup marketing, no matter what kind of business you run or the types of leads you want. The tool is simple to use, integrates well with over 700+ other apps, and comes with dedicated support and a knowledge base.
Key Features:
Measure and compare campaign performances with the smart A/B testing feature

Create beautiful popups in minutes using the library of 100+ pre-made templates

Analyze all observed metrics in-depth with the built-in reports and analytics section

Serve the right offers to the right people using Picreel's advanced targeting and trigger options

Design delightful popups with personalized fields from scratch with the drag and drop editor
Pros:
Easy to set up and requires no coding knowledge

Creates mobile-responsive pop-ups
Cons:
The dashboard can be modernized

No free plan is available
Pricing: Starts from $39.97/month.
Read More : Create Popup Ads in Under 10 Minutes
2. Qualaroo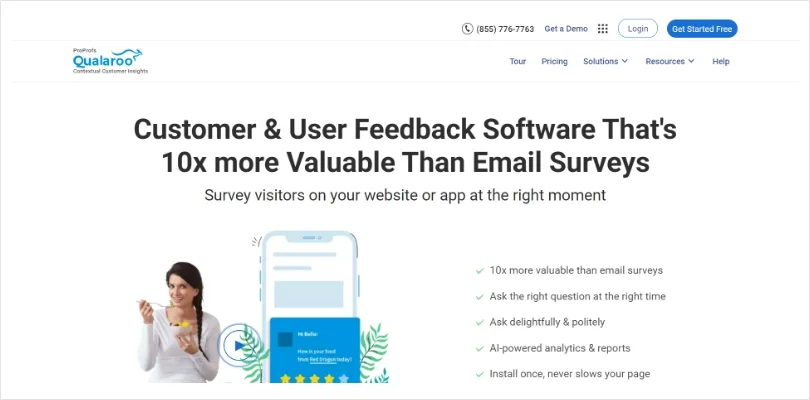 Qualaroo is an efficient customer & user feedback tool to survey website visitors and collect leads. It is not exactly a popup solution, but the popup form can get the job done to capture high-quality leads from engaged visitors. Moreover, it is a great software for collecting valuable insights on user experience and conversion optimization. With pre-built survey templates, you can easily customize and personalize the popups in minutes. The software also offers AI-powered analytics and reports based on the responses for in-depth analysis.
Key Features:
Lets you create surveys from scratch using its easy-to-use editor

Offers a multitude of survey templates to get you started with customer feedback collection in real-time

Branching and skip logic to target the right audience with relevant surveys

Enables you to schedule surveys to target website visitors at a specific time

Integrates with various tools like Salesforce, MailChimp, Zapier, and more
Pros:
Non-intrusive, user-friendly operation

Built-in feature for sentiments & texts analysis
Cons:
Expensive plans

Difficult to group results by individual/questions
Pricing: Starts at $80/month.
3. ProProfs Survey Maker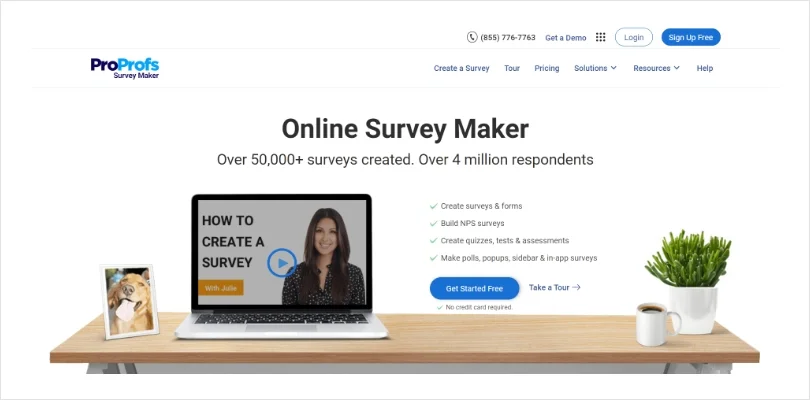 ProProfs Survey Maker is an ideal tool to create surveys and capture quality leads. Using this easy-to-use tool, you can design delightful popup surveys to collect valuable insights and feedback from website visitors. Apart from lead generation, the tool helps in reducing bounce rates and website abandonment. You can easily maximize your user engagement using different survey templates of this tool like visual questions, scorecards, NPS, and more to make your surveys fun, personalized, and interactive for visitors.
Key Features:
100+ predesigned survey templates for faster popup deployment

Drag-and-drop editor to make the process of creating surveys easier

Features more than 100K goal-oriented questions in its question library

Comprehensive reporting & analytics that lets you interpret your survey/campaign results better

Easy to integrate with popular sales & CRM tools
Pros:
Easy and fast survey tool

Creates unlimited surveys even with the free plan
Cons:
Expensive pricing plans

Editor is glitchy at times
Pricing: Starts at $50/month
4. Optinmonster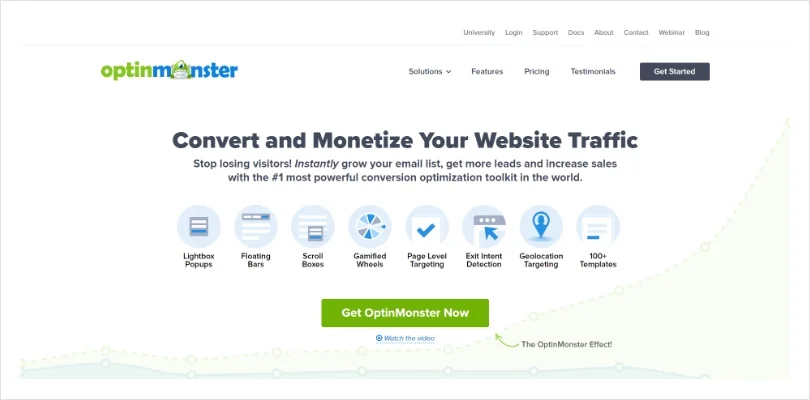 OptinMonster is one of the more popular lead generation tools that lets you create stunning onsite popup marketing campaigns in minutes. The tool has a drag-and-drop builder with over 50 popup templates to get started. With OptinMonster's laser-focused targeting and segmentation rules plus A/B testing and personalization, you can easily target the right visitors at the right time to gather maximum leads. The software also integrates seamlessly with other email marketing tools.
Key Features:
A powerful drag and drop builder that allows you to create visually stunning popups optimized for the highest conversion

Choose the best campaign type to display the most alluring offers to your website visitors

Detects visitor behavior and employs smart campaign triggers to target the perfect people at the perfect moment

Precise targeting that creates and proffers hyper-personalized campaigns to generate more leads and conversions

Seamlessly integrates, adapts, segments, and merges your business data with other popular CRO tools
Pros:
Vast library of templates to choose from

Campaigns are easy to set up
Cons:
Scope for including more integrations

Superficial reporting analytics
Pricing: Starts at $9/month
Read more: 

13 Best OptinMonster Alternatives & Competitors in 2023
5. Justuno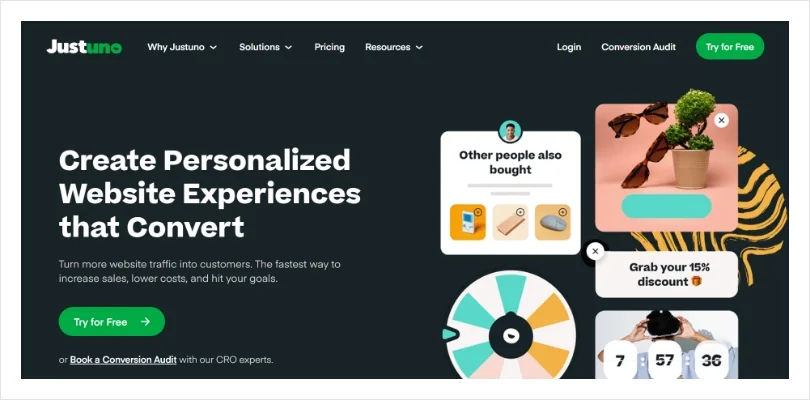 Justuno is one of the top lead generation tools in digital marketing; the software drives and converts traffic through email capture forms, recommendations, upsell or cross-sell offers, and forced-product inclusions in exit popups or on-site embedments. The tool also includes plans that offer a dedicated strategist to advise on targeting rules, A/B tests, and segmentation strategy and collates information from extensive sources like UTM information, IP address, the first URL landed on, coupon code used, and more.
Key Features:
Highly engaging, gamified promotions with multiple customizable options to increase user interaction

80+ advanced segmenting rules that ensure delivery of the right message to the right visitor at the right time

Gauge and compare the success of your campaigns with the A/B testing module and built-in analytics

Grow SMS lists fast with tap-to-text opt-ins and multi-step promotions

Improve your brand's performance through the in-app ongoing strategy calls
Pros:
Easy-to-use, intuitive interface

Offers extensive features at affordable pricing
Cons:
Some features are confusing to use

Tracking analytics are inaccurate at times
Pricing: Starts at $25/month.
6. Proof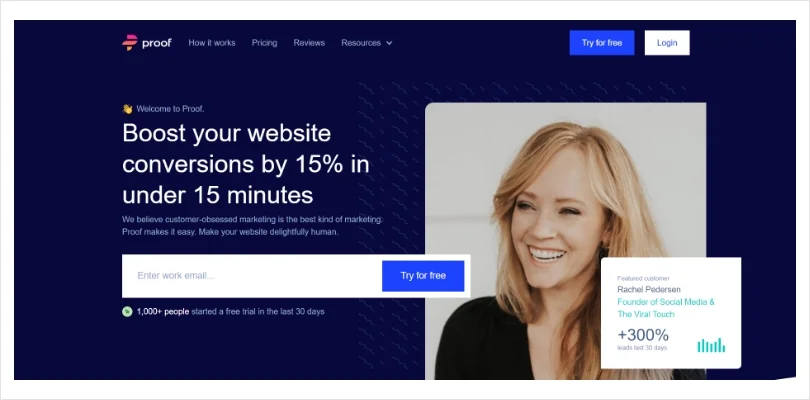 Proof is the best social proof lead generation tool that helps you display experiences and social proofs on your website. It is a powerful lead generation tactic that claims to increase leads and conversions by 15% or more. The tool shows notifications to visitors about other customers taking action on your website in real-time such as recent activity, live visitor count, purchased a product/subscription, and more.
Key Features:
Know the total number of people who have taken action on an offer with Hot Streaks notifications

Gain an unobstructed view of your sales strategy success with the Live visitor count & total number of purchases shown in real time

Powerful analytics and reporting for better insights into campaign performances

Comes with A/B testing to split traffic and test the effectiveness website features

Fast load speed for an unhindered, smooth browsing experience
Pros:
Integrates well with all commonly used softwares

Automatically notifies when visitor limit is about to exceed and upgrades accordingly
Cons:
Relatively costlier plans

The UI may be difficult to navigate for beginners
Pricing: Starts at $79/month.
7. Thrive Leads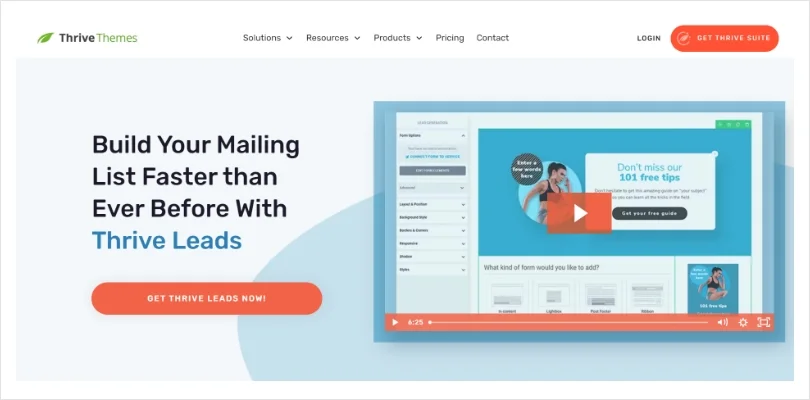 Thrive Leads is one of the best lead generation softwares available and a part of the Thrive Suite. You can create beautiful landing pages, popups, surveys, quizzes, scarcity campaigns, and much more to boost user engagement and deliver them a delightful experience. It is a type of all-in-one website development and marketing solution that connects easily with your favorite apps and plugins. The tool also offers actionable reporting and insights along with an A/B testing engine to improve your lead generation.
Key Features:
Simple drag-and-drop editor to create the perfect design and deploy it in minutes

Boosts conversion rates with relevant, highly targeted offers based on user activities

Wide selection of themes/templates to choose from for more versatility

Advanced A/B testing engine to compare your campaign performances easily

Actionable reporting & insights that gives you an overview of important website metrics
Pros:
Customizable opt in options

Rich analytics for tracking conversion rates
Cons:
Occasionally stops working at the backend

Minor bugs & glitches
Pricing: Starts at $99/quarter.
8. Sumo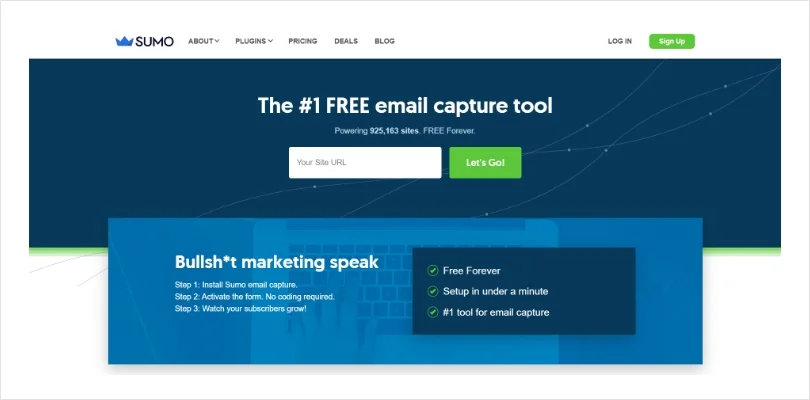 Sumo is a leading b2b lead generation tool that helps you grow your mailing list quickly. With a user-friendly interface and intuitive popup builder, you can design popup forms, smart bars, welcome mats, and surveys in no time. It improves customer engagement and prompts the visitors to take action with precise targeting rules. The app easily integrates with email marketing and CRM tools to transfer leads in real-time. For small businesses and individuals, Sumo is a good free option to get started.
Key Features:
Comes with fully customizable email opt-in forms to capture your visitors' email addresses in attractive formats

Multiple popup designs and templates that let you design your forms suiting your aesthetics

Personalized display forms on websites tailored to your visitors' profiles and website activities

Fast and responsive UI for a smooth navigation experience

Robust A/B testing and analytics that provides keen insight into how well your campaigns perform
Pros:
Offers multiple targeting & lead generation tools in one place.

The user interface is quite intuitive and easy to use.
Cons:
Integrating with certain tools is difficult

Limited pricing tiers available
Pricing: Starts at $49/month.
9. Optimonk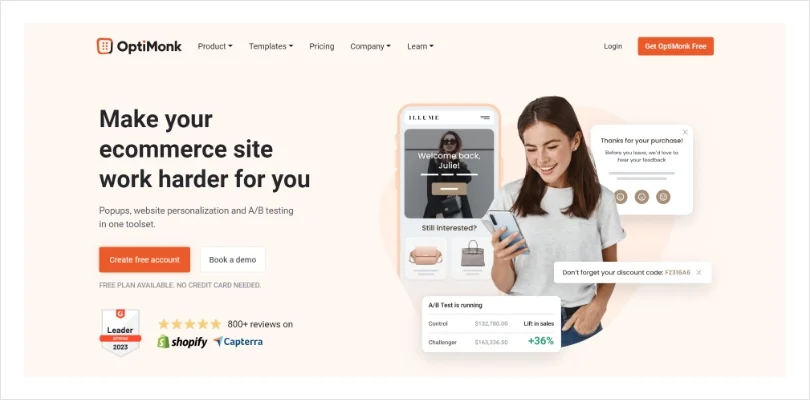 Optimonk is perfect for eCommerce businesses looking for an effective avenue to grow leads and improve conversions fast. The tool offers interesting features such as gamification popups, ebook popups, and timed teasers to make your marketing campaigns much more captivating and fun. With on-site targeting and detailed analytics, you get to create high-converting popups that can convince genuine visitors to share their contact details.
Key Features:
Grab the attention of abandoning visitors at the last moment with exit-intent popups

Choose the exact time that you want your message to be displayed at using timed display control

Target your visitors based on location, visited pages, browsing history, & visit frequency with customized messages for each segment

Create almost any layout with the interactive drag-and-drop editor & 200+ beautiful templates

Integrate with Google Analytics & GTM to gain in-depth business insights
Pros:
It takes only a minute to get started with

Behavioral targeting helps in hyper-personalization of content
Cons:
Editor can be clunky at times.

Does not integrate directly with some CRM tools
Pricing: Starts at $29/month.
Read more: 

10 Best OptiMonk Alternatives & Competitors in 2023
10. Getsitecontrol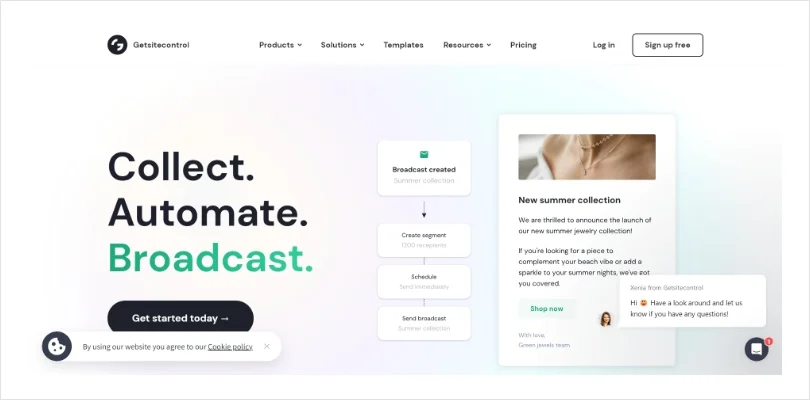 Getsitecontrol lets you create personalized, stylish popups aimed at specific audience sections based on their location, website behavior, device, sources, and more. The tool boasts of increasing the email list by 250% with its options like floating bars, slide-ins, and exit intent popups. Its smart targeting features enable you to display overlays at the perfect moment. You can also analyze popups with A/B testing, customize them to your heart's content, and track their performance in real-time.
Key Features:
Engage visitors equally on mobile phones with mobile responsive popups

Choose the pages where you want your popups to be displayed using page-level targeting

Use the built-in CSS editor to tailor the text, color, sizing, animation, and position of your ads

Display your visitor's name, location, or device on a popup to hyper-personalize the experience with dynamic text replacement

Use different versions of the same popup and check which one performs better with the advanced A/B testing and analytics module
Pros:
Users can choose the dates, days of the week, and hours when a popup should be displayed

Advanced targeting and hyper-personalization
Cons:
Lacks integrations with social media platforms

Doesn't provide multi-lingual support
Pricing: Starts at $6.14/month.
11. Driftrock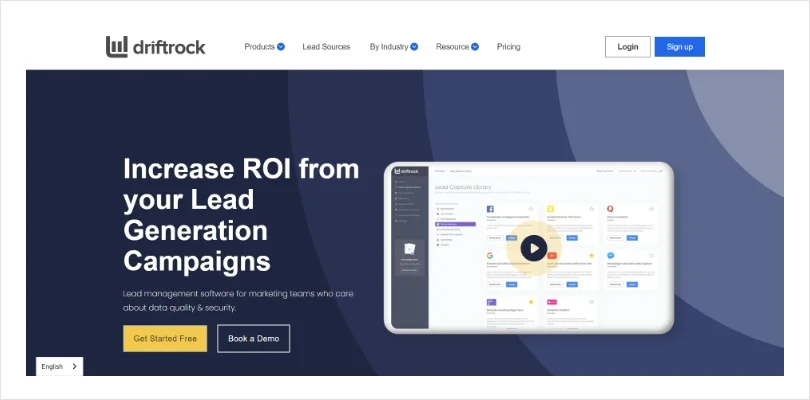 Driftrock is an ideal software for businesses looking to automate the process of creating and nurturing leads while boosting conversion rates by at least 50 percent. The tool brings a litany of features under one roof that lets you capture, track, and validate leads from your website, conversation threads, as well as third-party sources. It also integrates easily with almost all the major CRM tools and offers the unique ability to capture Google Analytics tracking of each lead if the customer consents to it.
Key Features:
Create high-performing lead capture pages for paid media with Driftrock Smart Form

Segment and route leads to your favorite tools with 250+ integrations

Sync directly with Google, Facebook & LinkedIn custom audiences

Automatically source and nurture your leads through Custom Audience Automation

Activate and sync new lead sources to your CRM with the Lead Generation Library in minutes
Pros:
Automatically refreshes audience every 3 hours

Fast, easy-to-use, and responsive customer support system
Cons:
The audience size is capped at 10,000

Can be a little difficult to set up initially
Pricing: Contact the company for a quote.
Customer Relationship Management Tools
As we have already established, you simply cannot manage your leads or smoothen over the sales process without including CRM tools. Below are some of the best picks that we have curated and compiled for you.
12. BigContacts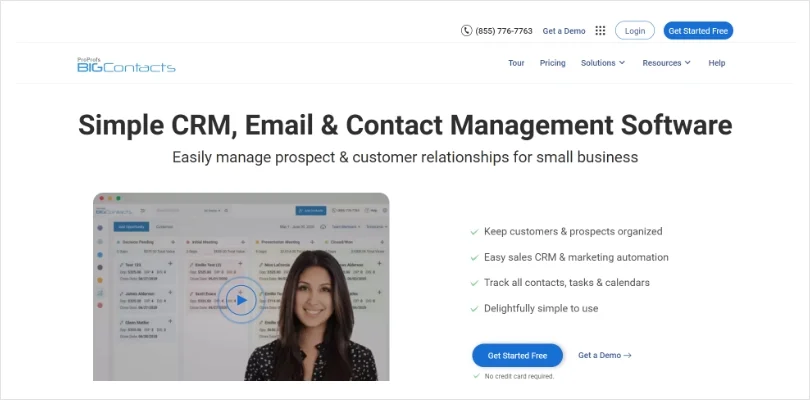 BIGContacts is a comprehensive CRM, email marketing, and contact management system that lets you manage prospects and customers from a single dashboard. It is designed especially to meet the needs of small and medium-sized businesses. The tool automatically updates the contact information from the Internet and social media to increase your leads' data. You can analyze leads, teams, and campaigns with smart reports and analytics to boost sales and easily automate marketing campaigns in BIGContacts to nurture more opportunities.
Key Features:
360-degree view of all activities for a comprehensive understanding of your operations

Set up triggered campaigns to send automated emails to your contacts based on the actions of your choosing

Save time and send personalized emails at scale with email & letter templates

Create automated tasks & reminders for timely follow-ups

Seamlessly integrate with 30+ tools to ensure a smooth workflow
Pros:
Ready-to-use and customizable reporting templates

Mobile version of the CRM available to manage leads remotely
Cons:
Lacks advanced search and deduplication features

Doesn't have AI-powered lead scoring functionality
Pricing: Starts at $5/per user/month.
13. Monday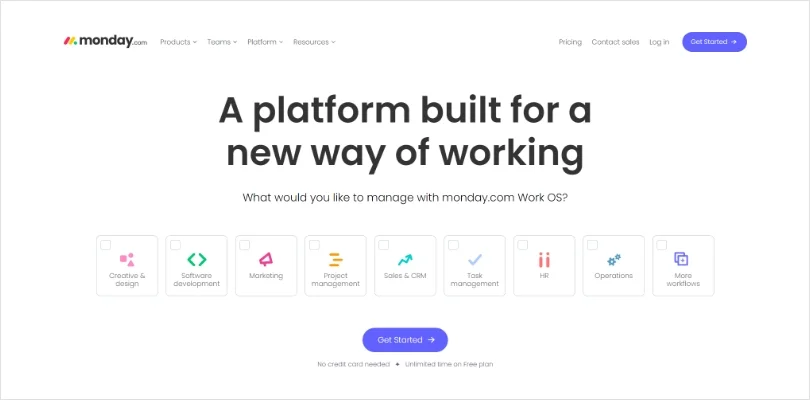 If you are on the lookout for a CRM tool that streamlines the sales pipeline within a unified operating front, Monday may be the perfect pick for you. The tool boosts your team's alignment, productivity, and efficiency by tailoring any workflow to fit your needs. This cloud-based work OS adapts to shifting requirements quickly and enables users to create workflow apps and run their processes, projects, or daily work in minutes.
Key Features:
Observe your business metrics in depth using simplified dashboards with real-time insights

Integrate with your favorite tools without resorting to coding inputs

Visualize & track team projects with powerful Gantt charts

Automate recurring tasks to reduce monotony and workload

Handle any workflow smoothly using the built-in Kanban software integration
Pros:
Real-time observations & process automation

Increased transparency in status reports with the Update function
Cons:
The UI has limited features

Spam/unwanted promotional emails are sent to user inboxes at times
Pricing: Starts $24/month.
14. Zoho CRM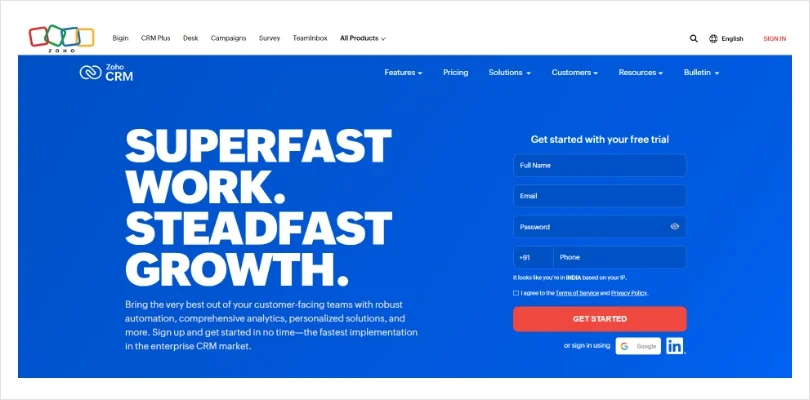 As an omnichannel Customer Relationship Management platform, Zoho's customizable application system helps capture quality leads, understand purchase patterns, and detect anomalies in the sales process. The tool allows businesses to connect with customers via phone, live chat, email, or social media. However, the best part about Zoho is its AI-powered sales assistant Zia, which provides each sales representative with personalized CRM data, alerts, suggestions, task reminders, and more to expedite the sales process.
Key Features:
Prioritize prospects based on positive or negative scores using Scoring Rules

Represent and summarize CRM data based on your business requirements with custom dashboards

Get inputs and predictions from the conversational AI-powered sales assistant Zia

Personalize your customer's journey throughout the sales process with the CommandCenter feature

Get real-time customer notifications & alerts with SalesSignals
Pros:
Easy-to-navigate interface

Features can be customized to fit individual business goals
Cons:
Workflow feature is clunky

Limited customization options
Pricing: Contact the company for a quote.
15. Marketo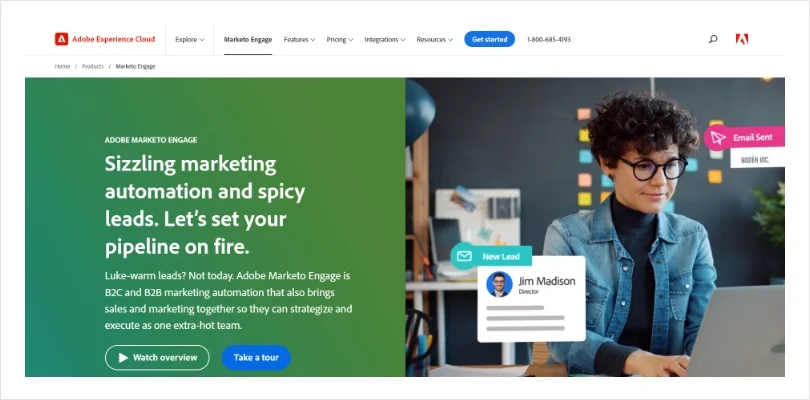 Marketo is a lead management and marketing automation solution that helps businesses to interact with potential customers. You can easily develop and qualify the leads before they're passed to your sales team. Using inbound and outbound marketing, you can improve the quality of your leads. With email marketing campaigns, you can also turn your leads into conversions down the way. The CRM software is equipped with many more sales and marketing tools to deliver an exceptional customer experience.
Key Features:
Engage customers the right way through behavior tracking

Easily create and scale automated marketing campaigns

Have a clear overview of impact and ROI with simple dashboards and in-depth reporting

Get a 360-degree view of each customer across web, email, social media, and mobile

Attract top-of-funnel traffic via inbound and outbound programs
Pros:
Offers great flexibility when creating emails using modular templates

Sleek, intuitive UI
Cons:
Reporting Analytics could be better

Slow to load at times
Pricing: Contact the company for a quote.
16. Keap CRM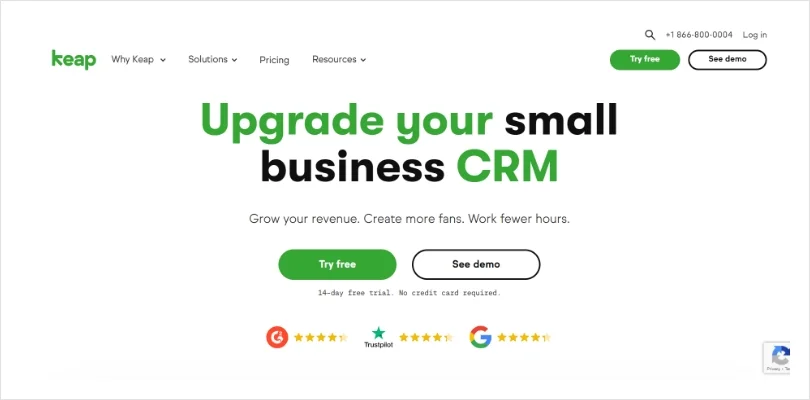 Keap is an all-in-one sales and marketing solution to grow leads and sales. The fully customizable CRM lets you score leads, manage contacts, create landing pages, email marketing campaigns, track visitors, and much more. With this CRM, you won't miss a chance to capture leads from landing pages, forms, and social media. You can trigger personalized follow-ups to convert more leads and can access all the reports and data from a single place.
Key Features:
Collect and curate contacts automatically through custom lead forms

Tag and segment contacts to personalized trigger automation based on user data & activity

View all tasks and related reports on a single dashboard

Create multiple, customizable pipelines synced with Keap's CRM to convert leads into conversions automatically

Make the sales process easier with 1000+ app integrations
Pros:
Option for sending automated emails

Integrates well with multiple popular softwares
Cons:
Premade templates look rudimentary and incomplete

Steep learning curve
Pricing: Starts at $129/month.
17. Overloop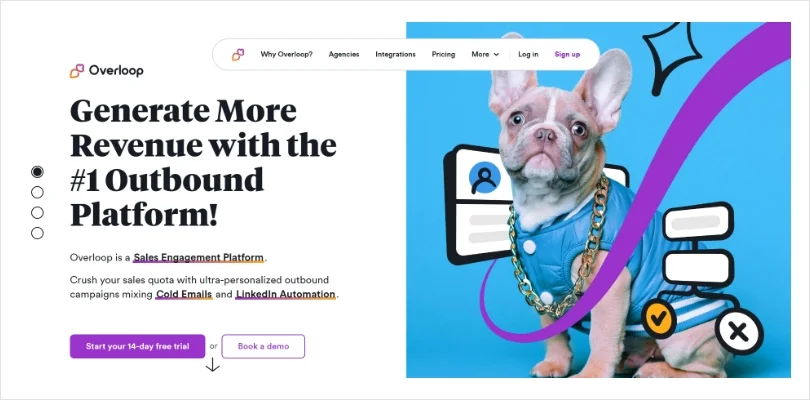 Overloop is an all-in-one CRM, pipeline management, and campaign builder platform that keeps the whole sales pipeline in one place. The tool effectively captures new leads via web forms and live chat widgets. You can further nurture the prospects with its advanced CRM and earn new customers without communication gaps.
Key Features:
Analyze each step of a campaign, bounce rates, activities, and more with powerful reporting & insights

Find missing email addresses with the powerful email finder algorithm

Create contacts from anywhere online using its Google Chrome extension

Import contacts directly from any LinkedIn profile or from a LinkedIn search

Integrate with other popular CRMs, API, Zapier, & Email Providers
Pros:
Easy-to-use and effective

Efficient customer support team
Cons:
Search function in the app doesn't always work

Frequent crashes due to bugs
Pricing: Starts at $99/month.
18. Sharpspring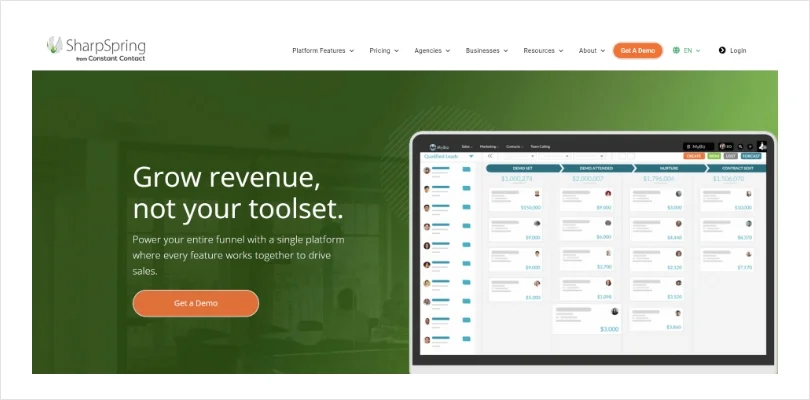 Sharpspring, an offshoot of Constant Contact, is a CRM platform that helps businesses generate quality leads, improve conversion rates, and drive higher returns on marketing investments. The tool is a full-funnel marketing and sales automation platform for agencies and SMBs looking to expedite their growth on a single, one-stop front with its open API and universal CMS compatibility.
Key Features:
Drive conversions with personalized and automated campaigns aligned with user behavior

Create, customize and reorder form fields effortlessly with the drag and drop editor

Detect prime leads and moments with the powerful marketing automation system

Identify visitors at each point of their journey with VisitorID

Seamlessly integrate the platform with any CRM tool of your choice to keep your data synchronized and flowing
Pros:
Easily navigable interface

Third-party CRM integrations
Cons:
The system crashes often due to bugs

Lacks display/functionality options in the form and landing page builder
Pricing: Starts at $449/month.
19. Pipedrive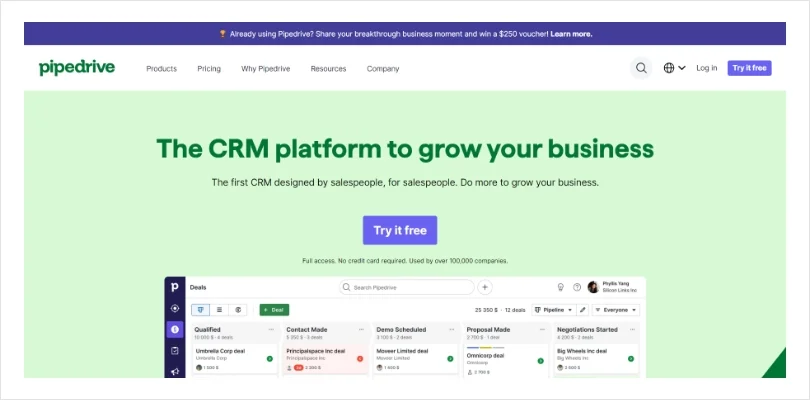 Pipedrive is a complete lead generation and contact management system that comes with an array of interesting features to drive more engagement and conversion visitors. You can retrieve contact information automatically from public sources just with an email address. The tool offers interactive features such as live chat, chatbot, built-in caller, and website forms to boost lead generation. Based on your interaction history with your prospects and their standing, you can further categorize them in the sales funnel.
Key Features:
Create and send customizable email campaigns with built-in pro templates

Integrate your tool with 300+ applications, including Google, Slack, Xero, Kixie, and more

Garner high-quality leads with a suite of four powerful the LeadBooster addon lead generation tools

Track your website visitors, source, referrals, and more from a single interface

Create shareable, trackable documents and templates with Smart Docs for smoother team collaboration
Pros:
The platform is easy-to-use & beginner-friendly

Enables users to view the whole team's progress in one place
Cons:
It occasionally runs slow and experience glitches

Cluttered sales pipeline overview that often overwhelms the user while extracting information
Pricing: Starts at $9.90
20. Zendesk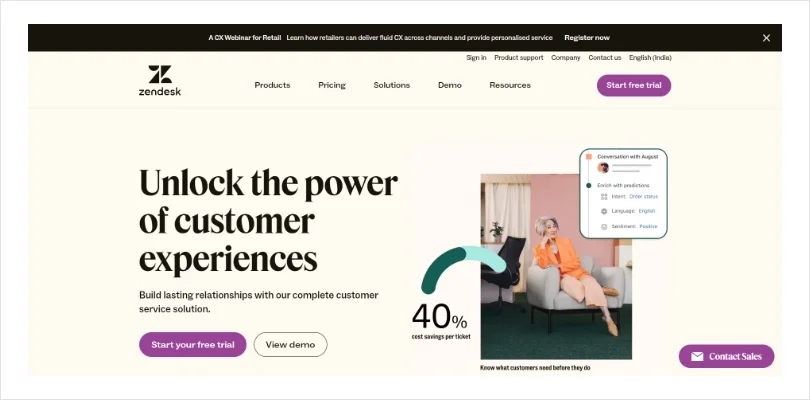 Zendesk is a customer service tool that enables you to meet customer needs and keep your business in sync. The stellar customer redressal system with engaging features like web widgets, pre-defined ticket responses, and a full customer history creates a rich, satisfactory experience for your visitors that encourages them to return to your brand and prompts them to convert.
Key Features:
Offer support to your customers any time, any place across web, mobile, and social platforms

Automate and streamline workflows to provide faster resolution at scale

Resolve customer queries immediately with relevant informating using AI-powered, automated answers

Analyze campaign performances with pre-built dashboards

Create customized, shareable dashboards with charts and filters to keep your team updated about all the key insights and trends
Pros:
User-friendly UI with easily manageable tasks

Comes with 1000+ built-in and custom integrations
Cons:
Unsatisfactory customer support system

Inconvenience due to chats getting deleted when the clients go offline
Pricing: Starts at $49/month.
21. Clientvenue

Clientvenue is a marketing agency project management tool that helps businesses to manage and organize their marketing projects in a streamlined and efficient way. The tool offers a wide range of features to help businesses stay on top of their projects and ensure that they are completed on time and within budget.
Key Features:
Project management and task tracking

Collaboration and communication tools

Time tracking and budget management

Reporting and analytics

Customizable templates and workflows
Pros:
Easy to use interface

Comprehensive set of features

Helps to streamline and organize marketing projects

Improves collaboration and communication among team members

Provides detailed reports and analytics to help businesses make data-driven decisions
Cons:
Found no any problem by using this platform
Pricing: Starts at $25/per user/month
22. TeleCRM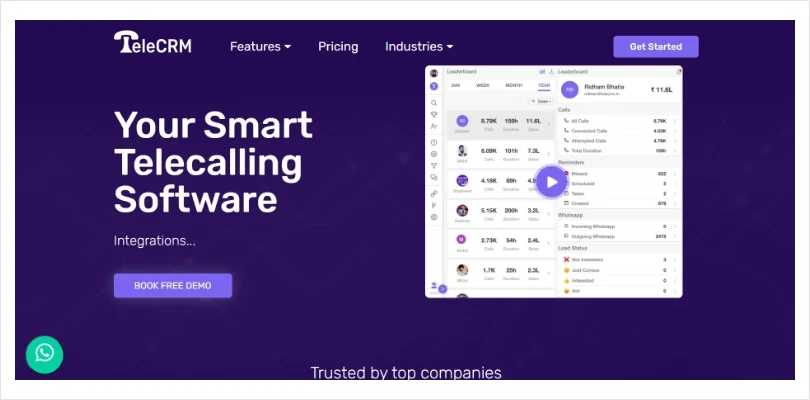 TeleCRM is a telecalling software that aims to enhance customer relationship management by providing a range of useful features such as auto-dialer, smart follow-ups, call recording, and a comprehensive dashboard in the app as well as the website.
Key features:
The auto-dialer feature streamlines and expedites calling processes.

Integrations with WhatsApp provide automation and advanced communication options.

Real-time lead capture consolidates leads from various sources for easy access.

Task automation allows teams to focus on more important work and enhance productivity.

Comprehensive analytics empowers businesses to make informed, data-driven decisions.
Pros:
Access reports anywhere

Automate repetitive tasks

Cost-efficient setup
Cons:
Only cloud-based support

No monthly subscription
Pricing:
Quarterly – ₹699 per user per month

Annual – ₹499 per user per month
Inbound Lead Generation Tools
Inbound lead generation tools are increasingly gaining popularity in marketing as a medium of attracting leads to your website without resorting to overt advertising. These tools let your brand speak for itself by highlighting the best of what you have to offer. Some of our top picks are listed below.
Read more: 

The Most Effective Inbound Lead Generation Strategies to Follow in 2023
23. LinkedIn Sales Navigator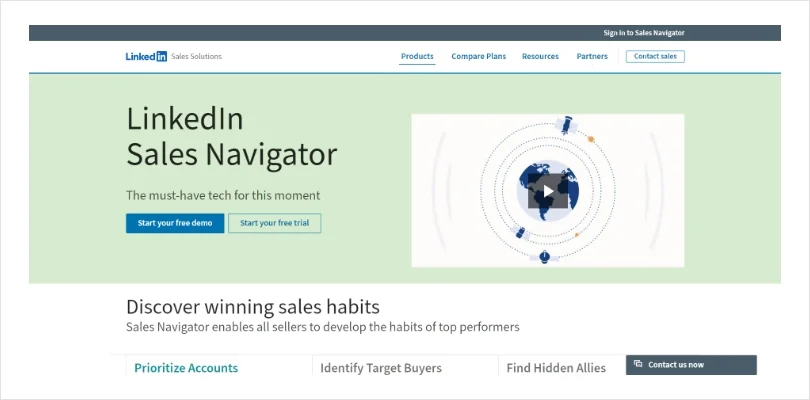 LinkedIn Sales Navigator is another lead generation tool for b2b businesses that give you a list of new prospects and leads using your LinkedIn search criteria and advanced targeting options like industry, geographical location, seniority, etc. The tool allows you to connect with over 500 million LinkedIn users through in-mail messages, even if you are not connected to them.
Key Features:
Find the most relevant prospects for your business with the advanced lead & company search

Get real-time sales updates on accounts and leads you follow

Automatically save prospecting leads and log Sales Navigator activity to CRM with a single click

Organize your leads with tags and take notes synced to CRM

See an extensive list of your profile views for the last 90 days
Pros:
The in-mail feature makes the outreach process simpler and more convenient

You can set triggers in your saved searches to get real-time notifications
Cons:
Pricing plans can be quite expensive

Connections are not always successful as people tend to ignore LinkedIn messages
Pricing: Starts at $79.99/month.
24. EverWebinar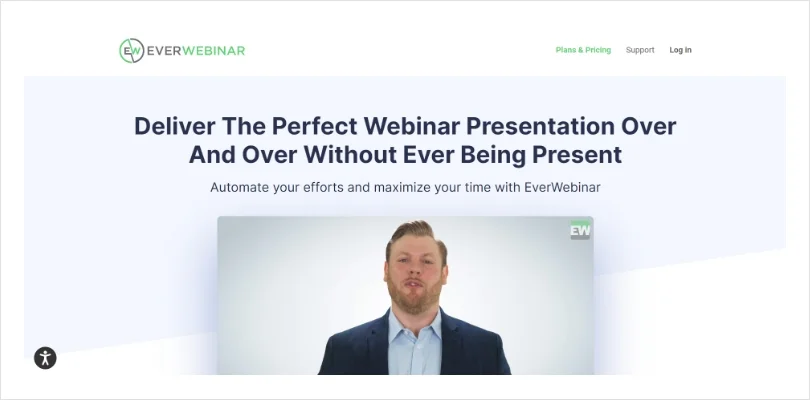 EverWebinar is a lead-generating system that allows businesses to create, schedule, and broadcast pre-recorded webinars in high definition at any given time. The tool comes with a large array of customization templates that let the users post personalized pages announcing upcoming webinars. Additionally, you can also interact with your customers live or through polls & surveys and observe the metrics through its built-in analytics dashboard.
Key Features:
High-definition, automated webinars, videos, and presentations on every device

Schedule your videos on specific, single, or recurring days with the built-in calendar

Unlimited replays of pre-recorded sessions and missed sections that don't let your users miss out on important content

Conduct polls & surveys to gauge your audience's opinion on your programs

Easy third-party integrations to effortlessly merge your videos with other applications
Pros:
Simple UI that gets webinars running in minutes

Seamlessly integrates with various third-party applications using APIs
Cons:
The API could be more advanced

Clunky & difficult to navigate at times
Pricing: Starts at $499/year.
25. Hootsuite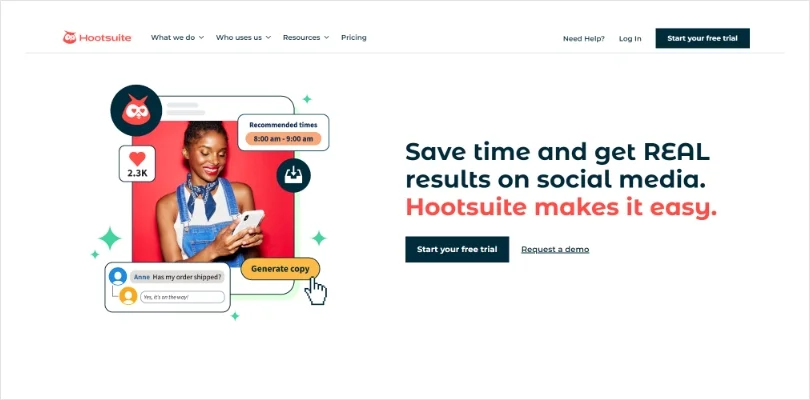 Hootsuite is a powerful social media management tool to boost your social presence and generate inbound leads. You can post trending content and analyze the performance across different platforms from Hootsuite's intuitive dashboard. The tool lets you gain personalized insights on your top-performing content and use social analytics to increase engagement. You can also collaborate with your team members to provide quick responses to potential customers.
Key Features:
Create and share your content across multiple social media platforms from one central platform

Craft and schedule social media posts simultaneously across different accounts with the publishing features

Monitor your posts, comments, and messages across channels from a holistic perspective

Interact with users from more than one network on a single stream

Analyze your results and visualize the impact with custom reports
Pros:
Fast & automated organization, scheduling, and deployment of posts

Easy to resize graphics according to the platform requirements
Cons:
Analytics are clunky and hard to manipulate.

Cluttered user interface
Pricing: Starts at $24/month
26. Quora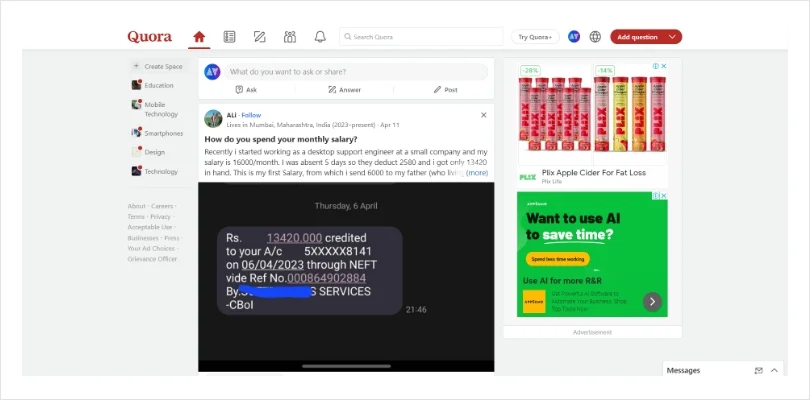 Quora is a massively popular forum where people ask questions and exchange answers on different topics. If you can convince people about your expertise in offering relevant solutions, it opens up possibilities for fresh lead generation. Collect upvotes by answering questions and engaging with other users. Build trust and credibility by answering genuinely and adding links to your answers to drive traffic to your website. It works not only for those asking the questions, but for future visitors as well.
Key Features:
Proper categorization of different topics

Ask questions to start the topic and answer them

Add links easily to your answers

Create awareness for your brand, product, or service

Use paid advertisements to increase leads
Pros:
Diverse post topics

Wide scope of connecting with new prospects
Cons:
Unwarranted promotional emails

The UI is very basic
Pricing: Free
27. SlideShare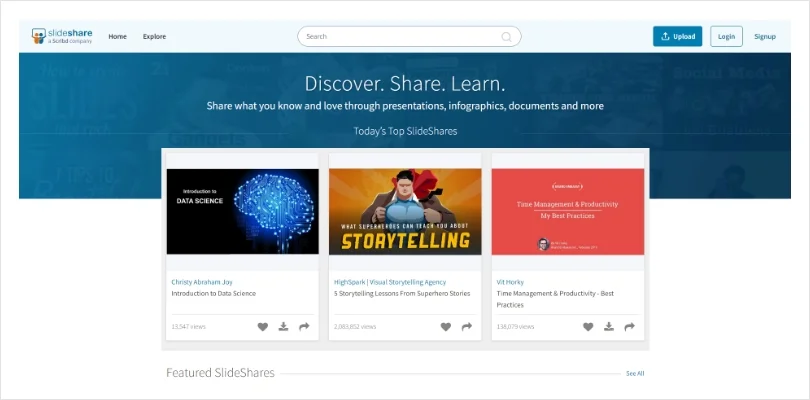 Slideshare is a powerful platform where you can share slideshows, infographics, videos, and presentations with a diversified audience. According to a study, about 80% of SlideShare's traffic comes from search results and has 80 million active users, most of whom are B2B — making it one of the best software for lead generation.
As a tool that's intrinsically linked with LinkedIn and, by extension, Microsoft, SlideShare removes the primary hurdles of finding a separate audience base and additional logins. This, combined with the endless possible ways of crafting and enriching the core content with what's required, makes it a lucrative option for most customers.
Key Features:
An extensive content library that allows you to view presentations on a wide range of topics

Option to group and categorize your files hierarchically or according to the subject matter

Control who can access your content in the library

Embed editable form fields in the presentations to garner instant engagement
Pros:
A clean and easy-to-use interface that simplifies the process of finding or adding content

Huge topic diversity catering to audiences from all walks of life
Cons:
The app mandates logging in if a user wants to download files, which wastes time if you are in a hurry

A large number of generic slides that make finding specific answers difficult
Pricing: Premium starts at $19/month
Communication Tools
Live chat software lets you connect with your website visitors in real-time to engage with them and collect valuable information. Here are our top picks for live chat lead generation softwares.
28. ProProfs Chat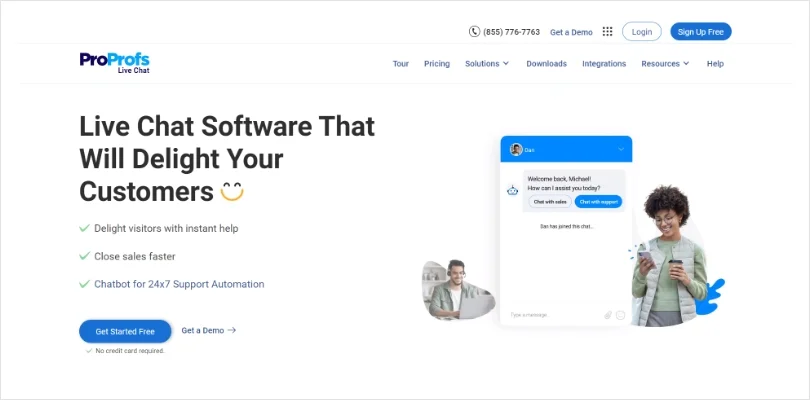 ProProfs Chat is an all-rounder tool designed to generate more leads and assist website visitors in delivering them a delightful experience. Once you capture qualified leads, they are automatically saved to your CRM. With the help of the announcements and alerts feature, you can let the visitors know about events, sales, product launches, discounts, etc. It helps increase engagement and identify upsell opportunities. Additionally, the ProProfs Survey Maker integration also allows you to create a pre-chat form to guide the visitors to the right teams.
Key Features:
Automated customer support process that helps your agents avoid answering repetitive queries in-person

Faster resolution of user issues with the live chat system

Customer satisfaction feedback to eliminate communication gaps

Offers 50+ integrations for a simple, unified support system

100+ customization settings that let you create a widget suiting your needs
Pros:
Affordable, simple, & fast chat service

Offers in-depth report on each agent's performance
Cons:
Operator dashboard has scope for more customization options

Chatbot templates could be more extensive
Pricing: Starts at $10/month
29. Drift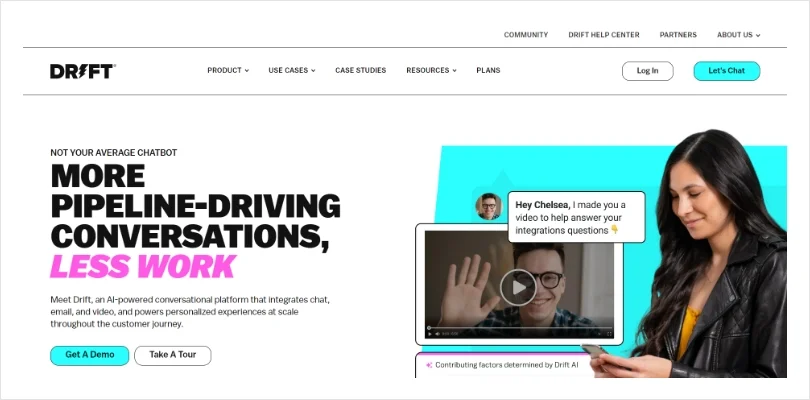 With its AI chatbot and live chat features, Drift is the perfect mediatory application that offers both automated texts and one-on-one communication. The tool helps your customer, marketing, and sales teams connect easily with your users through conversations that build trust and contribute to conversion decisions. It has multiple modes of interaction, including chat, email, video, and more, that allow you to manage more than one conversation thread in different inboxes simultaneously.
Key Features:
Consolidate key sales threads in a shared space for buyers and sellers with Drift Deal Room

Drift Audience identifies all your visitors' profiles with details to tailor your conversations for each user

A well-crafted, informative FAQ section that answers the commonly asked questions

Advanced AI sensing that switches automated replies to agent-managed ones at the right time

24/7 automated, personalized conversations that engage buyers, help customers, qualify, and convert leads
Pros:
Easy to integrate other applications

Easily switches from chat to call or chat to video
Cons:
Confusing & cluttered UI

Customer support system not up to par
Pricing: Contact the company for a quote
30. Intercom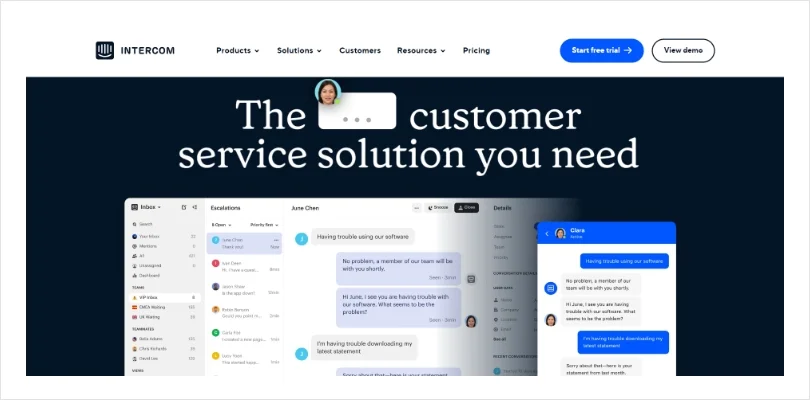 Intercom is a widely-known live chat and communication platform to connect with potential customers and build relationships. You can use the tool for live chats, chatbots, product tours, self-serve support, and more. The collected information and user behavior help you create message triggers for onboarding and support.
They also offer an integrated knowledge base and help desk to provide support for existing customers. Definitely, a great collaboration tool for your sales, marketing, and support teams!
Key Features:
Provide personalized help at scale with automated chats, live interaction, and self-serve hubs

Drive engagement with in-product and multi-channel campaigns, tours, and surveys

Fine tune your campaigns to their peak effectiveness through A/B testing

Reroute queries to specific inboxes pertaining to the concerned teams

Get in-depth revenue and performance reports as actionable insights on the analytics dashboard
Pros:
Easy to use with a great support team

Integrates effortlessly with most applications
Cons:
Plans tend to be on the pricier side

Suffers frequent outages
Pricing: Contact the company for a quote.
31. CallPage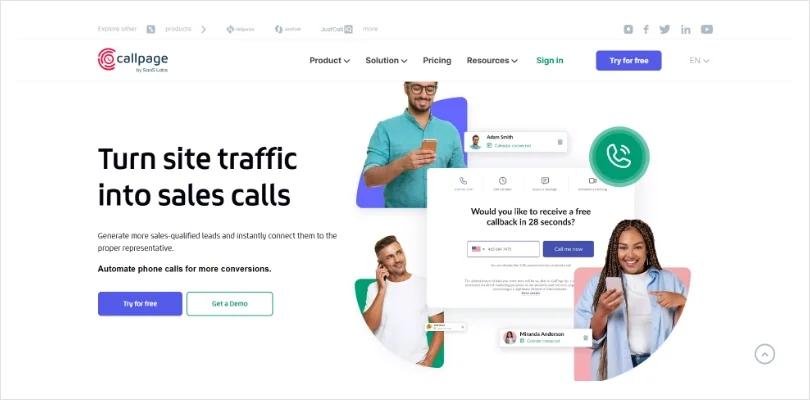 CallPage is a callback automation tool for your website that solidifies leads and helps you connect with your buyers faster. The tool lets you call your prospects back for free in 28 seconds and allows reconnecting with missed leads with the "Call me later" function. To collect your customer's contact information from them, the app lets you deploy fully customizable popup forms that you can set to trigger at any point of their website journey.
Key Features:
Cut queue time for customers by letting them schedule ASAP calls on the app

Record and set custom voice messages for your prospects

Interact with clients to keep them engaged even in the absence of a call operator with the automated Interactive Voice Response feature

Personalize your popups and widgets — set your own graphics, themes, text, sound effects, animations, and more with the custom style editor

Choose to analyze the metrics most important for your business through customizable reporting
Pros:
The quick callback and follow-up SMS system helps to nurture leads further after the initial call

Complete freedom in choosing your widget appearance and functions with customization options
Cons:
Plans are expensive

Integrations can be expanded to more applications
Pricing: Starts at $25/month
32. Tawk.to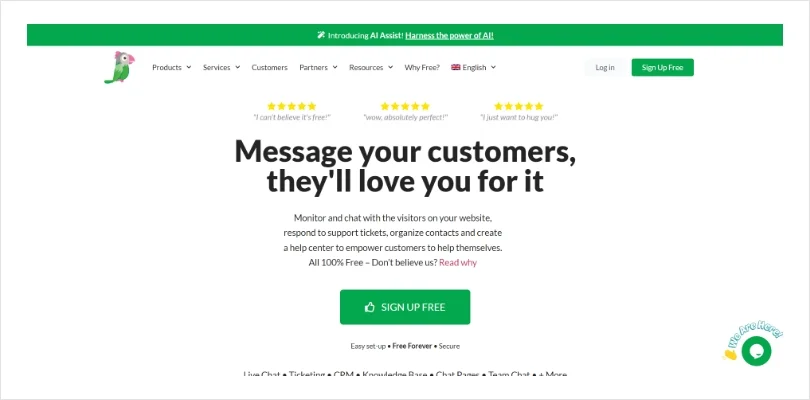 Tawk.to is one of the most popular live chat tools, and it is absolutely free. It is a complete lead generation and customer support solution with ticketing, chat pages, and a knowledge base. The intuitive dashboard lets you monitor website visitors in real-time and captures their location and email addresses. With powerful analytics, you can also easily gather leads and find potential customers on your website. The setup takes less than a minute, making an ideal tool to get started with your live chat ventures fast.
Key Features:
Track your visitors' website activities in real-time and maintain a complete conversion history for all your customers

Choose the right person to assign to a conversation for more effective resolution of queries

Simplify your customer support system with a free, customizable Knowledge Base accessible to both your team and your customers

Add value to your interactions with precise knowledge of your customer's journey gathered using geo-tracking, visitor identification, and activity mapping
Pros:
Allows preview of what the customer is typing even before they hit send

The software is free to use
Cons:
Mobile compatibility is an issue at times with some of the features not formatting accordingly

The chat notifications are not reliable and conversations are often missed if not monitored constantly
Pricing: Free
33. LiveChat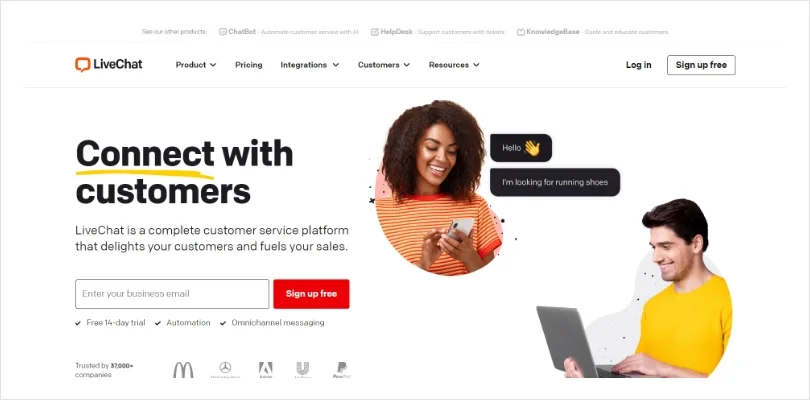 LiveChat is another widely popular user interaction tool that streamlines the communication process with customers through automated, omnichannel messaging. The tool goes beyond just responding to texts to find its use in generating leads, creating support tickets, managing multiple conversation channels, and segmenting live visitors. The software blends AI and human touch perfectly by initiating conversations with chatbots and handing it over to agents at the right moment.
Key Features:
Reduce workload by AI generated & canned responses for generic queries

View what your users are typing with the "Sneak Peek" feature before they hit send

Send your customers targeted messages enriched with information gathered from their website activities

Have an irresistible offer? Make it stand out prominently on the page with the Eye Catcher widget style

Study ticket reports, customer satisfaction levels, and your live chat agents' performances in depth with the analytics feature
Pros:
Supports communication in multiple languages

Option to accept, decline, or pass a chat to another agent depending on availability
Cons:
Glitchy notification system

Lags during high loads
Pricing: Starts at $16/month
34. Pure Chat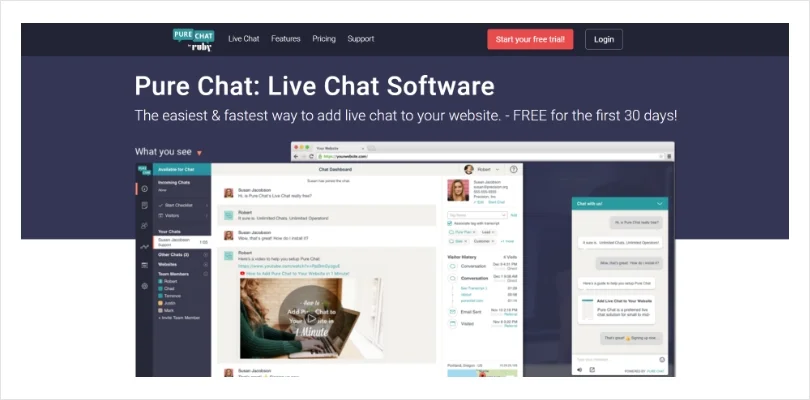 Pure Chat is an all-around live chat software that allows you to offer your customers real-time support and provide them with the right information just when they need it. With this tool, you can track your visitor history and uncover additional data that you can use to personalize your chats further. The features work together to give you the much-needed insight into traffic patterns, the effectiveness of your campaigns, overall user experience, website performance, and more. You can leverage this information to qualify your leads and nurture them through the funnel to ultimately increase your sales.
Key Features:
Make all your interactions count by incorporating contextual information gathered from real-time visitor analytics and their contact history

Use the in-app editor to gain complete control over how your chat widget looks and functions on both desktop and mobile interfaces

Integrate seamlessly with 1000+ applications, including Google Analytics, Hubspot, and Zapier

Reduce wait time and cost with canned responses for generic queries
Pros:
Simple and concise UI suitable for all users

Suitable for a wide range of industries
Cons:
Slow to load at times

The scope of canned responses can be increased
Pricing: Starts at $39/month
35. Acquire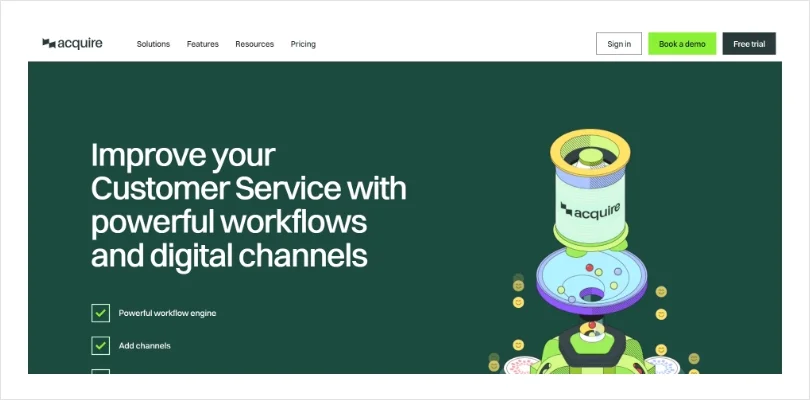 Acquire is a conversational user engagement tool that simplifies communication between agents and customers by bringing the entire process into one comprehensive, streamlined platform. With features like live chat, audio & video calling, chatbot, and secure co-browsing options, the application is perfect for resolving sales, service, or support issues in real-time on any device. Using this software, you can generate leads and retain them with continuous engagement, reduced wait time, and lesser redundancy throughout the interaction.
Key Features:
The tool runs easily on multiple mobile devices, including phones & tablets

Option to customize chat colors, branding, logos, and texts to match the desired aesthetics and theme

Improve tool functionality by integrating easily with APIs and other customer service softwares

Uncover important business metrics and track progress from the reporting and analytics dashboard

Access all data from a well-segmented central repository of contact and account information
Pros:
Smooth chat interface and supports the exchange of multiple file types

Fast and responsive customer support
Cons:
Integration scope can be broadened to include more tools

Minor bugs in the system cause glitches often
Pricing: Contact the company for a quote.
36. LiveHelpNow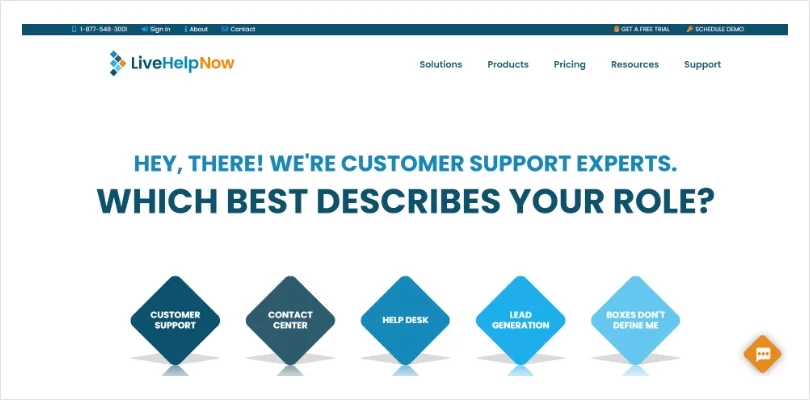 LiveHelpNow is a comprehensive customer support tool with automated and live chat features and a built-in help desk solution to get users an all-inclusive, ultimate query resolution experience. The real-time monitoring system of the application provides detailed insight into customer issues and intent that can be further leveraged to tailor automated responses and promotions. Aside from live chat and user engagement, the tool streamlines the support process by converting email and social media mentions to canned responses, ticket logs, ticket transcripts, and more.
Key Features:
Omnichannel communication through SMS, emails, live chat, and Facebook in one seamless, fast-responding interface

Make your interactions more effective with chat sneak peek, language translation, secure file/data sharing, AI-driven suggestions, video chat, and automated responses

Track customer conversations on any platform to know which interactions resulted in sales

Engage leads and gather information 24/7 even in the absence of agents with the advanced AI chatbot equipped to greet website visitors, provide relevant product information, and collect valuable details

Gain unprecedented clarity on agent performances and customer behavior including their contact history and visited webpages
Pros:
Easy-to-use tool with a simple interface fit for users who aren't technologically sound

Robust analytics and reporting that makes it easy to gather insights into performance metrics
Cons:
Some features glitch while operating

Comments can't be viewed on mobile devices
Pricing: Starts at $21/agent
37. Olark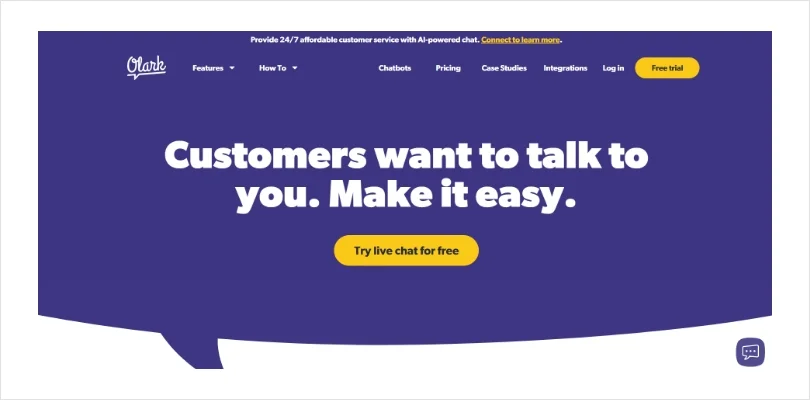 Olark is a live chat solution best known for its simplicity in connecting your users with the website right away. The tool allows you to record chat sessions as future references for recurring customers and minimize the purchase funnel by a few steps. With features like custom pre-chat forms, triggered messages, and email followups, you can nurture your leads and nudge them towards the right product. The effectiveness of your campaigns can be further uncovered within the same streamlined application using real-time analytics, email reports, and integrations that cater to the same purpose.
Key Features:
Add value to conversations from the very beginning by gathering contextual information through customizable pre-chat survey forms

Serve up your best offers just at the right moment with triggered messages

Connect with your leads with email followups after they send a message even if you are not immediately available

Save chat threads for every conversation to the tool's built-in searchable database

Get frequent, detailed reports of the chat metrics and customer feedback and analyze them with real-time dashboards
Pros:
Uncluttered, easily navigable user interface

Great variety in integrations that allow for a smoother operating experience
Cons:
The software doesn't work when cookies are disabled

Frequent crashes
Pricing: Starts at $29/month.
38. Genesys DX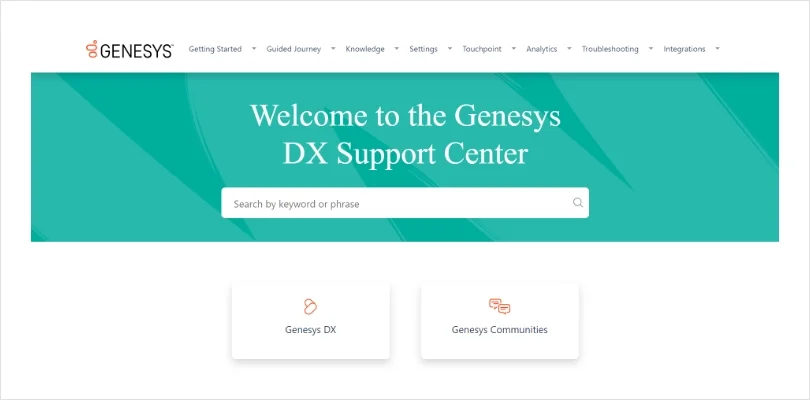 Genesys DX is a multiutility customer engagement solution that provides actionable insights to businesses gathered through live chat, email messaging, and interactions over other social channels. By smoothening the user interaction experience, this software ensures a steady influx of user feedback, solutions, and troubleshooting that ultimately boosts engagement and generates quality leads. Aside from serving as an agent-assisted support center for your website, the tool also reduces the number of tickets with an extensive knowledge base and self-help library.
Key Features:
Offer quick resolution to customer queries with live chats, email, and text messaging on both desktop and mobile devices

Deliver quality customer experiences with AI-powered self-service and live agent support

Utilize your agents' time more efficiently through a unified workspace supporting file transfers, safe co-browsing, and skill-based routing

Enrich the customer support system with the tool's extensive knowledge base accessible to all customer-facing employees
Pros:
Supports multimedia usage in chats

Chats & emails are easily accessible for evaluation purposes
Cons:
The complex interface may feel overwhelming to beginners

Some self-help guides require more detailed steps
Pricing: Contact the company for a quote.
39. LivePerson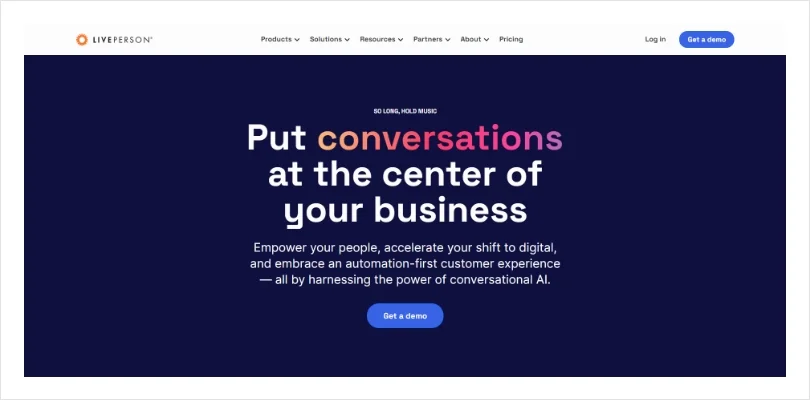 LivePerson is yet another AI-based conversational platform that facilitates brand-to-customer interaction with automated answers, prompts, and triggered responses. Using LivePerson's AI conversational cloud, brands can evolve from traditional, synchronous channels like voice, live chat, etc., and engage with users at their preferred time and platforms.
The readily available suite of features included in the tool are — an intent recognition and management system, a robust analytics section, and a proprietary algorithm designed to automate high-volume inquiries via popular two-way communication channels, among others. These all come together to simplify communication even in the absence of human agents.
Key Features:
Deliver intent-driven messages at scale with the highly intuitive AI & machine learning

Unite all customer experience platforms from messaging to social media, voice chats, emails, and more with the conversation cloud

Deepen your understanding of customer sentiments from the data obtained after analyzing billions of interactions

Personalize every conversation with a curiously human touch with or without live agents
Pros:
The design studio makes it easy to configure the visual details of chats

Fully customizable analytics dashboard that lets you see the reports you want rather than predefined ones
Cons:
The multiple levels of configurations (target audience, entry point, behavior) can make setting up campaigns confusing

Email reporting can be developed more
Pricing: Contact the company for a quote.
Email Marketing Tools to Generate Leads
As one of the oldest and most reliable forms of communication, emails are still a widely-preferred medium to initiate and nurture relationships with both potential and existing clients. Here is a comprehensive list of the top email marketing tools that can help you generate qualified leads.
40. HubSpot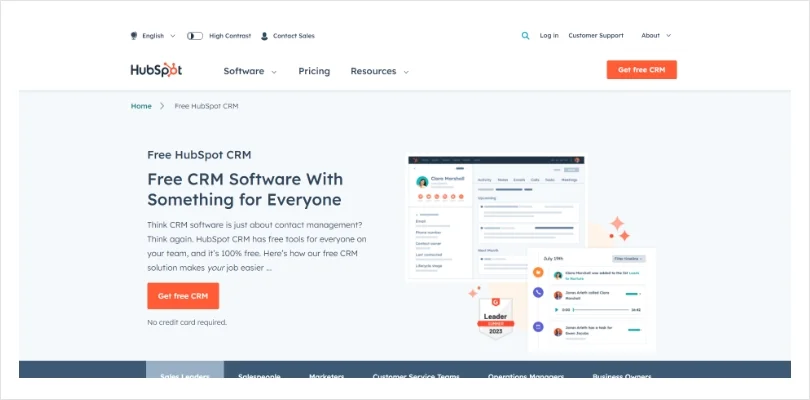 HubSpot CRM is one of the biggest CRM platforms on the market for SaaS organizations. It has all the integrations and tools for lead generation, contact management, sales, marketing, and customer support. You can find all your customers' interactions in one place to stay on top of what's happening. Your teams can efficiently close deals with features like prospect tracking, email tracking, live chat, and meeting schedule. HubSpot offers both free and paid plans as pricing depends greatly on the tools and features you want.
Key Features:
Navigate easily with the user-friendly and intuitive user interface

Monitors multiple aspects of your business from a centralized front

Track and analyze the whole sales funnel from the detailed reporting dashboard

Use intuitive visual workflows and bot builders to create robust, automated campaigns across email, social media, ads, website, and chat

Leverage HubSpot integrations to create campaigns across various channels
Pros:
Integrates well with popular platforms like Gmail, WhatsApp, & MS 365 Suite

Built-in performance and report analytics
Cons:
Limited customization options in the email forms

The large numbers of features can get overwhelming for beginners
Pricing: Starts at $45/month.
41. Sender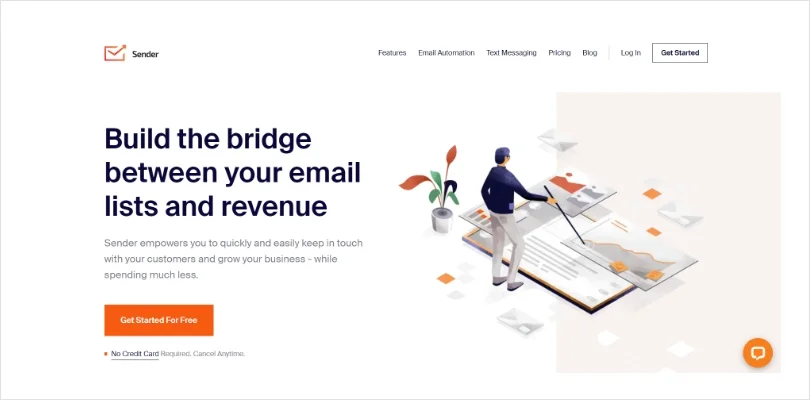 Sender is a great tool to keep in touch with your customers and expand your business without incurring a lot of expenses. With an intuitive drag-and-drop builder, free templates gallery, and custom HTML editor, create engaging, branded emails from pre-built designs or from scratch in minutes. The tool also features email automation that allows you to set up and deploy email campaigns at a time and setting of your choice.
Key Features:
The emails are highly monitored to ensure full deliverability to customers' inboxes

Reach your intended audience at the perfect time with the perfect content using the smart automation tools

Save time with pre-built email templates that you can use as it is or customize further to suit your themes

Use the advanced analytics tools to observe your campaign performances and find out what works the best for your business
Pros:
Simple and easy-to-use software

Reasonable pricing
Cons:
Emails are often marked as spam in the audience inbox

Limited number of templates as compared to other tools
Pricing: Starts at $8.25/month.
42. SendPulse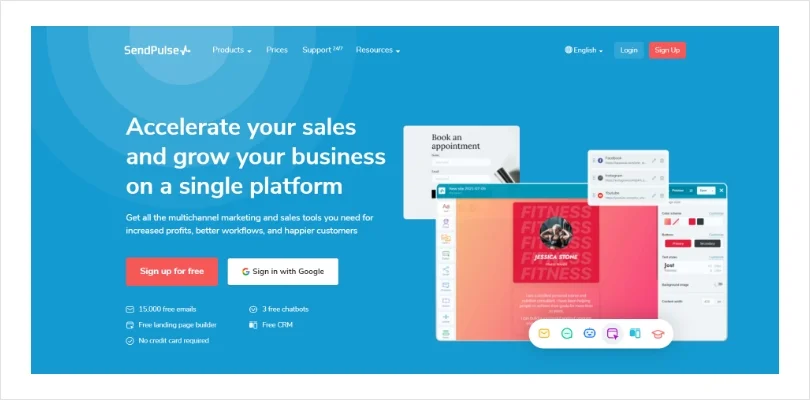 SendPulse is an email marketing tool that caters to additional channels like SMS, push notifications, and social media chatbots. Create mobile-friendly email campaigns easily with the tool's drag-and-drop editor, schedule triggered dispatches, or set up autoresponders — SendPulse's suite of features is perfect for them all.
Alongside the usual functionalities, you also get unlimited email sends, 24/7 live support, assured deliverability, and in-depth performance reports — all within a unified front.
Key Features:
Use the tool's drag-and-drop email editor, email templates, and landing page builder to create professional-looking, compelling emails and landing pages in minutes

Capture leads and help convert them into paying customers with SMS, emails, and notification nudges throughout the funnel

Enhance customer satisfaction through personalized messages and fast responses

Improve efficiency by automating repetitive tasks

Stay on the same page as your users with regular updates, follow-up emails, and real-time chats
Pros:
Super easy to use with a wide array of features at minimal pricing

Reliably delivers emails to the intended recipients
Cons:
Steep learning curve

Customer service can be improved upon
Pricing: Starts at $6.40/month.
43. MailChimp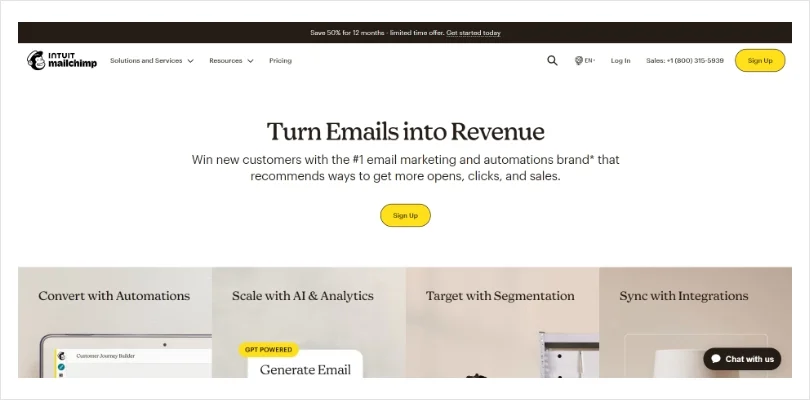 As one of the top email marketing tools, MailChimp effectively facilitates communication between brands and customers while generating leads and nurturing them throughout the sales funnel with automated email campaigns. Apart from sending out engaging marketing emails, the tool offers a landing page builder, survey forms, social ads, A/B testing functionality, and a library of pre-built email templates — making it a versatile, all-in-one tool for managing your marketing endeavors.
Key Features:
Bypasses email throttling to ensure your emails are delivered to customer inboxes

Generate more orders and reengage old users with prebuilt automations, exit-intent forms, offer popups, cross-sell opportunities, and more

Win repeat business with predictive segmentation that identifies and targets valuable customers by repushing them through the sales funnel

Improve your marketing results with stand-out emails crafted after carefully considering what works the best

Create designs for your brand by automatically importing your brand colors, fonts, logo, and images from the website
Pros:
Easy & intuitive software that makes it suitable for beginners

Large number of useful features included in the free plan
Cons:
Formatting is cumbersome

You can send only one email to one inbox at a time
Pricing: Starts at $9.6/month.
44. Benchmark Email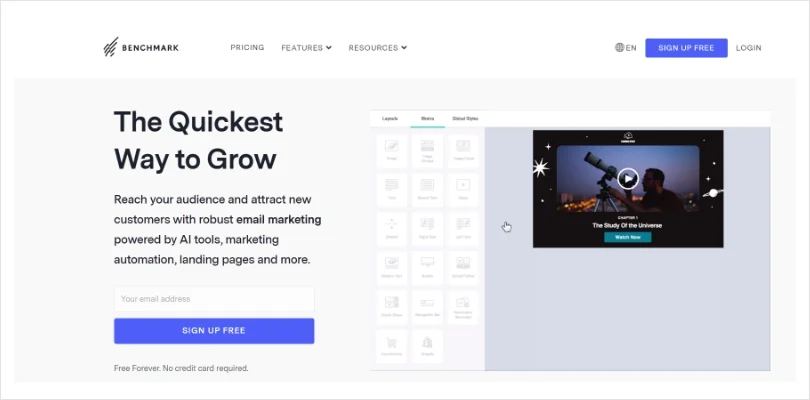 Benchmark Email is an email marketing platform designed to help businesses create, manage, and send well-designed, automated emails to potential and existing customers both. With a permission-based email collection approach, Benchmark puts deliverability and brand reputation at the forefront of the lead generation and nurturing process. The pro features enable users to manage welcome emails, abandoned carts, and follow-up emails on any device. Additional perks include A/B testing, inbox checks, and report analysis.
Key Features:
Create original email copies in one click with Smart Content and send them automatically just as easily with the Smart Sending feature

Grow your sales by reaching out to customers on a variety of devices with mobile responsive, easily branded emails

Email templates tailor-made for every occasion that can be dispatched readily to save time

Keep your emails relevant and timely with email automation and convert more users into paying customers with outreach customized according to their needs

Test, measure, and optimize your campaigns with the well-built, robust analytics and reporting section
Pros:
A large number of features even in the free version

Fast resolution of issues with a great customer support system
Cons:
The emails often end up in the junk folder even after bypassing throttling

Glitch text formatting
Pricing: Starts at $13/month
45. Sendinblue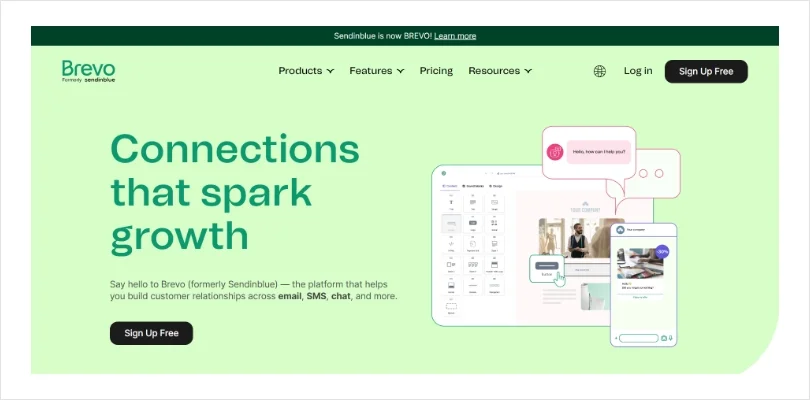 As a smart and intuitive platform aimed towards growing your sales, Sendinblue helps your business thrive with its suite of perfectly calibrated marketing tools and automation. The multifaceted platform engages your visitors through well-crafted, sleek emails, SMS, chat, and social platform inboxes. Sendinblue's advanced marketing automation script lets you navigate the entire sales funnel without having to deal with the bulk work manually, while its all-inclusive, purpose – driven approach lets you scale up your business effortlessly within a single, unified interface.
Key Features:
Send out sleekly designed emails to your chosen recipients in no time with customizable, pre-designed templates

Communicate more effectively with customers for urgent or time-sensitive messages SMS and direct chat

Save time and enhance productivity by automating your marketing messages and audience segmentation

Create a hyper-personalized browsing experience with dedicated landing pages for each of your campaigns

See how your visitors read and engage with your emails with the email heat map to improve your next endeavor
Pros:
One-click installa software with a user-friendly UI

You can have an unlimited number of email contacts for free
Cons:
Basic plan does not include A/B testing

The tool lags sometimes because of bugs
Pricing: Starts at $18.96/month
46. Omnisend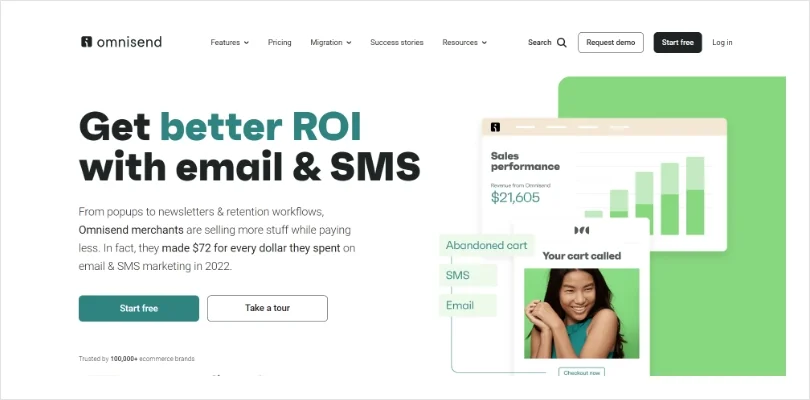 Omnisend is an easy-to-use SMS and email automation platform that grows revenue for eCommerce businesses by expanding their audience base. The tool comes equipped with a library of pre-built templates that you can use as they are, or customize fully to suit your needs. The other remarkable feature is its built-in automation system that manages everything from welcome series and cart recovery to post-purchase interactions and more in minutes.
With a smart targeting option and smooth integration with multiple applications, Omnisend makes it easier than ever to manage your communications seamlessly without having to work extra on it.
Key Features:
Engage your shoppers everywhere with pre-designed, 100% customizable templates

Save time and drive revenue round-the-clock with automated welcome messages, cart reminders, follow-up campaigns, and more

Target the right people at the right time with the right messages using the built-in advanced audience segmentation

Integrate with multiple CRM tools and other similar platforms to operate your business smoothly
Pros:
Offers great features at a considerably low cost compared to competitor apps

Easy-to-use with great templates and robust automation
Cons:
Certain features are glitchy at times

No option to identify and filter out fake email addresses
Pricing: Starts at $16/month
47. EmailOctopus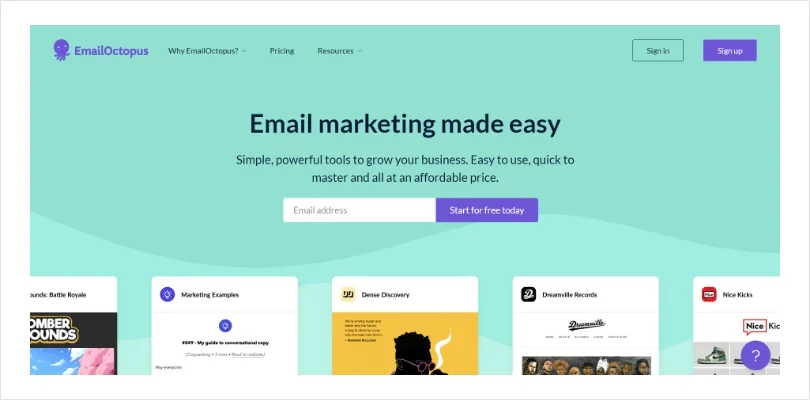 EmailOctopus is a cost-effective email marketing tool that provides businesses with the scope to expand their audience base, grow the mailing list, and engage customers overall. You can create beautiful, HTML-rich campaigns or just plain text emails with the easy-to-use email editor. The software also allows you to use time-based autoresponders and drip-campaigns to greet new subscribers, while its powerful segmentation tactics delivers tailored messages to specific subscribers or groups according in accordance with the situation.
Key Features:
Import existing users and continue to grow your audience with the easily customizable forms for your website

Create aesthetically pleasing landing pages for your visitors with the right features and information that helps convert

Select a pre-designed HTML templates and personalize it to suit the occasion with the easy-to-use email editor or build your own designs from scratch

Save time and reach new subscribers at the perfect moment with an automated welcome series and drip campaigns

Send out highly personalized messages with advanced targeting and analyze your campaign performance in the analytics dashboard
Pros:
Easy-to-use tool at a low price

The HTML based editor offers full customization flexibility
Cons:
The embeddable forms look quite outdated

Low response rate as many emails land in the junk/spam folders
Pricing: Starts at $8/month
48. Moosend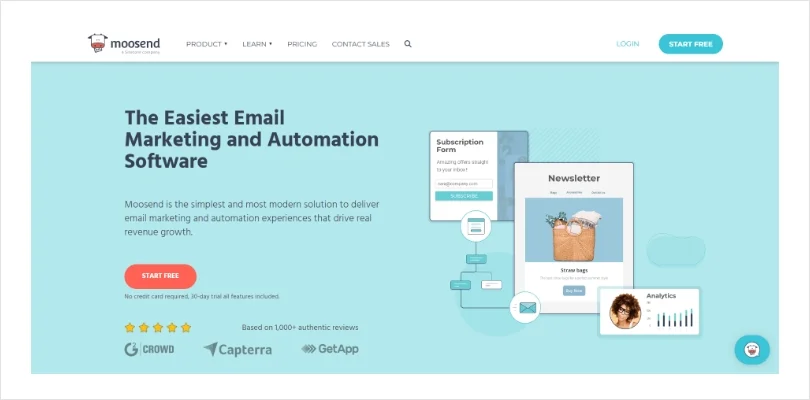 Moosend is a multifaceted email marketing platform that helps manage email campaigns, newsletters, mailing lists, and more. The solution is perfect for individuals as well as businesses of any size, and offers automation tools, a drag-and-drop email editor, email templates, and real-time analytics. The tool offers an array of functionalities such as customizable email newsletter templates, multiple device compatibility options, editable email elements, and automated workflows to let you perform your campaigns easily.
Key Features:
Easy-to-use drag and drop editor that creates newsletters compatible with any device

Create emails from scratch or choose from the hundreds of up to date, pre-designed templates

Marketing campaign automation that include reminders, user onboarding guidance, notifications on cart abandonment, and lead scoring

Personalize your emails with data relevant to each recipient and use the AI targeting to recommend products based on your visitors' taste

Advanced user behavior analysis and data segmentation to push your campaigns to the most suitable leads
Pros:
Fast query resolution with a proactive customer support team

No coding knowledge is required to utilize any of the features
Cons:
Limited analytics capabilities

Difficult integration with other applications
Pricing: Starts at $9/month
49. MailerLite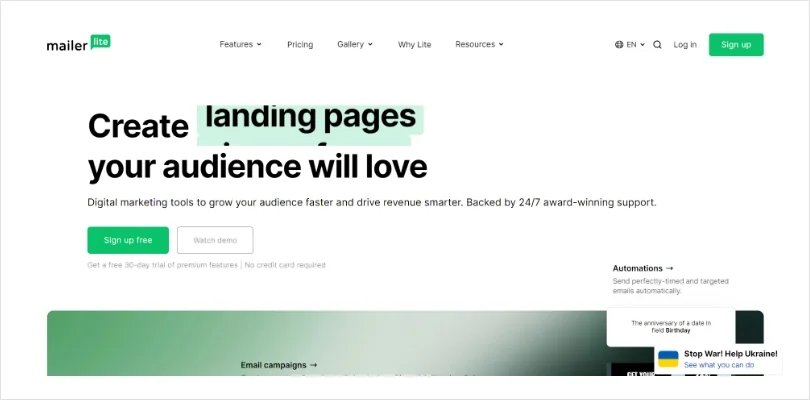 MailerLite is an email marketing tool designed to enable people of all skill levels create professional and highly personalized marketing campaigns. The software offers features like an intuitive drag and drop editor, landing page builder, popups, surveys, email templates, automation tools, A/B testing, audience segmentation, and more.
Additionally, MailerLite provides educational content like webinars, tutorials, and marketing guides to aid beginners.
Key Features:
Create engaging, dynamic emails in minutes with the intuitive drag-and-drop editor

Send perfectly-timed, targeted emails to the right audience automatically

Grow your audience with catchy, highly effective subscribe forms

Track your campaign performance in the analytics dashboard to find out what works the best for your business

Easily set up recurring payments to offer paid newsletter subscriptions
Pros:
Easy campaign creation & management process with an user-friendly UI

Email automation is available in the free version
Cons:
Minor bugs that cause resetting glitches

The directions & instruction videos are not clear
Pricing: Starts at $9/month
50. Hubspot Sales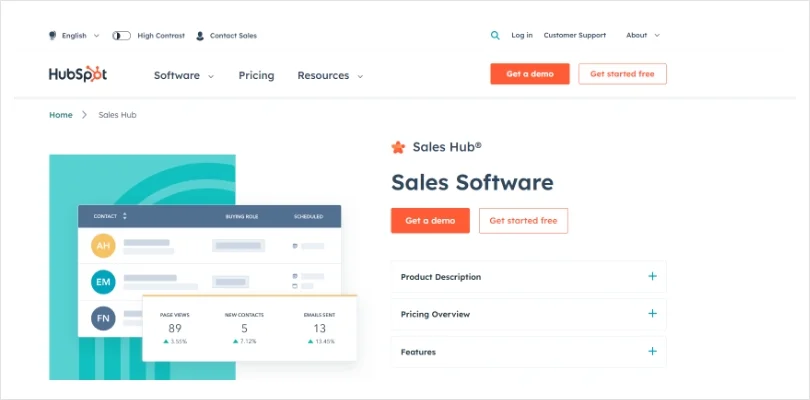 Hubspot Sales is a sales automation software that helps teams manage the sales pipeline, deepen customer relationships, and increase conversion rates effectively – all on one easy-to-use interface. It eliminates friction by bringing together all tools and data together to offer an array multifaceted functionalities that include readymade email templates, email tracking, document management, AI powered conversation insights, call tracking, and automated sales process.
Key Features:
Turn your best performing emails into templates that you can readily use further to save time

Get real-time notifications whenever your recipients click open your emails, or download the attachments; see the time, frequency, location, and the device where the action has taken place as well

Build a customizable library of sales content for your team and track the ones that yield the best results

Automatically capture details from every call and analyze the findings with the power of AI to gain error-free, actionable insights for your business

Assign priority to your daily calls, record them automatically, and log them directly into your CRM for maximum efficiency
Pros:
Easy, user-friendly content creation and management process

Smooth integration with major email tools
Cons:
Users have to manually prevent personal emails from entering the mailing list

Frequent changes in pricing plans that can confuse users
Pricing: Starts at $45/month
51. Salesforce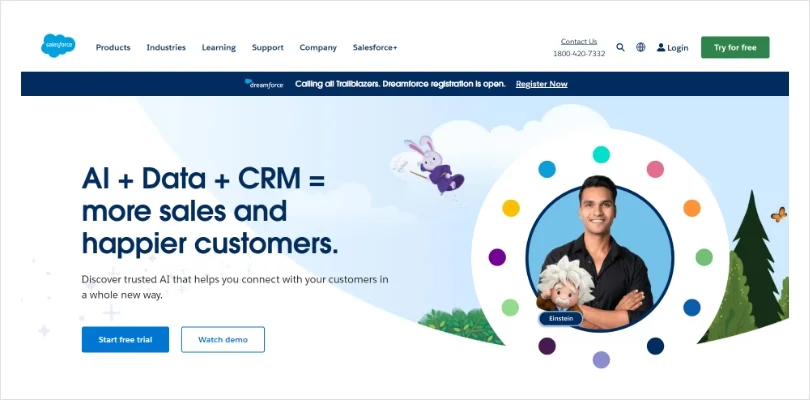 Salesforce is another cloud-based CRM and sales tool that manages multiple aspects of the sales process and boosts your revenue growth significantly. Whether you are starting your business or looking to expand from where you are, Salesforce is suitable for any and all and get you up and running fast by automating your manual tasks, allowing you more time to focus on your customers. The app singlehandedly manages your accounts and contacts, optimize the sales pipeline, and provides real-time intelligence on your business metrics — enabling you to take better decisions and improve conversions.
Key Features:
Turn your mobile phone into a portable sales office as Salesforce allows logging calls, responding to leads, scouring work opportunities, and checking dashboards from any device, at any place

Rapidly design and automate any business process with the simple drag-and-drop process of the app's Visual Workflow

Have a complete view of your customers, including activity history, key contacts, customer communications, and internal account discussions in one place

Dig deeper into your business metrics with a robust, minutely detailed reporting dashboard and gain actionable insights that you can use to further your business
Pros:
Good third-party integrations and add-on options

Can manage large volumes of data fast
Cons:
Cluttered, difficult-to-navigate UI

There are times when the automation fails and gives back inaccurate data
Pricing: Starts at $25/month
52. Insidesales.com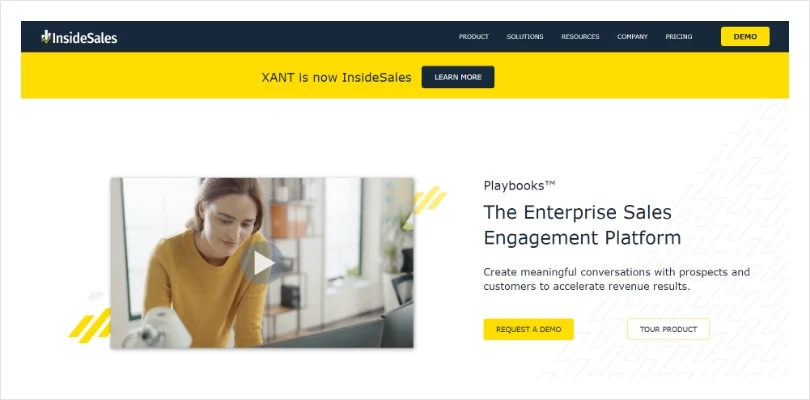 Insidesales Playbook is a smart sales and customer engagement tool that works to increase productivity, optimize customer interactions, and connect your business to the right buyers. The tool builds a lead follow-up system and sales cadences with personalized, multi-channel contact sequences that include phone, social, email, SMS, video, action alerts, templates, guides, and team tracking. The entire process is automated – taking the bulk work off of your shoulders and allowing them to be managed within the software effortlessly.
Key Features:
Accelerate productivity and consistency with multi-channel plays, templates, guides, and team tracking that keeps everyone in your group well-informed and on the same page

Advanced automation that manages administrative tasks and processes in the background, leaving your reps with more time to focus on selling

Shift priorities between customers and activities any time with flexible custom rules, AI scores, or a combination of both

Hone in on customers most likely to engage and convert with the embedded scoring system
Pros:
Organized information at each stage of the funnel

Gamified approach that makes the tasks interesting
Cons:
Unintuitive & difficult to navigate user interface

Slows down devices after installation
Pricing: Contact the company for a quote.
Prospecting and Outreach Tools
Before embarking on your eCommerce journey, it's important to know your prospects and what's likelier to yield the most results. Prospecting and outreach tools are software tailored specifically to that purpose, and the enlisted below are some of the leading ones in the market currently.
53. Datanyze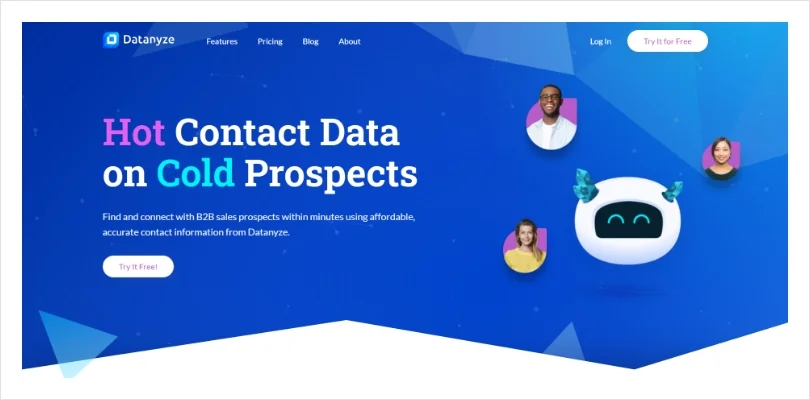 Datanyze is one of the B2B best lead generation softwares to help your sales team connect with prospects. By providing accurate contact information like name, company details, and other relevant business information, Datanyze lets you warm up cold calls and email outreach campaigns. You can set the target technology and companies to find correct prospects easily. The Chrome extension allows you to capture firmographic data and automatically transfer it to your CRM and sales tools.
Key Features:
Capture information while browsing through social media and reach out to promising prospects based on your observations

Access contact and company data directly from places where your potential buyers converge the most in real-time

Use the Icebreaker feature to tap into your audience's surroundings and initiate conversations attuned accordingly

Manage and export contact lists seamlessly and create ready-to-export, segmented contact lists with the click of a button
Pros:
Easy to install, navigate, and handle

Effectively recognizes the perfect accounts to target
Cons:
Provides outdated information in some cases

Minor lags and glitches
Pricing: Starts at $21/month
54. Lead Forensics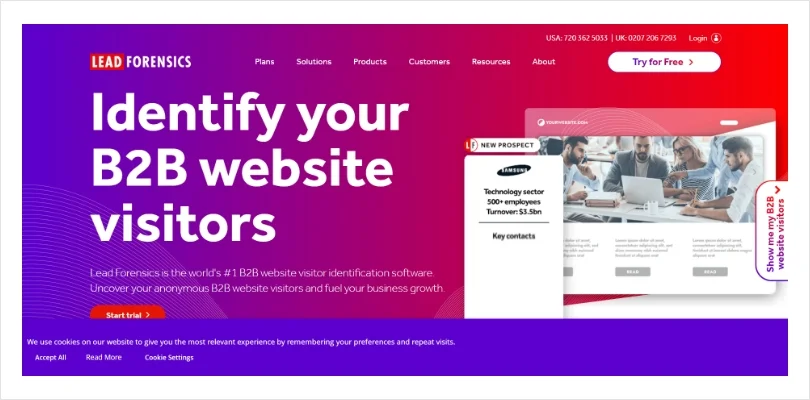 Lead Forensics uses smart technology to grow your business. It is a great lead generation system to find new prospects by using your website's IP addresses (basically domain names). As the leads are captured from your website traffic, they are likely to be quality leads. It easily grabs data such as business names, demographics, contact information, and financial data. Once it finds the relevant leads, they sync automatically with your CRM in real-time.
Key Features:
Identify website visitors accurately and in real time with the world's largest B2B matched IP address database

Get instant alerts when a particular B2B customer visits your website

Craft your ad pitch by tracking your users' website interests and behaviors

Advanced customer segmentation that turn your visitors into viable markets for your business
Pros:
Accurate visitor identification

Simple & easy reporting
Cons:
Referral search engines are not always identified

Additional payment required to get visitors' contact information
Pricing: Contact the company for a quite.
55. AeroLeads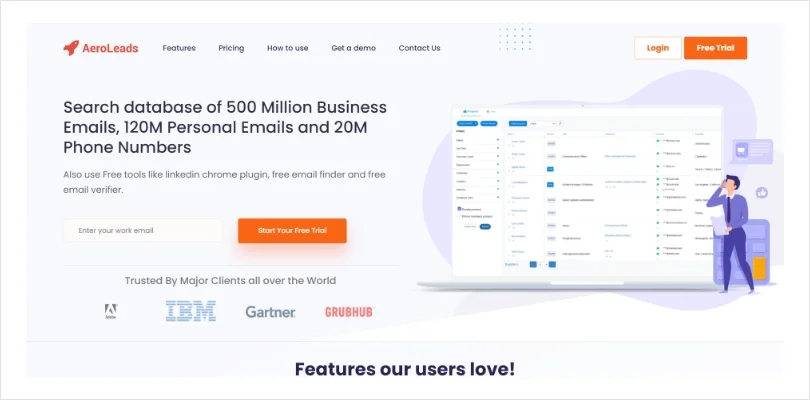 AeroLeads makes it super easy to find business emails and contact information for prospects. Using social sites such as LinkedIn, CrunchBase, and AngelList, the tool looks for and finds valuable contact info like company URL, job title, location, email address, and other relevant data to turn them into actionable insights. The fetched data is organized, and you can transfer the collected leads to your favorite tools and CRM in a single click. They offer a free trial as well for you to see how easily it works.
Key Features:
An extensive, searchable database of over 650M+ prospects with information updated in real time

Get all the features of the tool consolidated and ready to use in the all-in-one Chrome extension

Automate your prospecting with the Pro plugin feature

Send personalized bulk emails from Gmail with the bulk sender

Use the robust email finder to find email addresses from mere names as well as check their validity at the same time
Pros:
Provides highly accurate email addresses

Seamlessly integrates with LinkedIn and a variety of CRM tools
Cons:
The UI is outdated

Validated emails turn out to be incorrect at times
Pricing: Starts at $49/month
56. Growbots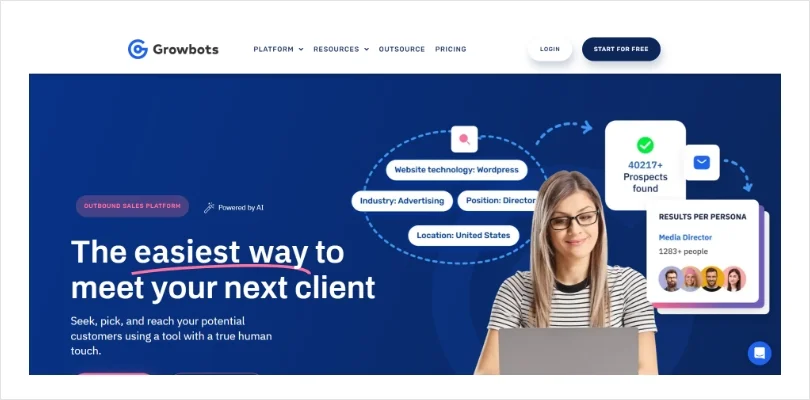 Growbots is an ideal lead generation platform for businesses that know the market they want to target. The tools help you choose the right prospects from a huge database of 200 million+ contacts. The lead qualification process gets easier with this as the list of contacts is generated for your target industry.
Once you choose the contacts, you can get insights into their social profiles, phone numbers, and email addresses. Based on these details, you can connect with prospects by creating email marketing campaigns in Growbots.
Key Features:
Get a tailored list of your potential customers and their contact details instantly wherefrom you can pick your prospects with ease

Ensure high email deliverability with the self-updating database that uses live email verification to make the email list more accurate with each email sent

Personalize your emails with detailed prospect information and schedule automatic followups based on your recipients' time zones

Test different elements of your campaign such as email template variants, dispatch times etc., to find out what works the best for you

Access detailed reports on each of your emails and sync the data automatically to relevant softwares with the easy integration that the tool offers
Pros:
Prospects are easy to find and add to a campaign

Easy to set up and use
Cons:
Expensive pricing plans

The analytics are not always precise
Pricing: Starts at $49/month.
57. D&B Hoovers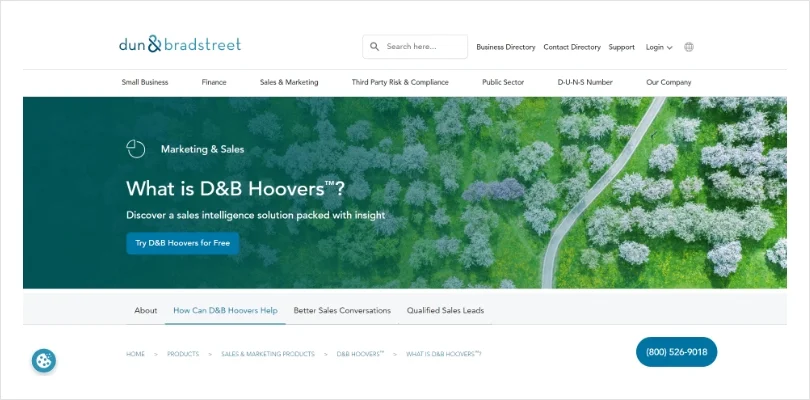 D&B Hoovers is a popular lead generation solution that helps find sales prospects and growth opportunities using its massive, inbuilt database of over 170 million business records. The tool provides a comprehensive view of business profiles and offers dynamic search options to expand your mailing lists. Once the tool identifies the best leads based on your search criteria, you can easily export the list to your sales tools.
Key Features:
Personalized dashboard with real-time alerts

Get relevant, advanced insights on your target companies

Regularly updates the database for accurate information

Seamless integration with sales and CRM tools
Pros:
Provides extensive volumes of information on prospects

Easy-to-use
Cons:
Permissions take a long time to fine tune

Plans are on the costlier side
Pricing: Contact the company for a quote.
58. SmartReach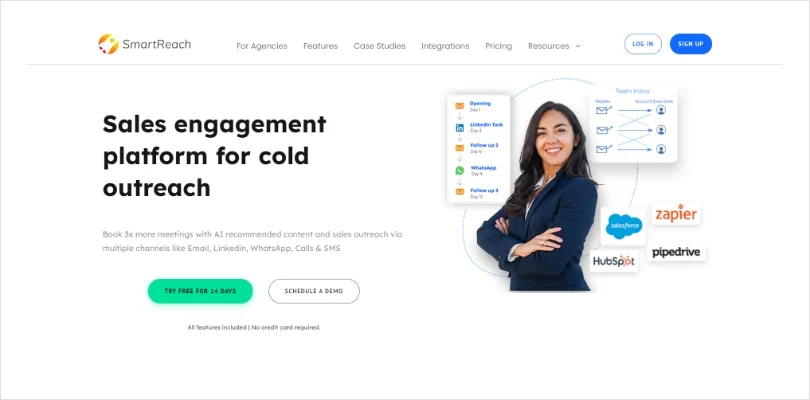 SmartReach is a sales prospecting tool that automates the routine sales engagement activities and helps businesses build strong relationships with prospects at scale. Aided by features like Email Warm-up, Email Validations, Campaign Warm-up, and Spam Test Reports, this multifaceted lead generating software ensures email deliverability and improves domain reputation. Along with automating, personalizing, and optimizing your email campaigns, you can use this software to better your sales pitch, recruitment drives, promotions, link building, partnerships, and much more.
Key Features:
Send personalized emails and follow-ups automatically one-by-one instead of in bulk for connecting with your prospects better

Use advanced email sequencing to map your next actions after detect a email goes unanswered

Hyper persononalize your emails with dynamic email content that includes elements like conditional statements

A/B test your email campaigns to understand which approach gets you better open rates

View the progress of each campaign at a glance with the smart analytics dashboard
Pros:
Intuitive dashboard with the option to add custom features on request

Easy to set up and operate
Cons:
The internal inbox can be improved upon

Pricey plans
Pricing: Starts at $24/month
59. Hunter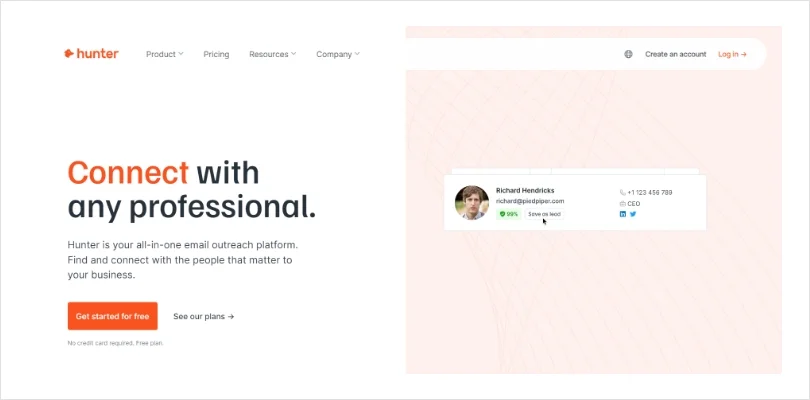 Hunter.io is a cloud based email prospecting and lead generation software designed to help businesses send emails, track and follow up with prospects that have opened the emails, generate reports and manage campaigns. The tool enables organizations to find emails on company websites with a simple search function, verify domains, and handle follow-ups. Marketers can also capture leads using Hunter from websites, social media channels, and other online sources as well as track and gain insights into the performance of campaigns via analytics.
Key Features:
Create personalized email campaigns and schedule follow-ups automatically

Extract email addresses from the websites using the Chrome extension

Collect bulk email addresses from multiple domains and perform bulk verification

Find email addresses for professionals with the help of a name or company

Access a library of email templates to save time
Pros:
Super minimal, easy-to-use interface

Free plan for beginners
Cons:
The cold email outreach service works only with Gsuite

Contact information for small companies/website is hard to find
Pricing: Starts at $49/month
60. Uplead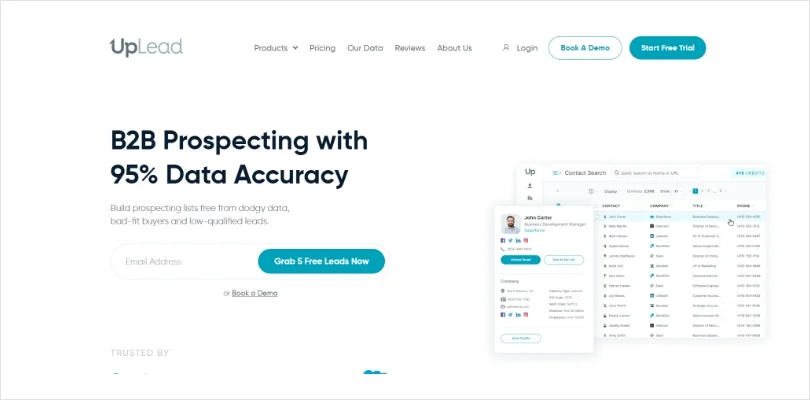 Uplead is a lead generation software designed to build prospecting leads from dodgy data, bad-fit buyers, and low-quality leads. The tool lets you build customizable B2B lists, configure the criteria for lead qualification, access and verify emails using lookup functionality, and engage with prospects in real-time to improve lead conversion. Uplead generates a clean mailing list by carefully filtering the most promising prospects out of millions of email addresses, leading to an increased chance of conversion.
Key Features:
Use 50+ search filters to find contacts and companies that match your buyer profile

Gather important information from your contacts such as their email, phone number, and what technologies they use to establish a solid, relevant conversation base

Verify your leads' data in real time with email verification to ensure their authenticity as qualified leads

Identify and engage with users who are actively looking to buy your solution with the intent data finder
Pros:
Easy to use tool with an intuitive interface

Lets users reach out to potential clients in minutes
Cons:
Has a steep learning curve

Provides outdated information at times
Pricing: Starts at $74/month
61. Outreach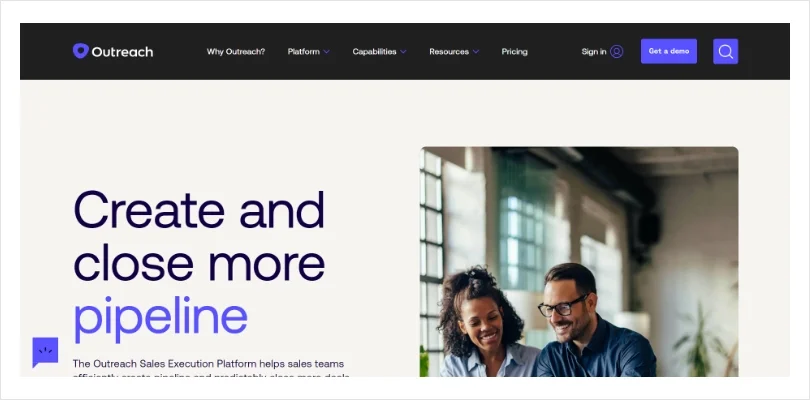 Outreach.io is a sales execution and lead prospecting platform that helps businesses automate sales engagement and work on revenue intelligence to improve their efficiency, predictability, and growth. The tool has the most B2B buyer-seller interaction data in the world and operates with proprietary AI technologies to translate sales data into actionable intelligence. With simplified, automated prospecting workflows and engaging sales playbooks, Outreach allows reps to build more pipelines and optimize them for success.
Key Features:
Maximize productivity and automate the sales pipeline with high-impact, efficient workflows

Make the best deals with AI-driven insights from the largest database of sales engagement data

Use the tried and tested playbooks to guide your reps and expedite the sales process
Pros:
The tool is easy to set up and use

Smooth integrations with multiple software
Cons:
Suffers from frequent malfunctions because of bugs

Unresponsive customer service
Pricing: Contact the company for a quote.
62. Vocus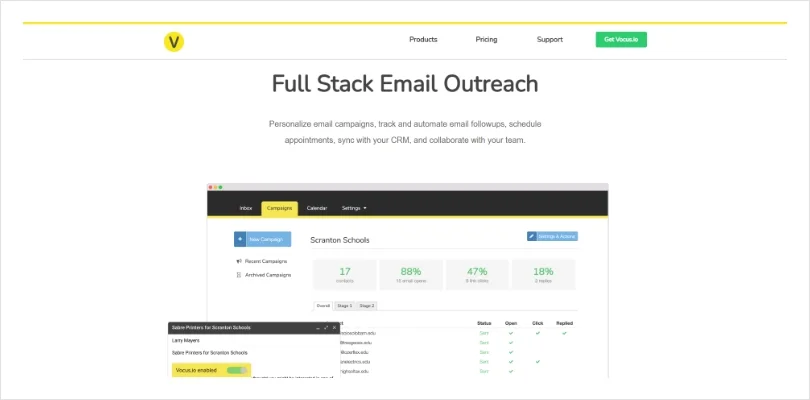 Vocus is a full-stack email outreach tool that helps businesses personalize their email campaigns, track and automate follow-ups, set up appointments, facilitate data syncing, and improve team collaboration. It integrates seamlessly with Gmail and G Suite, and tracks email opens, and link clicks for each recipient, alongside automating follow-up nudges, setting up reminders, and syncing the data to your CRM.
Key Features:
Send hundreds of personalized emails, single and multi-stage both, within minutes from your name and email address

Create multiple email campaigns simultaneously and A/B test various message formats across the same audience profile to know which version works the best

Create a sequence of "gentle reminders" to be sent out to non-responsive leads at a date and time of your choosing to increase your chances of getting a response

Schedule your campaign and each subsequent followups to be sent at the time most likely to yield positive results

Edit a scheduled message/follow-up anytime to include better templates or add an update; You can also pause the campaign or remove individual contacts from subsequent messages
Pros:
The email automation works great

Fast integration with Gmail
Cons:
Features are outdated with rare updates

Crashes mid-use often
Pricing: Starts at $5/month
Advertising Tools
A large part of a business's growth depends on its advertising policies and the extent upto which it can impress potential customers. Advertising tools are an indispensable part of that journey, and given below is a list of 6 top-of-the-market tools that can help you market your brand better.
63. AdRoll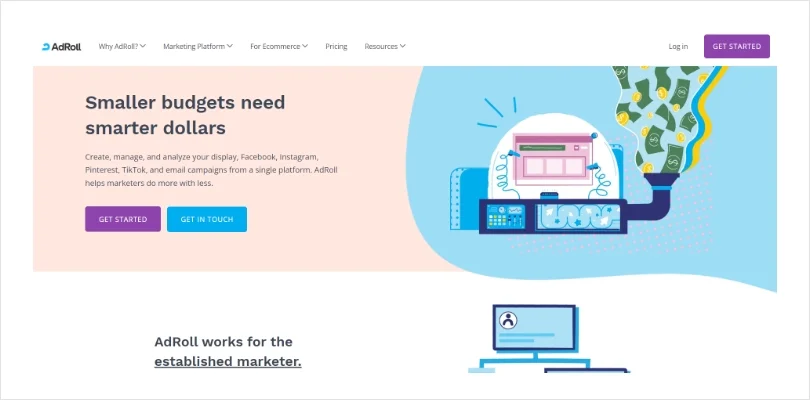 Adroll is a popular marketing platform that helps you to create, optimize and deliver personalized ads across multiple platforms and devices. The tool lets you utilize a single platform to launch and display ads, dispatch engaging emails to existing customers, attract new customers to your brand, and ultimately bolster conversion. With Adroll, you can control web retargeting over 60 different leading ad networks including Google, Microsoft, Yahoo, Facebook, Twitter, and many more. The app integrates seamlessly with online stores to display personalized recommendations, email content, ads, and helps in reducing cart abandonment.
Key Features:
Manage and edit ad campaigns across 500+ platforms and view the data holistically with the social ads manager

Optimize and hyper-personalize your ads with content based on previously viewed and recommended products

Use AI inputs to identify the right audience and create retargeting and awareness ads that cater to them

Have a dedicated platform expert as a partner to run ad campaigns on different platforms effectively
Pros:
Easy to set up with a smooth interface

Stellar customer and tech support
Cons:
The ad browser is extremely slow to load and navigate

There is no in-app banner designer
Pricing: Starts at $36/month
64. Google Ads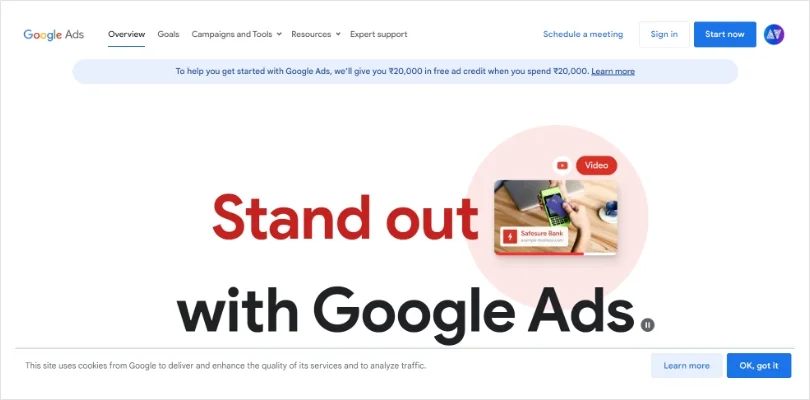 Google Ads is best for lead generation through paid ad campaigns. You can get ahead of your competition by displaying your brand on the largest search engine in the world. Design relevant ad campaigns and set trigger options plus target audiences based on their browsing behavior, searches, history, and more. Easily manage the ad campaigns from an insightful dashboard and track the progress with real-time analytics. The best part is that you only have to pay when the users click on your ads.
Key Features:
Display well-timed ads to your audience to capture the moment most primed for conversion

Set monthly budget caps and bidding rules to optimize your profit

Configure custom messages suiting your intended audience

Set advanced targeting rules that pinpoint the ideal customer profiles for your ads

View analytical insights in real time for a solid grasp of your performance metrics all throughout
Pros:
Extremely easy to use and manage

Detailed reporting and analytics section
Cons:
Displays unnecessary ads sometimes

Customer service can be improved
Pricing: Flexible pricing options as per your campaigns and budget
65. AdEspresso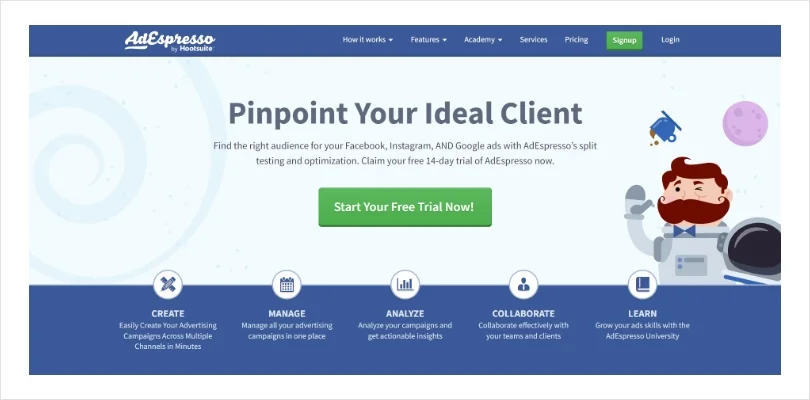 AdEspresso is a tried and tested lead generation platform that helps users find the right target audience for their businesses. The tool lets you create ad campaigns for multiple channels such as Facebook, Instagram, and Google in minutes and also A/B test them to check for different elements — creative approach, headlines, audience segmentation, and more — all in one place.
AdEspresso's multifaceted approach covers all the aspects of advertisement, right from creating them to managing, analyzing, and syncing the data through powerful collaborations, making it the perfect app for your marketing endeavors.
Key Features:
Import existing campaigns to your current account and manage them from a unified dashboard

Test out various elements of your ads in detail with inspector breakdown and Split testing analysis

Automatically promote your Facebook posts to audience best suited to your customer profile

Schedule the reporting tool to view your performance metrics for a chosen snippet of time

Get unlimited ad accounts across all channels with every plan
Pros:
Easy setup and navigation

Allows users to manage multiple campaigns simultaneously
Cons:
The analytics section is basic

Limited features against a high price
Pricing: Starts at $49/month
66. BuzzSumo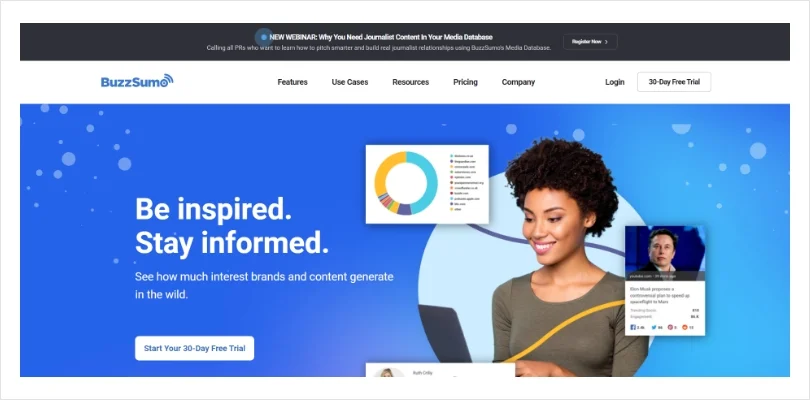 BuzzSumo is a social media analytics and an all-in-one content marketing tool that scours the web for content based on popular search queries and reports back on its success on criteria like its engagement factor, evergreen score and backlinks.
The software lets users analyze the best performing content with its advanced social search engine and identifies the topics trending among the audience. This data can be further used to craft your own content ideas and gain valuable insight into its potential success on social media networks.
Key Features:
Tap into the hundreds of trending topics along with SEO insights, top questions, and distribution tips before creating your own content to make them a hit

Index a large number of trending articles and posts using the powerful web crawler that gauges and reports back successful content that you can emulate

Automatically analyze profiles based on criteria like top sharers, retweets, engagement, and size to identify the right influencers to promote your brand to

Set up custom alerts to notify you of impactful keywords, brand mentions, industry updates, and important events to stay on the top of your game at all times

Research content on the fly using the BuzzSumo Chrome extension and analyze as you browse to save time
Pros:
The UI is intuitive, elegant, and easy to use

Allows users to assess the impact of published media with ease
Cons:
Free trial version offers limited functionalities

Backlink research is outdated and can be developed more
Pricing: Starts at $99/month
67. Scribe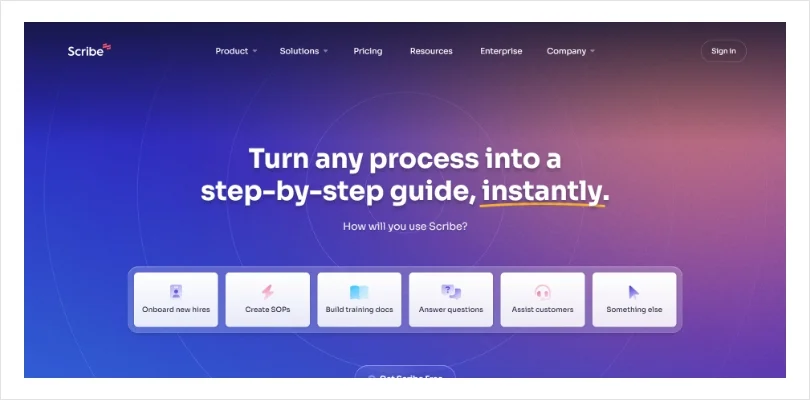 Scribe is a tool that instantly turns the clicks and keystrokes on your device into written instructions and screenshots to create step-by-step guides.
The steps can easily be edited, and the screenshots can be modified to fit your requirements and give your coworkers or customers a beautiful guide in seconds. You can subsequently share the link via a URL or embed it in your help center, wiki tools, project management tool, or any other software you are working with.
Key Features:
Instantly document any process as a step-by-step visual guide

Edit screenshots and steps to modify the guide according to your requirements

Option to convert the documents into PDFs and download them

Knowledge base integration for a more enriched experience

Embed the guide link easily on any website or platform
Pros:
Extremely easy to install and operate

Versatile use as a collaboration tool, user onboarding guide, and more
Cons:
The automatic documentation from recording needs to be more accurate

Minor glitches while editing images at times
Pricing: Starts at $29/month
68. Buffer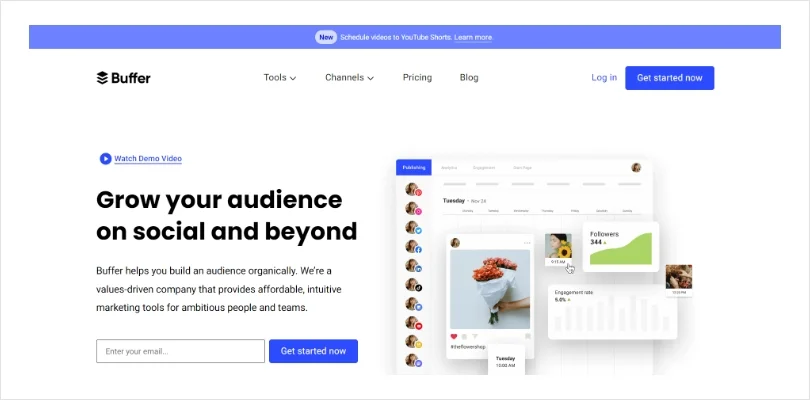 Buffer is an intuitive, streamlined social media management platform that helps users build an organic audience base and drive meaningful engagement on social media. With this tool, you can manage multiple social media profiles, plan and schedule posts in advance, collaborate with multiple team members, and analyze social media performance. Other important features include a social media calendar and RSS feed, social analytics, plus a video and GIF uploader and Pablo image creator.
Key Features:
Analyze your social media performance to see what's working and deliver highly engaging content accordingly in a few clicks

Collaborate and schedule your campaigns in advance automatically to better focus on other aspects of your business

Skip to important comments with the help of labels and hotkeys and respond twice as fast

Get 24/7 support to troubleshoot any issues within the app
Pros:
Detailed analytics section with detailed explanation of the observed metrics

Easy-to-use and reliable insights
Cons:
The interface is difficult to view fully unless on a large screen

Posts disappear sometimes on refreshing
Pricing: Starts at $5/month
Ready to Choose the Perfect Lead Generation Tool for Your Business?
Having gone through multiple lead generation tools with varying features, benefits, and use cases by now, we are almost at the point where it's time to choose one (or more) that fits you the most. However, as is already apparent, there is no dearth of lead generation tools, so how exactly will you decide? Let's simplify things further!
Here are the qualities you should consider when choosing the perfect software for yourself.
Ease of use: An important aspect of any tool is its ease of use. Every person in your team, regardless of their technical inclination should be able to understand and operate the system well, otherwise, it's just another app gathering dust on the proverbial shelf without any real use. It also doesn't do your business well to hire a separate team just to operate an app!
Accessibility: The best lead generation softwares are cloud-based, meaning, you have access to your campaigns and data on any device with an internet connection. This makes it incredibly easy to recover from technical glitches and any mishap that threatens to erase the information from your system.
Affordability: Too high priced apps are often a liability, and with no guarantee on how well a software would perform for your business, it's a risky investment most don't bother to make. An affordable app, on the other hand, lowers the risk considerably even if it doesn't work out for you.
So, a well-detailed list of the marketing and sales lead generation tools comes to an end. Let's get to growing some red hot leads!
Do you want instant 300% growth?
Picreel popups can get YOUR website 300% instant sales growth. See Case Studies.