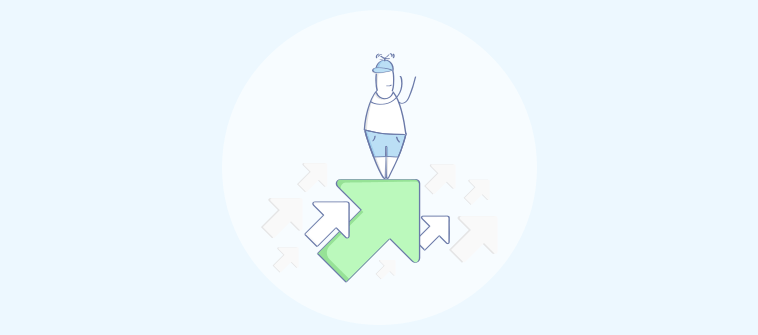 Do you know that 6 out of 10 marketers rank lead generation as their top-most challenge? That tells how crucial and difficult it is to generate quality leads and how important it is to choose the best lead generation tools.
Surely, most of you must have tried the latest tips and tricks, optimization hacks, traffic filtering, segmentation tactics, and so on, to bring in relevant traffic and leads. So, let's get to the real deal. Familiar with the best lead generation softwares?
In 2022, the market is flooded with hundreds of lead generation solutions, and to create an extremely rewarding system, you need to fill your backpack with innovative options.
To help you with that, we will be covering the important aspects of a lead generation platform. Also, we have put together our top picks so you can choose the right tools for your business.
In this blog guide, we will be discussing.
What is a Lead Generation Tool?
Lead generation tool is an application that automates the process of lead generation to provide you with quality leads. These tools can generate leads from different sources like social media, landing pages, websites, and so on. Based on the sources and channels, different lead-generating software works differently.
Each tool has a unique set of features and functionalities to capture quality leads for your business. You can then nurture these leads to boost conversions and sales via different sales/marketing campaigns. Let's check out the importance of lead generation softwares below.
Why are Lead Generation Softwares Important
From start-ups to global enterprises, millions of businesses are already reaping the benefits of using the best lead generation software. There must be something pretty serious about such tools, right? Here's what companies find beneficial about lead generation tools:
The tool helps in identifying new prospects and high-quality leads.

It finds accurate contact information about the leads.

From tracking opportunities to strategizing marketing campaigns, lead generation softwares can do it all.

It helps in achieving a great ROI.

The tool lets you identify up-selling opportunities for existing customers.

Using reporting, you can easily gain valuable insights on website usage.

With precise targeting, these tools help in fighting website abandonment.

It is super easy to convert existing website traffic into leads and customers with a lead generation platform.

Automatic lead generation & nurturing do the heavy lifting for your teams.

The tools provide seamless integration with other sales/marketing tools.
Ultimately, lead generation software can help you grow your business smartly. But, you need to choose the right solution for your business, smartly. For that, let's check out what you should look for before choosing the perfect lead generation tool.
What to Look for in a Lead Generation Tool?
There are different categories of best lead generation tools, and all tools work in different ways using different technologies. But, they share some common aspects, and you should consider these when selecting the best lead-generating software for your online business.
1) Ease of Use: Pick a tool that makes life easier for your sales and marketing teams. Every relevant person in your organization should find the software easy to use. Also, there should be dedicated support and guides to facilitate the team's onboarding.
2) Anytime, Anywhere Accessible: Basically, you should look for a cloud-based lead generation solution. So, with a stable internet connection, you can easily access your lead generation campaigns on different devices. This makes it easier for different team members to get involved in the process.
3) Precise Targeting Options: You surely don't want to target an irrelevant audience. Make sure that the lead generation software offers precise targeting options to capture leads from the right audience or traffic. It helps in creating targeted marketing campaigns.
4) Advanced Reporting & Analytics: Data analysis is important to segment the leads. To identify your potential customers, the tool should be able to help you sort the leads data. With advanced analytics and reports from your lead generation campaigns, this process gets easier.
5) Seamless Integrations: If your sales/marketing team has to manually enter the leads data in your CRM or marketing tools, that won't be an efficient arrangement. Look for tools that offer seamless integration with your other tools to transfer leads automatically in real-time.
6) Multiple Pricing Plans: Different tools offer different pricing plans. From free trial/plan to paid plans, you need to check that the tool offers multiple pricing options. It helps in choosing the right budget option, and there should be scope for an upgrade if required after the business grows.
Time to dive right into the list of best lead generation tools!
25+ Best Lead Generation Software
As earlier mentioned, there are different types of lead generation software. Here is a list of the categories we will be discussing.
Conversion Rate Optimization (CRO) & On-page Lead Generation Software

Lead Prospecting & Outreach Tools

Live Chat Lead Generation Tools

CRM/Lead Management Tools

Social Media Lead Generation Platforms

Advertising Tools
CRO & On-page Best Lead Generation Softwares
Conversion rate optimization tools are the most effective ones as they offer an average ROI of 223%. These lead generation softwares help you engage with website visitors using popups, forms, nano bars, slide-ins, etc., to capture leads from your existing traffic. Here are the ones we like: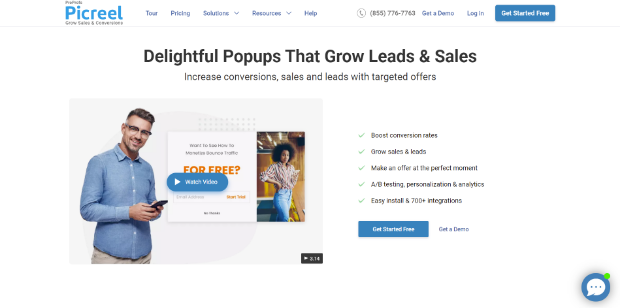 Picreel is a website popup lead generation tool that helps you increase website engagement with delightful popups and forms. No matter what kind of business you run or the types of leads you want, Picreel comes with an intuitive popup editor and a huge template library to get started with popup marketing. It has many trigger options and targeting rules with advanced analytics to help you capture quality leads in no time. The tool is pretty simple to use, integrates well with over 700+ other apps, and comes with dedicated support plus a knowledge base.
Key Features:
100+ ready-to-use customizable templates

Popups, slide-ins, nano bars, forms, etc.

Advanced trigger options

Target highly specific traffic

Popup personalization options

A/B testing

Advanced analytics & reporting

Integration with 700+ popular sales and marketing tools
Pricing:
Starter – $14/month

Basic – $52/month

Plus – $112/month

Pro – $299/month

Enterprise – Custom quotes on request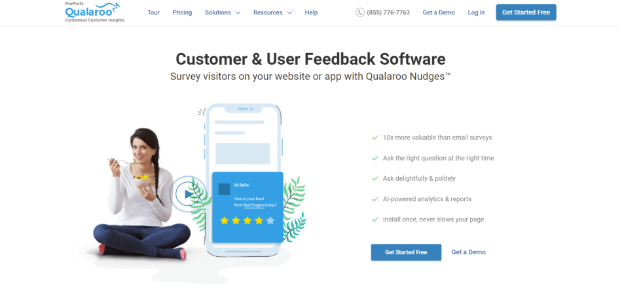 Qualaroo is an efficient customer & user feedback tool to survey website visitors and collect leads. It is not exactly a popup solution, but the popup form can get the job done to capture high-quality leads from engaged visitors. Moreover, it is really great software for collecting valuable insights on user experience and conversion optimization. With pre-built survey templates, you can easily customize and personalize the popups in minutes. The software offers AI-powered analytics and reports based on the responses for in-depth analysis.
Key Features:
Easy to set up without coding

Pre-designed survey templates

Customer pulse-check with pop-up surveys

Advanced trigger options

Survey branding customization

AI-powered analytics

Supports integration with popular tools
Pricing:
Essentials – $80/month

Professional – $160/month

Enterprise – Custom quotes on request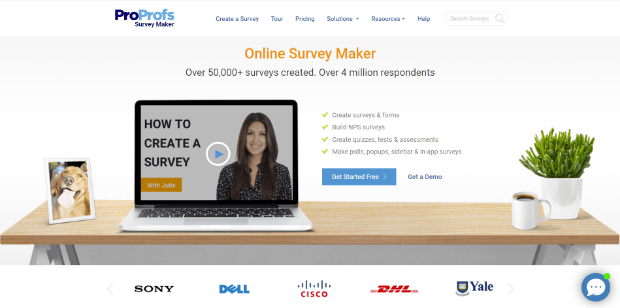 ProProfs Survey Maker is an ideal tool to create surveys and capture quality leads. Using this easy-to-use tool, you can design delightful popup surveys to collect valuable insights and feedback from website visitors. Apart from lead generation, the tool helps in reducing bounce rates and website abandonment. You can easily maximize your user engagement using different survey templates of this tool like visual questions, scorecards, NPS, and more to make your surveys fun, personalized, and interactive for visitors.
Key Features:
100+ beautiful survey templates

Drag-and-drop editor to create surveys, polls, quizzes, sidebar forms, etc.

Easily embed surveys on the website or share them over social media/mail

Comprehensive reporting & analytics

Easy to integrate with popular sales & CRM tools
Pricing:
Free – $0

Essentials – $0.05/response/month

Premium – $0.10/response/month

Outgrow can help you attract leads and potential customers to your marketing software system. With Outgrow's quiz maker software, you can create a quiz, calculator, or assessment – that answers your customers' most pressing questions early in the buying cycle. With the help of interactive content, you can create a buyer persona and develop a lead generation medium on your website. After you have generated leads, you can study, filter, and segment them with the help of Outgrow's robust analytics. Outgrow comes with 1000+ app integrations that help you to qualify, score, and nurture leads.

Key Features:
Multiple premade layouts that are fully customisable
Great visuals, stock images, GIFs, and videos
WYSIWYG builder with drag and drop elements without coding
Data visualisation and segmentation for effective retargeting
Easy embedding and integration with 1000+ tools like Adobe, Marketo, Constant Contact, Salesforce
Pricing:
Freelancer – $14 and $25 a month
Essentials – $25 a month
Business – $600 a month
Outgrow also offers a custom plan for Startups and Enterprises.
OptinMonster is one of the best popup tools that lets you create stunning onsite popup marketing campaigns. The tool has a drag-and-drop popup builder with over 50 popup templates to get started. With OptinMonster's laser-focused targeting and segmentation rules plus A/B testing and personalization, you can easily target the right visitors at the right time to gather maximum leads. The software integrates seamlessly with other email marketing tools.
Key Features:
100+ customizable templates

Tracks exit intent

A/B testing options

Target specific users, categories, or pages

Analytics tracking

AdBlock detection technology
Pricing:
Basic – $9/month

Plus – $19/month

Pro – $29/month

Growth – $49/month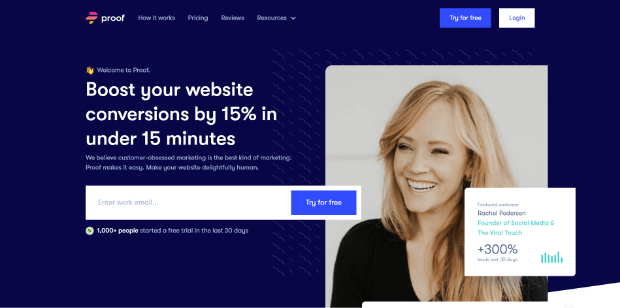 Proof is the best social proof lead generation tool that helps you display experiences and social proofs on your website. It is a powerful lead generation tactic to show that it can increase leads and conversions by 15% or more. The tool shows notifications to visitors about other customers taking action on your website in real-time such as recent activity, live visitor count, purchased a product/subscription, and more. By personalizing the visitors' browsing experience, you can build credibility through social proof.
Key Features:
Build credibility with hot streaks

Create a sense of urgency with live visitor count or number of purchases

Powerful analytics and reporting

A/B testing to check the impact

Fast load speed
Pricing:
Basic – $24/month

Pro – $66/month

Business – $108/month

Premium – $166/month

Platinum – $299/month

Enterprise – Custom quotes on request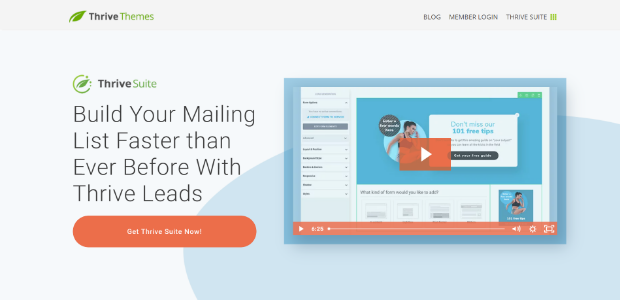 Thrive Leads is one of the best online lead generation softwares and part of the Thrive Suite. You can create beautiful landing pages, popups, surveys, quizzes, scarcity campaigns, and much more to boost user engagement and deliver them a delightful experience. It is a type of all-in-one website development and marketing solution that connects easily with your favorite apps and plugins. The tool also offers actionable reporting and insights along with an A/B testing engine to improve your lead generation.
Key Features:
Smart targeting tools

Drag-and-drop form builder

Fully responsive landing pages and popups

Wide selection of themes/templates

A/B testing engine

Powerful reporting & analytics
Pricing:
Quarterly – $30/month

Yearly – $19/month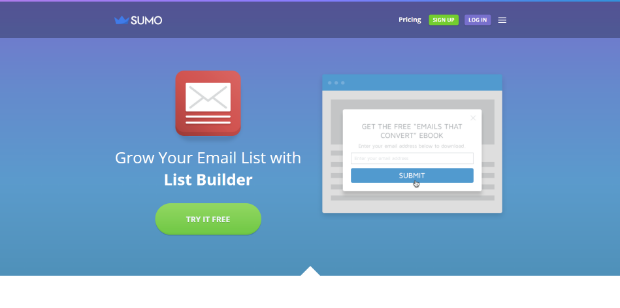 Sumo is one of the free best lead generation tools that help you grow your mailing list quickly. With a user-friendly interface and popup builder, you can design popup forms, smart bars, welcome mats, and surveys in no time. It improves customer engagement and prompts the visitors to take action with precise targeting rules. The app easily integrates with email marketing and CRM tools to transfer leads in real-time. For small businesses and individuals, it is a good free option to get started.
Key Features:
Easy to use and understand

Multiple popup designs and templates

Customization tools

Fast and fully responsive

A/B testing and analytics
Pricing:
Free – $0

Pro – $39/month
Lead Prospecting & Outreach Tools
These automated lead generation tools help you prospect new leads through their database, social media platforms, or other sources, and let you easily turn more contacts into leads and sales efficiently. Here are some of the very best software.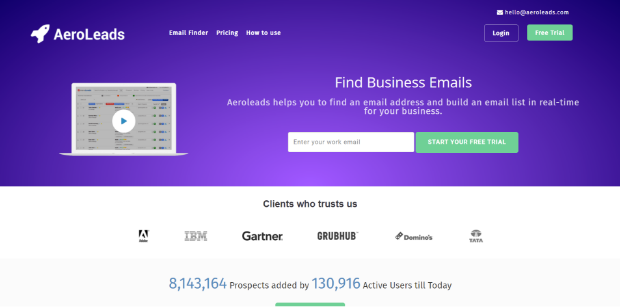 AeroLeads makes it super easy to find business emails and contact information for prospects. Using social sites such as LinkedIn, CrunchBase, and AngelList, it searches and finds the contact info like company URL, job title, location, email address, and other relevant data. The fetched data is organized, and with smooth integration, you can transfer the collected leads to your favorite tools and CRM in a single click. They offer a free trial as well for you to see how easily it works. Surely, a great prospecting tool to drive leads and sales.
Key Features:
Easy-to-install Chrome plugin

Find the email address behind any business profile

Capture up to 15 data points

Export data to CSV or other tools

Dedicated support
Pricing:
Take Off – $49/month

Climb – $149/month

Cruise – $499/month

Enterprise – Custom quotes on request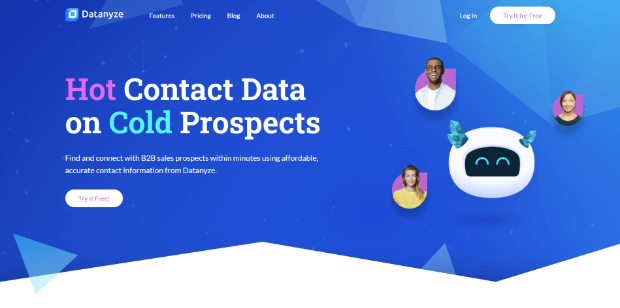 Datanyze is one of the B2B best lead generation softwares to help your sales team connect with prospects. By providing accurate contact information like name, company details, and other relevant business information, Datanyze lets you warm up the cold calls and email outreach campaigns. You can set the target technology and companies to find correct prospects easily. The Chrome extension allows you to capture firmographic data and automatically transfer it to your CRM and sales tools.
Key Features:
Monitors and analyzes technology choice over 35 million companies

Easy-to-install and run

Capture data while browsing social media

Easy to manage and export prospects' lists

Search and connect easily with prospects
Pricing:
Nyze Lite – $0 (90-day free trial)

Nyze Pro – $39/month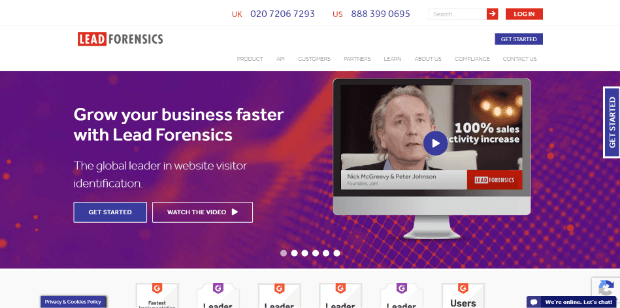 Lead Forensics uses smart technology to grow your business. It is a great lead generation platform to find new prospects by using your website's IP addresses (basically domain names). As the leads are captured from your website traffic, they are likely to be quality leads. It easily grabs data such as business names, demographics, contact information, and financial data. Once it finds the relevant leads, they sync automatically with your CRM in real-time.
Key Features:
Identify leads in real-time

Get lead score based on multi-criteria

Trigger instant notifications

Track leads from the first click to sale

Smart analytics to measure ROI
Pricing:
Custom quotes available on request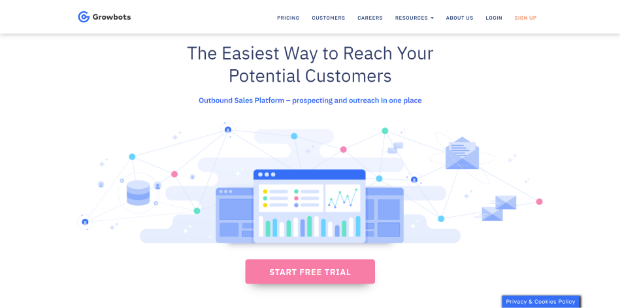 Growbots is an ideal lead generation platform for businesses that know the market they want to target. The tools help you choose the right prospects from a huge database of 200 million+ contacts. The lead qualification process gets easier with this as the list of contacts is generated for your target industry. Once you choose the contacts, you can get insights into their social profiles, phone numbers, and email addresses. Based on these details, you can connect with prospects by creating email marketing campaigns in Growbots.
Key Features:
Auto-generate the list of prospects

Easy to set up email campaigns

Automatic follow-ups at the right time

Actionable analytics and reports

A/B testing

Integration with Hubspot & Salesforce
Pricing:
Outreach – $49/month

All-in-one – $199/month

Pro – Custom quotes available on request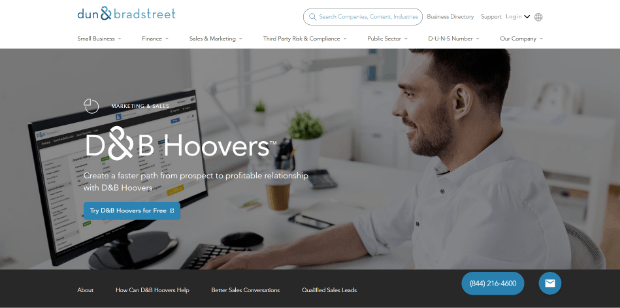 D&B Hoovers is a popular lead generation solution to find sales prospects and growth opportunities using the inbuilt database. It has over 170 million business records, making it one of the largest lead generation databases. The tool provides comprehensive business profiles and offers dynamic search to enhance your mailing lists. Once the tool identifies the best leads based on your search criteria, you can easily export the list to your sales tools.
Key Features:
Personalized dashboard with real-time alerts

Identify decision-makers and key personnel

Advanced insights

Regularly updates the database for accurate information

Seamless integration with sales and CRM tools
Pricing:
Custom quotes available on request
Live Chat Lead Generation Tools
Live chat software lets you connect with your website visitors in real-time to engage with them and collect valuable information. Here are our top picks for live chat lead generation softwares.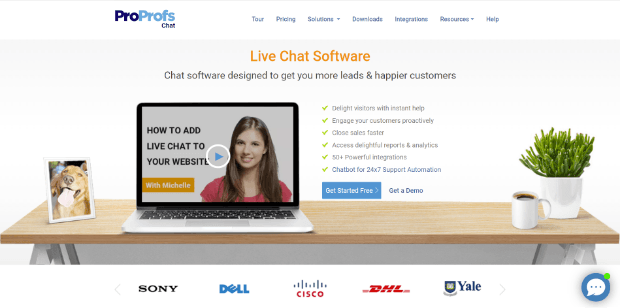 ProProfs Chat is an all-rounder tool designed to generate more leads and assist website visitors in delivering them a delightful experience. Once you capture qualified leads, they are automatically saved to your CRM. With the help of the announcements and alerts feature, you can let the visitors know about events, sales, product launches, discounts, etc. It helps increase engagement and identify upsell opportunities. With the help of ProProfs Survey Maker integration, you can create a pre-chat form to guide the visitors to the right teams.
Key Features:
Add self-help material in chat widget

Store canned responses

Set up live chat announcements

Advanced options to guide visitors

In-depth data reports

Integrates easily with 50+ tools
Pricing:
Essentials – $10/operator/month

Premium – $15/operator/month

Enterprise – Custom quotes on request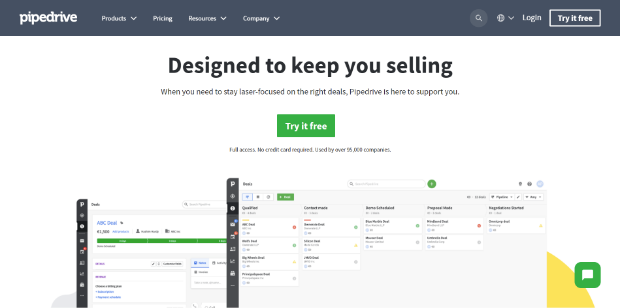 Pipedrive is a complete lead generation and contact management system that comes with interesting features to engage and convert visitors. You can easily retrieve contact information automatically from public sources just with the help of an email address. The tool offers live chat, chatbot, built-in caller features, and website forms to boost your lead generation. Based on the interaction history with prospects, leads are further categorized as per their standing in the sales funnel.
Key Features:
Pull customer data automatically from social media

Easy to integrate live chat and forms

Visual pipeline

Deal probability and in-depth analytics

Seamless integration with CRMs and sales tools
Pricing:
Essential – $12.50/user/month

Advanced – $24.90/user/month

Professional – $49.90/user/month

Enterprise – $99/user/month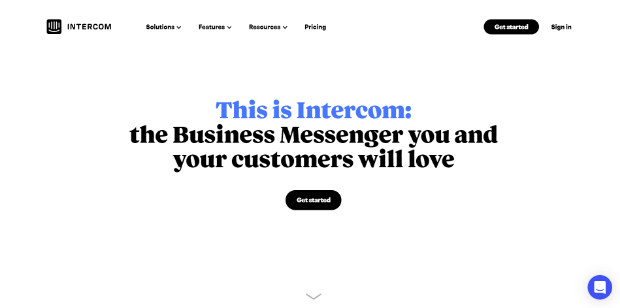 Intercom is a widely-known live chat and communication platform to connect with potential customers and build relationships. You can use the tool for live chats, chatbots, product tours, self-serve support, and more. The collected information and user behavior help you create message triggers for onboarding and support. They also offer an integrated knowledge base and help desk to provide support for existing customers. Definitely, a great collaboration tool for your sales, marketing, and support teams!
Key Features:
Automate work seamlessly with chatbots

Targeting options to target specific segments

Manage all customer interactions in one place

Powerful business messenger

Collaborative inbox for personalized attention
Pricing:
Starter – $79/month

All other plans – Custom quotes on request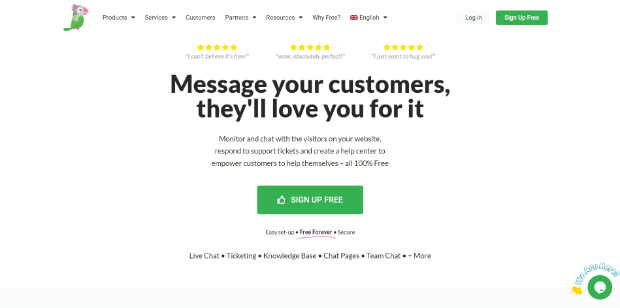 Tawk.to is one of the most popular live chat tools, and it is absolutely free. With ticketing, chat pages, and knowledge base, it is a complete lead generation and customer support solution. The intuitive dashboard lets you monitor website visitors in real-time and captures their location and email addresses. With powerful analytics, you can easily gather leads and find potential customers on your website. The setup takes less than a minute, and it is an ideal tool to get started with your live chat ventures.
Key Features:
45+ languages

Geo IP tracking

Customizable widgets

Message filtering

Detailed reporting & analytics

Agent alerts & mail notifications

100+ integrations
Pricing:
Forever Free

Remove branding – $19/month

Other plans – Custom quotes on request
CRM/Lead Management Tools
CRM tools are not exactly lead generation softwares, but they offer a complete marketing automation solution. You simply can't manage your leads or streamline the sales process without the inclusion of CRM tools. Here are some of our best picks.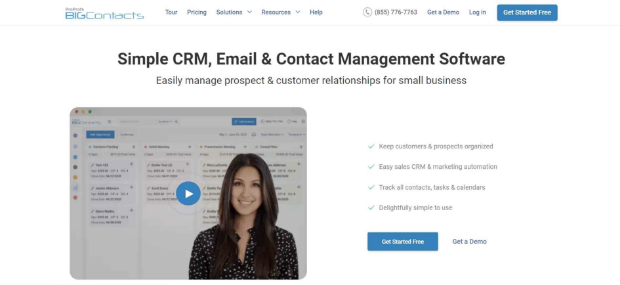 BIGContacts is a comprehensive CRM, email marketing, and contact management system that lets you manage prospects and customers from a single dashboard. It is designed especially to meet the needs of small and medium-sized businesses. The tool automatically updates the contact information from the Internet and social media to increase your leads' data. With smart reports and analytics, you can analyze leads, teams, and campaigns to boost sales. You can easily automate marketing campaigns in BIGContacts to nurture more opportunities.
Key Features:
360-degree view of all activities

Customize and track sales pipeline

Automated tasks and reminders

Powerful sales reports& custom reports

Smart collaboration tools

Seamless integration with 30+ tools
Pricing:
Big – $5/user/month

Bigger – $15/user/month

Biggest – $25/user/month

Enterprise – Custom quotes on request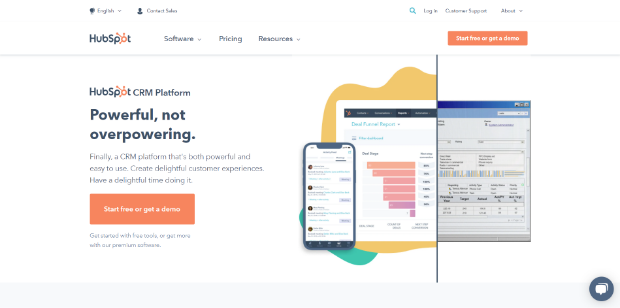 HubSpot CRM is one of the biggest CRM platforms on the market for SaaS organizations. It has all the integrations and tools for lead generation, contact management, sales, marketing, and customer support. You can find all the customers' interactions in one place to stay on top of what's happening. Your teams can efficiently close deals with features like prospect tracking, email tracking, live chat, and meeting scheduling. HubSpot offers both free and paid plans as pricing depends a lot on the tools and features you want.
Key Features:
User-friendly and intuitive dashboard

Smooth collaboration platform

Contacts and tasks management

Form builder & landing page builder

Robust lead generation features

100+ integrations
Pricing:
Free

Starter – Starts from $45/month

Other plans – Custom quotes and feature-based pricing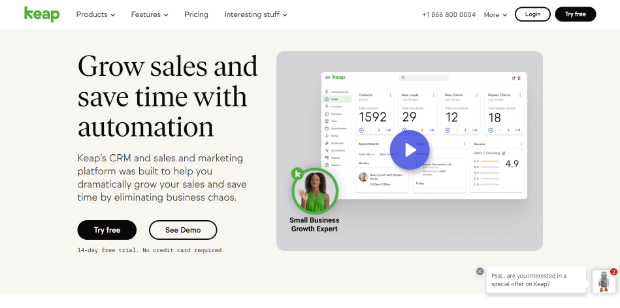 Keap is an all-in-one sales and marketing solution to grow leads and sales. The fully customizable CRM lets you score leads, manage contacts, create landing pages, email marketing campaigns, track visitors, and much more. With this CRM, you won't miss a chance to capture leads from landing pages, forms, and social media. You can trigger personalized follow-ups to convert more leads and can access all the reports and data from a single place.
Key Features:
Sync all your contacts

Manage all email & phone interactions from one place

Advanced automation features

All tasks and reports on a single dashboard

Create & add lead forms

Integration with 1000+ apps
Pricing:
Lite, Pro, and Max (Custom pricing as per the number of contacts and users)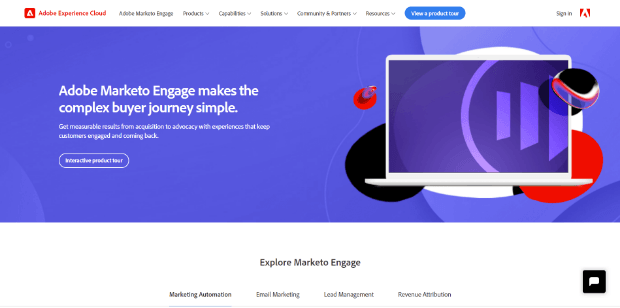 Marketo is a lead management and marketing automation solution that helps businesses to interact with potential customers. You can easily develop and qualify the leads before they're passed to your sales team. Using inbound and outbound marketing, you can improve the quality of your leads. With email marketing campaigns, attract leads with engaging conversations. The CRM software is equipped with many more sales and marketing tools to deliver an exceptional customer experience.
Key Features:
Cross-channel engagement

Marketing impact analytics

Social and mobile marketing

Account profiling

Mobile Push Messaging

Drive up-sell and cross-sell

Boost marketing efficiency using automation & AI
Pricing:
4 plans are available with custom pricing based on database size
Social Media Lead Generation Softwares
66% of marketers generate quality leads from social media by spending an average of six hours every week on social marketing. Social engagement is a powerful tool to bring in qualified leads. Here are some of the best tools to boost your online presence.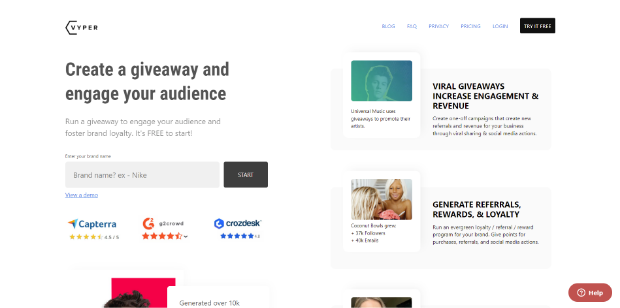 Vyper is a social media marketing and lead generation platform to create viral contests and giveaways. It can make things easier for you by engaging your target audience on social media. The tool is great for generating rewards, social followers, and referrals. The more your audience shares the contest, the more they get extra entries. Definitely, a cool way to boost your online presence and leads. The app is simple to use with a visual designer and templates to get started.
Key Features:
8 high-converting templates

3 display modes

Create widget and forms

Embed easily on your website

Integrate with other tools to send leads
Pricing:
Enterprise – $75/month

Agency – $150/month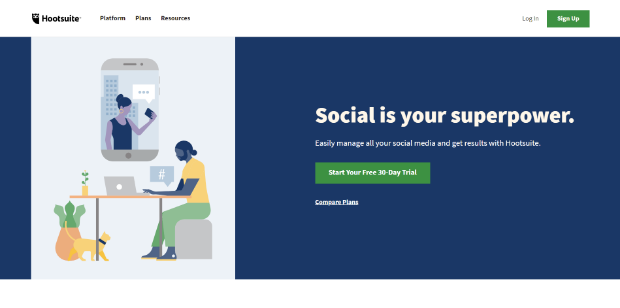 Hootsuite is a powerful social media management tool to boost your social presence and generate inbound leads. Hootsuite integrates well with all your social media accounts to manage and monitor social activities. Post trending content and analyze the performance across different platforms from Hootsuite's intuitive dashboard. Get personalized insights on your top-performing content and use social analytics to increase engagement. You can also collaborate with your team members to provide quick responses to potential customers.
Key Features:
Real-time analytics

Monitor incoming comments and messages

Powerful collaboration features

Customizable workflows

Integration with over 250 apps
Pricing:
Professional – $49/month

Team – $129/month

Business – $599/month

Enterprise – Custom quotes on request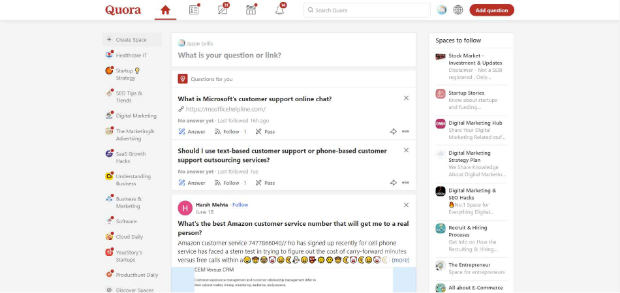 Quora is a massive and one of the most popular forums for people to ask questions and give answers about different topics. If you can convince people about your expertise in offering relevant solutions, then there are many lead generation opportunities. Collect upvotes by answering questions and engaging with other users. Build trust and credibility by answering genuinely and adding links to your answers to drive traffic to your website. It not only works for the ones asking questions but for future visitors as well.
Key Features:
Easy to use search engine

Proper categorization of different topics

Ask questions to start the topic and answer them

Add links easily to your answers

Create awareness for your brand, product, or service

Use paid advertisements to increase leads
Pricing:
Free to use

Custom pricing for Quora Business ads
Advertising Tools
Advertising tools are perfect when you know your ideal target audience. Easily promote your products and services on search engines and using social ads to generate more leads. Here are some advertising tools to get started.
Google Ads is best for lead generation through paid ad campaigns. You can get ahead of your competition by displaying your brand on the largest search engine in the world. Design relevant ad campaigns and set trigger options plus target audiences based on their browsing behavior, searches, history, and more. Easily manage the ad campaigns from an insightful dashboard and track the progress with real-time analytics. The best part is that you only have to pay when the users click on your ads.
Key Features:
Display well-timed ads to your audience

Set monthly budget caps and bidding rules

Configure custom messages

Set advanced targeting rules

Analyze real-time analytical insights
Pricing:
Flexible pricing options as per your campaigns and budget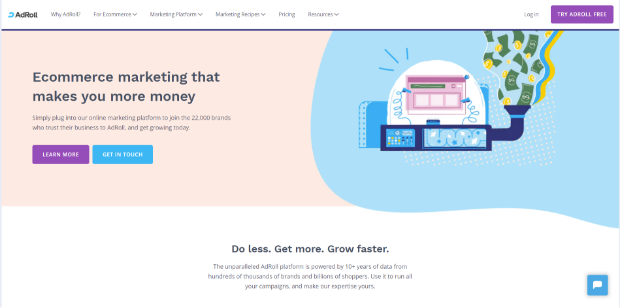 AdRoll platform is powered by valuable data of brands and billions of shoppers to help you grow your leads and sales. You can display ads on different websites and social media platforms plus emails using AdRoll campaigns. Get detailed information and insights on your campaigns to track and improve. The app integrates seamlessly with online stores to display personalized recommendations, email content, ads, and helps in reducing cart abandonment.
Key Features:
Personalized ads

Retargeting through email

Cross-device reach

Social targeting

Customer segmentation

Advanced reports and analytics
Pricing:
Starter – $0

Growth – $19/month

Advanced – Custom quotes on request

Outfunnel is a data integration tool that makes it super easy to connect sales and marketing tools. In fact, it's the only integration tool designed for connecting sales and marketing tools and data. Outfunnel has impressive features that help you sync your contacts between your marketing lists and your CRM lists, share marketing engagement data with sales automatically, and more. 
With Outfunnel, you can also make use of Web tracking, and see what pages of your website your leads are visiting, and the volume of those visits. 
There are effective email marketing campaign features that lead to easier syncing with your CRM and marketing information. There are also helpful integrations within Outfunnel, some of which being Mailchimp, HubSpot, Pipedrive, Calendly, and more. 
Key features: 
Helpful app connector (integrations)

Effective syncing between CRM and Marketing teams

Web tracking 

Lead scoring

Easy collaboration tools 

Connect CRM with ad tools (coming soon)
Pricing 
Starter-$19/month

Growth-$49/month

Professional-$125/month 
Let's Grab Some Red-Hot Leads!
So, a well-detailed list of the marketing and sales lead generation tools comes to an end. Picking the right tool for your business will be your call. Consider your target audience, scope, budget, and goals. Go for some free trials and check out the functionality of different tools in the market.
If you want to get the best quality leads, you should consider an on-page lead generation popup tool like Picreel. You will be targeting your website visitors who are likely to convert into customers. Combine it with other lead generation software on the list to have a perfect marketing strategy in place. Let's get to growing leads!
Do you want instant business growth?
Picreel customers get a 15-300% instant increase in inbound leads & conversions.