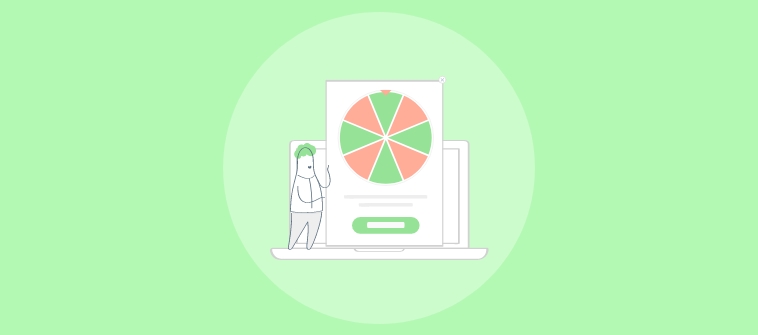 Are you trying to increase conversions on your website through fun and interactive ways? Look no further than spin-to-win wheel popups!
Spin-to-win wheel popups have gained a ton of popularity in the past few years because of how engaging they are and the level of anticipation they create in the people.
There's a good reason for the said popularity.
Website visitors have grown resistant to even some of the most exciting and valuable discount popups, which calls for a change in strategy.
This is where spin-to-win wheel popups come into play.
These popups add excitement to the user experience and increase the chances of visitors making a purchase or signing up for a newsletter.
In this blog, we'll take a deeper look at what spin-to-win wheel popups are, how they work, how to create spin-to-win wheel campaigns and the best practices that you can follow.
Stick around!
What Is a Spin-to-Win Software?
A "spin-to-win" popup is a type of website or app feature that allows users to spin a virtual wheel in order to win prizes or discounts.
Users are typically prompted to spin the wheel after completing a specific action, such as signing up for a newsletter or making a purchase. The prizes or discounts offered can vary, but they are typically discounts on products or services offered by marketers or business owners.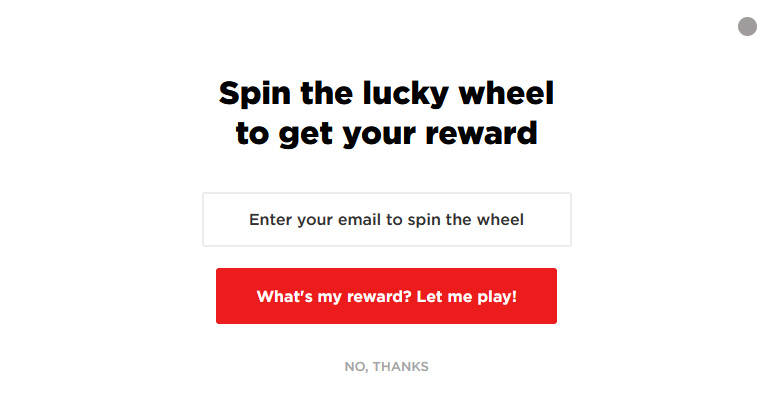 Most gamified popups, such as spin-to-win wheels, are used to collect user data through signup forms or encourage users to engage with other websites or app features.
These popups typically work by making users take actions on the website, in order to be eligible to spin the virtual wheel.
Once the user completes the required action, they are then presented with the virtual wheel, which they can spin by clicking or tapping on it.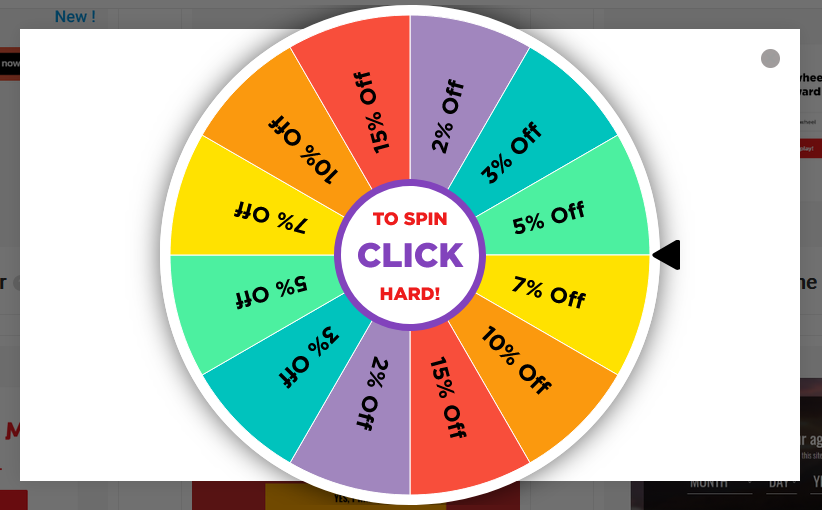 The virtual wheel is usually divided into several sections or segments, each corresponding to a different prize or discount. The user's prize or discount is determined by where the virtual wheel stops spinning. The prizes or discounts often vary depending on the brands and what they are willing to offer.
It's pretty straightforward.
The number of chances to spin the wheel and the probability of winning a prize or discount can also vary as the odds are completely customizable.
Some websites or apps may limit the number of spins per day or week or may only allow users to spin the wheel once.
It is also possible that the spin-to-win popups are programmed with a randomness algorithm and might be used as a marketing strategy to encourage users to engage with the website or app or to collect user data.
Zappos' Take on Gamified Popups
One example of a company that has successfully used gamified content to increase sales is Zappos, an online shoe and clothing retailer (now owned by Amazon).
In 2013, Zappos implemented a gamified customer loyalty program called "Zapponians." The program uses a points system, leaderboards, and badges to encourage customers to engage with the brand, share their purchases on social media, and make repeat purchases.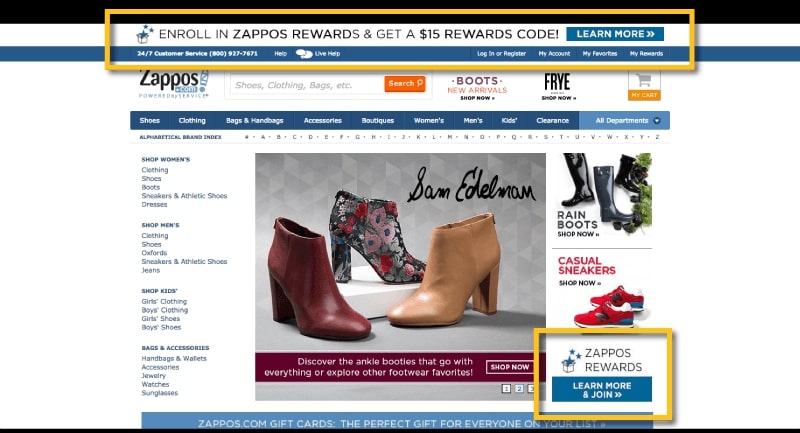 By gamifying the customer experience, Zappos was able to increase customer engagement and loyalty, which in turn led to an increase in sales. The program was so successful that it was later adopted by other companies as well.
Today, almost 75% of all purchases come from existing customers at Zappos because of the lengths that the brand went to please and retain its customers through its gamified customer loyalty program.
Read More – 13 Ecommerce Popup Design Examples to Boost Customer Base
How Do You Make a Spin and Win to Boost Campaign Engagement?
Spin-to-win popups provide a ton of value because of how engaging gamified content is. Now you might think if gamified spin-to-win wheels are so good, they surely can't be easy to deploy.
That is not the case. In fact, deploying spin-to-win wheel popups is just as easy as any other popup. All you need is the right popup builder tool, and you're good to go.
We'll take Picreel as our tool of choice as it is one of the simplest and the most diverse popup builder tools out there. Let's take a look at the steps.
Step 1- Pick a Template and Customize Your Design
Once you log in to your Picreel account, go to "Campaigns" in the left tab and select "Create your campaign" or "New campaign."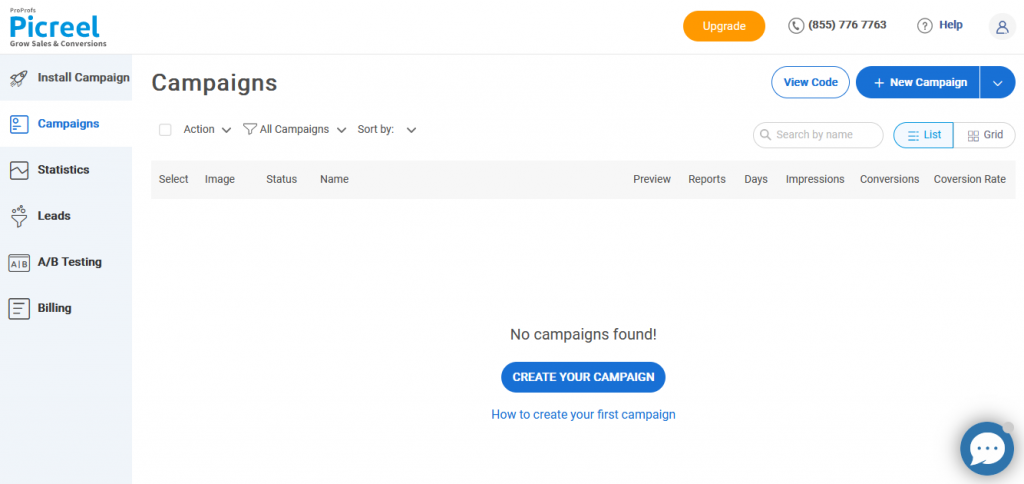 Once you do that, you will be redirected to the templates page with over 100 different popup templates. Select "Wheel of fortune" templates from the library and click "Customize."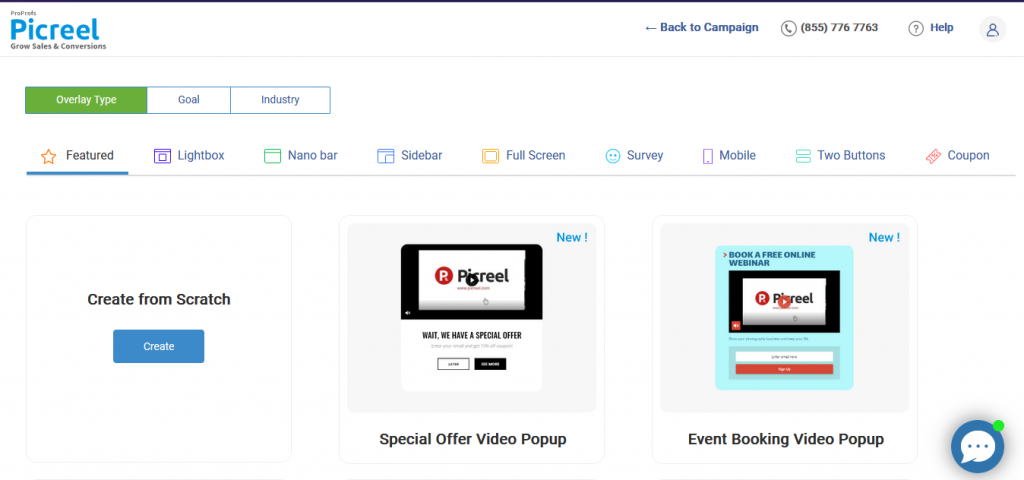 You can also create your own design from scratch if you wish to, or simply select a template and go straight to customizations.
Step 2- Personalize Your Popup
The next step involves customizing your popup, where you can change everything from top to bottom and make the popup look just like you want it to. There are two steps to this customization, where step 1 will be the welcome screen for your spin-to-win popup. Here, you can customize the following: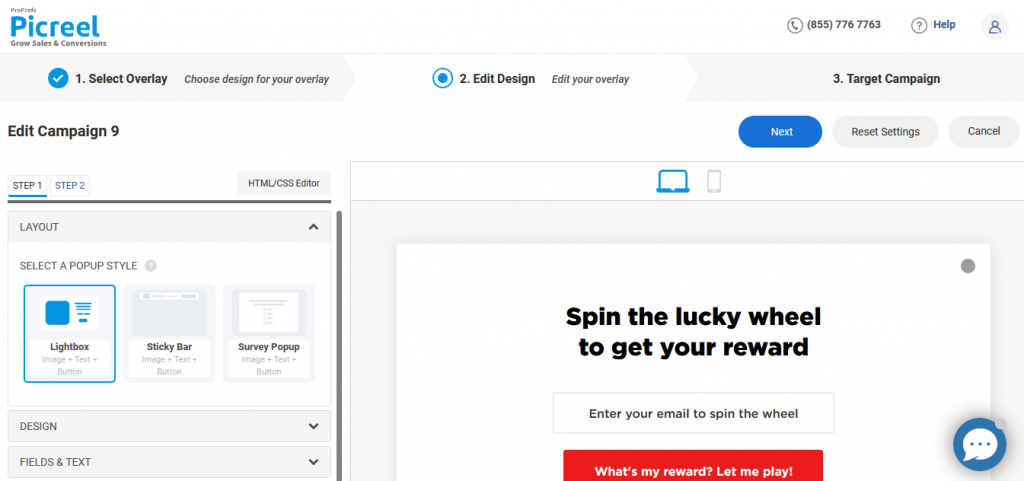 Layout- You can select between a lightbox, sticky bar, and survey popup.
Design- You can customize the size and color of your popup.
Fields & text- You can add or remove fields from your popup.
Banners- You can choose from different banner styles to display your popup.
Fonts- You can change the font size, color, style, and more.
But that's not all, because in step 2 you will have to customize your wheel. The fields remain the same in this step as well; however, the elements that you can customize will now include that of the spin-to-win wheel.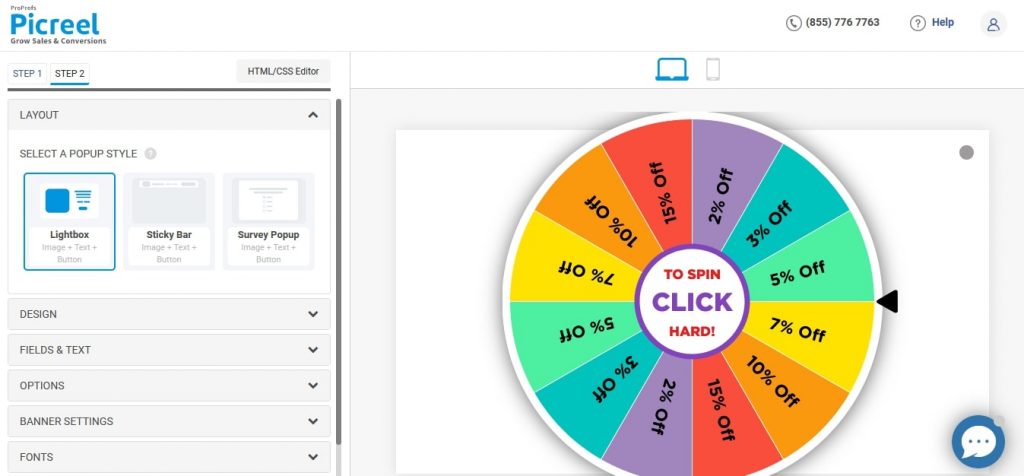 Step 3- Customize Targeting and Triggers
In this step, you'll need to customize where to deploy your popup, when to deploy it, and who you want it to see.
For starters, you will have to enter the domain link for the website in the "Basic settings" where you want your popup to be displayed. You can either display it on the whole website or choose specific pages by adding custom URLs.

Next, you can also customize when you want your popup to be displayed. Your popup triggers can be based on scroll percentage, time spent on the page, active status of the visitor, or by clicking on a custom website element.

Next, you can also select who you want to target. Here, you can target your popup based on the following:
Location
Returning or new visitor
Where visitors come from
Device type
Custom cookies
Click "Save" when you are done customizing to move to the next step.
Step 4- Save and Copy the Code Snippet
Once you click save, you will be redirected to the Picreel dashboard, where you need to click "Install campaign" in the left tab and click "Copy" to copy the code snippet to the clipboard and then paste it into your website.

Step 5- Integrate With Your Email Service Provider
Integrating your popup builder tool with an email service provider (ESP) allows you to collect email addresses from website visitors through the use of popup forms and then automatically add them to your ESP's mailing list.
You can do this by using the API provided by the ESP to connect it to the popup builder tool.
For instance, on your Picreel dashboard, select "Leads" from the left tab and then click on "Mail apps" to see the list of apps you can connect with Picreel.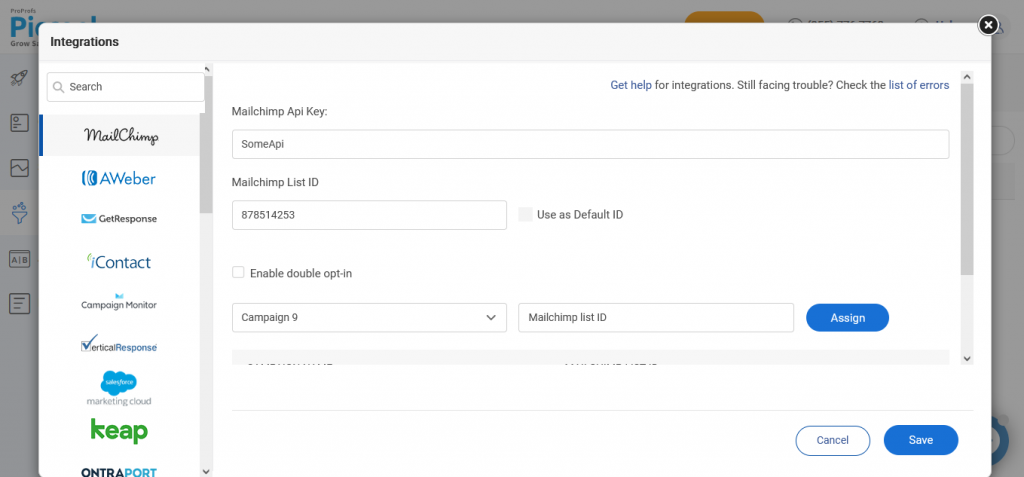 Select your preferred integration and enter the integration details, such as the custom API key, List ID, and other details.
Once the integration is set up, new email addresses captured through the popup form will be automatically added to the ESP's mailing list, enabling you to send targeted email campaigns to those visitors.
Watch: How to Create Popup Ads with Picreel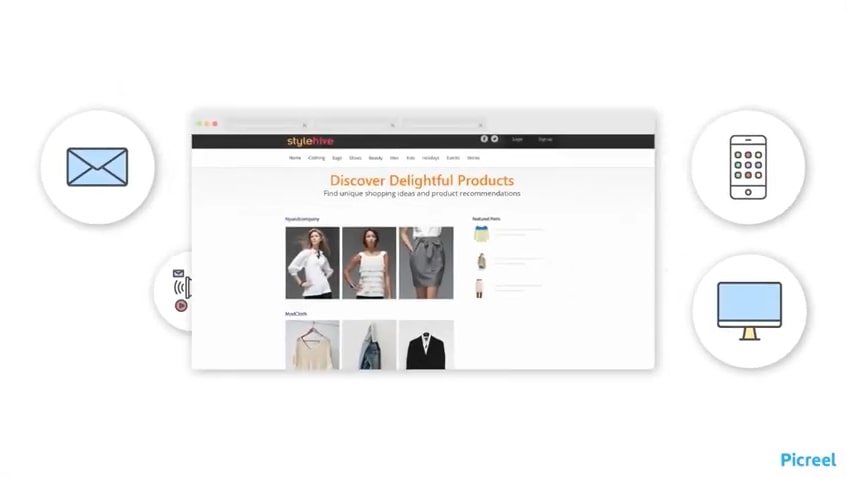 Best Practices for Spin-to-Win Popups in Your Campaigns
Your spin-to-win wheel popups are only as good as the strategies and best practices you use to deploy them. There are tons of best practices you can undertake to ensure your popups perform just as intended.
Here are some of our top ones:
1. Spin-the-Wheel Popups Should Show at the Right Time
Spin-the-wheel popups can be a great way to engage website visitors and increase conversions, but it's important to show them at the right time to maximize their effectiveness.
Showing a spin-the-wheel popup too soon after a visitor arrives on your website can be disruptive and negatively impact the user experience. Waiting until a visitor has had a chance to engage with your website and learn more about your product or service can make the popup feel more relevant and less intrusive.
It's not just a statement but a fact, because almost 29% of all website visitors dislike the fact that popups appear as soon as they land on the website.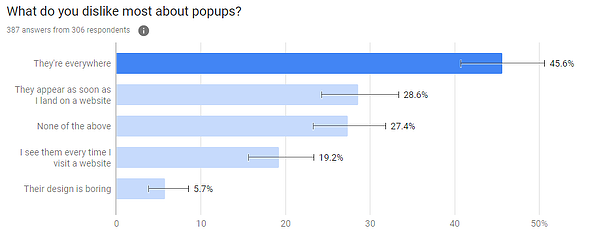 Also, by showing your popups too soon, your visitors may not return again. That is something you do not want.
By showing the popup at the right time, you can increase the chances that visitors will return to your website.
2. The Wheel Should Match Your Brand Style
It is important for the spin-to-win wheel to match your brand style because it helps to create a cohesive and consistent brand experience for your visitors.
For starters, a spin-to-win wheel that matches your brand style will be immediately recognizable as belonging to your company. This helps to build brand recognition and strengthen the association between your company and the spin-to-win wheel in the mind of the visitor.
It also does a lot in terms of consistency.
A spin-to-win wheel that is consistent with your brand style will help create a consistent brand experience for your visitors and build a sense of familiarity and comfort for visitors, making them more likely to engage with the wheel of wins and ultimately convert.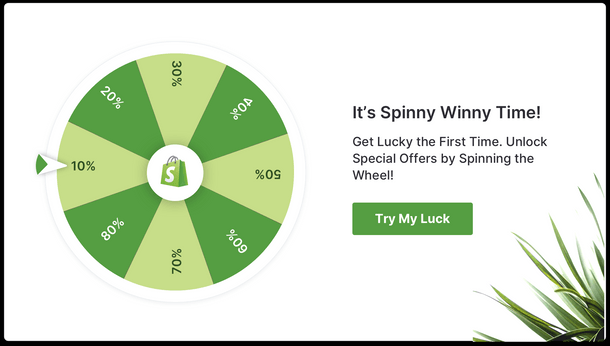 Not to forget. It can also add to professionalism.
A well-designed spin-to-win wheel that matches your brand style will convey a sense of professionalism and attention to your visitors to build trust and credibility in your brand.
3. Add a Cooldown Period for Spin-to-Win Subscribers
Setting a cooldown period for spin-to-win subscribers is a good idea for several reasons.
For instance, spin-to-win campaigns typically offer a limited-time promotion or reward; setting a cooldown period helps to create a sense of urgency and incentivizes visitors to take action within a specific time frame.
Also, without a cooldown period, a subscriber could potentially spin the wheel multiple times and win multiple rewards, which may not be fair to other visitors. Setting a cooldown period ensures that everyone has an equal opportunity to participate in the spin-to-win campaign.
Not every subscriber wins. That's obvious. So people would try over and over using different emails for better chances,
Here, a cooldown period can help you validate the subscribers' email addresses before they can spin again. It also allows you to validate that a subscriber is a real person and not a robot or a fake email address.
In addition, it can allow you to control the frequency at which the spin-to-win campaign is being used, allowing you to adjust the campaign and make necessary changes if it's being abused.
4. Use Anti-Spam Protection Techniques to Prevent Users From Cheating
Users will try to cheat the system no matter what you do.
Therefore, it is important to use anti-spam protection such as reCAPTCHA in your wheel of wins popups to ensure that the campaign is only being accessed by real people and not by automated bots.
Using anti-spam protection like reCAPTCHA helps validate that the person participating in the wheel of wins campaign is real, not a bot. This ensures that the campaign is being accessed by your target audience and not by automated bots.

Without anti-spam protection, bots could potentially participate in the spin-to-win campaign multiple times and win multiple prizes, which would not be fair to real people who are participating in the campaign.
Also, such techniques can also improve the quality of the data collected from your spin-to-win campaign since you can be sure that the data comes from real people and not bots.
5. Create Mobile Responsive Spin-to-Win Popups
As of November 2022, almost 49.78% of all internet traffic comes from mobile phones, compared to 50.22% from desktops and other devices.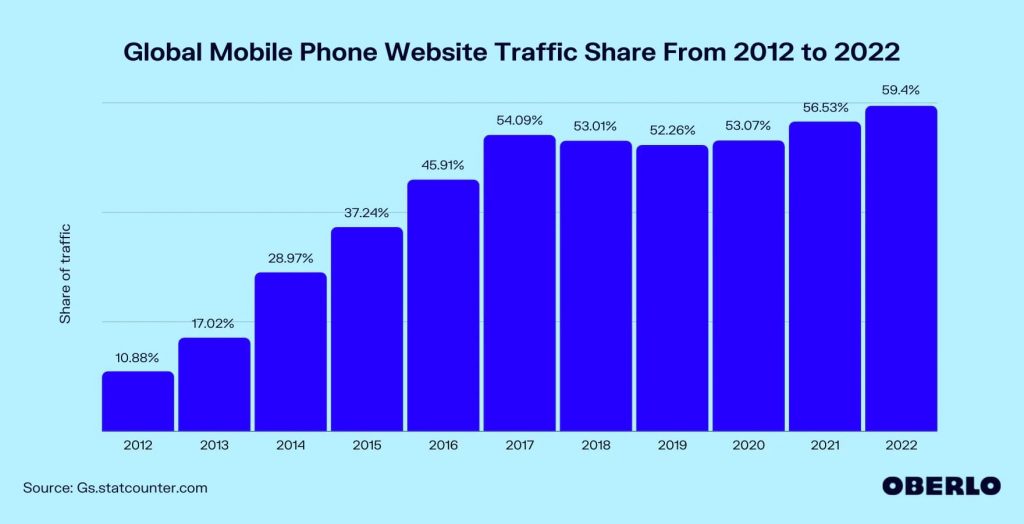 That's literally half the population that most marketers do not think about when designing spin-to-win popups.
With an increasing number of people using mobile devices to access the internet, it's important to ensure that your spin-to-win popups are optimized for mobile to ensure that they work well on smaller screens and with touch-based navigation.
A mobile-responsive winning wheel popup will adjust its layout and functionality to fit the screen size of the device it is being viewed on, providing a better user experience for mobile users.
Also, a mobile-responsive design makes it easier for mobile users to interact with the spin-to-win popup, increasing their chances of participating in the campaign.
But that's not all.
Because Google and other search engines prefer mobile-responsive websites. Therefore, creating a mobile-responsive winning wheel popup can also improve your website's search engine rankings, leading to more visibility and more visitors.
Read More – 11 Pop-Up Best Practices to Drive Conversions
Why Use Spin-to-Win Wheel Popups over Traditional popups?
There are several reasons why you might choose to use a spin-to-win wheel popup over traditional popups.
For starters, spin-to-win wheel popups can be more engaging than traditional popups because they offer an interactive and fun way for visitors to interact with your spin wheel website.
This can increase the chances that visitors will participate in the campaign and ultimately convert into customers.
These popups can also create a sense of urgency by offering a limited-time promotion or reward. This can motivate visitors to take action and participate in the campaign before the offer expires.
Another great thing to keep note of is that you can use winning wheel popups to collect valuable data, such as email addresses, which you can use to create targeted marketing campaigns.
Apart from that, some other benefits of spin-to-win campaigns include the following:
Personalization
Increased conversions
Brand recognition
Cost-effective
Best Spin and Win Design Examples to Boost Conversions
Plenty of brands have successfully deployed spin-to-win campaigns, and what better way to learn than simply taking a look at them?
Here are a couple of examples:
Craftd's spin-to-win popup is elegant and simple at the same time. The spin wheel website only shows the right half of the popup and asks visitors to enter their name and email address to spin the wheel.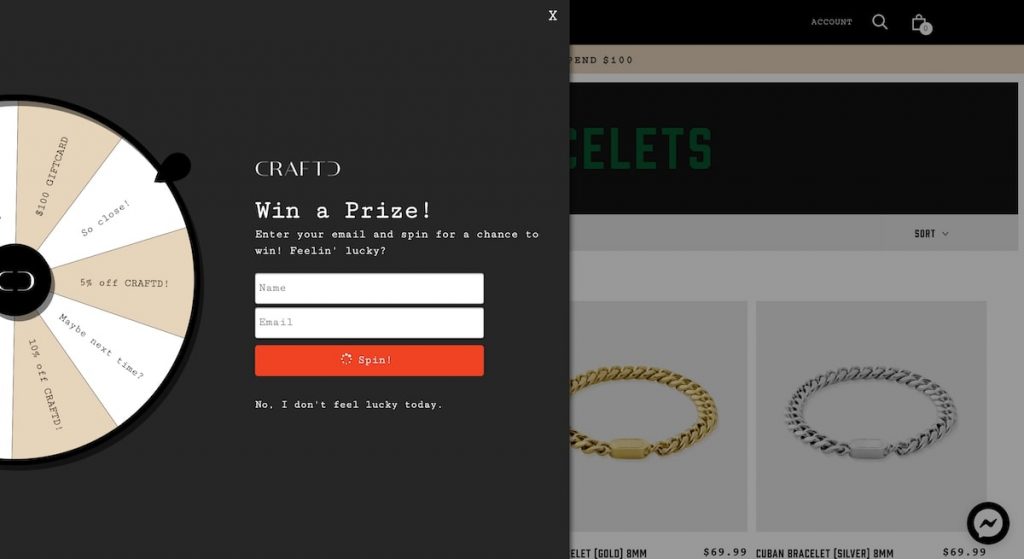 Simply Carbon Fiber deploys a very tacky spin-to-win campaign where they showcase the wheel in one of their own products, which is a watch made of carbon fiber. This not only improves their brand identity but also differentiates them from the competition.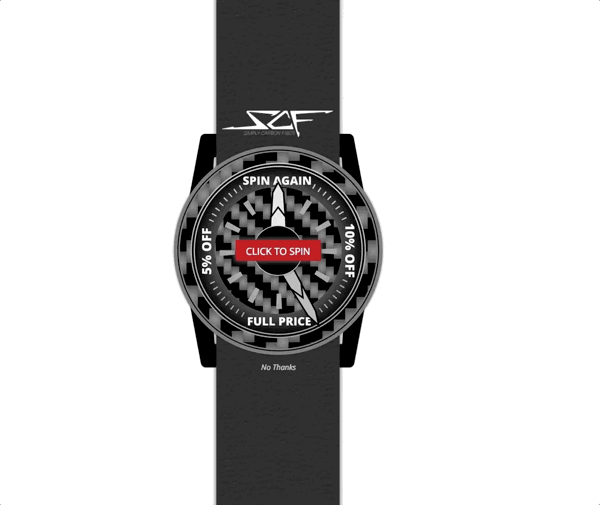 3. Pura Vida
Pura Vida also deploys a very elegant-looking spin-to-win popups which slightly varies from traditional ones. Their spin-to-win popup has only four sections and the spin button at the center which looks very appealing.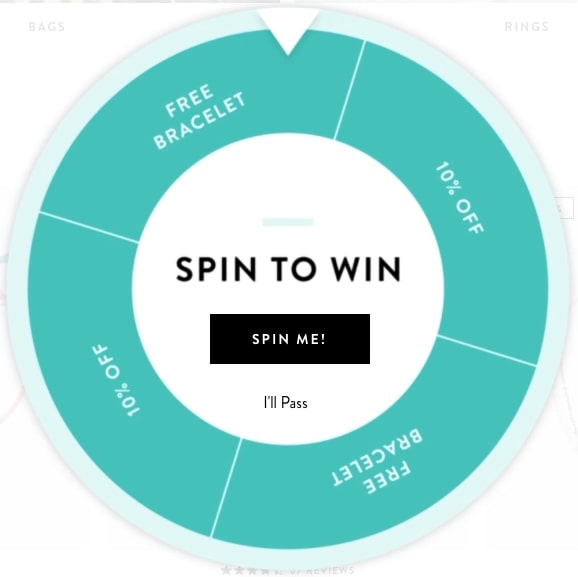 Businesses That Can Use Spin and Win Popups to Meet Their Campaign Needs
Spin-to-win popups are extremely diverse and flexible, which is why they can be used by almost all types of businesses out there.
Here are some of the most common businesses that can deploy spin-to-win popups for their campaign needs:
E-commerce businesses: Spin-to-win popups can be used by e-commerce businesses to offer discounts or other promotions to visitors. This can increase conversions and drive more sales.
Service-based businesses: Service-based businesses can use spin-to-win popups to offer free consultations or other incentives to website visitors. It can help you improve conversions and get more leads.
SaaS companies: Software as a Service (SaaS) companies can use spin-to-win popups to offer free trials or other incentives. This can also increase conversions and get more signups.
Non-profit organizations: Non-profit organizations can use spin-to-win popups to offer a chance to win a prize or other incentives in exchange for a donation or other form of support.
Watch: How to Increase eCommerce Revenue Using Popups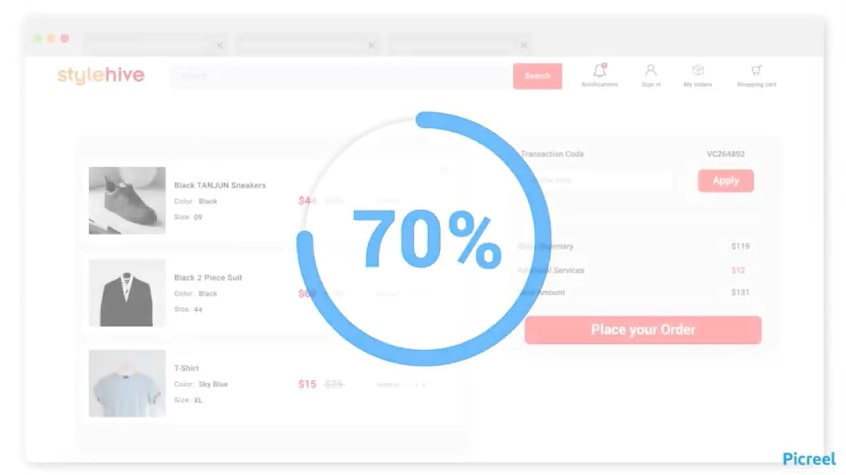 Design Graceful Spin-to-Win Popups and Increase Conversions
Spin-to-win popups can significantly improve your opt-in rates and conversions.
Not to forget the boost in engagement that you get from the popups, which is invaluable.
Spin-to-win popups can deliver a great return on your investments, provided that you take all the necessary steps carefully in creating and deploying them.
All you need is a good popup builder tool to create beautiful popups and a set of best practices to ensure that your popups are displayed at the right time to the right people without letting your visitors cheat or exploit them.
Here, tools like Picreel can come in very handy as they allow you to create spin-to-win popups instantly using built-in templates and come with deep targeting and trigger rules to ensure that your popups are shown to the right people at the right time. Picreel offers a 15-day free trial without any commitments which you can avail to test the waters before making a purchase.
Do you want instant 300% growth?
Picreel popups can get YOUR website 300% instant sales growth. See Case Studies.