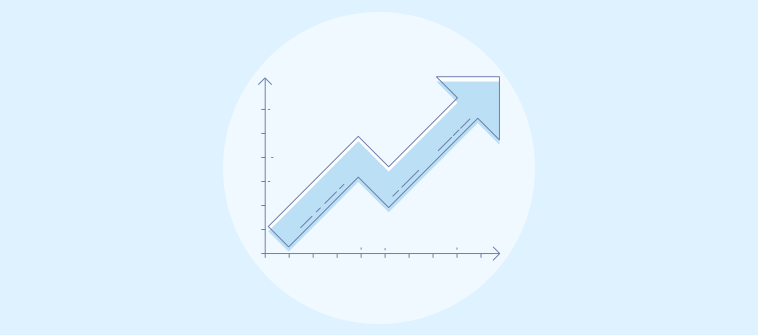 With competition on the rise, businesses often struggle for visibility online. But what to do when your marketers are able to bring in significant traffic and they are just leaving without interacting much?
Surely, you and your team have worked hard to create an intuitive website for engaging visitors. But when you can go to Google Analytics, the numbers corresponding to bounce rates leave you with new pieces of the puzzle. 
So, how to reduce the bounce rate?
Why are visitors leaving your website? Are there any performance issues? Is the user experience not good enough? Or the pricing is comparatively higher than competitors? Marketers and website owners often have such questions at the end of the day!
So, how to reduce the bounce rate? Is it even necessary to do so? Why is this marketing metric making headlines? We are here to talk and help you understand & improve your bounce rate.
In this blog guide, we'll be discussing
What is Bounce Rate
Bounce rate is defined in percentage and the number refers to the visitors or users that leave the website (landing page) without clicking on a link or going to another page of the site. This can mean a lot of things. Let's understand this with a simple example.
Let's say that you own a physical mini-shopping store on a busy street. People surely pass by your store, with some looking for products you sell and some simply getting a bit interested in particular products.
But, most of these people look at the products from outside, they make some assumptions, look around here and there, and decide to leave. Why so?
The people leaving your store contribute to the bounce rate. The same scenario applies to your online store. If someone has landed on your website from search engines, direct URL, social media, paid ads, or any other source, and they leave without making any purchase or clicking on another product page or filling the signup form or going to your blog page, that's what bounce rate is all about.
Why Bounce Rate is Important
From the definition above, it is clear that bounce rate is a crucial digital marketing parameter. It has a direct link to your sales and conversions. How so?
Well, you can bring in a lot of traffic to your website through organic and paid marketing, but if the visitors are not engaging with your products/services and content, what's the point? The final goal is to convert visitors into customers. How is that possible if visitors are bouncing off your website?  
What's more? According to a study, Google takes the "time on site" parameter into consideration when it comes to ranking. So, if the visitors are leaving your website quickly, these are the signs of high bounce rates, and you need to work upon it.
Increasing bounce rates are also concerning for your design and marketing teams. Is there something wrong with the content presentation or with the graphics and design of the website? There can be flaws or bugs interrupting the user experience. Whatever it is, you need to identify that and that's why bounce rate proves to be an important metric to increase your conversions.
What is a Good Bounce Rate
Heading on to Google Analytics to check your bounce rate and wondering what exactly is an ideal or good bounce rate is? Well, in general, the bounce rate is considered as below.
80% or more – Really bad

70 – 80% – Poor

50 – 70% – Average

30 – 50% – Good and great

20% or less – Excellent, if right!
The average bounce rate varies in different industries and depends on the type of content and services you offer. Here's an infographic that gives you an idea about the average bounce rate.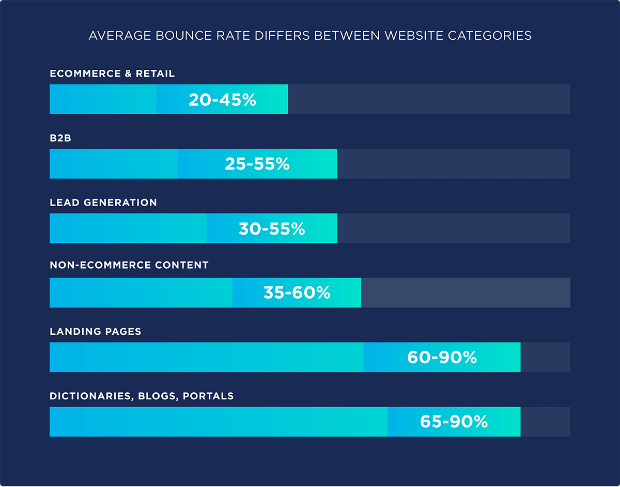 In general, blogs and guides typically have high bounce rates. This is because visitors are often looking for a particular solution or tip, and as soon as their work is done, they exit the website. But if you own an eCommerce store or provide services, and have a bounce rate higher than the average benchmark, it is definitely a worrying sign.
So, how to reduce the bounce rate of your website? Let's find out!
Top 20 Ways to Reduce Bounce Rate
Here are some of the best and proven ways for improving bounce rate.
1 – Use Only Exit-Intent Popups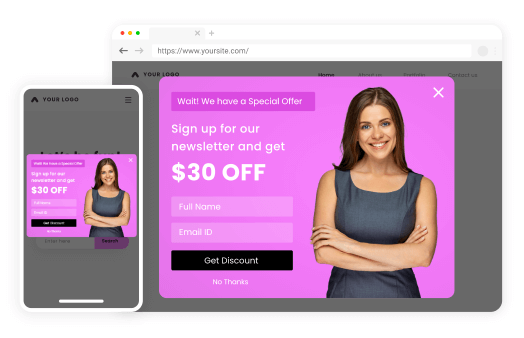 The visitors have landed on your page. That means they are already interested in your products or services. To keep them engaged, you can use exit-intent popups to display your offer when they are about to leave. From targeting abandoning visitors with discounts/deals to guiding new visitors with recommendations/help pages, a popup tool is pretty useful to decrease your bounce rate.
The key here is to put up an offer that's appealing and hard to resist. You can personalize the popups and present them on landing pages, blog pages, pricing pages, etc. to effectively engage the visitors. If the visitor checks out a particular product, you can use a limited-time offer or availability popup to create a sense of urgency. Timing is important as you don't want to annoy your visitors with random popups.
2 – Optimize Page Load Time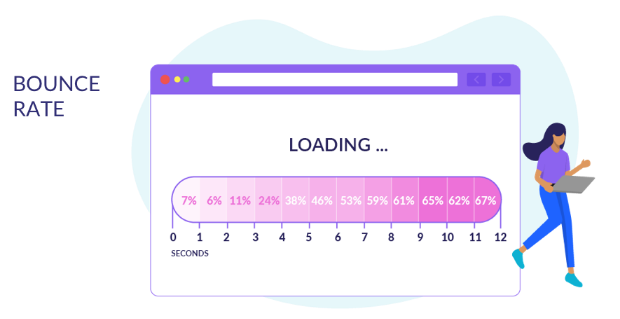 The probability of bounce increases by 32% if the page load time increases from 1 to 3 seconds. That's how important speed is in 2021. Shoppers or readers don't want to wait for long to see the content. In fact, 40% of consumers won't wait for more than three seconds before they exit. So, every second makes a difference.
Especially if you run an eCommerce store, your site should load ideally within two seconds or the customer will simply switch to your competitor. This is more common among mobile users as they are likely to abandon the shopping cart because of slow-loading pages. So, before getting to your design and content optimization, you need to choose a performance-optimized hosting solution to decrease your page load time.
3 – Design and Place a Compelling Call-to-Action (CTA)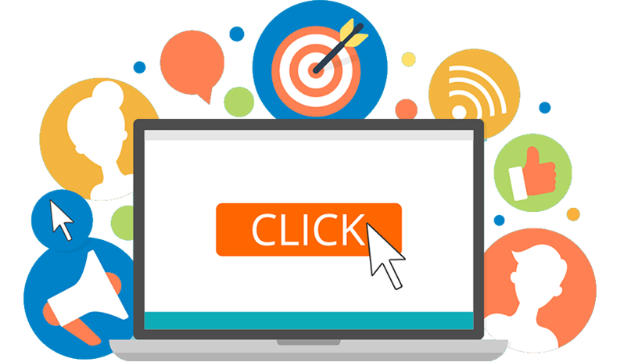 A CTA is like a signpost that lets the visitor know what to do next. With a clear CTA, you can push your potential customers down the sales funnel to take action. The CTA copy should be compelling and eye-catching, and not just the regular "Get Started" or "Signup for Free."
You should consider all the elements of your CTA such as the button size, background color, text, font, and content copy. Each element can make a huge difference in leading the visitors to another resource page. You can use the same CTAs on your page at the start, middle, and end of the page. Also, incorporate the button on your sidebars and exit popups to compel the users.
4 – Make Your Website Mobile Friendly

More than 54% of online global traffic comes from mobile devices. So, is your website responsive? Are mobile users able to navigate and access your content seamlessly? Does the website lag while scrolling? Well, this is the most important point to fight the increasing bounce rates. You might offer a stunning design and experience to visitors on a laptop, but that experience needs to be the same on mobile devices. Making your website mobile responsive can highly help you reduce the bounce rate. 
As per Google, mobile-friendliness is a critical ranking factor. This simply means that no matter how relevant and top-notch your content is, it won't rank well on Google if the website is not optimized for mobile users. You can use Google's mobile-friendly test tool to check whether your site is mobile-friendly or not. If not, re-design and optimize your site with the relevant plugins and tools.
5 – Enhance Your Content Readability
Firstly, would you like to read a large chunk of text when you get to a website to purchase something? We guess not. That's the case with most of the online shoppers out there. They like to check out the benefits and important details of your product in short. Whether it's a product description, landing page content, or blog content, if the user doesn't find your content legible and readable, they are likely to leave.
To overcome this issue, optimize your content. Use proper headlines and subheadings with supporting pointers and short paragraphs throughout your blogs and landing pages. Make use of infographics, screenshots, and charts to convey your message more effectively. Highlight some points that are important, so visitors in a hurry can check the real deal. Also, try to set a conversational tone in your blogs to keep the readers engaged.
6 – A/B Testing for Improvement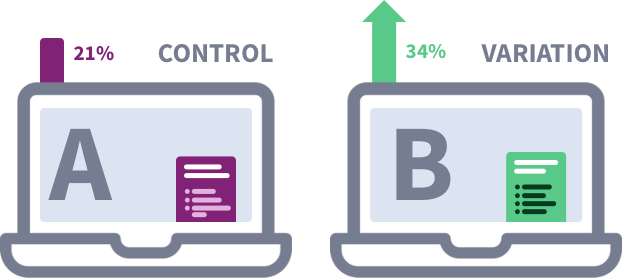 Not sure what kind of content or changes would improve the user experience and bounce rates? Well, test them in front of your visitors. Using the A/B test technique, you can create two versions of the same page by making minor changes one by one and display the pages to different visitors. The one that performs better in terms of bounce rate and conversions will be the winner.
To do the testing efficiently, list all the page elements from headlines, videos, and images to CTAs, popups, and testimonials. Make a priority list with which you will be testing the elements. Consider changing the font, color, design, content, button size, and so on in different tests to see what works best for you.
7 – Smart Internal Linking is Essential
Internal linking plays an important role in reducing bounce rate. Once people are on your page, internal links can push them to check out more content and products/services that you are offering. However, do not add links to every line as that can cause readability issues. The key here is to include relevant links.
Use a logical thinking strategy and choose your anchor text smartly to redirect your readers to pages, guides, and blogs that they might find useful. If the blog is about Topic A and there's no mention of Topic B in the blog, then don't unnecessarily stuff the link of B. Only link the ones that can add value to the page.
8 – Add Videos to Your Page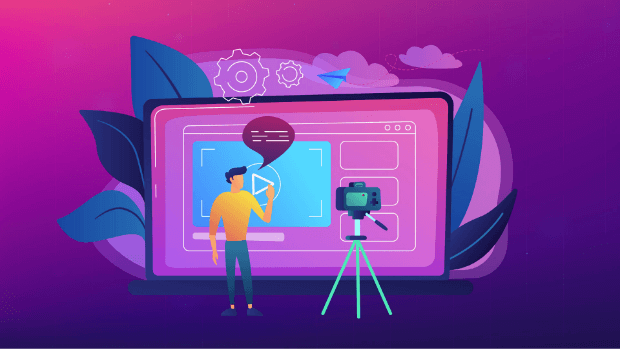 People spend 2.6x more time on pages that contain videos. So, visitors definitely like videos and they would love to understand your product/service better by watching a visual representation than going through chunks of content. You can upload relevant videos directly to the website or can embed your existing YouTube videos on landing pages and blogs.
Make sure to turn off the auto-play option for visitors as not everyone who lands on your website will be interested in watching a video. Even if you use the auto-play feature to engage your visitors with creative animation, keep it on mute to avoid disrupting the user experience.
9 – Use the Right Keywords to Target Your Audience
There is no content marketing strategy without the right keywords. Getting low-quality traffic on your website is a leading reason behind high bounce rates. This happens when you're targeting the wrong audience with keywords that are not relevant to your content. With the right keywords, you can improve your search performance and can also get high-quality traffic.
For this, you need to look for keywords that your ideal audience is searching for. These high-value keywords will directly lead high-value customers to you. The keywords that you target should support your powerful content in a way that users spend more time on the website reading it. Also, make sure to never stuff the keywords as that could get you penalized and also impacts the readability of your content.
10 – Use Testimonials & Case Studies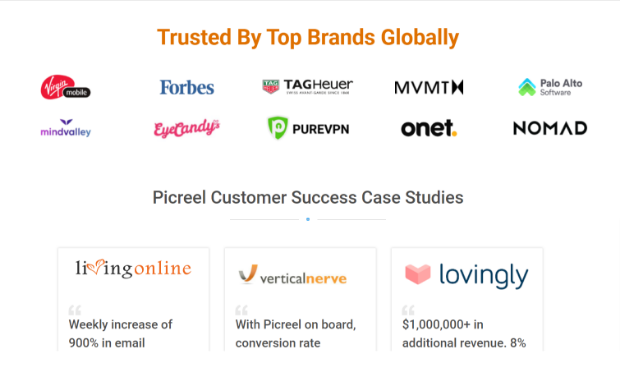 Let your customers speak for you with intuitive reviews, testimonials, and case studies sections on the homepage and landing pages. You can make this a lot more effective by converting these case studies into success stories. Bring in elements like audio and video to highlight & showcase your clients as these make the testimonials look more genuine.
People would love to know about your client's problems and how your product/service helped them to solve their issues. You can also create a dedicated testimonial/case studies page to build trust and increase credibility. Make sure to include numbers and catchy headlines/quotes from your customers.
11 – Target Engaged Visitors
The visitors that are engaged with your blog post or landing page can also bounce off without taking any action. It usually happens when the visitor came looking for some information, got what they wanted, and then leaves. Surely, that's normal but doesn't help your conversions and contributes to the bounce rate.
The best thing that can happen here is lead generation. You can present customized offers to your visitors based on the page they are visiting. With compelling content and offers like giveaways, discount coupons, free guides, access to premium newsletters, and so on, you can easily collect the email addresses of your visitors to reduce bounce rates and increase the chances of conversions.
12 – Make External Links Open in New Tab
A large number of bounces are coming from readers clicking on external links in the blog posts. It is true that external links with high DA (Domain Authority) help you in ranking on search engines and making your content credible. But if the external links redirect the visitors to another website in the same tab, it's problematic.
So, whenever you use external links in your blog posts and articles, make sure to configure the settings that will automatically open the links in a new tab. There are certain plugins to get this done or you can simply add target="_blank" in all of your external links and they will pop up in a new window on click.
13 – Compare Bounce Rate with Time on Site
The coin has two different sides. Only checking the bounce rate for your website's performance can be wrong at times. You need to check the other side as well and that is the time-on-site spent by visitors. This helps in understanding whether the problem is with a specific page, landing pages, or your whole site.
If your time-on-site metrics are good, but the blog pages have a high bounce rate, then the content might have some issues. If visitors' time on site is low, then users are not getting what they came looking for. Make sure to access the wider site data so that you capture general results and then make the improvements.
14 – Optimize Your Product Pages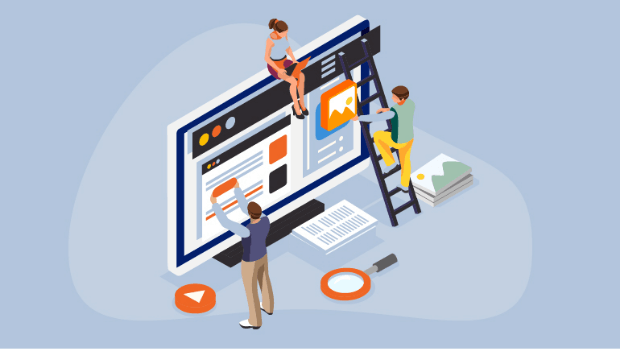 Product pages are important if you are in an eCommerce business. Offering a lot of information often hides what's important and displaying too little information leaves the prospect with questions. However, if you see at successful stores, there's a pattern and a lot of opportunities to optimize on your page.
The product image should be crystal clear from different angles. Mention a short description of your product along with the real price and any discount that you are offering. There should be a proper box to check the shipping time and charges. People are often not confident about the product quality, you can use a nanobar or sidebar with text such as "15-days free returns on all products. No questions asked!" Down the page, incorporate some reviews and product images uploaded by the customers. You will surely see a rise in your conversions.
15 – Add a Search Bar
Sometimes the visitors just can't find what they were looking for on your landing page. This results in a bounce. To overcome this, you can include a search bar on your website. Fix this bar at a place where it is easily visible to visitors. Make sure to keep the search button wide and in an eye-catching color as per your theme.
To make it more interesting, you can use a dynamic search bar that gets bigger as the user types in their query. You should pull the results from your website's landing pages, blog pages, help sections, and knowledge base immediately so that the visitors stick around.
16 – Translate Your Website for International Traffic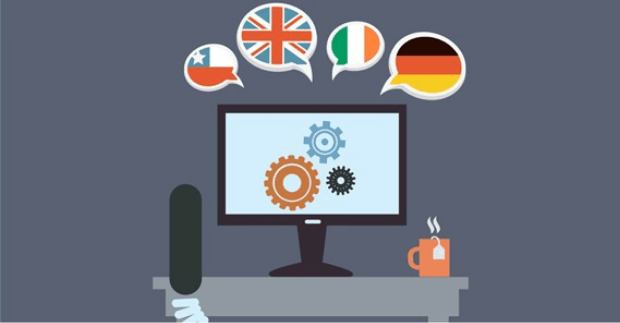 Despite the increasing popularity of English, there are many people who struggle with it. If you're targeting and servicing international audiences, don't just have an option for a single language. Let's say that if you operate from Germany or France, then the people from those countries would love to see the website in their native language.
There are many plugins and tools to make this happen. You can also produce content for different audiences if you receive significant traffic from such locations. Offering your website in multiple languages is surely a great way to reduce bounce rates. When visitors see their preferred language, they're more likely to stay, signup, purchase, and convert. Try to use location-based targeting that automatically displays the website based on the location of the visitor. However, give an option besides the navigation bar to change the language.
17 – Add Related Blog Posts & Articles Section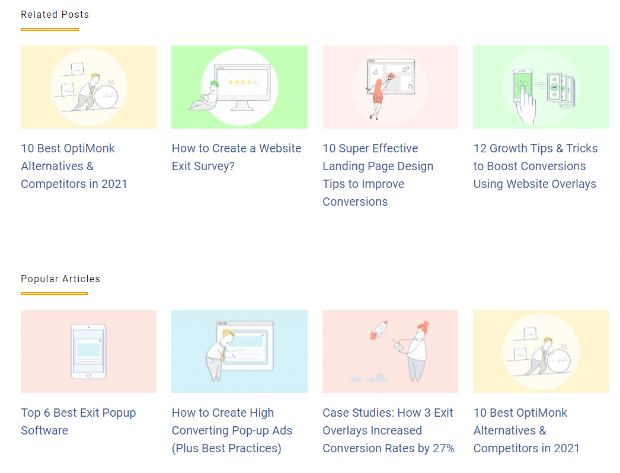 Adding related blog posts is a similar strategy that we mentioned in the internal linking point. With a dedicated section for related posts and popular articles, the visitors will be able to easily discover more of your relevant content.
There are mainly two ways to do so. Either you can display the related articles in the sidebar of the blog post or you can place them at the bottom of your post. Using it in the sidebar creates confusion for the readers as the images and headlines of those articles impact the readability of the initial blog post. So, you can use these at the end. The same goes for product pages. You can display similar products or recommendations or a frequently bought together products section to cross-sell and up-sell.
18 – Make Website Navigation Easy for Visitors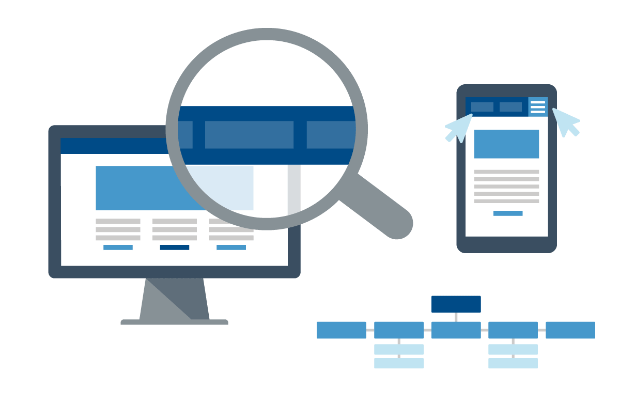 Confusing navigation can be one of the reasons behind visitors bouncing off without checking other pages. The navigation bar on your website should be well organized and visible on all devices. This menu acts as a helping hand to guide your visitors so that they understand your website structure quickly.
Using certain heatmap tools, you can analyze the visitors' general behavior to get the elements where there's more activity. This data is helpful in structuring your navigation in an interactive way that encourages visitors to browse further. Make sure to optimize the navigation for mobile devices, making it easier for visitors to find the relevant page link or menu.
19 – Get Rid of Broken Links
Broken links often cause many visitors to just quit your website and bounce. If users can't find what they came looking for and see a broken link instead, that increases their frustration and is the reason behind a poor user experience.
If you have hundreds and thousands of landing pages and blog posts, broken links are inevitable but you need to keep them under control to provide a delightful experience to your visitors. You can use the Google Search Console tool to check and locate the broken links on your website. After identifying, either add a redirect link or replace it or simply remove it to reduce the bounce rate.
20 – Create an Intuitive 404 Error Page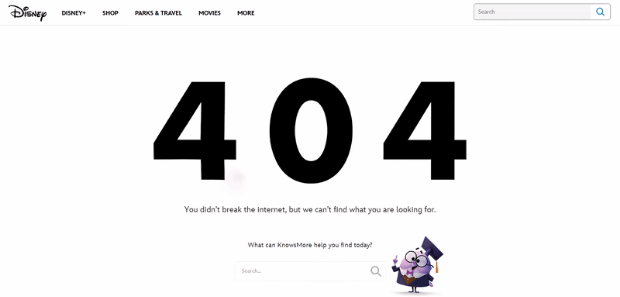 A 404 page or an "error page" or "Page Not Found" page indicates that the URL path (the website page) provides no information. It is often due to a broken link or if someone moved the content to a new website URL and so on. But all of this doesn't matter to the visitor as they just exit the website after a 404 page comes up on the screen. What can you do?
Design your 404 landing page in a way that helps the visitor. You can include a search bar on this page along with a CTA to take visitors to the homepage, Contact Us page, and some other useful pages that are working fine.
Ready to Bounce Back Up?
Bounce rate is a key metric in digital marketing and tells a lot about the user experience. You can't ignore this metric as it has a direct impact on conversions and SEO. While there is no single way to magically lower your bounce rate, exit-intent popups are definitely helpful in significantly lowering bounce rates.
Keep all the points in mind while optimizing your website and use competent software to track your performance. Picreel popup builder can help you with A/B testing and boost your lead generation plus conversions to bring down the bounce rate. Also, make sure you analyze your website from time to time using tools provided by Google. So, ready to bounce back? Let us know about your strategies as well!
Do you want instant 300% growth?
Picreel popups can get YOUR website 300% instant sales growth. See Case Studies.