The customer is about to leave your website after exploring and scrolling through multiple pages. Is there anything that you can do to make them stay or to gather their information like name, email address, phone number, etc? Well, the best exit popup software is your answer that can make all the difference to your marketing strategies. But wait, there's a twist…
Back in the 2000s, digital marketing was rapidly growing and marketers realized the power of popups. Unfortunately, the technology back then was limited and popups flashed on the screens at the wrong time again and again. This was annoying for the visitors and interfered with the user experience.
Now, there is a lot of advancement in technology and exit-intent popups are all about the perfect placement and time. Not all the exit-intent popup tools out there offer smart and advanced options. So, here we are to help you choose the best exit popup software.
In this blog guide, we will be discussing the following points.
What is an Exit-Intent Popup?
An exit-intent popup appears on the screen when the visitor is about to leave the website. It is the one last effort to make them stay, complete their purchase, get them to give you their email address, mobile number, etc., or to take any other action.
A lot of visitors land on your website from search engines, social media, and various other sources. They scroll down, might find something of interest or nothing, and leave. By providing a valuable offer or discount or free stuff with the help of exit-intent popups, you can have them stick around for more time.
The ultimate purpose of exit-intent popups is to increase leads or conversions and decrease bounce rates. Bounce rate is basically a statistic that shows how long the visitors stay on your website and whether they take any action or browse more pages before they leave. The exit-intent popups significantly reduce the bounce rates by giving the visitors a reason to stay.
How do Exit Intent Popups Work?
Exit-intent popups are triggered when the visitor moves their cursor towards closing the tab. The exit-intent technology senses the intent of the visitor that is about to leave the website or press the back button or switch to another tab.
Before they click the button to leave the website, a popup appears offering them a discount coupon to complete the checkout process or creatively asking them their email address in return for some free guide, etc. This allows the company to mail them offers and discounts in the future.
The technology is completely based on the user's behavior. Web developers and digital marketers can set their rules to display popups according to the user's activities on the website. The better you understand the user behavior, the more effective your campaign will be.
There are a lot of exit popup software out there that works differently. It can be difficult to try all of them. To help you out, we have narrowed down the list to five. Check it out!
6 Best Exit Intent Popup Software
Let's explore the top five popup software to get a better understanding of their features and pricing: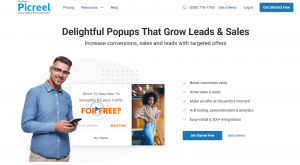 Picreel is a comprehensive conversion tool with more features and integrations than any other conversion platform on the market. Advanced real-time cursor tracking combined with custom conditional triggers serve up highly targeted offers to site visitors to reduce bounce rates, increase sales, and convert traffic into buyers and subscribers. The best exit popup tool has been on the market for more than a decade, and with a free 30-day trial and multiple 5-star reviews, it's easy to see why Picreel is the trusted name at the forefront of the exit popup industry.
Features:
Advanced lead capture and listing building

Multiple styles of popups

Overlays, Surveys, and Link forms

High-converting customizable templates

Advanced targeting and segmentation

Onsite retargeting

Advanced ad personalization

Interactive form elements

Mobile integration (Apple, Android, Windows)

Integrates with all major CRM, email, and marketing automation

Integrates with all websites and eCommerce platforms

Easy editor creates custom offers in 30 seconds; no coding required

Real-time analytics increase agility and campaign responsiveness

A/B split testing

Optional full-service campaign management
Pricing

Read Here: How to create popup ads
2 – OptinMonster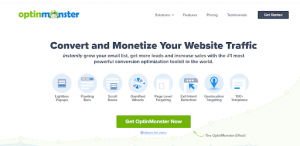 OptinMonster is lead generation software that converts website visitors into buyers and subscribers through the use of its signature exit intent technology. With one-click integration with all major email marketing providers and a simple drag and drop form builder, it's ideal for small businesses that want to manage their own campaigns. The best thing about this exit intent software is that multiple customization options are available to create campaigns.
Features:
Drag and drop builder

Multiple customizable form types

Smart exit Intent technology

A/B split testing

Page-level targeting

Built-in reporting and analytics
Pricing:

3 – Omniconvert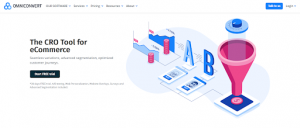 Omniconvert is a complete Conversion Rate Optimization (CRO) tool with exit popups being part of the offerings. Omniconvert features a variety of exit pop types that can be triggered on load, time, scroll or click, and with more than 40 segmentation criteria, offers are highly targeted to visitors' behavior. The advanced options in this exit popup software make it easier to add dynamic texts to banners such as user location, temperature, etc.
Features:
On click, scroll, load, and exit surveys and overlays

A/B split testing

Advanced segmentation criteria

Custom overlay placement

Frequency capping

Dynamic content
Pricing: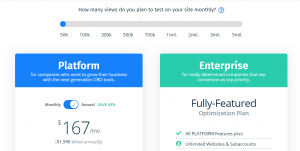 4 – Thrive Leads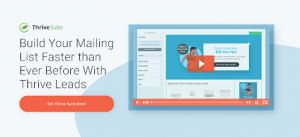 Thrive Leads is an all-in-one list-building solution. With signature SmartExit technology that triggers exit popups when certain conditions are met, not just when a visitor makes to leave the site, visitors see unique offers based on their activity, behavior, and time spent on the website. There are multiple popup layouts to choose from, with customizable options.
Features:
SmartLinks recognize existing subscribers

SmartExit triggers exit pops based on conditions

A/B split testing

Form animations

Advanced targeting

Trigger options
Pricing: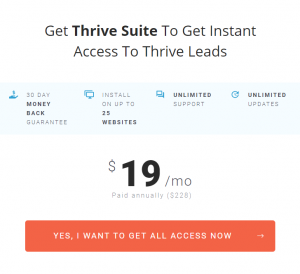 5 – Wunderkind (Formerly BounceX)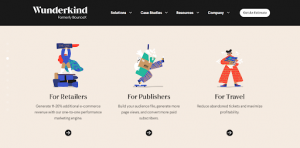 Wunderkind (Bounce Exchange) uses behavioral automation technology to track the activity of site visitors in order to serve up highly targeted offers at the optimal time for conversion. The company's white glove full-service management ensures your campaigns are created by conversion professionals with the onus of success on them, not you.
Features:
Website behavior analysis

Track visitor cursor movements

Site abandonment time tracking

Visitor targeting into strategic buckets

Full-service campaign management
Pricing:
Starts from $3,995/month
Custom quote available on request.
6 – Adoric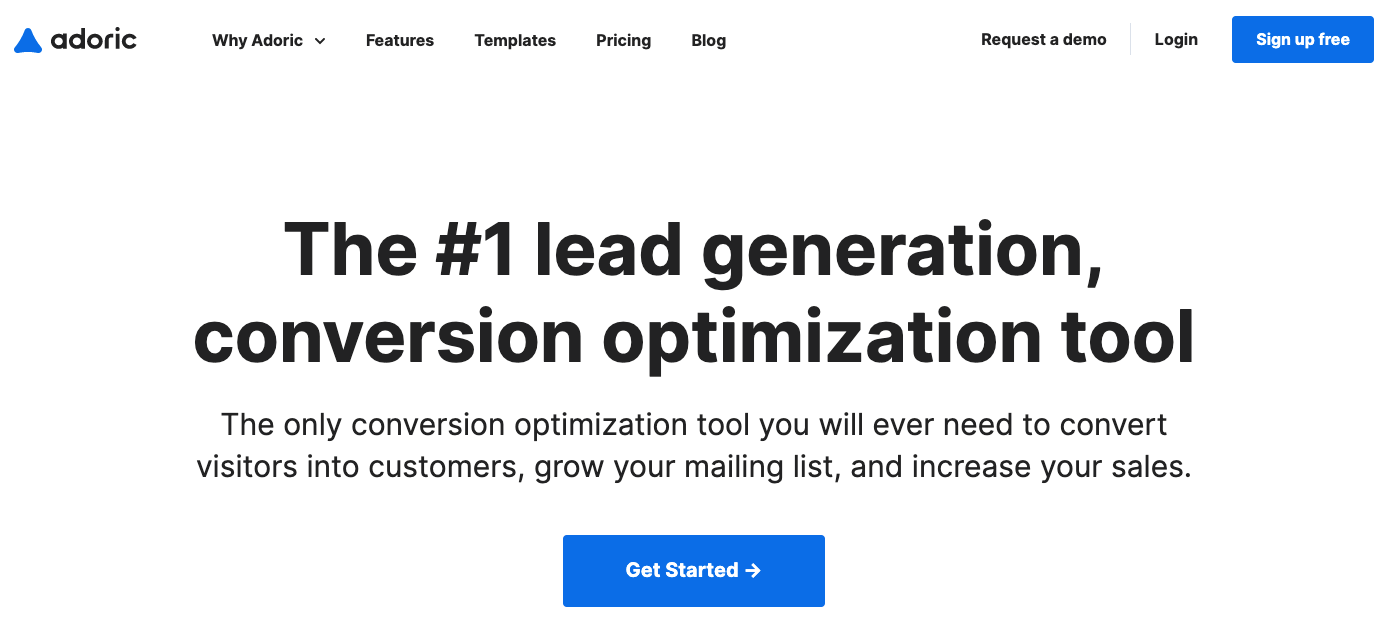 Adoric is the number one pick for a variety of reasons. The tool works by creating a personalized path for every visitor. Unlike most lead generation tools out there, this doesn't only help generate leads but also helps to convert them.
Features:
It's feature-rich and supports a variety of elements including design, communication, analytics, and tracking.

You can use it to create multi-step messages to optimize your conversions.

It also supports forms and can be connected to a variety of CRMs.
With this tool, you will be able to create personalized messages and compare different elements to find what works as it supports A/B testing, pop-ups, geolocation, goal tracking, etc.
This software is perfect for all kinds of users and is very easy to use. Above all, you can sign up for a free account and see how it works.
Pricing: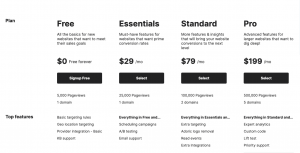 Comparison of the Best Exit Popup Software
| | | | | | |
| --- | --- | --- | --- | --- | --- |
| | Picreel | OptinMonster | Omniconvert | Thrive Leads | Wunderkind |
| Multiple Form Types | Yes | Yes | Yes | Yes | Yes |
| A/B Testing | Yes | Yes | Yes | Yes | Yes |
| Easy Form Builder | Yes | Yes | Yes | Yes | |
| Full-service Management | Yes | | | | Yes |
| Targeting | Yes | Yes | Yes | Yes | Yes |
| Analytics | Yes | Yes | Yes | Yes | Yes |
| Mobile Integration | Yes | Yes | Yes | | Yes |
| Advanced ad personalization | Yes | | | | |
Which Exit-Intent Popup Software Is Best for You?
Well, it is quite clear that exit-intent popups are a powerful way to reduce bounce rates and boost conversions. At the same time, you can build a large email list to increase sales and overall engagement. But which solution is the right one for you?
You can try a free exit popup software trial to check out the various functions and options available. However, if you are looking for modern and proven exit intent software, Picreel is the real deal. It focuses mainly on targeting visitors at the right time to increase sales, conversions, and leads. From reducing cart abandonment to increasing phone and email lists, Picreel offers a guaranteed solution to give wings to your marketing efforts. We would love to know about your preferred features in an exit-intent popup software. 
Do you want instant business growth?
Picreel customers get a 15-300% instant increase in inbound leads & conversions.