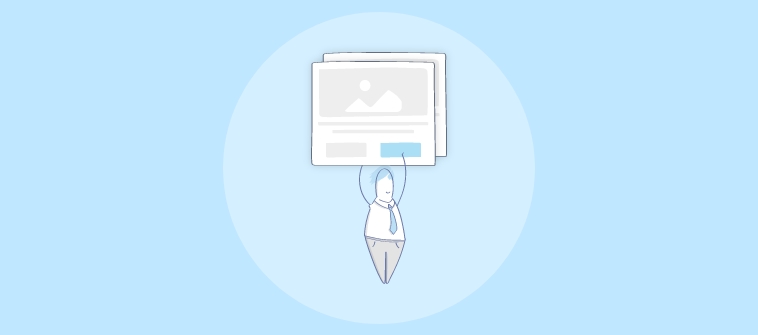 Have you ever landed on a website, and suddenly a popup overlay appears, asking you to sign up for a newsletter or offer a discount code?
Well, that's what we call a popup overlay, and it's becoming an increasingly popular tool for businesses looking to improve their website conversions.
But why are they so effective?
Popup overlays are designed to grab visitors' attention and direct them towards a specific action, such as making a purchase or signing up for a service. By presenting a clear and concise message, businesses can convert more visitors into customers and increase their overall conversion rate.
Popup overlays have been around for several decades now, but their popularity has skyrocketed in recent years as more businesses embrace online marketing.
In this blog, we're going to dive into 12 of the most attractive website overlay examples and explore why they work so well. From simple signup forms to content personalization, we'll show you how these overlays can be used to engage your audience and drive more conversions.
So, are you ready to learn about the power of popup overlays? Let's get started!
What Is a Popup Overlay?
Popup overlay is a type of window that appears on top of a website and is designed to grab your attention and direct you toward a specific action.
Popup overlays are incredibly versatile and can be used for a wide range of purposes, from collecting email addresses to promoting a sale. They're triggered by a specific action, such as clicking a button or reaching a certain part of a website, and they can be designed to look however you like.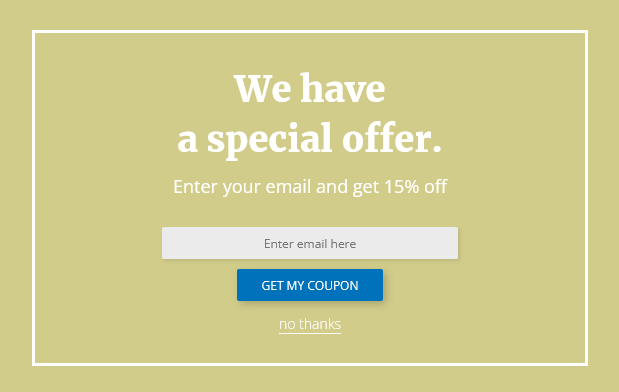 Some people find popup overlays to be annoying, but the truth is that they can be incredibly effective at driving conversions and boosting engagement.
By presenting a clear and concise message, businesses can convert more visitors into customers and increase their overall conversion rate.
Whether you're looking to grow your email list, promote a sale, or simply engage with your audience, a well-designed popup overlay can help you get there!
12 Best Effective Popup Overlay Examples to Boost Conversions
There are plenty of website overlay examples that you can get ideas from and also replicate to boost conversions.
Here are 12 of the best website overlay examples:
1. Lego's Website Navigation Popup
Lego, the Danish toy company, is known for its iconic plastic building blocks. The company has a website that offers a fantastic shopping experience for its customers, and one of the key features is its website navigation popup.
This popular overlay asks you to choose between the Lego shop or the Lego games section.
The popup overlay is designed to be simple and straightforward, with two clear options: "Lego.com" and "The Play Zone."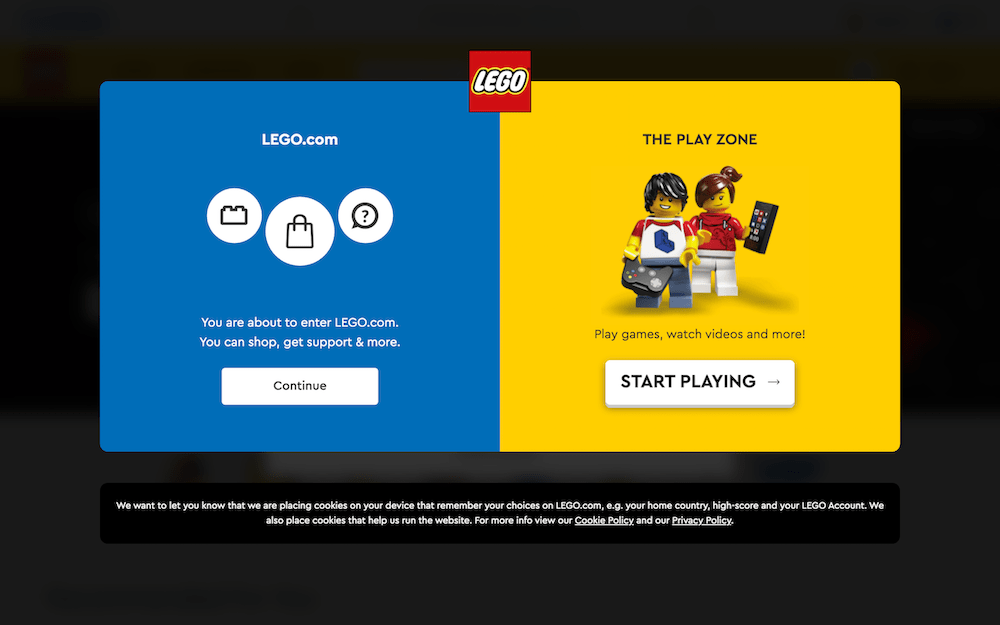 The "Lego.com" option takes you to the Lego online store, where you can browse and purchase Lego products. On the other hand, the "The Play Zone" option takes you to a section of the website that is dedicated to online games featuring Lego characters and themes.
This popup serves as a great way to provide visitors with a choice between two different parts of the website, making it easier for them to find what they are looking for.
2. Slack's Content Personalization Popup
Slack, the popular team communication platform, has a clever way of filtering content on its website through the use of a very popular popup overlay.
The concept here is simple.
When you visit the Slack website, a popup appears, asking you to select which industry or type of team you belong to.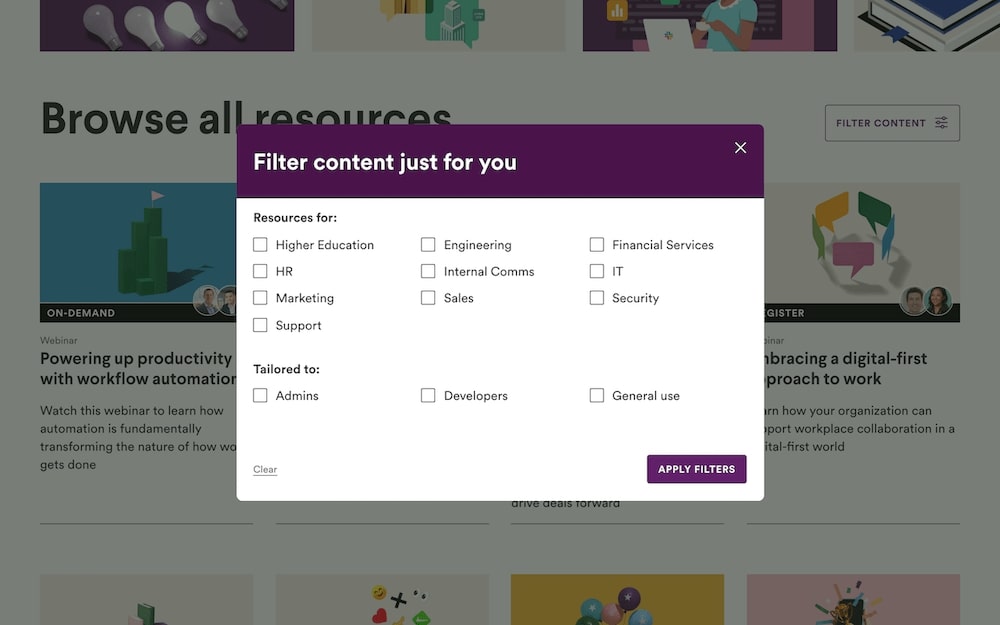 This popup is designed to help visitors quickly find information that is relevant to their needs. By selecting an industry or type of team, visitors are shown tailored content based on their selection.
For example, if you select "Marketing," the website will show you content and resources that are specifically designed for marketing teams, such as articles and case studies, as well as information about Slack's features and integrations that are commonly used by marketing teams.
The popup is user-friendly and well-designed, with clear options for visitors to select. It also doesn't get in the way of your browsing experience, appearing briefly and allowing you to quickly make your selection.
3. Bruno Magli's Discount Popup
Bruno Magli, a luxury footwear brand, uses a popup overlay on its website to offer visitors a discount.
When you visit the Bruno Magli website, a stylish and eye-catching popup appears, offering you 15% off your purchase if you sign up for their email list.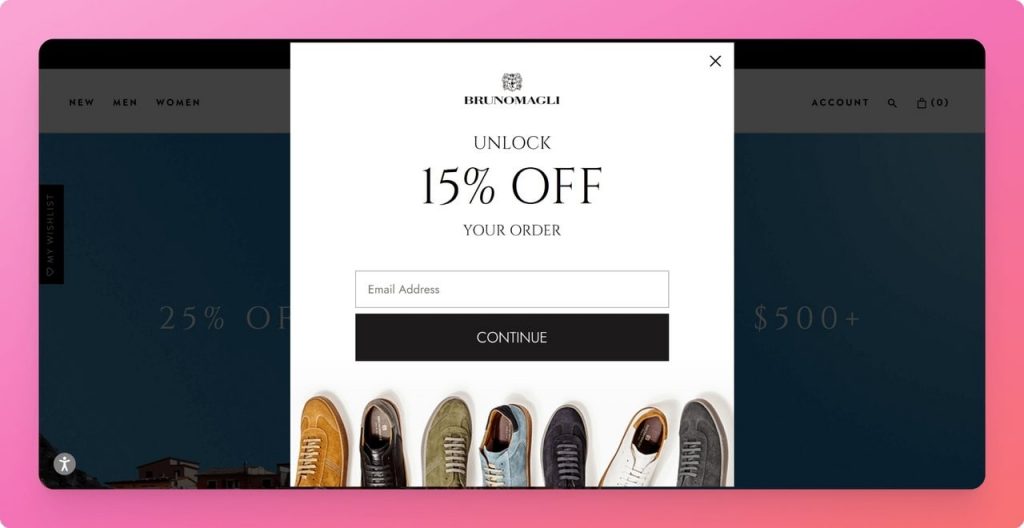 The popup is designed to entice visitors to sign up for Bruno Magli's email list and take advantage of the discount. The discount amount is prominently displayed, and the call-to-action to sign up for the email list is clear and easy to understand.
What makes Bruno Magli's discount popup so effective is that it offers visitors a tangible benefit for signing up for the email list. By providing a discount, Brunomagli is able to convert more visitors into subscribers while also incentivizing them to make a purchase.
4. MeUndies Newsletter Popup
MeUndies, an online retailer of comfortable and stylish underwear, uses a newsletter popup on its website to grow its email list.
When you visit the MeUndies website, a friendly and eye-catching popup appears, offering you a discount on your first purchase if you sign up for their email list.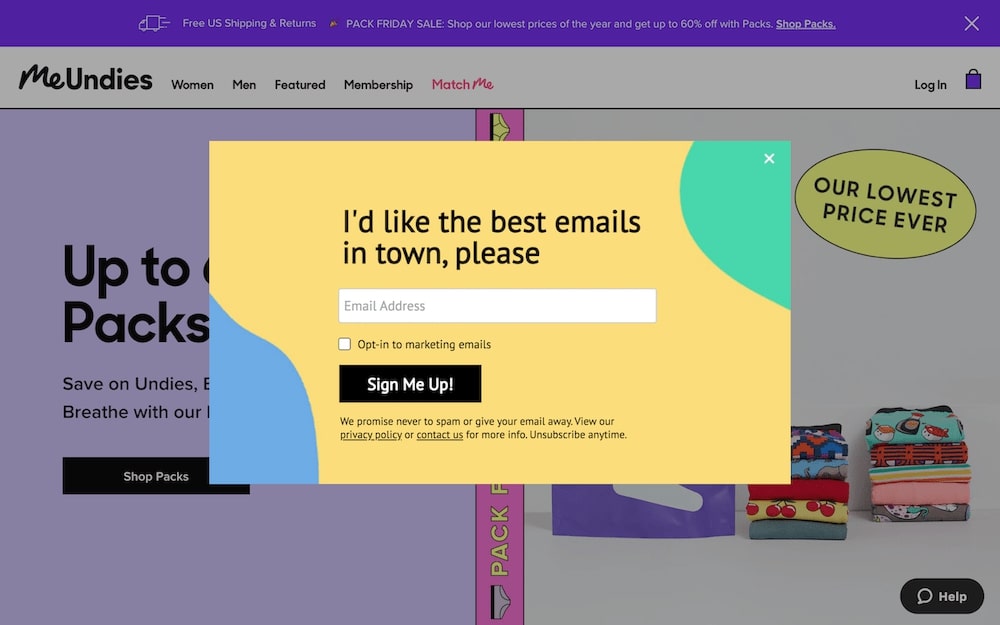 The popup is designed to entice visitors to sign up for MeUndies' email list and take advantage of the discounts and offers that the brand might release in the near future.
The call-to-action to sign up for the email list is clear and easy to understand, and there is also a checkbox for the visitors to choose if they want to receive newsletters.
This means that users get the flexibility to choose if they just want to receive regular newsletters or just sign up for the email list for discounts and offers.
5. Bonobos' Discount Popup
Bonobos use a 15% discount popup to entice its visitors to make their first purchase.
As soon as you land on the website, you'll likely see a banner pop up on your screen with a message like "Get 15% off your first order!"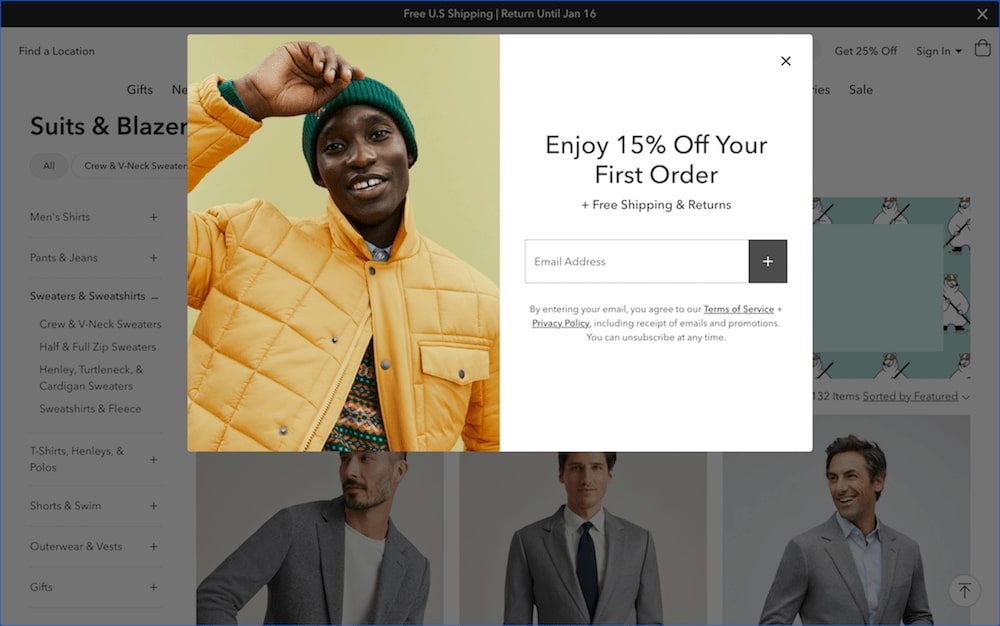 This is a way for Bonobos to offer a limited-time discount to new customers and incentivize them to take the first step and make a purchase.
The design of this popup overlay is intentionally kept simple and non-intrusive, so it doesn't interfere with your browsing experience.
Instead, the attractive offer and eye-catching design are delivered in the lightbox format, which is meant to capture your attention and get you excited about the savings you can enjoy by becoming a Bonobos customer.
6. Nike's Email Popup
Nike, the renowned athletic footwear and apparel brand, utilizes an email popup on their website to engage visitors and grow their email list.
This popup typically appears when a visitor first arrives on the site and offers them an opportunity to get inspiring content, exclusive discounts, or special offers in exchange for signing up for Nike's email newsletter.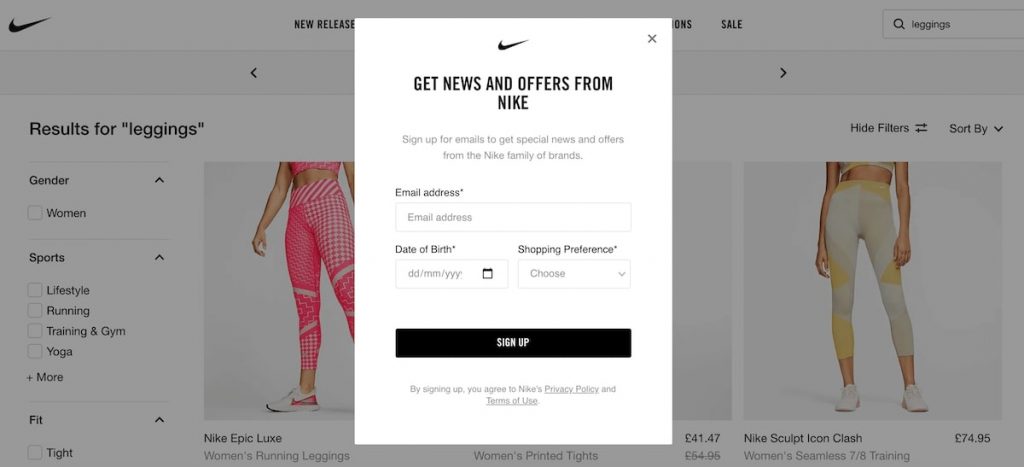 The email popup provides a quick and easy way for visitors to receive regular updates on new products, sales, and other exclusive content from Nike, while also getting a discount on their first purchase. The design of Nike's email popup is clean, simple, and eye-catching, with a bold call to action encouraging visitors to sign up.
The company also further aims to tailor the content for their visitors by asking for their date of birth and shopping preferences in the popup itself. This also helps in delivering tailored discounts and offers which further adds up to the personalization.
Also Read  - Email Popups: 40+ Examples & Strategies to explode your list
7. Cosmetic Capital's Full-Page Discount Popup
A full-page discount popup is an attention-grabbing overlay that appears on a website, usually triggered by an action such as a page load, click, or time spent on a page.
Cosmetic Capital, a retailer of beauty and cosmetic products, utilizes this type of popup to offer its customers a 10% discount on their first purchases.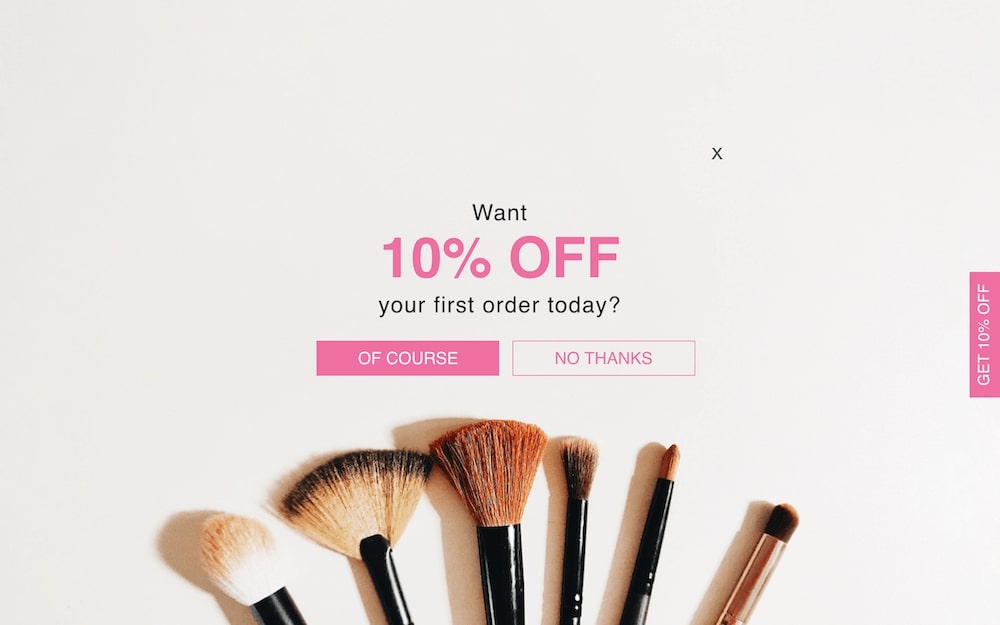 The popup typically takes up the entire screen, making it difficult for the user to ignore. It usually includes information about the discount being offered, such as a promo code or a percentage off, and a call-to-action to encourage the user to take advantage of the offer.
By offering a discount in this way, Cosmetic Capital is able to entice visitors to make a purchase and improve their conversion rate. This type of popup is a great way to boost sales and generate more revenue for the business.
8. Dolce & Gabbana's Newsletter Popup
Dolce & Gabbana is a luxury fashion brand known for its high-end clothing, accessories, and beauty products.
Their website is no exception when it comes to offering an engaging and interactive experience for its visitors.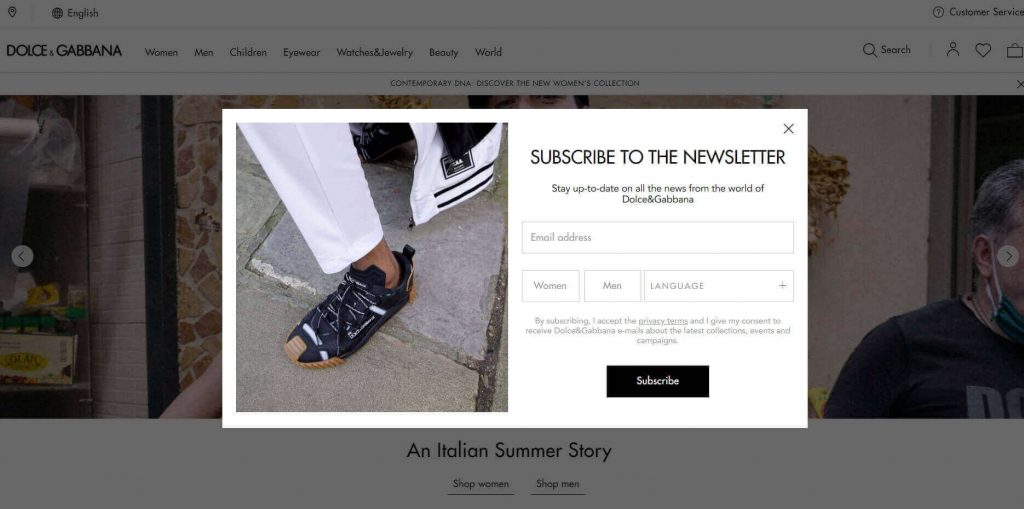 One way they do this is through their newsletter popup.
Upon visiting the website, a lightbox overlay will appear with an invitation to subscribe to Dolce & Gabbana's newsletter. The overlay features an eye-catching image of the brand's latest collection, along with a clear call to action to sign up for their newsletter.
The newsletter is a great way for visitors to stay up-to-date on the latest collections, events, and promotions from Dolce & Gabbana.
The popup also asks visitors for their gender and language preferences to provide more tailored content to their emails.
9. Cuddle Clones' Cross-Sell Popup
Cuddle Clones' cross-sell popup is a clever marketing strategy employed by the company to increase sales and enhance customer experience.
It appears as a popup overlay on the company's website and offers customers an opportunity to purchase complementary products related to the item they are viewing.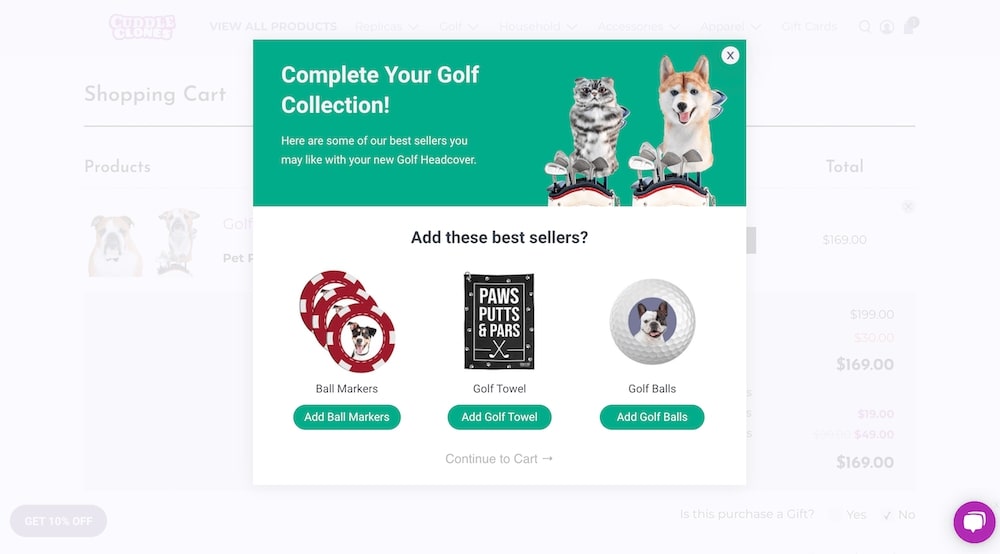 For instance, if a customer is considering purchasing a stuffed animal, the cross-sell popup might suggest purchasing a custom-made carry case for the stuffed animal.
This type of popup is designed to be engaging and persuasive, making it an effective tool for boosting conversions.
By offering relevant and complementary products, Cuddle Clones is able to increase the value of each customer purchase and improve customer satisfaction. This approach not only generates additional revenue for the company but also builds a loyal customer base.
10. Revolve's First-Time Buyer Coupon Popup
Revolve, the online fashion retailer, offers a smart and effective way of attracting new customers and boosting conversions with their first-time buyer coupon popup.
This type of popup appears when a new visitor lands on the website, offering a 10% discount as an incentive to make their first purchase.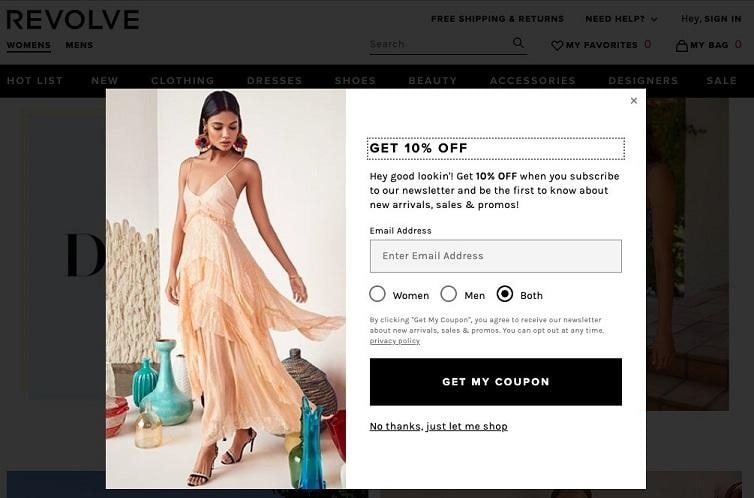 The Revolve first-time buyer coupon popup is designed to grab the attention of the visitor with a bold headline and clear call to action. It showcases the unique discount code that the visitor can use at checkout, making them feel valued and encouraged to complete their purchase.
Also, the popup asks visitors for their gender preferences so that the company can send relevant newsletters and offers to the people in their email list for higher conversions.
11. Kiss My Keto's Limited-Time Offer Popup
Kiss My Keto uses a limited-time offer popup as a way to drive sales and increase urgency among their potential customers.
This type of overlay exit popup usually appears when you land on their website, and it showcases a special offer or discount that is only available for a limited time.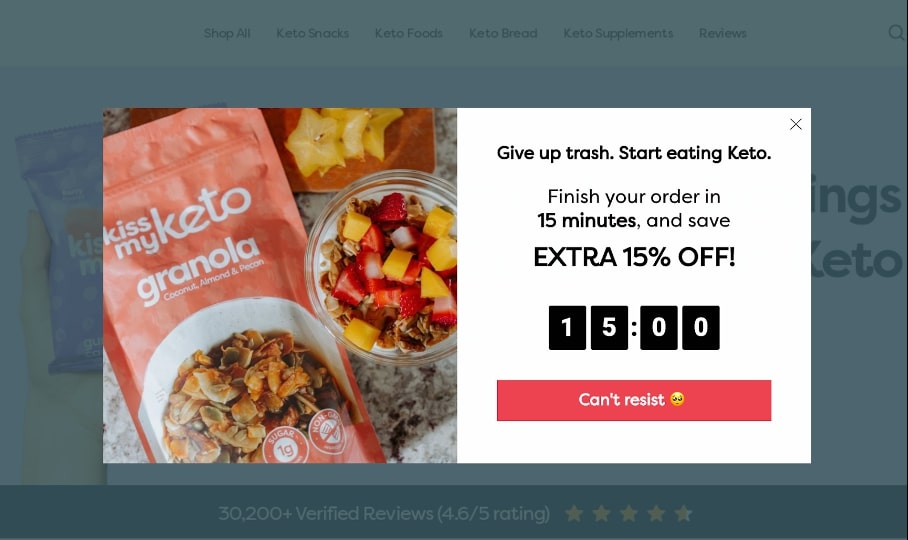 The design of the popup overlay usually consists of eye-catching graphics, a clear call-to-action, and a countdown timer that emphasizes the limited nature of the offer. The goal of this type of popup is to encourage visitors to take advantage of the deal before it's too late and potentially convert them into paying customers.
12. Tim Ferris's Free Ebook Popup
Have you ever stumbled upon Tim Ferris' website and been greeted with an overlay exit popup offering you a free ebook?
If you haven't, you're missing out! This overlay exit popup is designed to capture the attention of visitors and entice them to take advantage of Tim Ferris' offer.
The popup is usually displayed as a full-page overlay and features a bold headline that promises you a free ebook.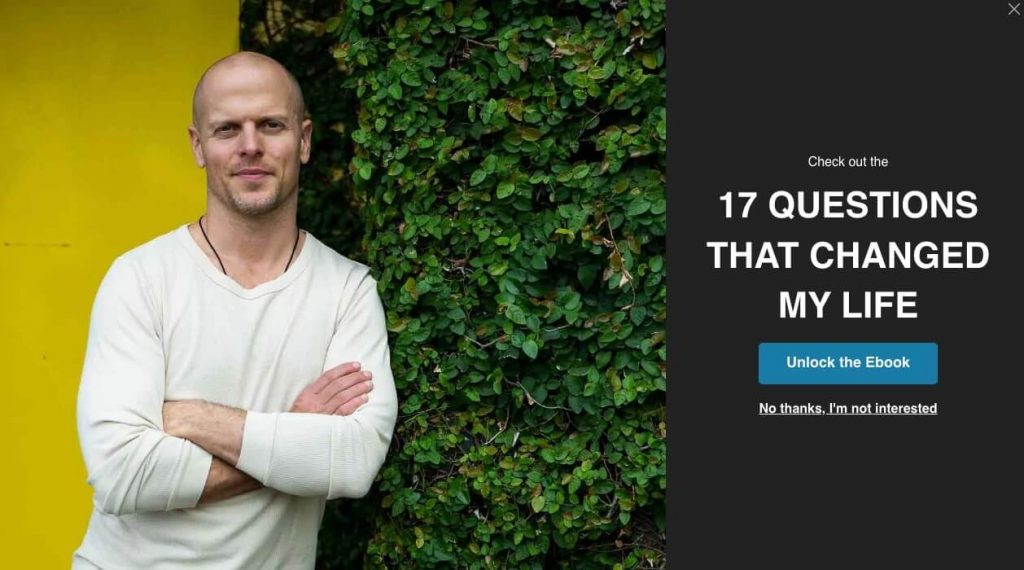 The message is clear and straightforward, and the offer is hard to resist. You're asked to enter your email address in exchange for the free ebook, and the process is quick and easy.
This popup is an effective way for Tim Ferris to build his email list and connect with potential customers.
By offering a free ebook, he's giving visitors a taste of his content and showing them the value he can provide. This can help to establish trust and build a relationship with visitors, which is crucial for any successful business.
How to Create an Interactive Overlay Popup With Picreel
Creating interactive website overlays is easy as long as you have the right tools at your disposal.
There are plenty of popup builder tools available, but we'll take Picreel as our builder of choice as it is easily the most user-friendly and capable tool out there.
Let's take a look at the steps of building website overlays:
Step 1: Create a Popup Campaign
To get started with Picreel, login and click on "Campaigns" from the left-side menu. In the middle of the screen, select "Create your campaign" or choose "New campaign" from the top right corner.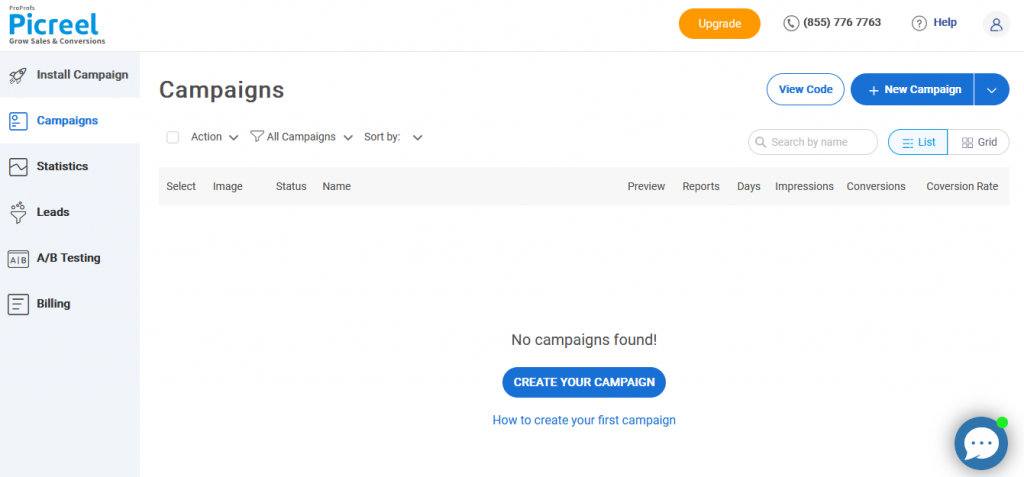 Step 2: Choose a Template for Your Campaign
After setting up your campaign, you will be taken to the template screen, where you will find more than 100 pre-built templates to choose from. You can pick any template that you like or create a new campaign from scratch. Once you have selected your preferred template, hit "Customize."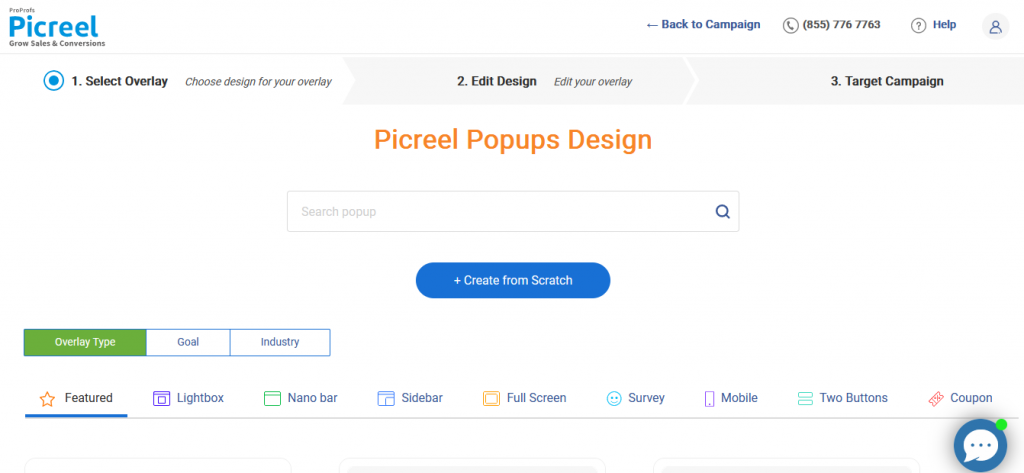 Step 3: Customize Your Popup Campaign
In this step, you have complete control over the customization of your popup campaign. You can change the layout, design, fields and text, options, banner settings, and fonts, and even personalize it with on-site data.
To get started, select "Layout" to choose the type of popup button you want to use, then move on to "Design" to adjust the size of the popup and background images.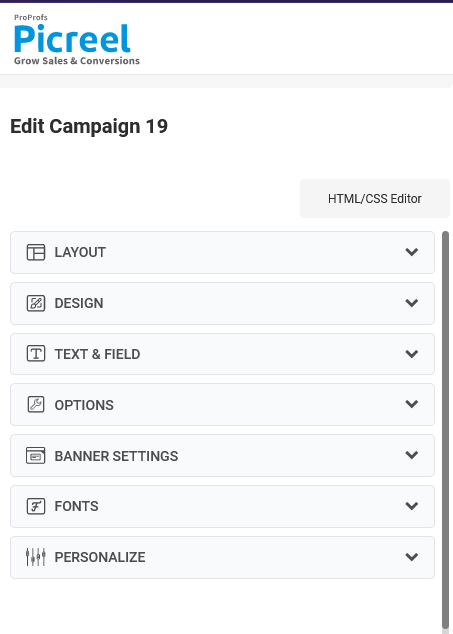 You can add or remove fields in the "Fields and text" section and customize the close button and GDPR policies in "Options." The "Banner settings" section lets you choose the type of banner to display, and you can modify the font of the text in "Fonts." Finally, in the "Personalization" section, you can personalize your popup with on-site data.
Step 4: Personalize Targeting and Triggers
In this step, you will decide where and when you want your popup to appear. Enter the URL of the website you want to target and choose to display your popups on the entire site or specific pages.

You can schedule your popups or customize the triggers based on scroll percentage, time spent on the page, or even custom CSS.

In addition, you can personalize the targeting based on returning or new visitors, their origin, geography, device type, and custom cookies. When you are finished, click "Save" to go to the "Get Started" page.

Step 5: Copy the Code Snippet
The final step is to copy the code snippet and install it on your website. Once you have done that, your popups will start working as intended.

Also, if you prefer watching a video tutorial with step-by-step instructions, here is one right below:
Deploy the Best Popup Campaigns and Boost Conversions
All-in-all, website overlays can be a powerful tool for improving conversions on your website. From offering discounts to collecting email addresses and cross-selling products, there are many different ways to use popups effectively.
By taking inspiration from the 12 examples we discussed in this article, you can create popups that are not only effective but also visually appealing. So, why not experiment with different types of popups and see how they can help you to boost your website's conversions and drive more sales?
Remember, the key to success is to make your popups relevant and user-friendly while still grabbing your visitors' attention. Happy popup experimenting!
Also, you would need a popup builder tool at your disposal, and Picreel is the one for the job. It offers simple and intuitive popup-building capabilities for users of all calibers. Picreel offers a 15-day free trial, so you can test the tool out for yourself before you make a commitment.
Do you want instant 300% growth?
Picreel popups can get YOUR website 300% instant sales growth. See Case Studies.