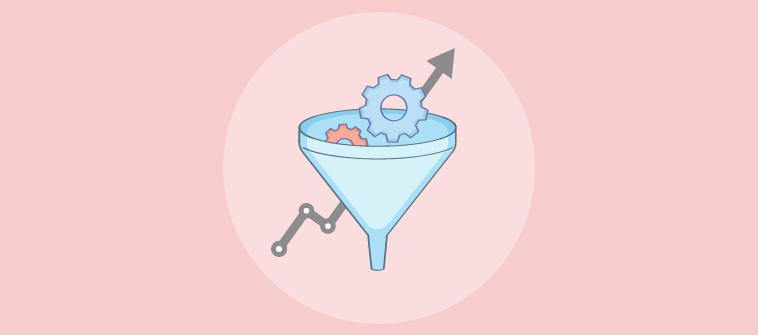 Marketing gurus and customer experience experts spend sleepless nights to make website visitors perform desired actions – fill out forms, subscribe to newsletters, or click on the Buy Now button. 
But without a CRO toolkit in place, all these efforts can go down the drain, and you may lose your precious website visitors forever. Even if you take all the information into account to analyze visitor behavior on your own, you might end up with more questions than answers. 
The best CRO software can help you avoid such hiccups and map your company's overall conversion rate. You can track what actions visitors are taking on your website, understand why they are leaving, and capture their feedback for continuous improvements. 
If you are looking to invest in a Conversion rate optinization tool, you have come to the right place. 
In this blog, we will share the top-rated CRO tools across different categories. We are sure our comprehensive list of tools will help you enhance your website performance and increase sales manifold. Let's go! 
Popups & Overlays
Popup and overlay tools offer website elements that pop up on the screen while users are browsing for the purpose of engaging, converting, and prompting them to take other actions on the website. Popups and overlays offer a great value to the users because they are designed to be extremely appealing to the visitors. 
Popup and overlay tools can help you:
Reduce bounce rate on your website

Improve customer experience and engagement 

Provide value to the visitors

Generate more leads

Improve conversions in the long run
Let's look at some of the best popup and overlay tools that you can get your hands on:
1. Picreel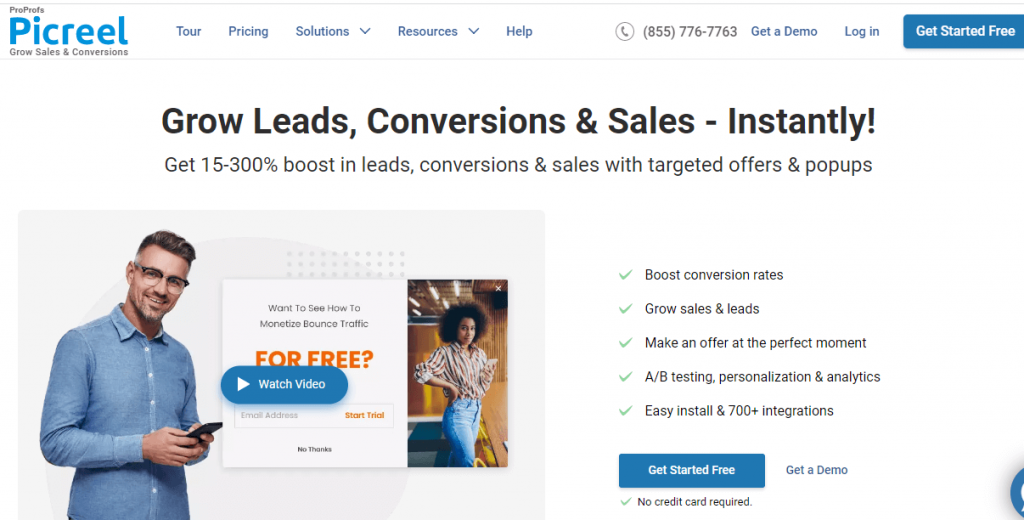 Picreel is an easy-to-use popup builder that helps your business boost conversions and sales. You can track your website visitors' digital footprint and monitor their click behavior to serve the most relevant offers to them. You can explore multiple opportunities to engage with your visitors in real-time and improve your conversion rate. 
What it's good for: You can use Picreel to design and launch beautiful popups on your website. These popups can be sued to reduce cart abandonment, recommend additional products or services to prospects, share a survey, or provide a discount offer.
Price: Starts from $39.97/month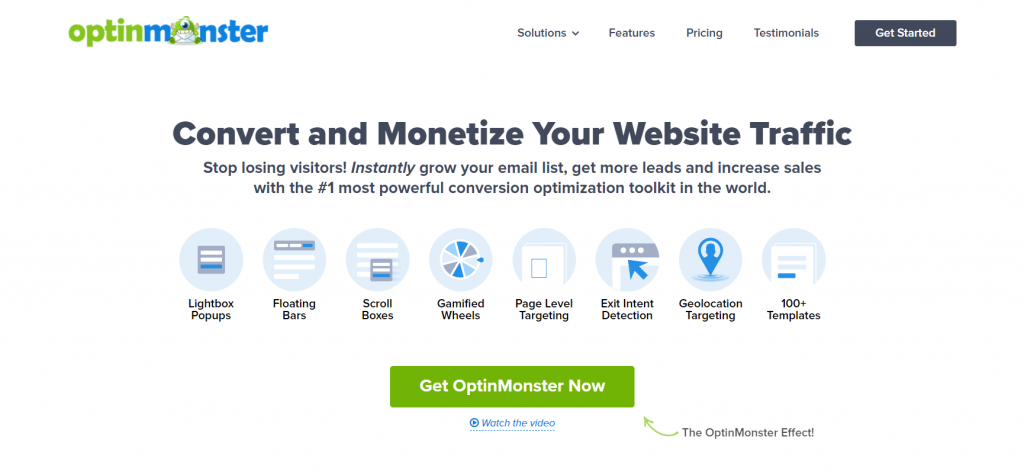 OptinMonster is a powerful conversion optimization tool that helps you grow your leads and email lists instantly. The tool offers multiple pre-built templates that are designed for maximum conversions. You can even choose to start from scratch and customize all the details with an easy drag-and-drop builder. 
What it's good for:  The tool comes with a powerful targeting and segmentation engine that helps your team present the perfect offer to the right people. Moreover, you can even split test your ideas to increase conversions. 
Price: Starts at $9/month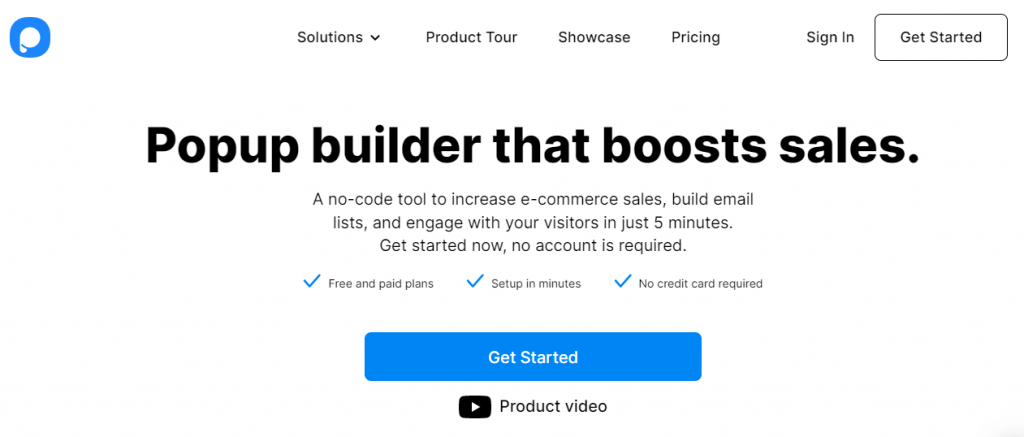 Popupsmart is a popular popup builder that helps your business engage website visitors and boost sales. The tool allows you to reduce your cart abandonment rate by persuading customers to take necessary action. You can automatically display a special offer to prospects who are about to leave the cart page with items in their cart.
What it's good for: Using this intuitive tool, you can drive your website's traffic to best-selling products, high converting landing pages, or other seasonal offers. Easily convert your visitors into shoppers by sharing attractive discount offers and coupons. 
Price: Starts at $24/month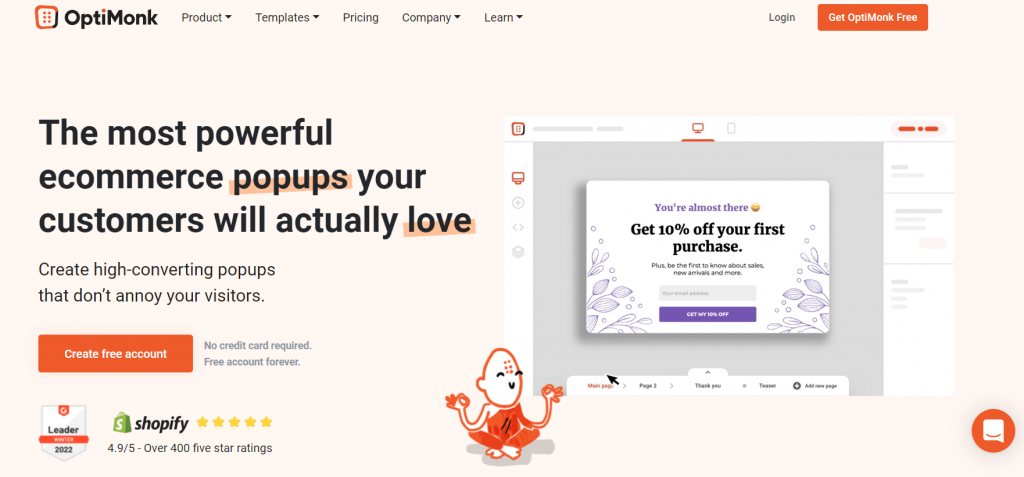 OptiMonk is a CRO tool that helps you create high-quality popups for your e-commerce site and grow leads without annoying visitors. Based on the awareness stage of your visitors, you can use popups to make announcements, recommend products or services, or engage them with a shopping quiz. 
What it's good for: The tool offers ready-to-use templates for different popups, such as welcome popups, conversational popups, ebook popups, win-a-gift popups, and many more. OptiMonk even allows you to create your email and SMS lists to grow future sales. 
Price; Starts at $29/month
Web Analytics CRO Tools 
Web analytics tools work quite similar to user behavior analytics tools as these tools are responsible for tracking, reviewing, and reporting visitor behavior data to measure web activity. Web analytics tools collect data that include traffic sources, page views, conversion rates, and more. 
Web analytics tools can also help you:
Determine the likelihood of repurchasing

Personalize the website for repeat customers

Calculate the customer value in the long run

Predict products that customers are most and least likely to buy
Some of the popular web analytics tools include: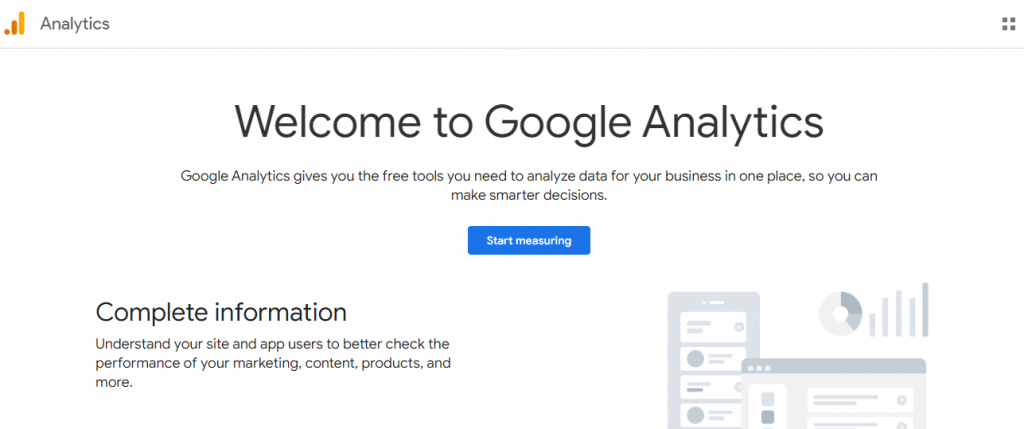 Google Analytics helps you analyze your website traffic and business data in one place so you can make better decisions. You can understand how customers interact across your sites and apps throughout their entire lifecycle. Easily connect with Google's advertising and publisher tools to reap the maximum ROI from your marketing campaigns. 
What it's good for: You can use Google Analytics machine learning capabilities to anticipate future customer actions and uncover the right insights. Quickly analyze your data and collaborate with team members with an easy-to-use interface and shareable reports.
Price; Free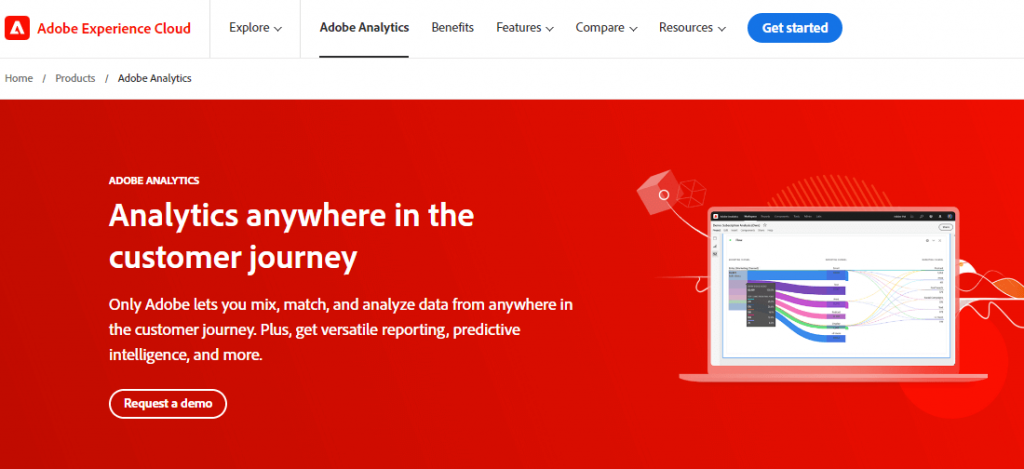 Adobe Analytics helps you convert vast streams of web data into insights that leaders and managers can act on. The tool offers insights about which content your customers will find helpful or why certain marketing campaigns are underperforming. You can measure customer pathing, content effectiveness, traffic sources, and video engagement.
What it's good for: The tool makes it easier for you to customize reports using a drag and drop feature. You can add the relevant number of data tables, visualizations, channels, metrics, or segments to any project. Moreover, With the Segmentation IQ feature, you can discover significant differences among different segments.
Price: Get in touch with the company for a quote.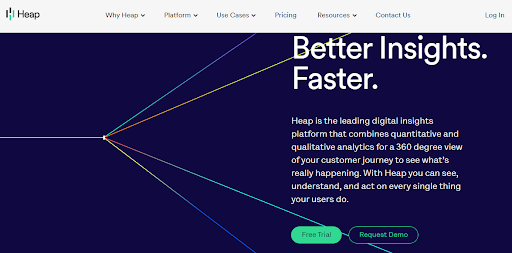 Heap is a popular digital insights platform that combines qualitative and quantitative data to give you a 360-degree view of the customer journey. Heap monitors every action visitors take on your website – where they click, where they go, and what they do. 
What it's good for: Leverage the power of more than 100 integrations to deliver the right information to the right customers at the right moment in their journey. Create user cohorts based on real actions taken on your site or app and personalize communications. 
Price: Get in touch with the company for a quote. 
User Behavior Analytics CRO Tools
User behavior analytics tools, as the name suggests, are specifically designed to understand the behavior of users. These tools gauge user behavior by monitoring website or in-app activity and provide crucial insights to improve user experience. 
Behavior analytics tools can be used for a number of purposes, including:
Understanding how users interact with the website 

Where they spend the most time

What actions do they take after clicking on a button
Here are some of the behavior analytics tools: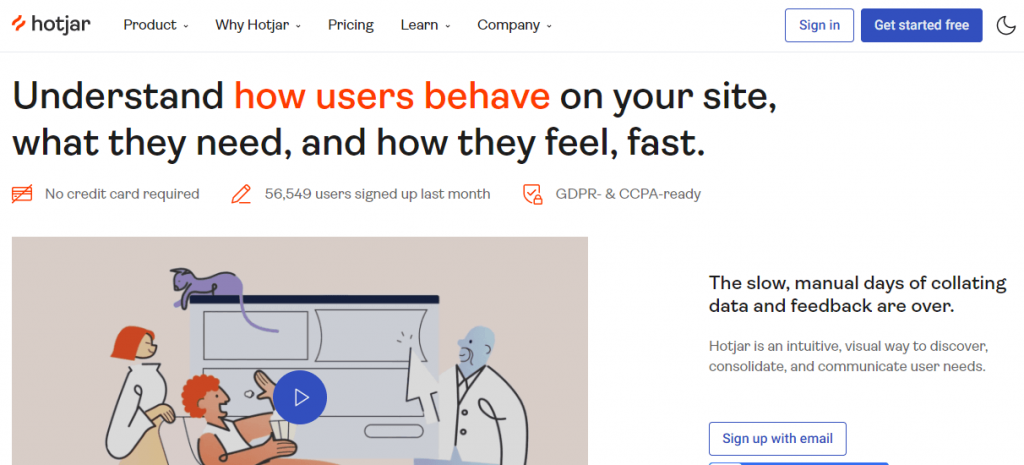 Hotjar is an intelligent tool that helps you understand how visitors behave and interact with your website. With the heatmaps feature, you can get a complete picture of where users click, scroll, and move on your site. In addition to this, you can even use session replays to view recordings of each customer visit on specific web pages. 
What it's good for: Allow website visitors to share complaints, frustration, or delight by embedding surveys on specific parts of your pages. Save time and make the most of your efforts by integrating Hotjar with impactful tools such as Slack, Hubspot, Shopify, and more. 
Price: Starts at $31/month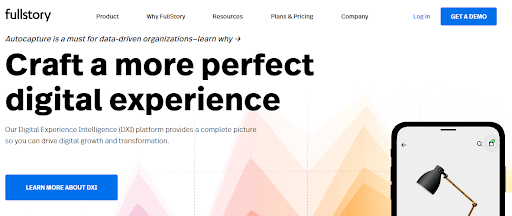 FullStory gives your team all the data and tools you need to improve the digital customer experience. You can identify issues that are impacting your revenue, understand how they are affecting customers, and leverage data to remove bottlenecks. Empower your engineers and developers to troubleshoot and remediate bugs more effectively. 
What it's good for: Access Journeys to visualize common paths visitors take through your product, understand insightful patterns in behavior, and identify hidden friction points. With an open API and multiple integration options, FullStory connects seamlessly with your existing business tools. 
Price: Get in touch with the company for a quote.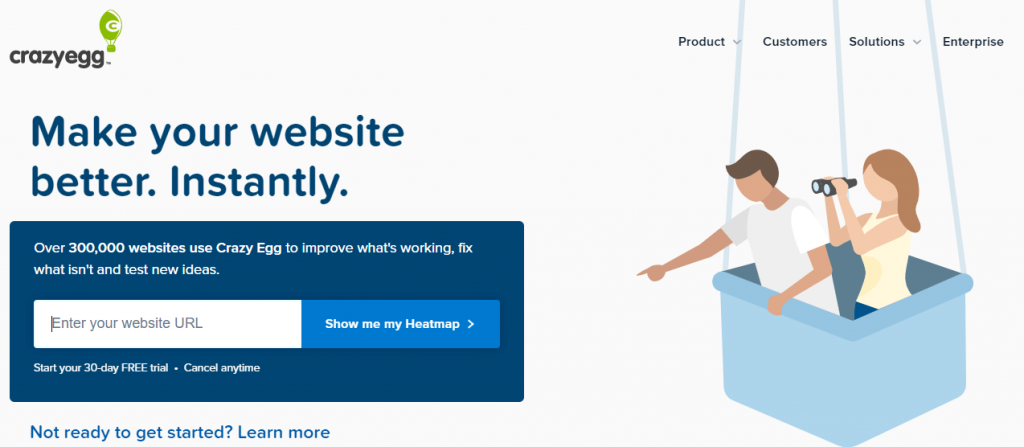 Crazy egg is one of the most popular website and conversion rate optimization tools in the market. The tool helps you get a 360-degree view of the customer journey with the help of snapshots, heatmaps, and session recordings. Moreover, the tool allows you to add all your team members to this platform free of charge. 
What it's good for: Follow easy steps to get a clear picture of how your marketing channels and traffic sources are performing. Compare the traffic against each website page and identify your top-performing web pages instantly. 
Price: Starts at $29/month
Live Chat Tools 
Live chat tools offer a real-time communication channel that connects a customer to a support executive. The executives can use contextual and timely messages to guide those customers through their product journey. Besides customer support, live chat tools also help increase retention and conversion. 
Live chat tools are beneficial for:
Providing a streamlined customer service

Connecting with multiple customers at once

Enhancing user experience

Solving customer queries instantly
Here are some of the popular live chat solutions: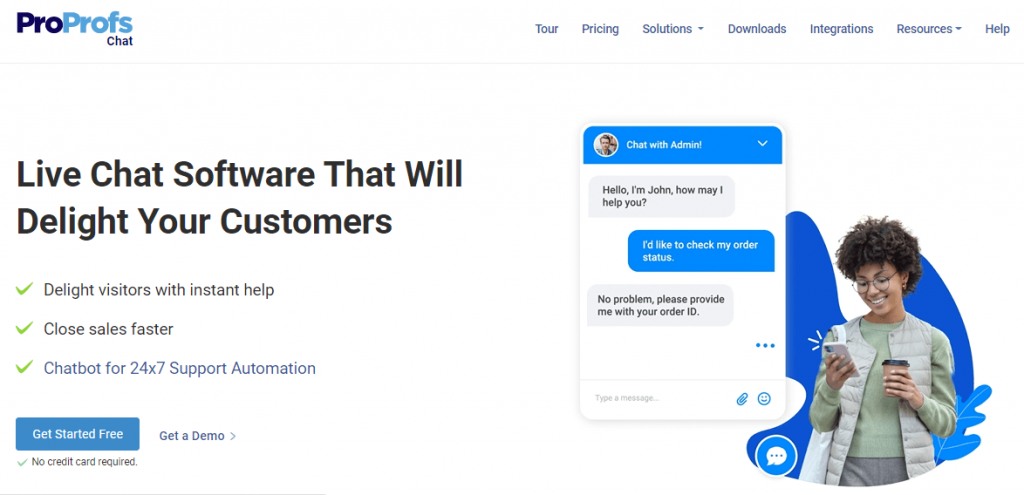 ProProfs Chat can help you interact with website visitors in real-time, address their queries, and assist them in making the best purchase decisions. Chat operators can view what the customer is typing even before they hit send and easily transfer chats to team members for faster resolution. You can also add self-help articles in the chat widget to offer instant help.
What it's good for: The best part about ProProfs Chat is that it allows you to build powerful chatbots for your website. You can use ready-to-use chatbot templates for appointment booking, lead generation, and many more. You can edit the conversation flow based on your needs or build your own from scratch. 
Price: Starts at $10/operator/month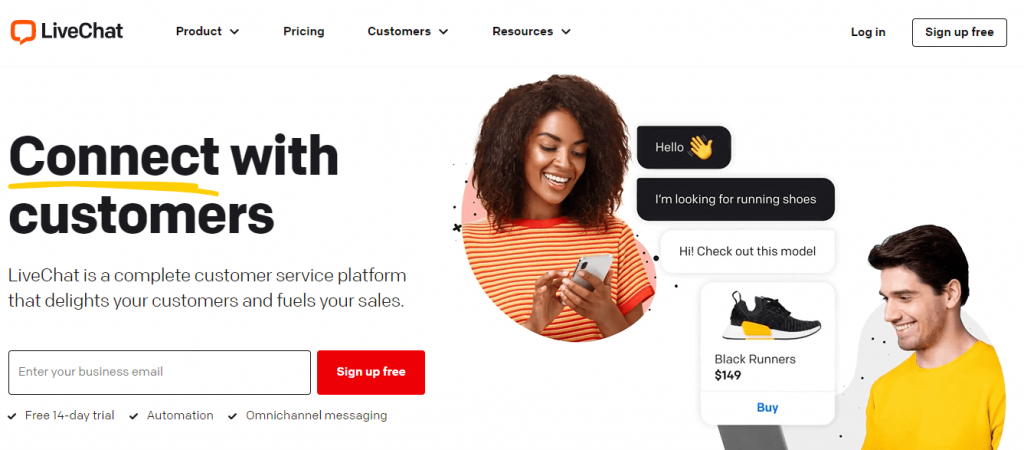 LiveChat is another popular chat software that helps you interact with web visitors and improve the conversion rate. Right from the chat window, you can share your goods in elegant product cards and increase sales. The tool even allows your team to track sales automatically to see precisely how chats boost revenue.
What it's good for: You can use AI-powered chatbots to automatically greet customers and route chats to the most relevant operators. LiveChat's bots can also be used to generate leads, create support tickets, and manage chats across multiple channels. 
Price: Starts at $16/agent/month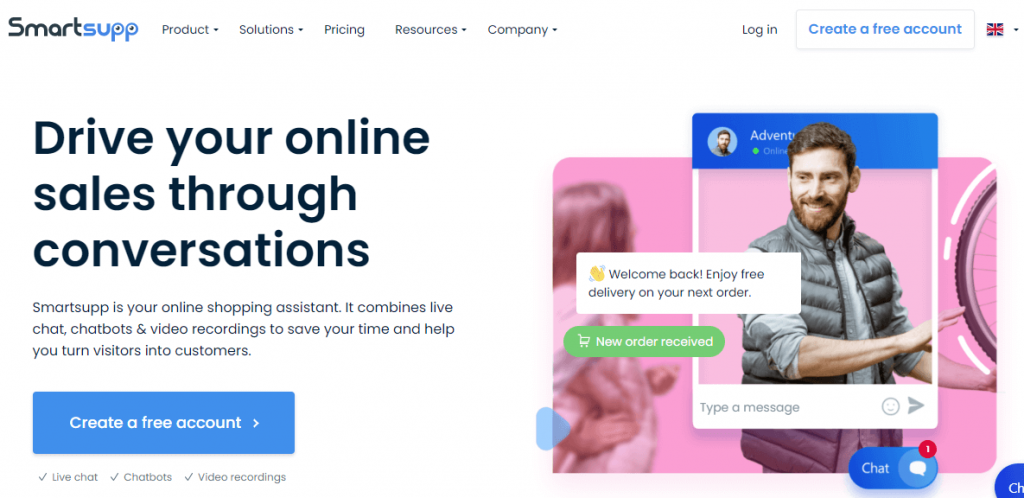 Smartsupp combines the power of live chat, chatbots, and video recordings to help you turn visitors into customers. The tool helps you make the most of customer data to personalize interactions at scale and delight your shoppers. In addition to live chat, you can manage email and Facebook conversations – all in one convenient place. 
What it's good for: You can stay in touch with your customers even on the move with the help of an intuitive mobile app. Leverage video recordings to get a better understanding of your customers' behavior and improve the online shopping experience.
Price: Starts at $19.5/month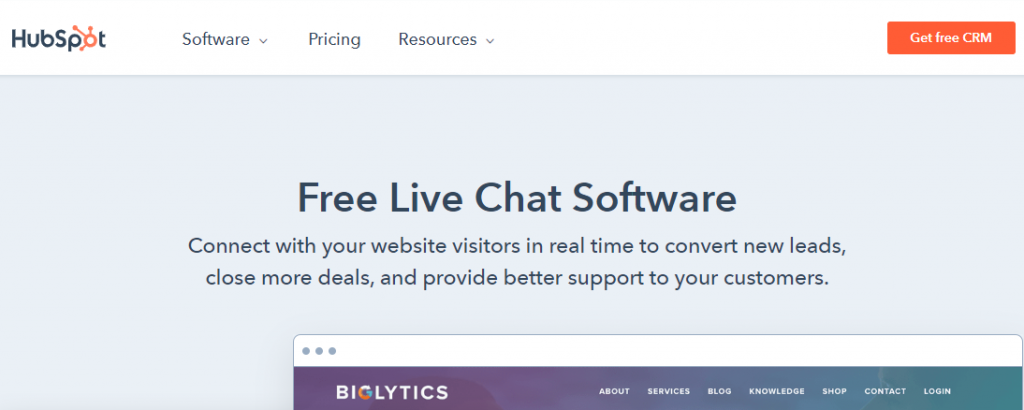 As one of the leading chat tools, HubSpot helps you automatically connect chatters to the right people in your team. For example, you can easily route help desk inquiries to your customer service team or pass leads to the sales team, who can qualify those leads. 
What it's good for: With HubSpot Live Chat tool, you can customize your chat widget to match the look and feel of your brand. You can even create different welcome messages for different web pages or customer segments. 
Price: Starts at $45/month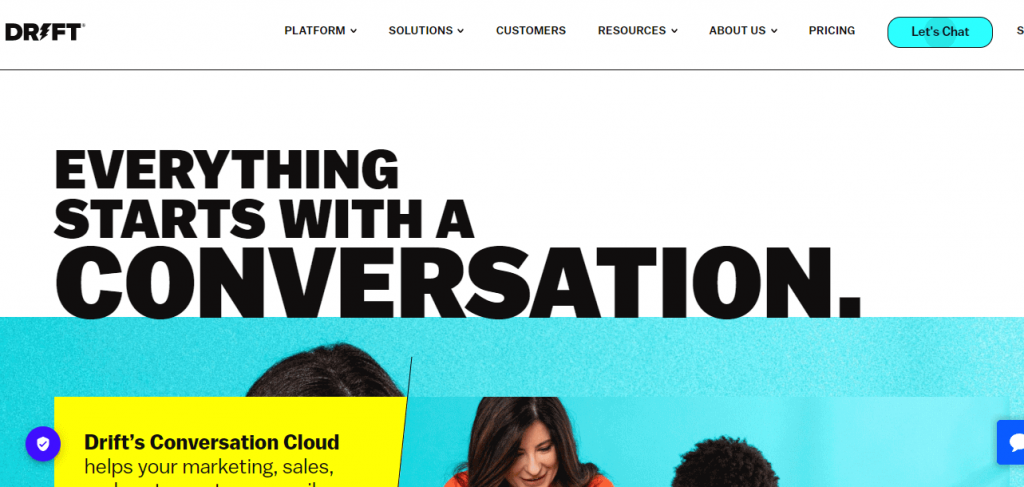 With Drift's live chat tool, you can significantly improve website conversion rates, reduce your sales cycle, and engage more customers. You can welcome your VIP customers with a personalized greeting message and let them instantly schedule a meeting. You can even create multiple Drift inboxes to manage different types of conversations. 
What it's good for: Offer your visitors Chat to Call or Chat to Zoom options and allow them to instantly start a phone call with your team. Moreover, with Drift Meetings, you can give buyers the option to book a meeting whenever they want. 
Price: Get in touch with the company for a quote. 
Customer Feedback and Survey Tools 
Customer feedback and survey tools are responsible for collecting, organizing, and analyzing customer feedback data to help users make data-driven decisions. A customer feedback tool can help businesses engage directly with their customers and also give them a great opportunity to quantify customer feedback and satisfaction. 
Customer feedback tools can help you:
Deliver a better customer experience

Measure customer satisfaction

Improve your products and services

Increase retention 

Improve conversion rate
Let's take a look at some of the most popular customer feedback and survey tools: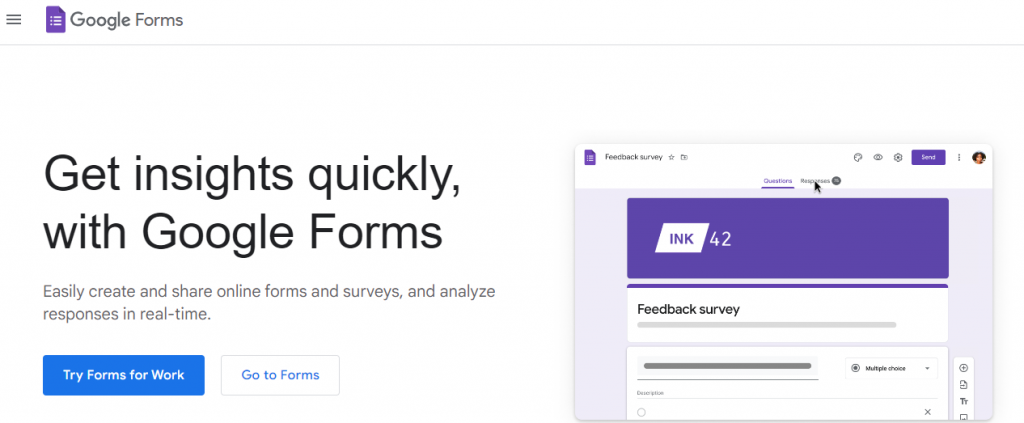 Google Forms is a popular customer feedback tool that helps you share forms and surveys in easy steps. You can select from multiple question types and use a simple drag-and-drop feature to reorder the arrangement of your questions. 
What it's good for: Customize the images, colors, and fonts of your forms to match them with your organization's branding. You can even add custom logic to show questions based on someone's response. 
Price: Free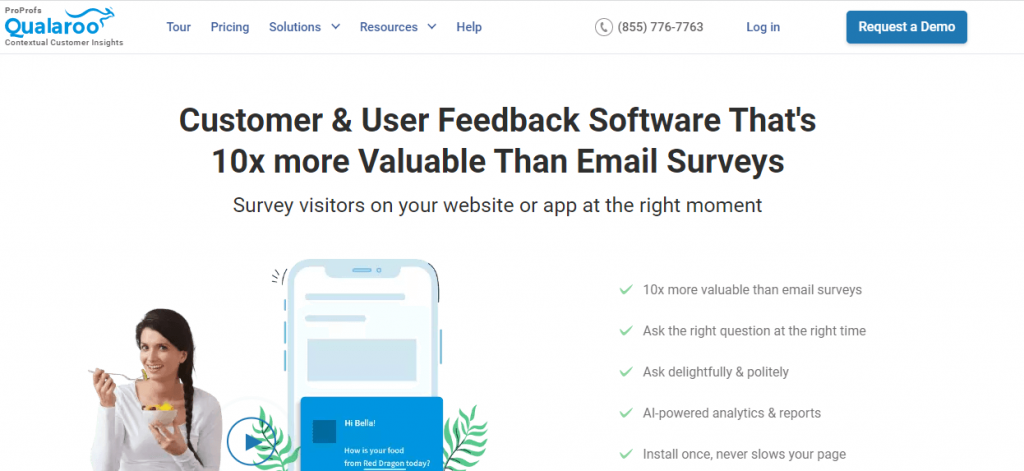 Qualaroo is another powerful tool that helps you survey your website and app visitors in real-time. With the help of Qualaroo nudges, you can understand what customers and prospects think of your website while they are using it. 
What it's good for: Target your visitors based on their behavioral patterns, locations, and the actions they take on your website or mobile app. You can easily get started with professionally designed questions and templates or create your own from scratch. 
Price: Starts at $80/month

SurveyMonkey is another leading survey software that deserves to be on your list. You can access their vast library of expert-written survey templates for customer satisfaction, market research, brand awareness, employee evaluation, customer service, and other surveys. 
What it's good for: Manage all your survey data in one place with advanced security and control. You can enable your team members to access survey response data and share it with key stakeholders. 
Price: Starts at $25/user/month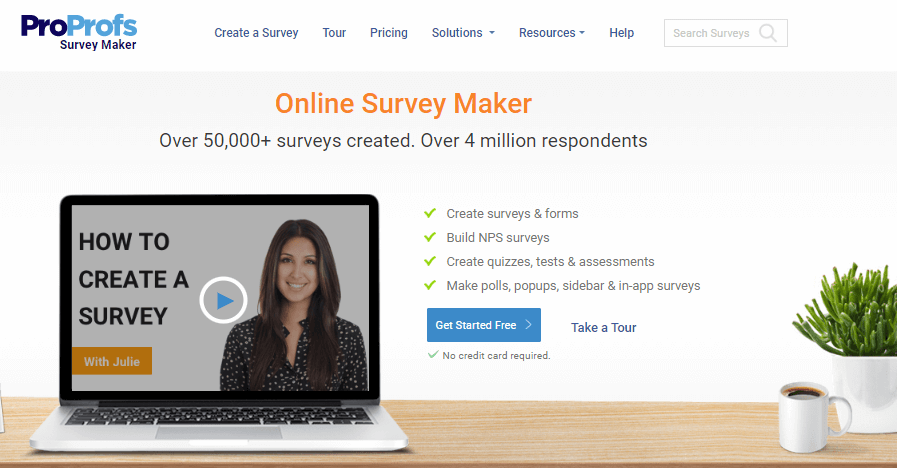 ProProfs Survey Maker is an easy-to-use customer feedback tool that can help you share professional-looking surveys in a matter of minutes. With over 100+ beautiful templates and 100k+ pre-designed questions, you can create visually stunning surveys that your customers can't skip. 
What it's good for: Thanks to the versatile nature of this tool, you can create surveys, forms, polls, popups, sidebars, quizzes, and a lot more. Explore different question types such as multiple-choice, checkbox, NPS, text box, rating scale, etc. 
Price: Starts at $0.05/response/month
A/B Testing CRO Tools 
A/B testing tools use a snippet of code to decide which variation of the webpage each visitor will look at. Commonly, A/B testing tools work with two variations of a page and direct almost 50% of the audience to one variation and the other 50% of the audience to the other variations to see which one performs better. 
The code that A/B testing tools work with can be placed server-side or client-side; however, most of the time, it is placed client-side by the A/B testing tool itself. 
A/B testing tools are responsible for:
Diverting traffic to different variations of the website

Altering the webpage code depending on the variant

Tracking cookies of the variant users are opted into
Let's look at some of the best A/B testing tools for improving conversions:

VWO is a CRO platform that is used by thousands of global brands to run A/B tests on their websites, apps, and products. If you run an e-commerce store, you can use VWO to anticipate shopper concerns and make relevant changes to optimize each stage of their purchase funnel.
What it's good for: Efficiently manage your experiments pipeline and monitor the status of all your planning, running, and completed experiments in one place. You can even compare different metrics for multiple user segments to gain valuable insights. 
Price: Get in touch with the company for a quote.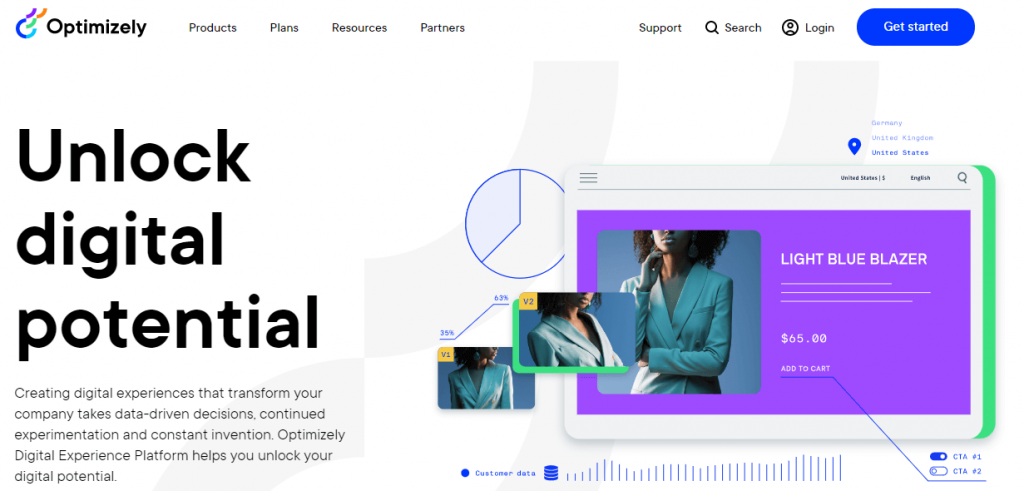 Optimizely helps your business create seamless digital journeys for your customers. With web A/B testing functionalities, you can use customer sentiment and behavior to eliminate guesswork and drive your decision-making. Moreover, you can convert captured data into real-time customer profiles for better engagement. 
What it's good for: Run fast website experiments by moving processing from your browser to the edge (CDN). Uncover insights to reduce your customer acquisition costs without increasing advertising or marketing costs. 
Price: Get in touch with the company for a quote.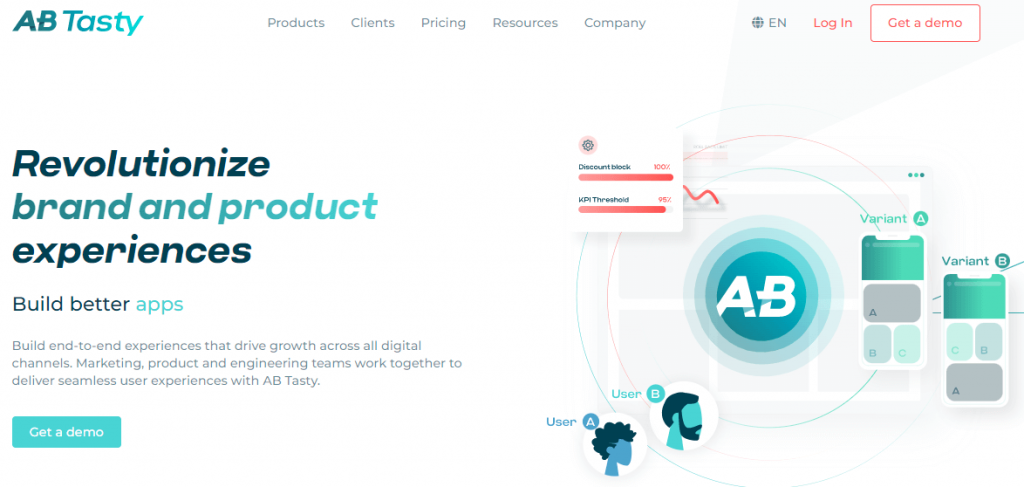 AB Tasty is AI-powered experimentation and product optimization tool that helps you understand which messages and features drive the most engagement. Users can leverage AI-powered psychographic and engagement-based segmentation to share custom messages and features with specific audiences. 
What it's good for: Control how product features are released and monitor their impact on the user experience as well as business KPIs. With more than 25+ integration options, you can seamlessly connect AB Tasty with your team's tool stack. 
Price: Get in touch with the company for a quote.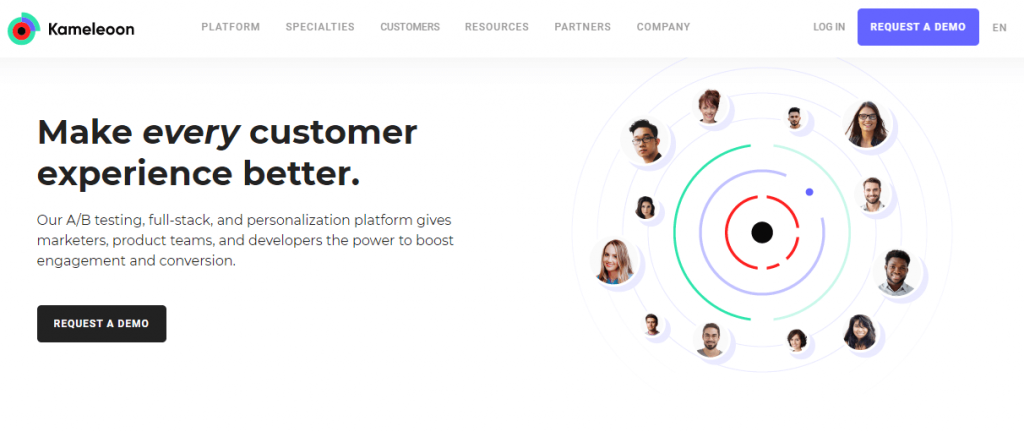 Kameleoon is an A/B testing and personalization tool that is designed for multiple teams. Marketers, developers, and product teams can A/B test web pages or products to boost customer engagement and drive conversion. Leverage Artificial Intelligence (AI) to deliver a unique, personalized experience to every visitor. 
What it's good for: In simple steps, test your content copy, design layout, or entire pages for different channels and devices without compromising on performance. The tool allows you to run experiments in real-time and roll out new p roduct features with confidence. 
Price: Get in touch with the company for a quote. 
Conversion Funnel Analyzer CRO Tools
Conversion funnel analyzers map the flow of your website visitors to a combination of specific funnel steps that eventually lead to signups or conversions. Businesses all over the world use conversion funnel analysis tools to track user journeys throughout their website and optimize to check the efficiency of each funnel step.  
A conversion funnel analyzer will allow you to:
Show which areas of the funnel need work

How many users make it from one step to the next

Identify non-converting areas
Let's look at some of the most popular conversion funnel analysis tools out there: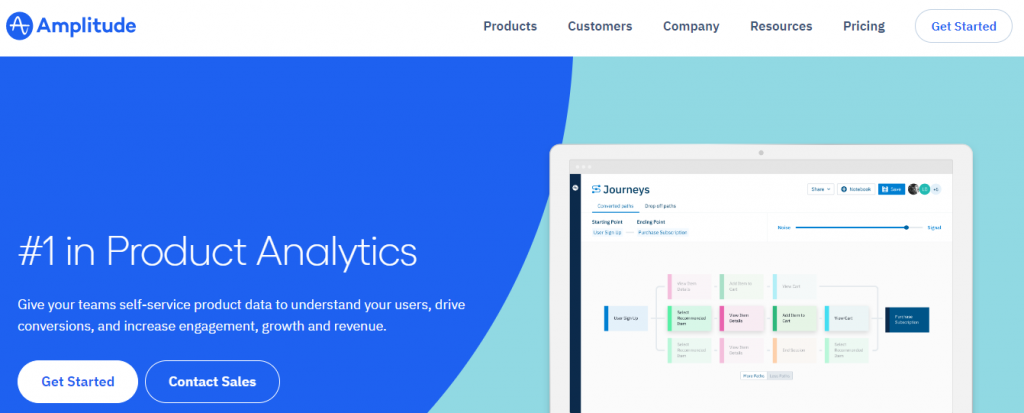 Amplitude is a popular product analytics tool that offers your team all the data needed to understand your users, drive engagement, and grow revenue. This powerful tool helps you understand and predict which combinations of product features translate to higher revenue, customer loyalty, and lifetime value. 
What it's good for: Uncover real-time insights to adapt and personalize each individual experience. Enhance visibility by bringing customer engagement data to every team – product, development, or marketing. 
Price: Get in touch with the company for a quote.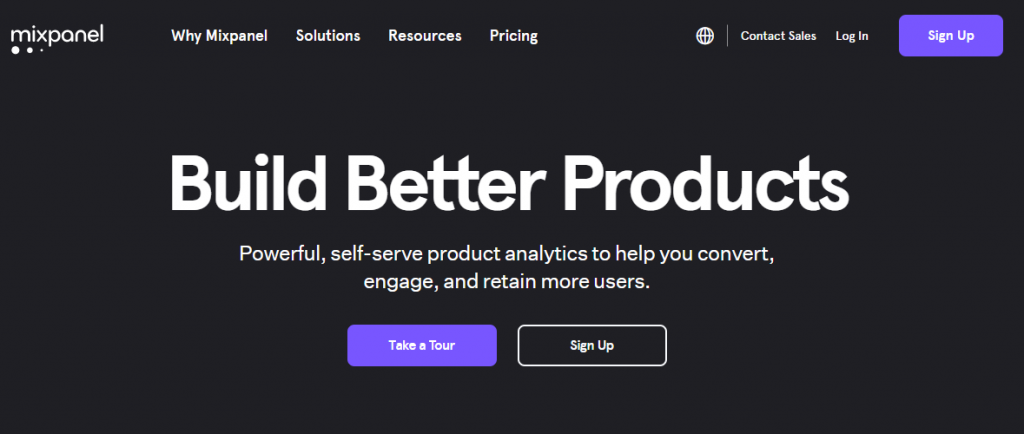 MixPanel is another powerful, self-serve product analytics platform that helps your business engage, convert, and retain more users. With the help of real-time reports and analytics, your team can identify the most popular features, your topmost users, and other behavioral trends needed for long-term customer retention. 
What it's good for: Build retroactive funnels to analyze precisely where and why users drop off while using your product. Easily identify the types of users that stick along for the maximum time and focus your efforts on them. 
Price: Starts at $25/month

As a leading website analytics tool, Clicky offers a simple platform to monitor, analyze, and understand your web traffic in real-time. With the help of this tool, you can analyze website metrics such as total visitors, average time spent by a visitor, total time, bounce rate, recent visitors, page views, and a lot more.
What it's good for: Generate and view heatmaps by visitors, pages, or specific segments and identify the key areas of your website. Monitor your website uptime and receive automated alerts whenever your website goes offline and is inaccessible. 
Price: Starts at $9.99/month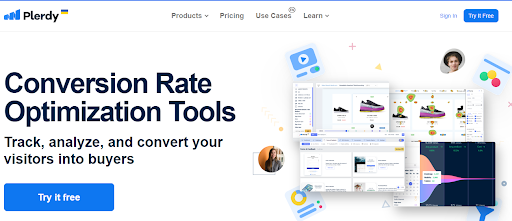 Plerdy is conversation rate optimization software that helps you see your website from your users' perspective. If you are a web marketer, you can make the most of Plerdy's session recordings feature. You can find out how visitors navigate your website, playback the moves they make, and spot every crucial action. 
What it's good for: Use the heatmap feature to record every scroll and click made by visitors to your website. Identify flaws in your website design and uncover reasons for low conversation rates. Moreover, you can even conduct technical SEO audits of your website. 
Price: Starts at $23/month

Packed with powerful features and a simple interface, Woopra helps you track and improve the entire customer journey. You can seamlessly track and unify data across multiple internal departments such as sales, marketing, product, and support. Create People Profiles to examine every user and every action they take on your website in real-time. 
What it's good for: Automate your workflows to save time and enhance productivity. For example, you can automatically share NPS surveys with users who have been active in the last 90 days. Discover how key metrics change over time with the help of trend reports. 
Price: Starts at $349/month
CRO Testing tools 
Conversion rate optimization (CRO) tools monitor how your users interact with your website by collecting the interaction data to help you identify potential changes that you can make on your website to increase conversions. 
In simple terms, CRO tools help you:
Uncover reasons behind why your users don't convert.

Identify possible improvements to eliminate problem areas on your website.

Testing those improvements for monitoring changes in your conversions. 
You cannot solve a problem unless you identify it. Without CRO tools, it's extremely difficult to understand why your visitors leave without making any purchase or taking action on your website.
Here are some tools you can use for conversion rate optimization: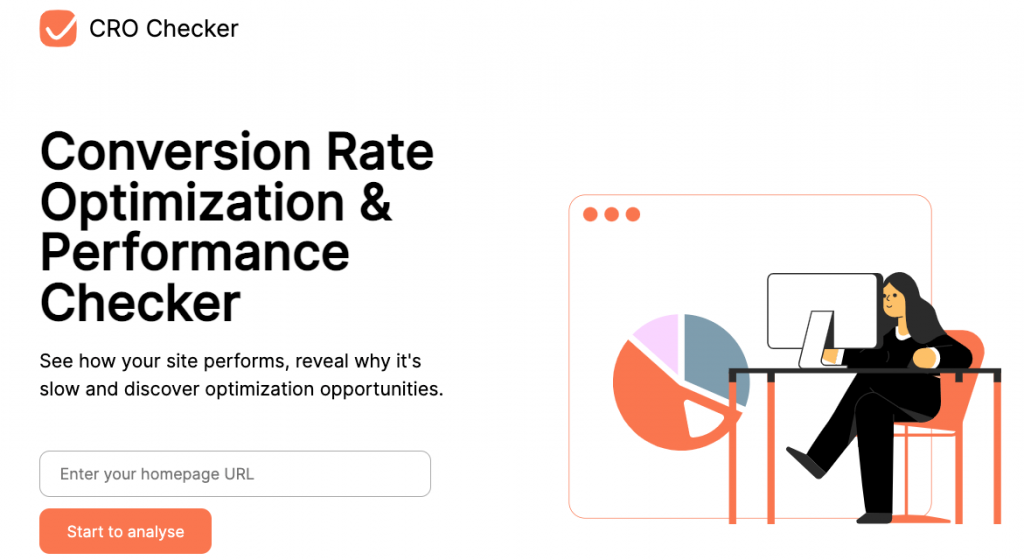 CRO Checker is a completely free and one of the most popular website performance analytics and CRO tools that help you understand how your website performs and also uncover potential optimization opportunities to improve your conversion rates. 
What it's good for: Run free tests on your website to detect anomalies and problem areas that hamper conversions. Get free conversion optimization tips on the home page without looking too much. Get started by simply pasting the URL of your website. 
Price: Free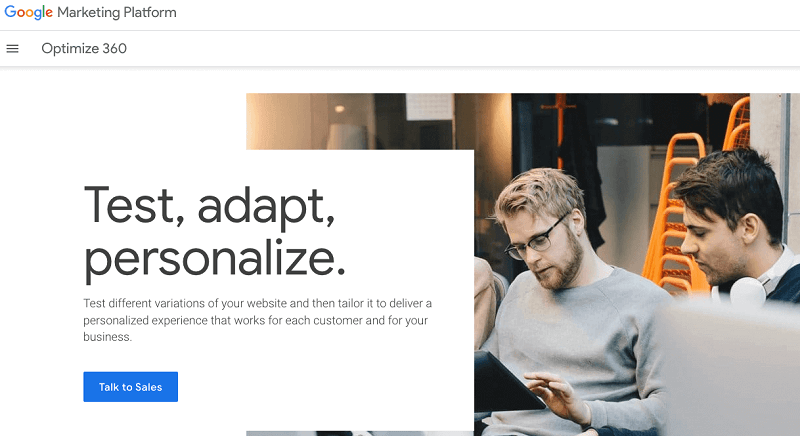 Google Optimize is another very popular and free conversion rate optimization tool that works in conjunction with Google Analytics to provide an in-depth analysis of your website to highlight conversion problems and areas of improvement to help you improve your website experience. 
What it's good for: Run A/B tests, multivariate tests, Split URL tests, and more to find the best performing variant of your website. Easily set goals and track performance with the help of real-time performance statistics.
Price: Optimize is free to use. Contact sales for Optimize 360 pricing plans.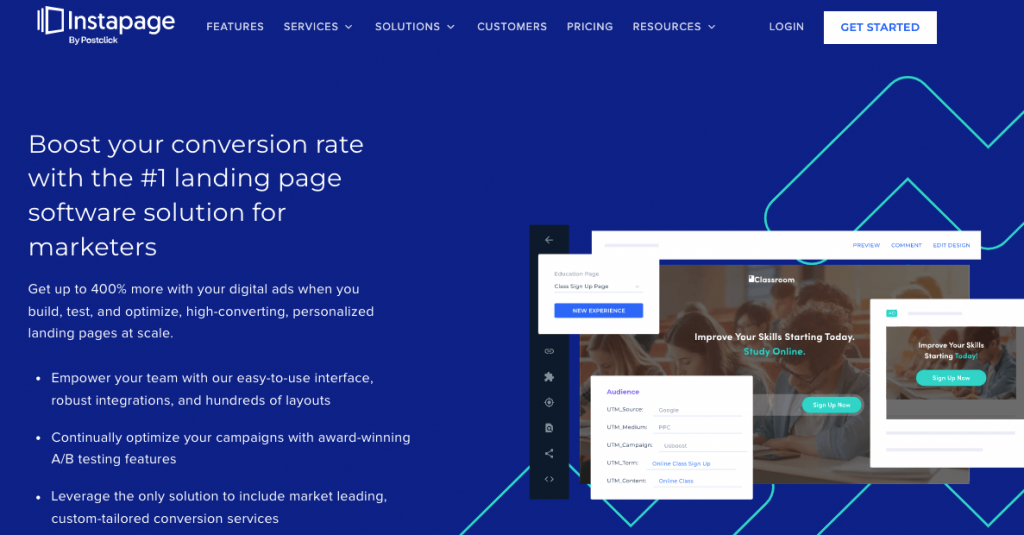 Instapage is another one in the lineup of advanced CRO tools that allows you to create high-converting and amazing landing pages and A/B testing them for maximum performance. 
What it's good for: Create unique, personalized, and mobile responsive landing pages without writing any code or needing a developer. Analyze user interactions with ease using heatmaps and built-in analytics. 
Price: Starts at $199 for 30k unique visitors per month. Contact Sales for custom plans.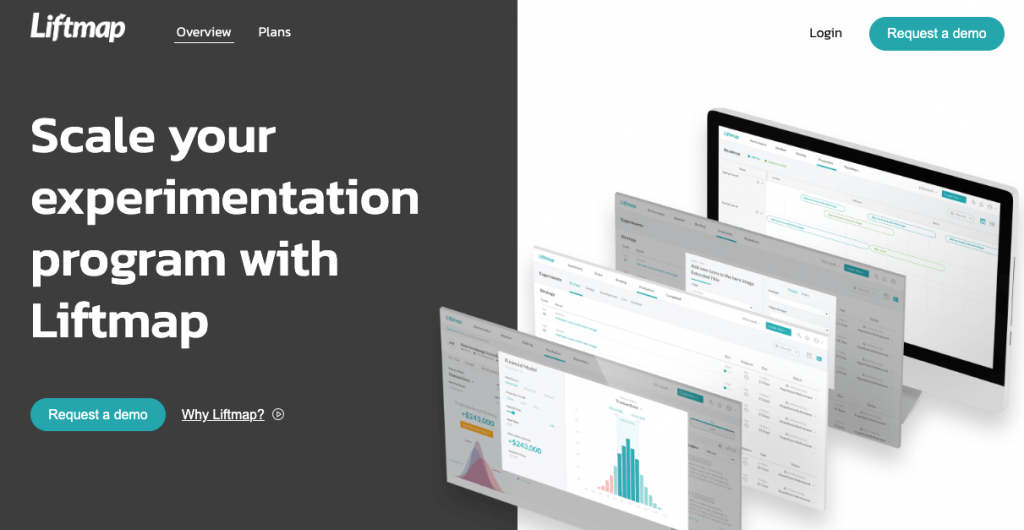 Liftmap is another very promising conversion rate optimization tool that helps CRO and experimentation managers scale their testing programs seamlessly. With Liftmap, you can easily collaborate with your team members, create result-oriented reports and share your insights with everyone. 
What it's good for: Keep all your experiment communications in a centralized location. Easily conduct high-fidelity experiments by tagging team members in comments, assigning roles, tracking workload and activity, and documenting the entire process. 
Price: Contact Sales for pricing plans.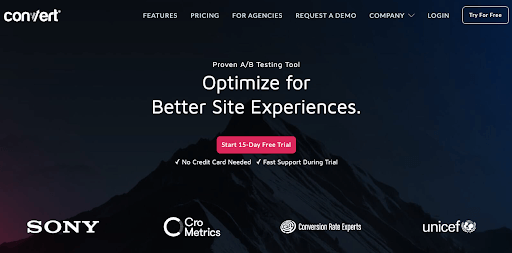 Convert Experiences is very similar to the tools in this lineup as it allows you to collect your website visitors' data to clearly identify their interests and deliver better experiences to them. Convert is a crucial addition to marketing assets for companies looking to improve customer experience, reach more prospects and increase conversion. 
What it's good for: Conduct A/A tests, split tests, multivariate tests, and more to easily pick what works best for your visitors. Swap images, redesign menus, and configure different settings on your website with the easy-to-use visual editor. 
Price: Starts at $149 for 1k unique visitors per month.  
Tools for Social Proof
Social proof tools are used to ease potential consumers' minds by showing how others are using and enjoying the products and services. 
Social proof is a popular marketing technique that these tools deploy to help consumers overcome their paranoia about investing in a product or service. 
Social proof works by:
Creating an urgency through FOMO (fear of missing out)

Convincing people through solid evidence 

Leveraging human behavior for the highest impact
Here are some of the best social proof tools for you to try: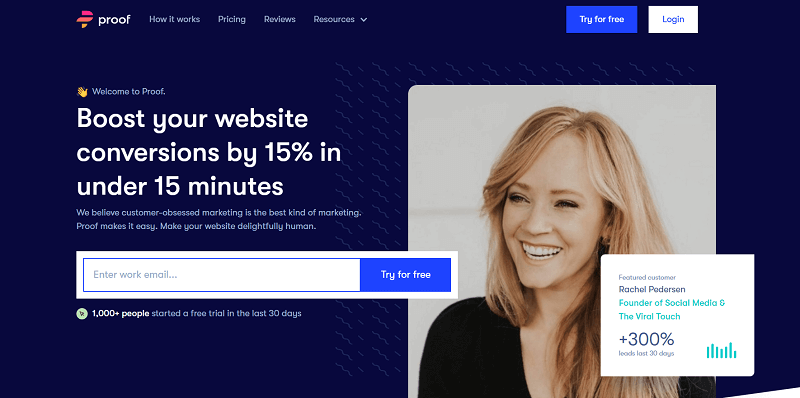 UseProof is a compelling social proof and one of the best CRO tools that can help you boost your conversion rate optimization efforts. Apart from basic social proof functions, you can also easily gauge the number of people who have taken action on your website through the "Hot Streak" feature. 
What it's good for: Create scarcity using live visitor count and see all the recent activity on your website. Conduct A/B testing by splitting the traffic and showing live visitor count and geo-targeted activity notifications to create urgency. 
Price: Starts at $79 for 10k unique visitors per month.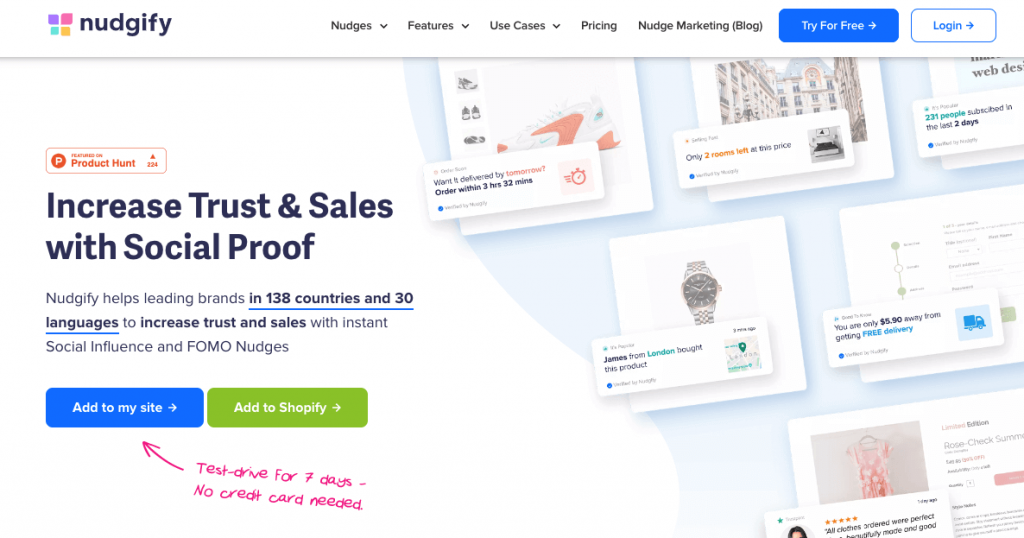 Nudgify is an extremely user-friendly social proof tool and a conversion rate optimizer that you can use to announce sales, show the best customer reviews, and display FOMO notifications to create urgency alongside other social proof elements. 
What it's good for: Show recent sign-ups and conversions and get the real-time stock data through an automatic feed. Build customer Nudges and take visitors from one page to another using Nudge links. 
Price: Starts at $0.99 for 2k unique visitors per month.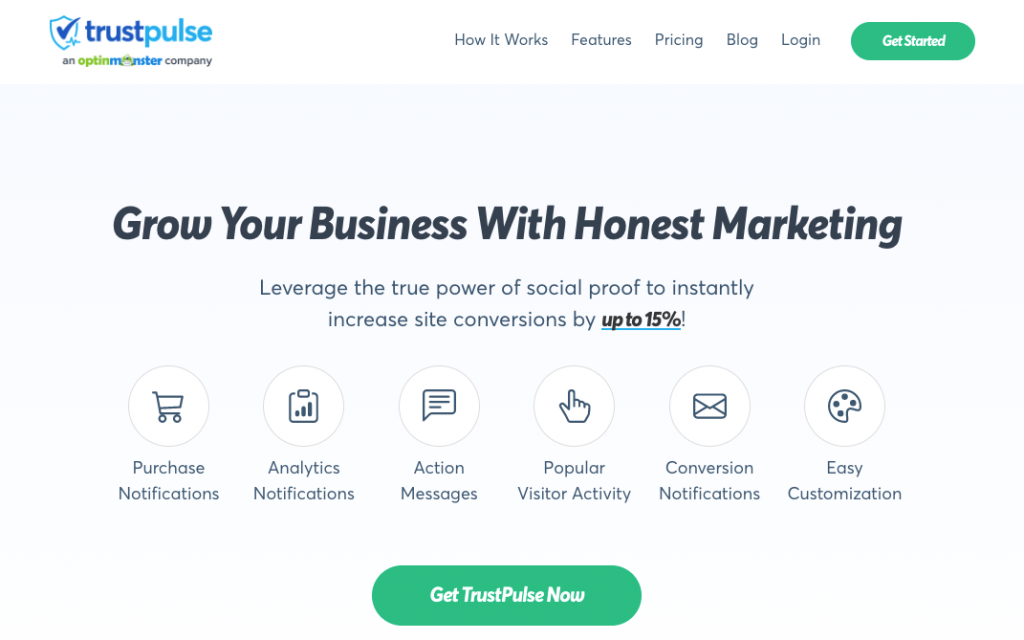 TrustPulse, an OptinMonster product, is a powerful social proof and an honest marketing platform that aims to improve your site's conversions by leveraging the activity of real users. All you have to do is choose your trigger, customize notifications and target the right audience, and you're good to go. 
What it's good for: See a live stream of any activity on your website using real-time event tracking and show how many users are taking action on your website using "On Fire" notifications. Create attractive notifications and show them to the right people using smart targeting. 
Price: Starts at $5 for 2.5k unique visitors per month.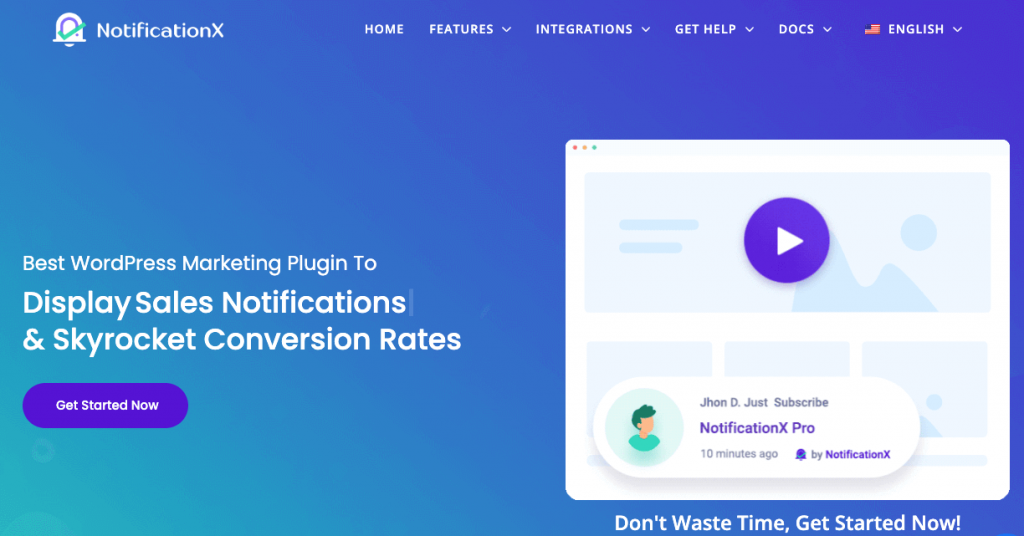 NotificationX is one of the most popular WordPress marketing plugins that display social notifications, blog comments, email subscriptions, and other social poof pop-ups to significantly improve conversion rates. 
What it's good for: Grab your visitor's attention by showing recent activity and build instant credibility through sales alerts. Easily uncover your blog's engagement through comments and by displaying how many times your content has been downloaded. 
Price: Starts at $39 for 1 website per month.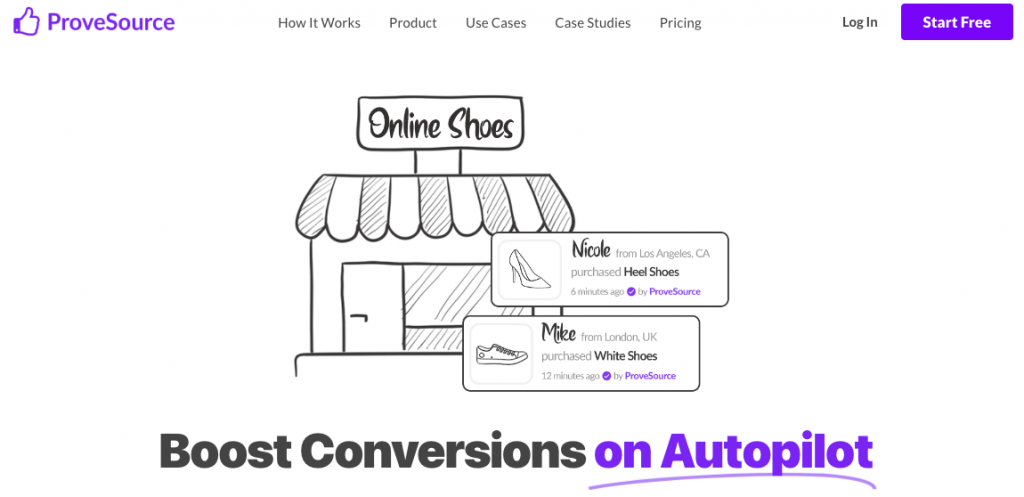 ProveSource is another popular social proof platform that comes with a well-built interface and has four different types of notifications like page visits, sales, streams, and the number of actions taken to measure conversions. ProveSource also allows you to add gifs to notifications to improve engagement and conversions. 
What it's good for: Capture conversion from custom web forms using the "Auto Tracking feature." Display live visitors and recent page visits and integrate with over 100 online tools to boost your CRO efforts. 
Price: Free for 1k unique visitors per month.
Website Speed Analyzer
As the name suggests, a website speed analyzer analyzes the speed of your website at which it loads and responds to user input. It is important to understand exactly how quickly your website responds if you want to deliver a better user experience. 
Website speed analyzer tools do just that. These tools can answer two major questions about your website speed:
How fast is your website?

How do you improve your website performance?
Let's look at some of the best website analyzer tools: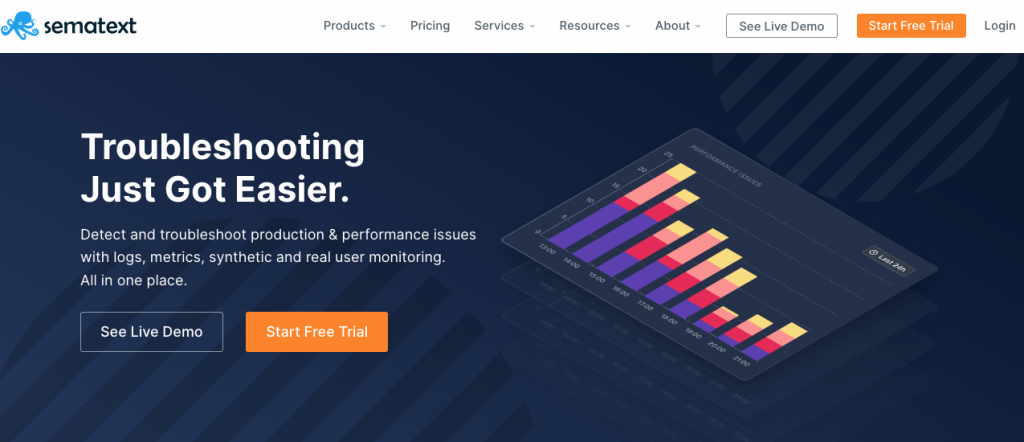 Sematext is one of the most reliable synthetic monitoring and one of the best CRO tools that you can use to monitor API seamlessly. It's easy to set up, and with the help of its intuitive UI, you can start monitoring and tracking your website resources within minutes. It even sends you notifications based on your custom triggers so that you can make necessary optimization decisions and boost conversions.
What it's good for: Monitor website uptime from different locations worldwide, measure website performance across different browsers and devices, and identify problems with third-party resources. 
Price: Starts at $0.005 per hour.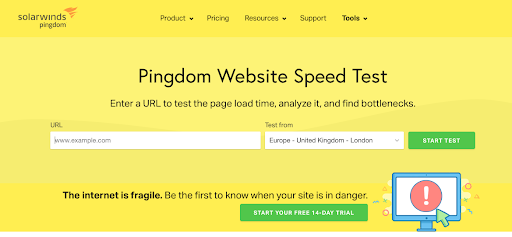 Pingdom is another very popular tool in the domain of website speed test analysis and has been around for quite some time now. It doesn't require any login from the user, and it rates the website's performance from 0 to 100 while giving you a breakdown of response codes, request types, content size, waterfall chart, and load times. 
What it's good for: It features uptime and page speed monitoring to check your website's availability and load performance. Monitor your website's most important interactions using transnational monitoring and get insights from visitors to enhance the performance. 
Price: Starts at $10 for 10k unique visitors per month.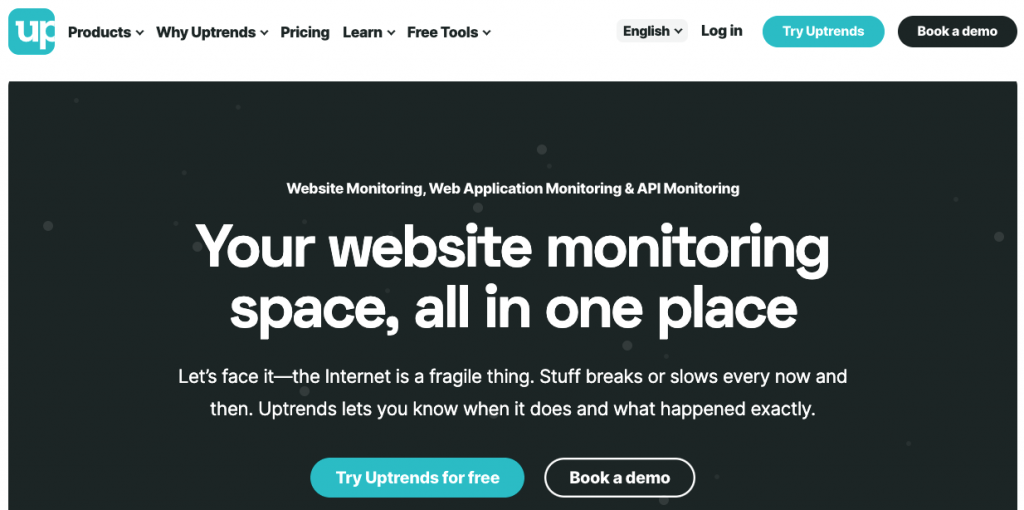 Uptrends is another very straightforward website speed analysis tool that allows you to conduct tests from one of 10 locations. You can even configure the test to run from desktop and mobile devices. Uptrends offers great flexibility through browser tests as users can adjust resolutions and use bandwidth throttling to test the website under different conditions. 
What it's good for: Easily visualize the gathered data and use the drag and drop interface to customize the dashboard for your teams. Spot even the tiniest details using interactive charts and get visual confirmation of your website problems through error snapshots. 
Price: Starts at $16.21 for 10 uptime monitors per month. 
Increase Conversions With the Best CRO Tool
There is no doubt that the best conversion rate optimization tool can help you improve your website, understand user behavior, and enhance conversions. 
With this intensive tool list, you should be able to pick the best CRO tool based on your unique requirements. Remember, there is no single tool that can help you make the most of your marketing and design efforts. 
For a start, you can try out a combination of tools. For instance, you can use Picreel for popups, Google Analytics to track visitor behavior, and ProProfs Chat to engage with visitors in real-time. 
Do you want instant 300% growth?
Picreel popups can get YOUR website 300% instant sales growth. See Case Studies.