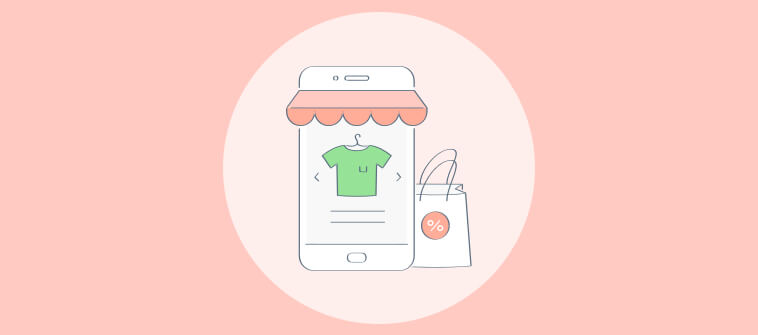 Most of us have encountered popups while visiting different eCommerce sites. While some popup design is really impressive and eye-catching, others are intrusive & irrelevant, pushing us to exit the website.
As an eCommerce store owner and marketer, no one wants to see their visitors leave without making the purchase. That's why it is important to grab visitors' attention without interrupting or annoying them. How so? The answer lies ahead.
Popup marketing plays a crucial role in the success of eCommerce stores and can increase conversions by 15-300%. But all of it depends on creating engaging popup designs and displaying the right content at the right time to the right audience.
That is why we are here with this eCommerce popup guide to help you create delightful popups. From the basics and importance to best practices and eCommerce popups examples, you will find it all to push site visitors down the conversion funnel.
Importance of Using Popups on Ecommerce Sites
Popups can be game-changing if used effectively with proper strategies in place. Here's how popups can help you grow your online store.
Capture visitors' attention

: Popups on eCommerce stores are the best attention grabbers. If you display the right offers to the right audience, then visitors are likely to pay attention. Without being over promotional, you can calmly nudge the visitors down the conversion funnel.

Grab quality leads

: Using lead magnets, you can reveal discount coupons or free shipping codes to visitors in exchange for their email addresses. This helps you grow your subscriber base. You can also bring in a short sign-up form using a two-step popup to make the process easier

Boost sales

: As targeted eCommerce popups are all about displaying flat discounts, limited-time deals, first-time offers, and so on, they guide visitors to take the next step i.e. completing the purchase. With an engaging CTA, you can further push visitors to relevant pages.

Reduce cart abandonment

: One of the leading reasons behind eCommerce stores using popups is to

reduce cart abandonment

. As the average abandonment rate is

70%

, popups are crucial in redirecting shoppers to their carts. Using the right exit offers and an interactive copy, you can increase sales from visitors that are about to leave.

Capture feedback

: With the help of lead capture forms and surveys, you can find out the reasons behind visitors departing from your store to make the necessary improvements. As popups present you with the opportunity to display short forms, the response rates are often higher than in classic surveys.
Now that you know why popups are super important for eCommerce businesses, it is time to check out some pro tips and best practices to boost sales using popups.
Ecommerce Popup Best Practices to Boost Sales

Let's get right to the point. The term "popup" has a bad reputation because a lot of brands and advertising agencies are misusing these overlays for years. Now, randomly throwing default-looking popups at visitors won't generate results and will only annoy them. Below are some of the best practices and proven tips to get maximum results from popup campaigns on your eCommerce site.
Write clear & concise content copy

: From your headline to the content, everything should be clear and to the point. Most visitors just pay attention to the bold content and you must make your offer clear in the headline so that they actually consider turning to the CTA.

Design popups creatively

: You will be getting inspiration from eCommerce popup examples in the next section. But always keep in mind to come up with unique designs. Try to match the colors and theme with your website so that the popup looks like part of your web pages.

Use relevant offers: You need to present relevant offers to your shoppers such as first-time discounts to new visitors, exit offers to visitors showing exit intent, new offers to returning visitors, and so on. Based on their site activity, time on page, products/pages browsed, you can come up with personalized offers as well.
Keep your CTA clear & powerful

: After the headline, the CTA is the main point where all the action happens. It should be clear and understandable at a single glance. So, keep it engaging and actionable. Also, make sure to provide an exit button such as "No, thanks!" or "I am not interested in your offer" so that visitors can easily close the popup.

Set targeting & trigger options precisely: No matter how good your popup design or how amazing your discount offer is if you don't display it at the right time to the right audience, visitors are going to shut it down. So, make sure to segment and target your visitors. Use trigger metrics like exit-intent, time on page, scroll percentage, etc. to time your popups right.
A/B testing is the key

: Constant monitoring and improvement are crucial for getting more conversions and sales. For that, you need to A/B test your

best eCommerce pop ups

to find what changes are triggering conversions. Test multiple designs and small changes plus play with incentives to see what works the best for you.
Also read

: 

11 Pop-Up Best Practices to Drive Conversions & Leads
So, that pretty much sums up the best practices you need to follow to see significant results. Let's now move on to the focus of this blog i.e. high-converting eCommerce popup examples!
13 Best Ecommerce Popup Design Examples to Get New Customers
Here are some of the best eCommerce popup design examples to get inspiration from.
1 – Kitchen Cabinet Kings
Kitchen Cabinet Kings is a very large distributor and using target discount popups on their website, they witnessed an increase of 26.57% in conversion rate. The good part about this popup is that the intent is clear in the bold headline. The coupon code is displayed and CTA directly takes the visitor to their cart where the coupon is automatically applied. Moreover, the mention of the 48-hours window makes this a compelling time-limited incentive.
2 – Chubbies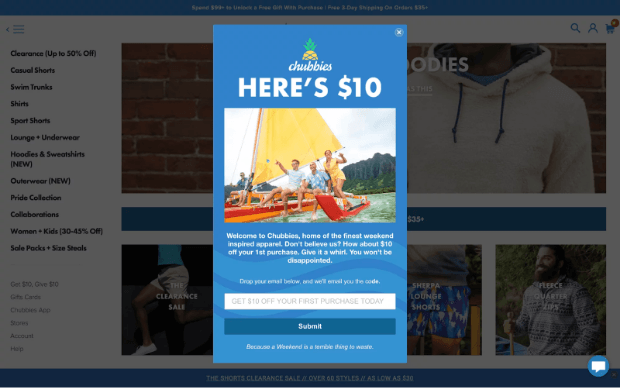 Chubbies displays an eye-catching popup to first-time visitors and makes the offer clear right in the headline. They take a different approach by using $10 as a cash incentive rather than giving away a discount deal. You can also capture the email addresses of new visitors with this lead magnet. The email input field design is also creative with actionable CTA and decline buttons.
3 – The Dallas Morning News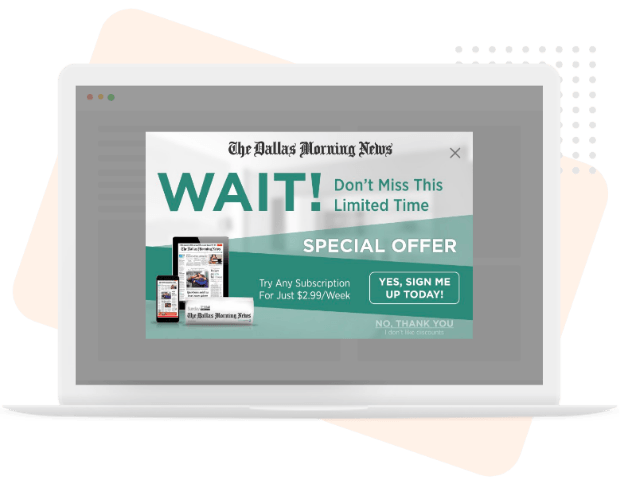 The Dallas Morning News witnessed a significant increase in their newspaper subscribers using this sleek pop up design example. It is an exit-intent popup that is displayed to visitors that are about to leave. The impactful headline is engaging enough with the mention of a limited-time offer. The images of their product/service are well placed that deliver the compatibility feature of their newspaper. As for the CTA, it takes the visitor directly to the signup page.
4 – 100% Pure

Gamifying your popups is always a great way to engage with the maximum audience. 100% Pure plays with the mystery offers popup to grab visitors' attention. The design and color combination of the popup matches perfectly with the website's theme. The second step of the popup reveals the offer and displays an email capture form with multiple options to receive personalized emails and offers.
5 – GAIAM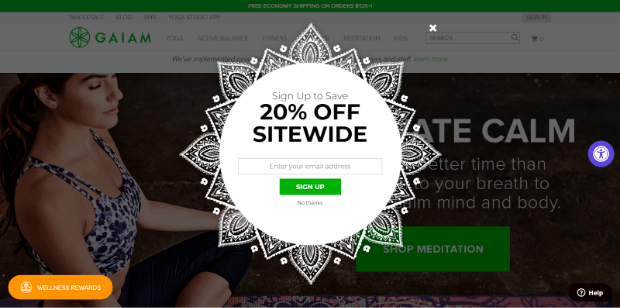 GAIAM is one of the most creative eCommerce brands and they reflect it well in their lead magnet popup to get new subscribers and customers. With an aesthetically pleasing design that matches well with the website and a simple copy, this creatively designed popup gets the job done. The mention of 20% off sitewide makes this incentive better as the discount is not limited to specific products.
6 – Dream Giveaway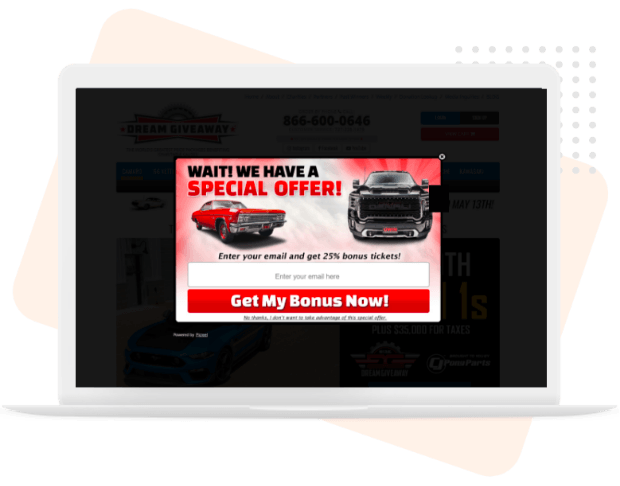 Dream Giveaway uses this exit popup to significantly increase ticket sales & leads. The headline makes an instant impact and the copy is short & simple to avoid any distractions. The graphics clearly conveys what the visitors are missing out on and right below, the 25% bonus pushes them down the sales funnel. Again, the CTA and decline buttons along with the contrasting color combination, make this a winning popup.
7 – Paint your Life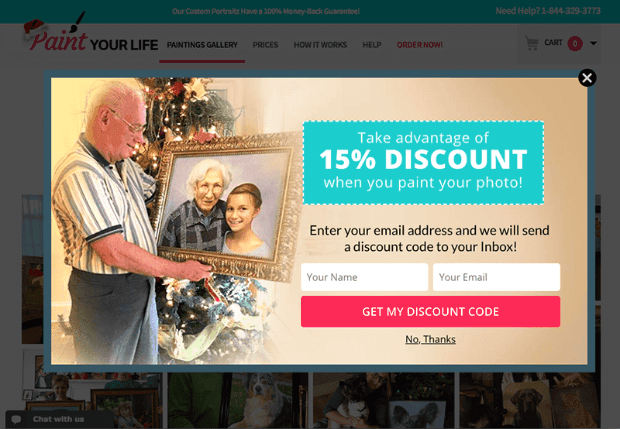 It is a visually appealing popup design to attract new customers. The image of a person holding the gift is simply wholesome and the discount next to it compels the visitors to get the code & make the purchase. Paint Your Life has increased its artwork sales significantly & witnessed a conversion rate of around 28% with this single popup campaign. You can also capture quality leads using such pop up designs for future marketing campaigns.
8 – Organic Chics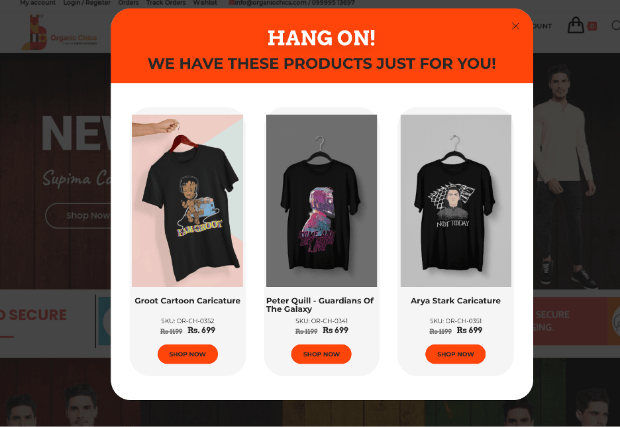 Organic Chics uses personalized popup campaigns to drive sales. With a sleek design and product recommendations along with the image, discounted price, and the CTA button, they guide visitors to the checkout page. Based on visitors' site activity, you can easily display recommendations or redirect them to your best-selling products/services.
9 – Hello Fresh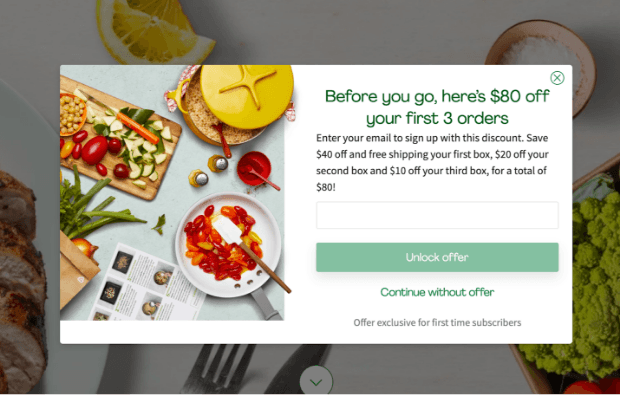 Hello Fresh creatively offers a thoughtful deal to first-time visitors with this exit popup. The deal is quite clear with the headline and implies that the visitors will get discounts on their first 3 orders. Again, rather than displaying the discount in percentage, it is displayed in currency. With the visuals matching the website, the popup can engage the visitors easily. As it is a lead magnet, you can grow subscribers' base as well.
10 – Awara Sleep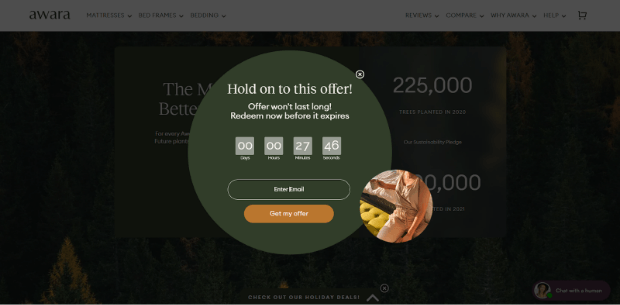 Awara Sleep's minimalistic popup design is pretty unique and targets engaged visitors to nudge them. There are two important things to notice about the offer. First, it is a limited-time offer with a countdown timer creating a sense of urgency, Second, the offer is mysterious and shoppers can access the offer after entering the email address, making it a perfect sales plus lead capture popup.
11 – Gwen Beloti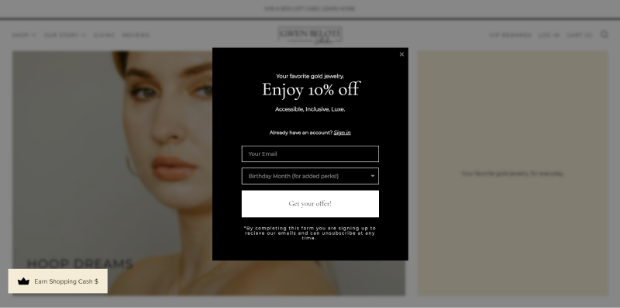 Gwen Beloti uses the two most contrasting colors to design this exclusive popup that goes in sync with the luxurious, premium brand. The offer is crystal clear and effective in the headline. Moreover, to increase the value of the offer, an additional field of Birthday Month is included. Shoppers always love to get discounts on occasions like birthdays and anniversaries and that drives this popup campaign to success.
12 – Stackcommerce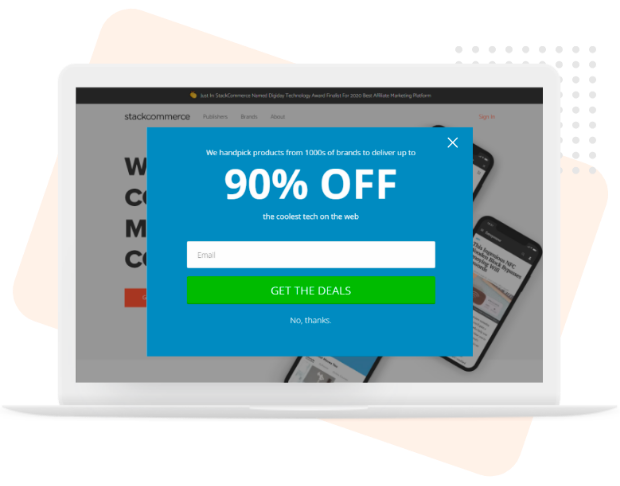 Stackcommerce uses a huge incentive in the headline to capture quality and grow sales. 90% OFF is something that shoppers can't simply ignore. So, if you can play with numbers by making them look massive, you can instantly capture visitors' attention. The bold CTA text in the green box assures visitors of single-step signup, making it perfect for busy shoppers.
13 – BIG4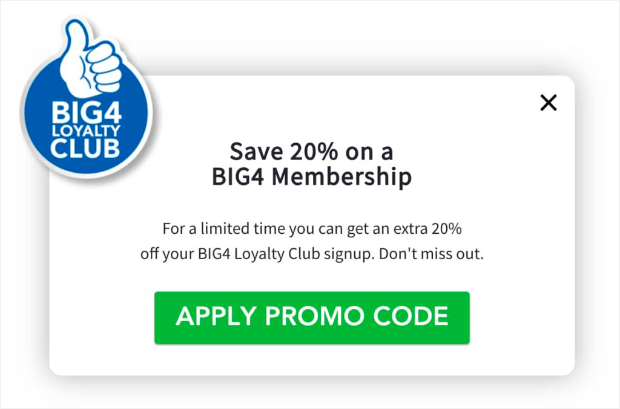 BIG4 was struggling to find customers and this loyalty club signup popup helped them recover 54% of abandoning customers. The limited-time exit popup focuses on a 20% discount on the premium membership. The CTA takes the customer directly to the checkout signup page where they can complete their order at a discounted price.
How Picreel Helps You Design High-Converting Ecommerce Popups
Choosing the right tool to create engaging popup designs and display the overlays at the right time is important. Picreel is an eCommerce pop up software that helps you grow your customer base with delightful popups. It comes with a huge template library of 100+ customizable popup designs to get started in minutes.
You can even upload your custom fonts and colors using Picreel's user-friendly popup creator. Once you are done with the designing part, Picreel offers all the basic and advanced targeting options and trigger rules to time your popups right. Using Picreel's popular AI-powered exit-intent technology, you can target the visitors at the perfect moment that are about to leave.
What's more? Picreel offers smart analysis and reporting functionality plus the A/B testing module to test multiple popups. As the tool integrates seamlessly with all popular sales, marketing, and CRM tools, you can easily transfer captured data in real-time.
Time to Build Your Customer Base!
Getting new customers constantly without breaking the flow is a necessity for business growth. With the help of pop up designs, best practices, and software mentioned above, you can easily strategize popup marketing campaigns to achieve great results.
Give Picreel a try with a 30-day free trial to see improvement in leads and sales. Make sure to always A/B test your popups to find the top-converting ones. Let's get right into popups to get new customers!
Do you want instant 300% growth?
Picreel popups can get YOUR website 300% instant sales growth. See Case Studies.