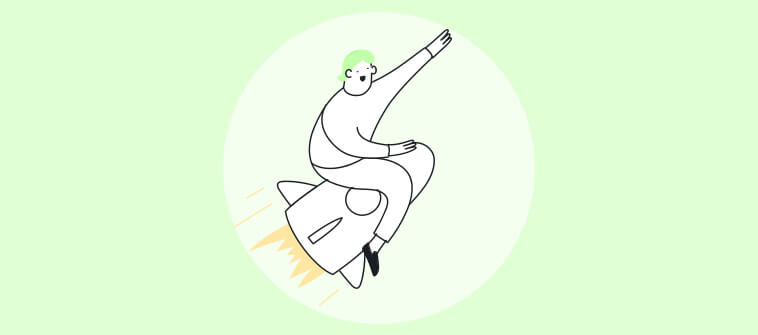 Marketers focus a lot on getting high search engine rankings and bringing in traffic to the website. It is a great thing, and almost every business & blogger wants this. However, if the traffic isn't converting to leads or sales, then is it really great?
Chances are, conversion rate optimization techniques were not even a blip on the radar when you first thought about setting up your website. Now, things are probably a bit different. Converting traffic into sales is something that is achieved not by chance but through specific actions.
But what should those actions be? What conversion rate optimization tips are the most effective? Where do you even start?
Fortunately, there's no need to reinvent the wheel. Those who have done it before you have already tried many techniques and, through their efforts, we've been able to identify 21 proven conversion rate optimization best practices that work.
However, keep in mind that different businesses have different audiences, traffic coming from different sources, and different goals. We will be covering some proven tips and strategies. But, what works beautifully on one site, may not work for another. So, trying all the techniques is the key to success!
What is Conversion Rate Optimization?
Conversion Rate Optimization (CRO) is a technique or set of various steps to optimize your website and landing pages for a better customer experience. Based on visitors' behavior on the website, CRO helps in improving the probability of the visitor taking desired actions on your web pages. It results in increased leads and conversion rates.
In more simple terms, it is the art of converting more website visitors into leads, sales, and customers. This way, you won't have to invest more money in bringing traffic to your website. Let's understand this in more detail by checking out the primary elements of CRO.
Primary Elements of Conversion Rate Optimization
The elements of CRO might differ for different businesses and marketers often experiment with different elements for better conversions. But, here are the four most common and primary elements to increase the chances of conversions.
Website Persuasion

: Once you have designed the website, you can't count on assumptions for visitors to convert. Always stay updated with trends, follow best practices for writing, try to use social proof, and keep on creating engaging content.

Conversion Research

: There's always traffic on your website, which means you can gather valuable insights and conversion data. Review the heat maps, survey answers, visitor recordings, web analytics, and so on to get improvement ideas.

User Experience (UX)

: Conversions depend a lot on the user experience. If visitors can smoothly navigate your website, access web pages, fill out forms, and browse products, etc., then they are likely to convert more easily. No matter how beautiful your website is, user experience is the key factor for conversion.

Personalization & A/B Testing:

Visitors love personalized experiences. Thus, if you use personalization techniques, chances of converting visitors into customers increase.  Obviously, this is useful but not an essential part. 
We will be discussing different tips that fall under these four primary elements. A/B testing will help you see how effective a technique is with your website's audience.
Before we get to the conversion optimization techniques and tips, let's check out the importance of CRO.
Why Conversion Rate Optimization Is Important
The most beneficial thing about conversion rate optimization is that you get much more revenue from your existing website traffic. Here are some other important factors:
You can generate more sales from the existing traffic, which decreases the cost of customer acquisition.

As you save money from customer acquisition, you can increase your advertising budget to outbid and outgrow the competition.

As CRO focuses on customers' behavior, you get to know more about your website visitors, and the feedback helps in improving the user experience.

By optimizing your website's content, keywords, and other elements, your website is likely to rank higher on search engines.

CRO ensures that you leave nothing to chance or guesswork. It helps in making data-driven decisions for better profits.

The best part about following website

conversion optimization tips

is getting

more business leads

. This helps in improving email marketing campaigns.

CRO is an important process in building trust and credibility. With consistent and targeted marketing, CRO helps in establishing trust with visitors.
How to Optimize for Conversion Rate Optimization
Conversion rate can differ based on your audience demographics, niche, industry, goals, traffic channels, etc. You can check the conversion rate of the industry leaders or your competitors to set goals.
If your conversion techniques do not lead to the ideal conversion rate, your website needs some changes. 
Observe the user behavior to determine what conversion rate optimization strategies your business should use. Heatmaps of users' interaction with your website tell you where the users drop out of the sales funnel. Then, make appropriate adjustments for more conversions.
In the end, it all boils down to leads, sales, and conversion to increase return on investment. Let's get to the 21 proven conversion tactics to grow your business.
21 Best Sales Strategies To Increase Conversion Rate
1 – Use Popups Smartly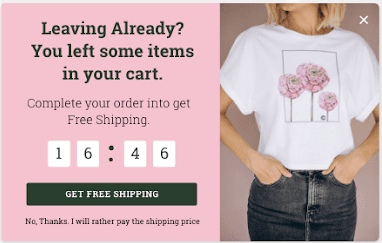 The average popup conversion rate is 3.09%. If you follow popup best practices, then this conversion rate can go to 10% or more. And, there's no exception when it comes to conversions on different websites using popups. 
Businesses can target any audience they like using delightful pop-ups, survey forms, slide-ins, nano-bars, etc. All you need to do is smartly trigger the popups by setting precise targeting rules. Generally, exit-intent popups are considered to be more effective than normal overlays. Using exit popups, you can target your leaving visitors with one last card to make them stay.
If this works well for you, you can generate more conversions alone from popup than from the rest of the list. That's how impactful popup marketing is!
2 – Eliminate Unnecessary Form Fields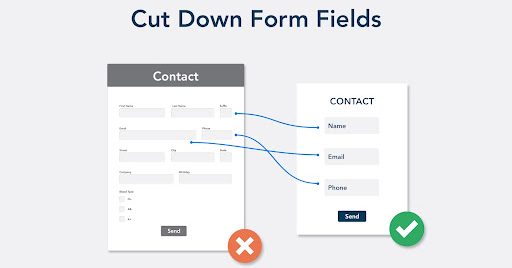 Whether you use a popup form or have embedded a survey on your website, the required fields should be limited. Ask yourself if all those form fields serve any beneficial function to your website and business. For example, does it improve conversion rate when visitors fill in their company's name or zip code?
Depending on your business, each field on the form should support the main goal of making sales. If they don't, cut them out. The form won't be time-consuming for visitors, and you will capture more responses.
3 – Use Colors That Stand out for Your Call-to-Action Buttons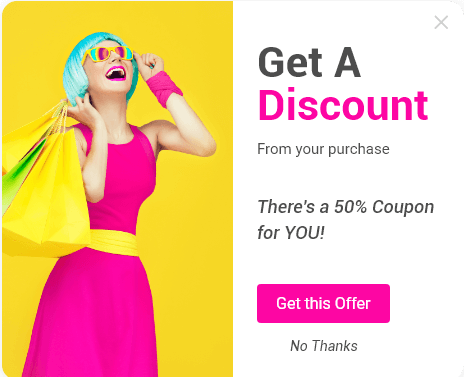 No particular colors convert more than others when used on the call-to-action buttons. But colors do play a role; the secret is in choosing the appropriate color on your site so that the call to action button stands out from the rest of the page. Use colors in your call-to-action buttons that are not used anywhere else on the page.
Consider how the background color helps the call to action button "pop." It's the contrast that's important, not necessarily a specific color choice. Make sure the colors you use are readable. Yellow text on a white background isn't going to get the job done.
4 – Do Not Use Cheesy Stock Photos
Everyone has seen a stock photo by now, and they don't provide the polished image you might think they do. They look too good for customers to relate to them and do nothing more than reducing the credibility of a website.
Customers relate better when they feel the images, just like they are standing in a physical store. Therefore, a photo of real employees, real products, and graphics representing exact features does a better job than stock images. Using an online photo editor is a great way to create these images and graphics easily while maintaining a professional feel.
5 – Use Appropriate Call-To-Action Button Text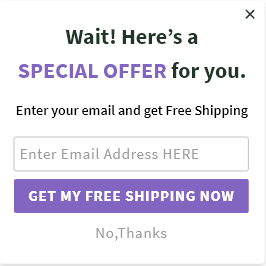 The text on the call to action button should do more than just directing a visitor to click. Give them a teaser to pique their curiosity. For instance, tell the visitor what to expect after clicking the button rather than just saying Submit, Shop, or Sign-up.
As you have limited space available for the CTA button, do not overstuff it with content. Come up with something creative and unique using action words to compel the visitors into taking the desired action. This is an extremely effective yet simple conversion rate optimization technique that can help you grab visitors' attention.
6 – Add a Video to Your Landing Page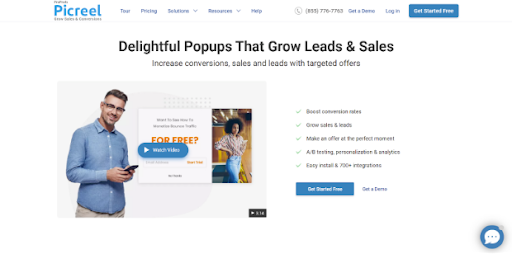 Adding videos is an efficient conversion optimization best practice, especially for showing a complicated product to customers. It is easier to explain a product in a video than text or photos. Websites use videos to improve website conversion rates in many ways.
For example, Vidyard received a significant conversion lift after using a video on their landing page. However, effective video needs to be short (2-3 minutes max), crisp, and precise. Otherwise, no one will bother watching it through to the end.
7 – Make The Headline Clear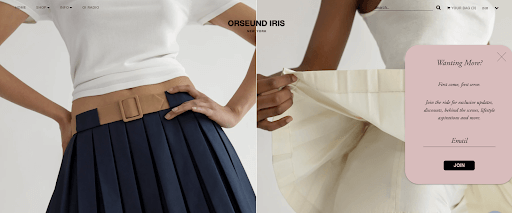 The headline is the first thing visitors see on a landing page. Therefore, it is important to have one that boosts conversions. Each word is significant, and you need to wrap your entire sales pitch into a bold and effective sentence.
Based on the landing page, you can use question headlines, problem-solving headlines, command/instructional headlines, etc. You should focus on the key selling point, and tweaking just one word can make all the difference. So, test different headlines and choose the right one.
8 – Create Urgency On Your Page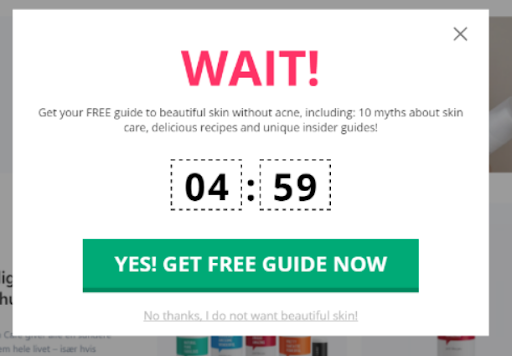 Give visitors a reason to act now and not later. Offer them limited-time incentives to encourage sign-ups. Danish Skin Care used this tactic through exit popups to increase leads and conversions significantly. This is also a great way to reduce cart abandonment.
Many eCommerce stores use lines like, "Last two items left!" "Hurry! 10 minutes to avail 25% off", "Limited stock! 100 shoppers purchased this in the last hour," etc., next to their products or in popups which creates that sense of urgency.
9 – Make Your Contact Info/Phone Number Visible

No conversion rate optimization best practice assures visitors that you are more easily approachable than displaying your phone number on the header of your homepage. Customers feel you are always available to solve any purchase issues, and that improves your credibility.
OzScopes have made sure their phone number is noticeable to every visitor who arrives at their website. You can run a nano-bar or slide-in button on your website to display contact info. You might not receive a ton of calls, but it definitely helps in building trust.
10 – Your CTA Link Should Be a Button and Not Text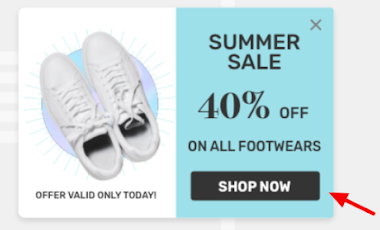 Having a plain text link as your call to action is at risk of getting lost within the rest of the text, and, therefore, invisible to the visitor. A button stands out and does a better job. There are many brands that have increased their conversion rates by using buttons.
Also, keep in mind that you are not using different CTA buttons and texts on the same landing page. If you use different CTAs, that can distract the visitors. So. make sure to keep your CTAs consistent throughout the webpage.
11 – Don't Forget to Use the Magic Word "FREE"

A quick A/B test on one website that added the words, "It's free" to their call-to-action showed a conversion increase of 28%. The use of the word "FREE" in many websites has proven beneficial. If you haven't already done so, it is high time you gave it a try on your own website. For example, you can organize a giveaway for your mailing list subscribers by using a no-investment merch creation tool.
Using the A/B testing module, it takes minutes to test this tactic. People love free stuff, and using lead magnets; you can easily generate leads plus conversions by giving away free guides, access to a premium newsletter, and more.
12 – Always Add Value to Your Offer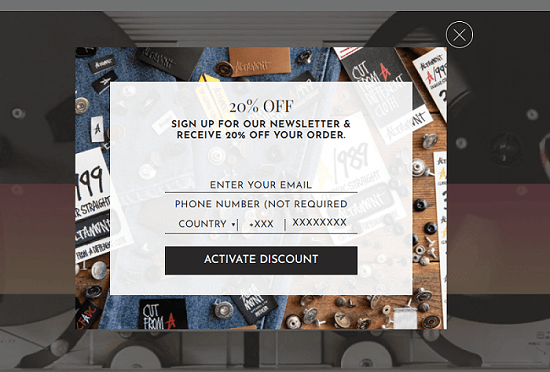 The value of your offer should be greater than what you are asking from visitors in order to convert them. If they can see what's in it for them, they will happily fill out your lead capture form or complete their purchase.
Dream Giveaway is one good example of a brand that has used one of the proven website conversion best practices to increase sales and conversions. Visitors see the clear value of signing up for their newsletter.
13 – Use Real Testimonials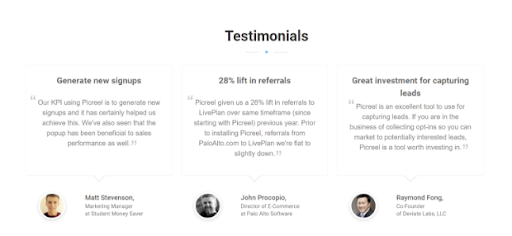 Using testimonials is a popular conversion rate optimization tip, but make sure they are genuine. Real testimonials have a way of bringing out your unique selling points and the benefits you offer customers.
Never use fake testimonials. They do not add any value, and contrary to what you may think, many people can tell they are fake. Use testimonials with full names, brand photos, and customers' pictures, and your customers will reward you with their trust.
14 – Show Your Award Badges to the Customers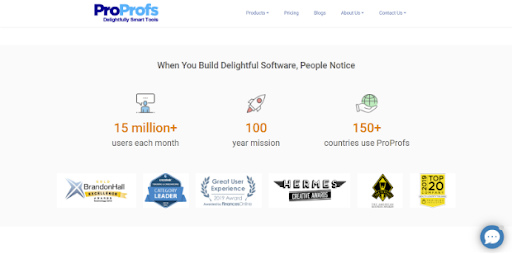 If your business has won an award for any reason, proudly display it for visitors to see. This is a proven tactic to increase credibility that has worked for most businesses. 
Do not simply claim to be the number one in your business field. Support these with magazine rankings, honorable mentions, articles, and award badges to increase trust. It is really a great way to build a loyal customer base.
15 – Stand Out With Your Value Proposition
All conversion experts will tell you how it is important to have a good value proposition for every marketing channel, including your website. You should be aware of what distinguishes you from other similar websites (and companies).
Your unique selling point or something outstanding about your product/service will be the value proposition to give your site an edge over your competitors. Make sure to place this preposition in your popups and go with a dedicated section on relevant landing pages.
16 – Use Trust Badges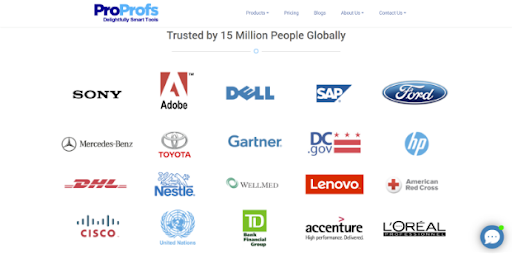 When your business gets a great review on TrustPilot or Capterra, get in touch with them and request that they add a widget on your website. Express Watches is an example of how this practice can significantly change your figures. They got a trust badge on their site, and as a result, they witnessed a 58.29% lift in their sales!
Other sources of great reviews include Glassdoor, Better Business Bureau, and Yelp. If some big brands are on your clientele, then mention their name/logos on your homepage to build trust. In this online world, trust badges are like word of mouth.
17 – Include Security Seals on Your Checkout Page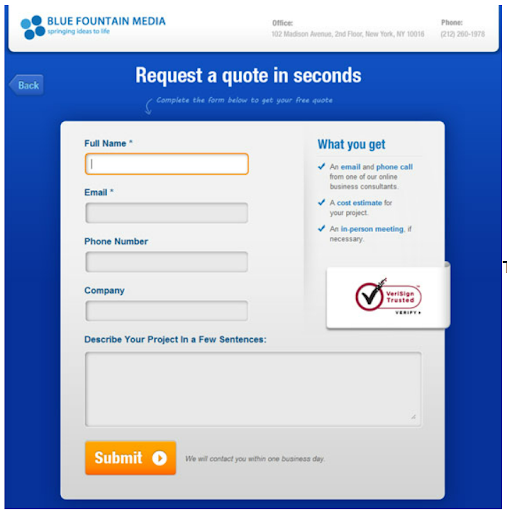 You must have noticed some certified and verified images/tags on checkout pages. Even though security seals do not come cheap, they are the best way to assure your customers that their credit card details or net banking information are encrypted/safe with your site.
To do so, shift to verified payment systems and use trust symbols to make the difference. Blue Fountain Media increased its sales by 42% by simply including the VeriSign seal on their checkout page.
18 – Add Live Chat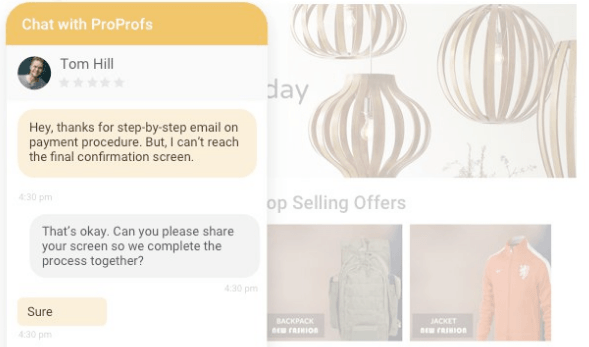 Adding a Live Chat feature to your site is one conversion rate optimization tip that has seen the likes of Virgin Airlines upsell and increase conversion rates. Your team can use canned responses to quickly answer customers' queries and can guide the visitors in real-time to relevant pages and help documents for a better experience.
19 – Use Relevant Images to Increase Conversions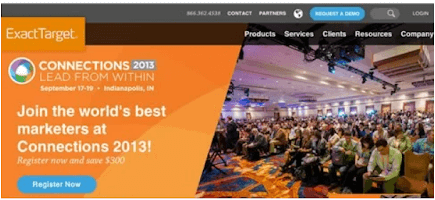 We already talked about avoiding stock photos and using real photos to establish trust. Now we want to add using relevant images on your site. Apart from breaking up the monotony of the text, images can help push your visitors toward the conversion goal, if they make sense based on the content.
Exact Target is an example of an establishment that tested an image to give clarity to its offer. When the image was aligned well with their conversion objective, it boosted the conversion rate by over 40%.
20 – Give Them a Price Match Guarantee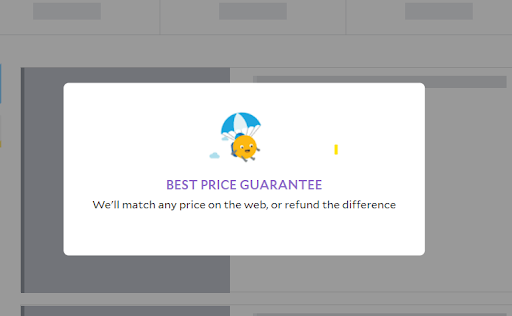 Make it easy for prospective customers to find and compare your offer against your competitors'. A price match guarantee eliminates the feeling of being ripped off and assures visitors that you offer the best pricing in the market.
Best Buy is one example of a brand that routinely uses this conversion rate optimization best practice to increase sales. You can also provide a money-back guarantee by deciding certain criteria as per the products/services you offer.
21 – A/B Testing is the Key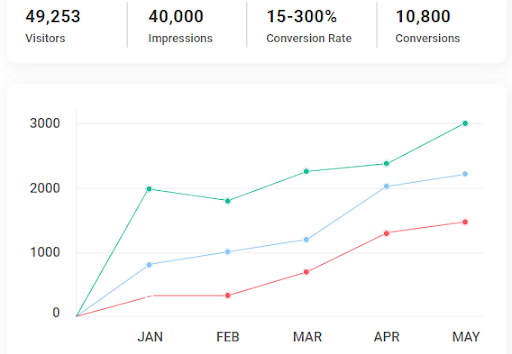 The final tip of the lot is as important as the first one. The secret to getting good results from these conversion rate optimization techniques is to track every implementation in your A/B testing software. This will help you see how effective a technique is with your website's audience.
Choose one element at a time and test your landing pages, checkout page, the home page, pricing page, popups, and other elements to make your website fully optimized.
Why Choose Picreel For CRO?
Picreel popups are an affordable and effective conversion rate optimization strategy.  
The popups can 
Guide visitors to high-converting pages, 

Give them an offer they cannot resist, or 

Get their contact details for future targeting
The tool offers A/B testing and thorough reports about every campaign performance. Hence, you can keep track of the campaigns' performances to calculate their effectiveness.
The built-in editor assists in creating custom popups with an engaging copy and the ability to convert.
Moreover, their exit-intent technology helps target users right when they are about to leave. When the customer decides to leave, deploy popups with lucrative offers to get better conversions.
Overall, Picreel is the ideal tool for conversion rate optimization due to its various features and ease of use.
Time to Optimize for Better Conversions!
The conversion rate optimization best practices laid out above take care of relevance, clarity, distractions, anxiety, and urgency to give you solid results. Use these tips effectively with constant A/B testing, and you are certain to see some positive changes.
The techniques coupled with the right tools will help your company increase conversion rates and achieve your goals.
Make sure to use the best conversion rate optimization software to firstly work on the first point i.e., popup marketing. All other tips are bonuses, and you can take your business to new heights with the right combination of conversion optimization strategies.
Do you want instant business growth?
Picreel customers get a 15-300% instant increase in inbound leads & conversions.