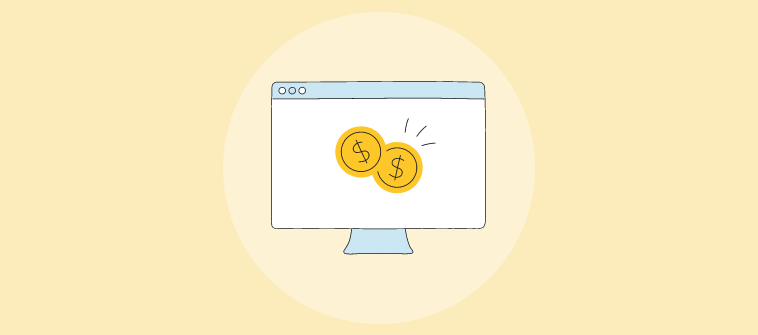 Do you know that up-selling can increase an online company's revenue by 10-30%? Also, up-selling to an existing customer is 68% more affordable than acquiring a new customer. Isn't that interesting? Indeed it is, and that's why a lot of online businesses invest in upsell apps.
If you are looking for the perfect upsell app to implement on your Shopify store, we are here to guide you.
There are plenty of tools out there, so picking one can be challenging. Worry not, we will help you choose the best upsell app for your business.
Upsell apps can help you improve user engagement, increase conversions, boost average order values, and eventually sales. We have put together a list of the 11 best apps that will help you with your upsell ventures.
What is Upselling?
Upselling is a sales strategy or technique that focuses on selling a higher-priced product or a premium version of the currently-chosen product to the same customer, with the aim to increase sales. The currently-chosen product might be in a customer's shopping cart or wishlist. This gives businesses an opportunity to provide shoppers with the benefits of a better version of the product.
Generally, a discount or deal is also attached to the upsell window for making the offer more compelling. However, don't get confused between upselling and cross-selling. Let's have a look at the next section to clear that out.
How Upselling is Different From Cross-Selling?
While upselling is all about persuading customers to purchase a higher-priced product, cross-selling focuses on convincing customers to purchase similar additional products or accessories along with the ones they already want.
Let's understand this with an example.
Upselling: A customer has added a badminton racquet to his shopping cart. You display him a popup containing another racquet (image + benefits) that is more expensive than the one he has added to the cart. This could lead to an upsell if they decide to go for the purchase.
Cross-selling: A customer has added a badminton racquet to his shopping cart. You display him other products that are often purchased together, such as shuttlecocks, towel grip, sports socks, kit bags, and more. This is done with the aim to prompt the shopper to purchase some of the accessories along with the racquet to increase order value.
With this example, it is quite clear that upselling and cross-selling are two different techniques with the same aim. Many marketers utilize these techniques together by displaying upselling and cross-selling offers at the same time.
Let us now learn why it is important to implement an upsell app for your Shopify store.
Why Look for Upsell Apps for Your Shopify Store?
Upselling is an important sales technique that can enhance the shopping experience and generate more revenue for your business. An upsell app provides a platform to design and display upsell messages and offers to potential customers on your Shopify store.
Here are some of the reasons why you should look for upsell apps.
Build better relationships with customers

: Upselling is a great way to boost sales. As you are suggesting something better, premium, upgrades, or add-ons that deliver more value, it is a win-win situation for you as well as your customers. Customers will be happy with your personalized recommendations to capture better deals which helps build delightful relationships in the long run.

Increase Customer Lifetime Value (CLV)

: Customer lifetime value is the net contribution in terms of profit that a customer makes over a certain period of time. A higher CLV means each customer is generating more revenue without any extra investment. This allows you to spend that extra money on acquiring new customers, making upsell opportunities profitable for your business.

Upselling to existing customers is easier

: As we mentioned earlier, upselling to an existing customer is 68% more affordable when compared to acquiring new customers.

Lead generation

is often expensive, and that is why upselling is a great opportunity to make more sales to the customers that already trust you.

Incentivize shoppers' purchases:

Using upsell apps, you can easily incentivize their purchases by offering a discount on purchasing an upgraded product. As the product you are displaying is more valuable and better, they already feel inclined to buy it. Moreover, with the discount or a mention of a limited-time deal, they feel that rush to make the purchase.
So, upselling is a great way to boost your sales and grow your business with loyal customers. With the help of the right upsell app, you can easily present upsell deals to shoppers. Let's explore the Shopify upsell apps in the next section.
11 Best Upsell App for Your Shopify Store in 2023
Our team of marketing experts researched different Shopify upsell apps available and have come up with the 11 best apps from the lot. Let's dive right in.
#1 – Picreel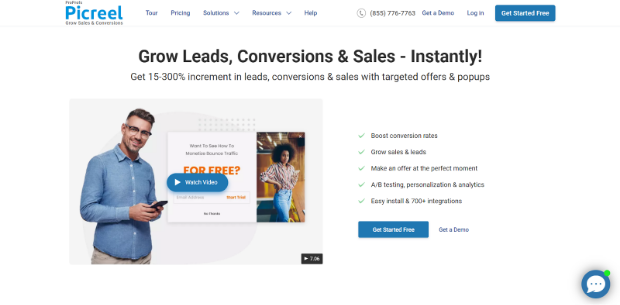 Picreel is a powerful popup conversion optimization tool that lets you display delightful and engaging popups to site visitors so you can present your upsell messages. The app has a huge template library of 100+ designs and is equipped with different types of popups such as slide-ins, nano-bars, countdown timers, full-screen overlays, and more.
You can use Picreel on your Shopify store to deliver personalized recommendations and similar/relevant products with a discount tag next to them. Using smart targeting options and trigger settings, you can make the offer at the perfect moment to maximize conversions.
Key Features
User-friendly popup builder with advanced customization options

Basic & advanced trigger rules plus targeting options

Ready to use upsell and cross-sell popup designs

Popup personalization options to create more engaging copy

A/B testing engine & advanced analytics

Integration with 700+ email marketing, sales, and CRM tools
Pricing: Free trial, paid plans start from $39.97/month
#2 – OptiMonk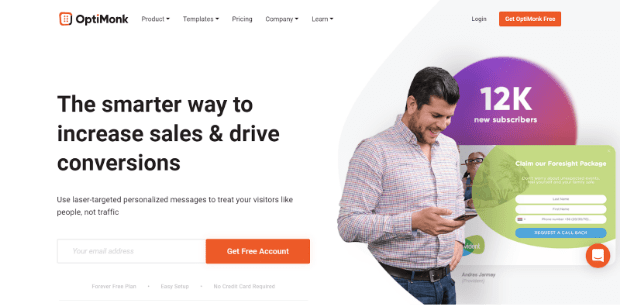 OptiMonk is a flexible popup upsell app for Shopify that focuses mainly on eCommerce businesses. You can use OptiMonk's laser-targeted personalized messages to display relevant upsell special offers to site visitors.
OptiMonks's template library is really huge, and you will find quite engaging designs to get more sales and conversions. Its shopping cart abandonment detection feature is super helpful in targeting the visitors that are about to leave your store.
Key Features
200+ ready-to-use templates

Built-in A/B testing and analytics

Multiple triggers and targeting rules

Shopping cart abandonment detection

Integration with popular marketing and sales platforms
Pricing: Free plan, paid plans start from $24.16/month
Also read

: 

10 Best OptiMonk Alternatives & Competitors in 2022
#3 – Bold Upsell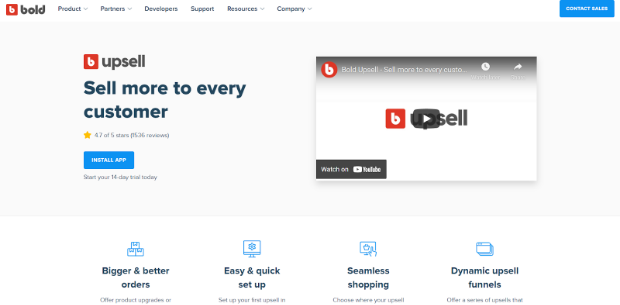 Bold Upsell is pretty basic and easy to use upsell app that allows you to create and display upsell deals/offers on your product page or shopping cart checkout page. With Bold Upsell's on-site offers, you can convince visitors to either upgrade their product or buy a higher-priced product.
The app also allows you to track your Shopify store's upsell performance to help you modify the offer and change the offer placement. It is smart enough to hide the out-of-stock products automatically and present relevant up-sell offers.
Key Features
Smart up-sell and cross-sell options

Upsell from a single product to a complete bundle or kit

Track performance with advanced analytics

Triggers to display upsell offers based on specific products/cart value

Targeting options to target specific user segments
Pricing: Free trial, paid plans start from $9.99/month
#4- PickyStory

PickyStory is an e-commerce conversion platform that gives Shopify merchants more flexibility over how their products are sold. With PickyStory, merchants can sell products in bundles, increasing their AOV and generating more store revenue. Merchants can create various fully-customizable upsell and cross-sell offers, which can be displayed throughout the store at critical points in the buyer's journey.
Key Features:
Sell bundles as single products, offer bundle builders, and shop the look
Upsell & Cross-Sell: One-click upsell bundles, BOGO, kits, and mix & match
Intelligent Cart: Offer free shipping, free gift, discounts with progress bar
Offer Quantity Breaks & Stack Discounts: Use volume discounts to grow sales
Customize offers with no coding, and no wait. Get 24/6 live chat support when needed
Pricing: Free plan, paid plan starts form $49.5/month.
#5 – ReConvert Upsell & Cross Sell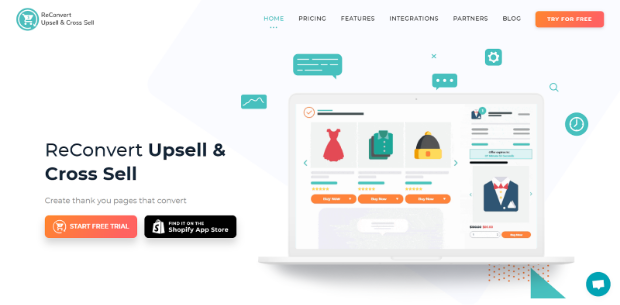 ReConvert is one of the highest-rated shopify upsell app that lets you create Thank You landing pages, one-click upsell/cross-sell offers and more to boost sales. By optimizing the Thank You page, ReConvert adds upsell products on that page to re-engage with customers.
You can also use it to display upsell messages on checkout pages, send shoppers back to the sales funnel, and do more with a lot of useful features. It also lets you collect customers' information, such as their birthdays, anniversaries, etc., to send them personalized deals later.
Key Features
Discount popup with countdown timer

Birthday & anniversary collector

Smart product recommendations for upselling

Order tracking & advanced analytics

Post-purchase surveys to re-engage
Pricing: Free plan, paid plans start from $7.99/month
#6 – Booster: Discounted Upsells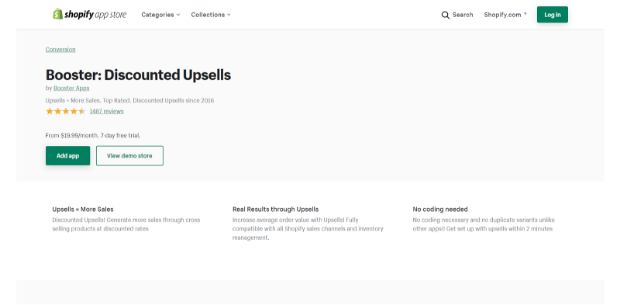 Booster Apps' Discounted Upsells is a popular app that lets you incentivize your customers' purchases so that they go for your upsell offers. You can also cross-sell products at discounted rates to entice more shoppers.
The app mainly focuses on discounting upsells and is a great way to boost average order value. Using inventory management and other options, the user-friendly tool allows you to delightfully display offers to get more sales.
Key Features
AI-driven system to identify the best upsell products

Easy to set up and use with no coding required

Smart discount options to display profitable deals

Targeting options to display relevant offers

Customized for desktops, mobiles, and tablets
Pricing: Free trial, paid plans start from $19.99/month
#7 – Honeycomb Upsell & Cross Sell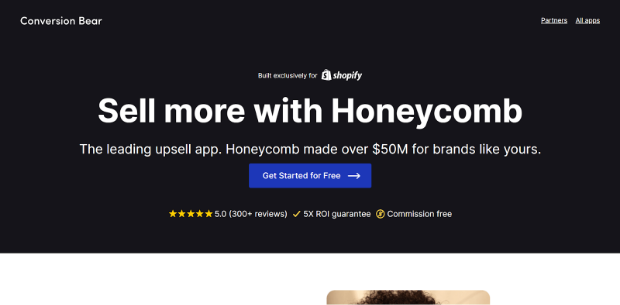 Honeycomb Upsell & Cross Sell is an incredibly easy to use app that lets you display discount offers on Thank You pages and checkout cart pages. The app makes it convenient for your customers to add products to their orders post-purchase.
The best thing about Honeycomb is that you can display multiple upsell offers at the same time. This provides multiple options to consider, increasing the probability of customers finding at least one offer irresistible.
Key Features
Built-in AI recommendation engine

Multiple trigger options to display offers at the right time

Mobile-first design for responsive layouts

Location-based targeting options

Upsell funnels A/B testing
Pricing: Free plan, paid plans start from $49.99/month
#8 – Privy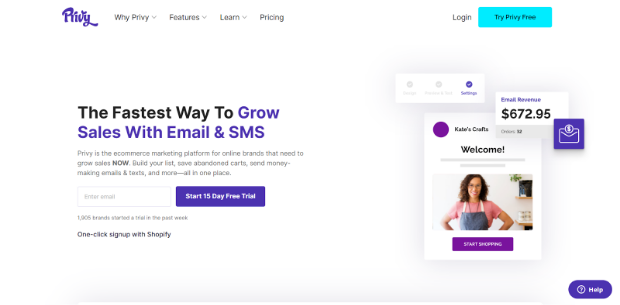 Privy is a popular marketing tool that consists of three modules – email marketing, SMS marketing, and popup marketing. The app is super easy to install and use on your Shopify store and allows you to display upsell offers using targeted popups to increase sales.
Privy comes with a template library of unique popup designs so that you can keep the shoppers engaged with beautiful popup offers. Also, according to what's in customers' carts, you can suggest additional products as well to cross-sell.
Key Features
Drag and drop popup designer

Pre-loaded template library

Multiple targeting & trigger options

A/B testing & smart analytics

Mobile-friendly upsell popups
Pricing: Free plan, paid plans start from $15/month
Also read

: 

Top 10 Privy Alternatives & Competitors to Boost Conversions in 2022
#9 – ALPHA Cart Upsell & Cross Sell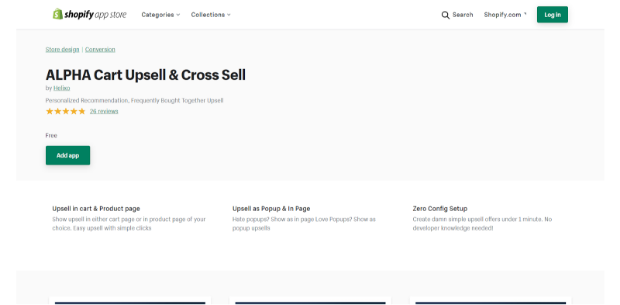 ALPHA is a basic upsell app that helps you display offers on product pages and shopping cart pages. You can either display the upsell deals/offers using popup windows or as landing pages to different audiences.
Using ALPHA, you can customize your offers to capture shoppers' attention and increase the average order value with ease. The app also offers ready-to-use templates to get started with upselling in minutes.
Key Features
Upsell and cross-sell offer templates

Upsell offers after order completion

Option to customize upsell offers

Targeting engine to display relevant offers
Pricing: Free to use
#10 – Wiser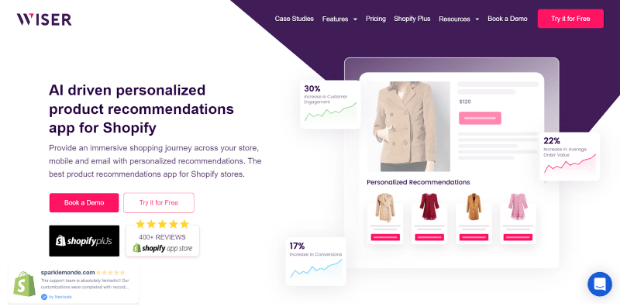 Wiser's Personalized Recommendations Shopify upsell app is an AI-driven solution that displays the most relevant products to shoppers based on their browsing habits. It is a smart tool to drive sales, conversions, and engagement on your Shopify store with upsell offers.
You can use Wiser to show product recommendations on product pages, checkout pages, Thank You pages, and more. Using delightful popups triggered at the perfect moment, you can deliver your upsell deals to the right segment of customers.
Key Features
AI-based product recommendations

Frequently bought together, best seller, and more widgets to upsell & cross-sell

In-depth analysis of customer journey

Manual recommendations

Dynamic email recommendations with easy integrations
Pricing: Free plan, paid plans start from $49/month
#11 – Candy Rack – One Click Upsell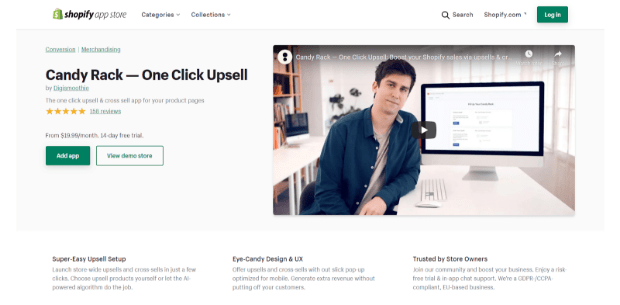 Candy Rack is an intuitive upsell tool that displays options for upgrading and adding additional products right when the shoppers click "Add to Cart" on your product pages. Using custom rules and advanced targeting options, you can precisely target the audience with better offers.
The AI-powered algorithm smartly selects the upsell products and bundles based on shoppers' browsing habits and past interactions. The widget works really well while cross-selling services such as extended warranty, accessories, etc.
Key Features
One-click product upsells

AI-powered smart auto upsell

Seamless user experience with responsive layouts

Fully customizable editor

Integration with other design, conversion, page builders, and translation apps
Pricing: Free trial, paid plans start from $19.99/month
#12 – In Cart Upsell & Cross Sell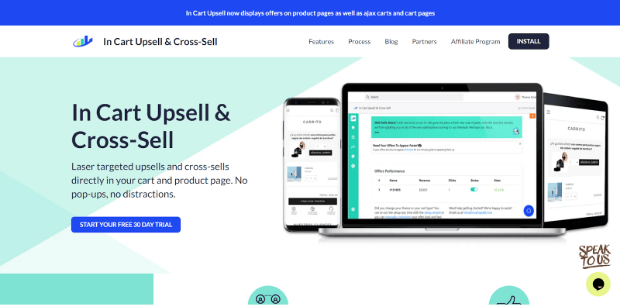 In Cart is an innovative upsell and cross-sell app that allows you to display offers without interrupting the user experience. The offer window blends in natively to the product and checkout pages to boost engagement delightfully.
You can present relevant offers by showing related products, items brought together frequently, and location-specific products. Also, In Cart comes with advanced AI-enabled targeting and A/B testing feature to maximize conversions.
Key Features
AI-powered auto-suggestion

Advanced targeting options

Built-in A/B testing module

Mobile-first responsive design

Smart analytics & reports
Pricing: Free plan, paid plans start from $19.99/month
#13- B2B/Wholesale Solution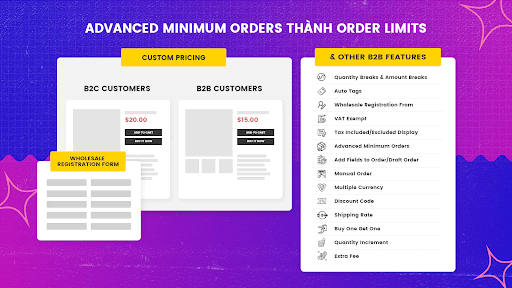 B2B/ Wholesale Solution is a handy app for attracting wholesale customers to buy in bulk using custom pricing, quantity break or bundles. It can assist you in setting product prices quickly based on customer tags or tier discounts depending on the number of products in the order. This is advantageous since you can quickly set up with compelling automatic features. Furthermore, you can freely customize the discount's appearance using a specific amount, fixed percentage, or buy-X-get-Y values features.
Key features
Offer powerful custom pricing features for each customer group.

Set up an unlimited discount

Create new pricing rules applied for both products and customers.

Allow users easily to control and install

the intuitive control panel from the beginning.

Work smoothly with most Shopify themes.
Pricing: Free plan, paid plan starts from $25/month.
Final Verdict: Which Upsell App Should You Go For?
Upselling is a powerful way to generate revenue. With the perfect upsell app and strategies in place, you can easily grab the maximum from on-site traffic. All of these apps are really great in boosting user engagement & delivering upsell offers and messages to potential customers.
If you are still confused about making the right pick, then we would suggest you try Picreel. It is a great application with a lot more than just basic upsell popups. You can use it to display multiple types of offers at the perfect moment based on the customer's journey.
Enroll in a demo or free trial and see how it works for your Shopify store. Over to you!
Do you want instant 300% growth?
Picreel popups can get YOUR website 300% instant sales growth. See Case Studies.