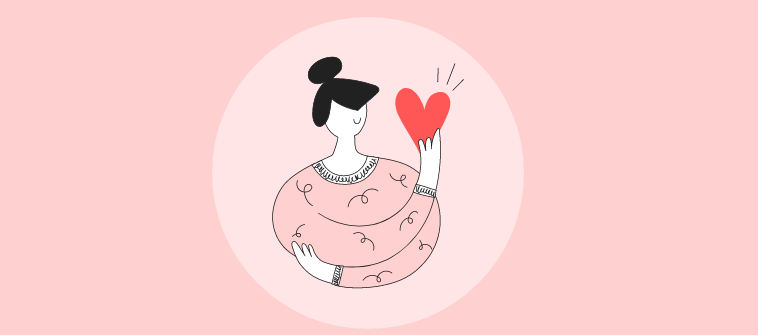 Valentine's Day is just around the corner, and as excited as the love birds are for the special day, businesses are all working day & night to get their Valentine's marketing strategy in place. In that hunt, if you are looking for pop up Valentines ideas to boost your sales, you are at the right destination.
Popups still work, and special occasions always provide businesses with a great opportunity to take popup marketing to the next level. With visually appealing, eye-catching popups, nano-bars, and full-screen mats, you can convince the visitors to purchase for their loved ones.
So, to drive your Valentine's conversions and sales, we are here to help you design some unique and engaging popups.
Expected Valentine's Day Spending in 2023
Valentine's Day is a special occasion, especially in the US as more than half of the population is excited for the day. Valentine's spending in 2021 was 21.8 billion dollars, and almost 38% of the shoppers will be turning towards online stores due to the pandemic. We won't be surprised to see this number going up in 2023 as it was 20.7 billion dollars in 2019 and is expected to go up a lot.
So, this is definitely a golden opportunity for eCommerce businesses to think out of the box and capture more sales. Let's now check out how you can use popups to do so!
How to Use Valentine's Day Popups on eCommerce Store?
We will get to the Valentine's Day popup templates that you can use to capture leads and boost sales, but let us first understand how you can leverage the power of popups to grow your business. There are different types of popups that you can use this Valentine's season for different marketing purposes. Let's have a look at these.
Grow Mailing List with Email Capture Popups

: By using

lead magnet popups

on Valentine's Day, you can offer discount coupons to shoppers in exchange for their email addresses. It is the perfect occasion, and shoppers are always looking to collect maximum discounts and deals. You can display the email capture popup as a welcome gift on your landing pages when the visitors arrive.

Increase Engagement with Video Popups

: By embedding a personalized Valentine's Day video in your popup, you can easily grab visitors' attention. Use the love theme to showcase how your products will help the shoppers in impressing their loved ones. Use such popups on your product pages when visitors spend some time on the page.

Boost Sales with Time-limited Discount Popups

: Countdown popups are a great way to get more sales in less time. Create an irresistible offer such as flat 25% off or free shipping on all orders for one hour. This creates a sense of urgency and fear of missing out, which helps in speeding up the buying process. These offers can be displayed using slide-ins and nano-bars.

Reduce Cart Abandonment with Exit-Intent Popups

: Shoppers browse different sites to check for different products as per their budget. So, if visitors are about to exit your site at the checkout page without completing the purchase, you can display an

exit-intent popup

. Keep discount coupons ready to give shoppers that final nudge so that they purchase Valentine's gift from your store.

Collect Valuable Feedback with Survey Popups

: Sometimes, shoppers simply won't purchase from your store because of unknown reasons. The best you can do is display

exit surveys

to these visitors to ask why they didn't purchase from you. Mention the common reasons and leave a box for feedback as well so that you can work upon the survey responses in real-time to improve your website.
So, that's how you can use popups this coming Valentine's Day season to do a lot more than just generate sales. Let us now look at some of the best Valentine's Day campaign ideas to design engaging popup templates.
Valentine's Day Popup Templates to Attract Your Customers
Here are some of the proven Valentine's Day marketing ideas for instant business growth.
1 – Run a Valentine's Day Special Sale Campaign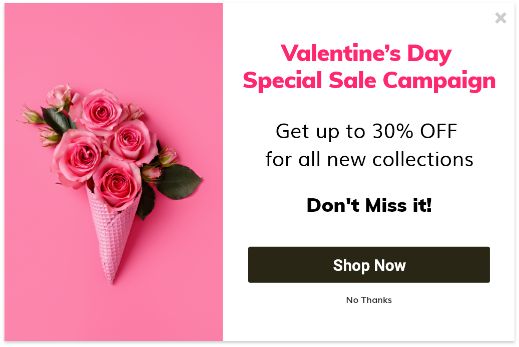 With all pink colors and lovely graphics, you can easily capture the attention of visitors in the season of love. Focus on Valentine's Day Sales in your popup campaign. Highlight the CTA with an actionable copy such as "Surprise your better half now!", "Shop for your heart now", etc.
Proven strategy: In between the headline and CTA, you can insert a short and sweet sales copy that puts your offer in front. The attention-grabbing elements will take care of engaging the visitors while your offer should be compelling enough to push visitors down the sales funnel.
2 – Valentine's Discount Slide-in Popup
A Valentine campaign is incomplete without incorporating a slide-in to your product and blog pages. If you are trying to be non-intrusive, then a slide-in is a perfect option. The overlay window doesn't cover the whole screen and slides in from the left or right of the screen.
Proven strategy: As visitors scroll up and down your page, make sure to configure the slide-in to stick to one corner of the screen so that your campaign enjoys maximum visibility. You can personalize these for different product pages by using the product image and a special offer.
3 – Use Free Shipping Incentive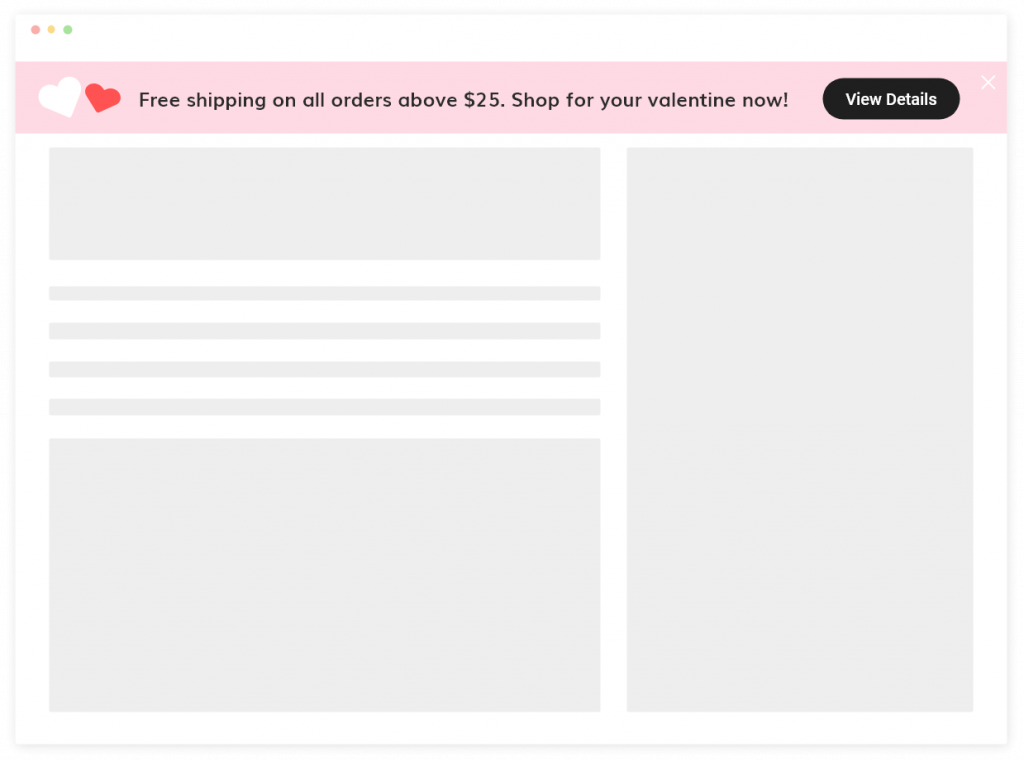 High shipping charges are one of the leading reasons behind shoppers abandoning their carts on Valentine's Day. Shoppers always love to get the products without paying any extra fees. You can run a free shipping campaign site-wide to incentivize their purchases. Using a nano-bar, you can easily make the announcement of free shipping across your website.
Proven strategy: Make this a time-limited deal such as "Free shipping on all orders for the next 48 hours. Shop now!". To cover the shipping cost, you can decide on a minimum purchase price to avail free shipping like "Free shipping on a minimum purchase of $50".
4 – Display Heart-shaped Valentine Sales Popup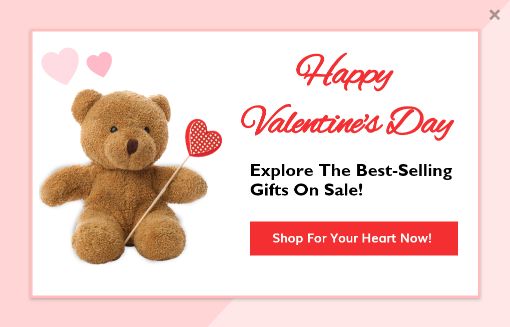 Valentine's Day is all about love, and nothing appeals that more than a blooming heart right at your storefront. Make the popup attractive by using visuals and colors related to your brand's theme. Even a simple discount on your products will look enticing in such a popup.
Proven strategy: To make things even sweeter, you can put one of your lovely products in the popup background for better conversions. The best part about this popup design around Valentine's Day is that lovers easily get attracted to such visuals.
5 – Animated Valentine's Day Promotion Popup
Eyes rolling, hearts blooming, and flowers flying, all of these are the perfect ingredients to add that touch of romance to your popups. Yes, we are talking about adding animations to your visuals for better engagement.
Proven strategy: Wish shoppers a Happy Valentine's Day and present your offer with an animated popup. The discount should be appealing so that shoppers consider your offer.
6 – Spin-to-win Valentine's Day Discount Popup
Sometimes gamifying your popups is the best way to add fun to the browsing experience. This unusual popup Valentine template can do wonders if the design is right. Make sure to keep the visuals all red, pink, and white, along with multiple types of discounts (gift cards, coupons, exclusive deals, etc.) as presents.
Proven strategy: Attach a referral incentive as well to your lucky spin-to-win wheel. If the shopper refers your brand to their friends and family on social media, they get a free spin. That ensures that you will get more traffic as who would want to miss out on one more chance to grab an extra discount.
7 – Email Capture Valentine's Coupon Popup
If you are looking to redirect your blog readers to product pages, then an email capture coupon popup is the best way to do so. While the reader is scrolling through your Valentine-related blog posts, you can pitch in your product using a Valentine-themed lead capture popup.
Proven strategy: By offering a discount coupon in return for visitors' email addresses, you can collect emails of your readers. With the help of email marketing campaigns, you can then bring these shoppers back to your site to boost sales.
8 – Valentine's Day Video Popup
Video marketing is on the rise, and shoppers always prefer watching a video rather than reading something. Using a heartwarming video popup, you can show shoppers how their dear ones will feel with Valentine's special gift.
Proven strategy: You can share product explainer videos as well by using popups to convince the visitors to purchase. Try to personalize Valentine's videos for maximizing conversions and to touch all the right strings.
9 – Site-Wide Valentine's Day Promotion Nano-bar
Sometimes shoppers close the popups instantly without even seeing what the discount is. So, you can run a site-wide nano-bar campaign. It is like an announcement bar and will appear at the top of the page without disturbing or annoying the shoppers.
Proven strategy: You can choose your incentive and then pack it in a beautiful design. Write a short content copy such as "Time-limited offer! Site-wide flat 20% off on all products. Shop now!" or "Here's $25 coupon code ENJOYVALENTINE. Go to cart now!"
10 – Countdown-timer Valentine's Deal Popup
A ticking timer creates a sense of urgency, and as the occasion is only a few days away, the shopper already understands the rush to buy quickly. By giving a time-limited deal to visitors, you instantly push them down the sales funnel.
Proven strategy: You can display a clock or timer in your popup along with a message like "Last chance to enjoy 20% off on your next purchase." or "Special Valentine's deal ends in 15 minutes". Then, you can create scarcity with a message like "Only 5 left in stock. Act now!" and all of it can do the magic to fly your sales.
11 – Valentine's Day Mystery Offer Popup
Another way to gamify your popup is by adding the element of surprise to your offer window. Do not reveal your offer on the first popup window and ask visitors to click on one of the three hidden offers. When they click on it, display their lucky offer in the second step. It is a great way to capture leads.
Proven strategy: Let visitors know that they have won a 25% off on their next purchase, and to get the coupon code for the same, ask them to enter their email address. You can then send personalized emails to these visitors about availing their mystery offer. Shoppers are more likely to purchase using an offer they won by playing this game.
12 – Valentine's Personalized Recommendation Popup
When shoppers spend some time on your site, you can come up with personalized recommendations. According to the category of products that shoppers are browsing, you can display a couple of products from the best-selling or new-arrivals catalog.
Proven strategy: In the pop-up window, make sure to include the CTA "Add to cart" below each product and offer a special discount code as well. This way, you narrow down their choice and guide them towards making a purchase.
13 – Valentine's Day Special Flash Sales Bar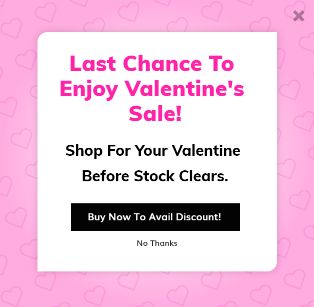 Valentine's Day is a great opportunity to clear out your stock, and a flash sale lets you achieve that with ease. Using a nano-bar at the top of your page, you can tell visitors about the ongoing flash sale to instantly increase sales.
Proven strategy: Create an engaging design that immediately attracts visitors to your offer. Keep the content copy like "Flash sale on selected items. Enjoy 50% off. Shop Now!" Such a copy keeps shoppers curious about the products, making your offer more appealing.
14 – Floating Valentine's Special Bar
Floating bars are effective if you want visitors to notice your offer without irritating them with a large overlay. The floating bar sticks to the webpage as shoppers scroll through, and then they eventually pay attention to your offer.
Proven strategy: Keep it as simple as a Happy Valentine's Day message with some flowers and hearts in it along with a sweet offer copy. Make sure to keep the CTA in contrasting colors so that shoppers can easily get the discount/gift card.
How Picreel Helps to Create and Manage Valentine's Day Popups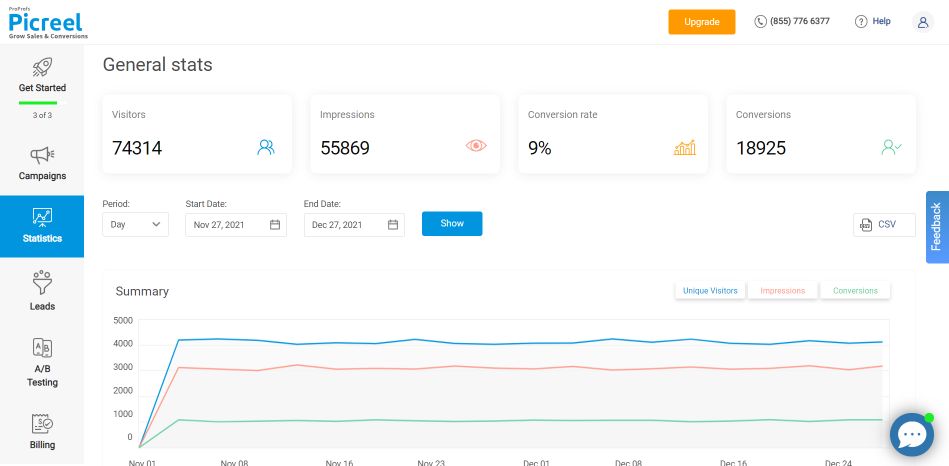 Designing beautiful popups from scratch is a difficult and time taking task. That's where Picreel's huge popup template library comes in!
Picreel popup builder is a lead generation and conversion optimization popup tool that is equipped with delightful Valentine's Day popup templates. You can get started with Picreel to create and launch high-converting campaigns in minutes.
Using Picreel's wide range of popups such as slide-ins, lightboxes, survey forms, nano-bars, and more, you can display personalized messages to your shoppers on Valentine's Day. Smart trigger and targeting options allow you to easily target the right shoppers at the right time with the perfect content.
With Picreel's popular AI-driven exit-intent technology, you can display targeted popups to shoppers that are about to leave your site. You also get an in-built A/B testing engine with powerful real-time analytics to constantly monitor and measure the performance of your popup campaigns.
Time to Grow Business This Season of Love!
Your site designs must be all groomed up with lovey-dubby Valentine's vibes. Now, it is time for you to get ready with some beautiful popups so that you can run an amazing on-site marketing campaign this coming festive season.
Using Picreel, you won't have to design the popups from scratch and can easily use high-converting Valentine templates. Keep on A/B testing your popups to see what works the best for your visitors. Time to get to work. Have a Valentine's Day full of leads and sales!
Do you want instant 300% growth?
Picreel popups can get YOUR website 300% instant sales growth. See Case Studies.