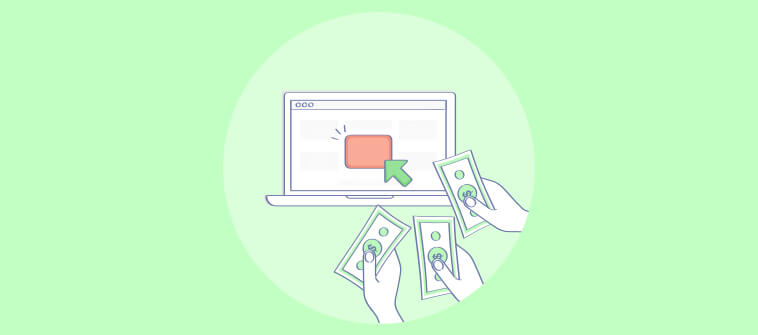 Just like you need petrol or diesel to run a vehicle, your business needs leads as fuel to keep growing.
Without leads, the conversion funnel dries, and your business eventually stops growing.
That is why capturing quality leads is the number one priority for businesses. But the question is – how to generate leads that help your business move up the growth ladder?
There are many traditional and latest techniques for lead generation, and these change from time to time as customers & businesses evolve across the globe.
To constantly get new leads for your business, you need a pool of ideas to find the perfect mix of traditional and modern lead generation strategies. If you are unsure of where to start, we are here with a detailed guide to help get you started.
What is Lead Generation in Marketing?
Lead generation in marketing is a process where businesses try to capture the contact information of potential customers who demonstrate an interest in their products and services.
The process generally involves a customer initiating a conversation via chatbot on your website or social media handle or filling out a popup/survey form on your landing page to get information on your products and services.
It is all about marketing your brand and increasing visibility, making it easily accessible to your target audience. When customers see your website or social profiles among the top rankings, they will be curious about your products and services and will try to contact you. The mode of contact leaves businesses with customers' contact details, which is a lead.
Why is Lead Generation Important?
For a business to grow, the customer base should also grow and leads play a crucial role in making it all happen. More leads mean more customers, more revenue, and in turn, more profit.
Here are some more benefits of lead generation.
Expand Your Market

: Lead generation helps you learn more about your prospects and that leads you to target different categories of customers. It allows you to expand your business into new markets by running different targeted campaigns for different audiences. This eventually drives more traffic and increases your customer base.

Build Brand Awareness & Visibility

: Creating awareness and visibility is vital for businesses to thrive in this competitive environment. When you work on your lead generation strategies, you will be creating quality content to draw the attention of potential customers and gain a good ranking on search engines.

Reduce Cold Calling & Emailing: When you get hot leads from your target audience, you can reduce ineffective lead generation methods such as cold calls and emails. This will allow your sales team to focus on closing more deals, and they can invest their time into knowing the potential customers better.
Boost Your Revenue

: When you capture the attention and contact details of potential customers through the right offers and messaging, you get qualified leads. This makes it easier for your sales team to convert them into customers, eventually improving your sales, revenue, and business growth.

Prepare Strong Base for Email Marketing: Email marketing is one of the sharpest weapons in this digital era to redirect existing and potential customers to your website. When you generate leads, you make those prospects a part of your email family, where you make announcements, send customized offers, and engage customers. To make your communication with email leads more effective, pay attention to the DMARC quarantine to ensure that your messages will deliver to the email recipient's inboxes.
Now that you have got a clear idea of why lead generation is important let's get right into how to generate leads in sales!
20 Lead Generation Strategies for Your Business in 2022
As a growth-focused business, the question that you may constantly be asking yourself is how to generate sales leads.
Well, here's good news. These lead generation strategies might have the answer you are seeking.
Optimize Your Website
Your website is where most of the transactions happen. If you are able to drive traffic to your website that doesn't translate into conversions, then it's no good for your business. Your website needs to be optimized so that the maximum number of people take the desired action.
To optimize your website, you first need to build responsive and fast-loading landing pages. Using a bunch of the right CRO tools, you can optimize your website elements, widgets, graphics, and content to capture the attention of site visitors.
Always keep in mind that you need to keep your website design and elements in line with the latest trends.
Also read

: 

21 Proven Conversion Rate Optimization Techniques to Boost Sales
Use Exit Popups Smartly
Exit popups are one of the most effective marketing tools to capture quality leads from website traffic. Popups are often seen as an intrusive medium that provide a poor user experience, but that is not the case with exit popups. If used smartly, these popups can prove to be a huge help.
The right time to target visitors is when they decide to exit your website. Use exit popups to share irresistible offers in the form of discount coupons, free guides, premium newsletter subscriptions, and much more in exchange for visitors' email addresses.
It helps you land quality leads and can even result in instant conversions.
Revamp Old Content
If you have been creating different types of content on your website for quite some time, then it is time to check and repurpose it. This content can include anything from eBooks, landing pages, and blogs to FAQs and any other infographics that you have on your website.
You should look for the change in trends, play with the headlines, update the statistics and use new images to attract new eyes to your best content. Provide a fresh perspective to old topics and build content that is relevant to today's customers.
Use Pay-per-click (PPC) Advertising
Visitors that land through PPC are 50% more likely to complete a purchase than those that come through organic traffic.
You can launch relevant advertisements to bring in quality traffic from social media platforms like Facebook, Instagram and search engines like Bing and Google.
Using paid advertising, target high-value, competitive keywords to attract your audience. Target these visitors with your best products, services, and offers and redirect them to relevant landing pages. With the help of a lead capture form on website pages, you can collect their contact details as well.
Use Behavioral Targeting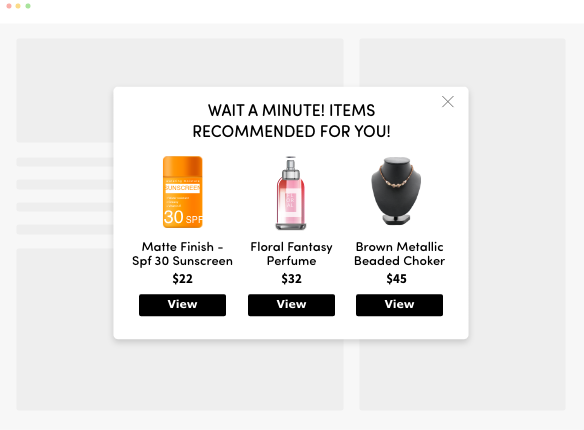 Personalization is the secret key to unlocking successful lead generation campaigns.
For that, you need to first understand your target audience and present them with personalized content and offers. Using the right tool, you can use behavioral targeting to display appropriate messages at the right time and increase your chances of conversion.
Based on visitors' browsing habits, you can display product recommendations and guides as well to capture their contact details. The more personalized your campaigns are, the more special visitors would feel and they are more likely to associate with your brand.
Use Referral Marketing
Referral marketing is one of the oldest and classic lead generation techniques out there. If your existing customers are happy with your products and services, you could easily set up an incentive scheme. This way, customers will happily refer your brand to their friends and family. Also, don't forget to do referral tracking to check the efficiency of your strategies and make informed decisions to build successful referral programs.
An incentive scheme generally consists of offering a discount coupon or gift card to customers on their next purchase. You can also provide incentives to new users that sign up using the referral link, making your referral campaign a successful one. Have a dedicated page about referrals on your website and display popups or send emails to customers to encourage them.
Integrate Live Chat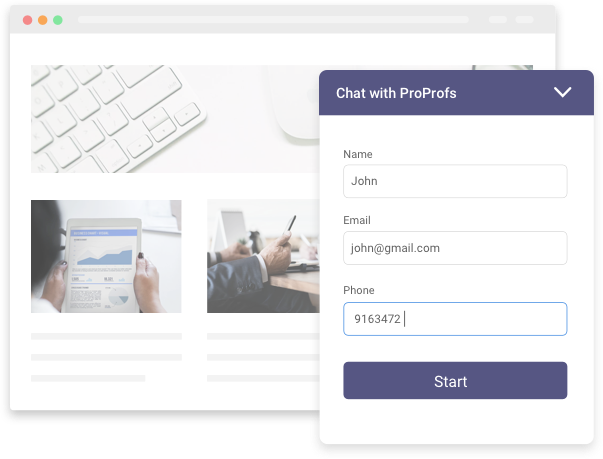 Live chat is a great way to interact with your site visitors.
Around 63% of visitors are likely to return to a website that offers a live chat option. Why so? Because sometimes visitors have questions about your products/services and instant response from your support team can nudge them in the right direction.
Make sure to stay proactive and that too without being intrusive or annoying. Use the live chat window to display recommendations, offer instant help or redirect visitors to relevant help guides. When your support agents interact with visitors, they can collect their contact information in the live chat window.
Implement Lead Magnet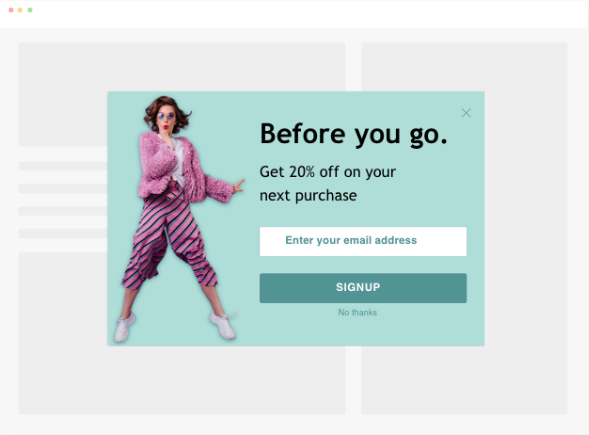 A lead magnet is a marketing tool that helps you capture leads by offering some resources in exchange for visitors' contact details. These magnets can be useful resources such as discount coupons, eBooks, whitepapers, marketing guides, tutorials, cheatsheets, infographics, and more.
Whatever you choose, it should be relevant and tempting enough for visitors so that they notice your offer. As for the distribution channels, you can use lead magnets on your landing pages and can display your offers in the form of targeted popups & full-page overlays.
Create a Sense of Urgency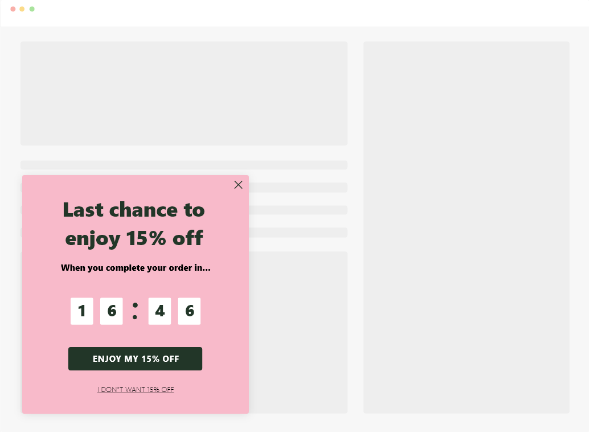 Fear of missing out (FOMO) is a marketing tactic that still works for lead generation. The offer looks more appealing when there is a countdown timer attached to it. This is also great to get more sales in a short period of time.
Using popups and nano-bars, you can host a flash sale or display a time-sensitive deal to site visitors. This helps you instantly gain the attention of potential buyers. With an engaging content copy and CTA, you can easily push these visitors down the conversion funnel.
Optimize Your Call To Action
Call to action is a crucial website element for capturing leads.
It directs your visitors to take action on your website. So, you should first make your goal clear whether you want to collect email addresses or redirect visitors to another page.
Once the goal is clear, use your creativity to create an interactive CTA with limited words. Make sure to use action words such as Get, Buy, Avail, Join, Add, and so on. Finally, keep your CTA consistent across your landing pages and popups to avoid distractions.
Host a Giveaway or Contest
Hosting a giveaway or contest monthly or quarterly can generate a lot of email and social leads in a short period of time. The technique is simple – you offer a prize, and anyone who wants to participate in your contest needs to enter their name & email address.
To increase the chances of winning, participants need to refer friends, like/follow your social media pages, and share your giveaway on their social media profiles.
The catch here is to get creative with the prize or reward to attract your audience. You can provide gifts like $100 gift cards, tickets to an event, your best-selling product, software subscription, etc.
Generate Leads on LinkedIn
Running a lead generation program on LinkedIn can yield profitable results. It is a great platform to make connections with top industry professionals and leaders and generate business opportunities.
Connections often ask for product/service recommendations on LinkedIn and with advanced search filters, you can find & reach such potential clients and also extract LinkedIn searches.
If you have a dedicated budget for social media advertising, then utilize it to advertise your services on LinkedIn through lead generation ads. The ads are only displayed to relevant users, and you can get instant sign-ups with the embedded lead generation forms in your ad.
Write Guest Posts
Guest blogging is primarily a part of content marketing and SEO strategies as it helps businesses acquire new connections and industry-relevant backlinks. But, at the same time, it generates referral traffic that can help you capture leads.
With URL filtering, you can present relevant offers and redirect visitors to custom links based on the guest posts they come from. Also, make sure to choose blogging sites that are relevant to your location and industry to get quality traffic plus leads.
Be Active on Forums
To showcase your subject matter expertise, forums provide you with a great platform where you can answer questions from relevant categories. There are different forum sites such as Quora, Reddit, ProductHunt, and Stack Exchange, where you can actively take part in discussions and offer practical advice to people.
As per the questions, you solve a person's problem while subtly pitching your product or service without being over-promotional. Moreover, in the comment sections of these forums, you are likely to find leads that are looking for services that your business offers. So, that provides you an opportunity to redirect such people to your brand.
Interview Influencers
Customers follow and respect industry influencers and leaders. By setting up interviews with influencers, you can expand your reach and network with people interested in your offerings. As these influencers share the recorded video interview or podcast on their social channels and blogs, your brand gets more recognition.
While taking interviews, keep the questions short and simple, and ensure that the topic is relevant to the target audience. These interviews serve as proof of credibility and increase your chances of capturing more leads.
Add Survey/Quiz to Your Blog
Posting a survey or quiz at the end of your blog or on the side of the post can draw readers' attention instantly.
Using a survey tool like Qualaroo, you can easily create surveys & quizzes and embed them on your website. Another way to hit readers with a survey is by displaying a popup survey form using a tool like Picreel popup builder.
Once your visitors read the blog, they can share their feedback about the content you've written and the topic as a whole. It helps in building a good relationship with your audience and is a great way to get quality leads in the longer run.
Share Videos on YouTube
YouTube is not only an entertainment channel or a simple video hosting service, it is also a popular and widely used search engine. Your videos stay on YouTube for a long time, and with relevant plus quality content, you can generate quality traffic to your website.
By creating your own channel on YouTube, you can share informative videos, tutorials, guides, comparisons, and more. The more you contribute to the community, the more recognition you get and that makes you stand out from the competitors.
By mentioning your products and services in the description section of videos, you can direct viewers to your website.
Host Educational Webinars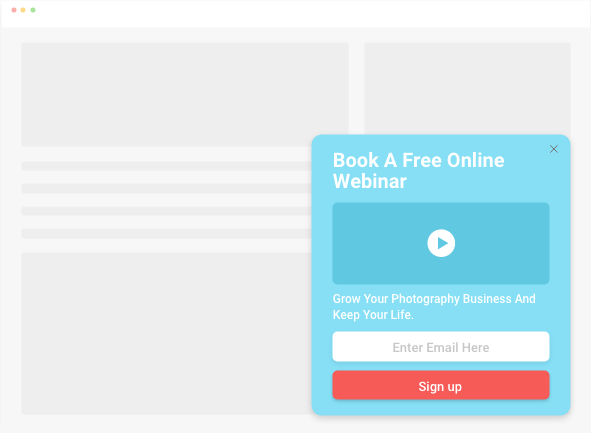 Webinars provide you with a great platform to connect with prospects and customers. You can easily promote your brand and interact with the audience to resolve their doubts. By promoting the webinar on your social media and website, you can get many participants.
But for people to participate in your webinar, you need to choose topics that are interesting and relevant to your audience. As more people get interested in the topic, they are likely to fill the webinar forms. This way, you end up generating leads.
During the webinar, all you have to do is put up a good show and prioritize the leads you've captured.
Use Social Media Hashtags
Social media is growing at a rapid rate, with people spending a lot of time on different social platforms such as Twitter, Instagram, and Facebook. Identify the most appropriate platforms for your social media campaigns and make use of hashtags to increase post reach and engagement.
But why do hashtags work?
Social media users who want to see specific posts, updates, products, and services regarding a particular topic or industry, generally use relevant hashtags to get the right results. So, you can strategically leverage social media hashtags to attract new leads and customers.
Maintain Reviews on Review Platforms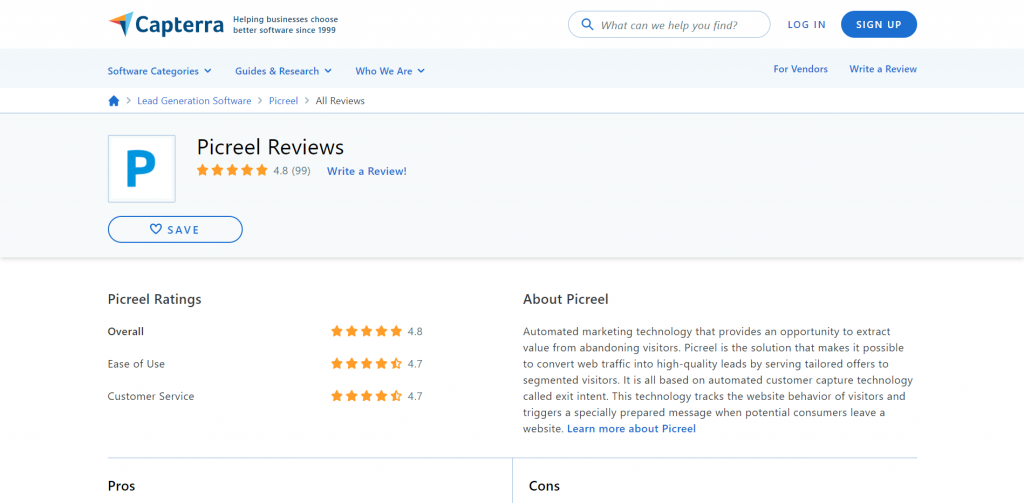 Almost every business in every industry has some popular review platforms where people can search, discover and learn about different products and services. Some of these platforms are Capterra, G2, Getapp, Glassdoor, Yelp, Trustpilot, etc. for different industries.
Make sure that your brand is listed on relevant review platforms. Ask your existing customers to post their reviews on these platforms. Offer your customers incentives such as gift cards, discount coupons, free webinar tickets, etc., so they are willing to give their valuable reviews and ratings.
This way, you create a sense of trust and credibility, which eventually attracts new leads.
How Picreel Helps You Capture Quality Leads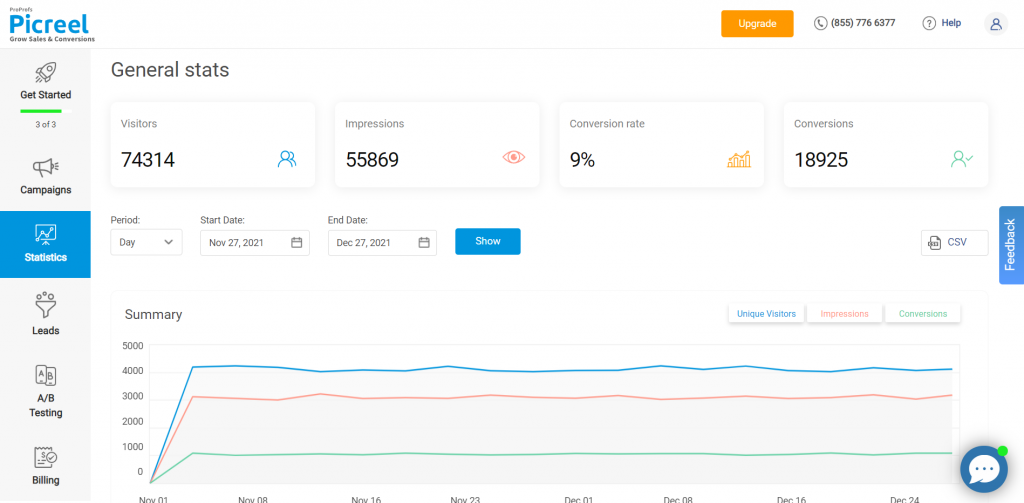 Businesses, especially the ones that have growth on their minds, constantly face one question – How to generate leads on a website?
Picreel has the right answer.
It is a lead generation popup tool that helps businesses display delightful website popups to visitors. Its template library has over 100 popup designs to let you quickly create lead capture forms, lead magnets, surveys, and exit popups.
With the help of advanced personalization options, targeting settings, and trigger rules, you can display customized offers to the right audience at the right time. Picreel's AI-powered behavioral targeting helps you further analyze visitors to understand them better.
From the main dashboard, you can track all popup campaigns in real-time and analyze leads and conversions. All the incoming captured leads are automatically updated, and as Picreel supports integration with 700+ tools, you can sync leads in real-time with your CRM, email marketing, and sales software.
The best part about Picreel is that you get a built-in A/B testing module that allows you to divide the traffic for testing multiple popups. Based on the smart reports and analytics, you can check the performance of your lead generation popups to decide which popup is helping you capture quality leads.
Read more

: 

Improve Conversion Rates by A/B Testing : [Step-By-Step Explanation]
Time to Capture Red Hot Leads!
The blog started with a simple question: how to generate leads online?
So, there you have it. 20 ways, each with a great potential to generate more leads and sales for your business. You don't need to run after each of these ways. All you have to do is figure out the most effective techniques according to your industry.
Make sure to always stay updated with the industry trends and target the relevant audience. If you ask us about an evergreen lead generation technique, then we would suggest going with targeted lead capture forms & popups on your website. Traffic will always come from different sources, and popups are your best bet to gather leads.
Time for your move!
Do you want instant 300% growth?
Picreel popups can get YOUR website 300% instant sales growth. See Case Studies.