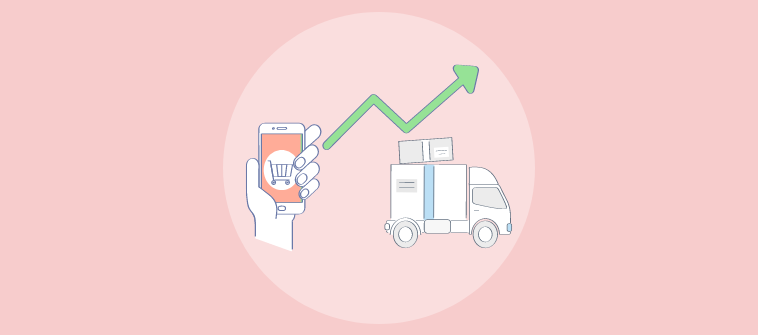 The eCommerce industry is evolving at a rapid rate in order to entertain customers' demands and preferences. And thanks to new and advanced technologies, small business owners find it much easier to adapt their digital marketing to these changes.
To maximize the value of your marketing efforts, you need to have a good idea of which strategies to adopt for your small business. In this article, we'll provide you with the top 10 eCommerce marketing trends that can drive customer acquisition, increase sales, and improve the overall shopping experience across your channels.
What is eCommerce marketing?
With eCommerce business models, entrepreneurs and small businesses can use social media, digital content, search engine optimization (SEO), and email marketing to attract visitors and facilitate purchases online.
The practice of eCommerce marketing consists of a variety of actions aimed at increasing profits and ROI by driving traffic to your eCommerce platform and converting those users into paying customers. Some tactics are more effective at attracting new customers, while others are more effective at retaining existing customers or prompting a repurchase.
What are the benefits of eCommerce for small businesses?
Increased business reach:

One of the most significant benefits of eCommerce selling is that it allows you to reach people in places where you cannot physically be present. You can sell your products or services across different locations rather than from a in single store. As a result, you can serve customers from not only all over the country, but the entire world.



Low operational cost:

Having an online store

means that you don't have to build physical stores or pay rent at all the locations where you want to sell your products or services–a single website can do the job for you. So, while you have access to a global customer base, your operational costs are kept at a minimum

Increased brand recognition:

When your customers appreciate your products or services, it's difficult for you to leverage those feelings to influence new customers as a small offline business. However, if your company has an online presence, your customers can express their gratitude through social media and tag and link back to your eCommerce store in the process.

These reviews are publicly available for all to see, which allows you to persuade new users to become customers. However, to maximize the value of social media for your business, you need to have a social commerce strategy in place, and optimized accounts across the social media platforms where your target customers are active.
Availability 24/7:

You can accept fresh orders and address customers round the clock all through the week when you run an online business. The

same is

not possible in the case of an offline brick-and-mortar store. By going online, you never let an opportunity pass you by.
What are the different types of eCommerce marketing?
Ecommerce marketing includes almost all digital marketing channels as well as some traditional offline channels:
Search engines:

Search engine optimization (SEO) is about making your website more visible and easily discoverable within search engines such as Google. Through effective targeting, you can also convert people who don't already know your brand, but that have a problem that your product addresses.



Social media:

This includes both paid and organic social media marketing, as well as using social commerce features across platforms such as Instagram (Instagram shops), Pinterest (product pins), and TikTok (shop now

video ads

) to promote and sell products. For organic. You can use

social media marketing tools

to improve your visibility.

Email marketing:

For most eCommerce brands, email marketing is essential both as a channel to nurture new customers–who you've persuaded to sign up for your email communications–and to retain existing customers who you contact with others and deal with. If you are able to segment your audience, it will make it possible for you to send the proper message to the corresponding audience.

SMS: SMS marketing is the practice of sending text messages to promote a product or service, and it can also be utilized to address macOS update issues. It's ideal for alerts, updates, and time-sensitive offers that must be read right away, including important information related to resolving any macOS update issues efficiently
Affiliate marketing: This practice of affiliate marketing is based on a network of affiliates

, or referrers, who drive traffic to your online store and are compensated for each sale they assist in making. This includes influencers posting directly on social media using an affiliate tracking link.
Biggest eCommerce Marketing Trends for 2023
Buy Now, Pay Later
Buy now, pay later (BNPL by its acronym) has adapted from a niche payment method to one of the hottest payment trends in recent years. According to research, BNPL will become a mainstream payment method in 2022.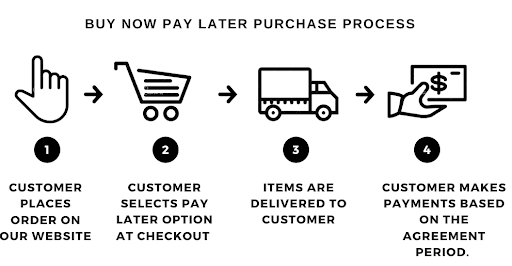 Source: Medium
Buy now, pay later brings the concept of installments into the digital age by allowing any retailer to offer installment payments for any product, no matter how small, both online and in-store.
Shoppable live streams
More and more customers prefer to interact with the products they buy through video rather than images. This year, 2022, and the upcoming months will put a greater emphasis on producing videos that personalize the shopping experience.
Do you remember those good old-fashioned home shopping channels? Well, they've made a comeback of sorts, albeit through streaming channels instead of TV networks.
Take a look at footwear retailer Aldo, for example. The brand has teamed up with celebrity stylist Mimi Cuttrell and LA entertainer Nate Wyatt to deliver a social shopping spectacle. On this particular stream, the pair shared their favorite style tips on how to wear various shoes and accessories.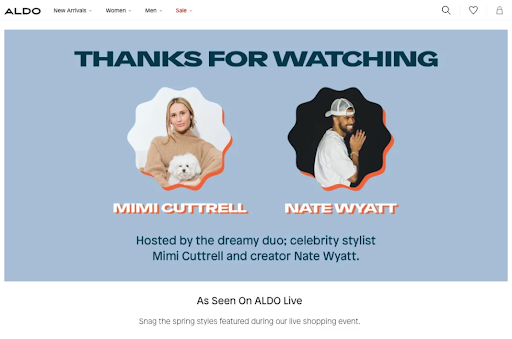 Source: Aldo Shoes
After hosting a shoppable live stream in the Spring of 2021, the brand noted a 308% engagement rate and registered 17,000 page views on its website in the first five days after the event.
Virtual Payment Methods
The popularity of cryptocurrencies has skyrocketed in recent years. This trend is expected to grow in the coming years.
These currencies, such as Bitcoin and Ethereum, lack the big-name recognition–and consumer confidence–required for widespread adoption. But they have the potential to become more popular as people learn what cryptocurrencies are and how they work.
Cryptocurrencies are not appropriate for every small business. However, those that do offer crypto as a payment method may gain an advantage over their competitors due to lower fees and faster payment processing times —not to mention being one step ahead of the curve
Augmented Reality Experiences
AR is ideal for eCommerce because it can provide customers with an interactive and engaging shopping experience. Potential buyers can, for example, try on clothes or accessories without having to go into a physical store, or they can see how furniture will look in their home before purchasing it. This is an important trend to capitalize on.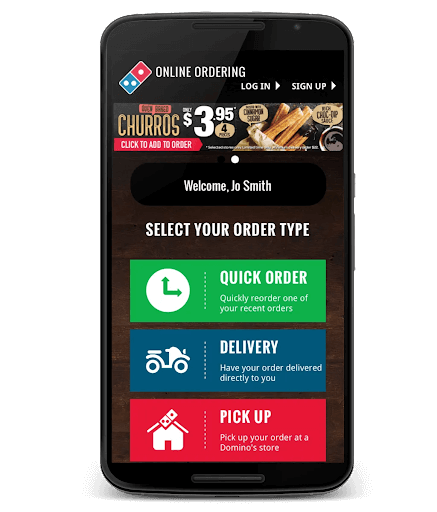 Source: Dominos
For example, Domino's is unleashing the power of AR, enabling customers to visualize different combinations of pizza with its AR tool, the New Pizza Chef App. Thanks to the app, customers can delight in visualizing, creating, ordering, and tracking a pizza of their choice.
Enhanced mobile experience
Another important trend you need to follow is the introduction of better mobile experiences for eCommerce websites
Today, mobile devices accounted for nearly 55% of all web traffic. Customers use their mobile devices to research potential purchases, compare prices, and purchase products. As a result, if your eCommerce website isn't mobile-friendly, you'll lose a lot of customers.
Optimizing for mobile will still impact your overall revenue, even if you don't see a significant increase in revenue from mobile devices. The improved experience may entice online shoppers to buy from you via desktop.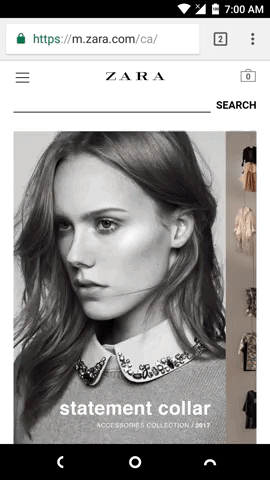 Source: Zara
A perfect example of a well-optimized mobile site is apparel brand Zara's online store. With easy navigation and stunning on-brand visuals, Zara showcases product categories, making it easy for shoppers to find what they're looking for. This gives new visitors a visual overview of everything the brand has to offer, as well as what they represent.
The key to mobile optimization is ensuring that mobile visitors don't face any issues with navigation and browsing. They should be able to quickly and easily find what they're looking for.
Increased use of videos
For eCommerce marketing, videos are excellent at capturing the attention of potential shoppers. Creating Video is much more appealing to audiences than image or text because it can more easily translate to storytelling (and people love stories!).
A great example of video marketing by an eCommerce brand is this content from Nine Line, an online apparel store. Nine Line has become known for creating humorous and engaging product videos that tap into the interests of the brand's target audience.
More chatbot support
The key to eCommerce marketing success is to provide a best-in-class online shopping experience and customer service. You must prioritize your customers and ensure that they do not encounter any difficulties when attempting to purchase from you.
This means if they have any issues or questions while shopping and can't find the answer or solution immediately, you'll need to deal with it as quickly as possible.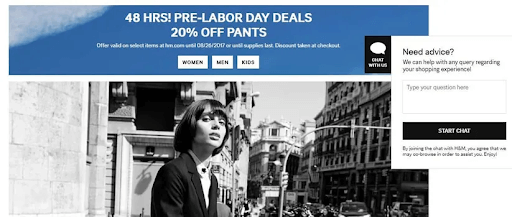 Source: Warby Parker
Warby Parker, an online eyewear retailer, takes advantage of this eCommerce trend to serve customers better. It makes it easier for customers to contact them by emphasizing all available communication channels. And to avoid customer dissatisfaction, you can follow Warby Parker's lead and show your customers when live chat agents are available.
Buy buttons on social media
Social media platforms continue to play an important role in your customers' everyday lives. They also significantly impact eCommerce marketing because they can help drive traffic to eCommerce websites. As a result, social commerce features such as "Buy" buttons are a significant trend.
Buy buttons enable online shoppers to purchase products they see in-app without having to search for the product on a brand's website. They can either complete their purchases right on the platform or get directed to a mobile-optimized product page.
The following Pinterest pin from SOBU is a great example of this trend. As you can see, there are some product details such as pricing and stock availability included within the product pin.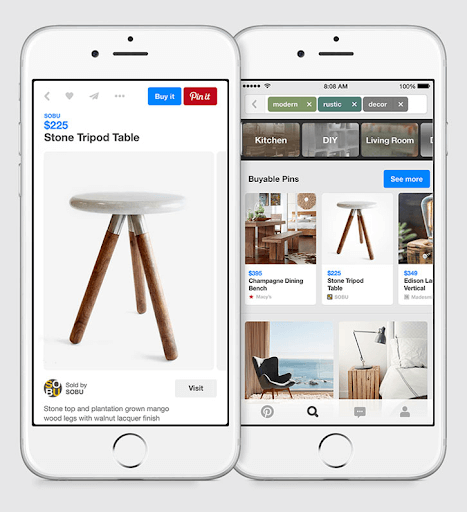 Source: Pinterest
There's also an "Add to Bag" button right below the product's image that shows on Pinterest. The image shows the checkout page on Pinterest, where users can add a shipping address and payment details without having to leave the social media platform.
Personalization
While quality content helps you stand out from the crowd, personalizing your content increases retention for eCommerce marketing and is, therefore, a significant trend. All online stores will have a mix of first-time visitors and returning customers. As a result, a one-size-fits-all strategy will almost certainly fail to deliver a positive customer experience.
Personalization can provide an amazing user experience for your customers, including product recommendations based on a customer's previous purchases or preferences.
Amazon capitalizes on personalization by providing every visitor to its website a bespoke experience, as well as referring you to a local site that may be more relevant based on your location.
Influencer marketing
A recent study conducted by Twitter has revealed that consumers trust influencers almost as much as their friends. That's why your small business can benefit greatly from the right influencers and an effective strategy. For example, if you have an eCommerce business specializing in fitness gear, an influencer promoting health and fitness will be a suitable choice.
Revolve, an online fashion store effectively uses this e-commerce trend to promote its products and boost sales. They are known to post images on Instagram of influencers wearing Revolve clothing regularly, and those influencers also use a branded hashtag to promote the brand in their endorsements too.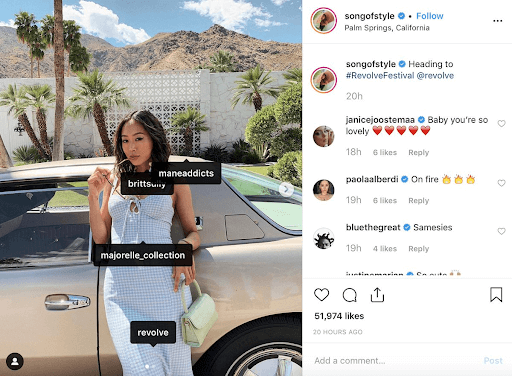 Source: Revolve
Expand your small business with these eCommerce marketing trends
The world of eCommerce is rapidly evolving to meet changing consumer preferences, while small businesses are simultaneously looking to emerging technologies to automate marketing, production, fulfillment, and other aspects of their operations.
Since people are spending more time and money online nowadays, it makes it even more important than ever for small businesses to optimize site performance and experience, and to incorporate eCommerce marketing tactics into their strategy. Use the aforementioned eCommerce marketing trends to help you grow your business in 2022 and beyond.
Do you want instant 300% growth?
Picreel popups can get YOUR website 300% instant sales growth. See Case Studies.