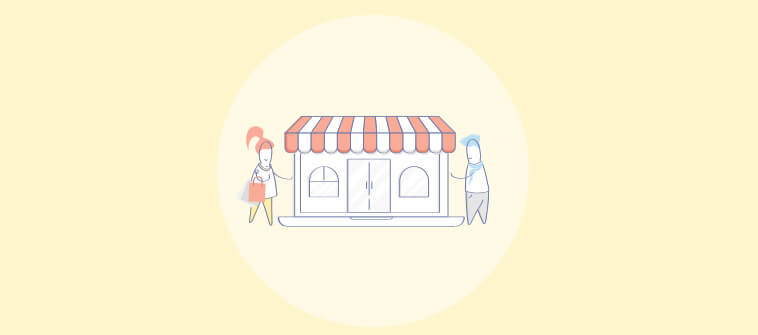 Did you know that the average eCommerce conversion rate is 2.86%?
It implies that only 2-3 out of 100 online shoppers that visit an eCommerce website successfully complete the purchase process.
So, the money spent on customer acquisition is definitely driving traffic to your online store, but it is a missed opportunity if shoppers are leaving without making the purchase. What can you possibly do in an ocean full of eCommerce stores to convince shoppers to buy from your store?
Well, it is definitely not rocket science, and the path to success begins with optimizing your website step-by-step. When done right, businesses can easily boost their conversions without burning a hole in their pocket.
In this blog, we will be sharing cost-effective strategies and tips to take your online store to a whole new level.
What is eCommerce Conversion Rate?
eCommerce conversion rate is the percentage of visitors who complete the desired action after landing on a website. This desired action can be anything from making the purchase to signing up for a newsletter or scheduling a call with your sales executives.
But for most of the online shopping stores, this rate is simply the percentage of visitors that purchase something from the store. It is an important marketing metric that can help you measure the success of your online business.
Let's check out in detail why businesses invest a lot in boosting their e-commerce conversions.
Why Conversion Rate is an Important Metric in eCommerce
Alongside other metrics such as traffic source, volume, CPA, and more, conversion rate has a crucial role in the performance of your online business. Marketers that follow conversion rate optimization (CRO) best practices witness a significant increase in conversions. Here are some of the benefits of focusing on eCommerce conversion rates.
Boost Revenue

: To build your revenue, you need to work on getting more conversions – it is as simple as that. That's why CRO is the most reliable and cost-efficient way to boost your revenue. Instead of spending a lot of bucks on third-party advertising, you can easily save that money by focusing on converting the quality traffic on your site.

Improve User Experience

: While optimizing your website, user experience (UX) is what you pay the most attention to. This means that your website automatically offers more value and provides visitors with a delightful shopping experience. All of it contributes to making your site more credible.

Boost Remarketing Campaigns: It is always cost-effective to sell to existing customers than hunting for strangers. But for that, you need to make the first sale. The more site visitors you convert, the more you can capitalize on future sales, making a high conversion rate an important part of your marketing strategy.
Improve Search Engine Rankings

: Improving your website for better conversion rates eventually helps you with search engine optimization. When you focus on creating great website content, graphics and using the right keywords, you easily get higher rankings on search engines that translate into more traffic.
So, these are some of the points that make conversion rate eCommerce an important metric. Let us now check some conversion hacks to increase your conversions in no time.
12 eCommerce Conversion Hacks to Boost Your Conversions in 2023
To cover the distance from the average eCommerce conversion rate to a higher rate, the below-mentioned hacks and tips will prove tremendously helpful.
High-Speed Load Time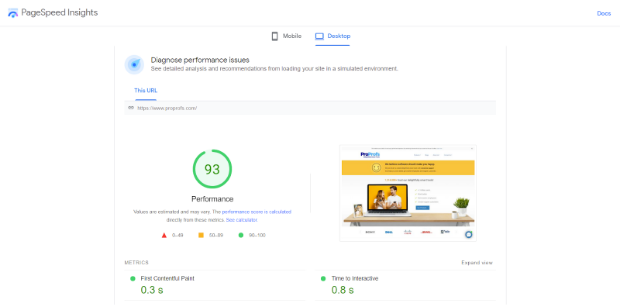 One of the leading reasons behind shoppers losing interest in an eCommerce website is long loading times. If your site takes more than two seconds to load, then you are leaving a lot of revenue on the table.
You can test your site's speed using Google PageSpeed. If there are red alerts in some areas, check at your end for what's hampering the speed. Make sure to see your hosting plan and choose a plan that offers a turbo speed. Next, optimize your images, thumbnails, and videos for both desktop and mobile pages so that your site loads up in no time.
Use CRO Tools
Conversion rate optimization (CRO) tools are helpful to increase conversion rates, and you need to pick the right ones to provide a delightful experience to visitors. These tools are not from a specific domain and consist of popup tools, survey tools, data analytics & user-behavior tracking tools. They also comprise user testing tools, live chat tools, A/B testing tools, and landing page design tools.
Initially, you need to carry out a CRO audit to get a 360° view of conversion status across your website. Based on the areas where you are behind, you can choose a set of CRO tools to optimize those areas for better conversions.
Also read

: 

30+ Best CRO Tools (Free & Paid) to Grow Business in 2022
Stay Responsive
A responsive website simply implies that the site automatically responds and fits different devices seamlessly, making browsing easier for visitors. It means that the website will minimize the need to scroll, resize, or pan to deliver an enhanced browsing experience.
For this, you should follow a mobile-first site design approach. Even Google is now focusing more on mobile-first indexing, meaning you will have to optimize your website for mobile devices to rank well on Google. Also, smartphones are the preferred device for eCommerce shopping nowadays, so you too should embrace mobile e-commerce.
Implement Live Chat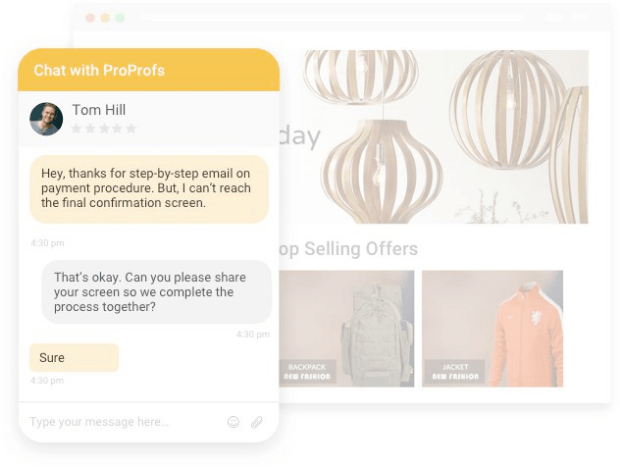 Shoppers sometimes get confused with multiple products and services on your website. They may have doubts about the products or face some issues with price or payment method.
In such situations, they look for instant, accurate replies. Implementing live chat support on your website helps you resolve shoppers' issues in real-time and enhance your brand trust and image.
Also, make sure to follow a proactive approach. By observing shoppers' behavior, you can proactively start a conversation such as "Hey there, do you need help with product XYZ?" It makes them feel comfortable, and your support agents can then eventually guide shoppers towards the checkout page to complete the purchase.
Offer Free Shipping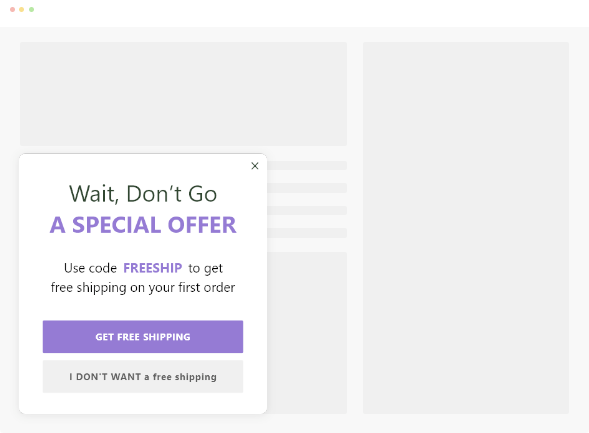 Shoppers automatically get attracted to the word "FREE".
9 out of 10 online shoppers say that free shipping is the number 1 incentive to shop more. Moreover, 49% of shoppers abandon their carts due to high shipping costs.
All of this points to one direction – Free shipping is a great way to get more conversions.
If free shipping is not working out for your business, then you can cover the cost of shipping to an extent in your product price. You can also make your free shipping offer exclusive to visitors with the help of popups and nano-bars.
Using a free shipping lead magnet, you can display the free shipping code to visitors in exchange for their email addresses.
Create a Sense of Urgency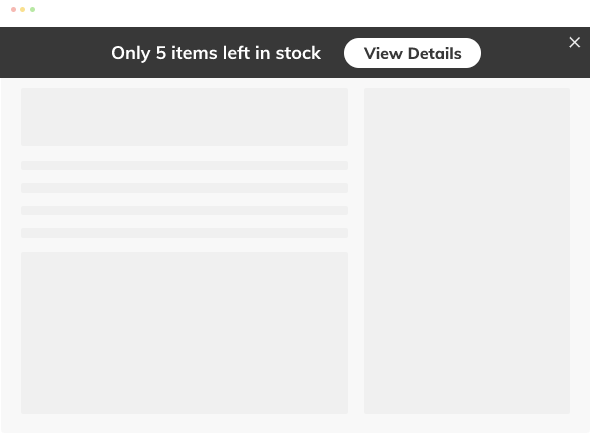 Creating a sense of urgency is one of the oldest and classic marketing tricks to increase eCommerce conversions. For visitors that are engaged or have added products to their carts, you can display them a limited-time deal or show the limited availability of products.
Also, occasionally, you can host flash sales on your website. It is a great way to grow your sales number in less time. Using nano-bars, you can make announcements about the ongoing sale to create fear of missing out (FOMO). When coupled with customized offers, such a tactic can do wonders.
Add Social Proof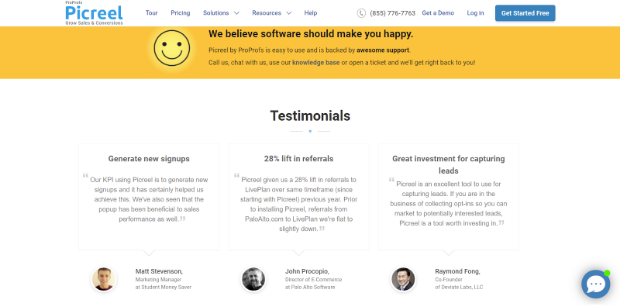 Adding customer reviews and ratings of your products creates a sense of trust.
Moreover, nearly 9 out of 10 customers read online reviews before making a purchase.
You should provide a review box to give your customers a chance to leave their valuable feedback. This creates credibility and builds trust in the customer. You can send an incentivized email to your shoppers post-purchase to encourage them to write reviews.
You can even put up the testimonials of your loyal customers on your homepage. People love personal recommendations, and it is one of the key reasons behind the purchase of products online.
Use High-Quality Product Images/Videos
Simply say NO to stock images and low-resolution pictures of your products.
When you show detailed images or videos, shoppers can get a virtual feel of what they are about to purchase. When they understand your product better, they are likely to make a purchase.
The best way is to provide a 360° view of your product. Capture multiple images from different angles and showcase them creatively on your product pages. Also, let's say if you are selling sunglasses or fashion accessories, you can have pictures of models wearing those accessories. It helps your shoppers visualize the product in a more interactive manner.
Simplify the Checkout Process
Nearly 24% of shoppers abandon their carts because the site made it compulsory to create an account, and 18% leave a site because of a complex or long checkout process.
So, you definitely need to make sure that you provide a seamless checkout experience to shoppers.
Firstly, you should enable a guest checkout option so that visitors can easily complete the purchase process. Next, you should limit the number of steps to two or three. Enable an indicator at the checkout to let visitors know where they stand in the process. Ask for only relevant and necessary information so that shoppers can place the order quickly.
Reach Out to Abandoning Shoppers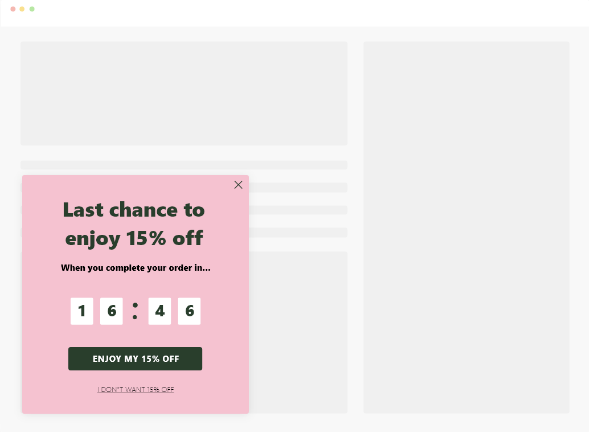 You need to pay attention to how many shoppers are abandoning their carts and why they left your store in the first place. If it's all good on your side, then reach out to these shoppers through email marketing campaigns to redirect them back to your store.
Also, when shoppers are about to leave your website, you can hit them up with an exit popup. Offer a discount code or a better deal to reduce cart abandonment. Using an email capture popup, you can at least collect their email addresses to follow up later in their inbox.
Offer Multiple Payment Options
Online payments are now revolutionizing and there's no need for you to just stick to credit & debit cards.
17% of the shoppers simply do not feel safe while entering their card information online. Moreover, it is a lengthy process compared to the in-trend digital wallets.
Yes, we are talking about Amazon Pay, Apple Pay, PayPal, Google Pay, and other Crypto wallets. A lot of shoppers place orders on eCommerce sites from their mobile devices and these wallets help them complete the payment in a couple of clicks.
Try to offer multiple payment options and use icons of trusted payment methods on the checkout page to make customers feel safe.
Always Conduct A/B Tests
A/B testing is the key to increasing average eCommerce conversion rates. It simply means that you should test the same element by making minor changes to those elements and then check the impact on conversions. This is an easy way to assess what your customers like more.
You can A/B test different website elements such as the headline of your landing page, placement of graphics, testimonials, popups, CTAs, and more. Direct half of the traffic to page A and the other half to page B.
Measure the performance of both pages, and you can easily know what change boosted your conversions.
Read more

: 

Improve Conversion Rates by A/B Testing : [Step-By-Step Explanation]
How Picreel Helps You Land More Sales & Conversions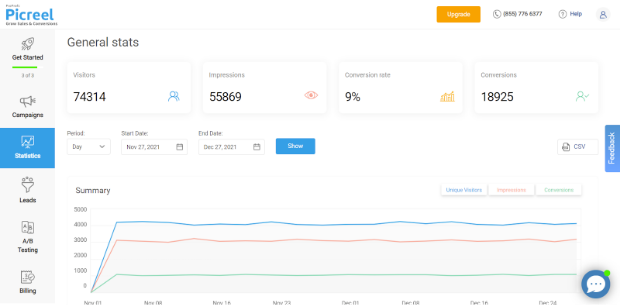 Picreel is a conversion rate optimization popup tool that is designed especially for eCommerce businesses to target shoppers with delightful popups.
Popup marketing is an efficient technique to convert more visitors into customers. Using Picreel's AI-powered popups, you can easily target engaged visitors and push them down the sales funnel.
Picreel allows you to create unique popups from a template library of 100+ popup designs in minutes. Using advanced trigger and targeting options, you can choose your audience to display the popups at the perfect moment. From a detailed and intuitive dashboard, you can see the statistics to analyze the conversions in real-time.
What's more?
Picreel has an in-built A/B testing engine that lets you find the best-converting popups. If implemented correctly, you can witness a conversion boost between 15% and 300%. Also, you can easily transfer captured leads to your sales, CRM, and email marketing tools as Picreel offers integration with 700+ apps.
Time to Clock Your Conversions!
Now that you have a proven checklist to boost your conversion rates, it is time to fix the leakage in your conversion funnel. If you are wondering what a good eCommerce conversion rate is, then there is no benchmark for that. Always fix the goal to more than what you are currently achieving and move up the ladder slowly.
Use the right CRO tools to optimize your conversions. Furthermore, you can always rely on Picreel to especially target visitors that are about to leave your site. Make sure to always A/B test your website elements for delivering a better user experience & increasing conversions.
It's now your turn to get some conversions!
Do you want instant 300% growth?
Picreel popups can get YOUR website 300% instant sales growth. See Case Studies.