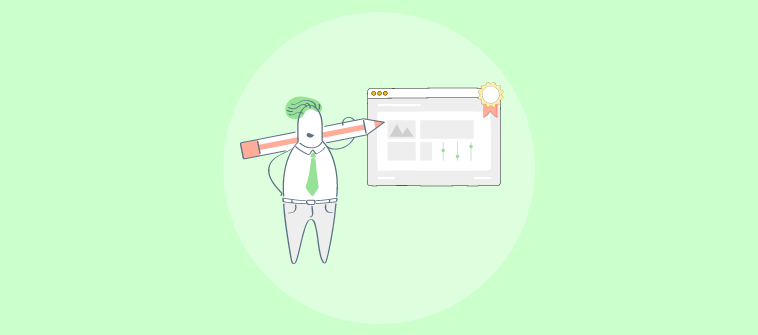 Personalization software is a gateway to creating a better experience for every user. Marketers use the tool to provide tailored content that helps users move down the sales funnel.
Learn the definition of personalization software, its benefits, and the 20 best personalization software for your company in this post.
What Is Personalization Software?
Personalization software is a tool designed to assist businesses in customizing the content as per the interests, expectations, and behaviors of the users.
In the past, personalizing the content for every user would be a time-intensive task. But today, the use of tools can help achieve the same goal in no time at all.
E-commerce stores can get high financial incentives through personalization tools.
Why Do You Need Personalization Software?
Showing tailored content that aligns with the needs of every unique user can help get sales faster.
For that unique experience, you need to invest in the right personalization software. These tools help cultivate loyalty towards your brand. Moreover, these applications help improve customer satisfaction.
The lack of personalization can directly affect a company's revenue. It leads to frustration in the potential customers, which can lead to revenue loss.
As per a Forbes article, 71% of consumers feel frustrated if their shopping experience is impersonal.
20 Best Personalization Software Options
Not sure which personalization software to choose? Here is our list of the best personalization software options for 2023.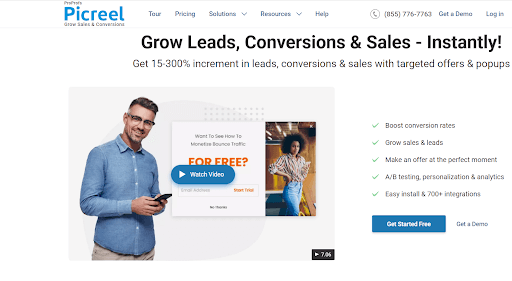 Picreel is a popup application that customizes the user experience with website overlays. They can contain personal information about the users. Personalize the offers as per the users' needs for that added personal touch.
Picreel uses personalized marketing tactics to boost eCommerce conversions. It tracks the user's interaction with the website and then determines the best content to get more conversions.
Features:
Use A/B testing to test similar campaigns to find what works better. You can use the built-in editor to make adequate changes to a template and create two similar campaigns. Moreover, its exit-intent technology can improve your conversion rate by 150 to 300%.
Pros
It is easy to personalize the popups to show products in the cart or as per the page views. Moreover, it is affordable and offers a significant return on investment.
Cons
Dashboard has a lot of relevant information, but you can get lost if you do not know what you want. Moreover, it does offer a 14-day free trial, but there is no free plan.
Price
Picreel plan starts from $39.97/month.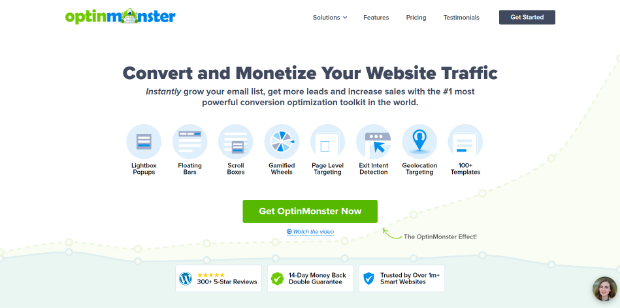 OptinMonster advanced targeting features help create personalized campaigns for every visitor. You can use the software to create personalized exit-intent popups, floating headers with special deals, personalized countdown timers, and irresistible coupons.
It is ideal for setting up personalized marketing campaigns for small and medium-sized businesses. Use the tool to segment the customer base and provide customized content for better conversions.
Features:
The exit-intent technology of OptinMonster helps create a personalized experience for the user. It comes with WordPress and Shopify plugins so that you can integrate them into your existing website hassle-free. Use segmentation features like geo-location and mobile device targeting to improve your chances of conversions.
Pros
OptinMonster has mobile-friendly and adaptive popups to create an engaging experience. Also, non-interruptive popups allow you to give more information to users without tiring or frustrating them.
Cons
OptinMonster setup can become challenging. Also, the application templates are familiar to the audience as several website owners are already using the tool.
Price
OptinMonster plans start from $9 per month and can reach up to $49 for every month.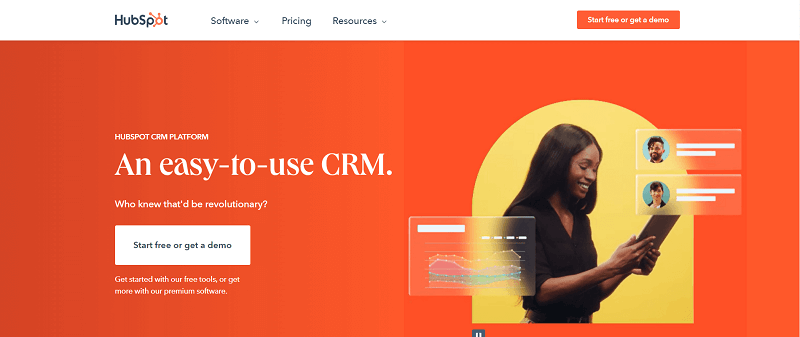 HubSpot CRM offers the option of personalizing the content in almost every feature. You can set up behavioral popups, time-optimized emails, and much more. Also, leverage the forms and chatbots to give better options to the users and customize their experience.
Add the smart rules and other personalization features as per the various factors for better services.
Features:
Use HubSpot to personalize your campaigns and websites. Personalize the popup forms and create specific triggers for them. Moreover, use personalization to customize the content on various campaigns like email marketing messaging. Lastly, use smart content to personalize website experiences and CTAs as per the audience's characteristics.
Pros
It is the complete all-in-one package that helps marketing, sales, and customer support. Moreover, the tool is easy to use.
Cons
HubSpot does have more affordable pricing, but the features available on these plans are fairly limited. Also, the email templates can be challenging to modify.
Price
HubSpot starter pack starts at $45 per month for 1,000 marketing contacts. The most expensive plans under the enterprise pack start at $3200 per month for 10,000 marketing contacts.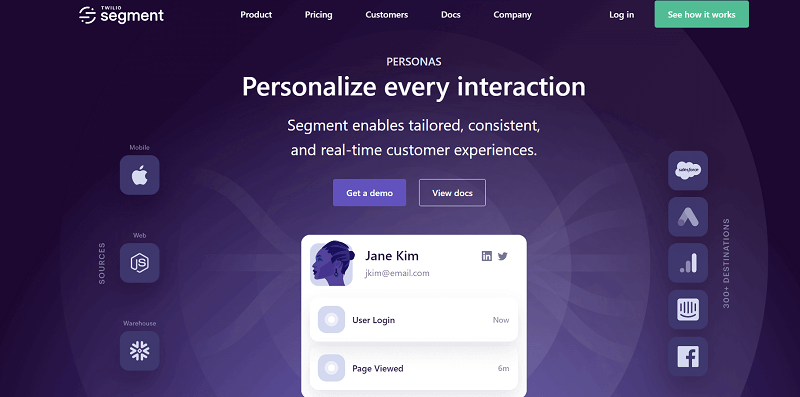 Segment uses personalized landing pages to boost conversions on your website. Personalization is based on visitors' traits, purchase histories, behaviors, etc. Each user is different, with a different level of intent. Some are there to browse, and others have the intent of purchase. So, your landing page should change dynamically to address these needs. Segment can help achieve the goal.
Features:
Segment's primary function is to categorize the customers as per the web traffic. It functions to sync data from visitors to determine their path to the website. The application also tags the visitors with properties to sort them into audiences.
Pros
Segment comes with an 'identify table' that is easy to set up and very effective. Moreover, the customer support team is happy to help.
Cons
The tool can have a higher learning curve for people who are not into technical work. Moreover, their pricing for the bigger projects is very high.
Price
There is a free campaign, and the team plan starts at $120 per month. Moreover, custom pricing is also available to bigger companies.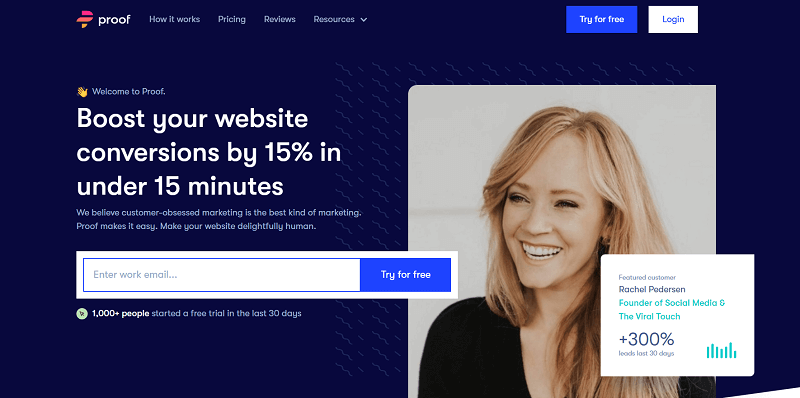 Proof Pulse helps companies present hyper-relevant content on the same URL. Use it to adjust website pages for more sales, demos, and leads.
Proof helps businesses change CTAs, text, images, and other elements on the page without any coding. Use the tool to make your website more human, offering personalized suggestions to every user.
Features:
The application has the hot streaks to show the number of people who have taken action on your website. You can also use the tool to create scarcity by showing the number of people on the page. The web personalization tool comes with a dashboard that showcases the true impact of the application on your website leads and sales.
Pros
The fast load speed is among the best features of the tool. It is a lightweight tool that loads once your page's content is already loaded. The user interface is highly intuitive.
Cons
There are several complaints about plan up-gradation to paid or the pricier plans without consent from the users.
Price
The pro version starts at $29 per month for less than 1000 unique contacts per month. The price rises as the unique users increase.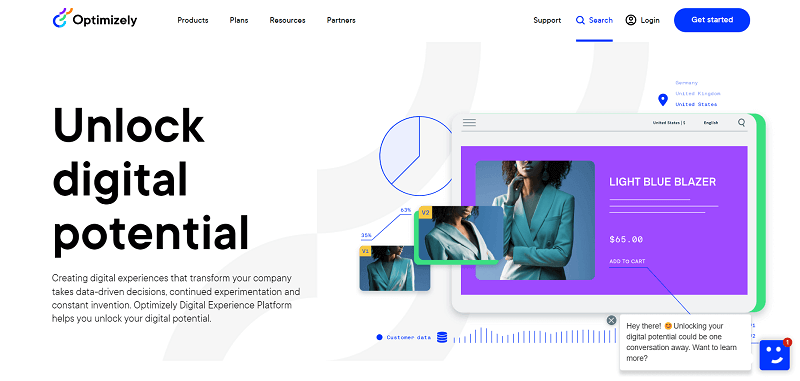 Use Optimizely for web personalization and enable targeted experiences for various visitors as per their behavior. The use of data-driven decisions to make hyper-personalized experiences for the user makes Optimizely the ideal tool for that personal touch.
The application uses content, commerce intelligence, and experimentation abilities to simplify the most complex situations and get more conversions.
Features:
Optimizely helps track users' behaviors and deploy targeting based on this data. The activity dashboard is extensive, with details about the various activities. It helps provide a clear picture of the overall performance of the website and the application.
Pros
Their support team is efficient and flexible to match the needs of advanced users and tests. Also, the A/B testing feature is very effective.
Cons
The pricing isn't ideal for small and medium-sized businesses. The massive number of features can also become overwhelming if you are new to the tool.
Price
Optimizely pricing starts from $50,000 per month. But you will have to get in touch with their team to get a quote.

Qubit is specially designed for mobile devices. The application helps segment online, offline, and file-based data to generate optimized content for all viewing devices and platforms.
Use the tool to get more insight into users' experience and engagement with your website. Moreover, use the Qubit Commerce AI to generate a model per shopper to customize every user's interaction with the website.
Features:
Qubit primarily works as an abandonment recovery tool that identifies the exit behavior and reduces bounce rate with exit-intent popups. Moreover, the tool also works with other leading email services to send follow-up emails to customers and bring them back to complete the purchase.
Pros
The team behind Qubit offers training from the Qubit developers for a better understanding of the application. The work assessment is very detailed, which makes analyzing results easy.
Cons
The documentation and instructions available online need to improve. Sometimes, there is 15 minute processing time to refresh the results, and that wait can be tiring.
Price
Qubit does not offer its pricing upfront. It has custom pricing as per needs. Get in touch with a representative to know more. But, as per the reviews, it appears to be a mid-priced application.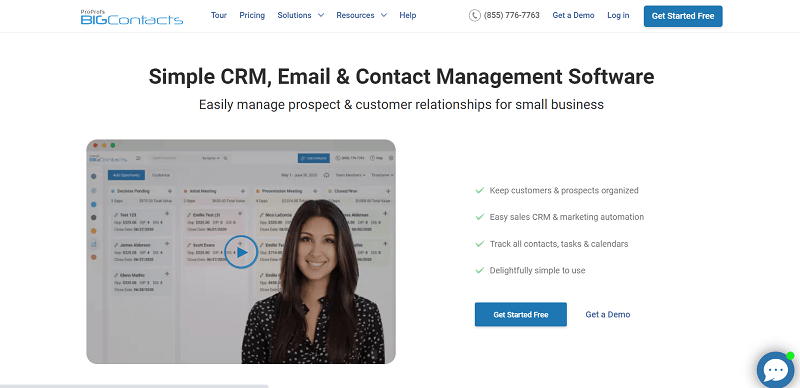 BigContacts offers contact management services that deliver personalized experiences. The application helps you stay in touch with website visitors. Moreover, it has a dashboard that shows all contact details, previous touches, social media profile transactions, and upcoming activities. Furthermore, custom fields are available to add additional information.
Features:
BigContacts automates activities and task reminders. Moreover, you can create drip email campaigns that automatically deliver personalized emails to the users at a specified time. The personalized campaigns help get customers back on your website and make the purchase.
Pros
The intuitive and easy-to-use interface makes it ideal for marketers looking for personalized email solutions. The application is responsible for automatically adding social media accounts to the contact records.
Cons
The mobile versions of the application need improvement. Moreover, the feature for updating contacts also needs an easier procedure.
Price
The least expensive plan starts at only $5 per month and the biggest plan reaches up to $25 per month. Custom pricing is also available for enterprises.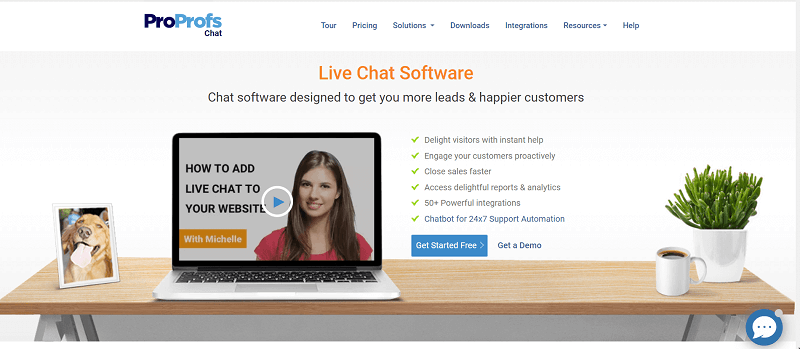 ProProfs Live Chat is among the top personalization tools that offer businesses the opportunity to stay in touch with their users. Use ProProfs Live Chat for product recommendations and get more conversions while chatting. The application helps give out quick answers to users' queries about your products or services.
Features:
ProProfs Live Chat helps improve conversions with a fully accessible chatbot. Use the eCommerce personalization software to provide faster responses to users' requirements and share notifications in real-time to keep them updated.
Pros
ProProfs Live Chat customer support team is available to help you even during the free trial. Moreover, it helps improve engagement on the website.
Cons
The tool needs more customization options for the chat button. Also, there is an initial learning curve, especially when adding website-related information for the chatbot.
Price
ProProf Live Chat plants start at $10/agent/month. Custom plans are also available for the enterprise.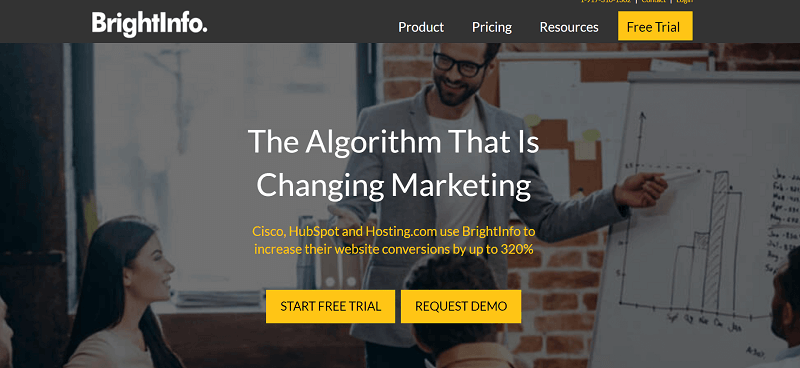 The application uses its self-learning algorithm to assess the website and perform a semantic analysis on every page and content asset. Then, it profiles the audience based on their interaction with the website and personalizes the content in real-time.
Each personality on your website is different and comes with its own personality and attention span. Using BrightInfo, you can meet every user's expectations and guide them to get more conversions.
Features:
BrightInfo has the ability to set up event-triggered actions, provide real-time analytics, and offer complete website management. Manage the various campaigns on the website and use A/B testing to find what works better.
Pros
It is an easy-to-use software that comes with A/B testing. Also, the support is highly responsive.
Cons
Installation can become challenging, and incorrectly installing the application can result in further problems. The constant popups can also annoy the users.
Price
It has a per feature pricing model. Hence, you will have to get in touch with the company to get a quote.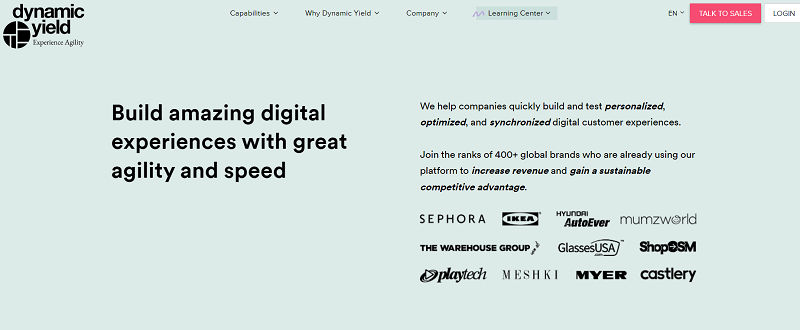 Creating a unique and engaging digital experience that converts is easy with Dynamic Yield. It comes with great agility and speed to help companies create personalized experiences for every customer.
Currently, 400+ global brands are using the platform to get more revenue and gain a competitive advantage.
Features:
Use the tool for quick customer data collection and management. Then, the software will personalize the content and target users efficiently. Moreover, it comes with testing, optimization, and behavioral messaging. It also has powerful A/B testing to help find the most relevant campaigns.
Pros
The system is fairly easy to use and set up. Moreover, it is excellent for product recommendations and more insight into users' behavior.
Cons
Sometimes, setting up a campaign can become challenging, and you might need the help of an IT expert to get the job done. The tool is extremely slow, which can become frustrating quickly. Switching between environments should be more accessible.
Price
Dynamic yield only offers custom plans. Hence, you will have to contact their team to discuss requirements and get a quote.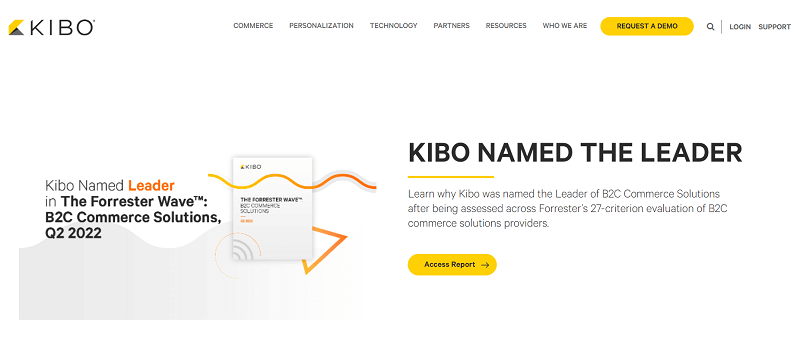 Kibo is a feature-rich platform made to help B2C and B2B retailers deliver personalized experiences to the customers. It helps companies meet their website visitors demands with agility. The tool helps to increase the average conversion rate. Moreover, it empowers your marketing team with relevant data to make better decisions.
Features:
Kibo helps provide promotions and discounts to users who are already interested in your products. Moreover, it helps create a better checkout process, tax display processing, and more. Lastly, the reporting and analytics available on the application help mine relevant information.
Pros
They offer a comprehensive roadmap to add more features on the platform. The inventory and management capabilities of the tool are excellent.
Cons
You need a custom code to update the customer segment. Moreover, it is not possible to determine the discount through custom order attribution or custom customer attribution.
Price
Kibo does not mention its pricing on the website. Their custom plan quotes are only available after a discussion with a representative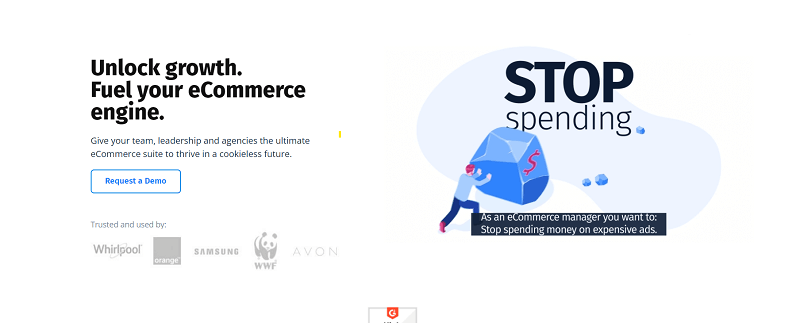 OmniConvert is another personalization tool that aims for conversion optimization. With over 40 criteria for personalization experiments, you have full control over the segmentation of the audience. Moreover, use the tool to take surveys, tests, and send messages.
Use the tool to create engaging overlays and perform A/B testing to get better results.
Features:
OmniConvert has several features, including A/B testing, split testing, test scheduling, behavioral targeting, and more, to get conversions. Moreover, it has a visual editor to change the various aspects of the web pages to create variations.
Pros
The software is easy to set up and comes with good customer support. Moreover, use the tool to publish detailed reports of your work.
Cons
The user interface does need some work to ensure everything is readily available for the users. Also, it is primarily aimed at improving eCommerce sales, so other types of stores might not find it relevant.
Price
OmniConvert pricing starts at $167 per month that is billed annually. The other option is a custom plan for enterprises. For the quotes, you need to contact their team.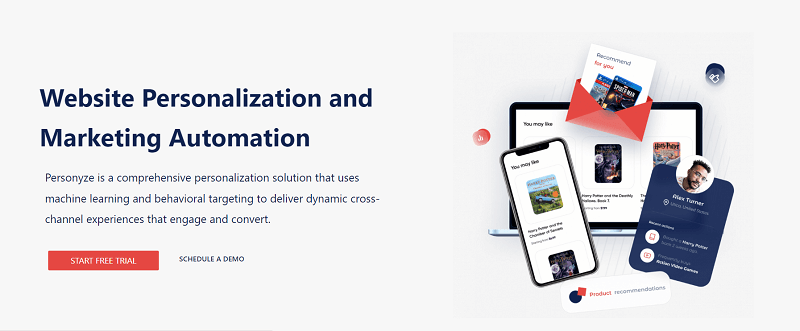 Use machine learning and behavioral targeting to provide dynamic cross-channel experiences with Personyze. The application has both recommendation and segmentation engines to create tailored, personalized content at every step of the marketing funnel.
Use the application for content and product recommendations, email personalization, behavioral targeting, social proof, and much more.
Features:
Personyze is available for integration regardless of the platform. Moreover, all channels have both server-side and client-side API integrations. The tool also comes with various content widgets, including popups, sliders, countdowns, banners, etc.
Pros
The excellent customer support offers quick solutions for every issue. Moreover, it integrates Google Analytics for better assessment.
Cons
There is a learning curve in the beginning as the settings can become confusing. Moreover, some users have also experienced glitches like campaigns going live that are still in the draft.
Price
The application is free for the first month. The pricing plans start from a free plan, and the pricing reaches up to $1450 per month.

Running experimentation programs is essential for boosting conversion or improving the overall user experience. VMO makes it possible to run large-scale digital experimentation. It helps with web testing and optimizes the users' experience across desktop, mobile, and other electronic devices. Moreover, it helps gather user insights, plan a roadmap, and analyze your results.
Features:
The tool comes with detailed reporting and analytics to help determine the results of the efforts. It also provides heatmaps to understand users' interaction with the website. You can also use mobile testing separately to understand the difference in users' interactions on different devices.
Pros
The interface of the application is intuitive. You can get to their customer success and support team in minutes.
Cons
For better insights, you need to pay more. Moreover, the funnel and goal tracking capabilities do not seem as impressive if you use Google Analytics.
Price
VMO does mention the various plans available, but they do not have the pricing available on their website. You will have to request a quote to get cost details.

Yusp relies on an information filtering system to analyze the visitors' behavior on your website. Then, this top personalization solution offers tailored recommendations, improved content discovery, and an overall better browsing and shopping experience for the users.
The application also helps change the content blocks dynamically to match the requirements of the specific visitors.
Features:
Yusp uses collaborative and content-based filtering to provide the most relevant items to every user. Collaborative filtering includes the use of data from all visitors. Whereas content-based filtering only looks at an individual's engagement history. The application uses filtering methods to provide relevant popups and production recommendations.
Pros
The application is easy to set up. Moreover, it offers quick integrations, a reasonable price to performance ratio, and customer support.
Cons
The user interface is very slow. It is not as user-friendly as it needs to be, and the template options are limited.
Price
Yusp does not have pricing mentioned on their website. However, it does have an ROI-based pricing system. Book a call with their representative to get your custom plans.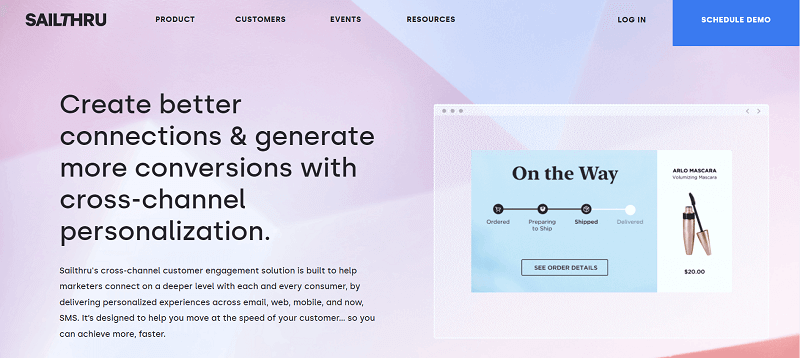 Personalization is essential to forge a better connection with your customers. With Sailthru, you can generate more conversion with cross-channel personalization. It helps companies connect with their customers at a deeper level and deliver personalized experiences to them. The platforms used include email, web, mobile, and SMS. The main aim of the tool is to help you drive more revenue and get repeat customers.
Features:
Some of the tool's best features include mobile marketing automation and unique integration power. The tool uses machine learning for new customer acquisition. Use the tool to create dynamic content for the users.
Pros
If you are already using another tool and want to switch, Sailthru has the appropriate bandwidth to transfer the data and get started quickly. Moreover, you can set up the campaigns easily.
Cons
Reporting and analytics do need some improvement. Moreover, there is a limited frequency cap on the use of overlays.
Price
Only custom plans are available. They do not show their pricing on the website. Contact their team to know more.
Apptus claims to be the next-generation online merchandising solution that will help convert shoppers into buyers. The web personalization software aims to guide, advise, and inspire the users to take the leap and make the purchase with a personalized experience.
The application tracks the users' behavior without any interference and then presents them with the most relevant offers to get conversions.
Features:
Use the product recommendations feature to get your customers to stay on your website. Smart suggestions help keep them engaged till they make a purchase. You can also use the tool to send email recommendations to users or run on-site ads.
Pros
Machine learning used by the tool definitely yields results. Also, you can adjust the strategy to match business goals with only a few changes.
Cons
The restricted nature of the look and feel of the software can be jarring to some users. Also, the initial tutorial on how to get started can be better.
Price
If you are interested in the product, you can request a demo and get a quote on the pricing. They do not have set plans and will consider your requirements before mentioning the price.

Create a better email marketing experience to improve your reputation with the users. Pure360 is an all-in-one AI-based email and web marketing platform. Use the available integrations to automate the various manual processes for better targeting and results.
Features:
The application has integrations to export and import data. Moreover, it comes with A/B testing to determine what content and format work better. In the email marketing section, you will find the option of personalizing emails,setting up automated email responses, email mobile preview, and more.
Pros
The team is very helpful during the onboarding process. Moreover, the tools integration with other marketing channels is also effortless.
Cons
Certain bugs and issues prevail even after complaints. Also, the reporting dashboard edit option will be a nice addition to give users more control.
Price
Pure360 has personalized plans as per the company's needs. So, you will have to get in touch with them for details.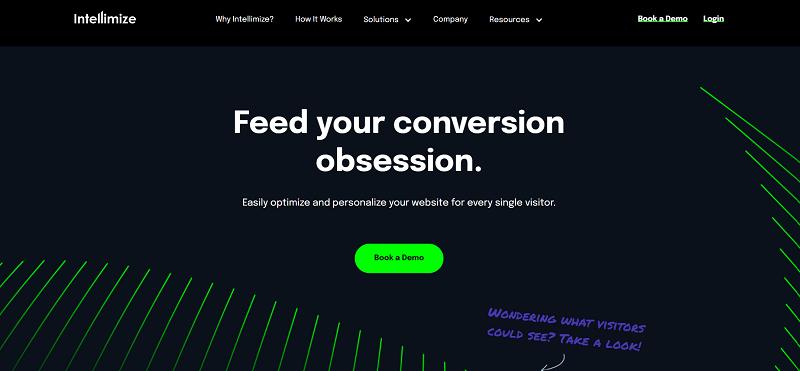 Intellimize is a tool to help get high conversions with machine learning and optimizing web experiences. As many resources go into wooing the prospective customers, it is a loss of revenue to see them go without making a purchase. With Intellimize, you can create custom experiences that are unique for every visitor based on their current position in the funnel.
Features:
The features of the software include audience targeting as per the funnel analysis. Moreover, it helps create custom landing pages for split and multivariate testing. The application also has heatmaps to check better-performing sections of the website.
Pros
It is a result-driven tool that helps improve conversions. They have an account manager to help companies tackle any issue that may arise. The team helps set up the campaigns.
Cons
The ticketing interface needs improvement. It has a significant load time, which can slow down the website.
Price
The pricing of this web personalization software is not available on the website. You can request a demo and get a quote per needs.
Personalize Your Users' Experience For Better Conversions
Give your users a personalized experience at every step of the way – from the moment they land on your website to when they make a purchase. Choose one of our top 20 picks of personalization software in order of preference. It will help you elevate your user experience and get more conversions.
Do you want instant 300% growth?
Picreel popups can get YOUR website 300% instant sales growth. See Case Studies.