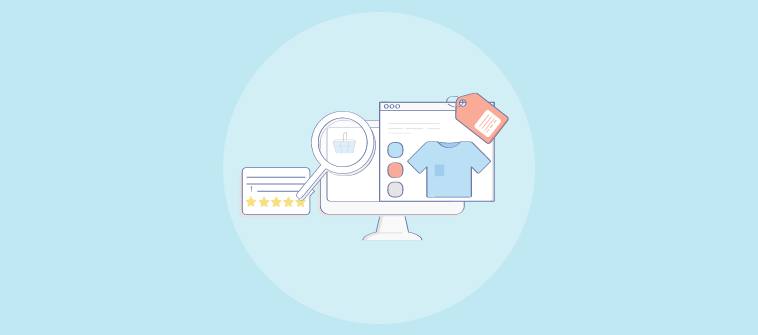 When you visit a store, and the store employees already know what you are looking for, it makes your shopping experience much easier and smoother.
This is exactly how ecommerce personalization works.
In real life, you may also call it an exclusive shopping experience, which transfers to ecommerce, where you treat every visitor as an exclusive customer.
Personalizing user experience is a great way of engaging your customers and boosting your sales figures. However, ecommerce personalization can be a little tricky and also requires a significant amount of time and effort to pull off.
The good thing is that a lot of companies out there are delivering great ecommerce personalization, and you can easily replicate their tried and tested strategies for a better outcome.
This is exactly what we will focus on in this blog, asand we look at seven of the best ecommerce personalization examples that you can use to improve your user experience and boost sales.
But before we do that, let's quickly go through what ecommerce personalization really is.
What Is Ecommerce Personalization?
Ecommerce personalization is when an online store uses unique customer data to display dynamic content personalized byas per the user's demography, browsing history, past purchases, browsing device, and more.
Ecommerce personalization is something that you can do across the entire customer journey, and it has tons of benefits.
For instance, Accenture reports that 91% of customers are more likely to buy from companies who remember their preferences and provide relevant offers. In addition, 83% of the customers also agree to share their data in exchange for a more personalized shopping experience.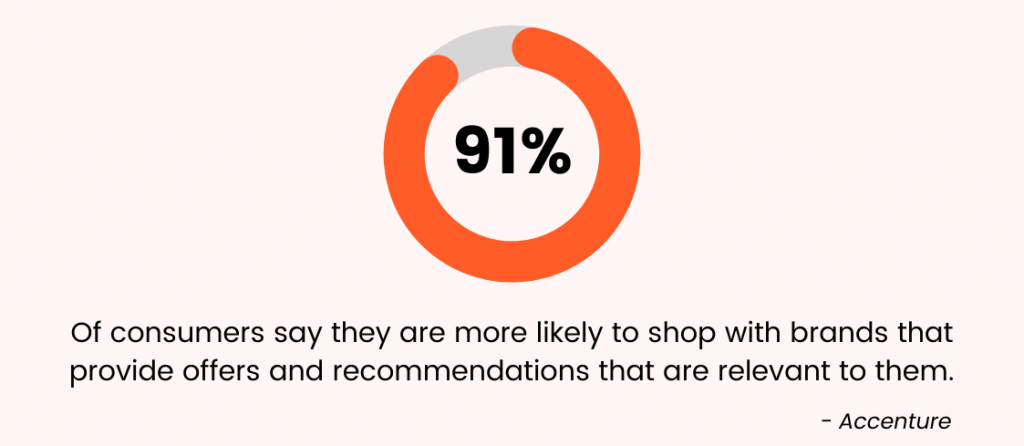 Simply put, personalizing the shopping experience for your customers can significantly boost your conversions and improve customer loyalty.
Apart from helping you take a more targeted approach toward your customers, personalization offers many more benefits, including:
Boosting user experience (UX)
Increasing sales
Improve opt-in rates
Read More - Top Conversion Rate Optimization Software & Tools 2023
Top 7 Ecommerce Personalization Examples
There are plenty of ecommerce personalization examples of different brands that we can look at and take inspiration from. Here are 7 of the best ones:
1. Creating Personalized Homepages- Boozt
Homepages are the front door to your business, and once the potential customers walk through that door, it is up to you to greet them in the best possible way.
This is where personalization proves to be helpful.
Unlike the brick and mortar stores, online stores have the capability to change themselves for every customer that comes in. This personalization can be delivered with the help of browser cookies that tells a lot about the customer's online behavior.
Boozt does exactly the same by tracking cookies and using them to remember the interests and preferences of the customers.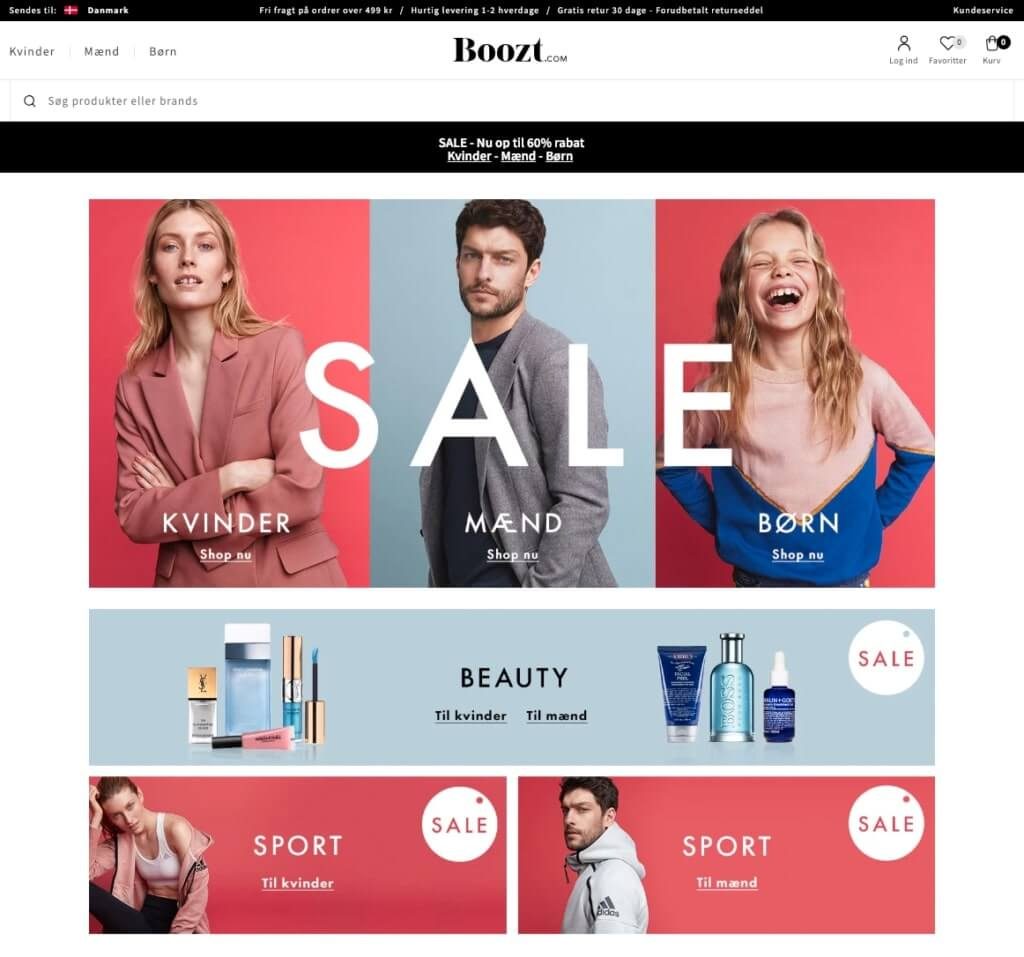 The homepage of Boozt initially shows all the product categories on the homepage and displays offers for everybody.
However, once you select a category, let's say "Women," the website will remember that preference and will always open up the "Women" section whenever you visit the homepage of Boozt.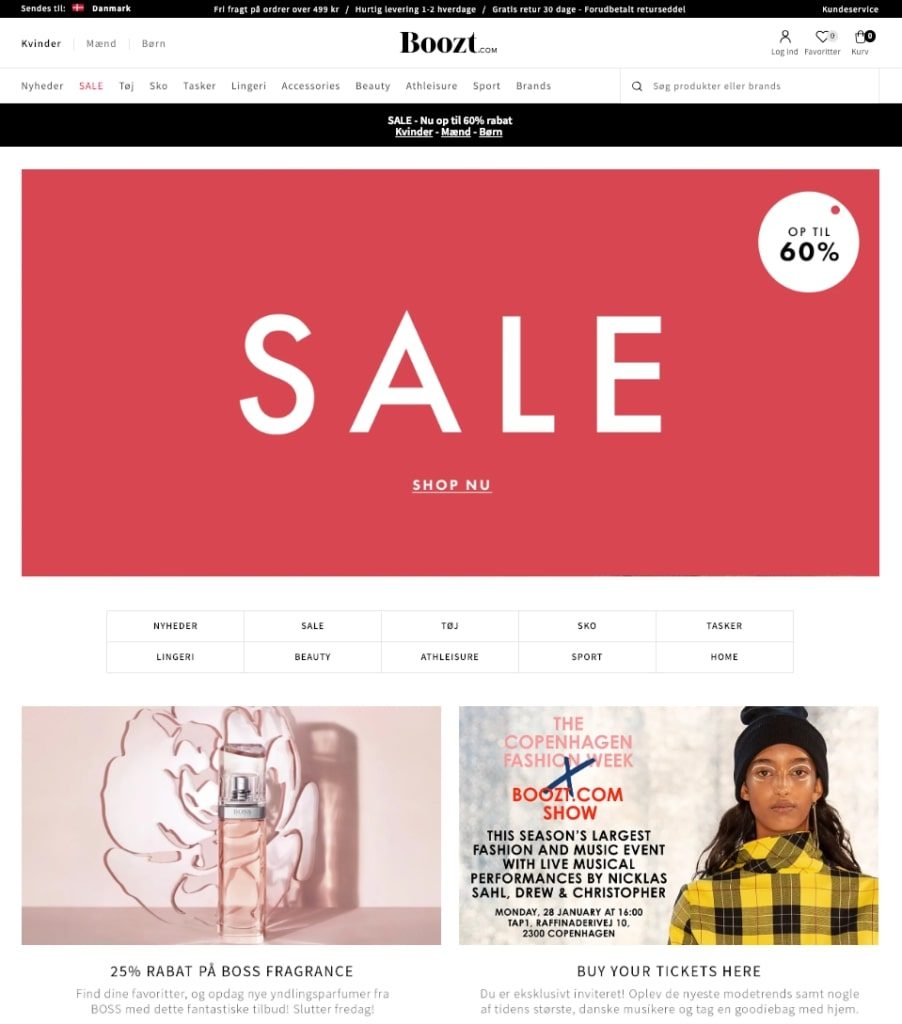 This is a great way of eliminating an extra step for customers who know what they want and makesing the experience much smoother and more enjoyable.
The same stands for country information, as the website remembers which country you are trying to shop in and will always open up the domain of the country of choice.
This is how the homepage of Boozt is personalized to quickly get the potential customers right where they want to go effortlessly.
2. Create Offers Based on Past Activity- Shoeline
Another very popular way of offering a personalized ecommerce experience is by keeping track of what users do online and giving them the best and the most relevant offers.
Tracking past activity most commonly includes the previous purchases done by the customers along with their browsing history.
Shoeline does the same and takes its product personalization to the next level. If you are signed in to your account, you'll be able to see the items you have purchased and the items you have browsed or viewed in the past.
The two tabs that users get are: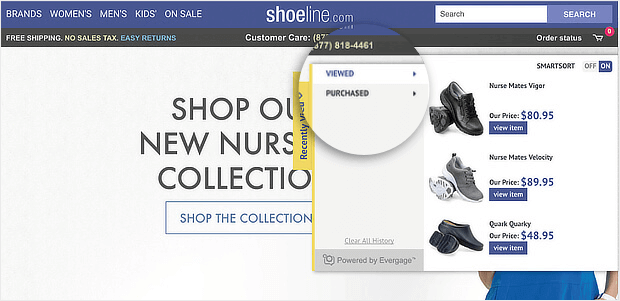 While this is not very uncommon with other ecommerce sites, Shoeline makes it easy for users to view this information, and they even use it to display the same type of products that users may love and pair them with attractive offers.
This helps potential customers come across products that they might have forgotten about initially or were hesitant to buy in the first place.
It also works great when it comes to discovering new products that may fall in line with the same products that potential customers have shown interest in.
Either way, this ecommerce personalization tactic is great for improving sales and engagement in the long run.
3. Personalize Product Pages Based on Geography- Allbirds
Whether it's from the cookies or by directly asking customers through surveys, most ecommerce stores know where their users are coming from.
Customizing product pages based on location helps users get the most basic information right in front of them, significantly improving the shopping experience.
Allbirds is a great example of ecommerce personalization based on location.
When you choose the US store from the top, the information on the product pages changes automatically. The size information automatically changes to US shoe sizes, and so does the size chart.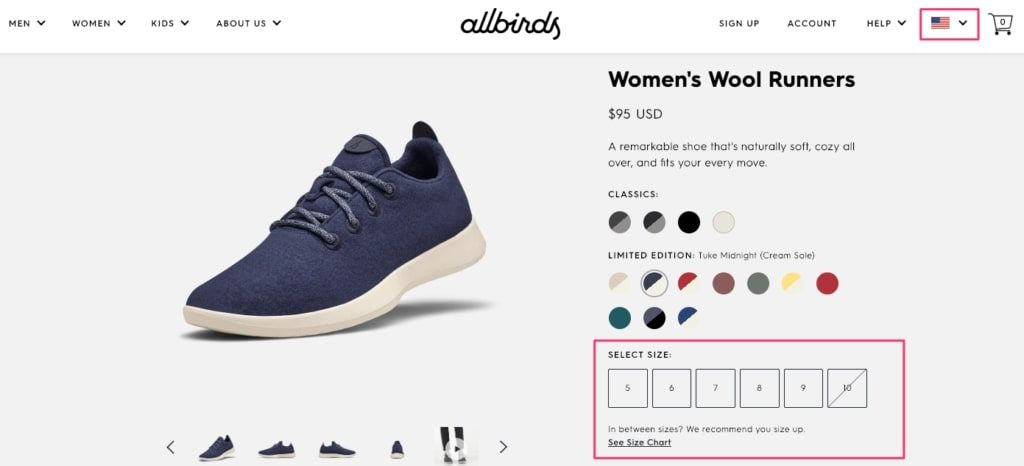 Similarly, if you choose to shop from the UK store, the sizes will automatically change to UK shoe sizes.
This works the same for the pricing as well, as the prices are automatically displayed based on the country you're shopping in, which saves customers from a lot of effort of manually comparing sizes and converting prices.
But that's not all.
Your personalization in ecommerce should be carried out all the way through your website. Based on the location, you should also display the relevant shipping partners along with the supported payment methods for each country.
Also, make sure your marketing campaigns don't run globally and are optimized for each location. This is because while your product promotion might be relevant in Europe, let's say for your jackets; they won't be to the people in Australia as it would be the middle of summer for them.
4. Deliver Personalized, Targeted Campaigns- My Best Book
No two visitors are the same, and that's a fact.
Visitors who land on your site the first time and the visitors who have been on your site multiple times will both have different motives.
So how would the same marketing campaign work for both groups?
It won't.
This is why you should always personalize your marketing campaigns based on the online behavior and the history of your visitors with you if you want more conversions.
For instance, you can incentivize your first-time visitors to sign-up with you so that you can include them in your email list for your marketing efforts.
This is what My Best Book does, as they offer a straight discount to first-time visitors in exchange for their email addresses and free shipping above a certain order size.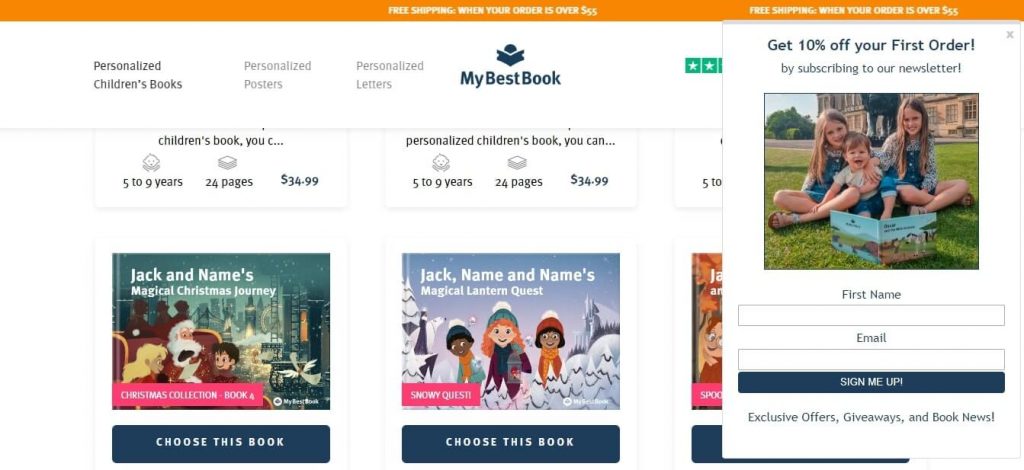 They deploy exit-intent popups on their website that are customized based on customers' online behavior to make them more relevant to their target audience and improve their opt-in rates.
FYI, their personalized campaigns converted 22% of their new visitors in the very first week.
Here, tools like Picreel work perfectly as they provide store owners with built-in exit-intent functionality that is triggered every time a visitor is about to leave.
With Picreel, you can easily run marketing campaigns that are automatically tailored for visitors based on their online behavior. The tool also offers precise targeting modes so that you only attract people who matter to your business.
5. Create Personalized Bestsellers List- Campus Protein
People are automatically drawn to popular products.
Think of the bestsellers list as a chart-based listing of the most popular books and music that catches people's eyes almost instantaneously and compels them to engage with them.
With your ecommerce personalization, you can customize the time frame of your most popular products and display the most popular products of the day, week, or month.
This is what Campus Protein has perfected itself in.
Campus Protein has curated the list of the most popular products based on the number of searches and viewers for each location. Location-based listing is much more effective because you don'twouldn't have to go against the trend and only follow what the market is adapting to.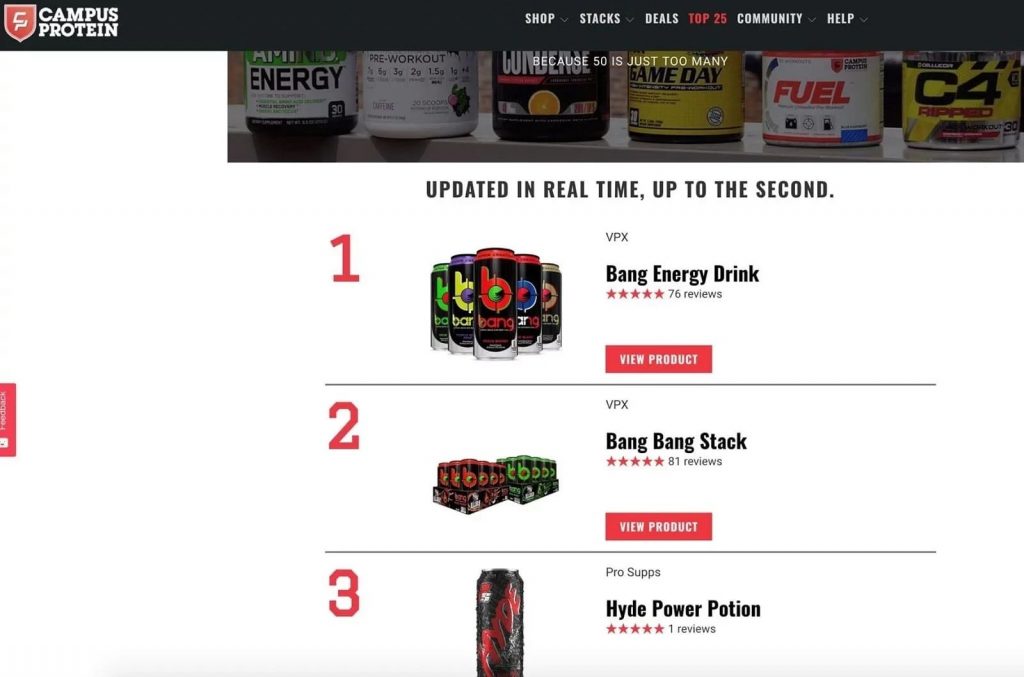 This is exactly what we discussed in the point above – your shoppers in Los Angeles are probably not shopping for the same clothing as your shoppers in New York are.
Deploying these customized bestseller lists helped Campus Protein improve its click-through rate by almost 50% from its bestseller page to product pages.
6. Offer Personalized Guides- Topshop
How great it would be if every customer could get personalized shopping assistance. But that is simply not possible.
However, if you run an ecommerce business, things might be different for you.
You can provide your online visitors with quizzes and style guides that work effectively in helping users make better buying decisions.
Also, you can store those quiz results and personalize your product pages based on the collected data.
This is what Topshop does best.
Topshop creates a personalized ecommerce wardrobe for every potential customer on their website after they answer a few simple questions about their taste, style choice, size, and budget.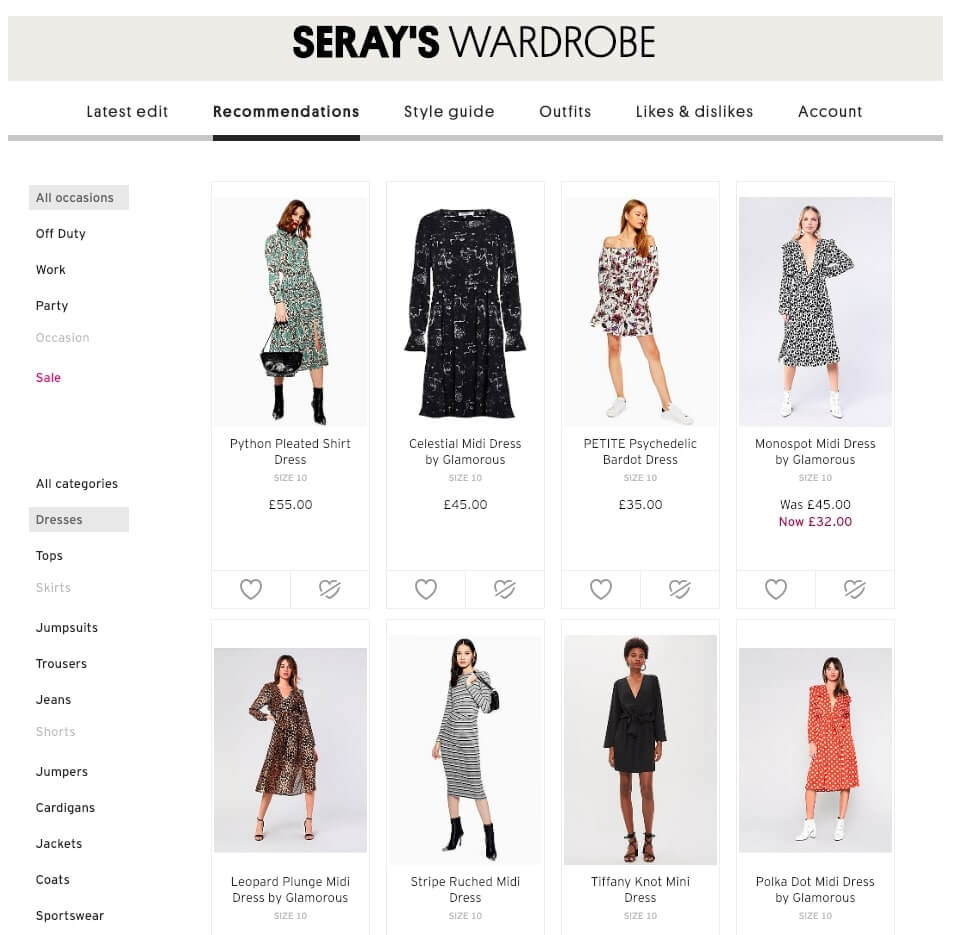 Here, the customers can view their highly personalized product recommendations that fit all of their given criteria.
On top of that, the wardrobe is updated at regular intervals, where new products that fit the criteria are added.
It's like having an online store that is designed just for you. Now, who wouldn't want to buy from their own store?
Product recommendations quizzes are the best for this use case as they can recommend the most appropriate products to the visitors based on their personal preferences.
7. Help Visitors Navigate Through Your Website- Copyhackers
As your website grows more popular, there are two things you can expect to happen:
You'll get more traffic
Your website will become harder to navigate
This is because, as your website grows, you add more content to it, making it increasingly harder for people to find what they are looking for.
This is the reason your ecommerce personalization should also encompass your website's design layout as well.
A great example of this comes from Copyhackers.
Copyhackers don't have an ecommerce store, but they set a great example of how personalization in ecommerce can be carried out for better navigation.
When you visit the website, the navigation options you see are all based on the type of audience they cater to.
The type of audience that the options are based on are as follows:
I'm a copywriter
I'm a startup founder
I'm a marketer

This makes it easy for the visiting audience to know where they should go looking for their desired products/services instead of exploring the entire website.
The classifications then show more detailed options that are available for each audience type, and all the options are listed under specific subcategories, which indicate the functions they perform.

Implement the Best Ecommerce Personalization Tactics and Improve Conversions
Customers don't just want a store they can buy things from. They want an entire shopping experience, and ecommerce personalization is what can make that happen.
For a more personalized ecommerce shopping experience, you can easily get your visitor's contact information, so it should be a no-brainer.
Also, you don't even need to get into the technicals because ecommerce personalization is all about cookies and what your visitors prefer.
Tools like Picreel can be extremely useful in such use cases as it automatically tracks visitor cookies and displays the most appropriate offers to them for better conversion. You can also display survey popups and collect direct feedback from your visitors for more precise ecommerce personalization.
Do you want instant 300% growth?
Picreel popups can get YOUR website 300% instant sales growth. See Case Studies.