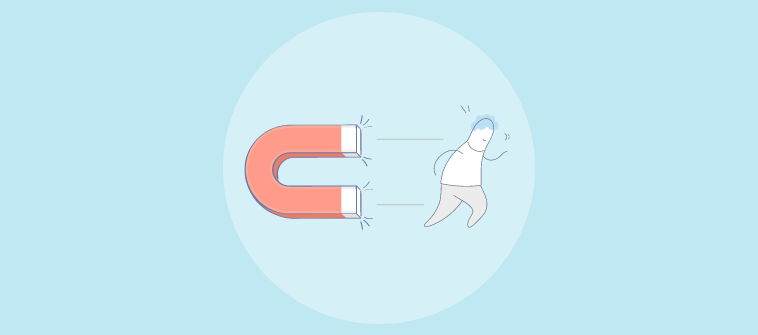 Customer retention software and tools have gained significant momentum in the past few years because retaining old customers is much more feasible than attracting new ones.
But customer retention does not happen overnight.
For that, you would need to uncover customer behavior, identify negative experiences and make crucial business decisions with the help of good customer retention software.
In this article, we have compiled a list of some of the best customer retention tools in the market to help you make the right choice.
So stick around!
What is Customer Retention Software?
A customer retention software is responsible for gathering key insights about the customers' pain points to help you make swift decisions when addressing them.
By using a customer retention tool, you can easily track customer data and customer satisfaction metrics to identify leaks in your pipeline and implement the best tactics to retain them.
20+ Best Customer Retention Software Tools
Not sure about which tool to pick for retaining your customers? Here's a list of our top picks for the best customer retention software tools: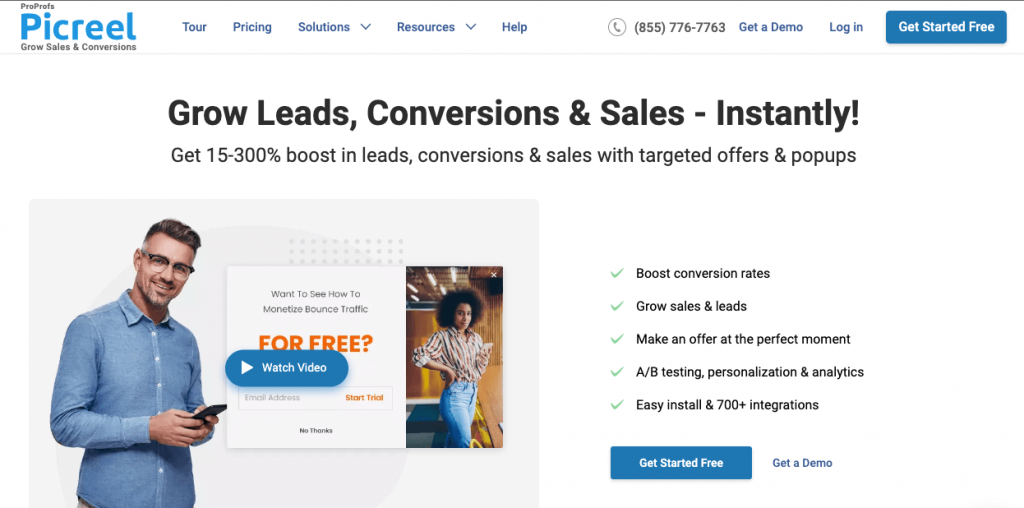 Picreel is one of the most sought-after website overlay tools that you can use to personalize and give users customized offers to boost customer retention through added personal touch. With Picreel, you can also collect feedback from your users and analyze the data to accurately identify what is making your users leave.
It also has tons of built-in templates to help you create beautiful popups for offers, discounts, and giveaways to attract customers, making it one of the best customer retention software.
Features:
Create popups seamlessly with the built-in drag and drop builder.

Builds a foundation for effective

A/B testing.

Match the aesthetics of your website using 100+ delightful built-in popup templates.

Make your offers visible only to the right people with the help of

advanced targeting.

Capture data from every leaving customer using

exit-intent surveys

.

Put your ideas into action with easy and in-depth personalization options.

Collect lead data from your customers and use it to personalize your offers and marketing.

Know how users feel on your website with the help of activity tracking.

Seamlessly

integrate

with other online marketing and CRM tools.
Price:
Starts from $39.97/month
Customer Review:
"Our KPI using Picreel is to generate new signups, and it has certainly helped us achieve this. We've also seen that the popup has been beneficial to sales performance as well."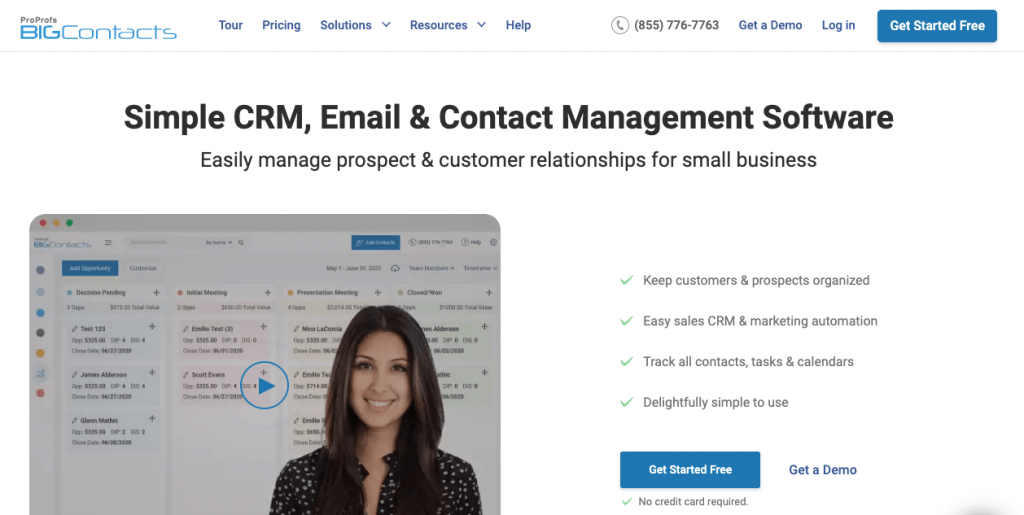 BIGContacts is a popular CRM solution that helps businesses effectively manage and organize their contacts in a single place and track data that is important for retaining them. BIGContacts lets you access the customer's data, including their personal information and buying preferences, so you can position yourself better.
With an easy-to-use interface and tons of built-in features, BIGContacts is an ideal CRM solution to acquire new customers and retain existing ones.
Features:
Get a 360-degree view of all customer activities.

Sort and view contacts by pending, upcoming activity, opportunity, and more.

Track all information in the database with custom fields.

Build custom sales pipelines and automatically send personalized emails.

Automatically adjust email campaigns based on the days passed.

Timely follow-up on your tasks with automated reminders.

Get better insights from ready-to-use sales reports.
Price:
| Big | Bigger | Biggest | Enterprise |
| --- | --- | --- | --- |
| $5/month | $15/month | $25/month | Available on request |
Customer Review:
"BigContacts seems to be the best way to extract data; contact information has all the addresses, tasks, and notes in one place, making it easier for everyone to keep track of what is going on with each company."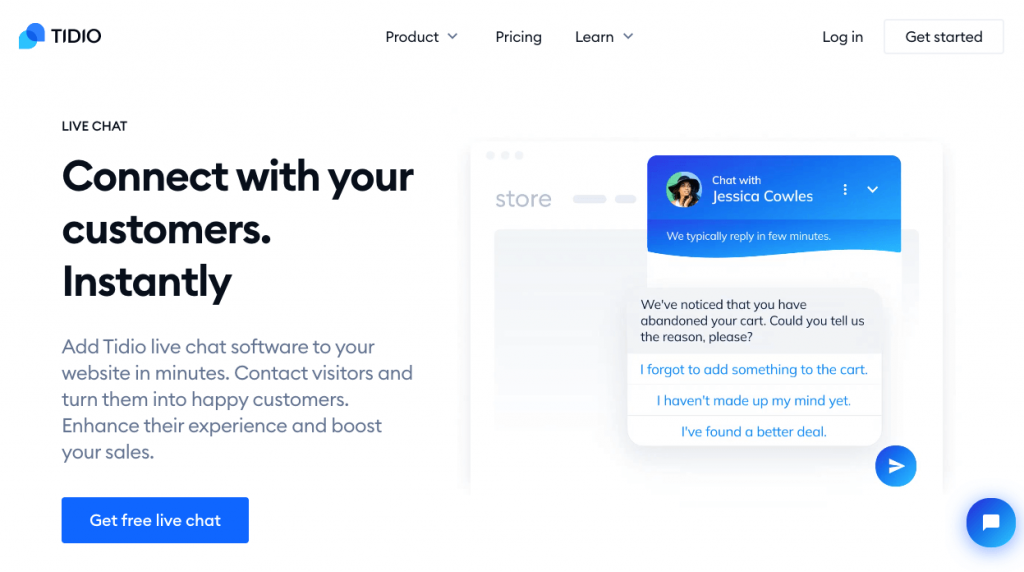 Tidio Live Chat, as the name suggests, is a live chat and a customer retention software solution that provides instant messaging ability to customers through live chat to eliminate any waiting time and boost customer satisfaction and retention. It allows you to proactively communicate with your customers in real-time by constantly updating you through push notifications to prevent them from abandoning your website.
Features:
Customize live chat themes to represent your brand.

Chat with customers on the go using the proprietary mobile application.

Track your visitors and view how they interact with your website.

Get real-time data about your visitors through a live visitor list.

See what customers type in real-time with the help of live typing.

Seamlessly connect with popular online marketing and CRM platforms to enhance your workflow.
Price:
| Free | Chatbots | Communicator |
| --- | --- | --- |
| $0/month | $49/month/3 operators | $19/month/per operator |
Customer Review:
"Tidio is the ultimate customer-relationship building platform. It also helped us handle difficult clients, which wouldn't be possible via mail."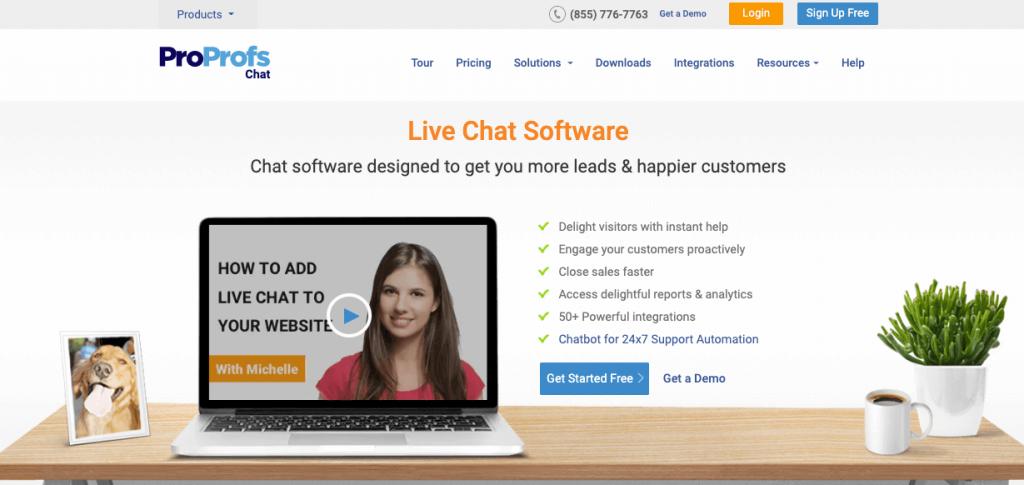 ProProfs Chat is another very popular live chat solution that makes up for a fast and efficient support channel by allowing your customer support agents to manage multiple chats simultaneously and provide quick assistance to all of them. With multi-channel customer service, ProProfs Live Chat has set benchmarks across all customer support tools in the market.
Also, you can share relevant offers and deals with your customers and create upselling opportunities to boost customer retention.
Features:
Attract visitors by creating custom chat popups.

Respond to queries faster by seeing what the audience is typing.

Offer quality answers to users in real-time using canned responses.

Provide instant help to users by adding self-help articles in the chat widget.

Inform visitors about your upcoming products by adding announcements.

Give product tours to your visitors and boost engagement.

Know what your customers think by tracking their details through in-depth analytics.
Price:
| Free | Chatbots | Communicator |
| --- | --- | --- |
| $0/month | $49/month/3 operators | $19/month/per operator |
Customer Review:
"With live chat, our guests know that we are accessible and will take care of their needs."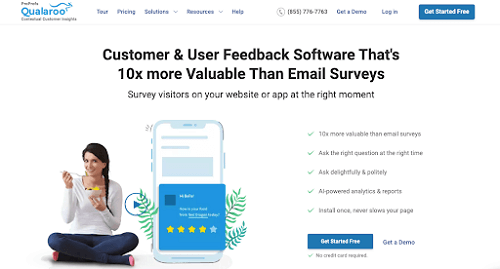 Qualaroo is a comprehensive cloud-based feedback collection tool that lets you create different types of surveys and collect all forms of data to offer a better customer experience. Unlike other feedback tools in the market, you can collect contextual feedback through in-the-moment surveys and easily identify what makes your customers churn.
Qualaroo also offers an amazing surveying experience to the users through its unobtrusive proprietary survey popups known as NudgeTM.
Features:
Set up and deploy within minutes with no-code installation.

Create beautiful surveys with professionally designed survey templates.

Only collect relevant data using branching and skip logic.

Know why your customers leave with the help of exit-intent surveys.

Make your survey represent your brand with built-in themes and customizations.

Gather contextual information using advanced targeting options.

Create surveys in 100+ languages.

Integrate with powerful online marketing and CRM tools.
Price:
| Essential | Premium | Enterprise |
| --- | --- | --- |
| $80/month | $160/month | Available on request |
Customer Review:
"We used the data to develop and completely redesign our branded landing page and validate our hypotheses. Qualaroo gave us a 16% lift in conversion at 98% statistical significance."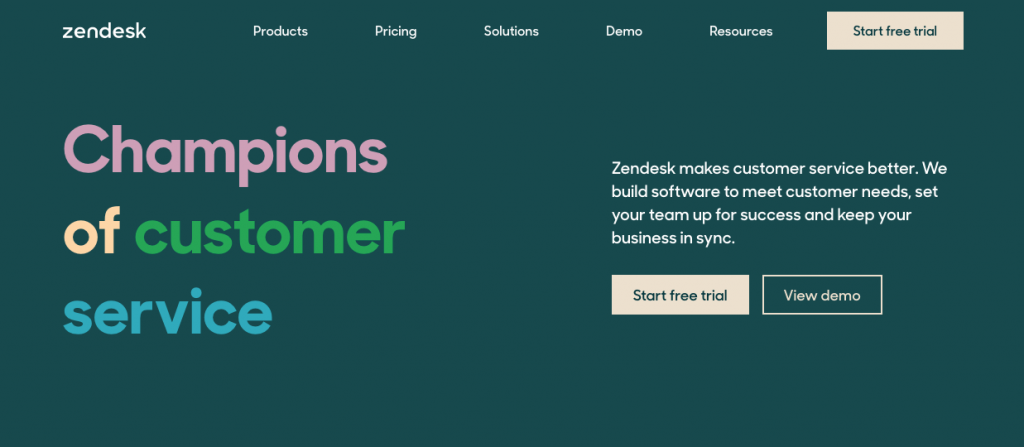 Zendesk is a help desk and customer retention management system that relies heavily on automation to allow customers to fix common problems themselves. Zendesk allows you to proactively solve customer issues through personalized and tailored communication to avoid any negative experiences that might affect customer loyalty and retention in the long run.
Features:
Convert chat, email, phone, and social media requests into tickets with ease.

Gather all your tickets into a centralized location for better management.

Guide your customer through checkout processes by reaching out to them through chat.

Automate frequent complaints with chatbots.

Get a better overview of the support team's performance through the dashboard.

Get the entire history of customers' complaints with activity logs.

Automate your workflow across different platforms with seamless integration.
Price:
| Suite Team | Suite Growth | Suite Professional | Suite Enterprise |
| --- | --- | --- | --- |
| $49/month/per agent | $79/month/per agent | $99/month/per agent | $150/month/per agent |
Customer Review:
"Zendesk enables us to maintain a customer-facing solution that is economical, scalable, and well suited to our available staffing. It helps us keep the lines of communication open between technical staff and users. The interface for the technical staff is easy to use and supported on multiple platforms."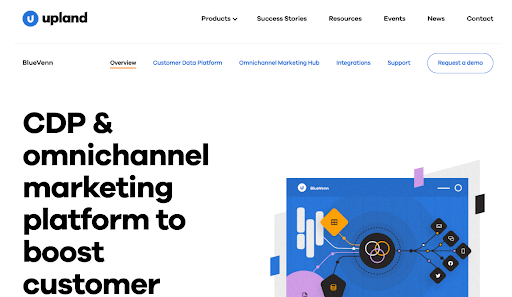 Upland (previously known as Bluevenn) is a customer retention platform that offers a comprehensive set of tools for optimizing customers' journeys across all channels and provides a unified view of all offline and online customers for boosting customer retention. With Upland, you can collect and analyze customer data from multiple different sources to launch targeted campaigns.
Features:
Segment your audience based on attributes using audience builder.

Improve lead quality with additional attributes through data enrichment.

Deliver content to extremely relevant interest groups using hyper-targeting.

Create valuable correlations between individuals using identity graphs.

Integrate and synchronize data from multiple sources with the help of data orchestration.

Get a 360-degree view of customers from a single dashboard.
Price:
Customer Review:
"For us, it made sense to look for a tool that could not only integrate seamlessly within Salesforce but could also help us in terms of qualification of large deals."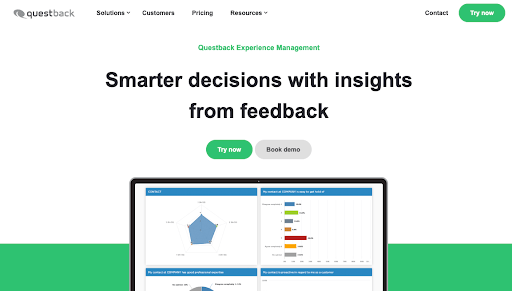 QuestBack is a popular client retention software that aims at building customer loyalty and improving customer retention through user feedback. QuestBack automatically collects data from the existing customers, and the data is then analyzed to identify customers' expectations and problem areas with the retention strategies.
Features:
Control all survey processes from a centralized location.

Ask questions of any kind using 25+ question types.

Translate surveys in almost any language with the help of the translation software solution.

Easily navigate through the questions using routing and filtering options.

Recruit survey participants with ease from multiple platforms.

Monitor survey responses in real-time.

Maintain the quality of data using sophisticated participant quota control.
Price:
| Starter | Business | Enterprise |
| --- | --- | --- |
| Available on request | Available on request | Available on request |
Customer Review:
"Questback provides all the effective tools for our experts to work with surveys and data. Questback Essentials is a key tool for collecting and producing information based on questionnaires and forms. We collect data from various customer groups, different work units, and stakeholders. The data we collect is one of the critical parts of developing our operations and processes."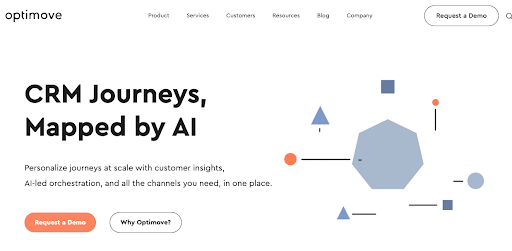 Optimove is a CRM journey mapping tool that supports predictive customer modeling, activity-triggered communication, and omnichannel delivery to boost customer retention. With Optimove, you can improve your customer retention campaigns and journey with the help of self-optimizing campaigns and easily measure the data of each customer interaction within the tool.
Also, features like cross-channel campaign management and calendar-based task tracking make Optimove a great customer retention management software.
Features:
Get a detailed overview of every customer with the single customer view feature.

Organize your customers and identify trends with predictive analytics and micro-segmentation.

Only target relevant customers with highly specific targeting options.

Stay up to date with your tasks with calendar-based marketing plan management.

Uncover how your customers move with the help of dynamic customer journey mapping.

Automate your campaigns using activity-triggered real-time campaign execution.

Make smarter decisions with autonomous insight generation.
Price:
Customer Review:
"Optimove empowers our internal teams to quickly execute and measure the things they want to do, to proactively influence customer behavior, to optimize the impact that their efforts are having over time, and to easily showcase to management how their efforts are paying off."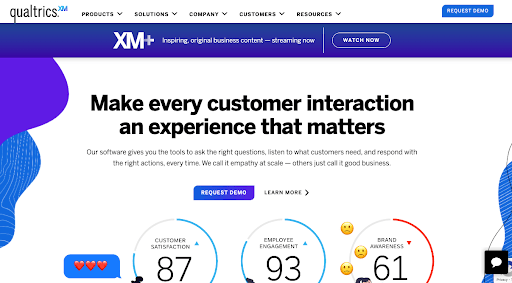 Qualtrics allows you to combine operational data with user experience data to predict customer behavior and implement decisions for effective customer retention. Qualtrics offers a great customer support tool that is capable of identifying at-risk customers and also pinpoints the exact causes of customer churn.
Qualtrics offers a wide range of features like a ticketing system and multi-channel customer support to easily capture customer feedback and boost customer satisfaction, making it an amazing client retention software.
Features:
Easily navigate through the tool with the help of a point-and-click interface.

Create surveys with graphics, randomization, and complex branching.

Ask questions of all kinds using 85+question types.

Build beautiful surveys every time using built-in templates and questions.

Post multiple surveys at the same time with 48+ language translations.

Export data in multiple formats, including CSV, SPSS, PDF, Word, and more.

Collaborate with your teams in real-time.
Price:
Customer Review:
"Qualtrics has reduced the time needed to collect and respond to customer feedback from months to weeks."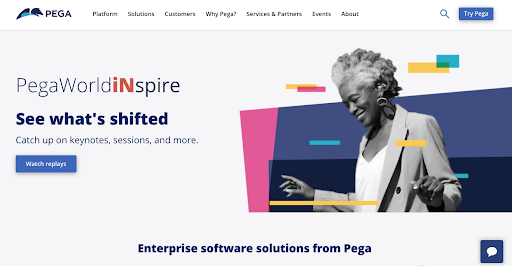 PEGA allows communication service providers to optimize customer retention at an individual scale by combining customer journey with business objectives to reduce churn and control revenue dilution. PEGA also leverages big data analytics to determine the retention budget for each customer based on the churn list.
PEGA also supports the 'Dynamic Bundling' feature that allows customers to create their own packages for added customization and a better buying experience, which makes it a solid churn management software.
Features:
Respond to business requirements promptly with low-code app development.

Create better UX designs with the help of built-in UI/UX templates.

Optimize workflows for better business outcomes with the help of AI-powered decisions.

Respond to customers' needs faster with centralized business logic.

Deliver better web and mobile app experience through an open front-end architecture.
Price:
Customer Review:
"With Pega, we're omnichannel in our next-best-action approach. It's about being one voice, one brand, for the customer – regardless of channel."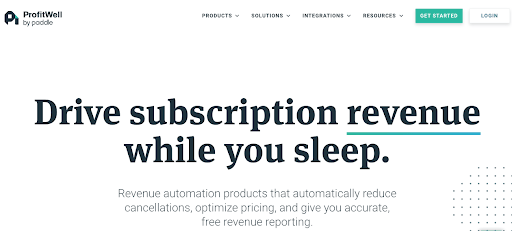 ProfitWell focuses on credit card payment failures by automatically recovering declined payments to boost customer experience and prevent customers from churning. ProfitWell collects data points from their corporate clients and metadata from individual customers to retry payments tactically and elevate recovery rates to win back the customers.
Features:
See where you stand in terms of competition using benchmarks.

Always stay up-to-date with the native mobile application for iOS and Android.

Segment your customers accurately to know where they come from.

Deploy a pricing audit to evaluate the health of your pricing strategy.

Analyze cancellation data points and uncover reasons behind the cancellation.

Identify trends from your new and existing customers through accurate financial reporting.
Price:
| ProfitWell Metrics | Enterprise |
| --- | --- |
| $0/month | Available on request |
Customer Review:
"I like how simple this is. Especially as it's priming you, where it is 'See what's next.'"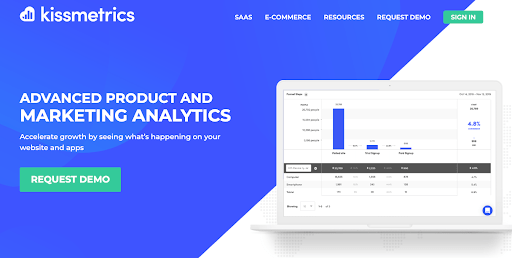 KissMetrics is a user behavior tracking tool that gathers insights on customers' journeys to ensure that you only attract the right audience. KissMetrics runs on various interpretation and analysis tools to help you identify factors that make up for a better website experience. You can easily interpret how specific pages on your website perform based on your visitor's behavior and improve problem areas to reduce churn.
Features:
Track all customer activity with the real-time data monitoring tool.

Identify all your customers with customer profiling.

See all your metrics at a glance from a detailed dashboard.

Understand cohorts and track populations with accuracy.

Uncover what features customers use with detailed activity reports.

Know your customers' lifetime value and churn rate with revenue tracking.

Query raw data with SQL and identify DAU to MAU ratio.
Price:
| Silver | Gold | Platinum |
| --- | --- | --- |
| $299/month | $499/month | Available on request |
Customer Review:
"Kissmetrics helped us reduce churn by 50% and provides us with powerful insights to gain an understanding of our users."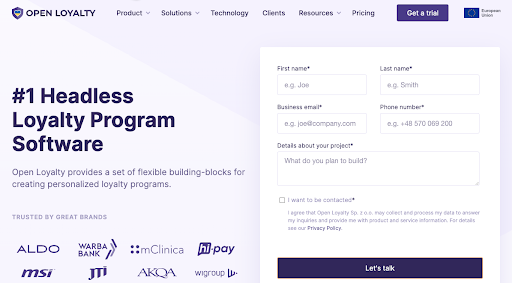 Open Loyalty is another customer retention tool that allows you to build custom loyalty programs based on points, tiers, rewards, or your own custom rules. It also features a built-in referral tool along with a CRM system to profile customers. Most importantly, customers can mix their payments with loyalty programs through Open Loyalty's digital wallet and receive amazing benefits for higher customer retention rates.
Features:
Connect flexible loyalty blocks with your existing stack seamlessly.

Personalize user experience at all touchpoints and deliver fast customizations.

Build a dedicated customer loyalty program in weeks with the OpenLoyalty marketing platform.

Create a loyalty experience without limitations using Open Loyalty headless architecture.

Seamlessly upgrade your tool with microservice-ready architecture.

Run highly targeted and personalized coupon campaigns.
Price:
| Saas | On-premise |
| --- | --- |
| Available on request | Available on request |
Customer Review:
"Our loyalty strategy has been to understand why our consumers like ALDO and develop perks, rewards, and dynamics that enhance their experience of the brand. As a low-frequency purchase, our category suffers from low brand loyalty, so giving people a reason to keep coming back, checking what's new, and staying top of mind is crucial to our business goals. The Open Loyalty solution allows us a lot of flexibility in building these dynamics and delivering a strong experience for our consumers."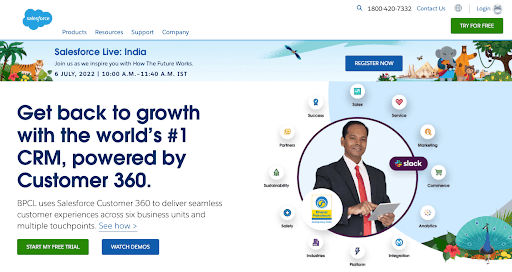 Salesforce is a popular CRM and a customer retention management system designed to seamlessly support sales, marketing, and customer support teams. With Salesforce, you can easily manage customers' contact information, track sales opportunities, automate sales activities and even analyze revenue trends.
Salesforce works as an all-in-one solution for large sales and customer support teams and helps them provide the best experience to their customers and reduce churn.
Features:
Get access to critical data for hassle-free contact management.

View the activity timeline of your customers with opportunity management.

Simplify your sales and business processes with forecasting and productivity tracking.

Automate configure, price, and quote (CPQ) for simplifying quote management.

Gather complicated sales and service insights with the help of Einstein analytics.

Catch customer data automatically from emails and support channels to get a 360-degree view of customers.
Price:
| Essential | Professional | Enterprise | Unlimited |
| --- | --- | --- | --- |
| $25/month/per user | $75/month/per user | $150/month/per user | $300/month/per user |
Customer Review:
"We're committed to anticipating customer needs, speaking their language, and winning their trust. And Salesforce helps us have these meaningful conversations."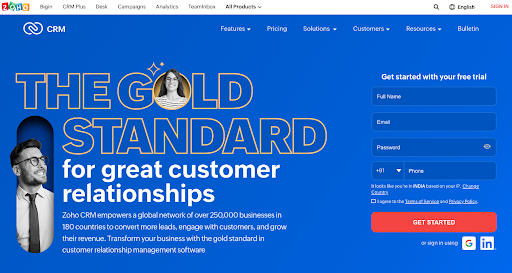 Zoho CRM is a popular customer retention tool that can help you effectively reach out to your prospects at the right time and engage with them across multiple channels to boost customer retention in the long run. With Zoho CRM, you can also turn your routine tasks into contests and allow your sales team to compete by adding the most notes or sending the most emails. Another great thing about Zoho CRM is that it seamlessly integrates with other Zoho tools, which significantly improves your workflow.
Features:
Engage with your customers on multiple platforms, including email, social media, live chat, and more.

Collaborate with your team members in real-time with the built-in messaging tool.

Increase the productivity of your team by automating complex tasks.

Call your prospects with a single click and personalize your services with custom messages.

Bring all your social media campaigns into a centralized location for better visibility.

Forecast revenues and allocate targets for sales teams accordingly.

Integrate Zoho CRM with leading email services and the entire Zoho suite seamlessly to transform your workflow.
Price:
| Standard | Professional | Enterprise | Ultimate |
| --- | --- | --- | --- |
| $14/month/per user | $23/month/per user | $40/month/per user | $52/month/per user |
Customer Review:
"I'm thrilled with how efficient my business has become now that I have adopted Zoho CRM into my daily routine. When you contact so many customers, it can be easy to forget about calling each one back in a couple of months. I don't forget anything with CRM; they remember it for me wholesale."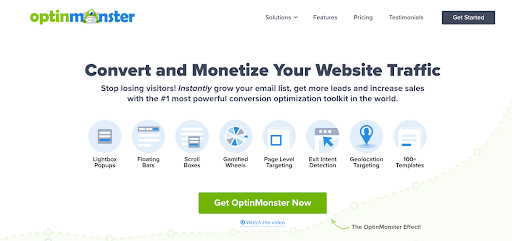 OptinMonster is a popular and powerful lead generation tool used by marketing agencies, eCommerce websites, bloggers, and small businesses. OptinMonster works great when it comes to growing your email list, optimizing your website for more conversion, reducing cart abandonment, and increasing customer retention.
In addition, you can also full-screen welcome mats, floating bars, personalized lead forms, and spin-to-win games to increase engagement and reduce customer churn.
Features:
Convert any link or image into an opt-in form with ease.

Build forms seamlessly using built-in templates and the drag-and-drop editor.

Personalize campaigns based on customers' location and improve conversions.

Target leaving customers with personalized messages with the exit-intent technology.

Generate maximum engagement by choosing from a list of popular campaign types.

Trigger campaigns at the right time by analyzing users' behavior and using smart trigger

Create campaigns that generate maximum leads using precision targeting.
Price:
| Basic | Plus | Pro | Growth |
| --- | --- | --- | --- |
| $9/month | $19/month | $29/month | $49/month |
Customer Review:
"OptinMonster has allowed us to rapidly innovate our on-site engagements, greatly improving our customer experiences. The robust testing capabilities have helped us increase conversion rates +200%, resulting in tripled month over month growth of our email list."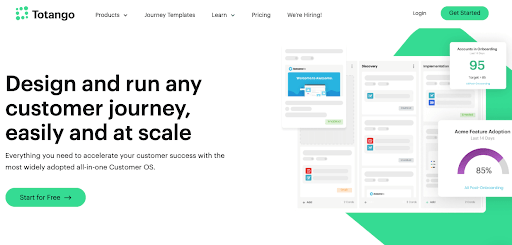 Totango is a customer retention platform that tracks the health of every customer to determine the level of satisfaction in each customer. With Totango, you can easily set up health scoring models for every customer based on unique actions and the data you want to track. The tool allows you to identify engaged and at-risk customers to help you strategize your marketing efforts to reduce churn.
Features:
Get a 360-degree view of your customers using profiles, health scores, product usage, and more.

Design, run and optimize your customer engagements using a customer engagement canvas.

Improve CRM productivity with customizable and flexible tasks which you can automate.

Conduct NPS and CSAT surveys to collect quality insights and provide better services to your customers.

Get real-time notifications of your customers' health to act quickly.

Classify and organize your users based on their roles for improved customer success.

Get complete control of your customers' heath with the Executive Console.
Price:
| Community | Starter | Growth | Enterprise |
| --- | --- | --- | --- |
| $0/month | $199/month | $899/month | Available on request |
Customer Review:
"It's a lot easier to get the information/data I need about my clients. I can reach out and build campaigns to keep in touch with them."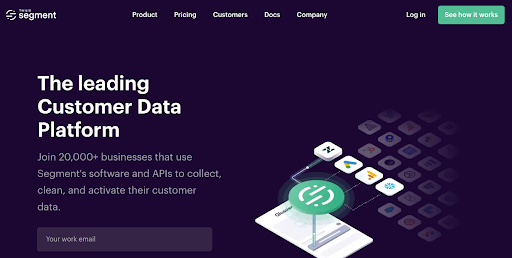 Segment is a popular customer data infrastructure (CDI) platform responsible for collecting, storing, and routing customer data from multiple sources and consolidating it into one centralized location. You can gather all the data from your analytical, SaaS, and email marketing tools and compile them to boost your customer retention strategies and reduce churn.
Features:
Get a unified view of all your customers in a single location.

Collect analytics data across all platforms using just one API.

Personalize emails with the help of user-behavior-based recommendations.

Activate the same audience in different marketing tools to gather consistent feedback.

Monitor every customer interaction and personalize engagements based on your observation.

Driver greater results by designing multi-step interactions.
Price:
| Free | Team | Business |
| --- | --- | --- |
| $0/month | $120/month | Available on request |
Customer Review:
"Bringing in Segment has had a huge impact on the quality of our customer data, and this is enabling us to push the boundaries when it comes to personalization and experimentation."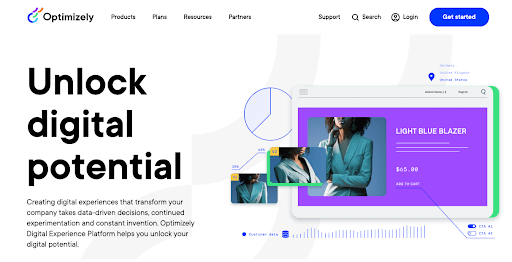 Optimizely is a very well-known digital experience platform (DXP) and a customer retention management software that allows marketing and development teams to optimize and manage digital activities and customer experience across all touchpoints. With Optimizely, you can easily build and run A/B tests on your website to deliver the best website experience to your customers, make data-driven decisions and reduce churn at the same time.
Features:
Create and run A/B tests without any coding inputs.

Scale and expedite your experiments with ease using The Performance Edge feature.

Update your tool without needing your developers with the WYSIWYG editor.

Launch your features with all the speed and security using the Rollout feature.

Create and manage content across multiple platforms through an in-built CMS platform.

Recommend products to your customers via mail and website based on the AI recommendations.
Price:
| Content Management | Web A/B Testing | Feature Management | Commerce |
| --- | --- | --- | --- |
| Available on request | Available on request | Available on request | Available on request |
Customer Review:
"We have a hypermodern website built on Optimizely and InRiver. We're now well prepared and adaptable ahead of Piab's future growth."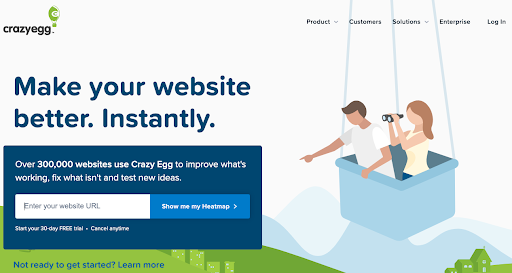 Crazy Egg is another popular customer retention tool that supports website optimization through visualized data about customers' interactions with your website. Crazy Egg generates heat maps to show the parts of your website customers interact with the most and the parts that customers completely skip. With Craze Egg, you can get a clear picture of the usability of your website by looking at it through the eyes of your customers and making necessary adjustments to boost customer retention.
Features:
Monitor performance of every page with snapshots.

Analyze how users interact with your website using visual heatmaps.

Register every individual click using the Confetti feature.

See how far your visitors go down your website using scroll maps.

Analyze the performance of every clickable element on your page with the Overlay feature.

Assess the interaction data with ease through quantitative data reports.
Price:
| Basic | Standard | Plus | Pro | Enterprise |
| --- | --- | --- | --- | --- |
| $29/month | $49/month | $99/month | $249/month | Available on request |
Customer Review:
"If you do conversion rate optimization, Crazy Egg is definitely worth the investment. You can get so many insights from the very start; you really see the value of the tool right away."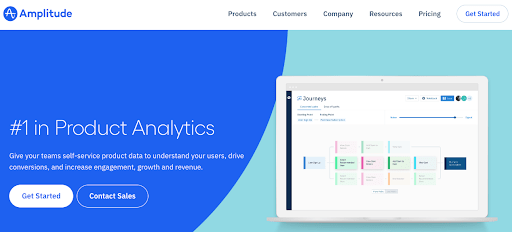 Amplitude is a product and web analytics tool that quantifies all the data about your users' interactions and then segments those users based on their actions. With all the data at your fingertips, you can easily monitor the customer retention rates across all the different user segments.
Amplitude can help you easily identify what your customers prefer about your brand, and you can use that information to invest in features and upgrades that will make your customers stick and reduce customer churn. All these features combined make Amplitude one of the most competent customer retention software tools in the market.
Features:
Identify important customers by creating powerful behavior cohorts.

Run, analyze and scale experiments natively to make better product decisions.

Monitor data proactively for increased data confidence.

Bring all your customer data into one tool and discover hidden insights.

Centralize all your web, mobile, and backend data and export enriched and meaningful customer data.

Integrate with powerful customer engagement and marketing automation tools to give more power to your data.
Price:
| Starter | Growth | Enterprise |
| --- | --- | --- |
| Available on request | Available on request | Available on request |
Customer Review:
"Amplitude allows us to move faster, experiment quicker, and understand our users better to take more immediate action to improve our customer experience."
Made a Decision Yet?
There are plenty of churn management software tools available in the market that can help you retain more customers, but tools don't work in isolation. You would also need a set of good customer engagement/retention strategies to go along with your tools.
To learn more about such strategies, you can get help from our guide: 9 Proven Ways to Boost User Engagement in 2022.
Now that you know some of the best customer retention software tools in the market, the floor is yours.
Happy hunting!
Do you want instant 300% growth?
Picreel popups can get YOUR website 300% instant sales growth. See Case Studies.