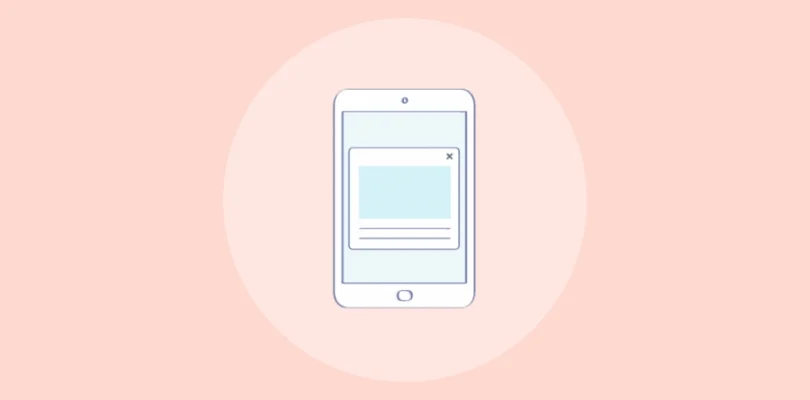 The customer is about to leave your website after exploring and scrolling through multiple pages. Is there anything that you can do to make them stay or to gather their information like name, email address, phone number, etc? Well, the best exit popup software is your answer that can make all the difference to your marketing strategies. But wait, there's a twist…
Back in the 2000s, digital marketing was rapidly growing and marketers realized the power of popups. Unfortunately, the technology back then was limited and popups flashed on the screens at the wrong time again and again. This was annoying for the visitors and interfered with the user experience.
Now, there is a lot of advancement in technology and exit-intent popups are all about the perfect placement and time. Not all the exit-intent popup tools out there offer smart and advanced options. So, here we are to help you choose the best exit popup software.
A Quick Look at Top Exit-Intent Popup Software & Their Key Features
Popup Software
Key Features
Pricing
Picreel
Ready-to-use customizable templates
Target highly specific traffic
A/B testing and advanced analytics
Popup personalization options
Advanced trigger options
Starts at $39.97/month
Qualaroo
100+ customizable templates to choose from.
A large question bank to create surveys from scratch.
Advanced targeting and reporting.
AI-based Sentiment Analytics.
Multiple pop-up surveys like NPS, CSAT, and Exit-intent.
Essentials - $80/month
Premium - $160
Enterprise - Custom quotes upon request
Wisepops
User-friendly campaign editor with the option to add custom CSS
Large selection of template popups to choose from
Reliable exit-intent recognition technology
Rich popup customization features
Starts at $49/month for 100,000 pageviews
OptinMonster
Intuitive dashboard
Multiple types of popup forms
Works with popular marketing platforms
Behavioral segmentation
Page-level targeting
Basic - $9/month
Plus - $19/month
Pro - $29/month
Growth - $49/month
Omniconvert
Advanced segmentation criteria
Frequency capping
A/B split testing
Custom overlay placement
Dynamic content
Starts at $167/month
Custom pricing
Thrive Leads
Drag-and-drop form builder
Wide selection of templates
A/B testing engine
Fully responsive
Actionable reporting & analytics
Quarterly - $30/month
Yearly - $19/month
Wunderkind (Formerly BounceX)
Website behavior analysis
Site abandonment time tracking
Track visitor cursor movements
Full-service campaign management
Advanced targeting options
Starts at $3,995/month
Custom pricing
Adoric
Multi-step popups
Easy to install and use
Geo-targeting
A/B split testing
Integrates well with sales & CRM tools
Free - $0
Essentials - $29/month
Standard - $79/month
Pro - $199/month
Optimonk
Drag-&-drop builder
Multiple popup types
50+ beautiful templates
A/B testing
Paid plan starts at $29/month
Sleeknote
Intuitive drag-&-drop builder
120+ ready-to-use templates
1200+ integration APIs
In-depth visitor targeting option
Paid plan starts at $49/month
GetSiteControl
Drag-&-drop editor
A/B testing features
1000+ Integrations
Ready-to-use popup templates
Starts at $9 monthly
HelloBar
Multiple popup types
Niche targeting options
A/B testing for popups
In-depth analytics and custom reports
Starts at $29/month
Poptin
Different popup types
Dynamic tags in popups
Advanced exit-intent targeting options
A/B testing
Autoresponder emails
Paid plan starts at $25/month
Privy
Multiple popup types
Drag-&-drop builder
Onsite product recommendation notification
Mutiple targeting options
Autoresponder SMS
Paid plan starts at $15/month
What is an Exit-Intent Popup?
An exit-intent popup appears on the screen when the visitor is about to leave the website. It is the one last effort to make them stay, complete their purchase, get them to give you their email address, mobile number, etc., or to take any other action.
A lot of visitors land on your website from search engines, social media, and various other sources. They scroll down, might find something of interest or nothing, and leave. By providing a valuable offer or discount or free stuff with the help of exit-intent popups, you can have them stick around for more time.
The ultimate purpose of exit-intent popups is to increase leads or conversions and decrease bounce rates. Bounce rate is basically a statistic that shows how long the visitors stay on your website and whether they take any action or browse more pages before they leave. The exit-intent popups significantly reduce the bounce rates by giving the visitors a reason to stay.
How do Exit Intent Popups Work?
Exit-intent popups are triggered when the visitor moves their cursor towards closing the tab. The exit-intent technology senses the intent of the visitor that is about to leave the website or press the back button or switch to another tab.
Before they click the button to leave the website, a popup appears offering them a discount coupon to complete the checkout process or creatively asking them their email address in return for some free guide, etc. This allows the company to mail them offers and discounts in the future.
The technology is completely based on the user's behavior. Web developers and digital marketers can set their rules to display popups according to the user's activities on the website. The better you understand the user behavior, the more effective your campaign will be.
There are a lot of exit popup software out there that works differently. It can be difficult to try all of them. To help you out, we have narrowed down the list to five. Check it out!
Deep Dive on Best Popup Softwares
Let's explore the top five popup software to get a better understanding of their features and pricing:
1. Picreel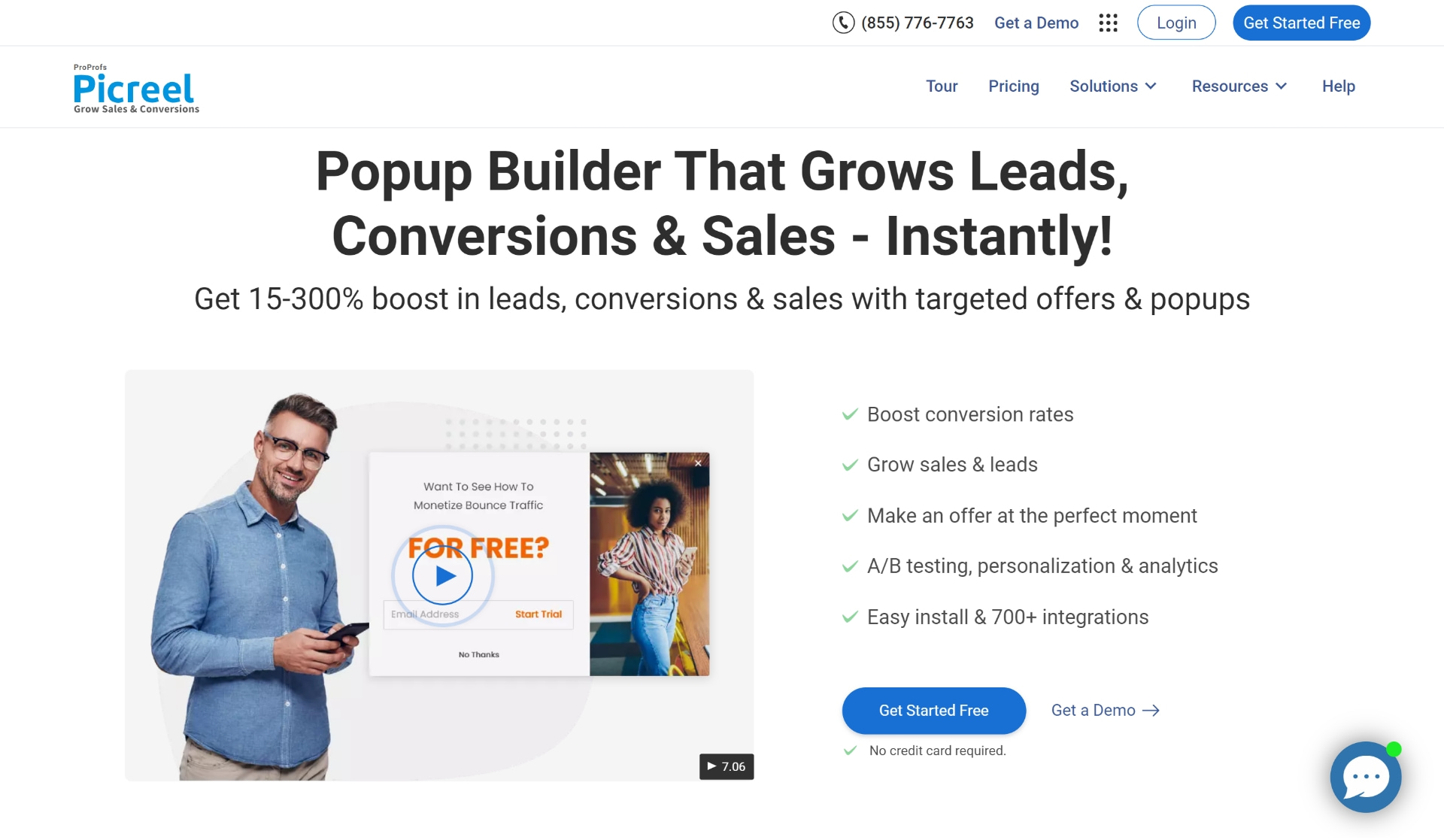 Picreel is a comprehensive conversion tool with more features and integrations than any other conversion platform on the market. Advanced real-time cursor tracking combined with custom conditional triggers serve up highly targeted offers to site visitors to reduce bounce rates, increase sales, and convert traffic into buyers and subscribers. The best exit popup tool has been on the market for more than a decade, and with a free 30-day trial and multiple 5-star reviews, it's easy to see why Picreel is the trusted name at the forefront of the exit popup industry.
Features
Offers different types of popup overlays to target different visitor types

Use the drag-&-drop builder to create delightful popup campaigns

Design custom offers and discounts in 30 seconds; no coding required

Choose from high-converting customizable templates to deploy popups in minutes

Advanced onsite targeting and segmentation options to display the popup to the right people

Target website visitors based on their actions and behavior

Works on both desktop and mobile websites

Integrates with all major CRM, email, and marketing automation tools

Supports real-time analytics to increase agility and campaign responsiveness

Leverage inbuilt A/B testing features to optimize your popups

Also offers service-based campaign management
Start Using Picreel's Drag and Drop Popup Builder
Pros
Helps to reduce cart abandonment

Easy-to-use and setup

Advanced ad personalization to maximize conversions.
Cons
The analytics dashboard needs an update and more custom fields

The campaign dashboard can feel glitchy sometimes
Price
Paid plans start from $39.97/month
Read Here: How to create popup ads
2. Qualaroo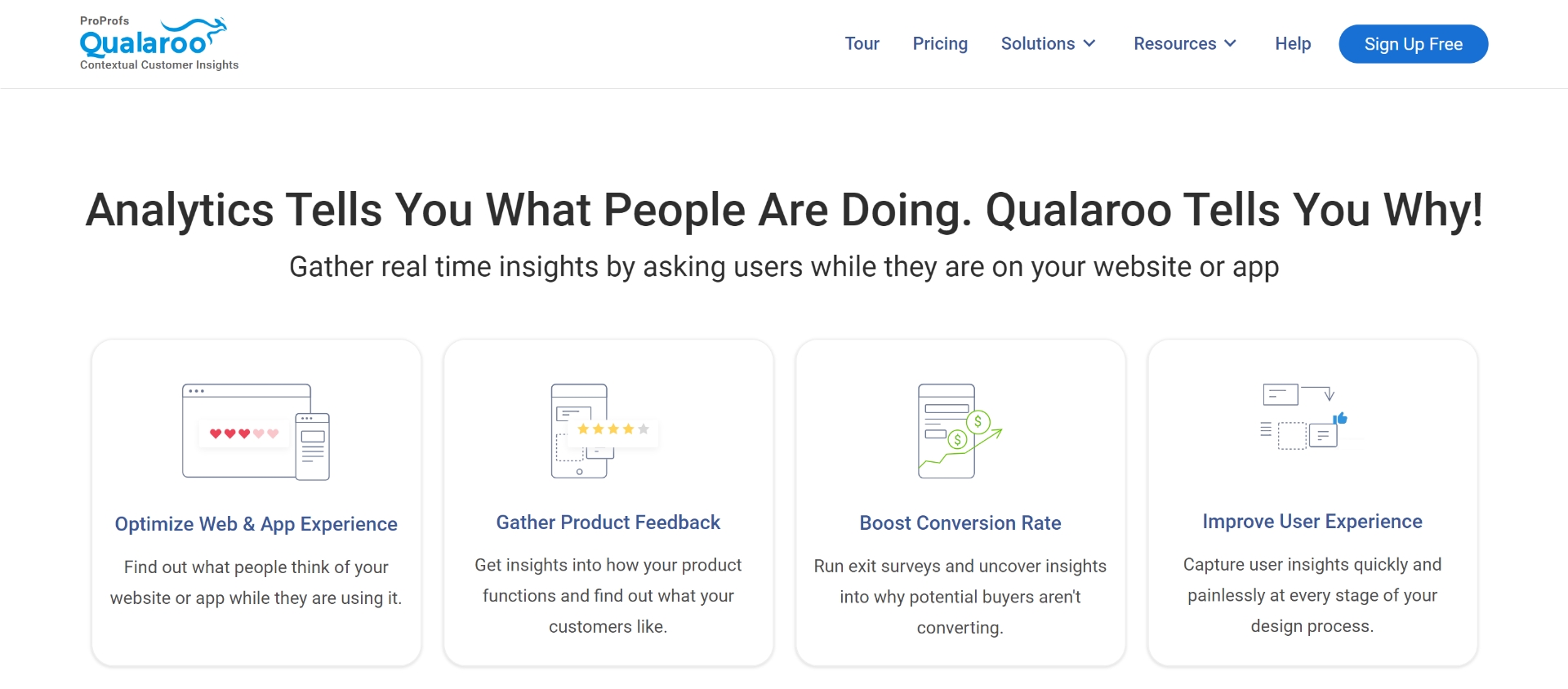 Qualaroo feedback software is known for its exit-intent pop-ups and surveys, which you can create from scratch or customize the existing exit-intent templates. It tracks user behavior and shows a pop-up right when a visitor is about to leave the website.
These pop-ups and surveys effectively reduce the churn rate and stop customers from leaving the website by either offering them a deal, discount, gift voucher, or asking them about their experience.
Features:
You can personalize the branding of your pop-ups, add custom images, colors, fonts, etc.

Offers question branching and skip logic to make your pop-up and surveys relevant to each visitor.

Helps you collect in-context feedback from leaving customers so that you can work on those problems and reduce the churn rate.
Pros
Niche targeting options based on visitor behavior and actions

AI-based sentiment analysis engine
Cons
The reporting section needs more filters and sorting options

Needs more industry-specific templates
Price
Starts at $80/month
3. Wisepops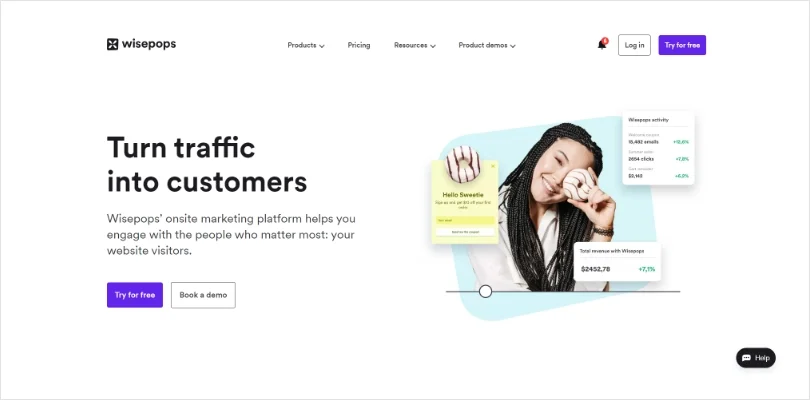 Wisepops is an onsite marketing platform specializing in intelligent popups, banners, bars, and comprehensive analytics. It's easy to use, with drag-and-drop functionality, templates, and no code needed.
Indeed, creating campaigns is pretty straightforward with the option to customize your popups to match your brand style. Thanks to these features and fast customer support, Wisepops is highly rated. In fact, the app has a 4.9 rating on Shopify.
Features
:
User-friendly campaign editor with the option to add custom CSS

Large selection of template popups to choose from

Reliable exit-intent recognition technology

Rich popup customization features

Detailed analytics, including data by country
Pros
Very effective in driving the traffic to the right page

Support smart onsite notifications
Cons
Needs better documentation and guides

Setting up goals can be tricky for some users
Price
Starts at $49/mo for 100,000 pageviews
4. OptinMonster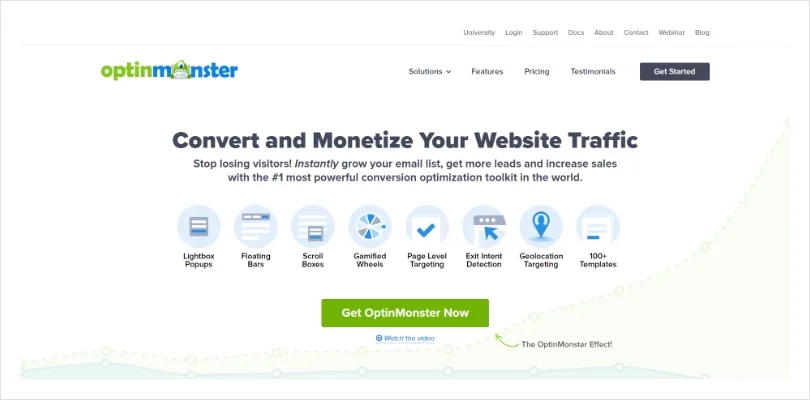 OptinMonster is lead generation software that converts website visitors into buyers and subscribers through the use of its signature exit intent technology. With one-click integration with all major email marketing providers and a simple drag and drop form builder, it's ideal for small businesses that want to manage their own campaigns. The best thing about this exit intent software is that multiple customization options are available to create campaigns.
Features
Drag-&-drop builder to create beautiful exit popups in minutes

Multiple customizable popup types like overlays, sidebars, inline forms, countdown offers, and coupon wheels

Smart exit Intent technology to target leaving visitors and prompt actions

Supports A/B split testing to test different types of popup designs

Built-in reporting and analytics to track popup performance in real-time
Pros
The TruLead™ feature helps to verify the captured leads automatically

Tons of customization options and animations to design popups

Adaptive popups to target different customer segments
Cons
Tool navigation can be improved to make it more user-friendly

May cause performance issues with some web pages.
Price
Starts at $9/month
5. Omniconvert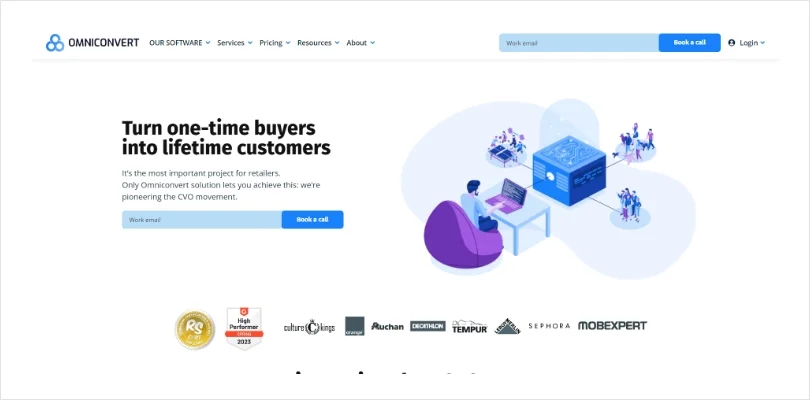 Omniconvert is a complete Conversion Rate Optimization (CRO) tool with exit popups being part of the offerings. Omniconvert features a variety of exit pop types that can be triggered on load, time, scroll or click, and with more than 40 segmentation criteria, offers are highly targeted to visitors' behavior. The advanced options in this exit popup software make it easier to add dynamic texts to banners such as user location, temperature, etc.
Features
Offers different popups like on-click, scroll, load, and exit intent to collect desired information from visitors

A/B test your popups to optimize them

Advanced segmentation criteria to show the popup to the right visitor at the right time

Inbuilt product recommendation engine to improve users' onsite experience

Supports dynamic content to personalize the popups
Pros
All-in-one tool to test and optimize your website

The analytical engine is easier to set up than Google Analytics
Cons
Comes with a steep learning curve

You cannot track multiple A/B tests simultaneously with the A/B test dashboard
Price
Paid plans start at $83/month
6. Thrive Leads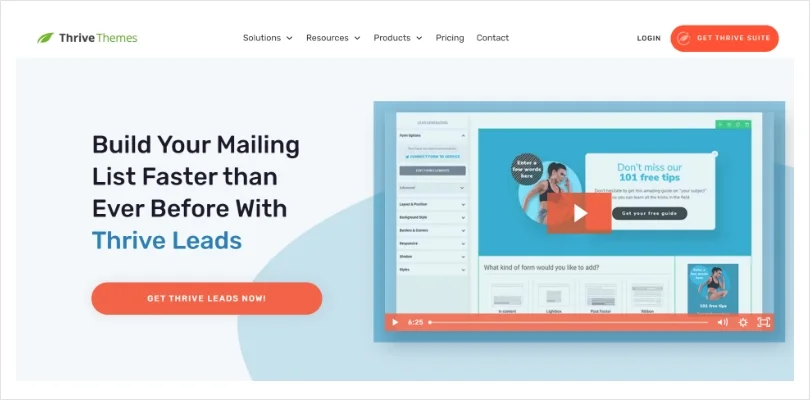 Thrive Leads is an all-in-one list-building solution. With signature SmartExit technology that triggers exit popups when certain conditions are met, not just when a visitor makes to leave the site, visitors see unique offers based on their activity, behavior, and time spent on the website. There are multiple popup layouts to choose from, with customizable options.
Features
User-friendly drag-&-drop builder to design the perfect exit popups and more

Use form animations and pre-built templates to attract visitors' attention

Advanced targeting options based on attributes like page type, posts, categories, tags, and URL

In-depth analytics dashboard to track popup campaign's performance

Allows A/B testing to test and optimize the popup overlays
Pros
Show personalized offers to different visitors with the SmartLinks feature

Wide variety of popup options and templates
Cons
Steep learning curve due to the number of features and functionalities

If you don't host a WordPress site, you also need to purchase Thrive Suite for the tool to work
Price
Costs $299/year
7. Wunderkind (Formerly BounceX)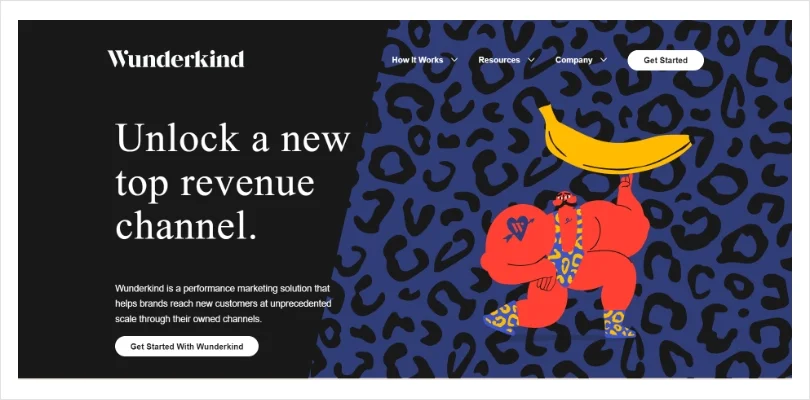 Wunderkind (Bounce Exchange) uses behavioral automation technology to track the activity of site visitors in order to serve up highly targeted offers at the optimal time for conversion. The company's white glove full-service management ensures your campaigns are created by conversion professionals with the onus of success on them, not you.
Features:
Website behavior analysis

Track visitor cursor movements

Site abandonment time tracking

Visitor targeting into strategic buckets

Full-service campaign management
Pros
Helpful in reducing cart abandonment and earning new subscribers

All-in-one marketing platform to target both onsite and offsite visitors
Cons
Feels buggy at times while creating the popups

Can cause minor performance issues on your website
Price
Contact for a quote
8. Adoric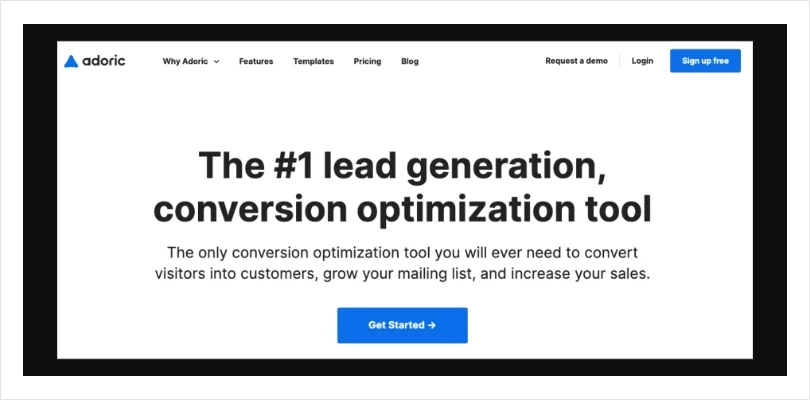 Adoric is the number one pick for a variety of reasons. The tool works by creating a personalized path for every visitor. Unlike most lead generation tools out there, this doesn't only help generate leads but also helps to convert them.
Features
It's feature-rich and supports a variety of elements, including design, communication, analytics, and tracking

You can use it to create multi-step messages to optimize your conversions

It also supports forms and can be connected to a variety of Sales CRMs

Tons of templates to build actionable popups in minutes

Supports dynamic content to show personalized messages on your exit popups
Pros
Extensive graphics element options to choose from for your popups

Works well on desktop and mobile

Built-in scarcity triggers to entice the users
Cons
The editor may glitch sometime while designing the popup

The product recommendation tool needs to be more intuitive
Price
Paid plans start at $9/month
9. Optimonk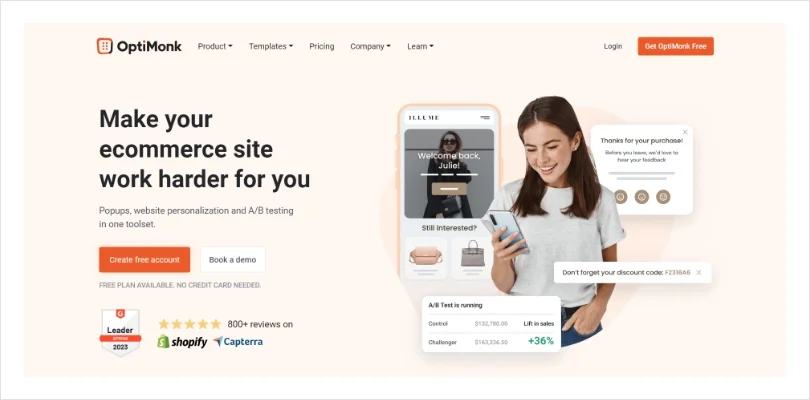 What makes Optimonk one of the best exit popup software is the ability to gamify the user experience. The tool provides multiple popup options to draw visitors' attention like welcome, lucky wheel, conversational, win-a-gift, and ebook. It also houses one of the most advanced targeting options to help you reach desired customer segments with the right offer at the right time.
Features
Drag-&-drop builder to design and deploy popup campaigns in minutes

Supports popups, lucky wheel popups, nano bars, interstitials, and sidebars for your website

50+ beautiful templates to choose from

Set up automatic exit-intent popup triggers based on user actions, demographics, and behavior

A/B test your popups to optimzie them for conversions

Offers integration with tools like Moosend and Salesforce
Pros
Suitable for building your email lists and reducing the website bounce rate

Woks for both desktop and mobile websites

Offers 300+ mobile-responsive templates
Cons
The analytics dashboard needs more metrics to make performance tracking better

No multi-lingual support within the same popup. You need to create a separate popup in the desired language

Steep pricing compared to other tools in the list
Price
Paid plan starts at $29/month
10. Sleeknote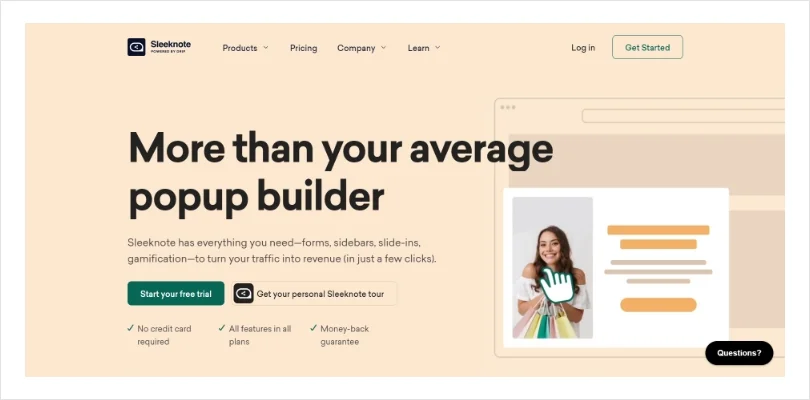 Sleeknote is among the top popup and exit intent software in the market. It offers multiple tools like forms, slide-ins, and sidebars to turn the website traffic into customers. You can target different visitor types like new, repeat, and leaving with personalized overlays to collect leads, show discounts, and redirect them to desired pages.
Features
Intuitive drag-&-drop builder to create beautiful popups to engage visitors

Customize the popup's theme, font, and position on the page

Offers 120+ ready-to-use templates to let you deploy exit popups in minutes

Supports 1200+ integrations to manage workflows and data

In-depth targeting options to display the popup to the right visitors
Pros
Supports A/B testing to test and optimize your popups

Real-time personalization and product recommendation
Cons
The analytics dashboard can be upgraded to show more details
Price
Starts at $49/month
11. GetSiteControl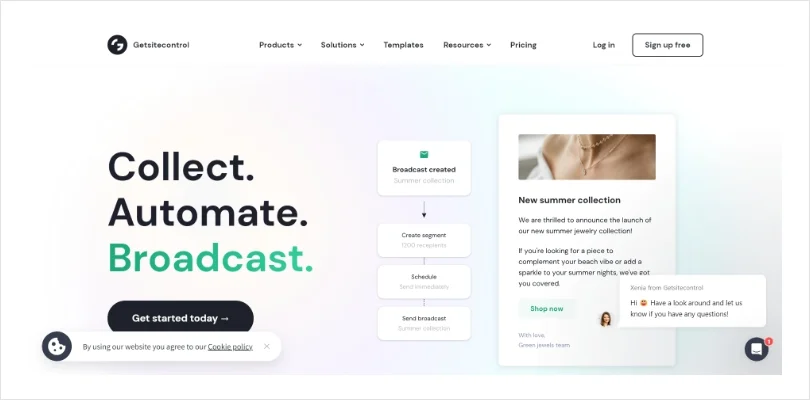 GetSiteControl puts you in control to prompt action from website visitors and push them towards the end of the conversion funnel. Explore upselling and cross-selling opportunities, collect contact information, gather feedback, and stop abandoning visitors with a single tool. With a no-code editor and detailed campaign analytics, GetSiteControl earns its place among the best exit popup software.
Features
In-built drag-&-drop editor to build exit-intent popup and other overlays in minutes

Track the performance of popup campaigns in real-time with in-depth analytics

A/B testing features to optimize the popups

Integrates with over 1000+ tools to export/import data.

Ready-to-use popup templates for different scenarios and visitor types
Pros
Works for both desktop and mobile websites

Supports behavioral and action-based triggers

Affordable pricing options as compared to other similar options
Cons
Needs more theme customization options

No multi-lingual support for popups
Price
Starts at $9/month for 20K monthly widget views
12. Hello Bar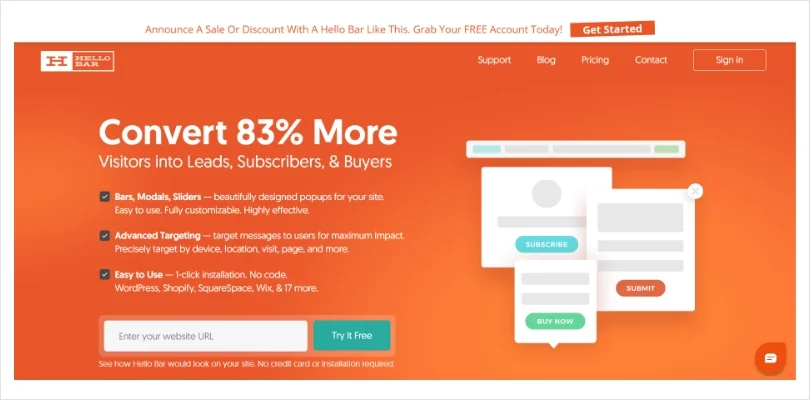 Hello Bar's simplicity is not to be confused with its efficiency. It is one of the most effective exit intent software that offers sticky bars, popups, bars, sliders, and banners. You can place the sticky bar on the page header or footer and use modal popup overlays to entice visitors into taking desired actions. This pop up software is perfect for generating leads, engaging visitors, reducing bounce rates, and improving conversions.
Features
Offers unobtrusive popups, sticky bars, alert cards, and slide-in forms.

Use niche targeting options to segment visitors by source, demographics, actions, and ad campaign

Track popup and sticky bar campaigns' performance using the in-depth analytics dashboard

Create custom reports using the in-built filters and share them with other teams

Supports A/B testing for popups, bars, and banners
Pros
Sticky bars and banner popups do not hinder the visitor experience

Better targeting options than other similar exit popup tools

The platform is regularly updated to add new features and weed out bugs
Cons
The builder can sometimes feel slow and glitchy

Needs more time-based popups like limited-time deals, announcements, etc.
Price
Paid plans start at $24/month
13. Poptin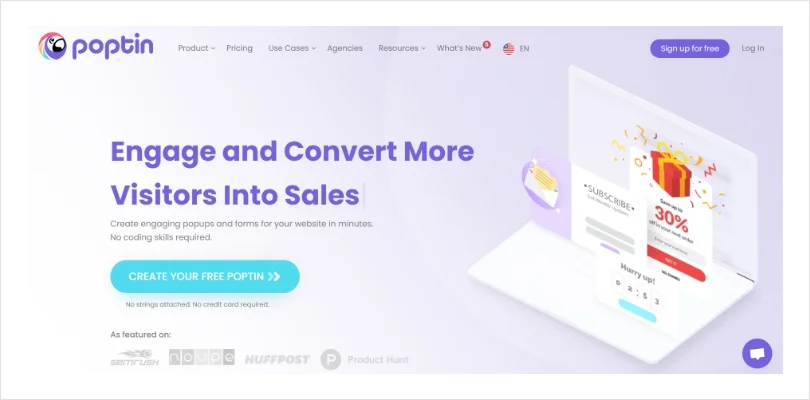 Poptin is built for e-commerce websites, online marketers, digital agencies, bloggers, and anyone looking to reduce bounce rate, increase email subscribers, and curb cart abandonment. You can design embedded forms and smart popups to engage your visitors. Its exit intent technology lets you target precise actions and behavior of leaving visitors to engage them.
Features
Create different popup types like slide-in, overlays, embedded, sidebar, and floating bar

Place dynamic tags in popups to personalize them

Offers advanced exit-intent targeting options to pinpoint leaving visitors

Run A/B tests on your popups to find the ones that work best for you

Set up autoresponders to send automated emails to new subscribers

Integrate with workspace tools to sync and manage data flows

Design gated popups to offer discounts and generate leads
Pros
The WYSIWYG editor makes popup designing and customization easy

Competitive pricing structure makes the tool accessible to a broader audience

Options to design different autoresponder emails based on visitor type
Cons
UX can feel a little clunky when importing branding options to forms

Takes some time to get used to the popup builder
Price
Paid plans start at $25/month
14. Privy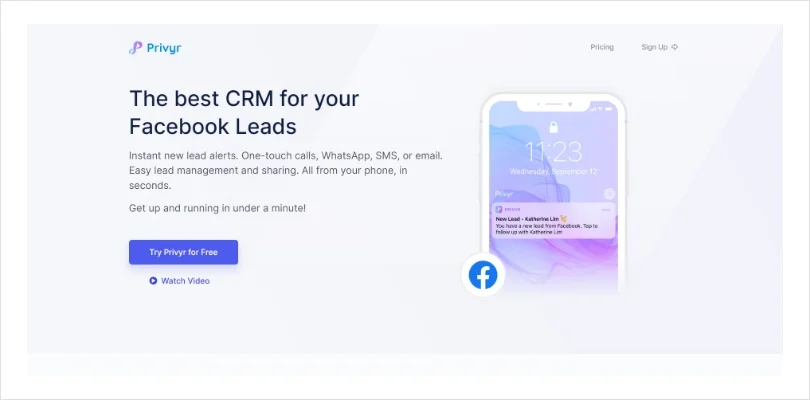 Speaking of gamification, Privy is another excellent popup and exit intent software that lets you turn visitors into subscribers and customers. Use welcome emails, offer alerts, spin-wheel games, and other engaging means to help visitors take the next step to conversions. From personalized popups to targeted email campaigns, the tool lets you target people on-site and off-site to maximize engagement.
Features:
Design different popup types like wheel popups, banners, slide-in, fly-out, etc., for your website

Supports a drag-&-drop builder to let you create popups that are hard to resist

Leverage niche event triggers to show the popup at the precise time to the visitors

Set up automatic text notifications to bring back leaving visitors.

Integrate with tools like Squarespace, HubSpot, and Google Analytics
Pros:
Supports onsite notifications and a free shipping bar.

Autoresponder SMS feature to engage new subscribers.
Cons:
Does not offer a teaser popup feature

Setting up email campaigns can be challenging due to the unintuitive campaign builder
Price
Paid plans start at $15/month
Comparison of the Best Exit Popup Software
| | Picreel | OptinMonster | Omniconvert | Thrive Leads | Wunderkind |
| --- | --- | --- | --- | --- | --- |
| Multiple Form Types | Yes | Yes | Yes | Yes | Yes |
| A/B Testing | Yes | Yes | Yes | Yes | Yes |
| Easy Form Builder | Yes | Yes | Yes | Yes | - |
| Full-service Management | Yes | - | - | - | Yes |
| Targeting | Yes | Yes | Yes | Yes | Yes |
| Analytics | Yes | Yes | Yes | Yes | Yes |
| Mobile Integration | Yes | Yes | Yes | - | Yes |
| Advanced ad personalization | Yes | - | - | - | - |
Which Exit-Intent Popup Software Is Best for You?
Well, it is quite clear that exit-intent popups are a powerful way to reduce bounce rates and boost conversions. At the same time, you can build a large email list to increase sales and overall engagement. But which solution is the right one for you?
You can try a free exit popup software trial to check out the various functions and options available. However, if you are looking for modern and proven exit intent software, Picreel is the real deal. It focuses mainly on targeting visitors at the right time to increase sales, conversions, and leads. From reducing cart abandonment to increasing phone and email lists, Picreel offers a guaranteed solution to give wings to your marketing efforts. We would love to know about your preferred features in an exit-intent popup software.
Do you want instant 300% growth?
Picreel popups can get YOUR website 300% instant sales growth. See Case Studies.