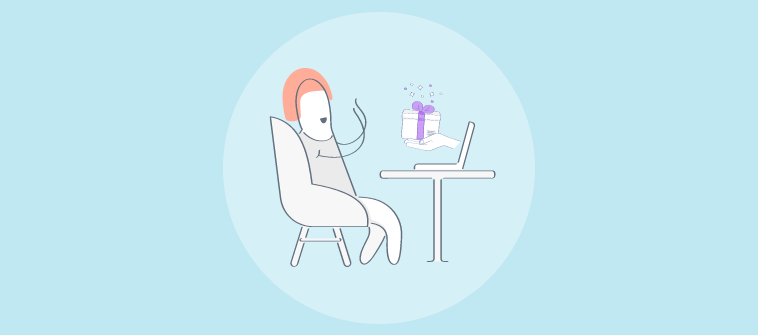 Stagnating numbers are among the worst things to happen to your business. To sustain, a company needs to get new clients consistently.
While your old customers might move to another business for their evolving needs, you need new customers to take their place and exceed the existing numbers.
However, getting new customers interested in your brand is among the most challenging marketing tasks.
Online Giveaway tools are among the various devices companies use to engage more potential customers.
This post will discuss what giveaway and contest tools are at your disposal for increasing your reach.
What Is an Online Giveaway Tool?
An online giveaway tool refers to an application that helps you set up a giveaway contest. The contest has a set of requirements that users have to fulfill to participate in the giveaway. It helps companies give back to their community while getting more leads for future sales.
Giveaways can directly impact the number of sales a company makes. Create customer loyalty with the giveaways and set conditions that help you get more information about the customer.
However, there are strict rules around giveaways, depending on where you live. For example, in the USA, you cannot ask the users to purchase to enter a giveaway. So, ensure that you adhere to the rules set by the government while running these giveaways.
The online giveaway tools are among the many marketers' investments in getting more clients to convert.
Understand the Benefits of Online Giveaway Tool
Online giveaway tools are a part of any company's marketing efforts to get more customers. It is essential to improve your online reach and can help in the following ways:
Word-of-Mouth: Giveaways can encourage people to share information about your brand with others. It is word of mouth that reaches a far and broad audience. If the giveaway encourages users to share your website or tag other individuals, you can increase your reach.
More Traffic: Giveaways turn your regular buyers into brand ambassadors for your brand. With specific conditions, like sharing the link to giveaway with three more people, you can increase the overall traffic to your website.
Mailing List: Giveaways also encourage people to give details like their email addresses. You can use the contact details to get in touch with the giveaway winners and use the same information to target them and other users for future sales.
Increase Social Media Followers: Giveaways that offer additional entries for following your brand on social media are a sure-shot way of increasing your followers.
The return on investment for giveaways is huge. On average, a giveaway can get 34% new customers to your website.
A Quick Look at Best Online Giveaway Tools & Their Key Features
Here are the several online giveaway tools mentioned in the post, along with their starting price and key features.
Online Giveaway
Tools
Key Features
Starting Price
Picreel
Effective A/B Testing
100+ Templates
Versatile Built-in Editor
Free Plan - $0
Business Plan - $9.99/month
OptinMonster
A/B Testing
On-Site Retargeting
500+ Integrations
$9 Per Month
RafflePress
Drag-&-Drop Giveaway Builder
Viral Giveaway Templates
Fraud Detection
$31.60 per year
Woorise
Quick Publish
Managing Entries
Language Options
Free Plan
Woobox
Highly Customizable
Effective Participation Management
Mobile-friendly Campaigns
Free Plan
AgoraPulse
Unified Social Inbox
Random Winner Selection
Insightful Analytics
Free Plan
WishPond
300+ Integrations
Simple Interface
A/B Testing
$49 per month
Gleam
Verified Actions
Refer a Friend
Multi-Language Support
$79 per month
OptiMonk
Easy-to-Use Editor
Highly Customizable
Insightful Analytics
Free Plan
KingSumo
Create Actionable Giveaways
Grows Email Lists
Inexpensive
$49 per month
EasyPromos
Runs Giveaways on Social Media
Random Winner Selection
Mobile-Friendly
$29 per month
RaffleCopter
Built for Scale
1-Click Email Integrations
Prize Image Gallery
Free Plan
MonsterInsights
Real-Time Analytics
User Behavior Reports
Media Tracking
$99.50 per month
13 Best Online Giveaway Tools in 2023
The market is filled with tools to create giveaways. In this post, you will find some of the best giveaway applications available online.
Here are the online giveaway tools in the order of preference for 2023:
Pricing: For the yearly subscription, Starts at $9.99/month with a forever-free plan.
Overview: Picreel is a marketing tool that can create a huge range of popups. Use the tool to create giveaway popups on your website that improve engagement. The tool comes with 100+ delightful templates, and you can find several giveaway popups to edit in the built-in editor.
The tool will automatically track the details you receive from the giveaways.
Best For: Picreel is ideal for online stores of all sizes. They have various plans to match the needs of all small, medium, and large organizations.
Key Features:
Effective A/B Testing

: Picreel offers

A/B testing

that online stores can use to test different types of giveaways. Presenting the same giveaway using different copies or presentations can change the number of entries you get.

Versatile Built-in Editor: The editor that comes with the application allows easy drag and drop editing of various elements. You can use the tool to create amazing popups that engage and convert the users.
100+ Delightful Templates

: The tool comes with over a hundred templates. Select the templates that match the aesthetics of your website and make changes to create the perfect giveaway.

Audience Targeting

: Set triggers for smart targeting and show your giveaways to the right audience. Targeting allows you only to show your offers to the correct audience.
Pros
Helps get more leads and conversion

Easy-to-use application

Helps create amazing giveaways
Cons
The dashboard needs modernization and custom fields

The campaign dashboard can stop responding sometimes, and needs a reload before working again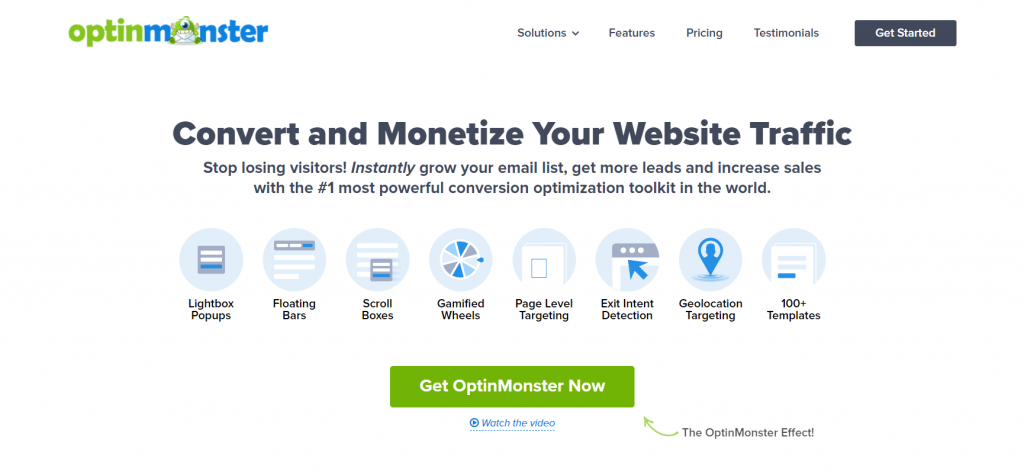 Pricing: OptinMonster's basic plan only costs $9 per month, and their most expensive plan costs $49 per month.
Overview: OptinMonster is another application that can help create giveaways for your website. Use it as a giveaway tool that educates users about the latest offerings on your website and takes them to a new page where they can enter the giveaway.
Best For: OptinMonster is best for eCommerce websites, bloggers, marketing agencies, and small businesses.
Key Features:
A/B Testing:

OptinMonster has built-in A/B testing features that companies can use to test various popups.

On-Site Retargeting:

Get your customers to move from one page to another with on-site retargeting popups. You can create popups that take users to the giveaway page for multiple entries.

500+ Integrations:

OptinMonster comes with over 500 integrations that you can use to incorporate the tool into your marketing channels.
Pros
User-friendly Interface

Ample popup templates

Beginner-friendly tool
Cons
Slow customer support

The initial setup can become confusing

Pricing: The pricing plan starts from $31.60 per year, and their most expensive plan reaches $399.60 annually.
Overview: RafflePress is a dedicated giveaway tool that has the options to create contests, rewards, and giveaways for your WordPress website. RafflePress comes with a variety of features that help create engaging giveaway campaigns for the website.
Best For: The tool is ideal for companies running WordPress websites. Companies that want to deploy giveaways for email lists, social media followers, etc., can use the application.
Key Features:
Drag-&-Drop Giveaway Builder:

RafflePress is among the

giveaway tools

that offer a built-in editor to create engaging giveaways.

Viral Giveaway Templates:

The application has a range of templates available.

Make changes to the templates to match your website, and it is good to go in only a few minutes.

Fraud Detection:

The application comes with a fraud detection system to ensure that you can run a fair contest. It helps get rid of any unfair entries automatically.
Pros:
A range of entry actions

Easy to set up

Mobile-friendly
Cons:
Limited email integrations

Only available for WordPress websites
Pricing: Woorise does offer a free plan, and their paid plans can reach up to $960 per month for unlimited entries.
Overview: Woorise is an all-in-one lead generation tool. It has provisions to create giveaways, contests, surveys, landing pages, forms, and quizzes. The tool helps companies create a bond with their customers, get more leads, and close sales.
Best For: The tool is ideal for small companies that have online stores and want to get more sales. It is a complete lead generation tool, and creating giveaways is only one of its various features.
Key Features:
Quick Publish:

Use Woorise to publish the giveaway quickly. After creating the giveaway, you can embed it into your page. Use popups, chat, exit-intent, email, or Facebook pages to show your giveaway to the users.

Managing Entries:

Woorise streamlines the leads that come to you from the giveaways. You can filter the leads, edit them, add your notes, manage winners, and use the details to send email notifications.

Languages Options

: Create giveaways in your regional language to reach the appropriate audience with this application. Use the feature to expand your global reach.
Pros
Amazing editor

Easy to set up

Export data option available
Cons
For better features, you at least need the Pro plan.

Integrations can be challenging.

Pricing: Woobox has a free plan. Moreover, they also have a total of four paid plans, with the most expensive plan costing $249 per month.
Overview: Woobox is among the several online giveaway tools that offer a boost in engagement. The tool helps create contests, polls, giveaways, forums, coupons, etc. Use the application to run Instagram hashtag contests, landing pages, popups, and other interactive forums.
Best For: Woobox has plans to meet the requirements of all business sizes. Moreover, it is an ideal tool for marketers who want to get more engagement on their websites.
Key Features:
Highly Customizable:

Use the tool to manage design and language. It also offers the option of creating custom forms.

Effective Participation Management

: The tool offers a distinct feature to select giveaway winners without bias. It makes it easy to manage your submissions.

Mobile-Friendly Campaigns

: Woobox has the option of sharing your campaigns via email, social media channels, and other official marketing websites. These are mobile-friendly campaigns for ease of access to your users.
Pros
Unlimited campaigns in all plans, including the free option

Multi-purpose tool

Customizable forms
Cons
Needs more social media options

Needs more ways of entries in the giveaways

Pricing: They offer a free plan and two paid plans, where the Premium version costs $199 per month. They also offer custom plans for specific requirements.
Overview: Agorapulse is the appropriate tool for companies that rely on social media to run giveaways. It offers complete social media management. Use the tool to create Facebook contests.
Best For: Agorapulse is a social media management tool. Hence, companies that rely on their social platforms for contests can use the tool. It is targeted toward mid-sized businesses.
Key Features:
Unified Social Inbox

: The application shows all your social media messages in a single space. It saves time and ensures that no user interaction goes unnoticed.

Random Winner Selection

: Let the tool decide the winners randomly from the people who have liked or commented on the post.

Insightful Analytics

: Refer to the dashboard to get actionable reports. They will show you what is working for your brand and what needs improvement.
Pros
Supports all types of social media

Competitor analysis is available

Mobile access for account management
Cons
Content calendar needs improvement

Cannot use the tool to draft content

Pricing: The starting plan is $49 per month, billed yearly. It also offers a 14-days free trial for users who want to take the test drive before investing in the tool.
Overview: Wishpond is another tool that offers to create and manage social media contests and competitions. It requires no coding skills and can help automate the marketing process. It also has provisions for popups, forms, giveaways, and contests.
Best For: It is a complete marketing tool that caters to businesses of all sizes. You can browse the plans and find the most relevant option to meet your needs.
Key Features:
300+ Integrations

: The tool offers 300+ integrations to automate the marketing process. Use them to sync your marketing efforts with other tools and get better results.

Simple Interface

: The simple interface makes it easy for beginners to use. You can find whatever you need on the dashboard.

A/B Testing

: The tool offers A/B testing to find the most effective campaigns. Change content and presentation for a sample audience to see what works better.
Pros
Good visuals

Create giveaway popups with smart behavior

Helps Create landing pages
Cons
Long contract with no easy exit

Slow response time from the support team

Pricing: You can buy the four-apps package starting at $79 per month.
Overview: Gleam essentially offers four applications with one dashboard. You can buy each app individually or buy the whole package. The four apps help create competitions, capture leads with opt-in forms, develop galleries for dynamic content, and run campaigns of unlockable rewards.
Best For: The various plans available cater to different team sizes. Depending on the marketing team who needs access to the application, the tool can support up to 20 team users for one site.
Key Features:
Verified Actions

: The application offers ticks to show you have entered the contest through a specific action. For more than one entry, it has separate entry actions that your users can perform.

Refer a Friend

: Create contests and giveaways where referring friends leads to more entries. It will help improve your reach.

Multi-Language Support

: Their team offers multi-language support, so users worldwide can use the tool and expect excellent service.
Pros
Connect your social media channels easily

Create social media tasks to enter giveaways

Easy Customization
Cons
Needs sign up form builder

Manual work needed for specific channels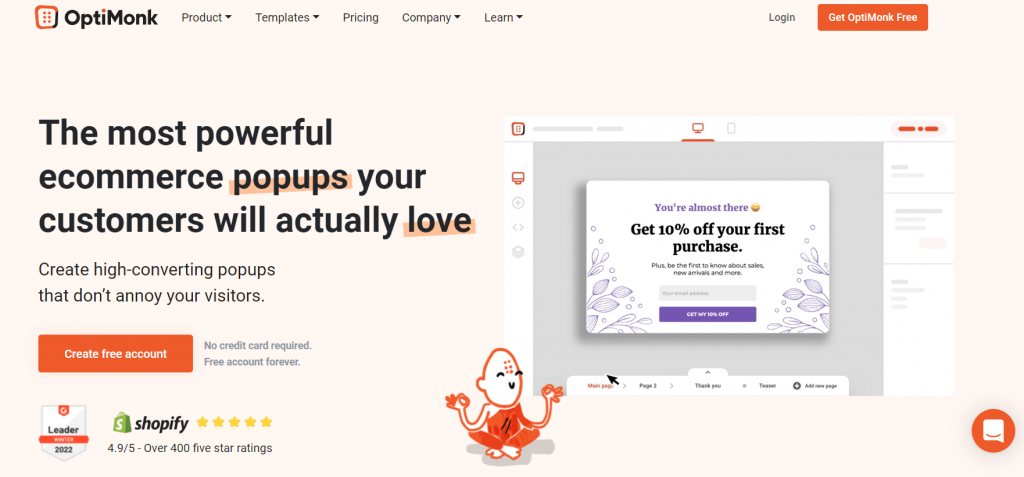 Pricing: OptiMonk has a free pack for beginners. But, paid and custom plans are also available for different users.
Overview: OptiMonk is an eCommerce popup application that can also create giveaways. You can use the tool to develop popup giveaways that ask for minimal information to get an entry. The other option is to take the user to another page to perform separate tasks for multiple entries.
Best For: It is among the virtual giveaway tools ideal for businesses of all sizes. You will have to find the right plan to match your requirements.
Key Features:
Easy-to-use Editor

: The application comes with a drag-and-drop editor to create amazing giveaways for the users on your website.

Highly Customizable

: You can use the tool's high customization capabilities to create special giveaways every time.

Insightful Analytics

: The tool has a dashboard that turns numbers into insights. Use the data from the giveaway for future marketing.
Pros
200+ templates

Supports video content

Custom confirmation page
Cons
Page view based pricing can become expensive

Needs a tagging feature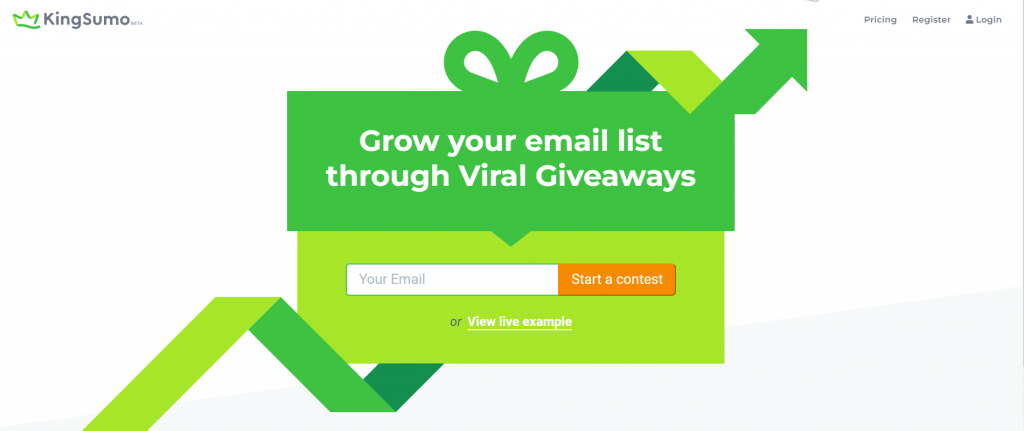 Pricing: It is a one-time purchase item that, with the off, currently costs $49.00.
Overview: KingSumo is a product of AppSumo that helps create giveaways on WordPress, Squarespace, and other websites. Companies can use the tool to increase their mailing list with exciting giveaways.
Best For: KingSumo is ideal for WordPress-based websites that want to create occasional giveaways to grow their mailing list.
Key Features:
Create Actionable Giveaways

: The application has all the features to create actionable giveaways. Use them to get your potential customers to do tasks that enrich your customer data.

Grows Email Lists

: You can use the giveaway tool to improve your mailing list and followers on other social media channels.

Inexpensive

: Giveaways using KingSumo cost significantly less than other marketing channels. The lower pricing of the tool, coupled with its ability to create endless giveaways, makes the tool worth every penny.
Pros
Can use the tool on various social media channels

A straightforward tool

Provides the option of sharing the contest for additional entries
Cons
It does have a lot of glitches

It does not offer information about the user's geo-location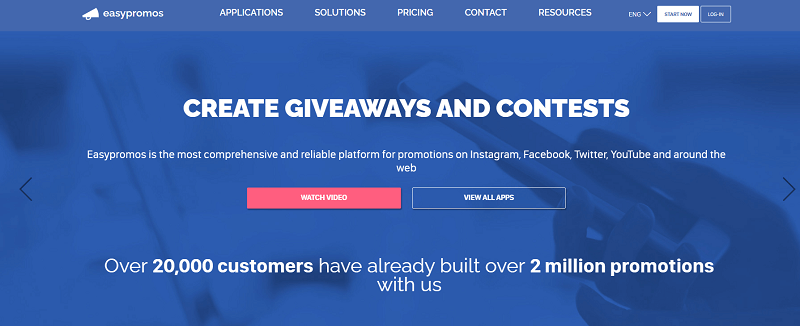 Pricing: Their basic plan starts at $29 per month. There are other paid, and custom plans to meet different needs.
Overview: Easypromos is the tool to use if you want to share your contest on various giveaway platforms. Use the tool to engage your customers with multiple marketing tools and get conversions faster.
Best For: The tool has pricing plans to match the needs of individual marketers and big enterprises. So, all companies that use giveaways as a promotional tool can use the product.
Key Features:
Runs Giveaways on Social Media

: The tool has provisions to run the giveaways on various platforms, including Instagram, Facebook, and Twitter.

Random Winner Selection

: You do not have to worry about choosing the winner as the tool can randomly select one for you.

Mobile-Friendly

: Admins can access the tool via their mobile phones. It improves the overall accessibility of the application for your team.
Pros
Multiple uses

Easy installation

Excellent customer support
Cons
Integrations can become challenging

Needs more customization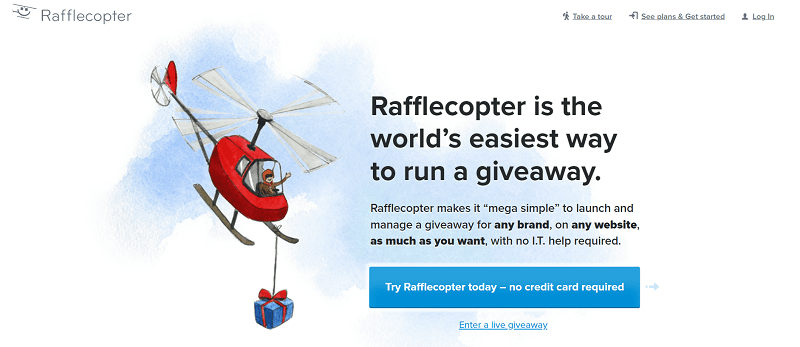 Pricing: Free plan is available. The pricing for Rafflecopter starts at $13 per month and can reach up to $84 per month.
Overview: Rafflecopter offers a giveaway system that uses your website as the portal for running the contests. It requires zero coding skills. It is a dedicated giveaway software with various features.
Best For: The application has worked for fortune 500 companies, small businesses, startups, and other sellers online.
Key Features:
Built for Scale

: Use the application to create grand giveaways. It can handle hundreds of thousands of entries on a single giveaway.

One-Click Email Integrations

: Email integration is available with only one click. Deploy emails to get more entries to your giveaways while making your business reach new customers.

Prize Image Gallery

: Flaunt your various prizes with an image gallery to get more people interested in your giveaway.
Pros
Multi options for entry to the giveaway

Creates more social media engagement

Picks Winners
Cons
It is not a beginner-friendly tool

Adding giveaway entry options is challenging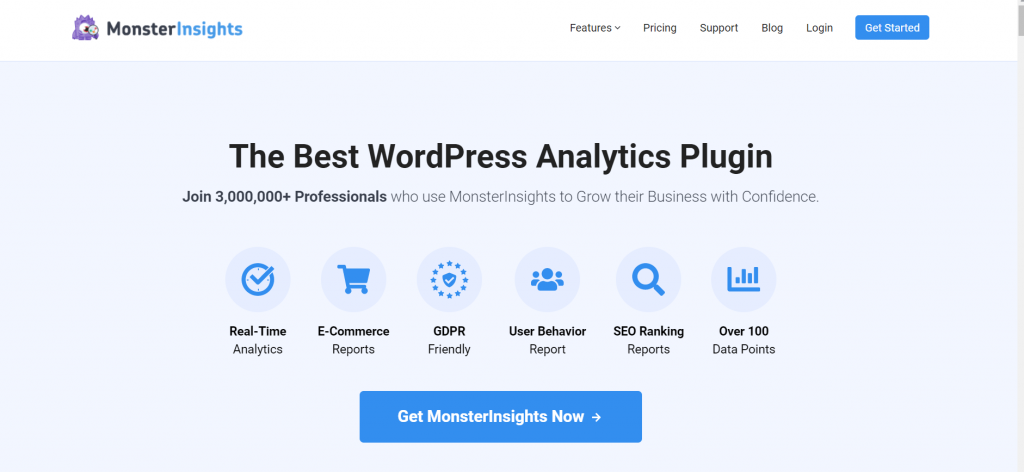 Pricing: The pricing of MonsterInsights starts at $99.50 per month.
Overview: MonsterInsights is known for its analytical powers. It does not help you create giveaways. So, you might ask, why is this tool here?
All giveaways aim to gather information and insights about the users. With MonsterInsights, you can determine where your users are located, which devices they use, and what type of content works the best.
Best For: MonsterInsights is best for businesses of all sizes. Though, their least expensive plan only caters to small businesses. And their most costly plan is made for the web development agencies.
Key Features:
Real-Time Analytics

: The real-time analytics of your website and specific URLs will help you make better future marketing decisions.

Users Behavior Reports

: The application offers a thorough user behavior analysis for better insights.

Media Tracking

: It can track the users who watch your videos on YouTube, Vimeo, and HTML5 video events.
Pros
Fast and easy installation

Detailed information about new and returning users

Find the top posts and pages
Cons
It needs an AI-powered algorithm for better targeting

The free version has limited features
Start Increasing Your Mailing List With Giveaways Today!
Giveaways have been a huge section of marketing techniques for many companies. Now, as the stores move to the virtual world, online giveaway tools have taken the responsibility of point-of-sale giveaway promotions.
The 13 giveaway tools mentioned in this post are among the best options for any company. Of course, all these tools promise the same results, but there is no one-size-fits-all marketing solution.
So, you need to consider the needs of your business, including where you want to run your giveaways before you choose your tool. Selecting a tool with good analytics is imperative to ensure that your marketing team benefits from the data.
A free trial might work the best for companies that are new to the world of giveaways and want to dip their toes in this new marketing practice. Many giveaway tools, including Picreel, offer a money-back guarantee, so you can use the tool before investing long-term.
Do you want instant 300% growth?
Picreel popups can get YOUR website 300% instant sales growth. See Case Studies.