Editor's note: This story was originally published in June 2015. It has been updated for accuracy and comprehensiveness.
If you want to improve your ecommerce lead generation rate, a good way to get started is to look at what works for other companies. In this post we'll examine how high converting ecommerce sites like Zappos, Schwan's, and Woman Within are able to turn large numbers of visitors into long-term customers.
If there is one secret to their success it's this: they all employ effective ecommerce lead generation strategies. There is no doubt that if you can implement the following five strategies and combine them with the use of good lead generation software, you will see a jump in your lead conversion numbers.
5 Lead Generation Strategies That Work
#1. Prioritize Email Collection
When you visit established ecommerce sites, you will quickly realize that they take email collection very seriously. These companies understand that getting the email addresses of new visitors is the best ecommerce lead generation tool for establishing new and long-lasting contacts.
Getting these addresses is not as easy as it sounds, though. Sometimes it takes more effort than just providing an email form through your website lead generation software. People do not freely give out their email addresses, especially when they have nothing to gain from doing so. Some ecommerce sites get around this stumbling block, by offering special deals to entice newcomers to share their email addresses.
Roaman's, for instance gives a free shipping coupon to every first time registrant. Another brand that uses the same ecommerce lead generation strategy is Woman Within. This strategy seems to have worked for these brands as they remain extremely popular with shoppers.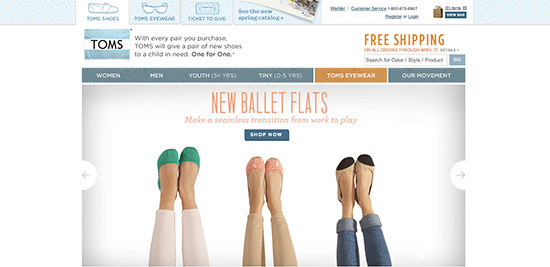 #2. Promote Your 1-800 Number
Using a 1-800 number to serve customers creates a good impression. It shows that you are committed to serving visitors in a convenient way. If you check some of the most successful ecommerce websites, you'll notice that this number is prominently displayed.
1-800 numbers can be a valuable ecommerce lead generation asset, but only if you have already put appropriate mechanisms in place to ensure that when a customer dials it, he or she receives prompt and useful customer support. Otherwise, the number will do more harm than good.
Zappos has promoted and used their 1-800 number as an ecommerce lead generation tool and it has paid off for them.

#3. Encourage Your Customers To "Tell a Friend"
Word of mouth remains one of the most effective methods of lead generation. This old marketing tactic works perfectly well online and some ecommerce sites have adopted it as a primary ecommerce lead generation strategy.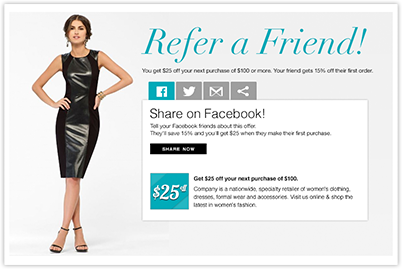 Schwan's is a great example of this. They offer a $10 discount off of a $60 purchase to customers who introduce a friend to the site. The introduced friend also benefits – he or she receives a 20% discount for use towards their first purchase.

#4. Use Pop-Ups To Gather Information And Establish Contact
Pop-ups are another useful way for ecommerce sites to gather new leads. Woman Within is the best example of an ecommerce site that has benefited from this strategy. It achieves a 25% conversion rate from pop-ups alone!
Simple pop-up forms are useful for collecting specific information, which can then be used to segment visitors for better customer service. Pop-ups are also handy for introducing customers to the brands' social media platforms. Woman Within uses a Facebook Like button pop-up to invite customers to its Facebook page. They have accumulated over 107k likes so far. They also give good deals for email signups.
#5. Use Behavioral Targeting
Every customer wants to feel special, which is why brands that are able to personalize lead generation are often so successful. The more personalized your ecommerce lead generation is, the more successful the outcome.
That is why you need to use a tool that will not only help you understand your customers in the quickest way possible but also allow you to customize your ecommerce lead generation process. This is called behavioral targeting and it is highly effective. One of the most efficient website lead generation software options is Padiact. Padiact helps you obtain an email at the right time using the most appropriate message. The software also helps you conduct A/B testing to find out which email forms will serve you best.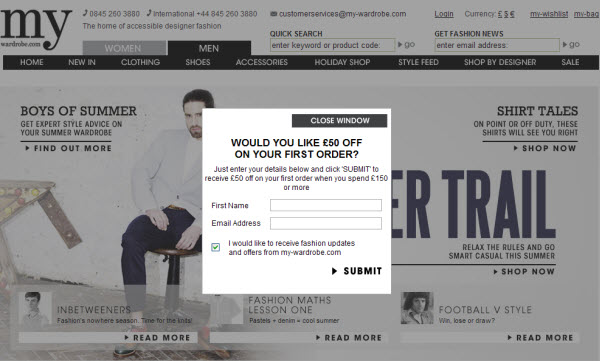 Developing Your Lead Generation Strategy
The most successful ecommerce websites use the following strategies together with website lead generation software to generate leads and sales:
Prioritize Email Collection. Make email collection an important activity and invest in website lead generation software to help make the process efficient. Email is important because it is the surest way to establish contact with a new customer.
Promote Your 1-800 Number. Using 1-800 numbers gives the impression that you are putting forth efforts to make it easy for customers to get in contact with you and are willing to go the extra mile to serve your customers.
Encourage Customers to "Tell a Friend". Encourage your customers to tell friends about your goods and services. Give them discounts and other benefits when they do.
Use Pop-Ups to Gather Information and Establish Contact. Implement pop-ups and use them to connect on social media, showcase offers, and collect email and other information.
Use Behavioral Targeting. Behavioral targeting works. Good website lead generation software will help you achieve success with this method.
All of these strategies should be used to support your unique brand, products, and services. Use them to develop a comprehensive ecommerce lead generation strategies that highlights what you have to offer and what makes you different and better than your competitors.
If all of these ecommerce lead generation strategies are implemented consistently and in the right way, then there is no reason your site won't produce results similar to Zappos, Schwan's or Woman Within. It's all about having a strategy and religiously implementing that strategy.
Do you want instant business growth?
Picreel customers get a 15-300% instant increase in inbound leads & conversions.