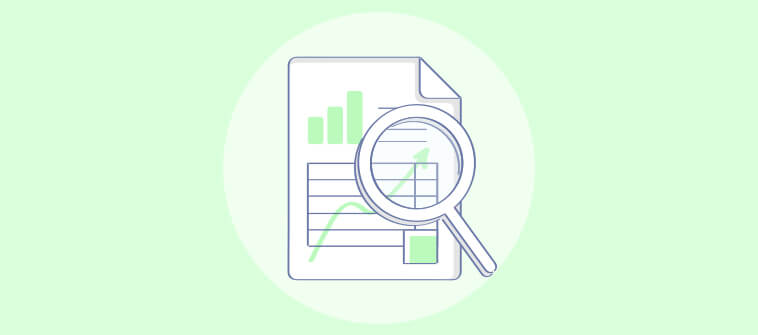 Based on different surveys, the average website abandonment rate is more than 95%, and these abandoning visitors are less likely to return to the site if you don't use onsite retargeting. This is a big number, and it reflects your onsite conversion rate. Moreover, 70% of website visitors abandon their shopping carts. So, what can be done to engage with potential shoppers while they are still on your website?
A great way to ensure that engaged visitors don't leave your website is by using onsite retargeting technology to present tailored offers, which can boost conversions plus sales for you. It is definitely no rocket science and can be done easily with the right conversion optimization tool. We will be covering it all below.
What Is Onsite Retargeting
Onsite retargeting is a personalized marketing tactic that solely focuses on the behavior of site visitors. Using cookies and tracking algorithms, user behavior is determined to present them with the right content at the right time to boost onsite conversions. Wondering what exactly an onsite conversion is?
An onsite conversion happens when a visitor completes a certain call to action on your website. It can be anything from making a purchase to subscribing to your newsletter or submitting a form and so on. The conversion rate is simply the percentage of people who completed the desired action on your site.
To increase your conversion rate, onsite retargeting helps you deliver the right offers to your website visitors at the right time to push them down your conversion funnel. Let's check out how this entire process works.
How Does Onsite Retargeting Works in 2023
Firstly, what is onsite retargeting exactly? It is a personalized marketing tactic that solely focuses on the behavior of site visitors. Using cookies and tracking algorithms, user behavior is determined to present them with the right content at the right time. But how exactly does this all work?
Onsite retargeting works by monitoring a website user's mouse and analyzing the movements made by the user, like the click rate and how fast the cursor moves. Based on these movements and the time spent on the site, the retargeting technology detects whether the visitor is engaged or is about to leave your webpage and then displays them a relevant offer. This targeted offer helps you to retain leaving visitors and turn them into potential customers.
Benefits of Onsite Retargeting
Onsite retargeting is full of benefits, starting right from a significant boost in conversions. Let's check out more benefits in detail.
Improved conversion rates

: Your website conversion rates can take a hit if you don't stop engaged visitors from leaving your site. With a proper onsite retargeting strategy in place to target these leaving visitors, you can see a significant improvement in conversion rates.

Improved ROI

: You invest in multiple marketing platforms to bring in traffic to your website. But if the visitors leave without taking any action on your site, that's zero return on your investment. So, with onsite retargeting, you ensure that maximum visitors take the desired action, leading to a better ROI.

Improved user experience

: Using the popups perfectly, you can trigger the right message at the right moment, making them non-intrusive. As onsite retargeting focuses on optimizing conversions, it allows you to optimize the original content for a delightful user experience. Moreover, you can offer help to your shoppers to

guide them

using personalized messages.

Cost-effective branding & advertising

: In the end, onsite retargeting is simply an advertising strategy and that too, a cost-effective one. You can promote your brand, new products, start referral programs using popups, and do a lot more to engage with site visitors for boosting leads & sales efficiently.

Precise targeting of multiple customer segments

: Different visitors fail in different stages of the buying process. If someone isn't showing an intent to purchase now, then displaying an instant sales-oriented message to them is not the right tactic. Using retargeting, you can engage with different audiences by displaying customized messages based on their position in the funnel.
Now that we know how important onsite retargeting is for higher conversions, let's see how you can analyze your website conversion and act on that information.
How to Analyze Conversions & Take Action Using Onsite Retargeting
To measure and analyze conversion rate, there are a lot of onsite conversion tools out there that you might be familiar with. Google Analytics is one of the most popular and widely used online analytics software to measure important marketing metrics.
Using Google Analytics, you can easily set up your conversion goals to track different campaigns as per your target audiences. The definition of conversion can be decided by your team such as converting from visitors into leads, subscribers, customers, etc. You can even analyze how the visitors are converting, such as after viewing a specific landing page, popup, etc.
The fully-automated tool easily integrates with other tools, making it easier for you to generate custom reports for better insights into your onsite conversion rates. Once you have the complete conversion picture in front of you, it is time to take action for implementing certain strategies based on your results.
Here are some of the most common scenarios and their solutions to boost conversions.
1 – Visitors Leaving at Checkout Page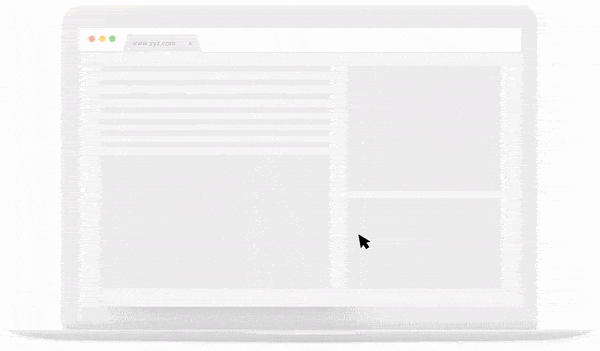 The average cart abandonment rate is around 70%. So, why do visitors abandon their carts? The leading reasons are high shipping charges, additional hidden tax/fees, mandatory account creation, complicated checkout process, and limited payment options.
Now, the solution lies right in front of you. By optimizing your checkout page and process, you can make it easier for shoppers to complete their purchases. Using exit popups, you can target the abandoning visitors with free shipping codes, discount coupons, etc. With an engaging overlay and the right offer, you can surely win back many shoppers.
2 – Visitors Not Converting After Spending Some Time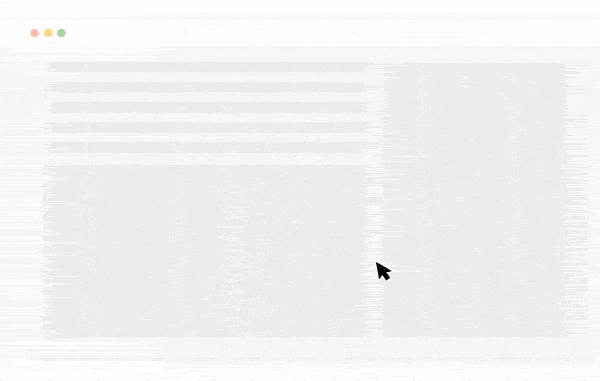 Some visitors spend some time browsing through your homepage or landing page. They might even make some clicks to explore your products/services, but in the end, they leave mysteriously. If the time spent by visitors on your website is significant, then what's wrong with your website? What's stopping them from going down the sales/conversion funnel?
You can't know for sure. Sometimes visitors are simply comparing similar products on different sites and leave when they find a better deal. Others might have some doubt about the quality of your products or might be lost on your site. By tracking the movements using onsite retargeting, you can guide visitors to the right content with relevant links and can also offer them personalized help by asking for their email address/mobile number.
3 – Visitors Leaving at Pricing Page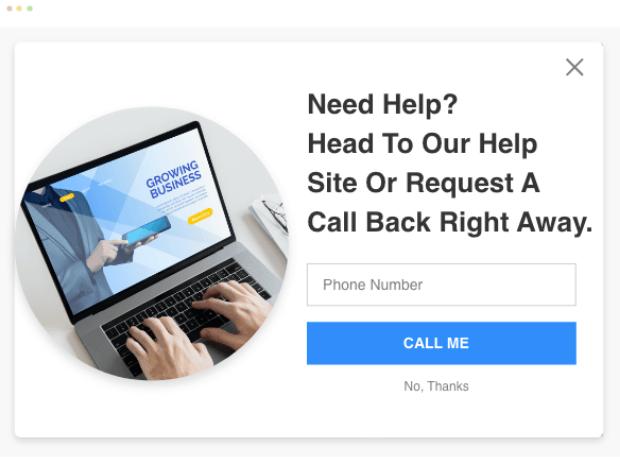 It is a common scenario for SaaS businesses that visitors check out the pricing and leave after checking the features and functionalities of the software. Are your pricing plans not under the "value for money" category? Is the pricing page not optimized?
You can check the competitors' pricing to see what's wrong with your pricing page. Make changes to the UI/UX and try offering discounts on annual plans. Moreover, use popups to offer custom quotes to potential customers. You can also display discounts and flash sales banners on the pricing page to build your customer base.
4 – A/B Testing is Crucial
A/B testing is an important part of your plan of action to boost onsite conversions. How so? Onsite retargeting is all about converting engaged visitors into customers. So, if you are using popups to target these visitors and are not still not getting the expected results, then it is time to make changes to the popup elements.
You can try changing the headline, content copy, CTA, color combination, graphics, logo, and so on. Even small changes can make a big impact on conversions. The results of A/B tests are also helpful in setting up future campaigns for similar target audiences.
Read more

: 

Improve Conversion Rates by A/B Testing : [Step-By-Step Explanation]
So, that is all about analyzing your conversions using analytics tools. You can take certain actions based on the insights you gather. Let's see how Picreel – a conversion rate optimization tool can help you achieve this.
How Picreel's Retargeting Technology Will Help in Boosting Onsite Conversions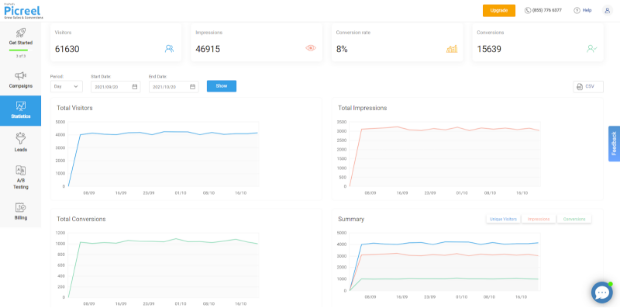 Picreel popup builder is a popular onsite conversion optimization tool that helps you display AI-powered beautiful popups to visitors at the perfect moment. By installing this software, you can create your own customized targeted offers relevant to your business and audiences.
These offers could be a discount coupon, a customer referral, or just a free subscription for your newsletter. Apart from providing a customized, targeted offer, this onsite retargeting tool also provides integration with popular sales & marketing tools to send captured data.
Using Picreel's built-in A/B testing engine, you get complete control over your campaigns to see what changes are helping you boost conversions. The good part is that this cloud-based software is super easy to install and seamlessly works with your existing technologies to deliver a delightful user experience.
Also read

: 

21 Proven Conversion Rate Optimization Techniques to Boost Sales
Let's Get Right Into Onsite Retargeting!
After reading this guide, you have an understanding of the retargeting technology, how it can help you improve your onsite conversion rate, and what are actions you can take based on your analysis. It is now time to implement your strategy the right way as visitors are leaving your site.
Apart from your existing onsite conversion techniques, you can definitely give Picreel a try to see how Picreel's target popups can get you on the right track. By using popup best practices, you can easily see a significant increase in conversion. Over to you!
Do you want instant 300% growth?
Picreel popups can get YOUR website 300% instant sales growth. See Case Studies.