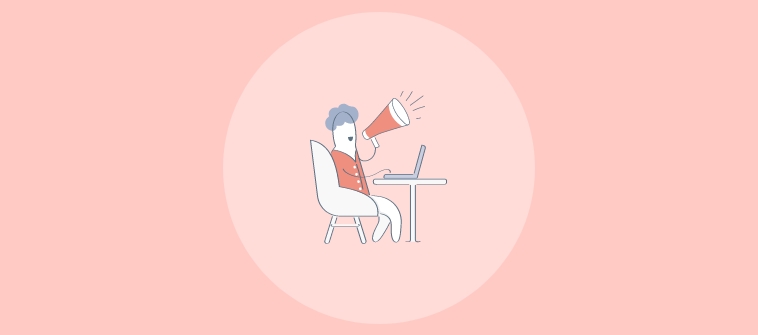 Marketing campaigns are known to make the best of every festival or occasion that comes along, and Valentine's day is no different.
You've probably seen loads of Valentine's day campaigns and ads floating around the month of February, and that's because people spend a ton of money during this time of the year.
To give you a perspective, Americans spent around $23.9 billion on Valentine's day alone in 2022, which shows a great deal of potential in building products and Valentine's day ads around this certain occasion.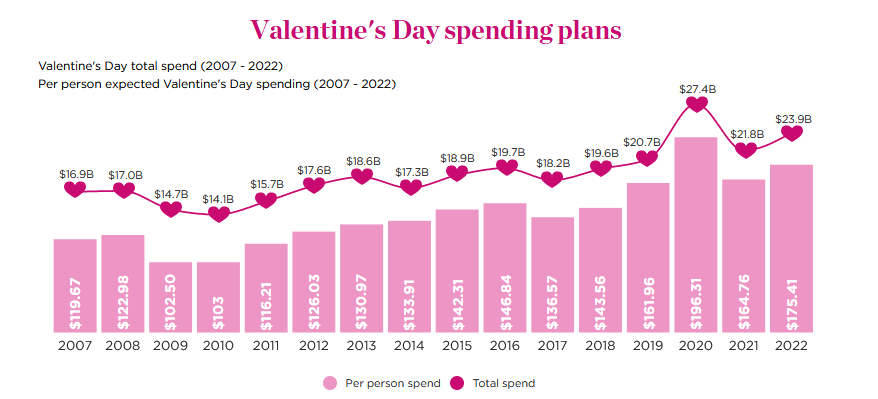 Now that's a lot of money floating around, and you need to grab that.
For this, you can not only launch new products but also feature existing products with exciting offers and discounts along with some attractive giveaways to make the most of this opportunity.
A lot of brands are already capitalizing on this opportunity, and this is something you would not want to miss out on.
In this blog, we'll take a look at some of the most effective Valentine's day marketing ideas that you can deploy to significantly improve conversions and sales.
We'll also take a look at how some of the most popular brands are already doubling down on Valentine's day to give you a holistic overview.
Stick around!
8 Best Valentine's Day Campaigns Ideas to Melt Your Customers' Hearts
There's no shortage of ideas for Valentine's day campaigns and the only thing stopping you is your imagination.
Let's take a look at some of the most effective ideas for Valentine's day ads:
1. Create a Personalized Shopping Experience
Creating a personalized e-commerce shopping experience is one of the top most Valentine's day marketing ideas that brands go for.
There are tons of benefits for these.
For you as a retailer, offering a personalized e-commerce shopping experience can help to increase customer satisfaction and loyalty.
Customers who feel that they are receiving a personalized and tailored shopping experience are more likely to return to the website in the future and recommend it to others.
A personalized e-commerce shopping experience can also help to increase sales. By offering personalized products, recommendations, and a customized shopping experience, retailers can encourage customers to purchase more items and spend more money.
For instance, Donald Russel took quite a personalized approach as they offered a customized meal for two, especially around Valentine's day. They took this opportunity to promote products that aren't typically bought on Valentine's but something that people would still love to buy and share with someone.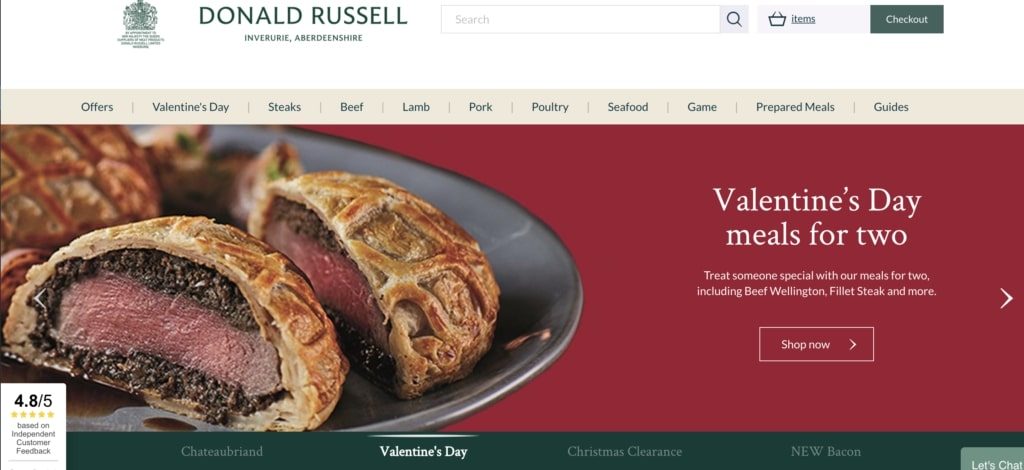 In fact, when you click on the product, you get a more detailed gift guide that is personalized even further. Now that is what you call a great Valentine's day sales pitch.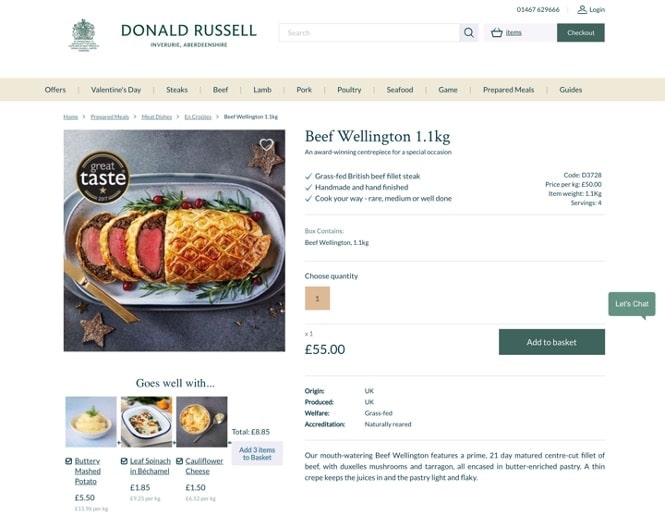 This is why for customers, a personalized e-commerce shopping experience can make the process of shopping online more enjoyable and efficient.
Read More - 7 Personalized Marketing Tactics to Boost Ecommerce Conversions
2. Deploy Limited Edition Offers
Limited edition offers are great when it comes to converting visitors instantly.
Limited edition offers during Valentine's Day can have a number of other benefits for retailers.
One benefit is that limited edition offers can create a sense of urgency and encourage customers to make a purchase sooner rather than later. This can be especially effective during holiday seasons like Valentine's Day, when people may be looking for last-minute gift ideas.
These offers can also help to increase sales. By offering special discounts or promotions that are only available for a short period of time, retailers can create a sense of exclusivity and encourage customers to take advantage of the offer before it expires.
For instance, Gu Desserts paired their existing cheesecake with their limited edition packaging that they launched especially for Valentine's day to boost sales, mostly to the new audience.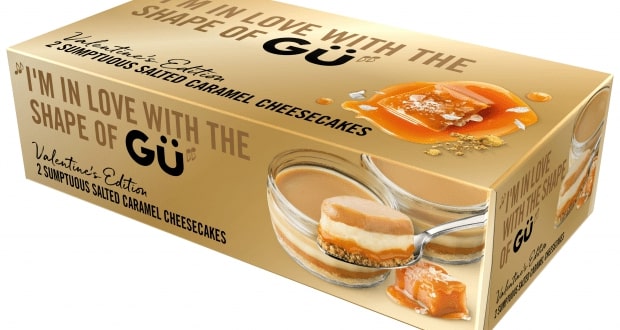 The brand was able to improve its conversions and revenue significantly as a lot of new customers noticed the brand.
This is exactly what all Valentine's day ads should do.
In addition, limited edition offers can help to drive traffic to a retailer's website or store. Customers may be more likely to visit a retailer's website or store if they know that there is a limited edition offer available.
3. Don't Let Go of the Email Marketing
Email marketing can be a powerful tool for businesses on Valentine's Day, as it allows them to reach a large audience with personalized, targeted messages.
Here, Valentine's day email campaigns should be your weapon of choice.
By sending targeted, personalized Valentine's day email campaigns to your audience, you can increase the chances of them making a purchase, especially if you are offering special deals or promotions for Valentine's Day.
Email marketing also allows you to build relationships with your customers by sending them regular updates, promotions, and content. On Valentine's Day, you can send special messages to your subscribers that encourage them to engage with your brand.
One of the best examples of these Valentine's day marketing campaign ideas come from Bandier.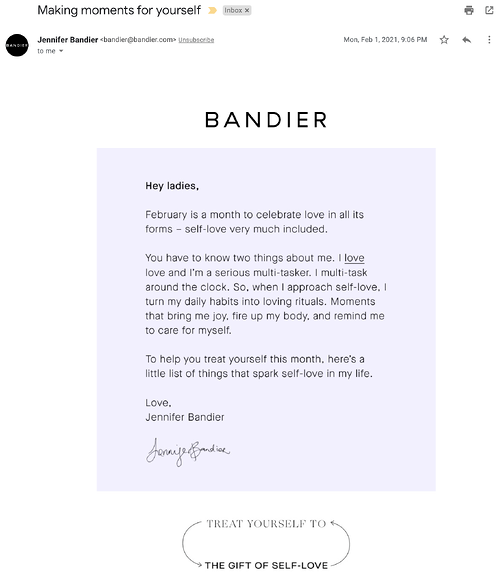 Bandier's founder tries to show their ways of self-love by showcasing some of their favorite products in the mail and always ends the email with a motivating message to get their message across to the target audience.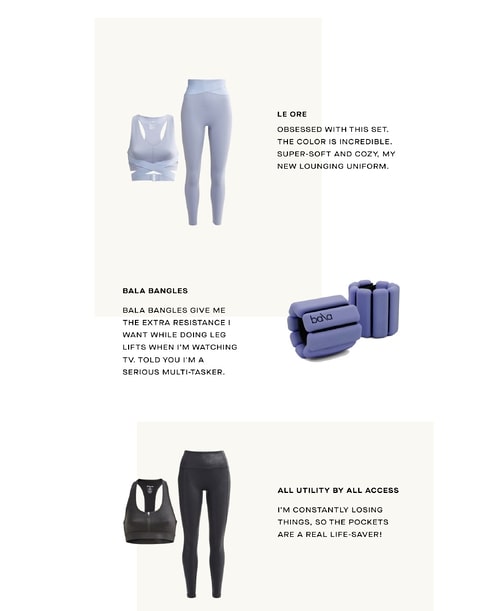 The owner also lets their readers know how they use those products in their daily life, and this level of personalization through email makes the readers feel that they have built a connection with the brand.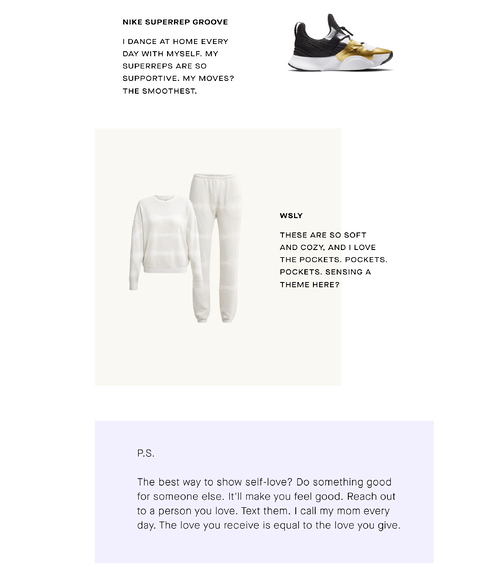 This is another incredible example of a great Valentine's day sales pitch.
This is a great strategy even if you do not offer coupons and discounts because the level of personalization on Valentine's day can help them engage with the brand.
Read More - 17 Simple Tips to Boost Email Marketing
4. Leverage Social Media Campaigns
There are almost 4.48 billion users on social media, which makes it more than ideal to deploy marketing campaigns no matter what type size of the brand you work in, especially on occasions such as Valentine's day.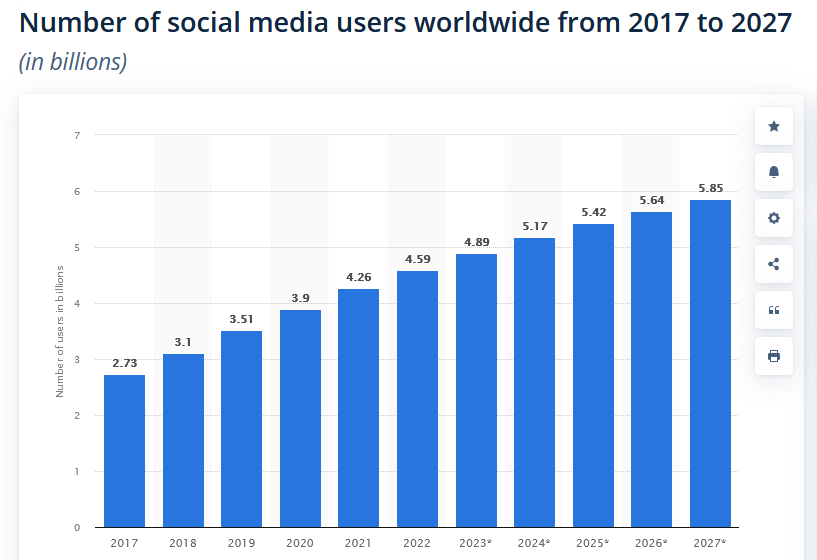 Social media can be a powerful tool for businesses on Valentine's Day, as it allows them to connect with a large audience in a highly visual and interactive way.
By creating and promoting Valentine's Day-themed content on social media, businesses can increase their visibility and reach a large audience in a relatively short period of time.
For this, Frankie and Benny have put in some great efforts to market their Valentine's day campaigns on social media.
Everyone loves seeing tributes paid to iconic movies, and Frankie and Benny do this brilliantly by posting a series of movie reenactments through carousel posts on their Instagram page.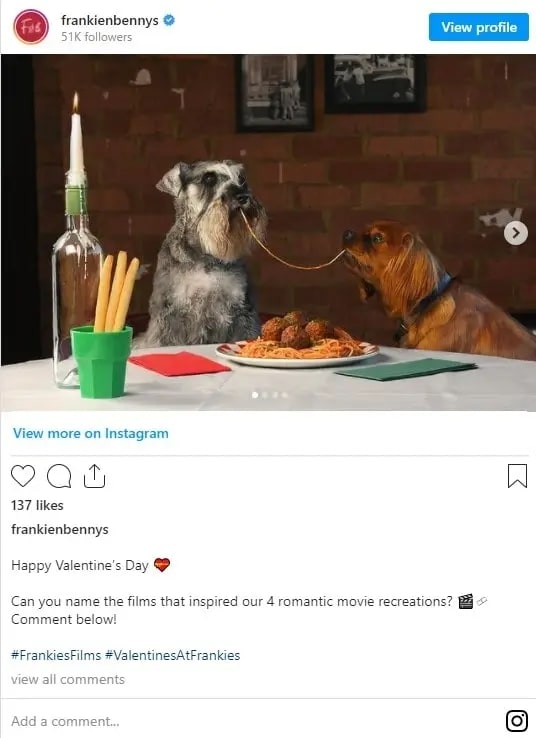 From "Lady and the Tramp" to "When Harry met Sally," their reenactments encouraged their audience on Instagram to guess the name of the movie, which improved the engagement on their page.
Also, the fact that social media platforms require a very low attention span; they are perfect for users to engage and interact with on the go.
In fact, these platforms are designed to be highly interactive, which makes it easy for businesses to encourage engagement with their audience through Valentine's day advertising. For example, businesses can create social media contests or quizzes around Valentine's Day to encourage people to interact with their brand.
5. Collaboration and Partnership With Other Brands or Influencers
Working on existing products is a popular way to go about your Valentine's day campaign.
However, collaborating with like-minded brands and influencers and launching a completely new product line will get you the attention that no other Valentine's day marketing campaign ideas can.
By partnering with other brands or influencers, you can reach a much larger audience than you would be able to on your own. This is especially true if you're working with influencers who have a large following on social media.
Partnering with other brands or influencers can help to lend credibility to your products or services. Consumers are more likely to trust a recommendation or endorsement from a trusted brand or influencer than from an unknown source.
A very good example here comes from The Foggy Dog and Ampersand Design Studio.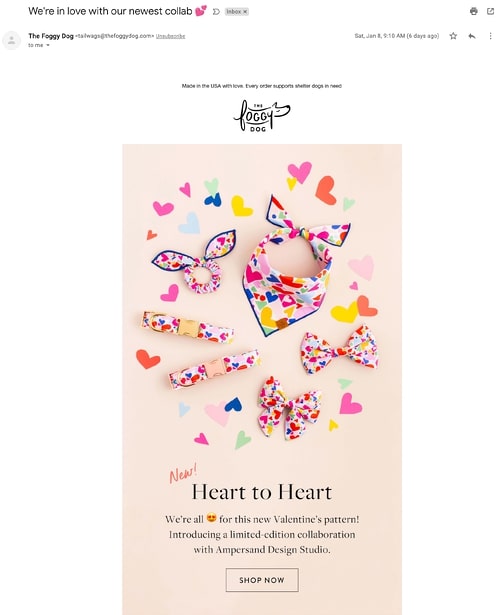 Their collaboration gave birth to a completely new line of holiday-specific bandanas, collars, and leashes for pets which turned out to be a perfect gift for pet owners on Valentine's day.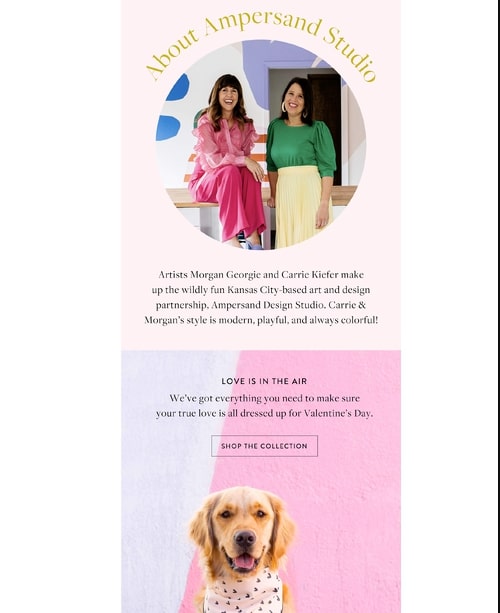 While themed products can be a little tricky to implement- they give a solid boost to sales and revenue during the holiday.
Also, collaborations can be cost-effective too.
This is because you get to leverage the reach and credibility of the brand or influencer you are partnering with for a much wider reach.
6. Personalize Your Existing or New Products
Nothing says Valentine's day is better than a gift that is made just for you.
Personalization gives that added touch of emotion that non-personalized gifts or generic gifts cannot.
Personalized products can make the gift-giving experience more meaningful and special, which can lead to increased customer satisfaction and loyalty.
These products are often perceived as having a higher value than non-personalized products, which can also lead to increased sales and profit.
While most B2C companies had started doing this, Hidden Valley took a more funny approach at this by offering customized Valentine's day themed bottles of their most popular salad ranch dressing.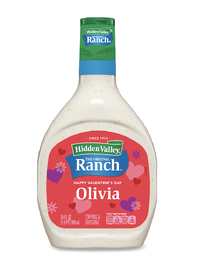 While this might be quite subtle, the brand knows that its users would love to buy and gift their loved one's bottles that have their names on them. Also, the gift is not just personalized but also funny and very much useful.
Personalization can be a unique selling point for a business, which can help it stand out from its competitors. Adding just a name on the salad dressing bottles was more than enough when it comes to personalization, as evident from Hidden Valley's efforts.
7. Offer Special Discounts or Promotions on Specific Products or Categories
Special discounts and promotions are some of the most popular ways of getting more people interested in what you have to have to offer, as it significantly improves the value of your product offering.
Offering discounts or promotions can encourage customers to purchase more products or spend more money, which can lead to increased sales and revenue.
Special discounts or promotions can help build customer loyalty by showing customers that a business values its business and is willing to reward its loyalty.
This is exactly what Snif is doing by reinventing how customers buy perfumes.
Instead of customers paying for the product, Snif allows them to try their products for completely free without paying anything.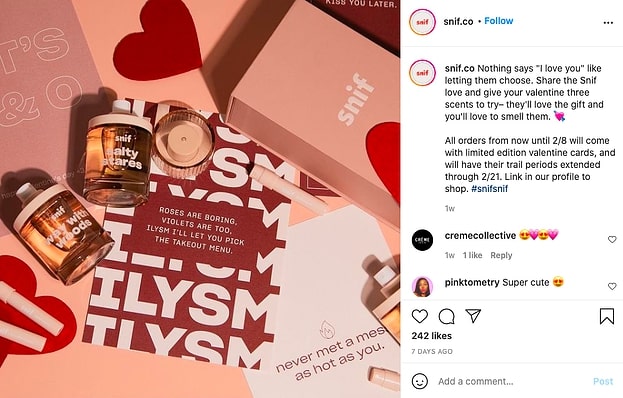 Usually, the trial period of any perfume is seven days but just for Valentine's day; they extend it by one more week, which gives users a couple of weeks to try their perfume before committing to it.
This might be a slightly strange offer based on what you have to offer, but it does make a lot of sense for Snif and to whom they sell.
You can even do something similar to what Leicester Tigers does. They offer free UK-wide shipping on all orders for the entire Valentine's day weekend, which is a great value addition for almost every buyer.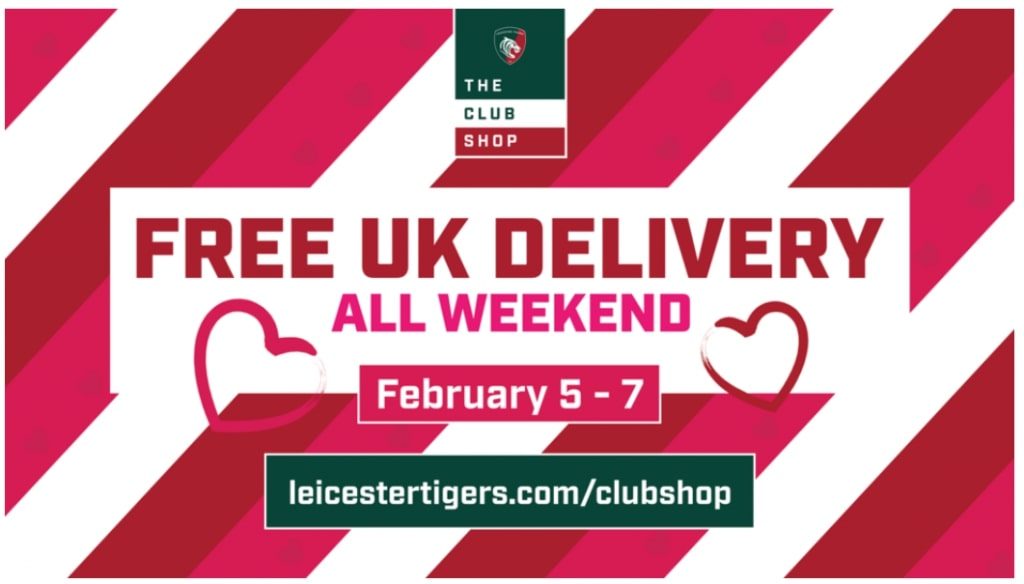 You can easily use Tools like Picreel to display promotions and offers right on your website's landing page so that your customers can see exactly what is on the table without having to think about it.
8. Offer A "Couple's Discount" for Items That Are Typically Purchased in Pairs
Offering a couple's discount is something that would go a long way on Valentine's day because, after all, people celebrate it with their special ones.
This is where special offers like a couple's discounts can be an extremely thoughtful proposition for your target audience.
Offering a discount for items that are typically purchased in pairs can help increase brand awareness, as customers may share news of the discounts with their friends and family.
The couple's discount can also be an effective way to attract and retain couples who are looking to buy items that they want in pairs, such as clothing, jewelry, accessories, and similar items.
For instance, Ryanair did something very similar to this as they decided to organize a giveaway of vouchers of €200 to their users and also improve their user-generated content at the same time.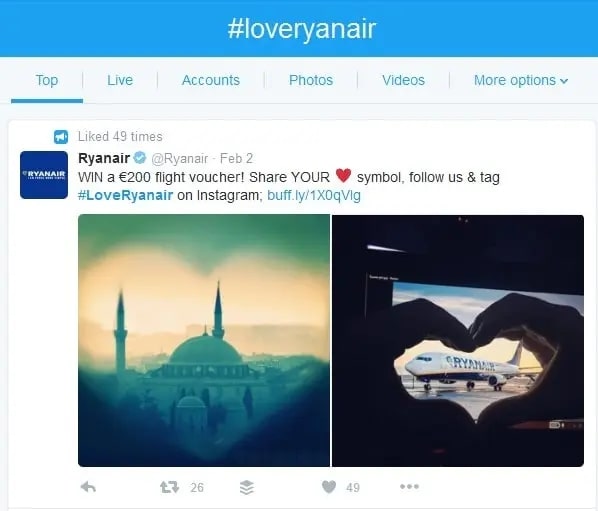 All users had to do was post a picture of themselves or their loved ones with Ryanair's hashtag #LoveRyanair to qualify for their entry into the giveaway. The winners would get free tickets to their chosen destination for them and their loved ones, which makes this an extremely attractive offer.
If the customers are happy with their purchase, they might come back for more, resulting in repeat purchases and brand loyalty.
Read More - 13 Best Online Giveaway Tools To Get New Leads FAST
Effective Valentine's Day Popup Examples
There are tons of popups that can be deployed based on what you want to offer your audience on Valentine's day. Tools like Picreel make it extremely easy to launch Valentine's day campaigns on your website and promote all the different types of offers that you can possibly think of.
Here are some of the most popular and effective types of popups that can be deployed using Picreel:
Exit popups– Exit popups are designed to be displayed when a visitor is about to leave a website. The idea behind these popups is that by providing visitors with a targeted offer or message before they leave the site, businesses can convince them to stay and continue browsing or make a purchase.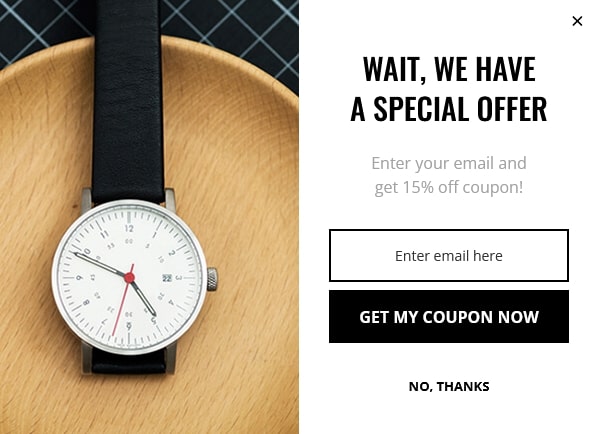 Picreel's exit popups typically include features such as targeting specific pages, visitor behavior, geolocation, timer-based display, and more.
Special Valentine's offer- Valentine's Day-themed popups are a type of website modal that is typically displayed on e-commerce and other types of websites during the Valentine's Day holiday period.
Picreel's holiday-themed popups are to promote Valentine's Day-related products and services, such as gifts, chocolates, flowers, and romantic getaways, and to encourage visitors to make a purchase or take advantage of a promotion or special offer.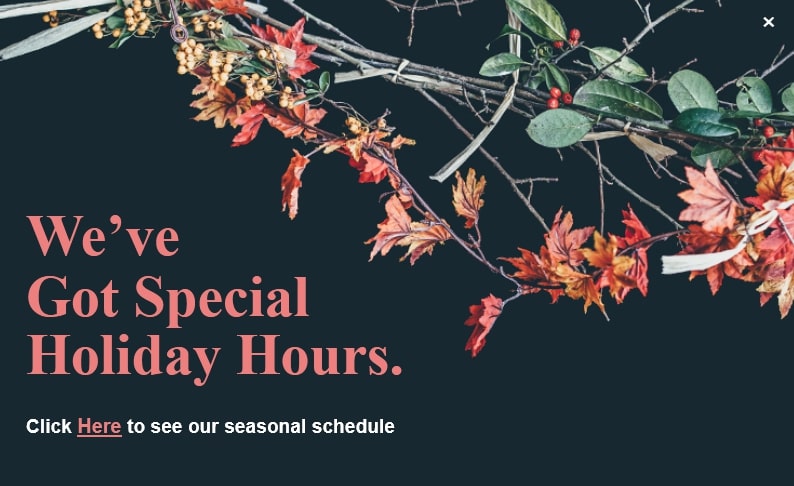 Nano bar- Picreel's nano bar popups are a type of website feature that displays a small, narrow bar at the top or bottom of a webpage, usually containing a message or call to action, such as a promotional offer or a link to a specific page or resource on the website. They can also be used to display notifications or alerts to the user.

Video popups– Video popups are a type of website feature that displays a video in a popup window, typically triggered by a user action such as clicking a link or button. For Valentine's Day, Picreel's video popups can be used to showcase romantic content, such as a video message from a loved one, a romantic short film, or a video advertisement for a Valentine's Day gift or experience.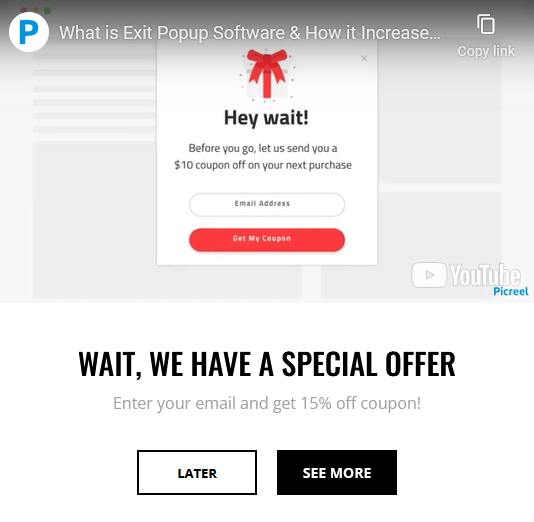 Wheel of fortune- A wheel of fortune popup for Valentine's Day is a type of interactive website feature that allows users to spin a wheel in order to win a prize or a promotion. It could be used as a marketing tool to drive engagement and sales on Valentine's Day-themed websites.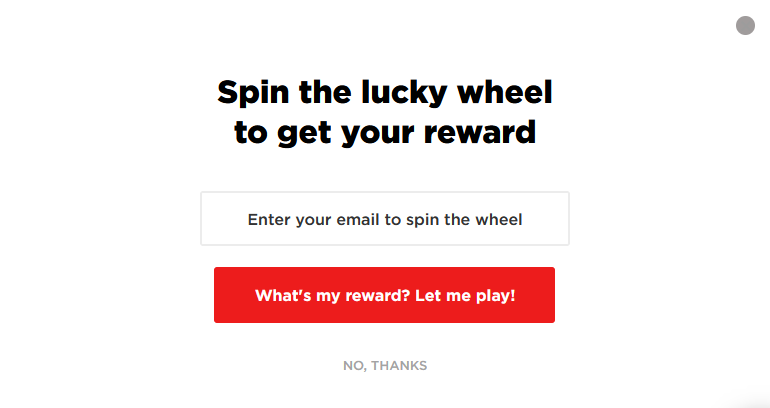 Picreel help create a wheel of fortune which is usually triggered by user action, such as clicking a button or link, and once the wheel starts spinning, it stops at a random point to reveal the prize or promotion that the user has won. These popups usually have a call to action (CTA) that directs to a landing page where users can claim the prize or promotion
Make Your Valentine's Day Campaigns Big With the Best Valentine's Day Marketing Ideas
Valentine's day is all about heartwarming gifts and spending some quality time with loved ones. This is where well-organized and well-timed Valentine's day advertising will help you positively improve your brand's image and generate engagement with customers.
In fact, all you have to do is make sure you are able to get the attention of your audience, be relatable and visible on different platforms with your Valentine's day advertising, and you will have plenty of conversions on the table.
Also, tools like Picreelcan be the saving grace for your marketing campaigns as they can help you deploy promotional and discount-based popups right on your website to grab your visitor's attention and get them converted. You can get a 30-day trial with all the features unlocked for completely free so that you can test out your Valentine's day marketing campaign before committing.
Do you want instant 300% growth?
Picreel popups can get YOUR website 300% instant sales growth. See Case Studies.