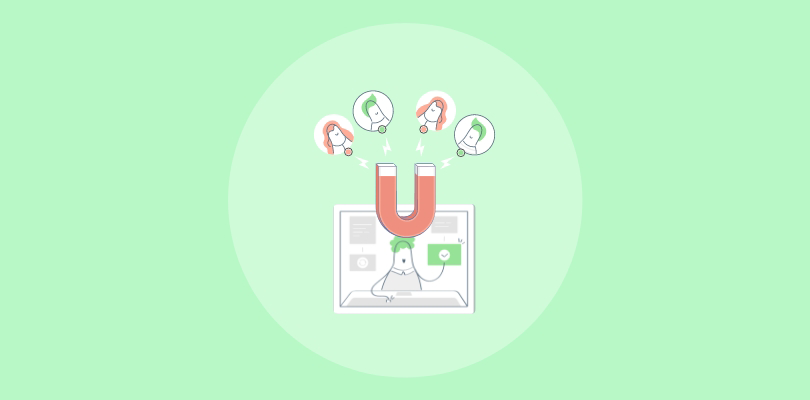 In today's digital age, every business needs to capture leads to survive and thrive. But without the right tools, it can be a challenge to gather contact information from potential customers.
That's where lead capture tools come in. These software solutions enable businesses to collect leads through various channels, such as landing pages, and social media.
Not only do these tools help capture leads, but they also streamline the process of nurturing and converting them into paying customers. In fact, businesses that use lead capture tools see a significant increase in conversions and revenue.
Imagine a SaaS company struggling to capture leads. Despite having a great product, their sales are stagnant due to a lack of leads.
By implementing the right lead capture tool, they can personalize their campaigns and capture contact information from interested prospects. This leads to an increase in conversions, resulting in higher revenue and growth.
In this blog post, we will explore the top 20 lead capture tools to help businesses of all sizes improve their lead capture process and boost sales.
Let's dive right in.
What Is Lead Capture Software?
Lead capture software is a valuable tool that helps you convert website visitors into potential customers. It is designed to capture the contact information of prospects who have shown interest in your products or services.
Lead capture software comes with customizable forms for landing pages, and popups that encourage visitors to submit their contact information. This information can include their names, email addresses, phone numbers, and other relevant details.
Once the information is captured, you can use it to follow up with your leads and nurture them into paying customers.
One of the significant advantages of lead capture software is that it enhances the efficiency of the lead generation process. It minimizes the time and effort required to collect and manage leads, allowing you to focus on other business-critical tasks.
On top of that, lead capture software equips you with valuable insights into the behavior of your website visitors, which can help improve your marketing strategies.
20 Best Lead Capture Software
Let's take a look at the 20 best lead capture software out there: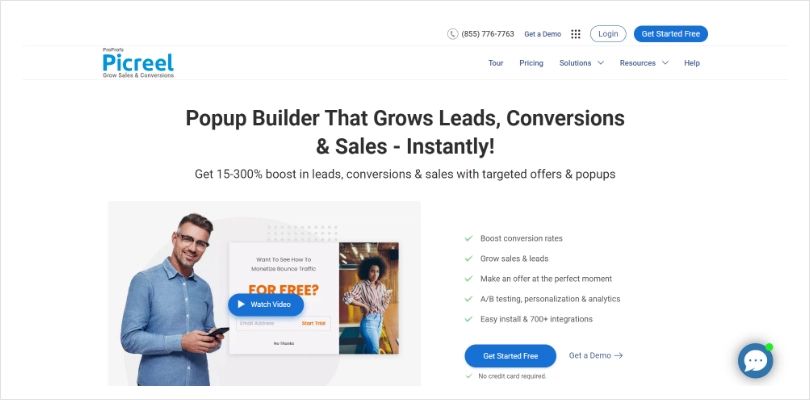 Picreel is indisputably one of the best lead capture tools that can boost visitor engagement and conversion rates with highly-targeted popups. This simple software comes with an extensive library of over 100 beautiful templates to help you get started with popups in minutes.
The tool offers smart trigger and targeting options to make the lead-capturing process as effortless as possible. There are over 700 robust integrations with popular email marketing, CRM, and CMS tools that can take your marketing efforts to the next level.
Key Features:
Increase conversions with intelligent exit intent popups and overlays.
Engage website visitors with personalized offers using advanced targeting capabilities.
Boost your email list with customizable lead capture forms and subscription popups.
Reduce cart abandonment and recover lost sales with exit intent campaigns and special offers.
Drive social media engagement and grow your followers with social proof popups and widgets.
Optimize your marketing campaigns with A/B testing and analytics tools.
Create visually stunning popups and overlays using an intuitive drag-and-drop editor.
Maximize the impact of your promotions with countdown timers and urgency-inducing popups.
Price: Starts at $39.97/month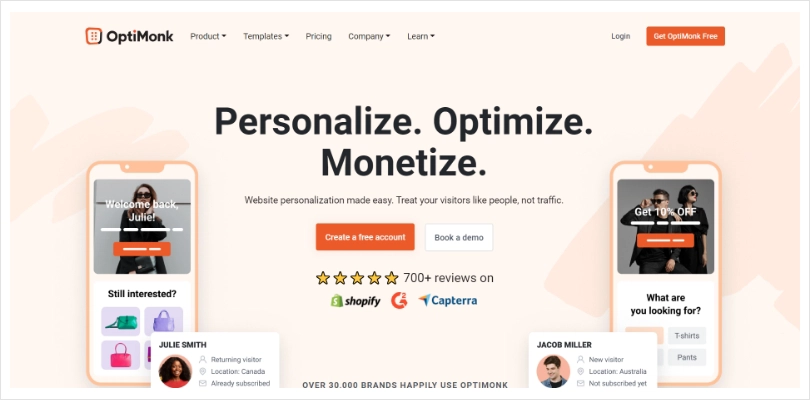 Optimonk is designed to help you capture visitors' attention at every stage of their journey with your brand. The tool is optimized for mobile devices and lures visitors through laser-targeted messages at the perfect moment using advanced triggers and segmentation. You can pick from its list of over 300 templates and get started right away.
Key Features:
Increase website conversions with powerful exit-intent popups and overlays.
Personalize offers based on visitor behavior and demographics using advanced targeting options.
Grow your email list effortlessly with customizable lead capture forms and subscription popups.
Recover abandoned carts by implementing exit-intent campaigns and special promotions.
Leverage social proof popups to increase engagement on social media platforms
Optimize your marketing strategies using A/B testing and built-in analytics.
Price: Starts at $39/month
Read More - 10 Best OptiMonk Alternatives & Competitors in 2023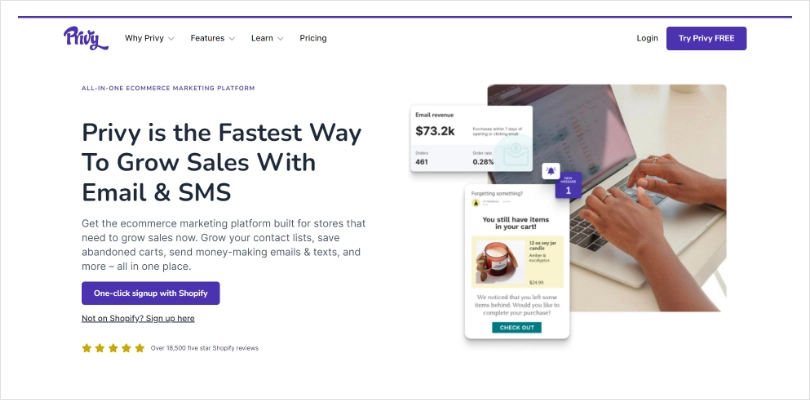 Privy is another lead capture tool that deserves mention in this list. Designed mainly for e-commerce companies, this software helps you grow leads with highly customizable popups ranging from exit intent campaigns to welcome discount overlays.
Furthermore, the tool's direct integration with Shopify allows you to expand your online store and generate more sales.
Key Features:
Optimize your marketing strategies using comprehensive analytics and insights.
Create stunning email campaigns and popups using customizable templates.
Integrates effortlessly with popular e-commerce platforms, enabling seamless data synchronization.
Drive conversions through targeted audience segmentation and automated email workflows.
Use real-time notifications and behavior-based triggers to enhance customer interactions.
Price: Starts at $30/month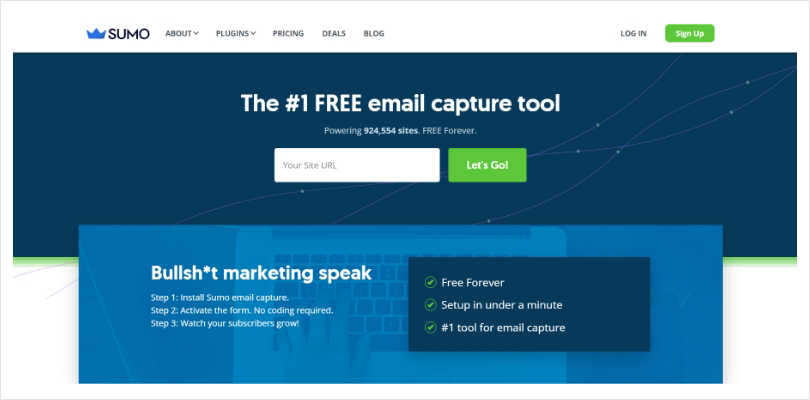 Sumo is a free email capture software that can be set up in minutes without coding knowledge. The tool helps you create lightbox popups, floating bars, lead capture forms, and full-screen popups that can be fully customized to your company's branding.
It also comes with social share buttons and push notifications to give you an amazing lead-capture experience.
Key Features:
Send automated welcome greetings to new subscribers.
Target forms to visitors based on location, cookies, URLs, etc.
Test popups and identify which one works best for your campaigns.
Measure campaign performance and identify trends with analytics.
Automatically export new subscribers to email platforms like Salesforce and HubSpot.
Instantly build trust with Sumo's dynamic notification bar showcasing real-time activity.
Skyrocket conversions with an attention-grabbing fullscreen welcome mat.
Price: Starts at $39/month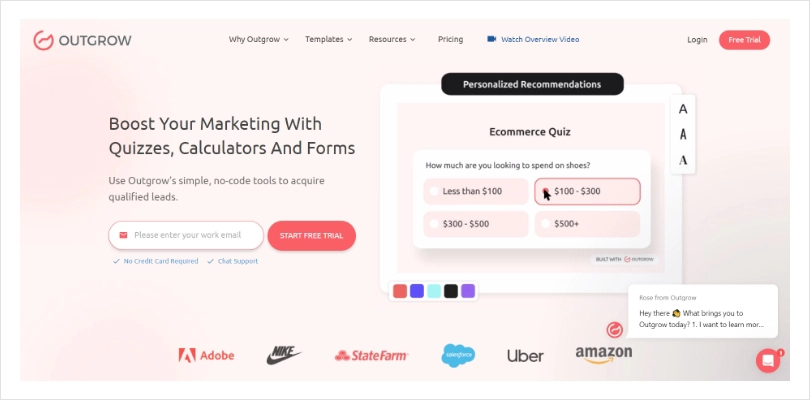 Outgrow is a simple tool that requires no coding knowledge to get started. It provides interactive content in the form of polls, giveaways, surveys, forms, quizzes, and much more to give the much-needed push to your marketing campaigns.
With over 1000 pre-designed templates, intelligent analytics, and amazing customizations, Outgrow promises a stellar user experience.
Key Features:
Capture valuable information through multiple form fields.
Optimized for all screen sizes and devices.
Share popups on social media to maximize your reach.
Segment leads and send hyper-personalized emails.
Track user responses in real-time based on traffic sources, device, date, time, etc.
Create interactive quizzes and assessments with an intuitive drag-and-drop builder.
Capture leads and generate personalized recommendations based on user inputs.
Price: Starts at $14/month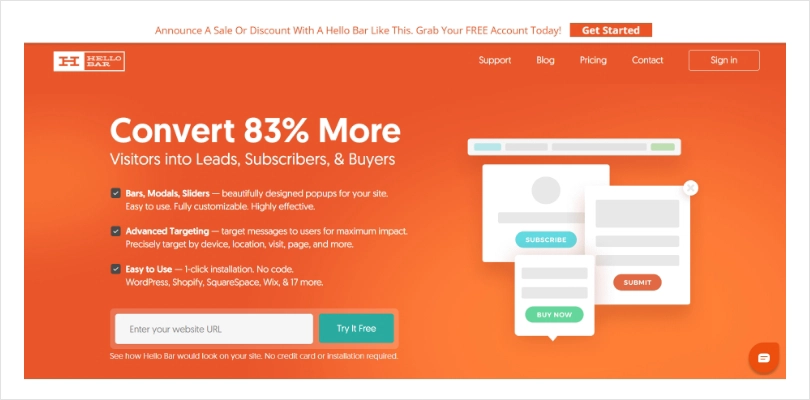 HelloBar is an easy-to-use tool that helps you capture leads and convert them into buyers with captivating popups.
The software is pretty easy to install and offers compelling targeting options to catch visitors at the perfect moment. From bars and modals to sliders and alerts, you can create a variety of popups and tailor them to your company's branding.
Key Features:
Maximize website conversions with an eye-catching floating bar
Run A/B tests to identify your top and worst-performing campaigns.
Track performance metrics to see what's working and what's not.
Target popups to users by device, visits, location, and other parameters.
Pick from 100s of pre-built themes to create customized popups.
Integrate with over 2000 service providers through Zapier.
Price: Starts at $29/month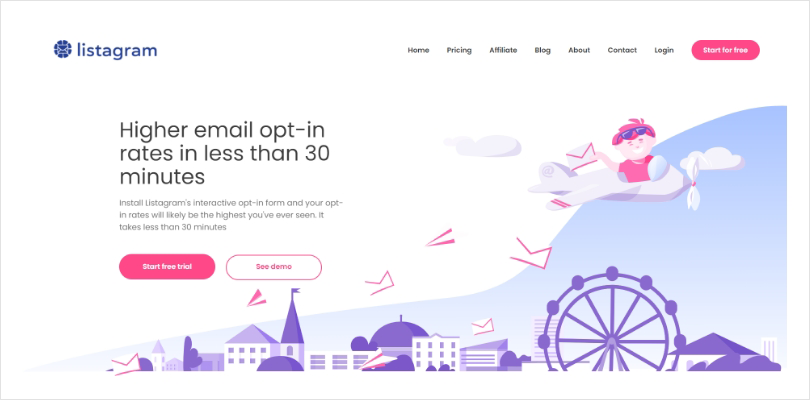 Listagram is one of the top lead capture tools that are easy to install and can be set up without writing a single line of code. Its interactive opt-in forms can be fully customized with stunning themes and graphics. You also get advanced analytics to monitor the performance of your popups by tracking metrics like conversion rate, impressions, and emails.
Key Features:
Boost customer engagement with interactive gamification elements.
Integrate lead generation forms within your lists using customizable and conversion-focused features.
Trigger popups on exit intent and timeouts to boost lead capture.
Tailor popups the way you want and give them your brand's magical touch.
Configure the tool for desktop and mobile devices.
Get a full overview of how well your popups are performing.
Price: Starts at $29/month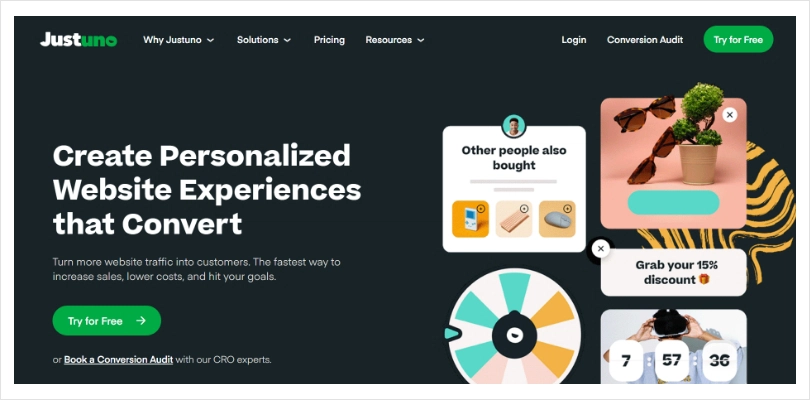 Justuno possesses the power to convert your prospects into customers with personalized, on-site messaging across all touchpoints.
Backed by proprietary visitor intelligence technology, Justuno makes it possible to track and analyze every visitor landing on your site. This lead capture software offers over 80 targeting rules that help you prompt the right message at the right time to the right audience.
Key Features:
Add gamification to lead capture popups for higher user engagement.
Test and optimize your popup campaigns to increase conversions.
Library of pre-built templates to help you build eye-catching popups.
Tweak different elements of your popup to build the best campaign.
Trigger popups based on pages visited, visitors' behavior, and location.
Price: Starts at $24/month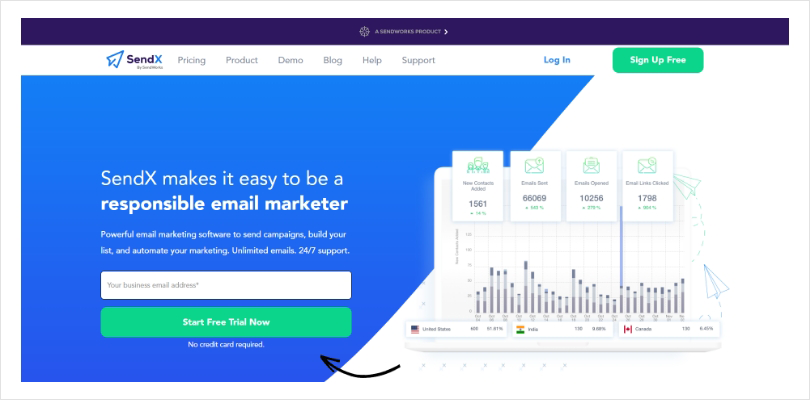 SendX is a powerful email marketing software that helps you build a valuable list of subscribers. It comes with a drag-and-drop editor that makes the process of building lead capture forms a lot easier.
Once you have captured the leads, you can segment them based on various attributes, such as their demographics, interests, or behavior.
You also get an extensive library of pre-designed templates and powerful analytics to help you build as well as analyze your campaigns.
Key Features:
Analyze the engagement level of your campaigns with A/B testing.
Evaluate campaign effectiveness using powerful reporting and heat mapping.
Bulk import contacts from CSV files using this lead capture page creator.
Tag and segment leads to deliver highly-personalized messaging.
50+ templates to build attractive forms for lead capture.
Create and automate personalized email campaigns with the help of the workflow builder.
Price: Starts at $7.49/month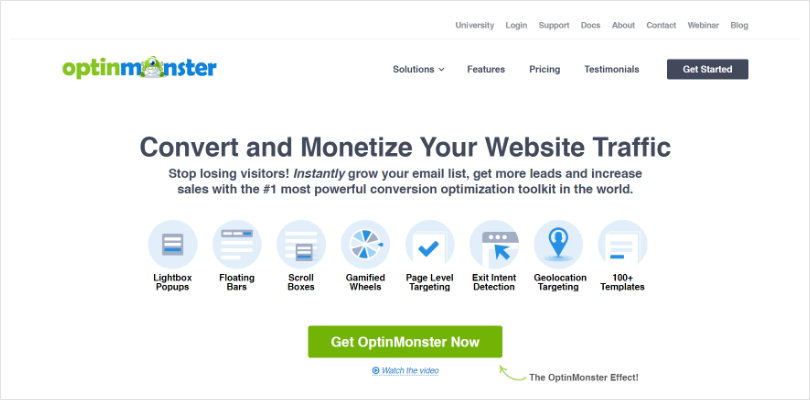 OptinMonster is one of the most popular lead capture tools that can grow your email list with eye-catching popups, slide-ins, and floating bars. You can choose from its range of pre-designed templates and customize every element with a drag-and-drop editor.
Capture leads by displaying well-timed and personalized popups, and watch your conversions grow with this feature-rich tool.
Key Features:
Create and customize campaigns using pre-designed templates.
Test and compare your campaigns before launching them on your website.
Hyper segment leads with advanced targeting and trigger controls.
Level up your marketing campaigns with useful analytics and insights.
Personalize campaigns based on visitors' behavior and activities.
Display real-time sign-ups and purchases to build trust and drive further engagement.
Price: Starts at $9/month
Read More - 13 Best OptinMonster Alternatives & Competitors in 2023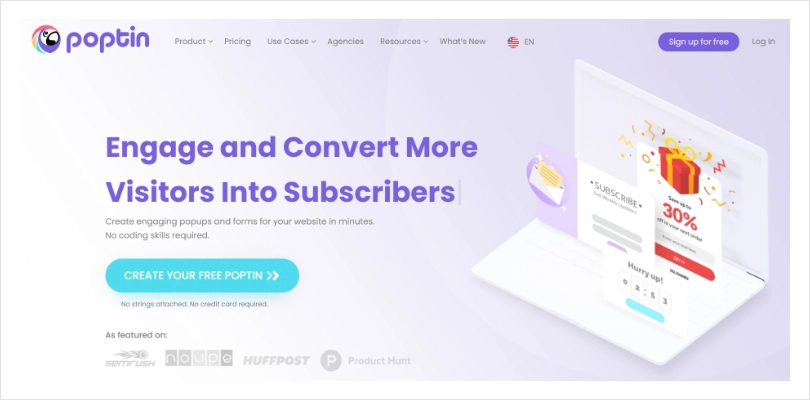 Poptin is among the best lead capture software that deserves your attention in 2023. With absolutely no coding skills, you can design beautiful popups and forms in minutes using this software.
It comes with a drag-and-drop interface that allows you to change the background and add images with ease. You can choose from plenty of display rules to prompt popups at just the right time.
Key Features:
Gain rich insights into campaign performance with built-in analytics.
Run A/B tests to compare and analyze popups before launching.
Edit and style popups with ease using the tool's drag-and-drop editor.
Trigger popups based on visitor inactivity, exit intent, time delays, and scrolls.
Automatically share welcome emails when visitors sign up.
Maximize lead generation with advanced targeting options.
Price: Starts at $20/month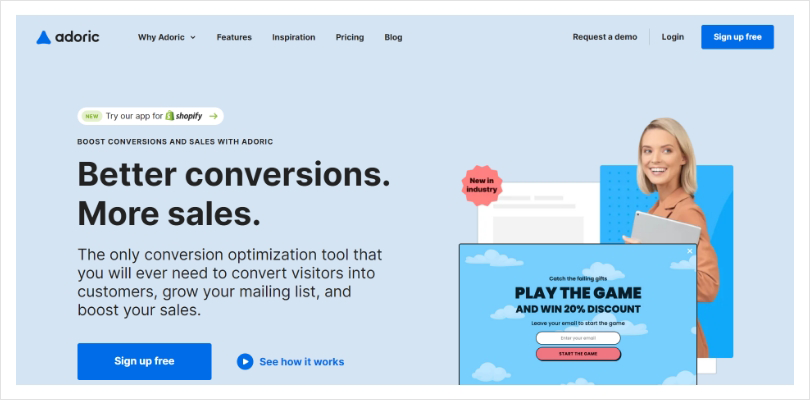 Adoric offers a unified solution for all your marketing needs. Designed for e-commerce, travel, and marketing agencies, this lead capture service helps you launch campaigns in a matter of 3 clicks.
Just pick a suitable template, customize it to your company's branding, and set display conditions, and you are good!
Furthermore, the tool's clean and detailed reporting can noticeably boost campaign performance.
Key Features:
Add images and GIFs, and tweak various elements of your campaigns with simple drag and drop.
Choose from tons of templates, from large popups to sleek sliders.
Push leads to your CRM and enhance your outreach efforts.
Segment visitors by the language they prefer and build targeted campaigns.
Set campaigns in advance and trigger them at the right moment.
Deliver immersive user experiences with an interactive content editor.
Price: Starts at $9/month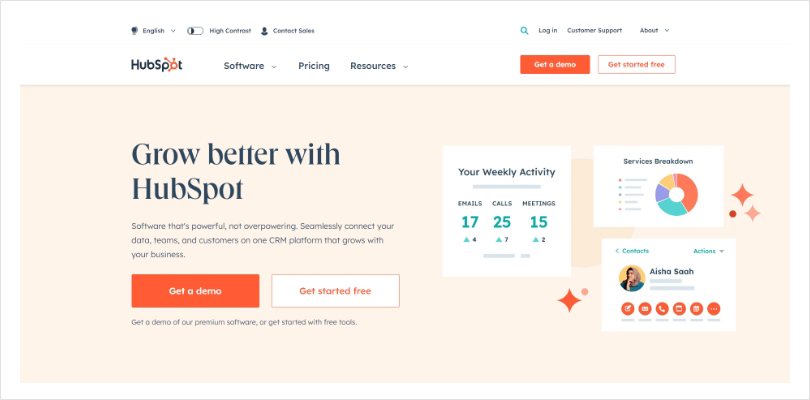 HubSpot is a renowned platform best known for its marketing, sales, and support capabilities. The tool's drag-and-drop interface helps you create and customize lead capture forms just the way you want.
It offers a built-in CRM for the automatic transfer of leads for further nurturing. You can also analyze campaign performance and make smarter decisions using HubSpot's built-in analytics.
Key Features:
Track key performance metrics and identify the campaigns bringing the most value.
Customize form fields and capture valuable data from visitors.
Built-in CRM integration to transfer and nurture leads.
Create forms quickly with easy drag-and-drop functionality.
Enable automated follow-ups, deal tracking, and task management with sales automation tools.
Price: Starts at $45/month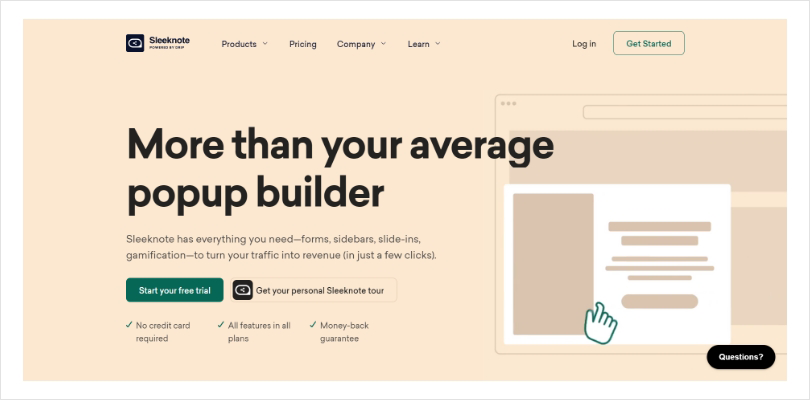 Sleeknote is an all-in-one tool offering forms, popups, slide-ins, and gamification to help you attract prospects and convert them into paying customers. You can use it to create personalized campaigns to wow visitors at every step of their journey with your brand.
This is one of the most user-friendly lead capture systems that offers stunning designs and a drag-and-drop interface.
Key Features:
Get access to in-depth campaign analytics for performance improvement.
Find your best and worst performing popup campaigns using A/B testing.
Show your campaigns as a preview first and then display the full-size version.
Make the information-gathering process easier using multistep campaigns.
Add videos to your popups and enhance user engagement.
Price: Starts at $49/month
Wisepops helps you build contextual website popups for both desktop and mobile visitors. There are over 30 targeting and segmenting options you can choose from and a powerful drag-and-drop editor to build popups that strike the right chords with visitors.
Wisepops eliminates guesswork by helping you keep a firm track of clicks and conversions, so you can make informed marketing decisions.
Key Features:
Pick from multiple layouts, from banners and bars to popups and side widgets.
Trigger offers based on the number of visits, location, and cart value.
Monitor your campaigns' clicks and conversions in real-time.
Target visitors as they show exit intent and capture leads faster.
Schedule popups and analyze them with A/B testing
Price: Starts at $66/month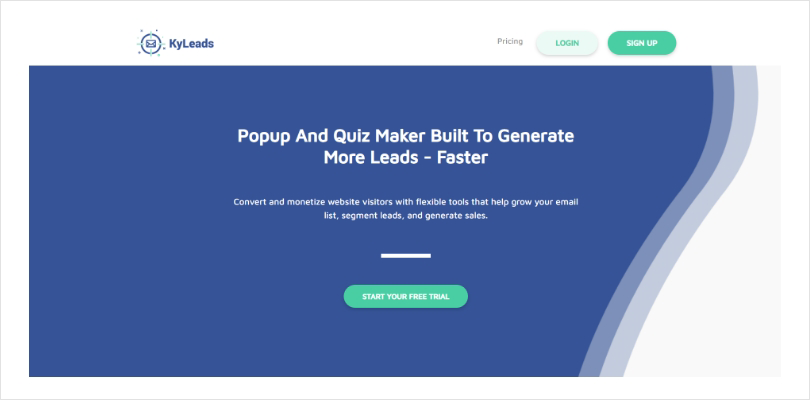 KyLeads is another lead capture tool that enables you to capture and monetize traffic using engaging popups and quizzes. With multiple opt-in types and deep customizations, creating opt-in forms that visitors instantly want to fill is a cakewalk.
This lead capture website equips you with granular targeting, using which you can control who can and cannot see your popups.
Key Features:
Segment contacts right at the moment of lead capture and improve your follow-ups.
Run split tests to compare, analyze, and hone your popups for better performance.
Target popups based on custom URLs, referral sources, and other such parameters.
Get access to an extensive library of templates to build opt-in forms.
Customize popups to match your brand and leave a lasting impact on visitors.
Price: Contact the company for a quote.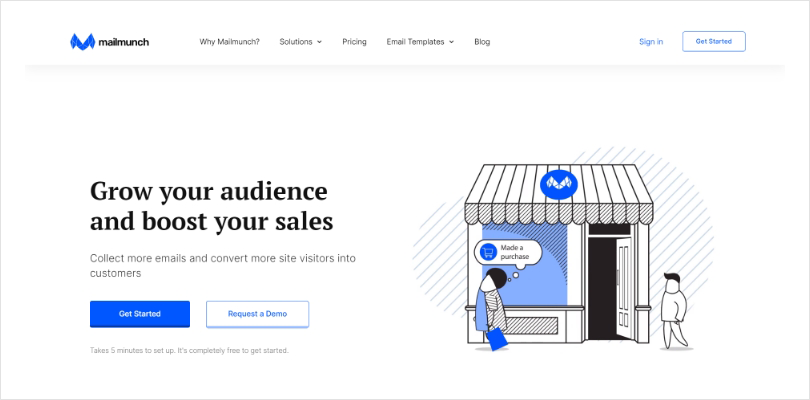 If you wish to make the most of email marketing, Mailmunch is the right choice. This lead capture software helps you grow your email list through beautiful sign-up forms. Essentially a list-building tool, Mailmunch offers captivating form designs, customizable themes, and advanced display rules to help you build popups that are proven to convert.
Key Features:
Gain a thorough understanding of visitors and their actions with advanced segmentation.
Create tailored and automated campaigns based on user behavior and site visits.
Display opt-in forms at the right moment to capture meaningful data.
Choose from multiple opt-in forms such as popups, bars, slide boxes, etc.
Tap into your mobile visitors through mobile-responsive popups.
Price: Starts at $13.99/month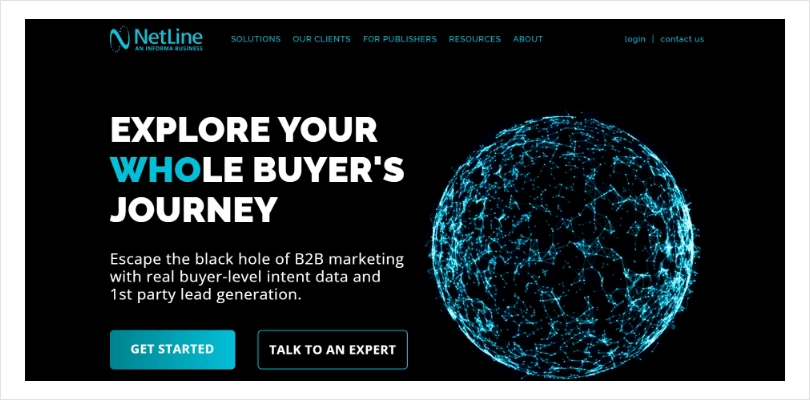 NetLine is a robust lead capture service that is designed especially for B2B marketers. It offers a comprehensive lead generation solution that uses real-time data to help you build hyper-targeted marketing campaigns.
You also get a tool called Audience Explorer that lets you identify engaged users and personalize content to their specific needs.
Key Features:
Keep a close eye on buyer behavior using Audience Explorer.
Choose from a wide range of filter variations to display content to the right people.
Tweak and optimize your campaigns continuously using the tool's self-service platform.
Get regular assistance from NetLine's support team on campaign review and analysis.
Price: Available on quote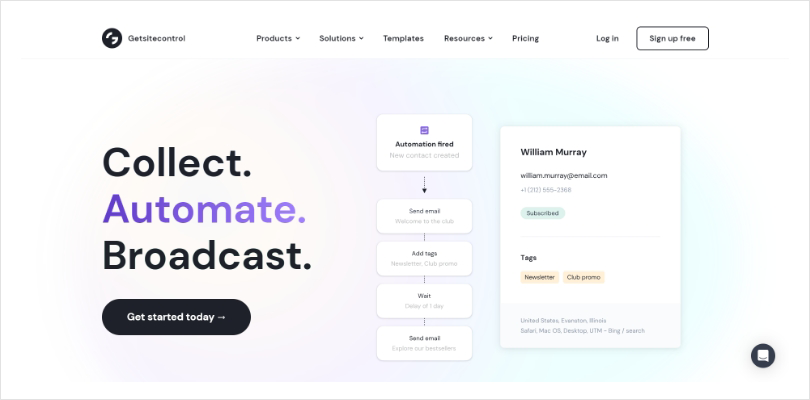 GetSiteControl is another lead capture app that can take your marketing game to the next level. The tool offers a large template library to help you build the best lead capture pages, irresistible popups, and forms. Whether you wish to upsell, conduct surveys, or simply grow your email list – GetSiteControl has a solution for all your marketing needs.
Key Features:
Display popups by setting behavioral triggers such as exit intent and time spent on a page.
Evaluate your campaigns from different angles using A/B testing.
Get real-time data on how visitors interact with your popups.
Create beautiful popups and forms using handcrafted templates.
Create mobile-friendly campaigns to target your mobile visitors.
Price: Starts at $6/month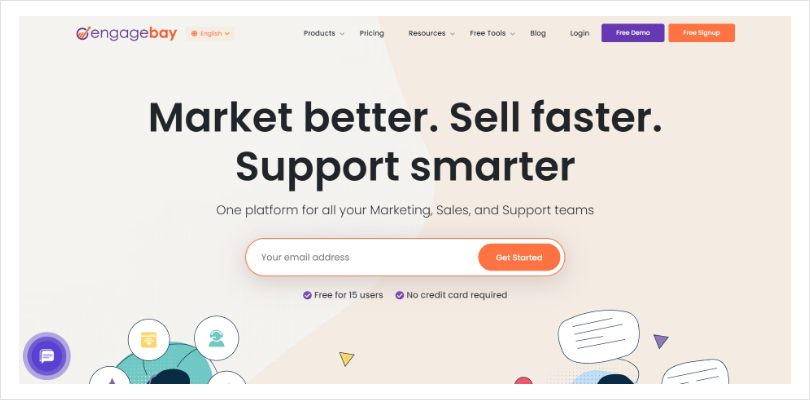 EngageBay offers an all-in-one suite with powerful tools for marketing automation, email marketing, contact management, and much more.
If you are a small business looking for an affordable marketing solution, EngageBay can be a worthwhile option. You can use it to create engaging forms and customize them with the tool's drag-and-drop editor.
Key Features:
Add a logo and apply color schemes to your lead capture forms.
Embed your form as a popup, an iframe, a button, or even as a QR scan code.
Identify successful campaigns by tracking their conversion rates and page views.
Get instant email alerts every time a visitor fills out your form.
Create forms in minutes with the tool's intuitive drag-and-drop editor.
Price: Starts at $12.74/month
Revolutionize Lead Generation With Powerful Lead Capture Tools
No matter the size of your business, whether it's a small shop or a large company, the success of your business relies on attracting and converting high-quality leads.
While you may have a dedicated sales and marketing team who make cold calls and send promotional emails, their efforts will be ineffective without the right information.
By using a powerful lead capture tool, you can target the right people who are genuinely interested in what you offer. This will give your outreach efforts a significant boost and result in more sales.
For example, if you are on a budget and need a simple tool with powerful features and seamless integrations, Picreel is a great choice. If your inclination is specifically towards lead capture forms along with built-in CRM, HubSpot can be a good bet.
Do you want instant 300% growth?
Picreel popups can get YOUR website 300% instant sales growth. See Case Studies.