As businesses and website owners have begun realizing the value of optimizing their site to convert existing traffic, many marketing agencies have started offering conversion rate optimization services to meet the demand for this professional service. The challenge is that every customer is different; every website has different business objectives and definitions for what constitutes a conversion. There is no one-size-fits-all strategy that can be implemented for every customer, and success will be measured differently for every customer, and even for individual strategies.
In order to develop and execute an effective CRO strategy, agencies really have to put in the upfront time to conduct a thorough CRO audit to determine how to increase website conversions.
We've put together a step-by-step guide to help your agency conduct CRO audits to analyze your customers' existing websites, content and strategies. As a reminder, if you're also a Picreel Agency Customer, your dedicated CRO Specialist is available to assist with CRO audits for every customer that you plan to use overlay offers and popups for.
The More Traffic Vs. More Conversions Conversation
As an agency, you may have brand new customers coming to you complaining about the performance of their website. They can't get newsletter signups, they're struggling with shopping cart abandonment, or their sales people aren't getting enough demo requests. Likewise, you might have existing customers that you approach because you see an opportunity for improvement. Their initial instinct may be that they simply need to drive more traffic to their site.
More traffic = More conversions. Right?
In theory, yes.
But, what is the cost of acquiring that new traffic?
For a fast, guaranteed boost in traffic, you may suggest paid advertising like Google AdWords, Facebook Sponsored Posts, and perhaps even native advertising and paid ad space on related third party sites. You can easily set an ad spend budget and calculate the CPA (cost per acquisition). Alternatively, you may suggest increasing traffic organically by creating and promoting authority content or getting guest posts on influential industry blogs. This option builds long-term credibility and improves SEO, but it's a lengthy and expensive process.
The other side of the conversation then becomes, would it be more effective to look at existing traffic and figure out ways to optimize for conversions? Turns out, a smart balance of spending money on paid advertising and conversion optimization may result in a "sweet spot" that leverages a modest amount of traffic to net the highest number of new customers and lowest CPA.
It makes sense. You can drive all the traffic in the world to a site, but if there are flaws preventing those visitors from converting, you're stalled. Likewise, a thoughtfully-designed, high-converting site is only effective if people are finding it. Both are essential for success.
So when your agency finds itself having this conversation with customers, conversion rate optimization should be an integral part of the proposed strategy. Determining what CRO strategies to use, however, is where things get a bit fuzzy. It's not uncommon for businesses to try many strategies on a whim, or because they read about something that worked for someone else. But for conversion optimization strategies to be truly successful, it's important to conduct a in-depth analysis, or audit, to determine what's working, what's not, and identify opportunities for improvement.
Step 1 – Determine Business Objectives
As we discussed previously, what constitutes a "conversion" will be different for every customer, and even different from page to page for a single customer. At the end of the day, the goal of any conversion is to ultimately grow a business, whether that's by increasing awareness through newsletter signups or simply getting more ecommerce transactions across the finish line. Every conversion is representative of a touch in a business's sales cycle, and they all work together to drive people through the funnel – from prospect, to lead, and ultimately to paying customer.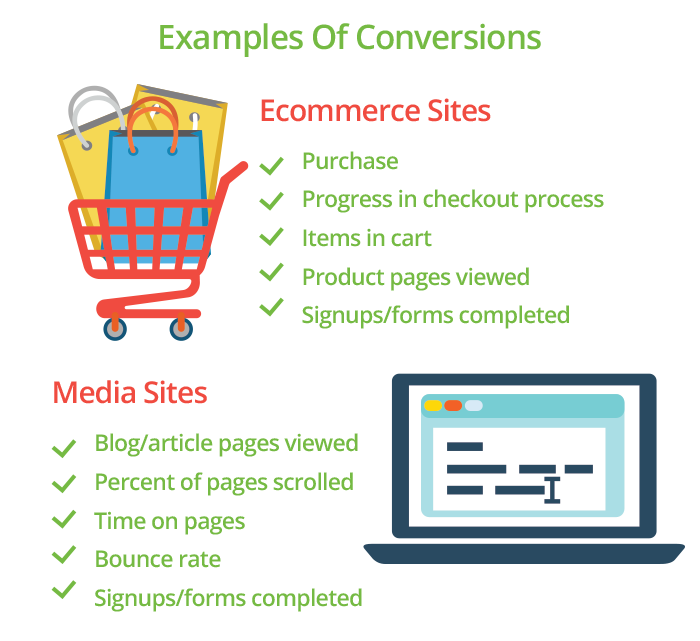 In order for your customer's website to support this, there needs to be a clear business objective established for every page and every asset on the site. For example, it's not enough to produce a video for the homepage because competitors do something similar. What is the purpose of the video, and more importantly, how does a visitor viewing it support the business objective? Should visitors then subscribe? Visit the product page for more information? Contact the business? Schedule a demo or call with a sales person? Clearly identifying an objective for the video allows you to create a call to action that helps drive visitors to complete the desired action after viewing the video.
If you are using Google Analytics to track and analyze your customers' website traffic, you can add "goals" to easily track conversions. Goals can be set up in GA based on parameters around URLs, Time, Pages/visit, or Events. This Kissmetrics blog provides some great tips for using Google Analytics to track conversion goals.
While we're on the topic of analytics, this is a smart time to do an analytics audit to ensure you're pulling accurate data, and that nothing is being duplicated, overlapped, or excluded from your traffic and conversion analyses.
Step 2 – Understand The Audience
Knowing your customers' audience is critical to developing content that speaks to their needs. People visit websites for a specific purpose: for example, to view a restaurant menu, to research a new software solution, or to find DIY videos for installing a toilet. In every case, a business has an opportunity to acknowledge why people are on their site and convince them that they're in the right place. The business should empathize with people's pain points and make their solution the clear choice.
If your customer doesn't have a good snapshot of their target audience, you may have to do some additional research here before you can effectively make any changes. The great new is, customers and site visitors appreciate it when they're asked for feedback – it shows a business cares about their opinion and wants to improve! While you can, and should, passively analyze visitor behavior by using heatmaps, session recordings, and analytics to track activity, collecting qualitative data directly from prospective customers is the best way to understand who the audience is and what they need.
You can ask for opinions via surveys sent to email lists, or collect visitor feedback right on the website by using a ReelSurveys overlay or some other form. Keep in mind too, that you may get more participation if you offer an incentive for completing a survey. Using a popup offer, you can choose a two-step overlay that requests feedback first, then reveals a special offer or coupon code on the second overlay.
Understanding a site's audience also helps with developing the style of writing and tone, and with the site's design and layout. For example, think of developing a website for Millenials versus Seniors; everything from the word choices, to the colors and button sizes would be vastly different. While every website should follow standard Web Content Accessibility Guidelines (WCAG), learning more about a business's audience allows you to further refine the design for increased conversions (more on this in step 7).
Step 3 – Analyze Traffic
Understanding how traffic is coming to your customer's website is important for optimizing the user experience on the site. Your customers may have analytics built in to their website platform, or you may be using Google Analytics for more robust reporting and the ability to manage all of your customers' analytics in one place. From here, you'll be able to determine if traffic mostly comes from organic search results, social media posts, paid ads, or referring websites.
Knowing where traffic comes from helps you better understand the audience and create content optimized for their needs – this is especially true when traffic is coming from paid ads and social posts; you know exactly what they were reading when they clicked, so the content on the landing page should close the loop by answering questions, offering a solution, and encouraging the visitor to take some action (convert!).
This goes back to the more traffic versus more conversions conversation. Sending paid traffic to a landing page is only effective when that traffic converts. As part of analyzing traffic, make note of problem landing pages – those with low conversions and high bounce rates. Improving the landing page experience for paid traffic is a great place to start optimizing content to increase conversions.
Step 4 – Evaluate Current Content & Assets
The content on your customer's website should not be an afterthought. It should be developed to support their business objectives, written and produced to speak to their target audience, and have a clear call to action to motivate visitors to convert. For example, writing and posting one blog per week for the sake of posting every week is only effective if you're producing valuable content that subscribers actually want to read. Similarly, the content throughout the website should be helpful and informative in nature — not salesy or promotional. When site visitors feel like a brand is being helpful, they're more likely to be trustful and receptive to the content.
One problem we see when businesses try to do their own CRO is that too many decisions are made based on opinions, assumptions, and "gut feelings," instead of hard data. While content issues may be obvious in some cases (i.e. call to action is missing completely), other times it's impossible to see what's wrong without conducting testing. But how do you figure out what to test?
As mentioned previously, landing pages that host paid traffic are a good place to begin optimizing content. Once you identify problem pages that aren't converting, use this 7-minute quiz from LunaMetrics to help figure out where the user experience isn't up to par.
After identifying opportunities for improvement, you can drill down to decide on specific elements to test. If you're using Google Analytics, you can use their Optimize tools to create and test landing pages. Optimizely is another popular website optimization platform known for its user-friendly interface. Agencies can become an Optimizely Solutions Partner to offer their customers best-in-class testing and experimentation services.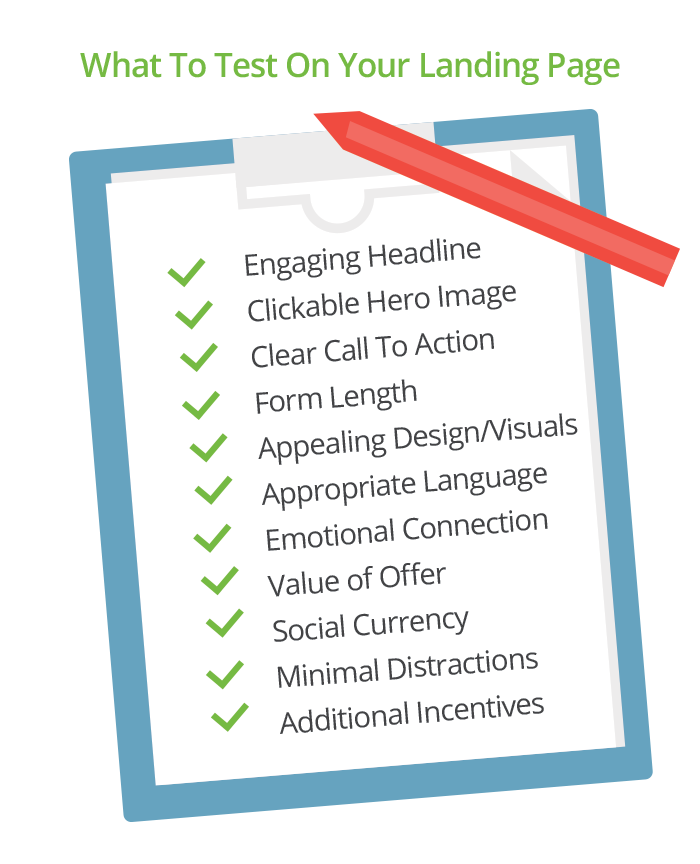 Step 5 – Test Forms
While form length is often one of the first factors that comes up when evaluating and adding forms to a customer's website, there are several elements that should be considered. First, length does matter. In general, you should only collect as much information as is needed to contact the lead. However, as HubSpot points out, shorter forms may result in a higher quantity of leads, while longer forms may generate fewer, albeit higher quality, leads. If you're just trying to build your customer's email list, a short form is sufficient. If you're trying to prequalify leads in advance of a product demo, it makes sense to collect more insight about their needs. Only prospects that are genuinely interested in a product or solution will take the time to complete lengthier forms. What else motivates people to complete forms? The type of information being requested, the value of the offer in exchange for the information, and the credibility of the website/brand.
Forms are another place where split testing is useful. Experiment with more/fewer form fields, and even the position of the form on the page – is a form in the center above the fold more effective, or do visitors prefer a less-intrusive form in the sidebar? If you use an overlay, or popup, to collect email addresses, test another campaign that uses a banner or reminder bar so that visitors can return to the form when they're ready. In addition to the context of the form, how, when, and where it's displayed can affect conversions.
Step 6 – Audit The Checkout Process
For ecommerce sites, the checkout process can make or break sales. If your customers are struggling with shopping cart abandonment, your first instinct should be to audit the checkout process, not make changes to product pages. While the industry and site will affect exact rates, on average shoppers abandon items in their cart nearly 70% of the time. Unfortunately, a big part of this is simply due to the nature of online shopping; shoppers use the internet to browse, compare pricing, and get ideas. They add items to their cart as a way to "save" them, but they're not ready to buy yet.
Fortunately, analytics can show you how far through the checkout process shoppers go before abandoning your customer's site. If they add items, but never actually go to the cart page, they were just browsing. However, if they begin the checkout process, but don't complete the transaction, it's possible that they experienced some friction in the process that frustrated them and made them give up.
Visitor recording and session replay tools are also a great way to view visitors' interactions with a website, and can help identify hangups in the checkout process. Watching a shopper click around looking for something before giving up and abandoning the site can be a real eye-opener. While session recording can reveal critical flaws, it can also be helpful in solving them. For example, if a shopper had items in their cart and went through several steps of the checkout process and never found the shipping costs, they might have resorted to clicking an FAQ page of even typing "shipping" into the search bar. At this point they're frustrated that they can't calculate shipping before going any farther into the checkout process (i.e. entering shipping/billing information or creating a user account). They leave the site with items still in their cart. They might have completed the transaction had shippin g costs been shown at the beginning of the checkout process. Watching this session replay can be painful, but it also makes the solution incredibly simple!
We use shipping as an example because extra costs, like shipping, taxes and fees, are the number one reason people abandon items in their shopping cart. Here are the other causes of cart abandonment, and some quick tips for overcoming these common challenges.
Read more about shopping cart abandonment and using overlay offers to increase ecommerce sales here.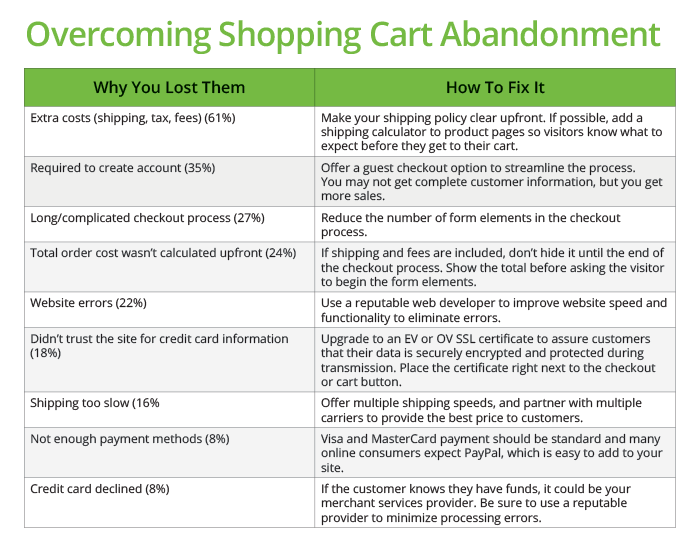 Step 7 – Analyze Design & Layout
As mentioned earlier, understanding a business's audience will play an important role in the design of their website. As part of your CRO audit, look at design aspects that can be improved to increase conversions. For example,
If your customer's call to action is lost in the copy as a link, consider testing a large CTA button instead.
If there's a page with long text, and it has a high bounce rate or visitors rarely scroll to the end, consider breaking up the text with more white space or images, and ensure there are clear sections and subheadings to organize the content.
If the qualitative data that you collected from site visitors revealed that people thought the text was too small, too light, or the font too difficult to read, you might split test pages with different fonts and colors to see which converts better.
Even small changes can have a big impact on conversion rates. As with all elements in a CRO strategy, be sure to make design changes based on data and have a way to measure the effectiveness of each change.
Step 8 – Evaluate Overall User Experience
How users interact with a website, any friction they encounter, and their overall perception of the brand based on the site can all affect conversions. These factors fall under the umbrella of User Experience (UX). While many UX elements are already covered in steps 1-7, it's helpful to audit the overall user experience, even after making changes to individual elements.
Peter Morville's User Experience Honeycomb helps break down the different elements in UX and why they're important.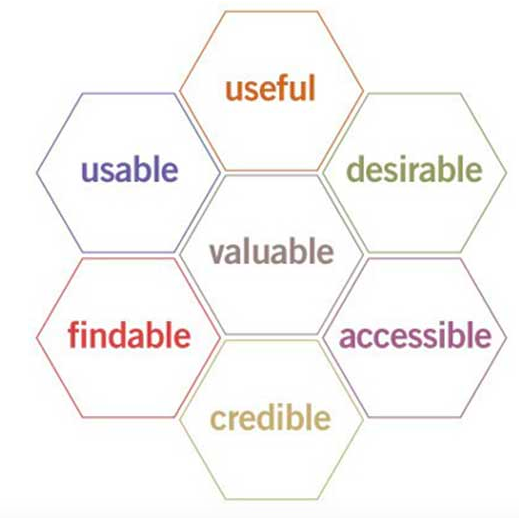 At the center of good UX, website visitors find value in the information and presentation. And ultimately, isn't that what you want a website to be: valuable? The other elements support this, and each plays an important role in the overall user experience of a website.
As you are conducting a UX audit for your customers, the information should be tested against each element from the UX honeycomb:
Useful: Is the content helpful, useful, and original? Does it solve a problem or fulfill a need for readers?
Usable: Is the site easy to use? Is the site fast, responsive, and free of errors like broken links?
Desirable: Is the design appealing? Do the images and other design elements support the brand's identity?
Findable: Is the site easy to navigate? Does the search function and menu allow visitors to quickly find what they're looking for?
Accessible: Is content accessible to people with visual or hearing disabilities?
Credible: Is the brand, website and content trustworthy?
Step 9 – Identify Where CRO Strategies Can Be Implemented
As you go through a CRO audit for your customers, you will find areas for improvement, and opportunities to implement CRO strategies. Before making any changes, it's important to develop a specific hypothesis about each problem, a proposed solution, the desired outcomes, and set a goal so that the CRO strategies are measurable.
For example:
If your audit revealed that shoppers abandon product in their carts when shown shipping charges:
Hypothesis: Shipping is too high.
Solution: A/B test using an overlay to offer some shoppers a shipping discount.
Outcome: Shoppers that were shown the offer will be more likely to convert.
Goal: Increase conversions (i.e. complete the transaction) by 5%.
If your audit revealed that people abandoned a landing page after starting to complete the form:
Hypothesis: The form is too long.
Solution: A/B test two pages; one with a shortened form, and one with an offer incentivizing visitors to complete the form (i.e. free complementary download, or discount).
Outcome: One strategy will be more effective at increasing conversions.
Goal: Using the winning strategy, increase conversions by 5%.
Learn more about CRO best practices here.

Using Offers As A CRO Strategy
If you're a Picreel Agency Customer, we will also help you identify where our popup software can be used to create overlay offers on your customers' sites. The beauty of using offers for CRO is that they can be created and deployed in minutes, and you can begin seeing a boost in conversion rates virtually overnight.
Like all CRO strategies, there is a science behind determining how to use offer overlays for best results. Poorly timed or placed popups that are irrelevant to what the visitor is doing on the site can be a turnoff. However, serving the right offer, at the right time, to the right visitor, can increase conversion rates by more than 25%.
Fortunately, Picreel takes the guesswork out of using offers for CRO. As an Agency customer, you will have a wealth of resources at your disposal to create guaranteed-successful offer campaigns for your own customers. In addition to priority phone, chat and email support, your dedicated CRO Specialist is also available to help conduct conversion audits for your customers, identify opportunities for overlay offers, and setup overlay campaigns with advanced ad personalization. Basically, we guarantee you will succeed at quickly boosting your customers' conversion rates by using our popup software.
Get an in-depth look at using Picreel offers for CRO here. This post includes step-by-step instructions for creating offer campaigns, including screenshots of the Picreel platform to show you just how easy it is to get started.

Ready To Get Started With Offers For CRO?
Use our calculator to determine how much more revenue your customers can make, then schedule your free consultation to discuss how we can help reach their conversion goals. Getting started with Picreel for Agencies takes just minutes, is appropriate for all types of businesses, and you'll increase your customers' conversions by at least 25% or your money back, guaranteed.
Do you want instant business growth?
Picreel customers get a 15-300% instant increase in inbound leads & conversions.