While popup offers can be used for a variety of purposes, one of their most popular uses is to collect email addresses and build lists. You offer something of value; a site visitor provides their email address in exchange. But what happens to those email addresses you're collecting? Are you putting them to work to nurture prospects and ultimately drive more sales? Or are they sitting in a spreadsheet collecting dust?
Here's how to take the emails Picreel collects and jumpstarts your email marketing strategy — automatically.
First, Connect Your Database
Sure, you can export your Picreel data to a CSV file, but then you have to manually do something with the email addresses. Whether that's entering them into your CRM or email marketing system one-by-one, or doing a batch import, the data is waiting on you — and that means prospects are waiting, too.
Picreel features a one-click integration with all major CRMs, email systems, and Marketing Automation Platforms (MAP). What exactly does this mean? When Picreel collects an email address from an offer on your website, it automatically adds it to your database, saving you time and resources from not having to manually enter it.
But that's just the beginning.
Next, Tell Picreel What To Do With The Data
When you have your CRM or database connected to Picreel, every time you create a new offer campaign, you tell Picreel where to send your data. More specifically, what list to send it to.
You've heard that segmenting your database allows you to tailor your messaging, and that personalized content trumps a one-size-fits-all message any day. In fact, one study by dbsdata found that segmented and targeted emails generate 58% of all revenue. Research from Aberdeen found that personalized email improves click-through rates by an average of 14% and conversions by 10%.
That could be a pretty nice boost to your bottom line – from something as simple as sending people content that actually matters to them.
So while it may be easier to automatically send every new Picreel lead the same introductory or welcome message, resist the urge to do so. Instead, do a little leg work upfront to create relevant email marketing campaigns to truly engage new leads.
Tips For Creating Great Email Campaigns
Just like when you're creating your Picreel offer campaigns, relevancy is the name of the game when it comes to email. You showed a site visitor an offer at just the right time based on what they were doing on your website. You caught their attention, offered them something of value, and they agreed to receive future communication from you.
The next step is to continue nurturing the relationship through email. If you're an ecommerce B2C and your goal is to increase sales by using a popup offer for free shipping, just because a shopper converted, accepted the offer, and completed their transaction does not mean the relationship is over! It's far more affordable to retain existing customers than it is to acquire new ones, so the first transaction is (hopefully!) just the beginning of a fruitful customer relationship.
So what should that first email be about? Here are some tips: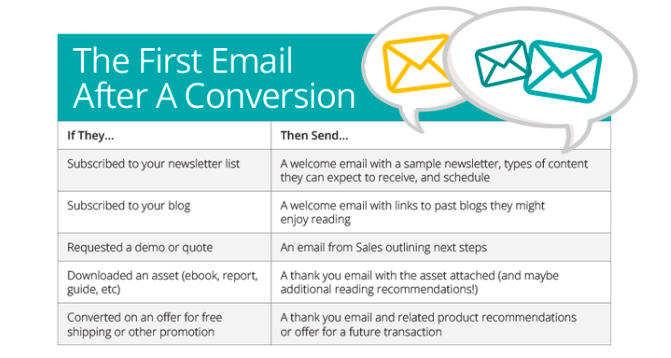 Sending new leads a targeted email helps you continue the conversation by building rapport and setting expectations about future communication. Prospects and customers feel that their time is being respected, and that their level of interest in your brand is accurately represented based on the type of content they receive. And ultimately, this makes it an easier decision to do business with you in the future.
Timing Is Everything – Automate The Email Marketing Process
This is where it all comes together. If you're manually adding Picreel's leads to your database and manually sending each a personalized message, you are wasting time that you could be spending on more important tasks. But more importantly, you could be missing opportunities with the new leads simply because you didn't reach them with your first message in time.
Today's Marketing Automation Platforms and email systems – such as HubSpot, Marketo, and MailChimp – allow you to create custom workflows to automate routine tasks. What exactly does that mean? Well, if you know you want to send a welcome email to subscribers of your newsletter, you would create a list in your database, then you would tell Picreel to send lead's for your newsletter signup campaign to that list; finally, you would tell your MAP or email system to send a specific email to all new members of that list.
The process is automated from start to finish and new leads instantly receive an email, making them feel valued and keeping your brand fresh in their mind.
For more technical information, check out these knowledge base articles for sending your leads to a list in MailChimp, Marketo, and HubSpot. For even more tutorials for sending leads to integrated apps, click here.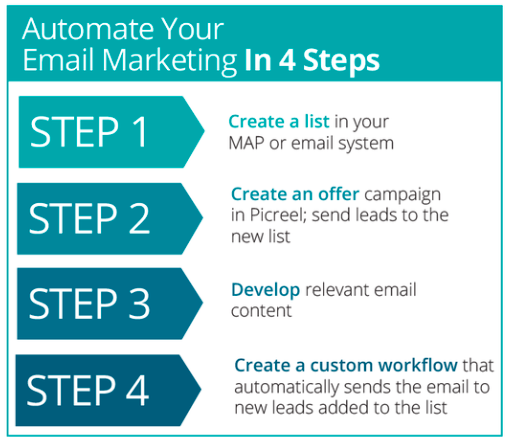 It really is that simple! By integrating Picreel with your database, you can leverage the emails you collect to jumpstart your email marketing strategy and drive more sales — automatically.
See for yourself how you can turn more site visitors into buyers and subscribers with a free 30-day trial of Picreel, starting today!
Do you want instant 300% growth?
Picreel popups can get YOUR website 300% instant sales growth. See Case Studies.