Picreel is excited to announce a new feature that will allow customers to use GIF backgrounds to create more engaging and dynamic popup campaigns.
Why GIFs Are Cool
For developers and digital marketers, a GIF is simply another compressed file format – like JPG and PNG – except that it can include animation. While still relatively new and novel to the everyday user (Facebook just rolled out the GIF button in comments this summer!), the GIF format has been around since the mid-1980s. Previously patented, now anyone with a bit of coding know-how, Photoshop, or access to this handy tool on Giphy.com can make their own GIF.
While this fun non-verbal medium is generally used to express humor in online communication, there's something to be said for short animation loops catching a user's attention. You're not committing to a full video, there's no sound to mess with, and a GIF is more dynamic than a still image. Because of the small file size, GIFs pack a one-two punch since they can be used anywhere an image file can with the added pizazz of animation.
Most importantly, GIFs made the list of top digital marketing trends for 2017 and their use is increasing at astronomical rates. In 2015, Giphy reported only around 150 million original GIFs. Today, the site has more 100 million daily active users, watching more than 2 million hours of GIFs per day – and that's just the traffic that passes the Giphy platform; it does not take into account brands using custom GIFs on their websites, in email, and on social.
Adding GIFs To Your Picreel Campaigns
While there's some contention on the statistics floating around out there about how much people retain when they read vs. hear vs. see, the general consensus is that people retain more when the mediums are combined. With more than 84% of communication expected to be visual by 2018, it just makes smart business sense to take your popups beyond words.
Movement catches the eye and may give you just the edge you need to increase conversions on your site's popups. Now, Picreel makes it easy to add animation to your overlays with built-in GIF backgrounds. You can choose from one of the many optimized GIFs already in the Picreel library, or you can even upload your own for a completely branded experience.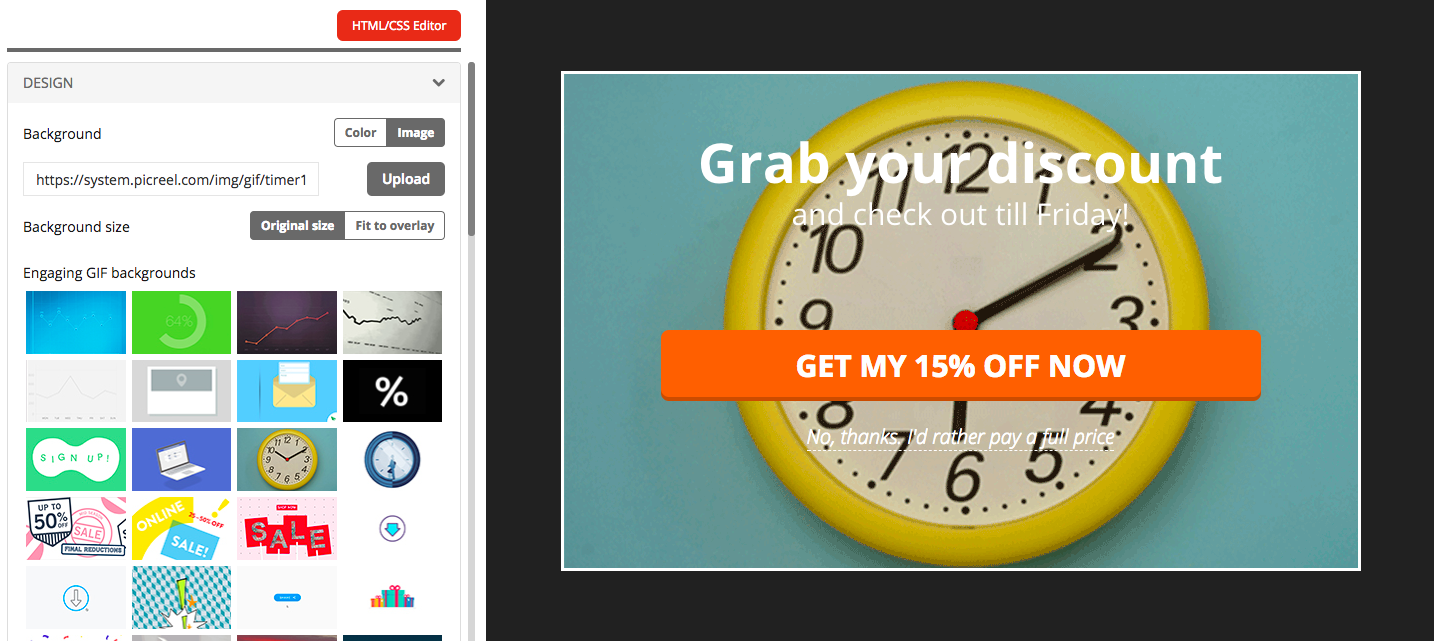 Here's how to add a GIF to your next popup campaign:
When creating/editing an overlay, click on the "Design" section
Click "Image"
Browse the ever-growing library of optimized GIFs we've already added for you
Don't see what you want? Upload your own! GIFs should be about 800×500 pixels in size and up to 500 KB to make sure it loads instantly
Preview the overlay to see the animation in action
What kind of GIFs can you use? The sky's the limit! We have included many business related GIFs that support common popup messages, such as:
Email sign up
Winner/free gift
Special offer
Limited time
Statistics
Gated content
Download
With the ability to upload your own GIF, the animation can support virtually any message. You can show product benefits and short demos, sneak peeks of upcoming product launches, event photo loops, or multiple ways to use/wear a product (think: "5 ways to wear your new scarf. Get 10% off your purchase today only!")
The addition of GIFs is sure to make your popup campaigns more creative, dynamic, and appealing. Want to share your GIF success story? We'd love to hear from you! Call us at 888-891-5782 or start a Live Chat with one our support staff directly from our website.
Do you want instant 300% growth?
Picreel popups can get YOUR website 300% instant sales growth. See Case Studies.