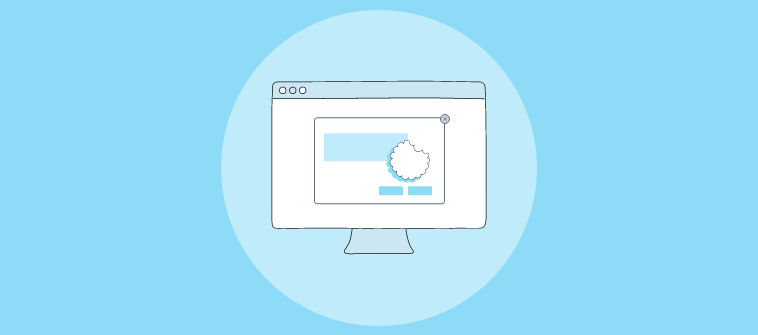 If you've been browsing online lately, you've probably noticed a cookie popup notification about using cookies to enhance your browsing experience.
Cookies are extremely important for delivering a personalized and enjoyable online experience. Privacy laws like GDPR and ePrivacy Directive make it necessary for websites to control and store cookies responsibly.
This is why letting your website visitors know about cookie usage is necessary.
A cookie popup is arguably the best way of relaying this information to your visitors.
But if you're still confused about the popups, there's nothing to worry about.
This guide will give you a rundown of why cookie popups are necessary, the types of websites that need them, the ten best cookie policy popup examples, and how to create them without coding.
Let's dig right in.
Why Are Cookie Popups Necessary?
Website cookies contain small files the website sends to the store in the visitor's browser.
For instance, WordPress uses cookies to store authentication information to help users log in and also stores them in case someone leaves a comment on your site.
In addition, WordPress cookies can also store different information to recognize repeat visitors.
Cookies are extremely necessary as they help website owners deliver personalized browsing experiences and can also be shared with third-party advertising companies to generate additional revenue.
Considering the extent to which you can use the cookie information, Europe and other countries make it mandatory for website owners to let their visitors know about cookie usage through cookie popups.
Now that we know why cookie popups are necessary let's see what types of websites need them.
What Types of Websites Need Cookie Banners?
Simply put, if your website receives visitors from the European Union, you would need a cookie consent banner if you plan on complying with the EU privacy regulations.
European Union rules state that you get proper informed consent from the visitors in order to use cookies that track their data.
So technically, this doesn't involve every website because if you're tracking data through cookies, only then you're required to comply.
However, with the increasing popularity of tools like Google Analytics, social media share, and Facebook Pixel, there is a good chance that your website also tracks user data.
This is why deploying a cookie policy popup is always a good practice.
With that, let's take a look at the 10 best cookie popup examples.
10 Best Cookie Popup Examples
Millions of websites deploy cookie consent banners to comply with GDPR and various privacy laws. Let's look at the 10 best cookie policy popup examples: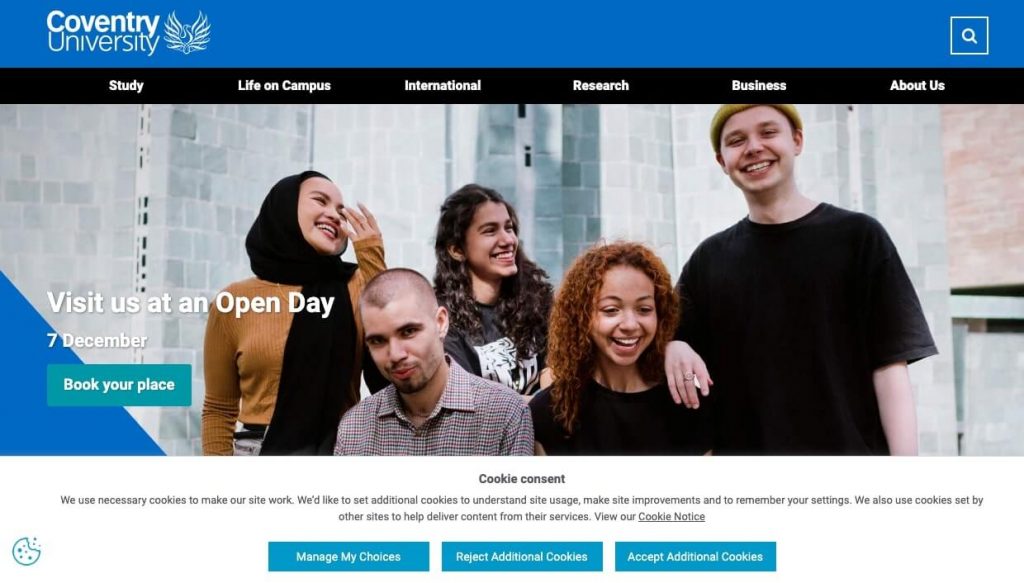 Coventry University uses a traditional-style footer banner for its cookie policy popup, allowing users to accept, reject, or manage their cookie settings. The site deploys a cookie message stating how they will use the data to ensure complete transparency.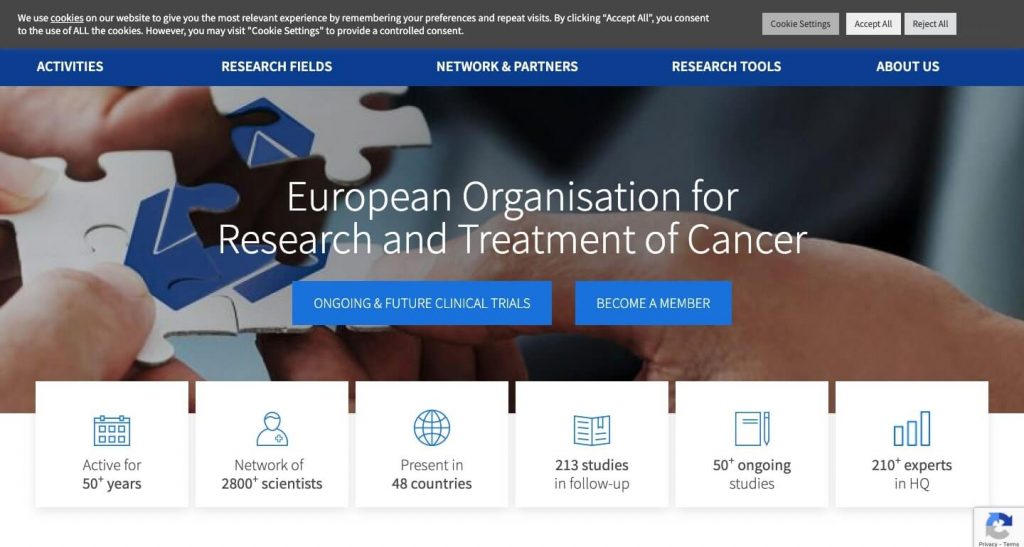 While cookie alert popups on the top of the website may look like mirror images of the ones on the bottom, they are not used as often as you would expect. EORTC deploys a cookie banner on the top effectively, giving users three options to either accept, reject or manage their cookie settings, accompanied by a clear message about the cookie usage.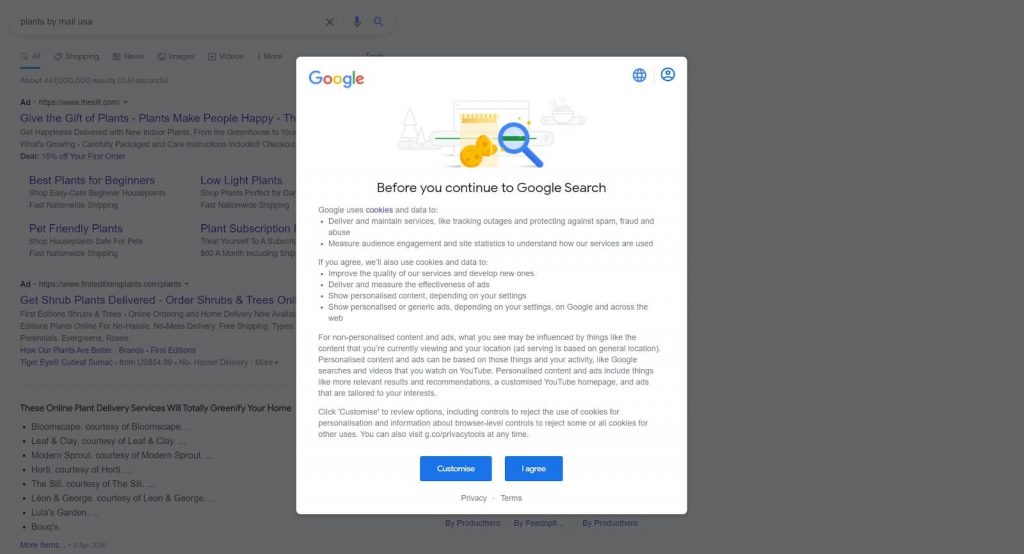 Google is one of the biggest organizations in the world, which goes into a lot more detail when it comes to cookie agreement popups. Google deploys an overlay popup for their cookie policy popup, which includes all the details about using the cookie data and other legal information. The popup allows the users to agree or customize the cookie settings.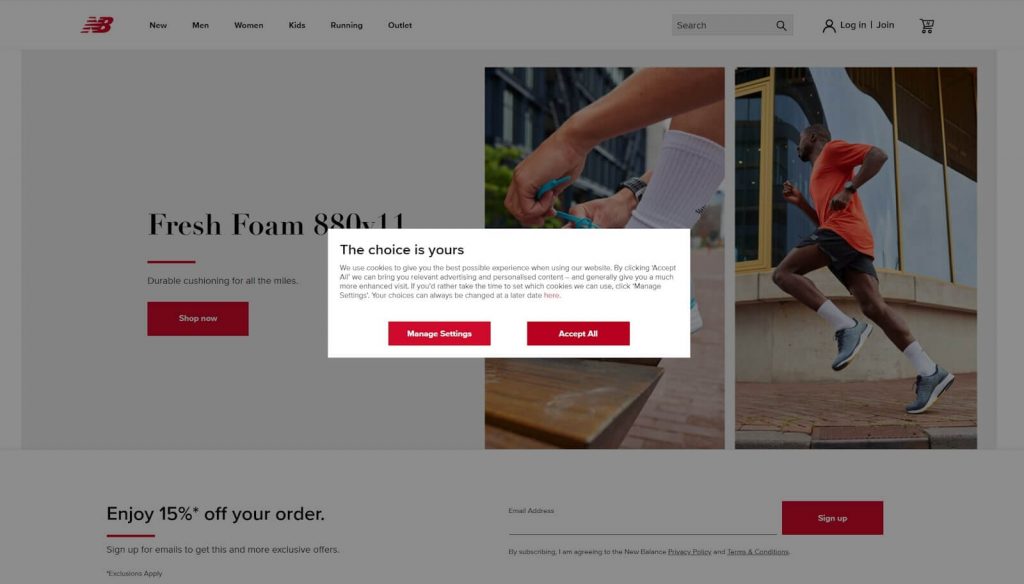 New Balance also deploys a website popup, quite similar to Google but on a smaller scale. Their overlay shows up on the center of the screen, giving all necessary information concisely. The popup, just like Google's, gives users the option to choose between accepting or customizing the cookies.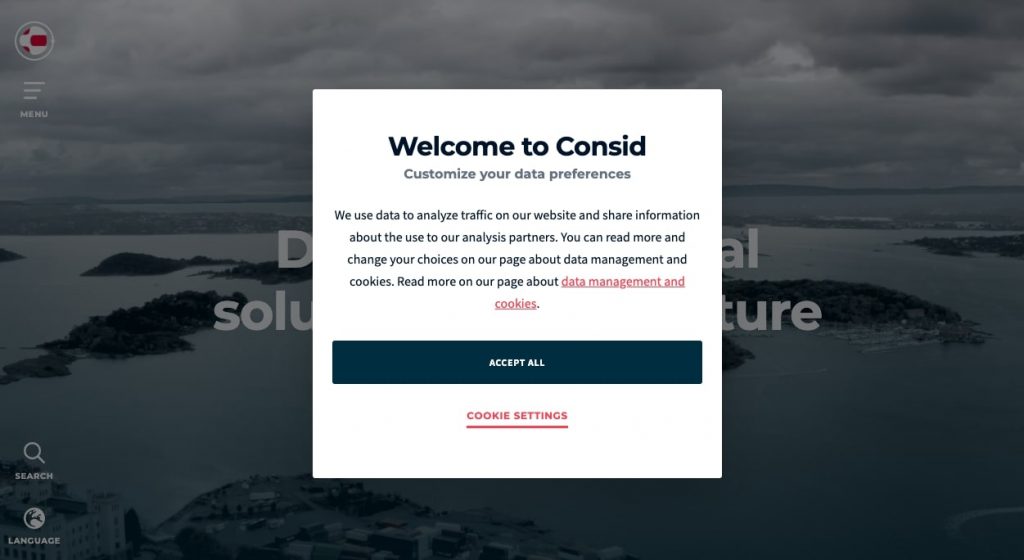 Consid is a Swedish IT firm that takes another very attractive approach to cookie notice popups. Their popup shows up on the right side of the screen without being intrusive and gives users the option to either accept, customize or expand the cookie settings.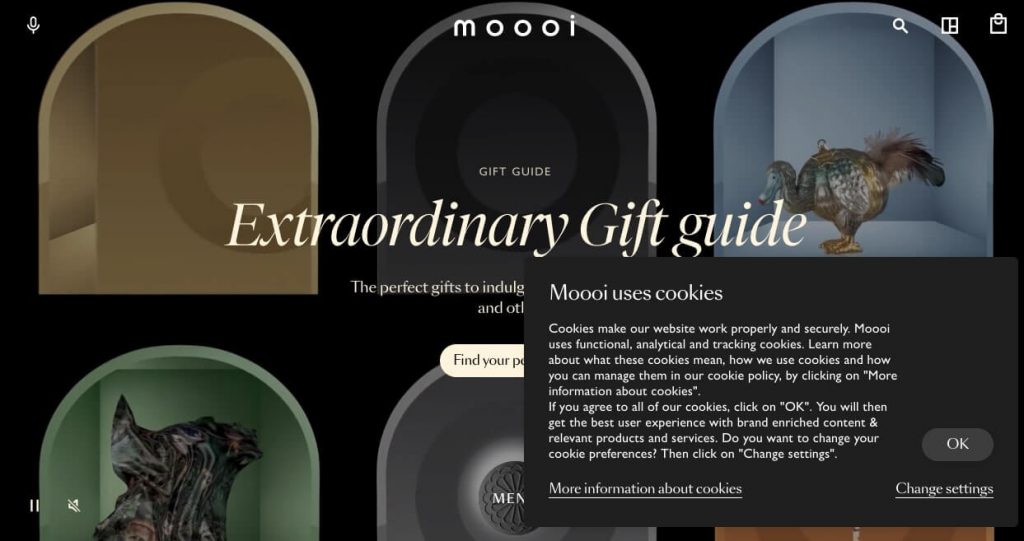 Moooi's approach to cookie banners is identical to what Consid does, as they also deploy a cookie agreement popup on the side of the screen but with more prominence. The cookie popup is much bigger in size and allows users to choose between accepting and customizing the settings.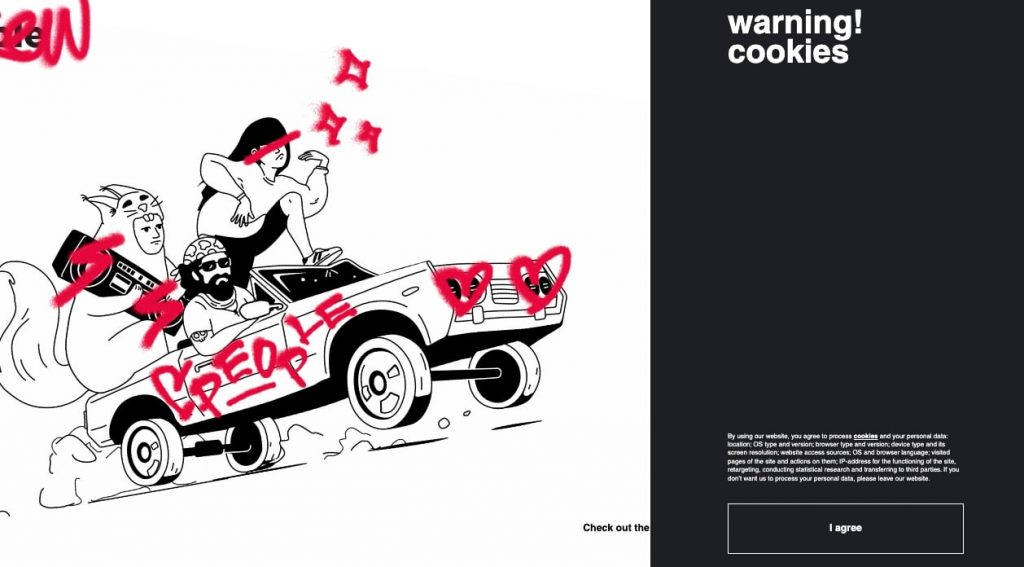 CreativePeople Crew occupies the entire right side of the screen to display their cookie notice popup. The banner might be big, but it is extremely simple, which displays the cookie usage message and gives the option to agree with the visitors.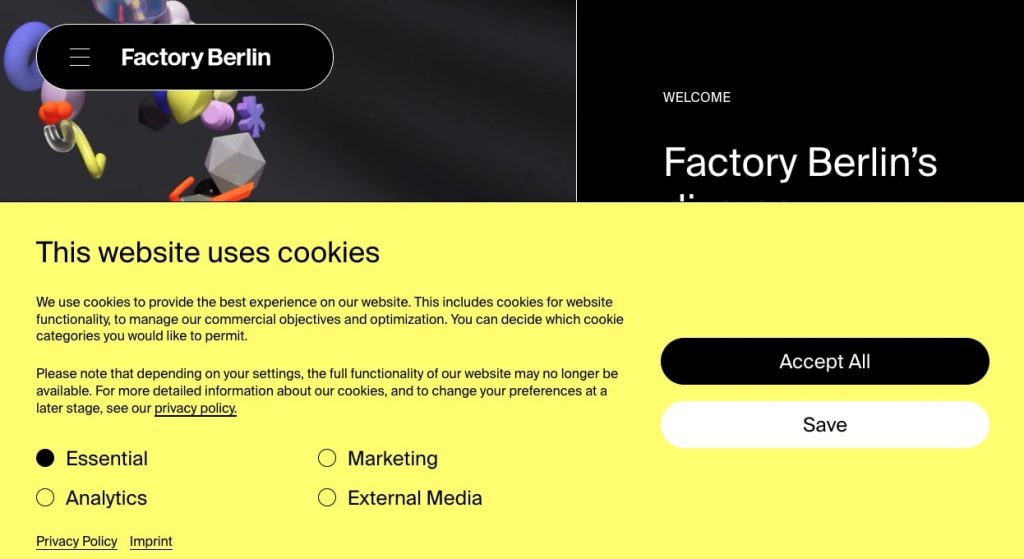 Factory Berlin also takes a very prominent approach to its cookie alert popups as they occupy the entire bottom half of the screen. The popup gives the option to accept or save the cookies setting by selecting the type of information users want to share.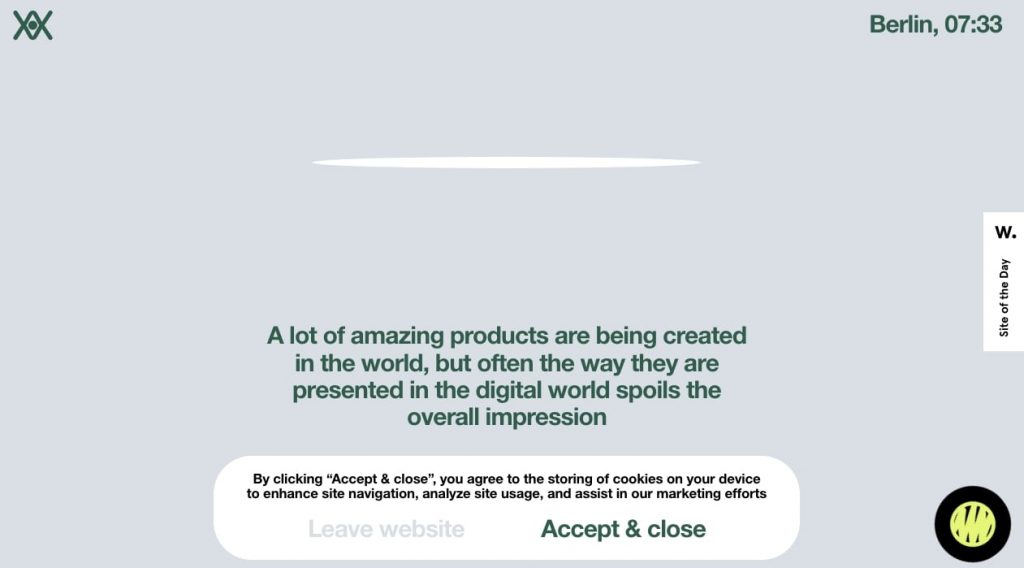 WOW page is very direct with their cookie banner as they display the banner at the bottom of the screen and asks users to either accept and continue with the cookie policy or reject and leave the website.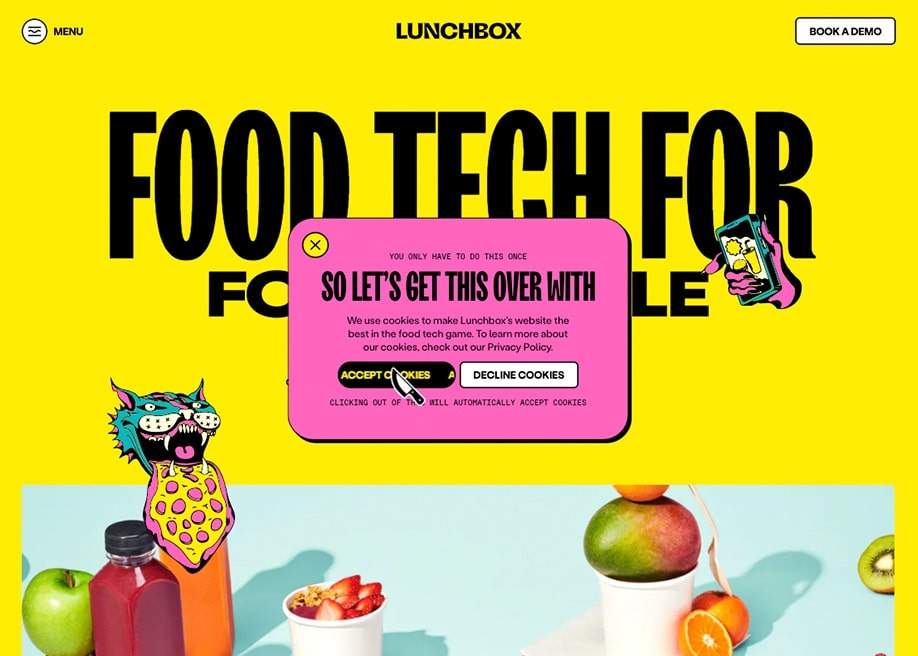 Lunchbox.io presents a very visually appealing cookie alert popup that compliments the design of its website. The popup gives users two options to either accept or decline the cookies for sharing with the website.
Now that we have explored the 10 best cookie popup examples let's finally look at how to create cookie popups without coding.
Read More - 36 Types of Website Popups to Use in 2023 (the Ultimate Guide)
How to Create Cookie Popups Without Coding?
Now, this is the fun part- creating your own cookie consent banner like the ones you just saw.
There are tons of ways of creating a cookie popup, but we'll use Picreel as our tool of choice as it is arguably the easiest to use and allows you to customize placement, text, buttons, and colors.
Also, we'll take WordPress as our default website builder tool as it is the most popular.
We'll divide the steps into two categories- creating a popup and then integrating the cookie popup in WordPress.
Let's take a look.
1. Creating a Cookie Popup
Step 1- Create a free account with Picreel and log in.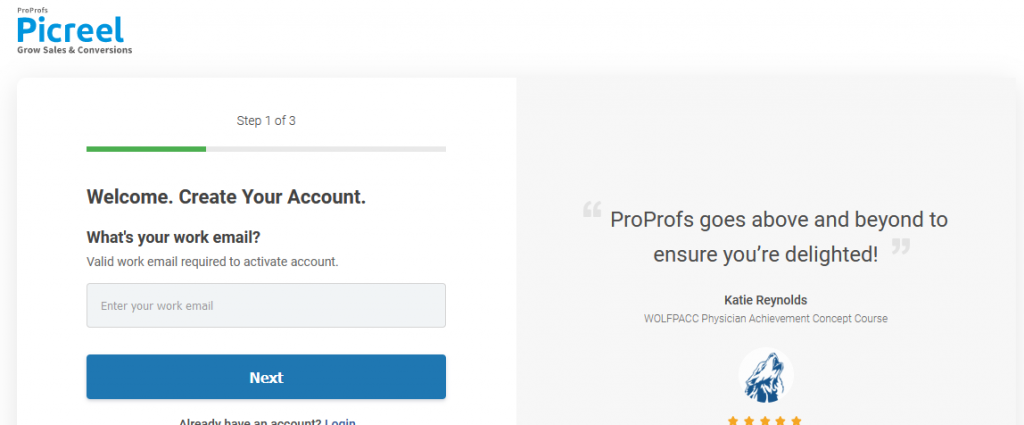 Step 2- Go to "Campaigns" and click "New Campaign."

Step 3- Choose your cookie popup template or create it from scratch.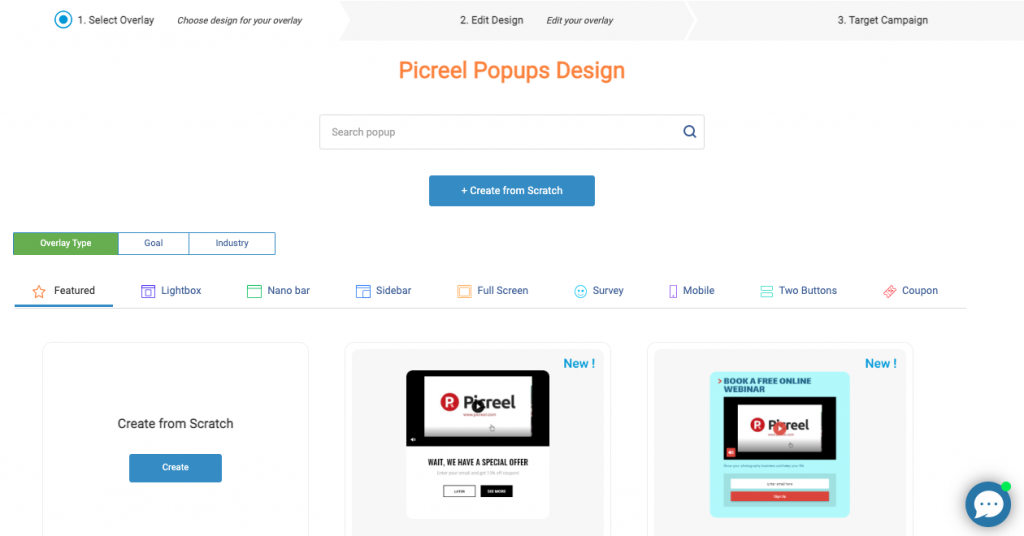 Step 4- Once done, edit your designs and personalize them as per your requirements.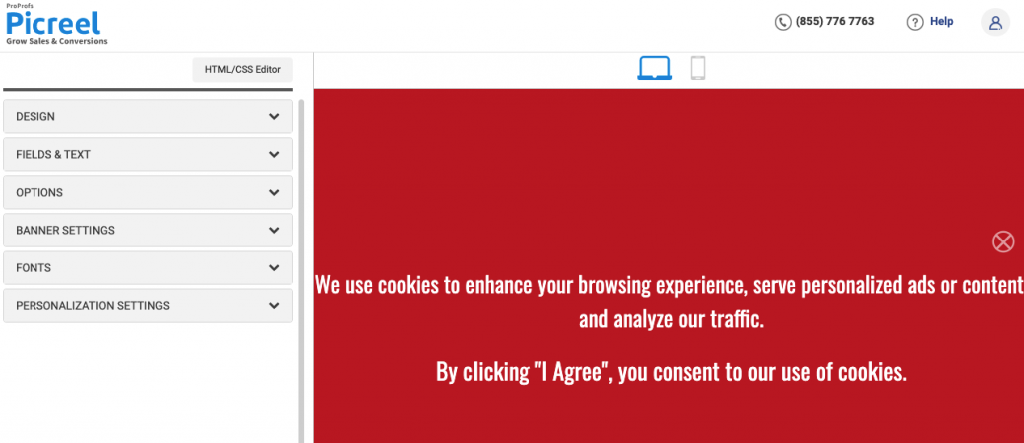 Step 5- Next, enter the domain and customize your targeting and triggering options.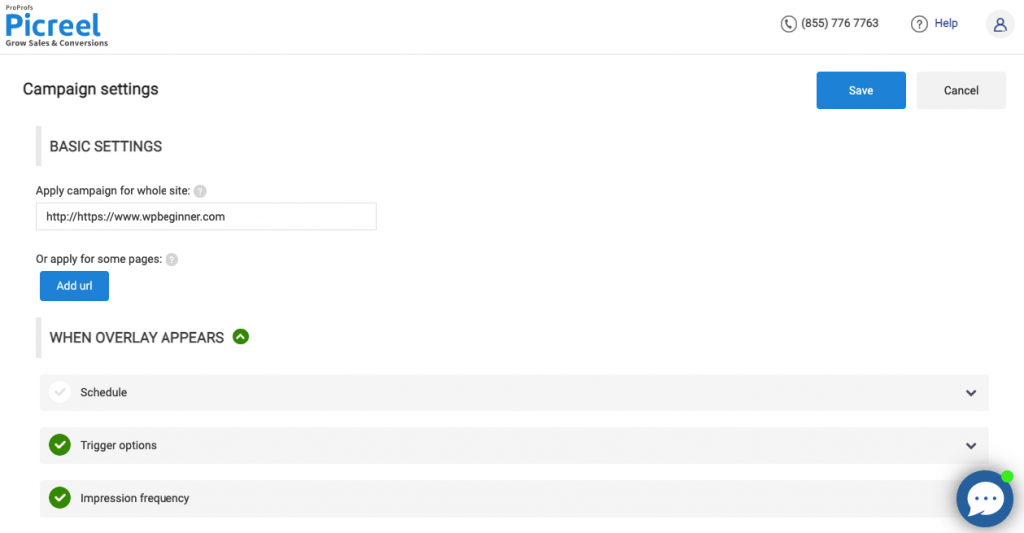 Step 6- Click "Save."
2. Integrating the Cookie Popup in WordPress
Step 1- Once you create your popup, you will be redirected to the "Get started" page. Here, copy the embed code.

Step 2- Log in to your WordPress account.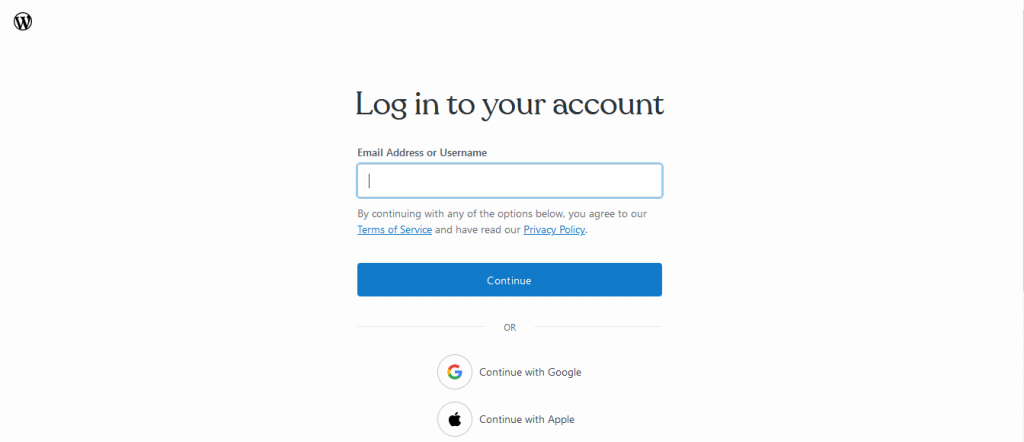 Step 3- From the left tab, navigate to "Appearance" and select "Editor."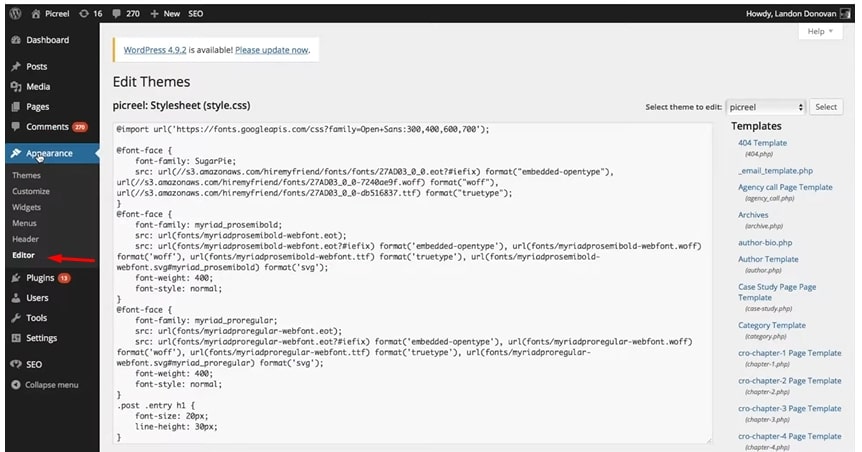 Step 4- In the right tab, scroll down and select "Footer"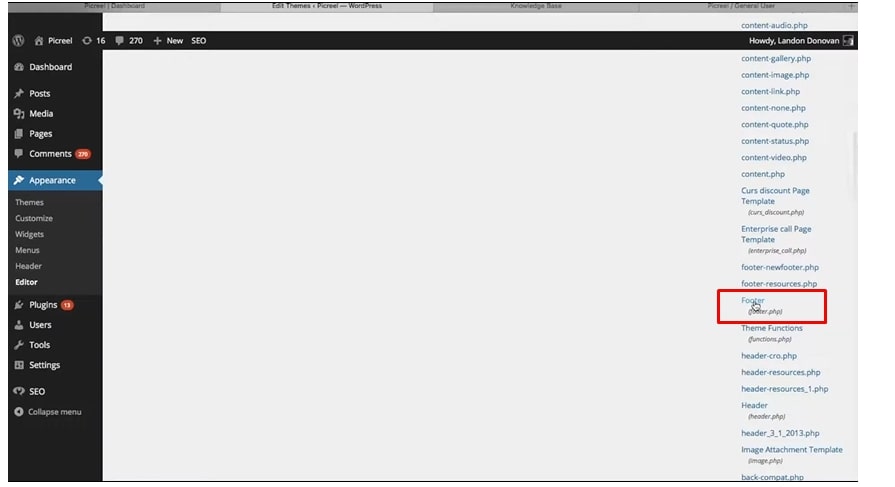 Step 5- Paste the Picreel code before the last "" tab.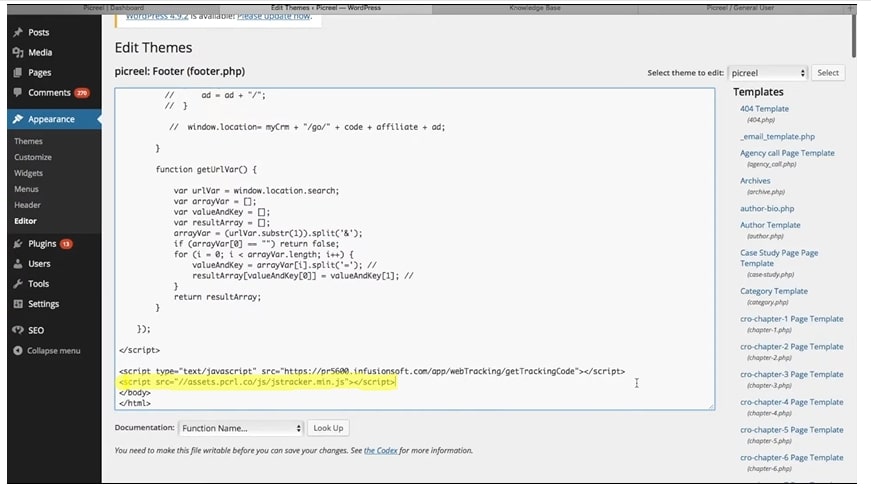 With that, your WordPress cookie popup is deployed on your website.
Also, if you prefer watching a video tutorial with step-by-step instructions, here is one right below:
Add a Cookie Consent Popup With Ease
Privacy laws have proven to be excellent in making things easier in terms of respecting the data and the users' rights while allowing companies to be transparent about their policies.
Keeping your website compliant with all the privacy laws and regulations isn't something you should consider ignoring. Also, adding a cookie popup should always be hassle-free in the first place.
Picreel is one such tool that can help you seamlessly build WordPress cookie popups without writing a single line of code. Also, it integrates with tons of website builder tools which makes it a top choice for most website owners.
Do you want instant 300% growth?
Picreel popups can get YOUR website 300% instant sales growth. See Case Studies.