Editor's note: This story was originally published in July 2015. It has been updated for accuracy and comprehensiveness.
You may not give much attention to the visitors who leave your site. After all, there could be any reason why they chose to leave. They could be comparison shopping or perhaps your offer isn't quite what they need. Still others may find your product or service enticing, but decide to put off taking action until another time.
Ask yourself, do you really have to let these visitors go? With exit offer technology, you can not only capture these visitors' attention, but give yourself another opportunity to entice them to act.
Here's how three companies boosted their conversion rates using exit overlays from Picreel.
Case Study #1: The Future of Behavioral Targeting
Yesterday's desperate pop-ups have given rise to a much more evolved solution. Exit offer technology uses the science of behavioral targeting, personalization and content discovery to give your visitors the right offer at the right time, substantially increasing the odds that they'll convert.
The client below, who sells a dating product, wanted to improve their conversion rate with the social generation. As a bonus, they developed a free guide to ensuring the visitor's text messages would be absolutely magnetic to the opposite sex.
With its seductive cover design, bold call-to-action and use of "power words" (free, irresistible, guaranteed), this exit popup gained the client a 7.8% conversion rate, resulting in an extra 469 conversions that month!
Case Study #2: Coupons + Urgency = Action
First popularized by Groupon and other daily deal sites, the use of coupons and time-limited offers tempts every shopper's inner impulsivity. As marketers, using this kind of offer right when the buyer is considering leaving (and likely to shop around) gives them a last-minute chance to seize the discount and convert to a paying customer.
The client below tried this type of promotion – a small 10% discount couponed with a 15-minute countdown.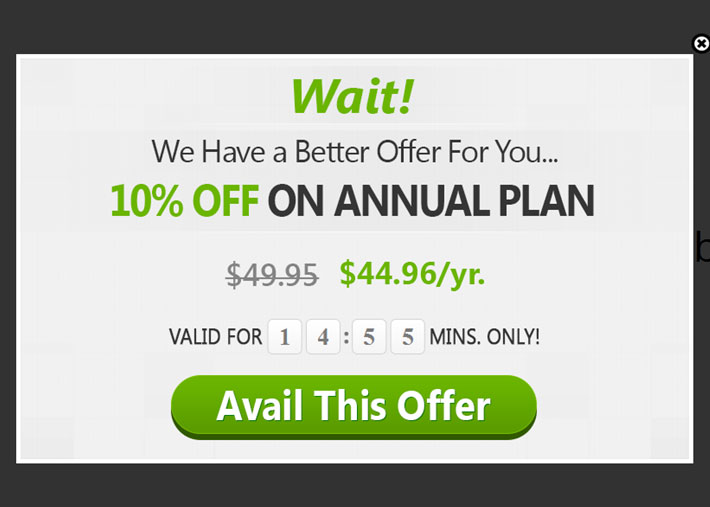 While some would say that the discount and timeframe are worth testing, using this type of discount immediately boosted the client's conversion rate by 13%, netting them 2,423 conversions that month. With that kind of promising return, you can bet this client is taking all the necessary steps to test their discount, timeframe, call-to-action and much more to see if they can improve on that conversion rate even more.
Case Study #3: Eliminate The Risk
One of the biggest obstacles standing in the way of improving conversions is the ever-present specter of risk. It may be unavoidable, but it is possible to minimize risk. The more you can minimize risk, the better your chance that visitors will take that one small step to trusting you and electing to do business with you.
Take our client Cloudways for example: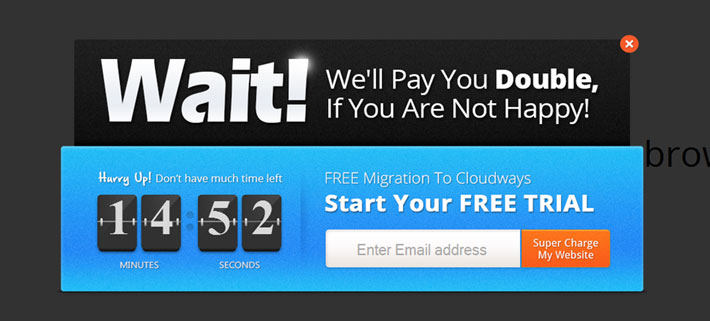 Cloudways is a cloud management and hosting platform for WordPress sites. In their exit offers, they combined urgency (a 15-minute countdown) with the offer of a free trial AND two more offers – one of free migration and the other to pay the customer double if they were not satisfied.
With so many offers, you might be inclined to think that a visitor would be overwhelmed, but the opposite happened. Cloudways essentially pulled out all the stops to reining in abandoning customers and threw all their best offers in one can't-miss lightbox. It seems to be working. Their offer converts over 6% of all website visitors.
Getting Started with Exit Offer Technology: What to Look For
By now you may be thinking, "That's great for them, but how do I know exit overlays will help my business?" We get it. It's one thing to talk about what others are doing with advanced behavioral targeting but it's another to demonstrate how you'll benefit from it. So what should you look for when deciding on a company to power your exit offers?
Let's take a look:
Multiple Types of Templates. Your conversion rate from bounce traffic is only as good as the templates behind it. Most exit offer technology companies only offer one or two types (such as subscription-based and countdown offers). But today's companies need much more flexibility in the ads they choose and how they use them. Look for both one and two-step templates that allow the prospect ultimate control over their decision, rather than trying to wrangle them into a rigid template.
Easy-to-use Design Dashboard. Not everyone out there is a gifted graphic designer, which is why any exit technology you choose should have a straightforward, user-friendly dashboard that makes customizing options easy and fast. No complicated learning curve – just step-by-step guidance to creating something that looks professional and sharp.
Advanced Options for Designers and Coders. For those who are graphic designers and coders, the dashboard should allow them the flexibility to have full control over the HTML and CSS along with plenty of customizable options to create a personalized, pulled-together look that matches their site design.
Smart Analytics. Any reliable exit offer technology is only as good as the analytics it provides. You should be able to see, at a glance, which segments are responding to which offers, and be able to make confident decisions that will have a positive ripple effect across each page the offer appears on.
Mobile Responsive Options. Smart phone and tablet usage is continuing to grow by leaps and bounds. Why show your prospects an ad that forces them to tap and scroll just to find out how to get rid of it? Ideally, you should be able to configure a mobile-friendly exit offer design that's fully user-friendly and totally tap-able, making it easy for mobile users to take advantage of your offer too.
When Should You Use Exit Offer Technology?
Remember that despite all its features and proven track record, exit offer technology is a tool – much like any of the other conversion optimization tools in your marketing arsenal. You don't want to place this kind of technology on every page of your site or plague the user with constant disruptions.
Instead, you should leverage exit offers where they make the most sense: landing pages and paid ads that direct to various stages of your sales funnel. This will allow you to see precisely where your ads (and which ads) are making the most impact and delivering the most ROI.
The bottom line is to use exit offer technology in a way that continues to deliver value to your prospects.
With such a system in place, you can easily tweak and test various creative offers to find the one that speaks perfectly to your audience – and when you do, you'll be improving much more than your conversion rate. You'll be taking strides to improve your offers, your brand, and most importantly, your customer experience.
Do you want instant business growth?
Picreel customers get a 15-300% instant increase in inbound leads & conversions.