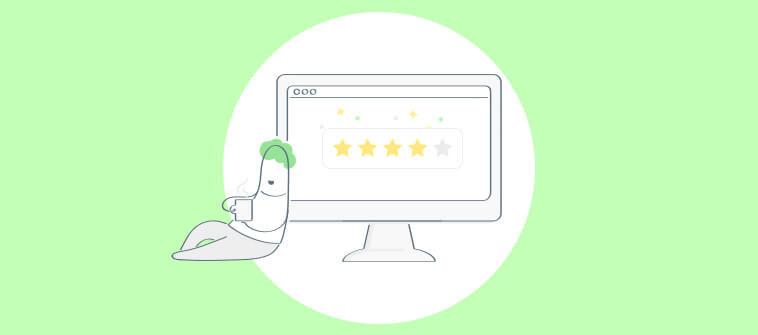 One of the best ways to increase your website conversion rate is by getting feedback from your audience. A survey can help you find out what people think of your site and how they feel while browsing it.
You can use this information to make changes that will improve their experience and keep them from leaving prematurely.
According to Moz, the average bounce rate of eCommerce websites is 40%, which is considerably higher than other category websites. A survey is a powerful tool to help you understand the cause behind the bounce rate and drop rates to improve accordingly.
Creating an exit survey should be a priority for businesses to succeed in the competitive marketplace. Most business owners are either unaware of this strategy or don't know how they can integrate an exit survey on their website. And hence, they miss out on an opportunity to receive feedback from their visitors.
Buyers love to participate in surveys as they get an anonymous stage to appreciate the service or give constructive feedback. Exit surveys act as stepping stones towards improving customer service and driving more business. Before we get into it, let us understand the fundamentals first.
In this blog guide, we will be discussing the following points:
Do you Need a Website Exit Survey?
According to FluidSurveys, the average response rate for exit and email surveys is about 24.8%, higher than a telephonic survey that is only 8-12%.
It's crucial to understand why people left your website without completing any of your website's goals or a particular page-specific goal. The whole point of an exit survey is to capture their thoughts on why they left and how you can improve your customer's experience so that they stay longer or come back again later.
An exit survey can be concise and straightforward, or you could create a more extensive survey that captures the visitor's thoughts on your business in detail. A survey doesn't have to be complex or overwhelming; it should be easy to skim, respond to, and submit.
The key is to know which type of feedback will provide the information you need.
Importance of Website Exit Survey
A website exit survey is like conducting user testing that fills in their response before leaving the website. With collected feedback, you can gather all essential and relevant data and convert it into a feedforward.
It's challenging for business owners to check why their website's bounce rate is going up without a feedback mechanism in place. But, when you have a survey and tools like Google Analytics, it becomes easier to map things and prepare an improvisation strategy.
According to Baymard, 69% of shoppers abandon their cart, and they never come back to buy that same product. It primarily happens due to poor website UI, slow loading speed, inefficient navigation, or complex checkout process.
Business owners need to have short yet effective surveys to reduce this percentage.
As these surveys are quick, short, and crisp, visitors won't bother to spare one or two minutes to fill out the details and give their feedback.
Let's uncover how you could create and integrate an exit survey on your website and make the most of it.
Best Practices for Creating Powerful Website Exit Survey
1 – Consider Your Audience and Goals
First, you need to be clear about what you want to achieve from your website exit survey. For example, is the survey for marketing purposes or to improve customer service?
The next step is to think about the type of feedback you want from your customers. Are you looking for general feedback, or do you want a detailed opinion?
These two factors will affect the kind of questions that should be included in the survey and the number of questions. Some surveys have up to 10 or even 20 questions, while some are as small as the two most important questions.
Once you figure out your goal, decide an appropriate length of the survey based on the bounce rate of your website. Considering bounce rate is crucial as it will help you decide between a detailed and a short survey. If the bounce rate is already higher, introducing a long and detailed survey may not work, as people will bounce back without completing it.
So, based on your goals and bounce rate, you can quickly draft out a questionnaire strategy for your audience. While creating surveys, think of your website's key performance indicators and how you can improve them.
Work on Goals-Based A/BTesting
To survey two different business goals simultaneously, you can A/B test two exit surveys and check which survey gets a maximum response. By doing this, you can gather relevant information about your website's aspects that matter the most to the visitors. Pick the right eCommerce metrics to define A/B testing segments and get the most information-driven answers.
These multiple surveys will help you gather important consumer behavior data in a detailed manner. You can also split the survey among users of different countries to have geo-based feedback for your service or product.
2 – Create a Questionnaire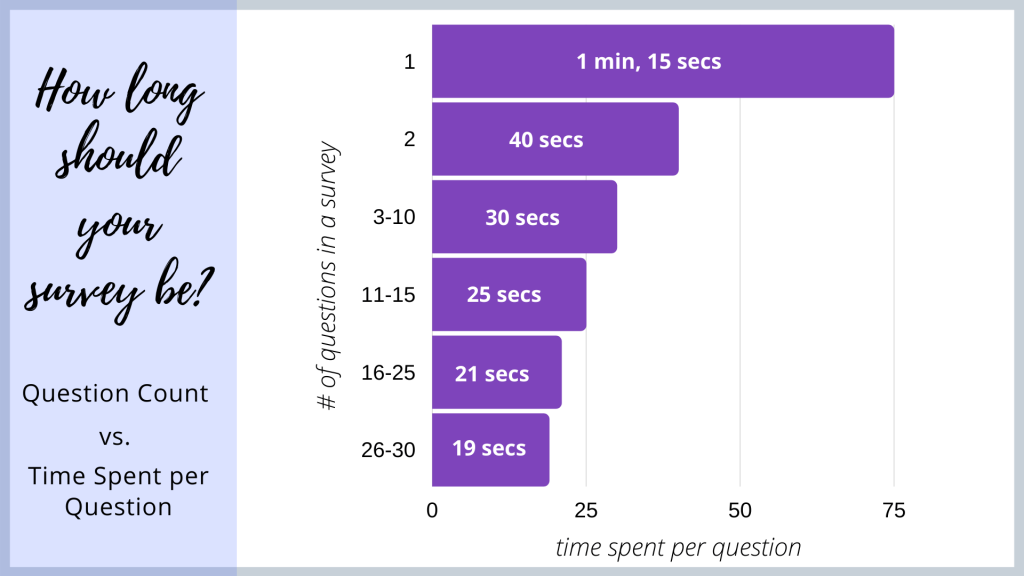 Create a questionnaire that includes relevant questions about why your website's visitors left so you can better understand your audience. Ensure to include closed-ended questions like "Were there any problems with this website?"
Identify the most important topics and questions to include that are relevant to your website and keep the questions interactive to get the maximum response.
If the questions are too long to read and users need to type in every answer, then you can't expect more people to complete the survey. A good way to create a survey structure is to keep maximum questions with multiple choices, so the users only need to tick a relevant answer.
On the other hand, you can have one or a maximum of two questions where users can write feedback if they want to express something that is not covered in earlier questions. Simplicity in questions is the key to get a higher response from your audience.
To begin with, you can keep a set of five questions in your survey — four multiple-choice questions and one question where users can type their answers.
Especially if you're an eCommerce website owner, ensure the questionnaire form is clearly visible to the audience. It is because the attention span on eCommerce websites is lower compared to other websites.
To gather detailed answers, you can also take advantage of open-ended sales questions to know what they didn't like while purchasing something.
Things to Include in Your Questionnaire:
Ask for demographic information, such as age and gender.

Ask questions about their visit to your website: Did they find what they were looking for,

how long it took for them to find it, and other relevant questions according to your specific business.

Decide which medium is best for your survey: email, pop-up window, or exit page webform.

Also, ask what feature they wish to use on your website in the future.
The most popular mediums you can use to create a questionnaire for your exit survey include:
Exit page pop-up

Window or form

Exit email survey
Whichever medium you use, ensure that it is easy to see, use, and understand. You don't want to annoy an already unhappy (probably) website visitor with a survey, so make sure it doesn't hamper their experience. You can even use online form builders to create an attractive and engaging survey form.
3 – Introduce the Survey
The survey should include an introduction and then give the user a chance to agree verbally with what you are about to do.
It is your responsibility as the business owner that this person understands why you are collecting this information and what you will do with the information gathered. Make it short and sweet, so the user doesn't feel overwhelmed right at the start of the survey.
If you're in the EU region and need to follow GDPR compliance, you should mention how the data will be stored and used for further use. Also, if you are asking for an email id, then cite the purpose of collecting it and how you will use it in the future.
Start the survey with a quick question that the audience will consider ticking the right option. Once you've made users answer the first question, there is a high probability that they will complete the questionnaire.
Keeping the questionnaire interesting and interactive is crucial. You can also add relevant stats with questions that users will enjoy reading and learn something new.
Pro Tip: Offer Users an Incentive for Completing the Survey
Businesses often get more compliance when they offer a small prize for the completion of the survey. You can do this by asking them to enter their email address (in exchange for an entry into a contest) or giving users the chance to pick from three different prizes if they complete the survey in its entirety.
The prize can be based on the length or quality of their survey responses, so make sure to include a question about what they would like as compensation.
4 – Analyze the Data
Once you have enough data, you can analyze it. You can use survey tools to gather data and analyze them faster, or you can download all responses in a spreadsheet. The best way to do data analysis is to check how many people come across the survey and how many users completed the survey.
With this simple stat, you can understand whether or not the audience has a smooth experience interacting with the survey. If most of the audience has participated in the study, it's a positive sign for your website.
Another important thing that you should check is the ratio of positive and negative feedback. It's always a good practice to perform as it helps you understand what action to take based on results. If most of the survey answers are positive with little constructive feedback, you will know what to improvise.
On the other hand, if most users are dropping average or unsatisfactory answers, then you need to go through all the responses thoroughly to understand what's bothering the users.
Segmenting the data and the pain points
Segment the responses based on familiar patterns, and it will boil down to two to three significant issues that you need to resolve. It would be related to the website's loading speed, navigation, products, or overall service.
Segmenting all the feedback will help you make a detailed improvement plan. Also, involve your teams while reviewing the survey results. You can use a customer dashboard to analyze the data in a detailed and graphical way.
5 – Turn Feedback into Feedforward
The most important objective of this whole exercise is to make sure you implement improvements on your website based on your feedback. So, it's time to take action. Your users will feel valued if you use their feedback to improve the website, and doing it will help you in the long run.
Test changes before rolling out permanently, and you can even ask for the users' opinions about what they like and don't.
Once you implement all the changes, ask your team members to explore the website and fill test surveys for a realistic demo exercise.
Implementing the Feedback
After you roll out the changes permanently, email your customers about the same and encourage them to revisit your website for an improved experience. Several free email marketing providers are available online that let you create a quick list and send emails in a few clicks.
You can also offer users some incentive to visit your site, buy your products, and give feedback again. It will help you ensure the previous issues are resolved, and no one is facing the same challenges again.
Simple Steps to Create a Website Exit Survey
There are some good tools out there to create website exit surveys like SurveyMonkey, Hotjar, Optinmonster, and Picreel. In this short guide, we will be using Picreel to create an exit survey. Let's get right into the steps:
Step 1: Create a new survey campaign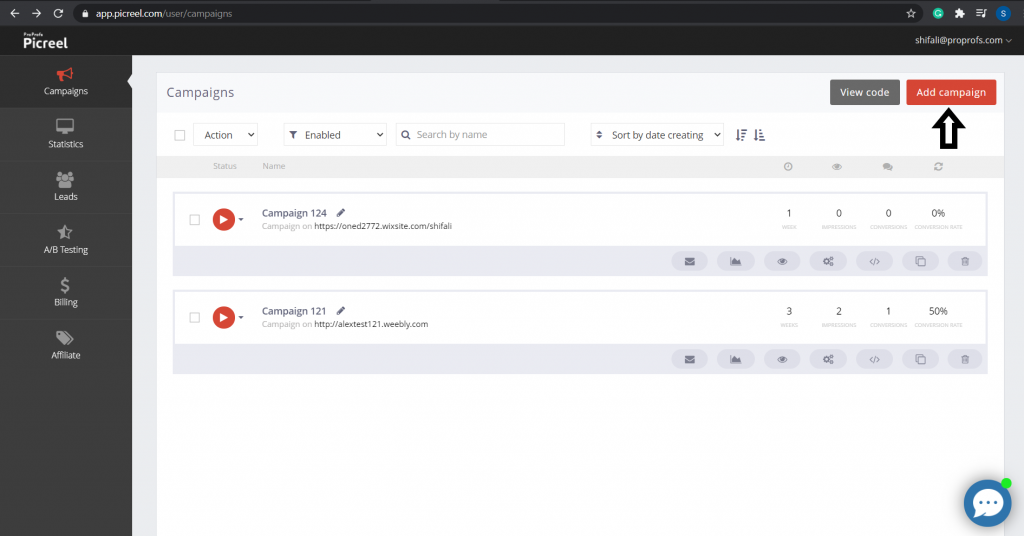 Once you sign-up to Picreel and head on to your account, go to the Campaigns tab. Create a Survey campaign by clicking on "Add campaign."
Step 2: Choose a survey template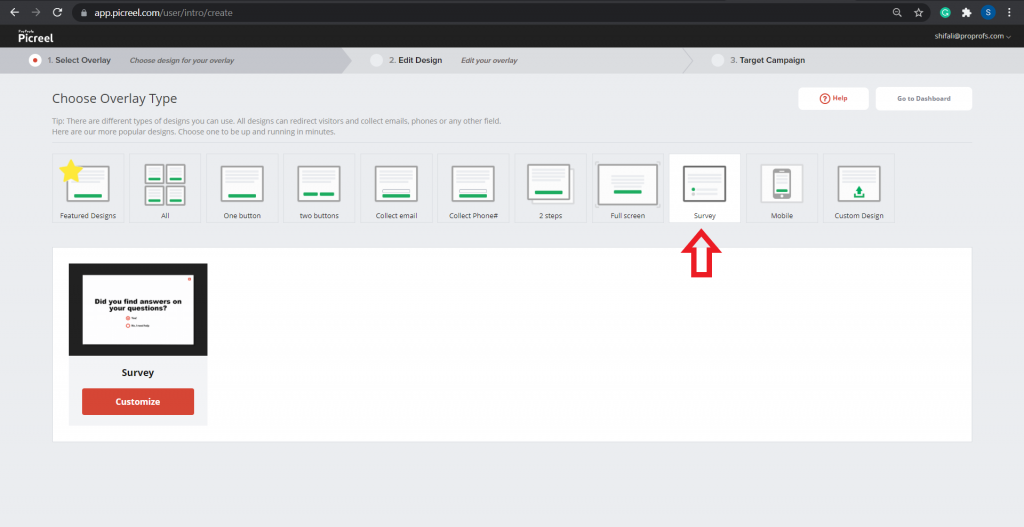 You will see various popup templates here. Click on Survey type and choose the template by clicking on "Customize."
Step 3: Edit the survey question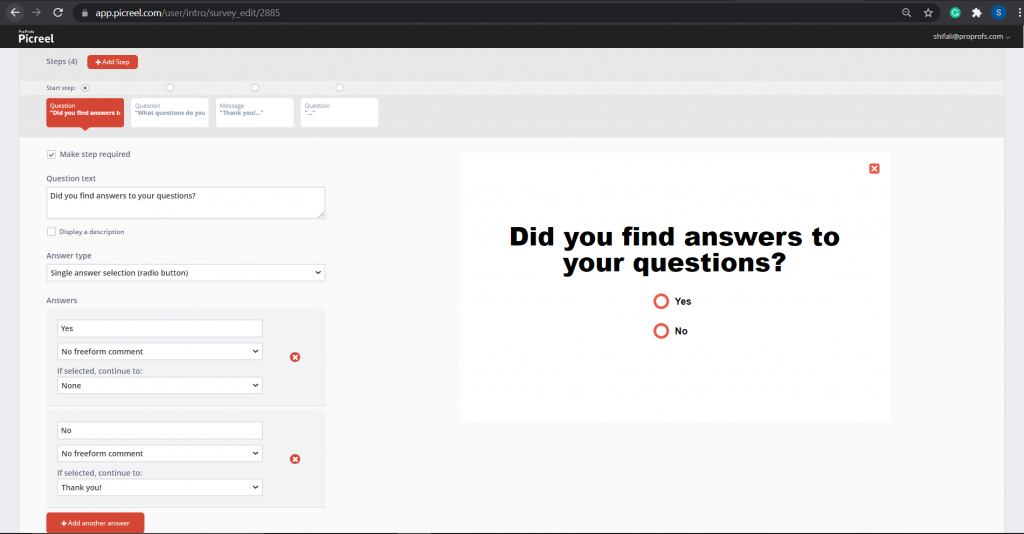 Here, you can make your multi-step survey. In the given fields, edit the question text and answer choices for all the steps. Once done, click on "Next step."
Step 4: Edit the survey design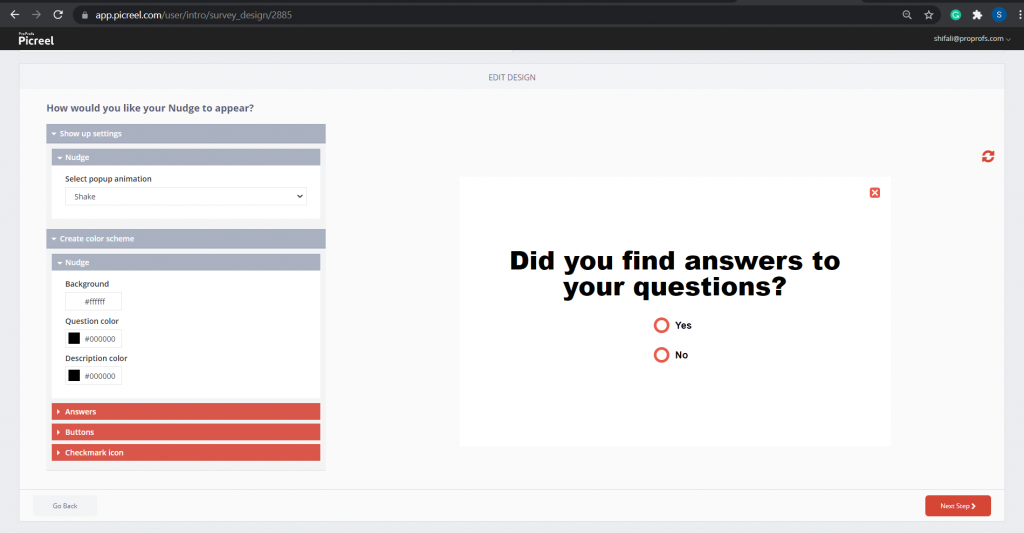 In this step, you can choose the popup animation, background image, color combination of questions/answers, buttons, and checkmark icons.
Step 5: Configure survey campaign settings & triggers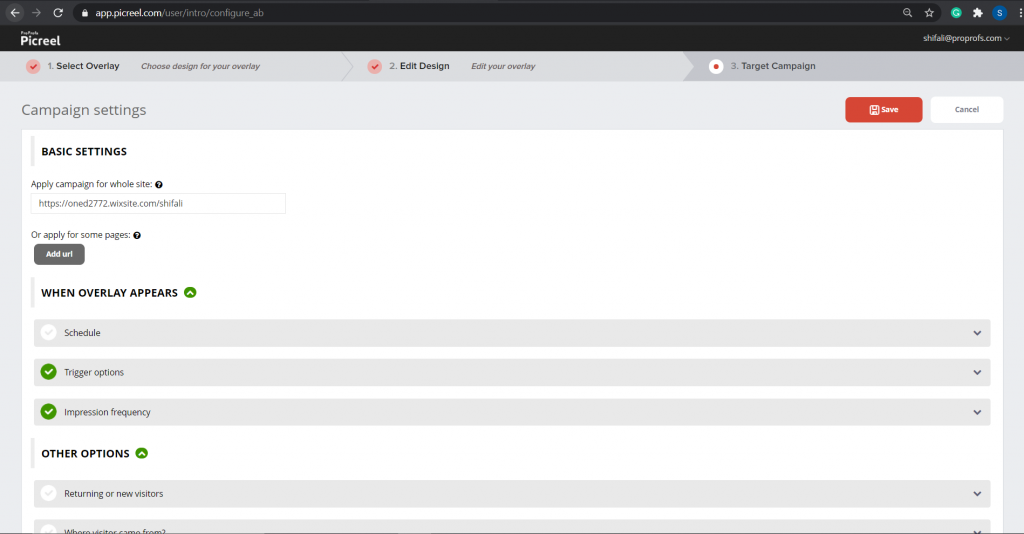 As the design is ready, you can choose trigger options and configure the settings as per your target audience. Make sure to enter the link of your webpage where you want to apply the survey campaign. These are the following trigger options for your website visitors: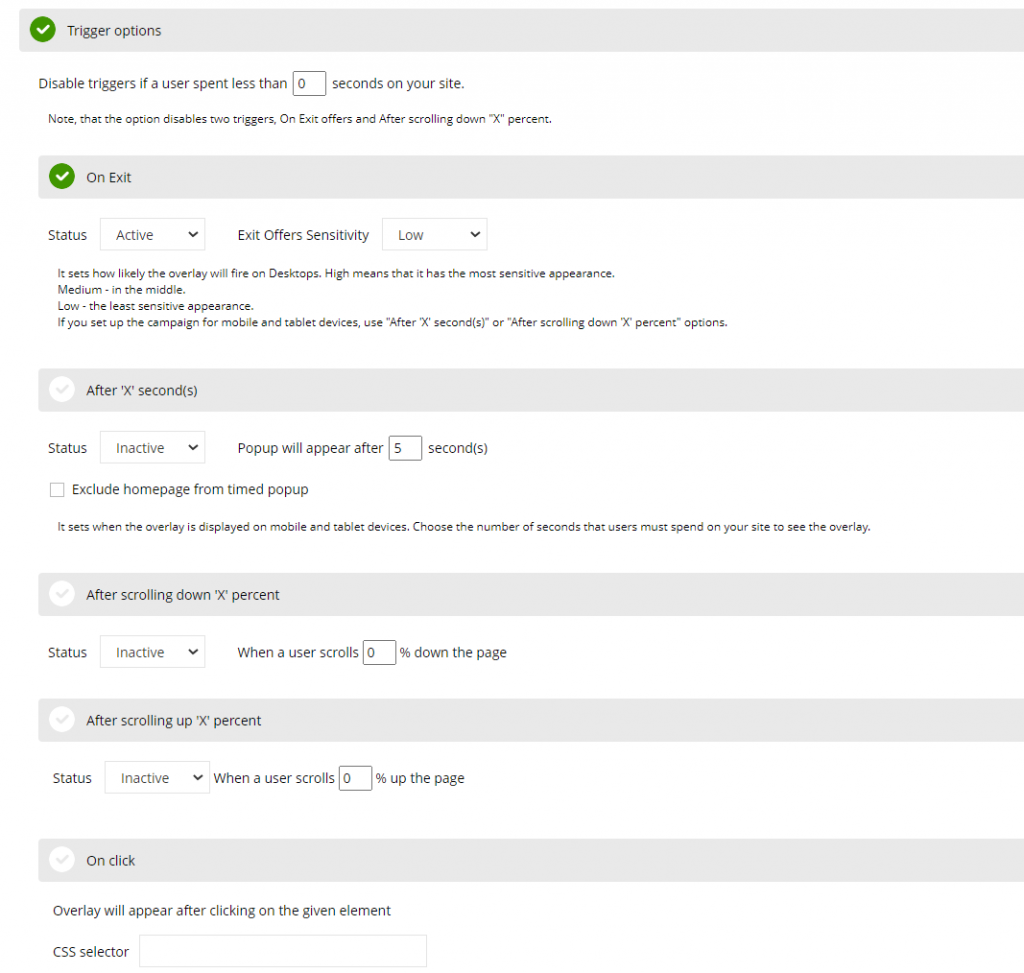 Once you are done with the trigger options and settings, check some other settings on that same page below. You can create a location-based campaign, personalize your campaign, set priority, choose visitors type (new visitors, returning visitors, old visitors), etc. Click on "Save" and the campaign will be active.
You can easily monitor the campaign from the dashboard and can get real-time survey responses from visitors.
The Most Common Use Cases of Website Exit Survey
1 – Shopping Cart Abandonment Survey
Shopping cart abandonment is a common challenge eCommerce business owners face every day. There could be several reasons why potential buyers dropped the cart in the middle and left without buying anything.
Long check-out process, higher shipping charges, complex UI, or not delivering in particular areas are some reasons that could be affecting your eCommerce store.
Fixing This Challenge
Exit surveys can help you solve this issue by understanding buyers' psychology better. You can draft an exit survey asking why your visitors are leaving without making any purchase. Keep the survey short and specify two to three common reasons. Don't forget to add an open-ended question, as it will give you insights about problems that you're unaware of.
2 – Landing Page Abandonment Survey
Exit surveys can come in handy for testing your new landing page and the compelling copy that you have written. With an exit survey, you can easily validate the new landing page's design and see how well readers resonate with it.
According to WisePops, this kind of survey can help in optimizing the conversion rate by almost 28%. Landing page testing becomes even more inevitable if you're running custom ads on the page to gather more business leads.
Using Website Exit Survey on Landing Pages
You can use a website exit survey to take feedback for the new design of the landing page, their thoughts on the new product or service you're selling, and so on. If you notice a higher bounce rate on a landing page, exit surveys can act as a common ground for feedback and turn it into a feedforward.
3 – Pricing Page Abandonment Survey
SaaS websites often witness visitors leaving the website after checking the pricing plans. So, what's the reason? Maybe your pricing is too high? The information/features are not clear? No assistance on the pricing page to know more about custom plans? Any other reasons?
To understand this, you can display a short exit survey to get your answers. This helps you in understanding your visitors by gathering feedback to make the necessary changes.
Using Exit Survey on Pricing Pages
Use exit surveys on pricing pages and ask short, simple questions. Now analyze the visitors' feedback to gain actionable insights. Based on the feedback, strategize your pricing strategy, make changes to the design of the page and perform A/B testing to boost your conversion rate.
4 – Lead Generation
Looking for a lead generation tool? Well, exit surveys are pretty effective! Many people leave your website because they couldn't find the right products/services. They need guidance and a little push to get to your offer.
An exit survey is perfect to guide your visitors and offer help. From redirecting them to your customer support to grabbing their contact details, exit surveys can get the job done.
Fixing This Challenge
Addressing some possible pain points and asking the right questions can be great for generating leads. You can ask the visitors if they want to receive a free guide or want a free consultation with your representative? Ask for their email address/mobile number and let your sales team nurture these leads.
Time to Create Your Own Surveys!
Website feedback surveys are important, and every business owner should use them to gather meaningful insights about what visitors think of your website, products, or services. It's the most interactive way to build a strong relationship with your customers, and it shows you care for their every small and big suggestion and take them seriously.
If you're not using website exit surveys, it's high time to get started and start interacting and gathering information from your audience in the fastest way.
Do you want instant 300% growth?
Picreel popups can get YOUR website 300% instant sales growth. See Case Studies.